Content creator Siya Zarrabi is half of the Hopscotch The Globe vlogging team, sharing the adventure with his partner and fellow Alpha Collective member Kristen Sarah. After spending months on the road vlogging their experience living in an Airstream, the two have recently moved to a multicultural community in Costa Rica where they continue to share their journey on their YouTube Channel. Zarrabi is a big fan of using his white Sony ZV-E10 for documenting the adventure. "It's so light, half the weight of many other cameras. It's great because you can hold it out for vlogging longer without issue. It's so much easier on your body and you can also very easily throw it in your bag to take with you." But it's not just the weight that makes it his top choice for vlogging. Keep reading as he shares more of his favorite details and gives us an inside look at how he sets up his Sony ZV-E10 before recording a vlog.
Siya Zarrabi of the Hopscotch The Globe YouTube Channel shows how he sets up his Sony ZV-E10 and why he loves it for vlogging.
According to Zarrabi, there are so many aspects of the Sony ZV-E10 that make it the perfect fit for vlog-style shooting. "The record button is like quadruple the size of that button on other cameras," he says. "You don't want to miss a moment while vlogging because you can't find the record button, so I love how prominent it is on the ZV-E10."
Another feature of the camera he loves is what happens once you do hit that record button. "It has a red box that goes around the entire border of the frame," he explains. "It's so easy to know when you're recording with this. On other cameras you would have to squint to make sure that you're recording by seeing the little red REC icon at the bottom, but with the ZV-E10 you can't miss when you're recording something."
In addition to using it while vlogging, he also likes it for livestreaming. "I really like how it has easy USB streaming so that I can hook this up to my laptop very easily and be able to use it as a webcam," he says. "It's just so much easier than other cameras."
When Zarrabi prepares his Sony ZV-E10 for vlog-style shooting, he says he currently uses it with the Sony 16-50mm f/3.5-5.6 kit lens. (Note: See more great lenses for vlogging and filmmaking HERE.) He also uses the Sony ECM-XYST1M compact stereo microphone and attaches the entire setup to his Sony Wireless Camera Grip. He then makes sure to have the following camera settings so he's ready to properly capture the type of footage he's recording.
7 Sony ZV-E10 Camera Setup Tips For Vlogging

1. Shoot In 60p
Typically Zarrabi sets his file format to shoot in XAVC S HD 60p. "Almost all my shots are in 60p, so that gives me a lot more play in the edit to slow it down if I want to. On the ZV-E10, this can only be done in HD, not in 4K, which is totally fine for me. But if you're going to film in 4K for a cinematic effect, you're limited to 24 frames per second."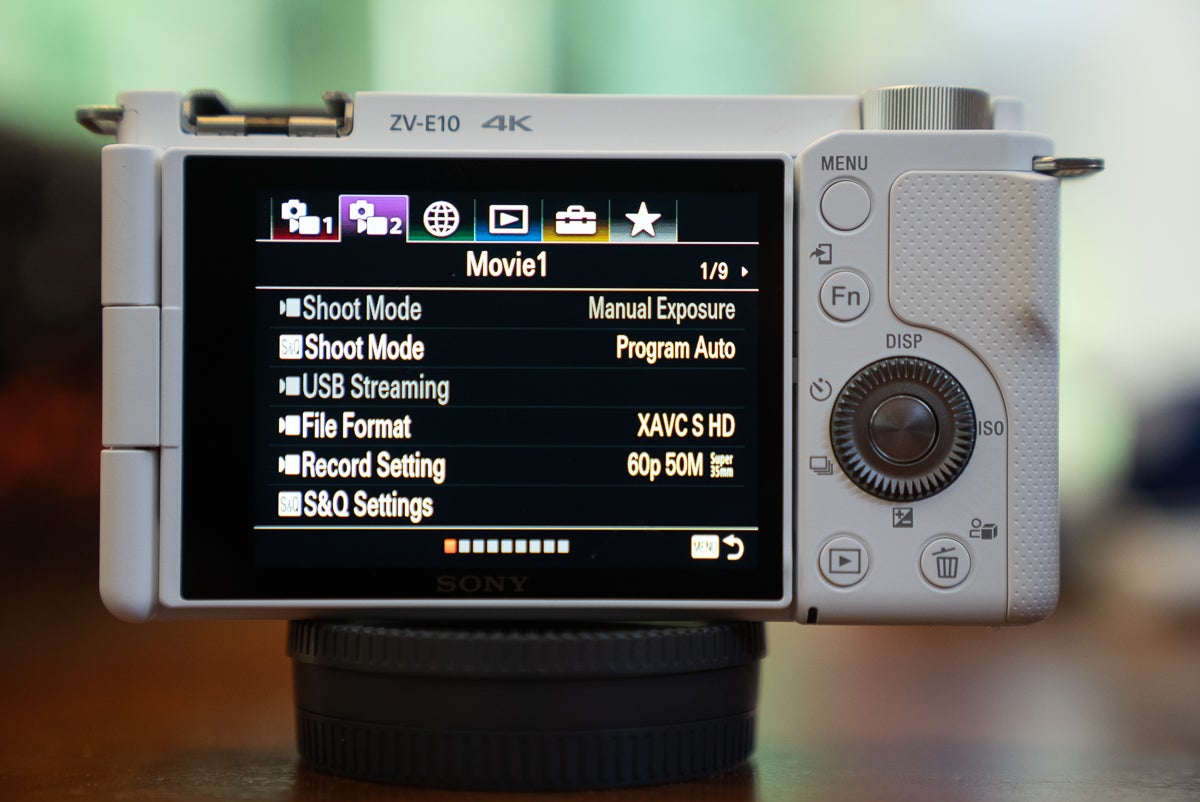 2. Set Touch Operation To Touch Tracking
On the ZV-E10, you can use Touch Operations to select a subject you want to track while recording video. Zarrabi has this set to Touch Tracking so that as he's vlogging he can touch any subject he wants to track on the screen.
3. Set Steady Shot To Active
Zarrabi also sets the Steady Shot setting to Active, allowing him to deliver stable video recording even while walking and shooting hand-held. "This basically works to stabilize your shot," he says. "So if you're walking around and vlogging, it's going to kind of look like you're holding a gimbal. It helps you to not have a shaky shot. It's worth noting that it does punch into the image a bit so you have to frame yourself accordingly to make enough space for your face on camera."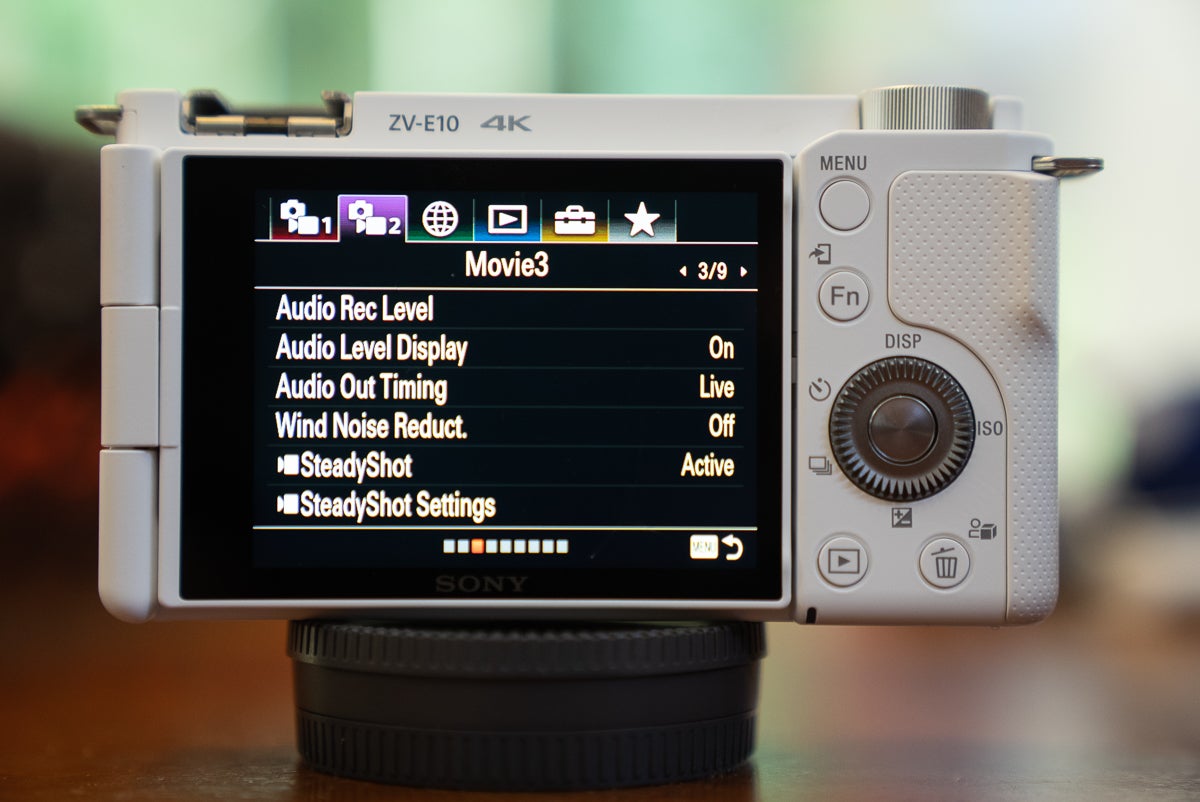 4. Turn On Face/Eye Priority
Zarrabi uses this setting to ensure that while he's vlogging his face is never over or under exposed. "With a typical camera," he explains, "if you're vlogging in sunshine and then walk under a bridge where it's dark, the camera doesn't really know what to do. But turning on Face/Eye Priority on the ZV-E10 keeps the user in the same lighting no matter what background you're walking into. It knows what to do and knows that you're a person and you're talking and will try to keep your face the exact same exposure while adjusting all the other settings to make sure that happens."
He continues, "I definitely think this is a setting vloggers will want to have on because it's awful when you just become a silhouette in a shot when you're walking around vlogging. Most of the time you're trying to focus on what you're saying and where you're going, and then when the shot doesn't work out it's a huge disappointment. But the Sony ZV-E10 is kind of like walking around filming with an assistant. It's smart enough to know what you want to do. And it's just designed really well for vloggers and video."
5. Set Subject Detection To Human
This setting selects the target to be detected, human faces/eyes or animal eyes. When Zarrabi is creating a vlog, he has it set to Subject Detection: Human because, well, he's only human.
6. Turn On Regist. Faces Priority
If you register faces on your Sony ZV-E10 in advance, you can set your camera to prioritize focusing on the registered face. Zarrabi likes to use this feature and has it turned on. The feature allows you to register up to eight faces on your camera, and to use the function you can set your camera matching the two previous settings listed (Face/Eye Priority: On, Subject Detection: Human).
7. Use Product Showcase Mode (For More Than Showcasing Products)
Product Showcase Mode allows the camera to automatically shift focus from the subject's face to an object being highlighted. Zarrabi turns on this setting to use it in two different ways. "I've used it if I'm showing off a product so that it will automatically go to the product and not my face. Because typically with other cameras, I would have to cover my face when trying to show something to the camera. With this setting you can keep your face in frame and it will detect the subject closest to the camera and properly focus on it."
"Then I've also used this setting for transition tricks," he explains. "I'll have the camera, and say there's a post or something to the left of me. I'll slowly move the camera across the scene and then in front of the post so the camera automatically picks up the post. It's a fun way to use that tool that's different from just showcasing a product."
See more of Siya Zarrabi's work on his Alpha Universe Profile and on Instagram @siyazarrabi, and follow his vlogging adventure on the Hopscotch The Globe YouTube Channel.