Elina Osborne (@elinasborne) is a visual storyteller rooted in telling tales of hiking and adventure. A creator on YouTube, she says of her works, "I make content in the form of documentary-style films. While I place focus on capturing video, photography has also always been something I love to capture - particularly when it involves people in new environments." Osborne says to cover her bases, her gear could vary immensely, but for her YouTube Channel, she's taken an approach to be as minimal as possible. "It's usually trial by fire on a long-distance hike," she says, "navigating what I can justify carrying, with what I think will capture the journey I'm trying to portray." After some 4,000 miles on the trail and many sprained ankles later, she has settled on a Sony Alpha 7S III camera and a tight collection of Sony lenses to document her adventures in YouTube films and vlogs. She walks us through her gear in detail below.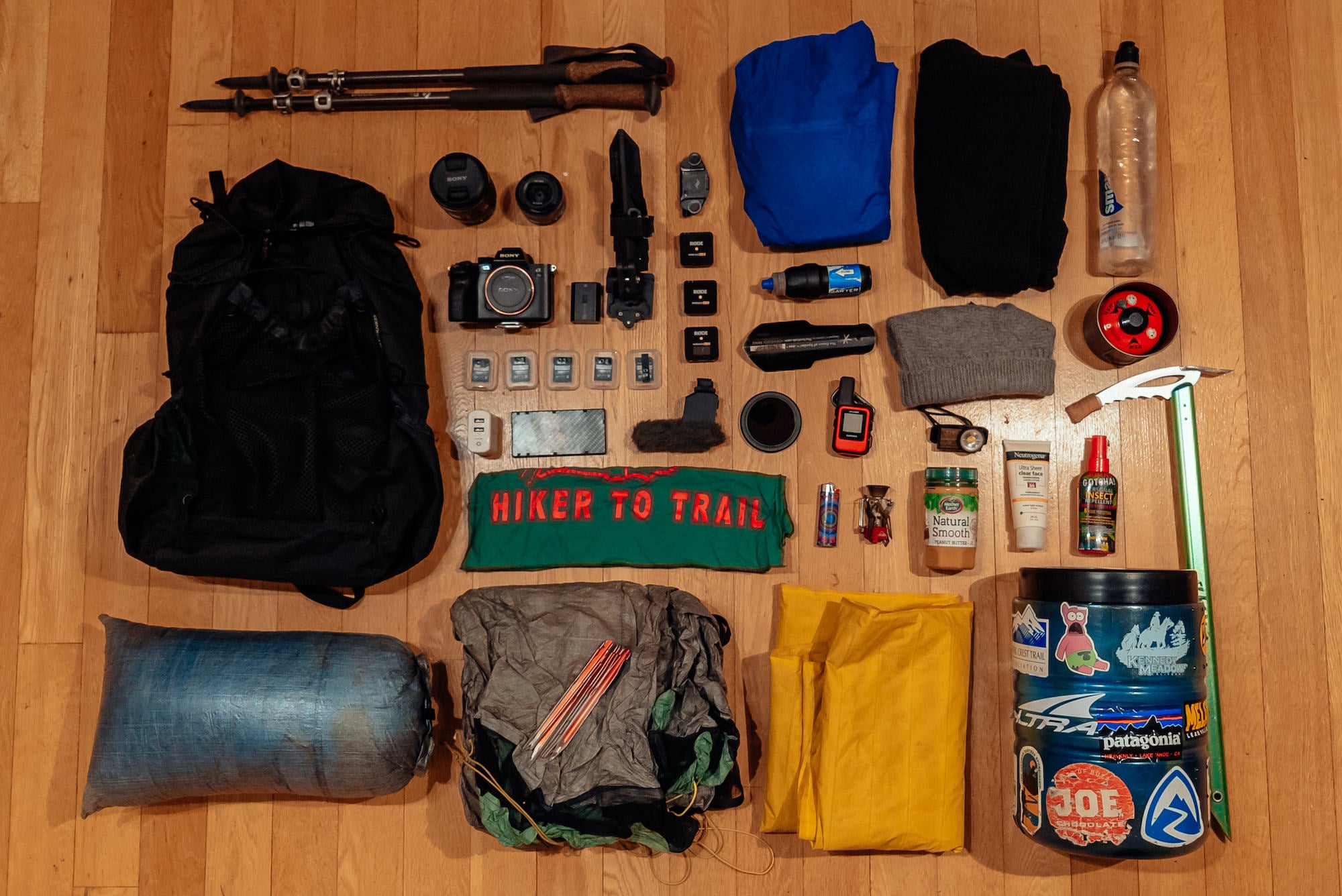 Cameras
Sony Alpha 7S III: It's the king of video, it's compact, powerful and on top of the game for low light. As video is my primary focus, this is my ideal camera - and let's not forget that 4K 120p capability. It's dreamy, and as soon as it hit shelves, I took it out and walked the length of New Zealand with it. It also passed the thru-hike test - withstanding sand, mud, and rain - it's pretty dang tough too.
Lenses
Sony 24mm f/1.4 G Master: When I walked Te Araroa, I decided from the get-go that my priority wasn't to be cutting pack weight, it was to maximize my experience as much as possible; and for me, capturing beautiful imagery was a big factor. I still only decided to take one lens, and for my 'as minimal as possible' approach, it was again a prime lens. The 24mm came in at 445 grams (0.98 pounds), so 3x the weight of what I had last time, but what I lost in ultralight street-cred, I gained in aperture, and in width. With this lens I was able to capture much more of the landscape I felt I couldn't quite give justice to on the PCT.
Sony 35mm f/2.8: This was the one and only lens I took to hike the Pacific Crest Trail. I was truly prioritizing cutting the weight of my pack; I was hiking from 20-45 miles per day, and coming in at only 120g (0.264 pounds), AND packing a punch in the aperture; this lens allowed me to keep things light, while still be able to capture beautiful imagery. Another big focus of mine was to capture other hikers on their journeys, including interviews; the size of this lens also meant it was far less intimidating than something a lot bigger and "in your face."
With the release of the new Sony 24-70mm f/2.8 GM II, who knows; that could be my next go-to lens on the next thru!
Film & Photography Accessories
Peak Design Camera Clip: Essential for accessibility when hiking and filming. When walking long days, the last thing I wanted to do was stop every time I saw a moment I wanted to capture – this ensures I don't need to.
Compact Shotgun mic: Audio is the most important factor in capturing video; especially for the interviews, I was conducting throughout my hike.
Pedco Ultrapod Lightweight tripod: A more recent addition to my hiking pack repertoire; it really adds another element to filming, especially when wanting to have a body in the shot to provide perspective, and when I'm hiking solo.
Tiffen Variable ND Filter: With that wide aperture on the 24mm, this was essential while filming in the harshness of that New Zealand summer daylight.
Powerbank: Without access to power for 3-7 days at a time, this was as essential as any other camera piece; no battery, no capturing!
(DJI Ronin Gimbal): I'll put this one in brackets, because while I did start my hike of Te Araroa with it, and it DID capture beautiful cinematic walking shots; it wasn't worth the carrying weight for what I was trying to capture.
Other accessories: spare SD Cards, extra battery, headphones, and cleaning items.
Thru Hiking Accessories
The reason why I needed to keep my camera gear minimal: it would all need to fit with my hiking gear, and all in a 40L hiking pack!
Not the full comprehensive list, but the pack would also contain:
Z Packs Duplex Tent + Stakes
Z Packs Quilt
Hiking Poles
Merino Layers
Puffy Jacket
Fleece layer
Beanie
Buff
Cook Kit: Pot, Stove, Gas, Spoon
Trowel
Head Torch
PLB
Sawyer
Sunscreen/Insect Repellent + Toiletries
Drink Bottle
Sunnies
Sierra Conditions:
Follow Elina Osborne's outdoor adventure on her YouTube Channel and on Instagram @elinasborne.