Hey guys, my name is Lawrence Leyderman (@overlandingphotography) – I'm a photographer, explorer, overlander, outdoor junkie, and part-time nomad. The feeling I get from being out in nature is second to none. Exploring the great outdoors, and inspiring others to do the same are my passions. The challenge of getting to and capturing remote, yet exquisite landscapes in a dramatic fashion has been and always will be my dream!
When I'm out there in nature shooting, I forget about everything. I disappear into the moment, transcend into another world, get hyper focused, excited, happy and more present than ever. I'm absolutely addicted to every aspect of photography and the great outdoors – the planning, scouting, execution, shooting, processing, & then ultimately sharing, teaching, & inspiring. I love testing myself creatively, mentally, and physically. Waking up before the rest of the world to catch the sunrise and going to bed after everyone is already asleep. Exploring places I've never been in the dark, and braving storms to catch a dramatic sunset - the thrill and rush of it all makes me feel so alive.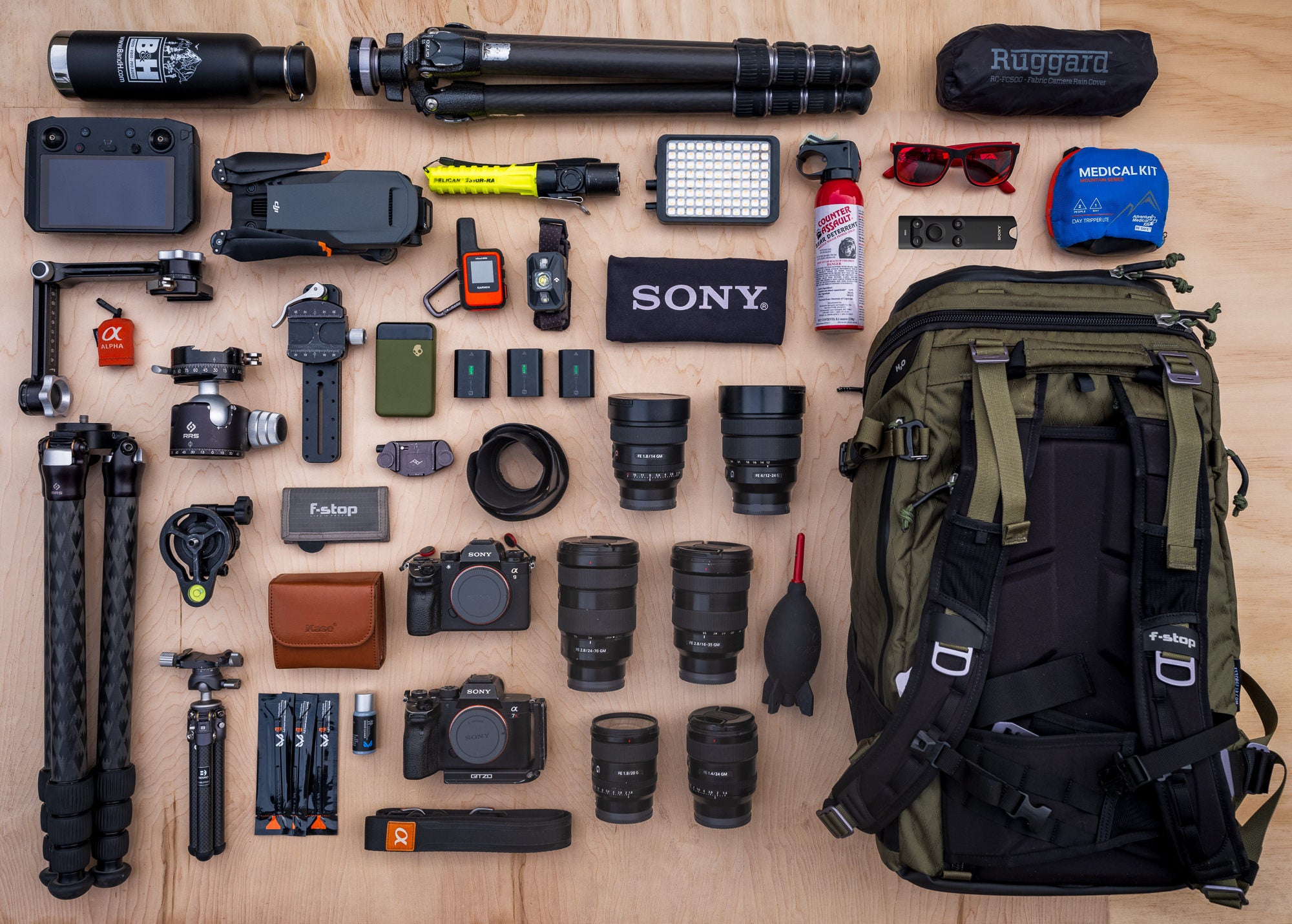 Overlanding photographer Lawrence Leyderman gives us a look at the photography gear you'll find in his expedition-outfitted Jeep.
A few years ago, I decided to outfit my Jeep to be an expedition vehicle with a roof top tent that can get me to most places safely and allow me to have everything I need to survive in remote areas for long periods of time. Being a photographer with a gear addiction makes this the perfect way to explore while having everything on hand. Whenever I go off trekking into the woods or on any adventure away from the vehicle, I'm able to customize my bag with whatever I'm planning to shoot in mind.
The toughness and quality of the gear I use is as important to me as the quality of my imagery. Sony stands up to that test - I've had one of my camera bodies roll down a mountain and still work, and once or twice I've had a camera fall off the Jeep after leaving it sitting on a fender and driving off. Aside from my own clumsiness, there are the conditions that I always find myself in. Extreme heat and cold, sandstorms, snowstorms, lightning and rainstorms… you name it - the more brutal, the more I want to be out there. Atmospherics add drama, depth, and dimension to a photo & to be able to go out in those conditions you need to have gear that can stand up to them, and Sony has the build to do just that!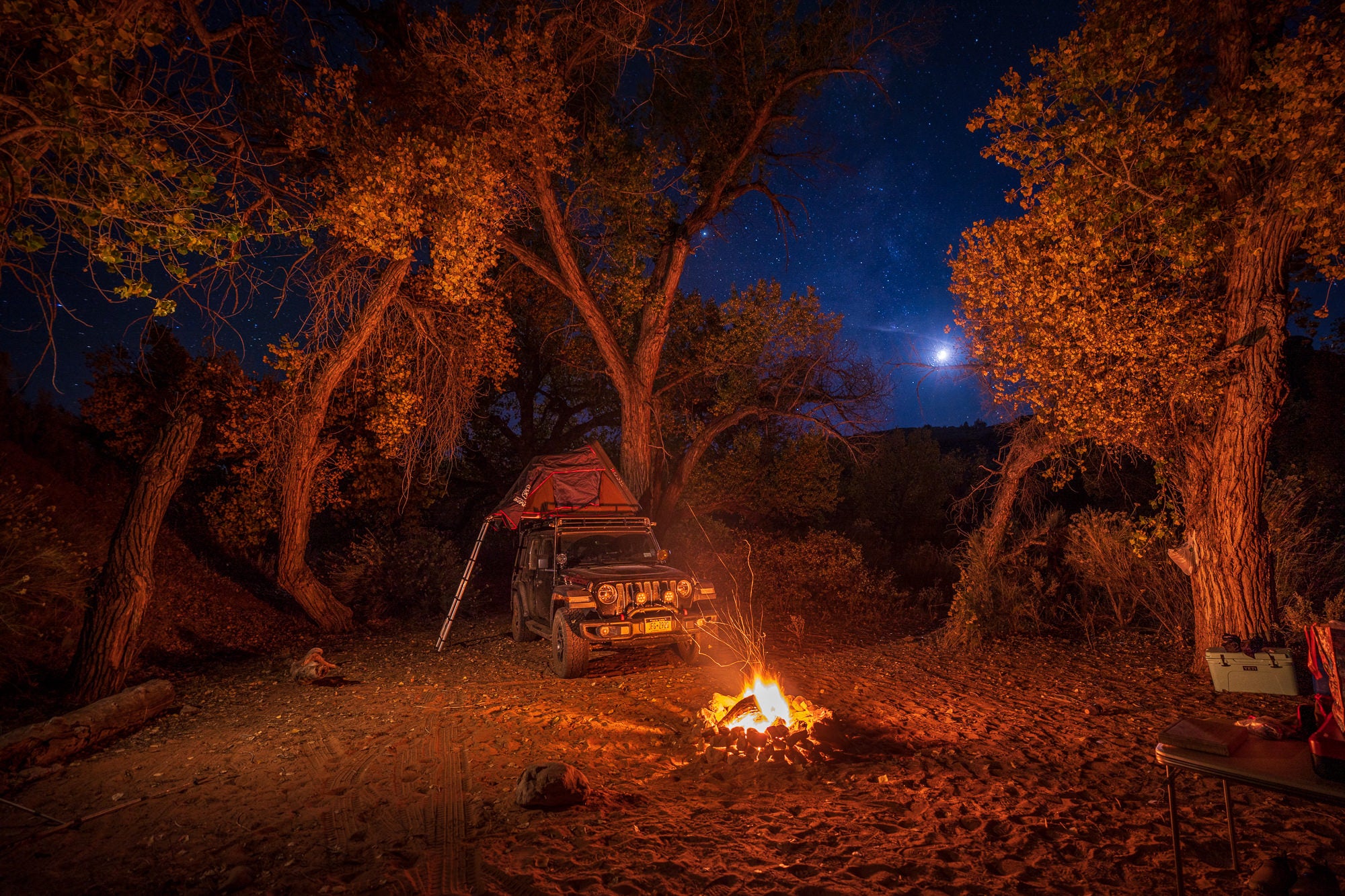 "The focal length of 16mm was absolutely perfect to capture the essence of this fire and moon lit night." Photo by Lawrence Leyderman. Sony Alpha 7R IV. Sony 16-35mm f/2.8 G Master. 15-secs., f/2.8, ISO 200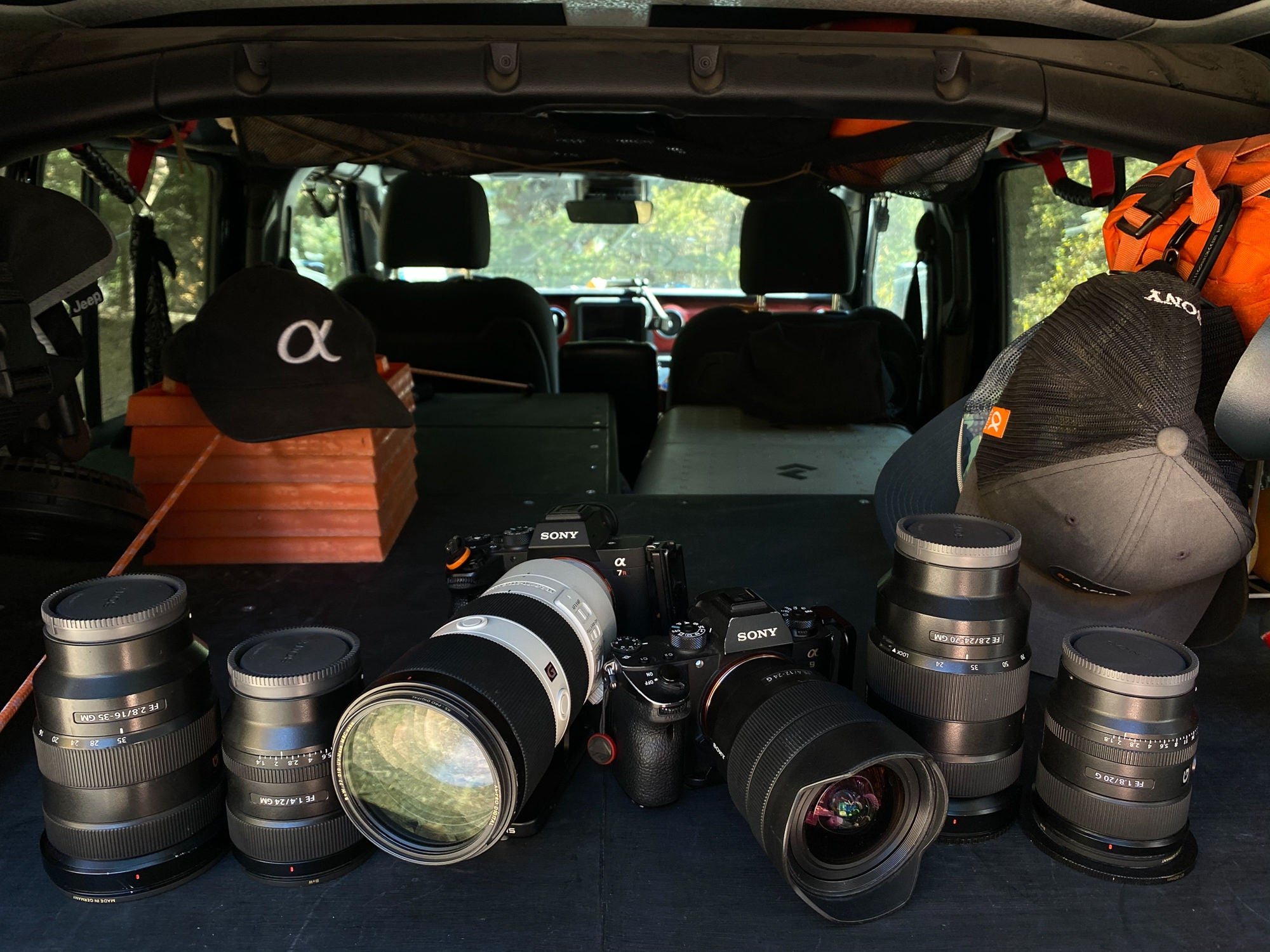 Cameras
Sony Alpha 9: This was my first Sony full-frame mirrorless camera, which I fell in love with immediately. I chose this model because it was revolutionary and was able to do everything I could possibly ask for. With this beast, I could shoot the fastest animals, vehicles, sports, landscapes, real estate, & events – there was nothing it couldn't do.
At first, I used the Alpha 9 for everything since it's so incredibly versatile. Once I got a higher megapixel second Sony camera and got into printing the Alpha 9 found a new place in my arsenal. It became my second body, which I primarily used for astrophotography, real estate work, and anytime I needed to utilize its speed. Also, it became very handy in situations where I needed to shoot in total silence. I'll never forget the day I shot the Marine Corps Ball in San Diego and was able to shoot silently while 1300 Marine's had their heads down in prayer.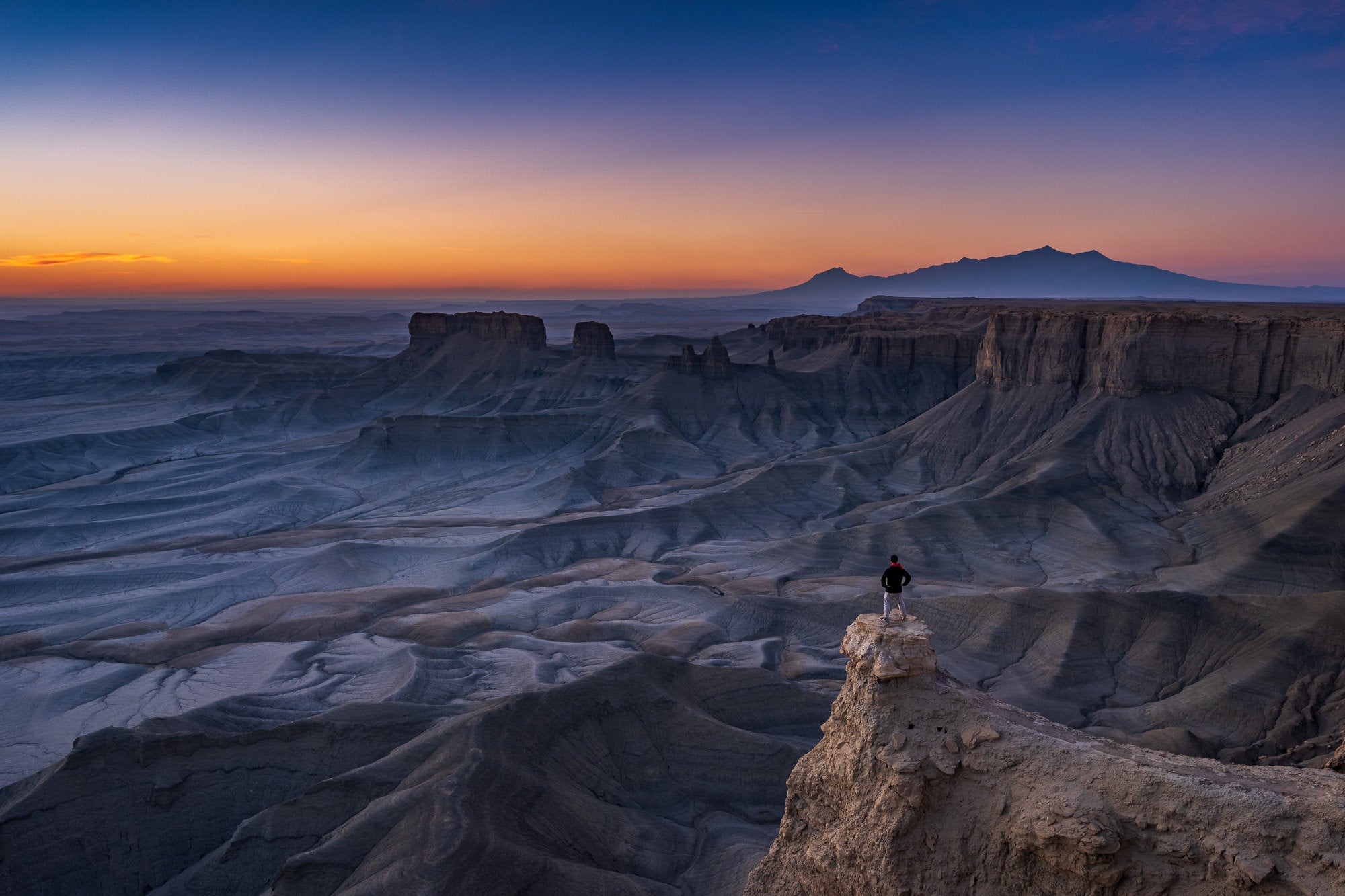 "That's me looking out on what seems to be another planet. I set the camera on a tripod focusing on where I planned to stand, got in position and triggered the shot using the Sony RMT-P1BT Bluetooth Remote Commander." Photo by Lawrence Leyderman. Sony Alpha 9. Sony 20mm f/1.8 G. 1/800-sec., f/2, ISO 160
Sony Alpha 7R IV: A landscape photographer's dream camera!!! The Alpha 7R IV has not left my side since the day it came out. I immediately fell in love with this trusty landscape shooting powerhouse! When I first felt this camera in my hands I loved the new updated body size and grip - it felt great. Having a 61-megapixel sensor always puts a smile on my face! Knowing I can crop in and still have a large printable file is awesome! When in crop-sensor mode, it gives your lens a 1.5x crop and still results in a 26mp file which has come in handy numerous times.
This is my primary camera of which I now have two. It's used for shooting all types of landscapes, seascapes, and nightscapes. One of my favorite features of this Sony camera as well as others is "Bright Monitoring" which practically allows you to see in the dark. (Tip - The bright monitoring function is hidden in the menu system, and you can only assign it by going into your custom button setting.)

"This was shot with the Sony Alpha 7R IV and the 24-70mm GM @70mm. It's a 6-shot panoramic image shot vertically." Photo by Lawrence Leyderman. Sony Alpha 7R IV. Sony 24-70mm f/2.8 G Master. 4-secs., f/8, ISO 50
Lenses
Sony 12-24mm f/4 G: My 12-24mm has gotten a lot of great use. I used to shoot real estate in NYC for many years, and this was my go-to lens for that. There was pretty much nothing it couldn't do when it came to shooting interiors and exteriors. Practically every photo on myrealestateshots.com was shot using that lens. At f/11 everything I ever shot indoors was in focus and sharp no matter what. This lens was my workhorse lens for many years and it stood up the challenge.
When it came to landscape photography, this lens came in handy as well. Especially when in tight places such as slot canyons, or when in places with mystically tall trees such as in the Redwoods of the US - It never disappoints. I also enjoy using the 12-24 to get really close to objects and show them in an interesting way.
This lens is perfect for capturing a large scene where the subjects are not too far in the distance.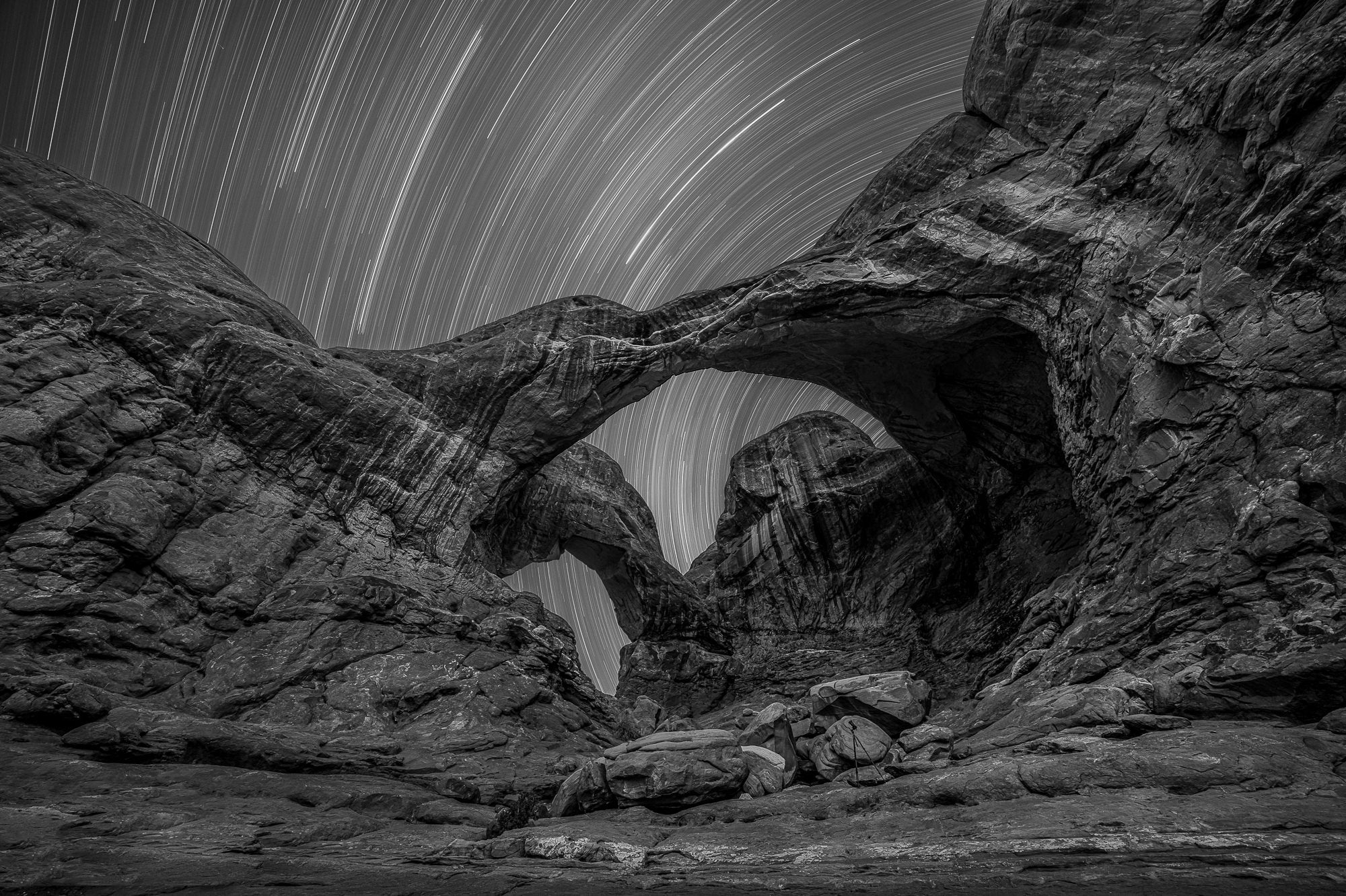 "130-minute Star Trail through Double Arch. You can see my second camera also shooting a star trail if you look close under the arch. I rarely shoot stars using this lens, but I wanted to get a shot I've never seen before and this was the perfect lens to do just that!" Photo by Lawrence Leyderman. Sony Alpha 7R IV. Sony 12-24mm f/4 G. Foreground: 30-secs., f/11, ISO 50, Sky: 7,805-secs., f/4, ISO 50
Sony 14mm f/1.8 G Master: Holy Moly!!! How can a wide-angle lens be so sharp and have so much detail throughout!?!? This lens is mind blowing. When I go through photos shot using the 14mm 1.8, I'm always astonished by the quality!
Like a lot of my other lenses, I got this one for one reason, but it turned out to be so useful in so many more scenarios. Initially I added this to the lineup for the added light and wider focal length to shoot the night sky, but it ended up getting a lot of use during the day as well. When going into slot canyons, this lens replaced my 12-24 G as well as in most situations that I could use a wider focal length than 16mm. It's also fun to get up close to objects and make them look bigger than the world. You can create a caricature effect with this lens if you shoot a person or animal close to its face making the face huge and the rest of the body tiny – those are always fun.
As much as it's awesome to capture large vistas with this lens, the focal length makes things in the distance look smaller than they really are taking away from their power in the image. To still get the entire scene and not lose things in the distance I rely on tighter focal lengths and shoot panoramic images.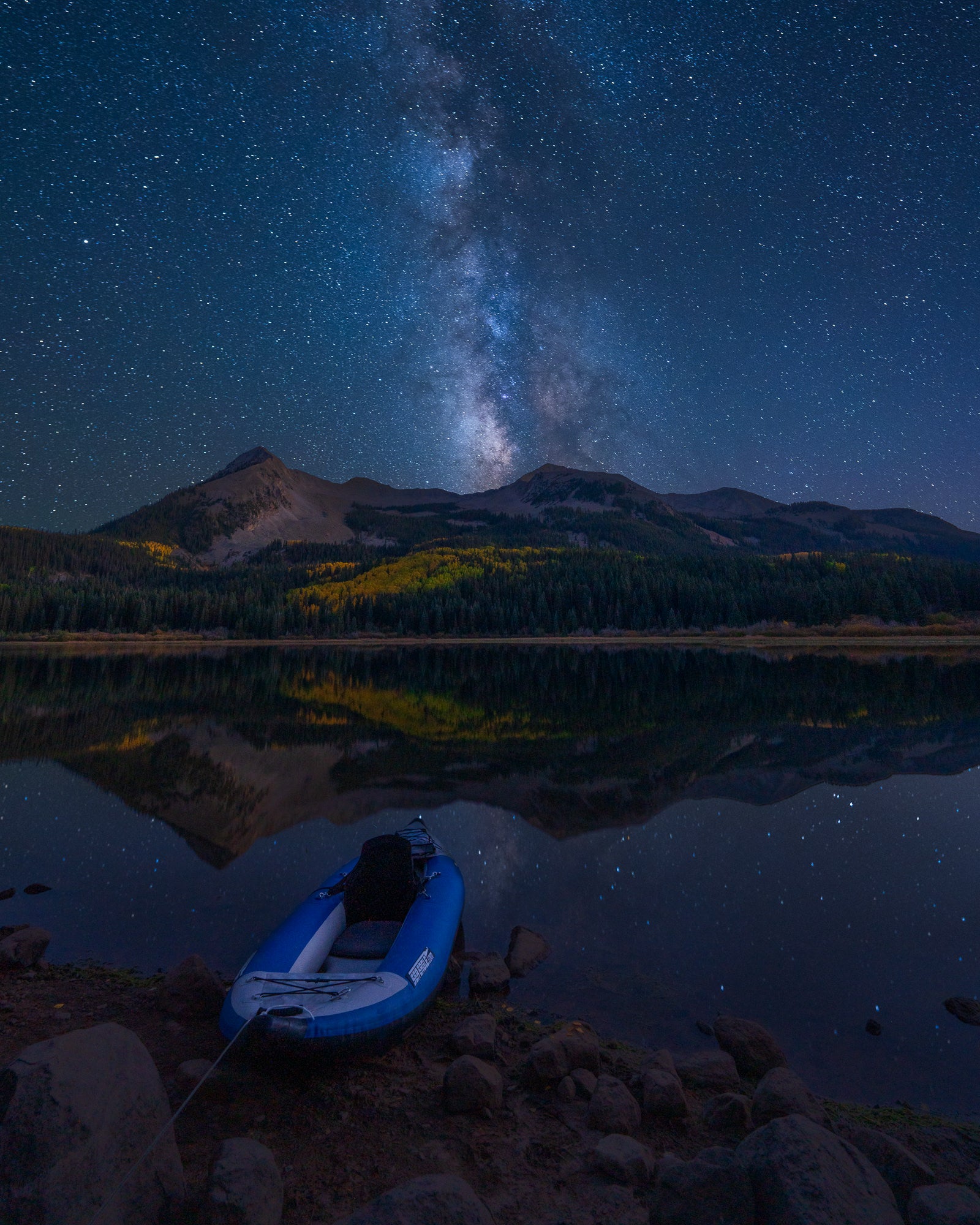 "This lens worked exceptionally well on this scene. It was able to capture a lot of the Milky Way, while giving us a powerful foreground and midground as well." Photo by Lawrence Leyderman. Sony Alpha 7R IV. Sony 14mm f/1.8 G Master. Foreground: 30-secs., f/8, ISO 50, Sky: 20 images stacked for noise reduction. f/2.2, ISO 12800.
Sony 20mm f/1.8 G: I added this lens to my lens lineup after getting the 24mm f/1.4 G Master. You might be wondering why get this lens if I already have the 24mm 1.4. Well, I have a few reasons – I like to have multiple cameras shooting at night since one is usually doing a very long exposure, or timelapse and this was a perfect secnd lens for that. Also, I thought the extra few millimeters would be great to add a bit of real estate to the scene I'm capturing. Lastly, I thought I was going to be blogging at the time and this focal length and aperture were perfect for me to hold out a camera while filming myself. This lens is just as good as the 24mm f/1.4 G Master in my eyes. The sharpness, quality, build, and the results I get are incredible. This lens and the 24mm 1.4 GM are the best lenses out there for capturing the night sky.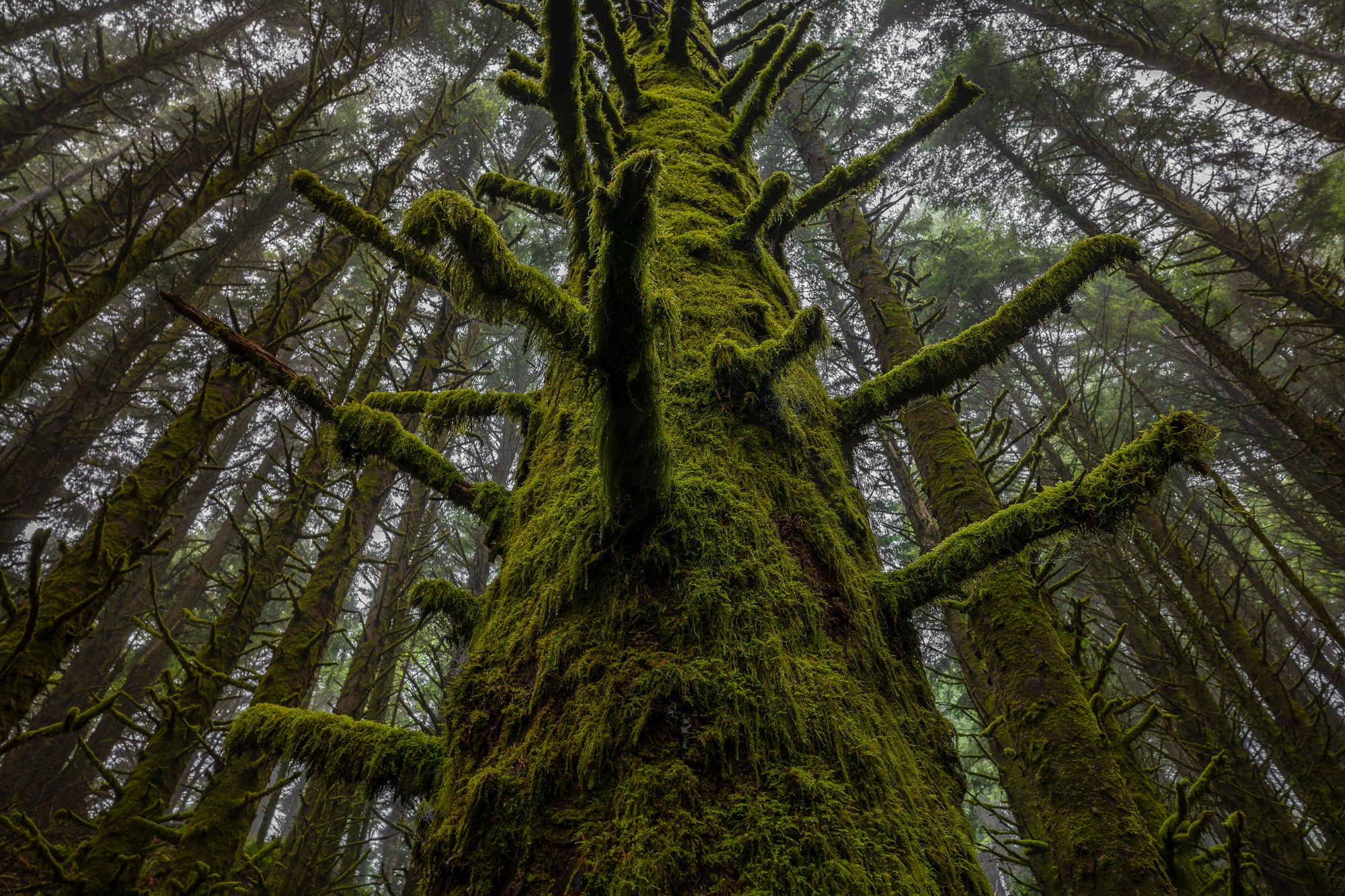 "This mossy tree was shot by the southern coast of Oregon with the 20mm G - it was so much fun running around this grove with this super sharp and lightweight lens." Photo by Lawrence Leyderman. Sony Alpha 7R IV. Sony 20mm f/1.8 G. 1/60-secs., f/11, ISO 100
Sony 24mm f/1.4 G Master: Initially I purchased this lens solely for astrophotography, but over time it has become more than just a lens I use at night. The focal length as well as the very wide-open aperture are fantastic. The wide aperture allows a large amount of light in while the 24mm focal length makes my subject powerful, while not diminishing things in the distance too much, and still giving you an ample amount of sky. Stars and the night sky look incredible when shot through this lens, it seems like it picks up more stars than any other of my lenses.
I also really like that I can focus super close to a subject, with the minimum focusing distance being just under a foot. Combining that close focus, with a low aperture, you can really make a subject stand out while making everything in the distance totally disappear no matter how busy.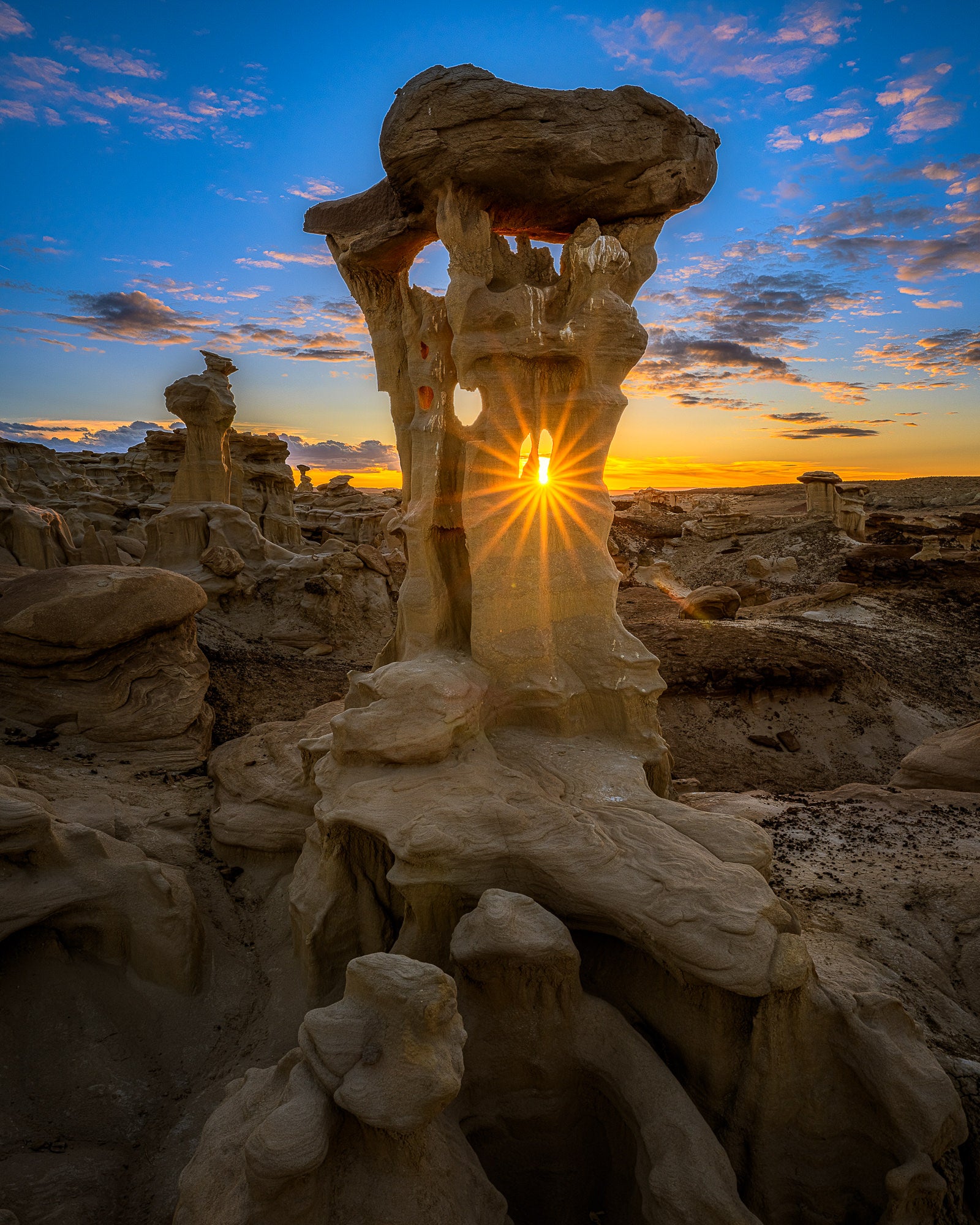 "This is a good example of how a 24mm can make a landscape subject stand out powerfully. And look at that beautiful sunstar the 24mm GM creates." Photo by Lawrence Leyderman. Sony Alpha 7R IV. Sony 24mm f/1.4 G Master. 1/320-secs., f/10, ISO 200
Sony 16-35mm f/2.8 G Master: What an incredible lens this is – perfect for shooting landscape and real estate! This lens hardly ever came off my camera at one time. It was my favorite landscape lens for quite a while. It's so versatile in the field with such a perfect focal range. Shooting anything from grand vistas to getting up close and personal with a large subject. Nowadays I use prime lenses as much as I can, but in conditions when swapping lenses is not possible this is always on me. At f/2.8, your aperture is wide enough to get a good amount of light in making it useful for night photography too. I really like using this lens particularly when shooting waterfalls. It allows me to get in close while zoomed out, or stand back while zooming in.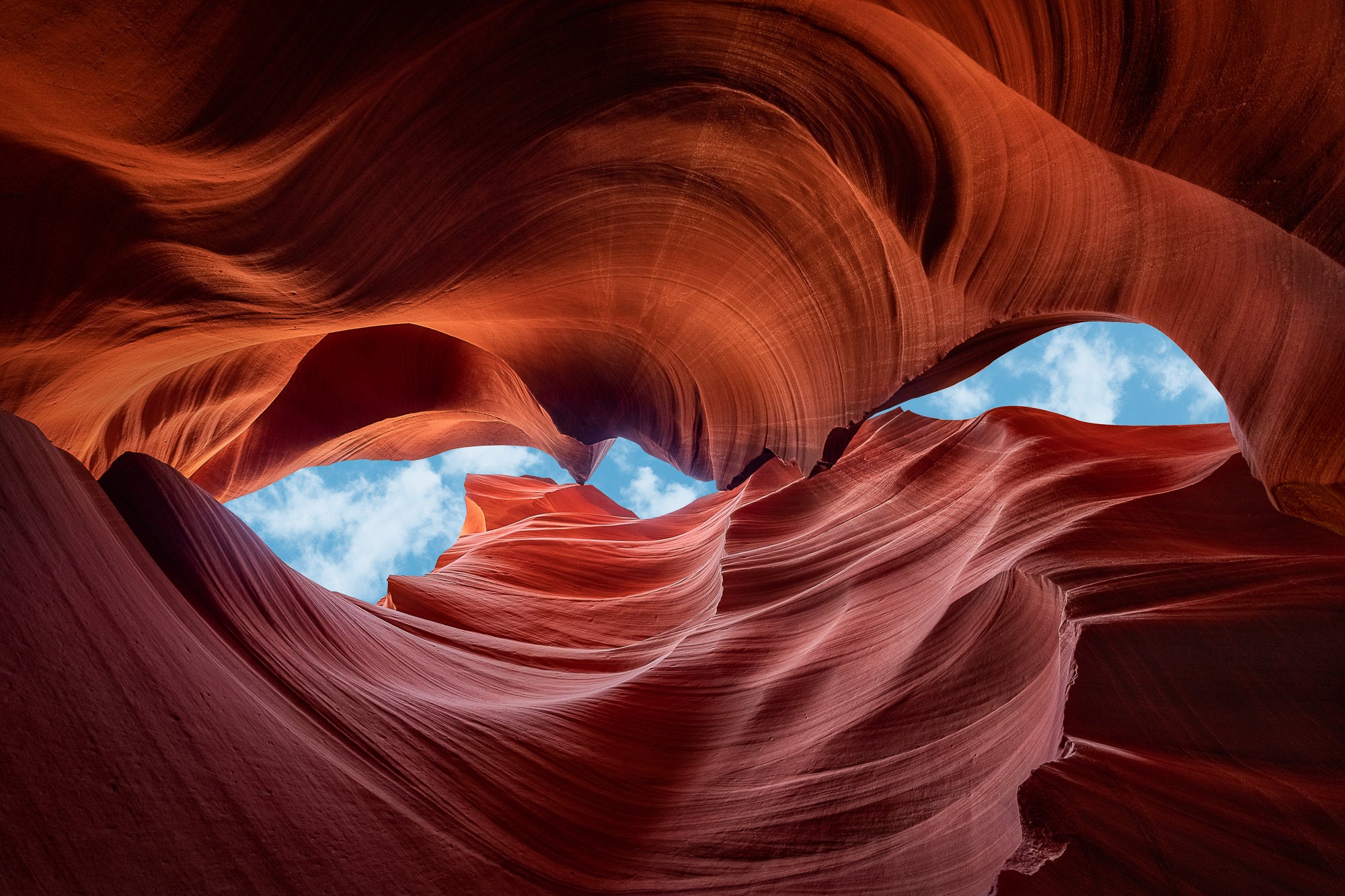 "This lens was perfect in the dark tunnels of this slot canyon. Facing extreme dynamic range without a tripod, bracketing exposures and using a high shutter speed worked very well." Photo by Lawrence Leyderman. Sony Alpha 9. Sony 16-35mm f/2.8 G Master. 1/400-secs., f/10, ISO 1600
Sony 35mm f/1.8 G Master: This ultra-sharp lens makes beautiful sunstars and belongs in everyone's camera bag! Great focal length to represent a scene is a natural way. I also enjoy using this lens vertically to shoot panoramas.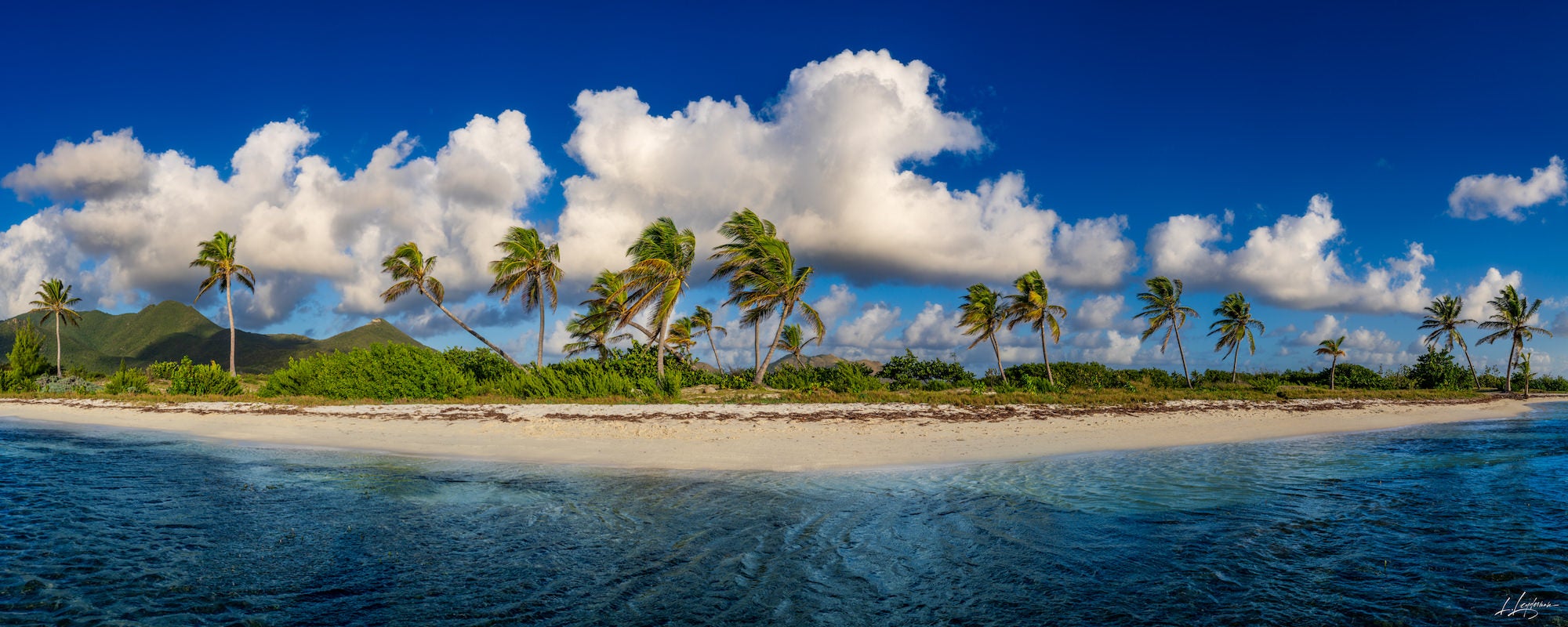 "6 Shot Palm-o-rama. To get this pano, I walked out into the ocean with my tripod until I couldn't walk anymore and the water got too high. Then I set up and shot towards land and the results came out epic!" Photo by Lawrence Leyderman. Sony Alpha 7R IV. Sony 35mm f/1.8 G Master. 1/640-secs., f/8, ISO 100
Sony 24-70mm f/2.8 G Master: This lens is the one - the one you take if you can only take one!! With a focal range wide enough that you can shoot large vistas, or groups of people/vehicles & telephoto enough that you can totally isolate an object and have nice compression.
All around the most versatile high-quality lens in my line-up. If I'm going on a hike, and want to enjoy it in a minimalistic fashion, I'm very comfortable with just this one lens slung around my body. When shooting an off-road 4x4 tour, or any event, this lens must be on me.
Just recently I photographed a three-day overland event out in Sand Hollow, Utah and did not switch lenses once. I was able to do everything with the 24-70mm GM. What was cool was the speed at which I was able to go from shooting many vehicles together and then just isolating one at a time as they went over obstacles. This lens executed flawlessly and made my job easy.
When in crop-sensor mode this lens becomes a 36-105mm and if you're using the Sony Alpha 7R IV body, that will result in a 26-megapixel image which is a huge benefit of combining this lens with this camera. This only adds to the versatility of this great lens which I also can be used to shoot the stars at night since the aperture is 2.8.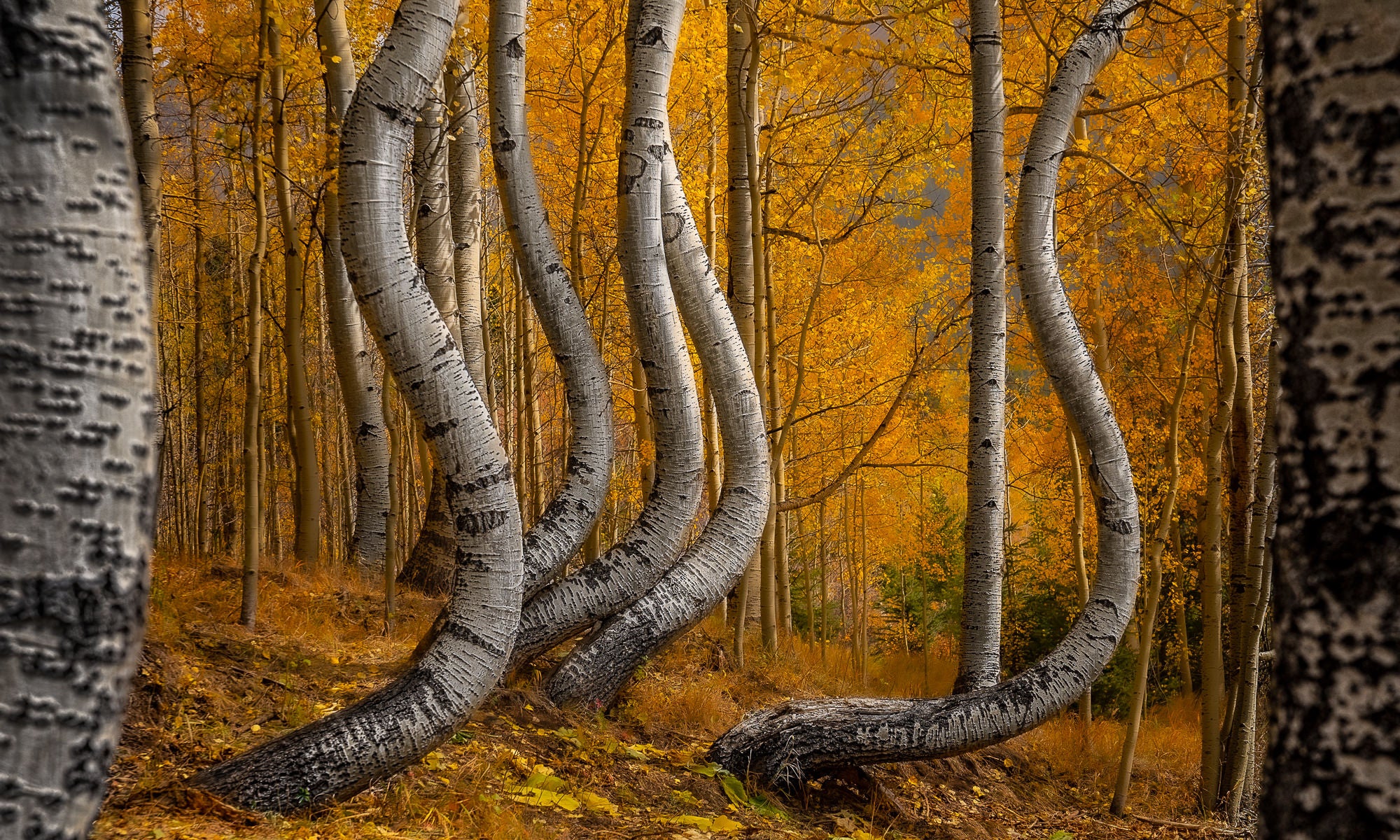 "This shot of the dancing aspens was taken at 48mm which gave me just the right amount of compression for the look I was going for." Photo by Lawrence Leyderman. Sony Alpha 7R IV. Sony 24-70mm f/2.8 G Master. 1/400-secs., f/6.3, ISO 100
Sony 100mm f/2.8 STF G Master: What a cool lens and so sharp too. I use this for mid-telephoto panos, as well as when shooting semi-macro shots without having to get too close to an object like this lizard you see here. I must have taken at least 2000 images of these lizards on my last trip to the caribbean. This lens makes it so fun to chase around these jeweled reptiles. I love the details you get with this lens - you can see every blood vessel in the lizard's eye.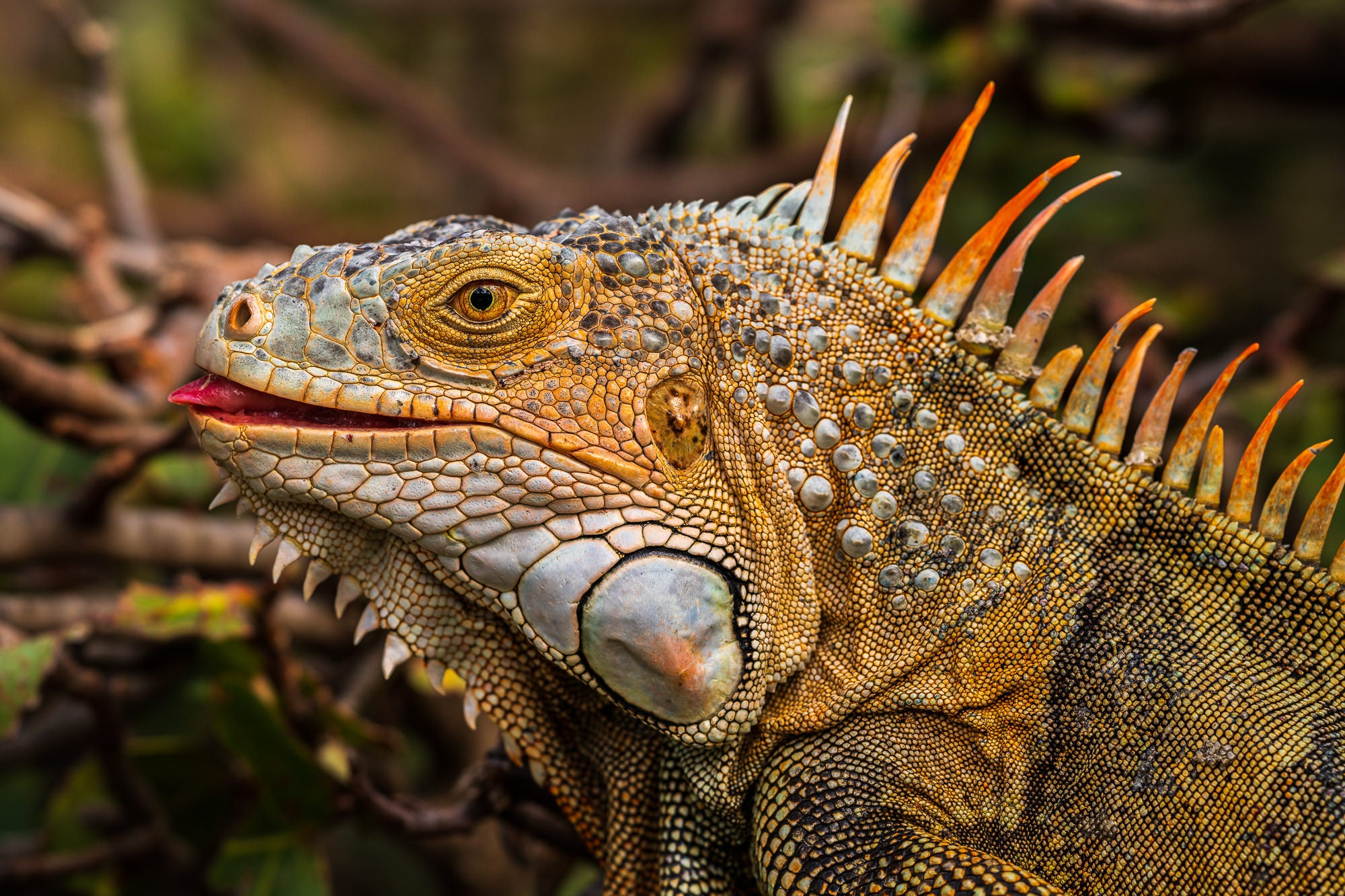 Photo by Lawrence Leyderman. Sony Alpha 7R IV. Sony 100mm f/2.8 G Master. 1/400-secs., f/8, ISO 100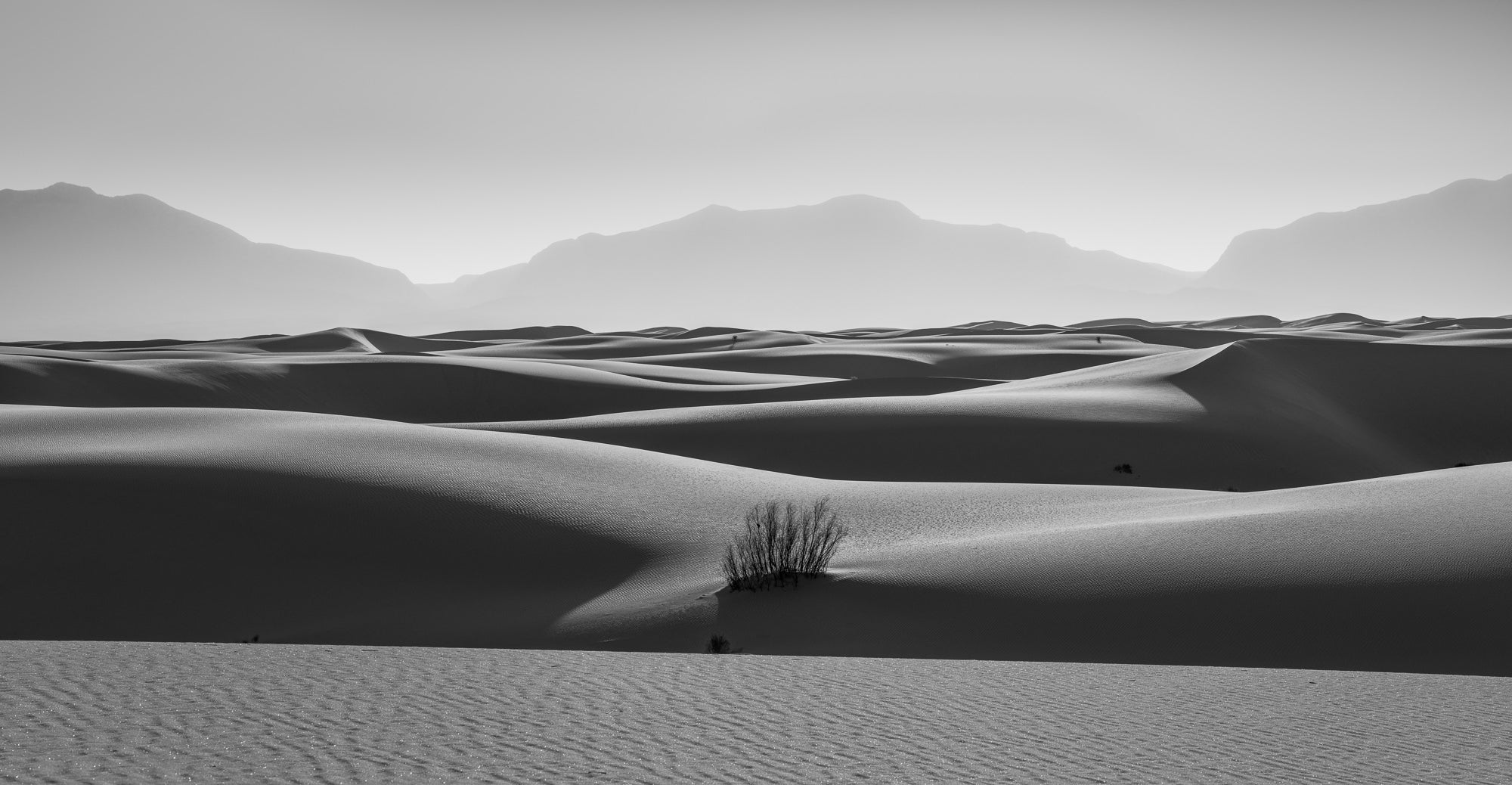 "Panoramic Images look so stunning with this lens and I just love the compression I get with it! This image was focus-stacked as well." Photo by Lawrence Leyderman. Sony Alpha 7R IV. Sony 100mm f/2.8 G Master. 1/320-secs., f/11, ISO 100
Sony 70–200mm f/2.8 G Master: Whenever I'm driving, my camera always has this lens on it and it's always by my side. There is no other lens that I could rely on as much as this one for a sighting of an animal or something that I need to capture quickly on the road. Perfect for a quick pull over, and a photo shot at a distant landscape scene as well.
As my photographic eye developed over the years, I began enjoying using the telephoto lens more for landscape images than its wider counterparts. I found myself looking off into the distance more than I used to. There were a lot of reasons why I began to enjoy using a telephoto lens more often - the way a landscape gets compressed for one, also being able to get close to objects I otherwise could not, and the fact that it's not the way one normally sees the world which makes the image more interesting and artistic. These days I tend to shoot lots of landscape panoramas using this lens.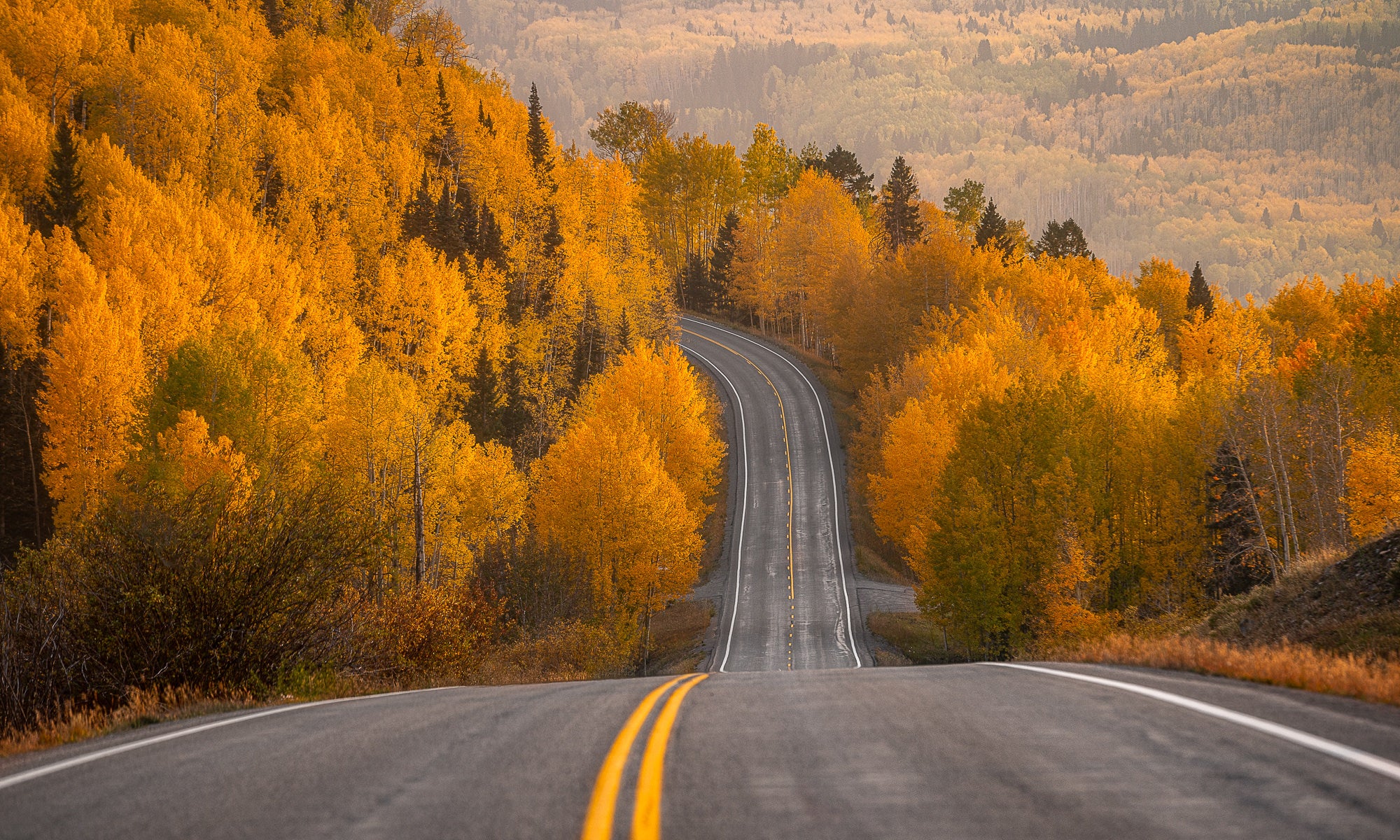 "I chose this image to show how a telephoto lens can make a normal shot extra creative and compress the foreground with the background." Photo by Lawrence Leyderman. Sony Alpha 7R IV. Sony 70-200mm f/2.8 G Master. 1/160-secs., f/4.5, ISO 125
Tools and Accessories
Gitzo L-Bracket: Every landscape photographer should be using an L-bracket which allows you to quickly change from vertical to horizontal orientation on the tripod while still keeping the proper center of balance.
RRS & Gitzo Tripods: So sturdy and worth the hefty price tag. As a landscape photographer, having a great tripod that can stand up to the elements is as important as having a great camera!
Acratech Large Leveling Base: I love having this on my rig – it allows me to level my head in seconds regardless of how my tripod legs are standing and the bubble is huge.
RRS Nodal Slide: Very important for my setup as I do a lot of panoramic work. A nodal slide allows you to adjust your camera's position from front to back, allowing you to position your nodal point in the center of the rotation of the tripod head. This allows you to create perfect stitched panoramas.
RRS BH-55 Pan-head: I've had so many tripod heads and once I got this one, I knew I was never going to have to get another one again! It's so smooth and the pan is so nice! It's heavy, but I don't mind the weight, I actually like it - it keeps the tripod sturdy when windy.
RRS Multi-Row Pan Arm: This allows me to shoot multi-row panos with precision.
Sony Bluetooth Remote Commander: I just love this device. It's always hanging on my neck next to my lens blower. The connection is very solid and it never has failed me. I use it everytime im shooting. Having my camera on a tripod, set to a 2 second timer, and using the remote trigger minimizes any camera shake.

f-Stop Gear Anja Bag: Having a bag that is comfortable to wear, built-well, waterproof, and has all the storage you need, while also designed in a way you can assess everything easily is extremely important when out in the field. I've had many bags over the years but nothing like this one. I finally found the absolute perfect bag! There is nothing like f-stop gear out there! I currently own a 25, 39, and 50 liter bag made by f-stop gear for all types of adventure.
Extra Memory Cards & f-Stop Gear Case: Always have tons of extra memory! Especially if you plan to shoot timelapses or star trails!
Kase Wolverine Magnetic Filter Kit: I was skeptical at first, but what a game changer! The magnet is strong, no color cast and easy to use and fast in the field. As light changes quickly, you also need to be able to respond quickly!!
Luxli Viola Light Panel: This gets used mainly for low level lighting for foreground objects when shooting the night sky.
Garmin Satellite Communicator: This is for any emergency situation I may find myself in. If I have no reception & in trouble, this is gold!
Peak Design Shoulder Strap: Sometimes you just need your hands free and camera ready to fire.
Mini-Tripod: Sometimes you just gotta get low and into tight spaces in which you can't use a standard tripod. Also very helpful for setting up low level lighting for night shooting.
Portable Power Bank: Good to have in case your phone dies or you need to charge something. Also comes in handy when I have my camera shooting for over three hours… In such cases I'll hang a pouch from my tripod, and put the charger inside while connected to the camera's power input.
Drone: Amazing for aerial photography but I find myself using the tracking feature to lock on to me or my Jeep and record my adventures to share with others. It's like I have a cameraman following me even when I'm alone.
Lens Cloth & Sensor Blower: This is self explanatory and i think everyone needs to have and use this every time they change a lens.
Sensor Cleaning Kit: I never go on any trip without this. If something happens and mist or dust gets into the sensor area while I'm somewhere remote, I need to be able to clean it myself.
Headlamp: Never ever go anywhere without this!
Flashlight: For scouting comps at night and just to be able to see far in the dark.
First Aid Kit: Very important to have in your bag. I've ended up helping many others with my first aid kit, so it's not just for me.
Bear Spray: I usually have this on me when I'm in bear country and they are out of hibernation.
Sunglasses: Have to have a fresh pair of specs on hand at all times. Sometimes I'll take ski goggles with me which have come in real handy during sandstorms.
Lots of Extra Batteries: I never want to worry about battery life so I keep plenty on me at all times.
See more of Lawrence Leyderman's work on Instagram @overlandingphotography.