Movie sets are busy places with a lot of moving parts. For the movie stills photographer, working in the environment is a constant battle between getting shots for promotion, marketing and documenting the creation of the film, and staying out of the way.
In his career, Clay Enos has worked on some big films including the 2017 blockbuster, Wonder Woman. Enos emerged from Ithaca College where he studied film, photography and visual arts, into the era of the Great Dot Com Bubble. Successful investments gave him financial security and without the worry of paying the rent, he was able to pursue his dream of being a photographer. "This is my chance," he describes. "I'm going to be the photographer I always wanted to be." But financial security proved to be fleeting as the bubble burst. "I had to go back to work, but I knew at that point what I really loved. I had tasted it. For like a year and a half I was photographer. When people asked, 'What do you do,' I'd say, 'I'm a photographer.' It felt right."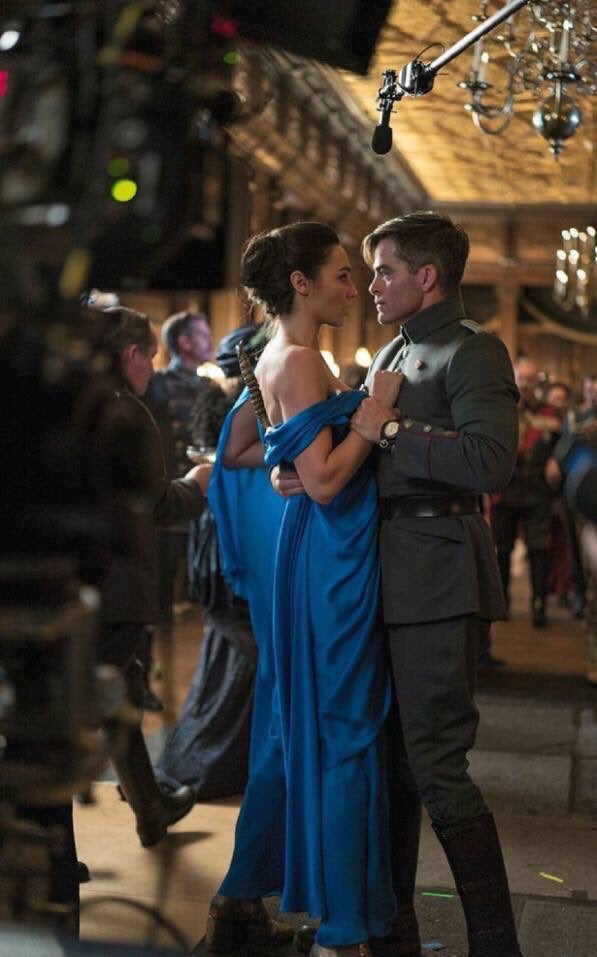 Going back to the corporate grind, Enos kept one eye on the dream of going back out on his own as soon as possible. After a successful stint at AOL/Time Warner, he was ready to step out on his again. "It was time to go and be a photographer. And that's what I did. I parleyed relationships from school and my work at AOL/Time Warner. One of which was a woman named Debbie Snyder, who is the producer that works with Zack Snyder and also his wife. We had gone to college together at Ithaca, and we had been friends for, at that point, some 15 or 20 years. The success of 300 had given him enough leverage to bring me onto his set of Watchmen. I was so curious and sort of oblivious and we kind of knocked it out of the park there. Out of that came this amazing book of portraits and behind the scenes photography."
Despite the success, the work had been extremely challenging and he wasn't necessarily looking to do it again. "Of course, I had no idea what I was doing and I exhausted myself. And at the time I thought, "I'll never do that again. I hadn't paced myself. The filmmaking hours are just brutal! Of course, you can say 'never again' if you have other options, but nothing else really presented itself. So I was in this weird situation where the next opportunity was essentially Zack's next film. I reluctantly accepted that but prepared myself a little better. It's not easy for a traditional photographer to come onto a movie set. They have to sort of strip away any notion that they're the center of attention. On a movie set, you have to just sort of take the leftovers that are offered by the machine of moving making. That can be really, really hard on the ego. It can be really, really hard on your aesthetic desires as well."

To counter-balance his extreme work on the set with his need for mind-clearing down time, Enos took to riding a Vespa of all things across the country. "When I decided to do another movie, I bookended it with a pair of long rides. I rode a Vespa across the country before, and I rode a Vespa down through Central America after. I wanted to bookend the challenges of the movie set with those excursions to satisfy my own artistic needs. It worked. I had a great time on Sucker Punch and I also got better at my job."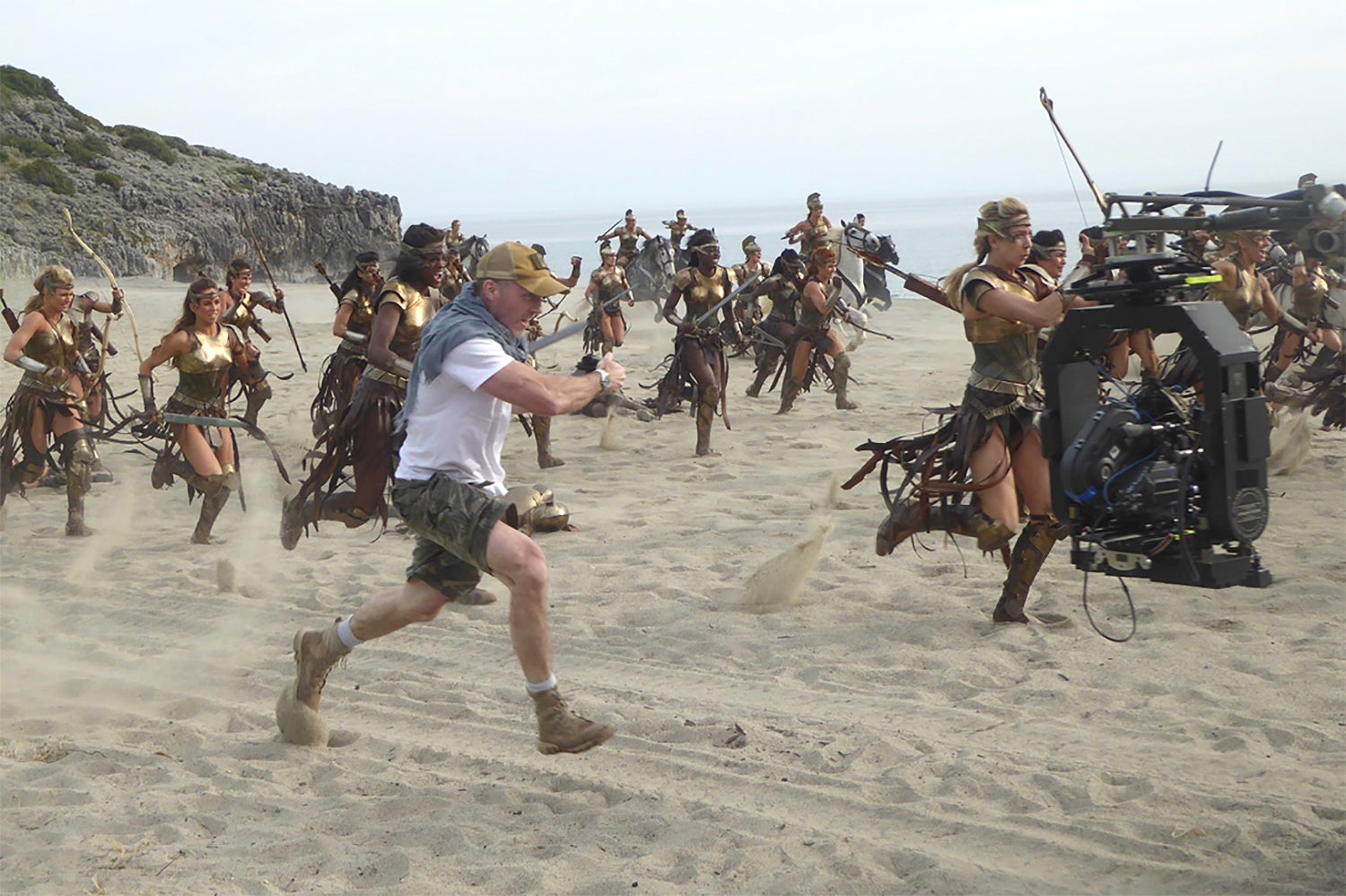 Clay Enos on the set, camera in hand.
In the time since those early movies, Enos has found his groove. "I'm coming up on a decade of doing this. I go to work every day to do something that most people only get to do on vacation. The camera and taking photographs are things that a lot of people only really do on vacation. I get to do it every day. I also get to work on these movies that have global appeal, especially with the DC 'Extended Universe.' The DCEU has legions of followers and devotees to their characters. I've made photographic representation of those characters and in most cases, I'm the only one who's done that. You can't half-ass that responsibility, so while I might not get the perfect shot because the movie gets that, I'm still in the presence of Wonder Woman. I'm still in the presence of Superman. Do you get frustrated that you don't have the perfect angle or do you rise to the occasion and make the best damn photo you can? My responsibility is to give everyone in the world insights into what it's like on a movie set, and on another level, to give the marketers what they need to market the film successfully."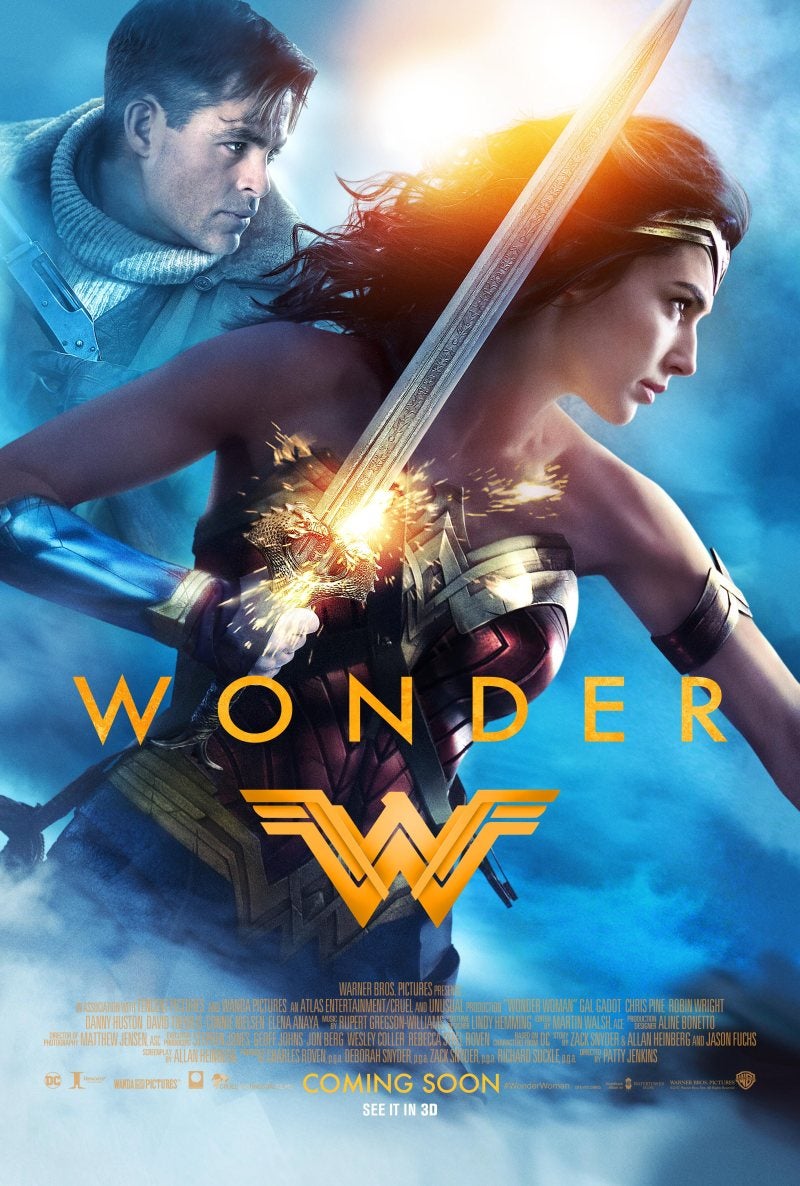 Enos has clearly come to love what he does on movies, but that doesn't make it easy work. "I'm always being sensitive to the fact that I'm not necessarily a welcome addition to the movie set. I'm the first one to sort of slink to the side and put my back against the wall as some grip gear rolls by. I stay out of the way. I'm the one crammed up with my leg cramping behind a box just so that when that one little moment in the scene happens I'm sort of well-positioned, but I'm out of the shot the rest of the time. As I get older, actually I notice that my joints are far less flexible, that I'm wincing through the takes."
As a young photographer Enos had been a Nikon shooter. Now he's completely switched to Sony. "It began strangely enough with another piece of gear, the Holdfast Gear Moneymaker strap. I was introduced to the strap by director of photography Larry Fong. I just loved it. It allowed me to suddenly carry three cameras at once, but at the time I only owned two. I decided to just throw a little point and shoot on the front and that third camera became the Sony RX100."
He continues, "That was when Sony was starting to get on everybody's radar. I made an image with that RX100 that's very widely seen. It's a picture of Bruce Wayne and Diana Prince in a museum. She's got her back to him and he's whispering in her ear. It was released as a publicity image.

"There I was on this giant movie set carrying my stupid camera blimps with the Nikon DSLRs stuck in them and the image that gets out there is one that I was able to make because of the RX100's silent shutter and the ability to reach my hand over a piece of grip gear and not need to be looking through a viewfinder. Suddenly, there the photo was. I was able to capture something I never would have if it had not been for that Sony point and shoot."
The RX100 became an on-set staple for Enos. With new mirroless models coming out, he decided to look deeper to see if there might be something to the other new models he was hearing about. "That was when Sony really got my attention. I got an α7S and at first I was using adapters for my Nikon lenses. When I shot Sucker Punch the Sony really became my go-to camera. Its low-light sensitivity on a film that takes place mostly at night was a revelation."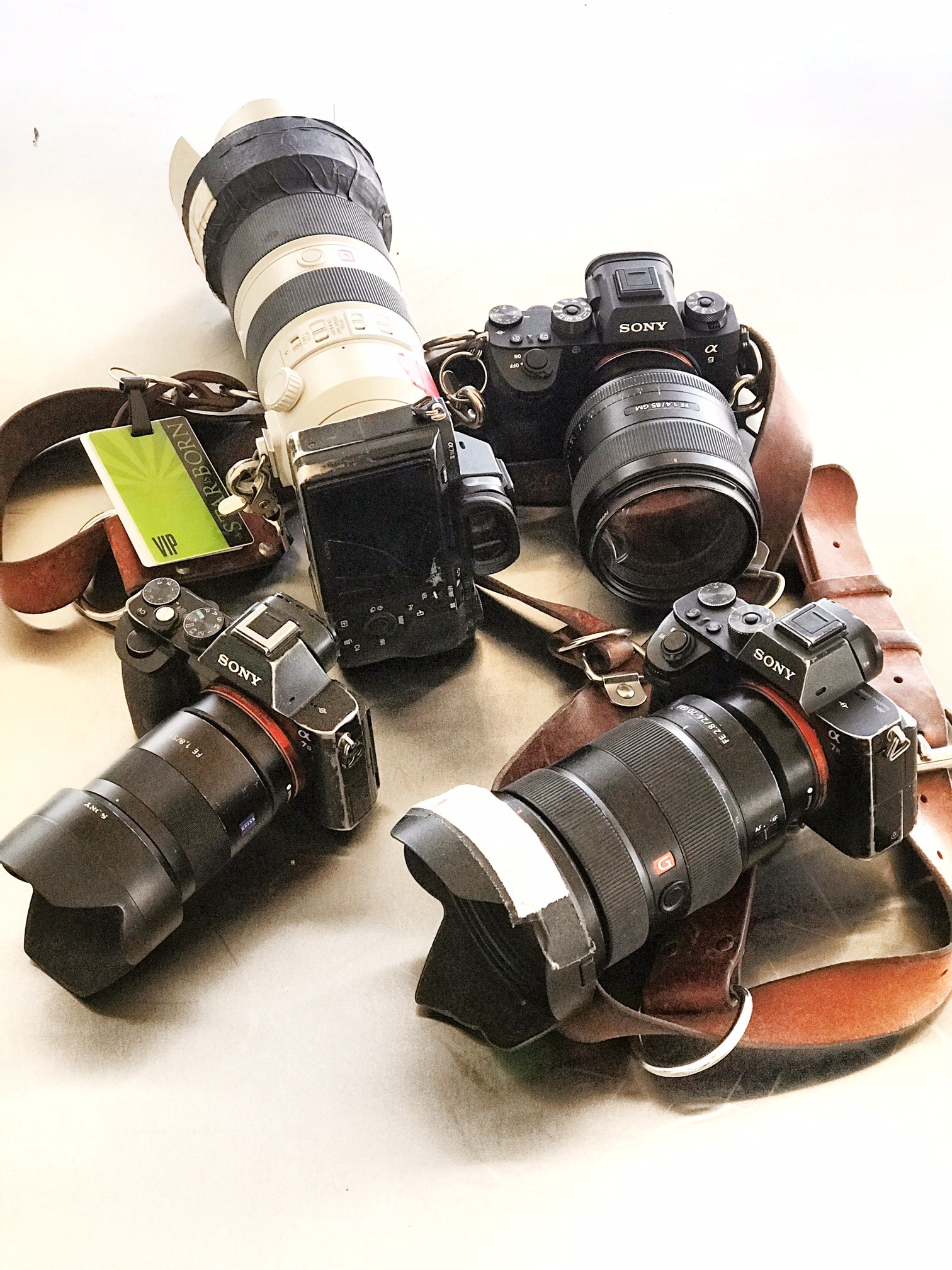 The Sony α7S II, α7R II, α9, 85mm G Master, 24-70mm G Master, 70-200 G Master and 55mm f/1.8 that Enos uses daily as he works on his next film, A Star Is Born, due out in 2018.
After seeing what the cameras could do in demanding conditions, Enos was convinced that it was time to make a complete switch. "When Wonder Woman and Justice League were announced," he says,"and I knew I was going to be a part of both of those, I made the financial commitment to make the full change over. At the end of Wonder Woman, it was fun to give away all of my beat up Nikon gear and I've been loving the Sonys ever since. They've been game-changers, because they completely expanded the possibility of images I can make on set. How do you not love that? If the gear is suddenly giving you new image-making possibilities, pay attention to that. In my case, the Sony cameras were guiding my image-making in a sense. I'm using the α7S II, α7R II and now the new α9. These cameras are giving me opportunities. I see something and know with confidence it can be rendered on that chip. That's a really nice feeling. If the camera is enabling your artistic expression, as the Sony was me, you're crazy not to follow that."