Photographers Erin Sullivan (@erinoutdoors) and Scott Kranz (@scott_kranz) of the Alpha Collective both create spectacular images that showcase the naturally artistic beauty of the outdoors. The two have always been inspired by each other's work, and when the opportunity to collaborate together on a project arose, they knew they had to take it. "We wanted to team up and tackle a collaborative project using Sony's cutting-edge equipment that they have, in particular, the Alpha 7S III," says Kranz. "The idea that we settled on immediately and ran with was this concept of actively creating unique and new colorful visuals in unique desert formations, most notably canyons." The two ventured out to Central Utah with an arsenal of lights, creating and capturing otherworldly images through light painting. We connected with the two of them to learn more about this collaborative photo project aptly named, "Desertluminescence."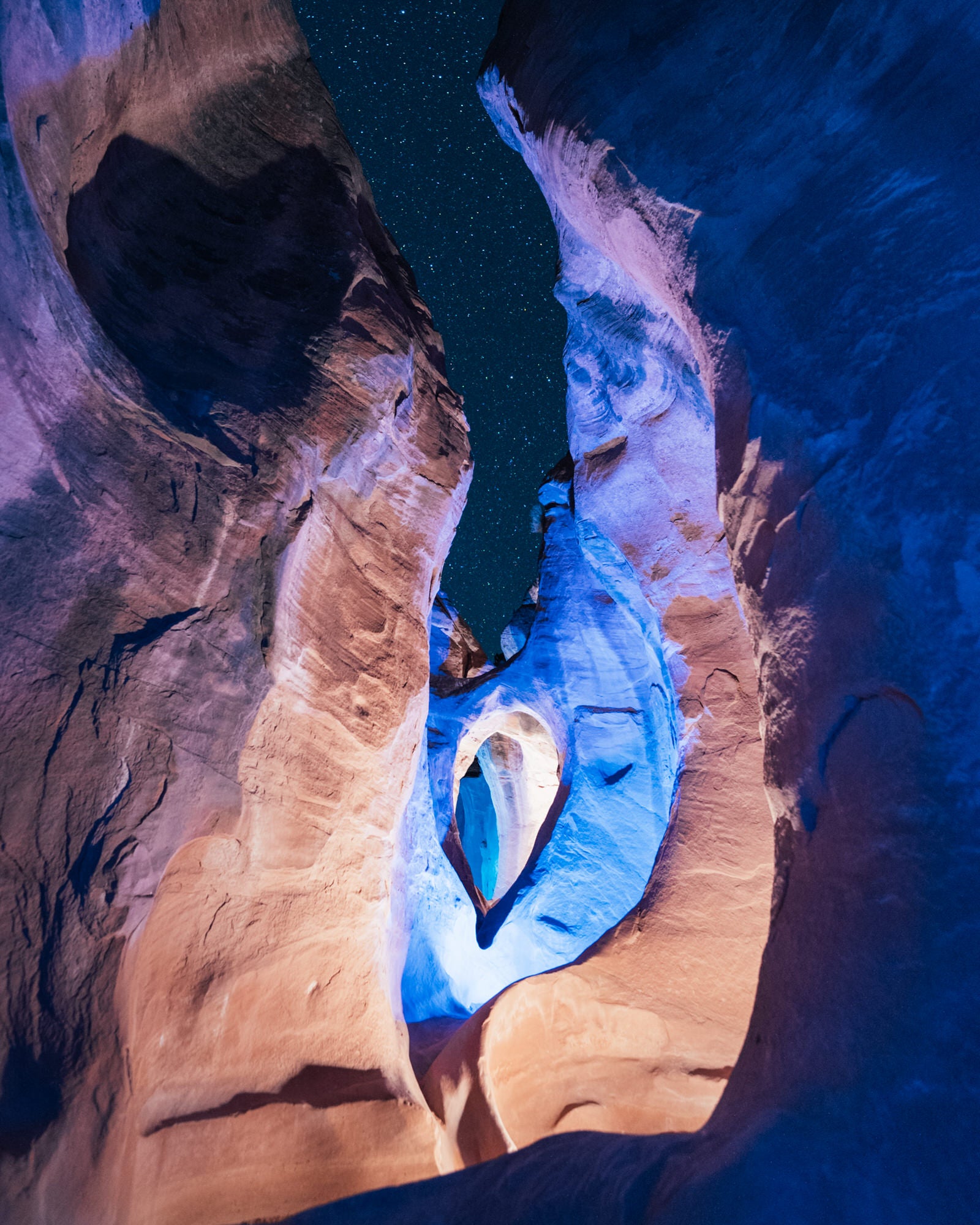 Photo by Erin Sullivan & Scott Kranz. Sony α7S III.
Photographers Erin Sullivan and Scott Kranz of the Alpha Collective team up for a light painting project in the desert, all captured with the Sony Alpha 7S III.
Creators Inspiring Creators
The inspiration Sullivan and Kranz get from each other's work stems from the way they view the natural world and their approach to photographing it. "Erin's work has always been an inspiration for me," says Kranz. "I've had the highest esteem and respect for her. She's pushed my creative limits and so I thought, what better person to have the chance to tackle this project with than Erin?"
"And I've long respected and admired Scott's work," says Sullivan. "What I have always noticed is Scott's eye for the abstract. He finds the abstract in nature and makes images from that. So much of Scott's work goes into the abstract and into the art world instead of the landscape photography world, in the way that he compresses images, or uses contrast and color. I think that's something that we have in common, we both see the world in that way, and that's part of how we both make our art."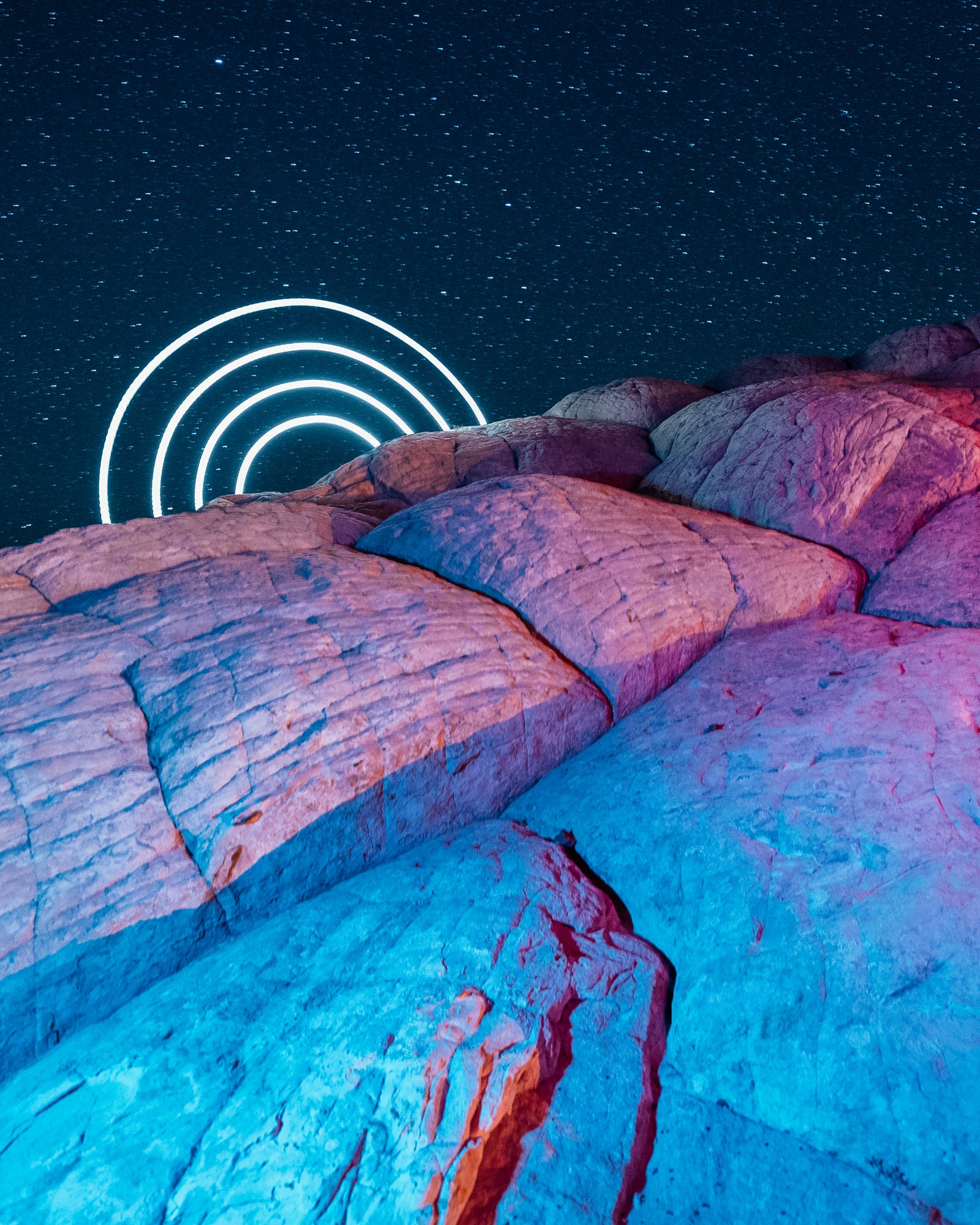 Photo by Erin Sullivan & Scott Kranz. Sony α7S III.
"I knew it was just going to be incredibly exciting," says Kranz, "but I had no idea the extent of the collaborative nature of the project that we would undergo."
A True Collaborative Effort
Of course the two expected to collaborate, that was the point of the project, but the amount of collaboration throughout the entire process made it an extra special experience for them. Making something so completely interwoven between the minds of two creators isn't an easy thing to do, but Desertluminescence was a true collaborative effort, from beginning to end. "It definitely is one of, if not the most, collaborative photography projects that I've worked on," says Sullivan. "It was a really fun and informative process."
She continues, "Going into the project I was really interested in a new way to abstract our subject, nature, which already consists of these stunning rock formations and canyons. So we asked ourselves, 'How can we abstract in a new way?' And as we were going, it was just constant collaboration. It wasn't just a few points in time that we were speaking and sharing ideas, it was in the development of the idea, and the development of the pitch, and the development of shopping for different lights. Once we were on the ground, we were constantly asking 'What if we did this?' and running with it and iterating."
Photo by Erin Sullivan & Scott Kranz. Sony α7S III.
"Normally when you shoot a project with multiple team members or photographers," explains Kranz, "you can look at any one given photo, and it's clear which singular photographer is behind that image. The way we've tackled this project, if you look at any one image, by and large, there's really no way to pinpoint where each of our imaginations and creative vision and execution begins and ends. Each image is truly the resulting creation of our joint collective creative vision and execution."
And not every execution went off flawlessly for the duo. In one instance while Kranz was trying to figure out how to light a shot of a tree, he tripped and sliced his toe open. "Who knew that if you were walking around a dark canyon in sandals without a headlamp, not looking where you're going, that something bad could happen?," jokes Kranz.
"We did a little first aid before we continued onward that night," adds Sullivan.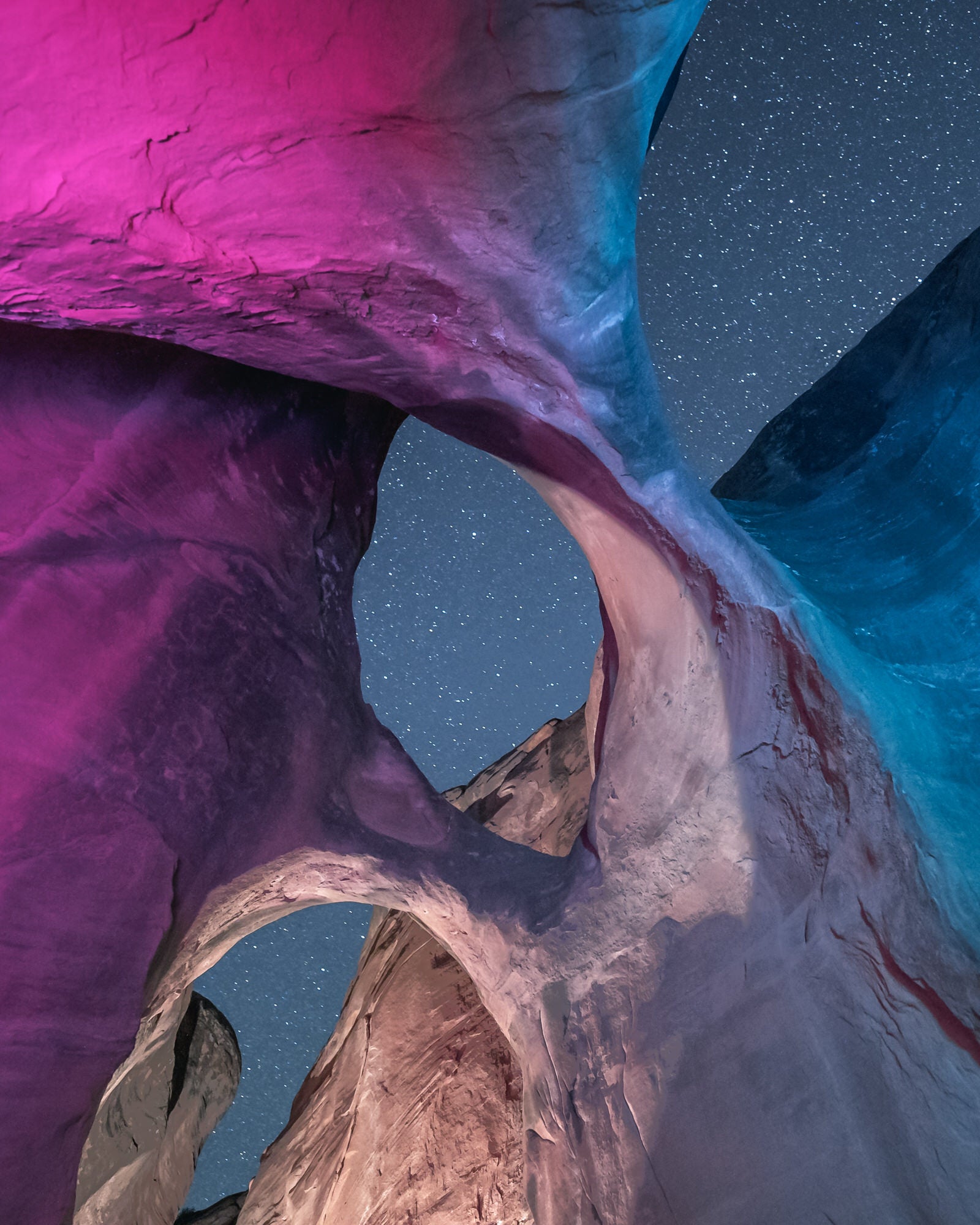 Photo by Erin Sullivan & Scott Kranz. Sony α7S III.
Thematic Variation Through Trial & Error
Even for the creation of images that barred any toe injuries, executing them still wasn't as simple as planning a shot, taking it and calling it a day. While they took turns between managing the camera and painting with the lights, the two would also constantly be in contact via walkie talkies to bounce ideas back and forth, seeing what variations they could add to each image.
"Most every one of our final images had some impromptu, spontaneous development or variation," says Kranz. "There was a ton of trial and error, each shot in and out. And some of our images that took the absolute longest, didn't necessarily even make it among the final images for the project."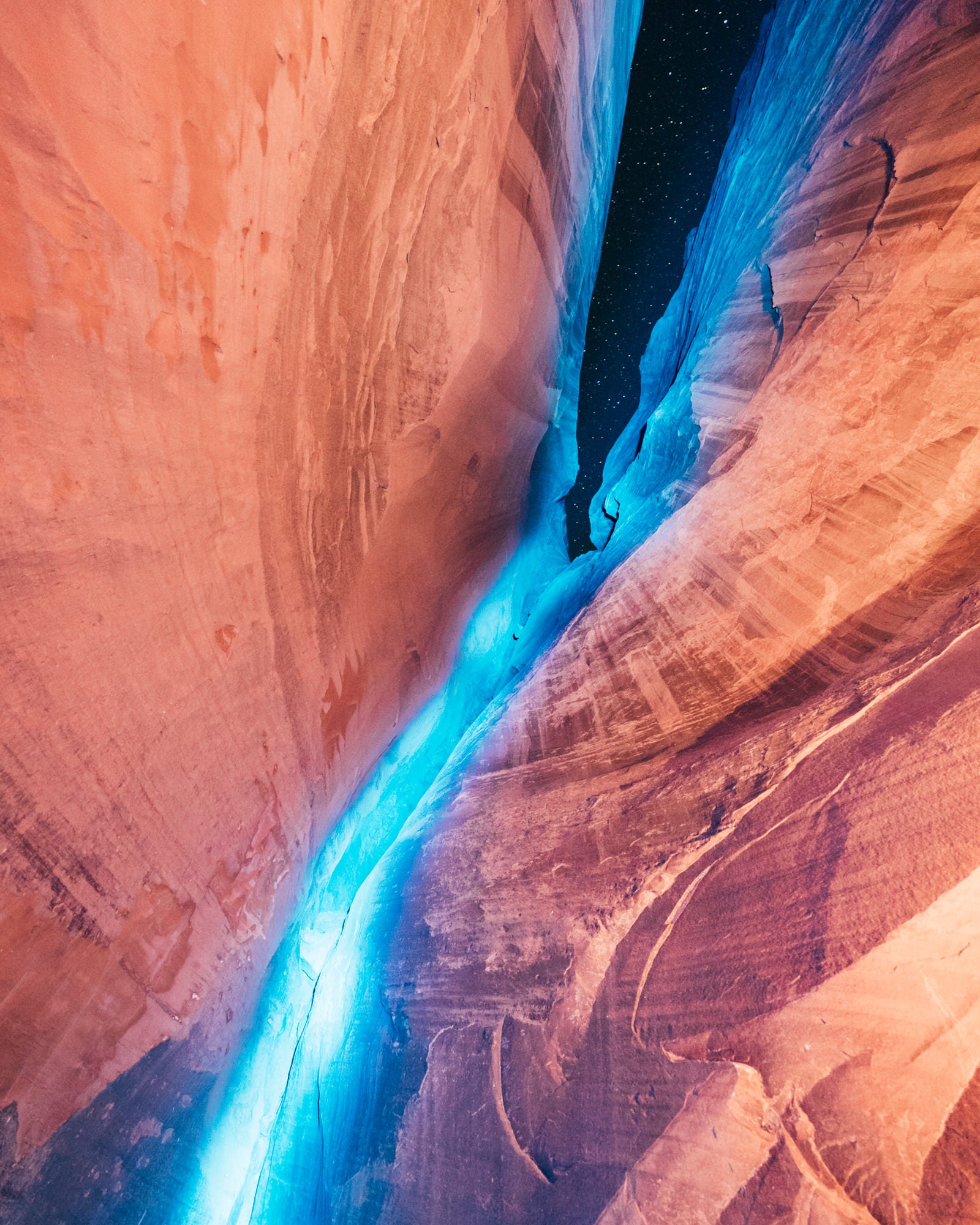 Photo by Erin Sullivan & Scott Kranz. Sony α7S III.
Out in the desert with a bunch of lights and stunning landscape scenes to capture, there are so many possibilities of what one could create. While Sullivan and Kranz did iterate each shot to create different variations, they were also intentional about what they were shooting by using a somewhat thematic approach.
"With a collection like this," explains Sullivan, "it can really be all over the place if you're not super intentional about it. As we were finding out what we really wanted to explore, we would treat them as characters. We had blue in our shots, it's a theme now, so let's use the blue again. The arch is a theme now, is a character, let's use that again...just to make it a cohesive body of work."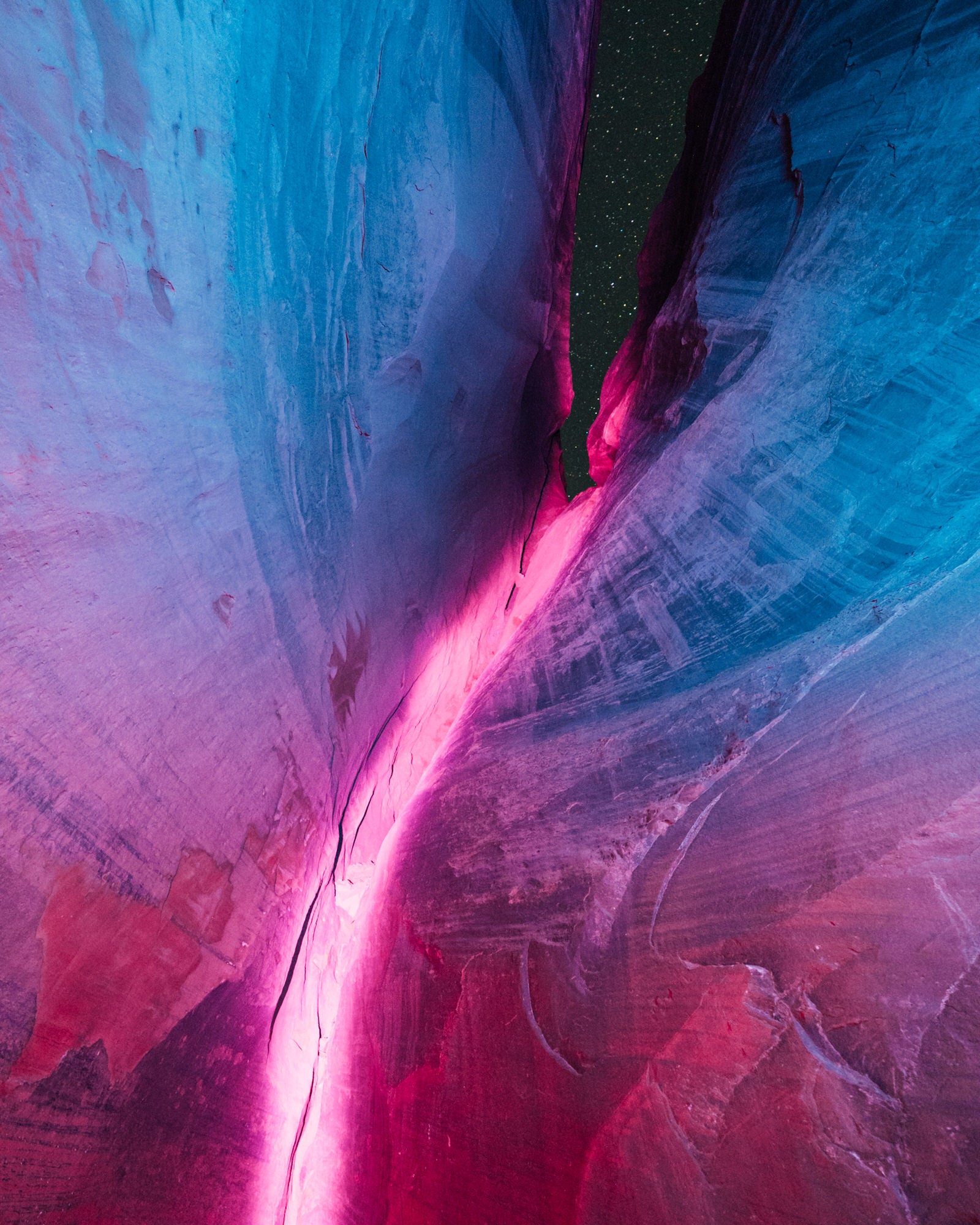 Photo by Erin Sullivan & Scott Kranz. Sony α7S III.
Above all, they wanted to paint these landscapes in a new light, creating a very different look around well-known natural shapes and forms. With one look through the images, you can see that they've succeeded. "So much of what we wanted to do is reimagine these very well-documented spaces," says Sullivan. "And I'm so glad that comes across in the photos."
Stay tuned to AlphaUniverse.com in the coming weeks for an in-depth look behind the making of some of their images from "Desertluminescence."