Sometimes the stars just align. This was one of those times. I was all set to shoot a riff of "Run Lola Run" when Madeline followed me on Instagram, and just like that, everything changed. I already had my model/actress on hold, my first choice even, a girl named Chloe, and I was planning my shots, picturing my thoroughbred model "Run Lola Running" in, around and through Downtown Los Angeles. But in an instant, this was not to be, and that's fine. How does it go? Even the best laid plans…
Jeff Berlin describes how he worked with Cinema Pro Mode and stayed in the moment using the Sony Xperia smartphone to make his latest short film, "Madeline."
The Xperia 1 and Xperia 5 have a unique feature for filmmakers: Cinema Pro Mode. It's a VENICE cinema camera emulator which gives the filmmaker fully manual control of exposure and shutter angle and records in a cinematic 21:9 or 2.40:1 aspect ratio. In Cinema Pro Mode, tha Xperias record in the highly efficient H.265 codec and one can apply any number of LUTS including the VENICE CS (VENICE Color Science) LUT that I used. I find it the best starting point for when I bring it into DaVinci Resolve for a grade. Yes, you read that right, phone files, Resolve, edit and color, and a cinematic film pops out the other end. In short, in Cinema Pro Mode, the Xperia 1 and Xperia 5 are ultra-compact, sophisticated filmmaking machines…at least on paper. In concepting the creative for the film, I wanted to find out how capable the Xperias really are. For a cinematographer, having a smartphone as a viable option for work in especially tight places, or in guerilla filmmaking situations, opens up a lot of possibilities.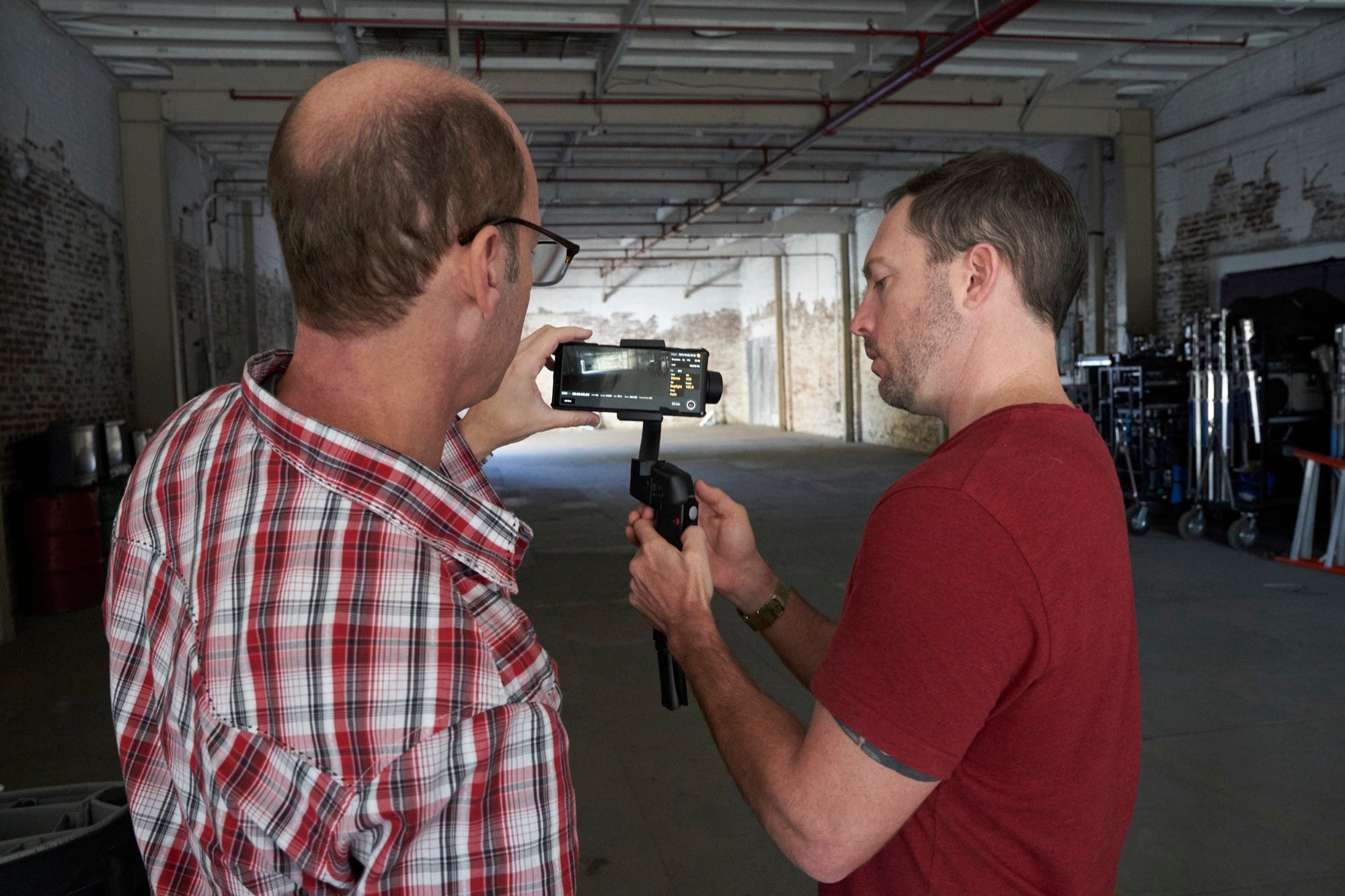 Setting up the gimbal, balancing and setting the Xperia 1 prior to the first shot of the day.
So out of the blue Madeline and I connected on Instagram, and as I perused the images on her page, everything about my film changed, in my mind, at least. Madeline is a ballerina, a professional ballet dancer, and suddenly, the idea of a model running around L.A. became so much less interesting than what I began to envision as I dreamt of movement, dance, worn-in toe shoes, tattered tights and leg warmers, and how ballet juxtaposes into an urban landscape. I reached out to Madeline, expounded on my dream and how I wanted her to be the star of it, and obviously she agreed since I'm now writing this short backgrounder.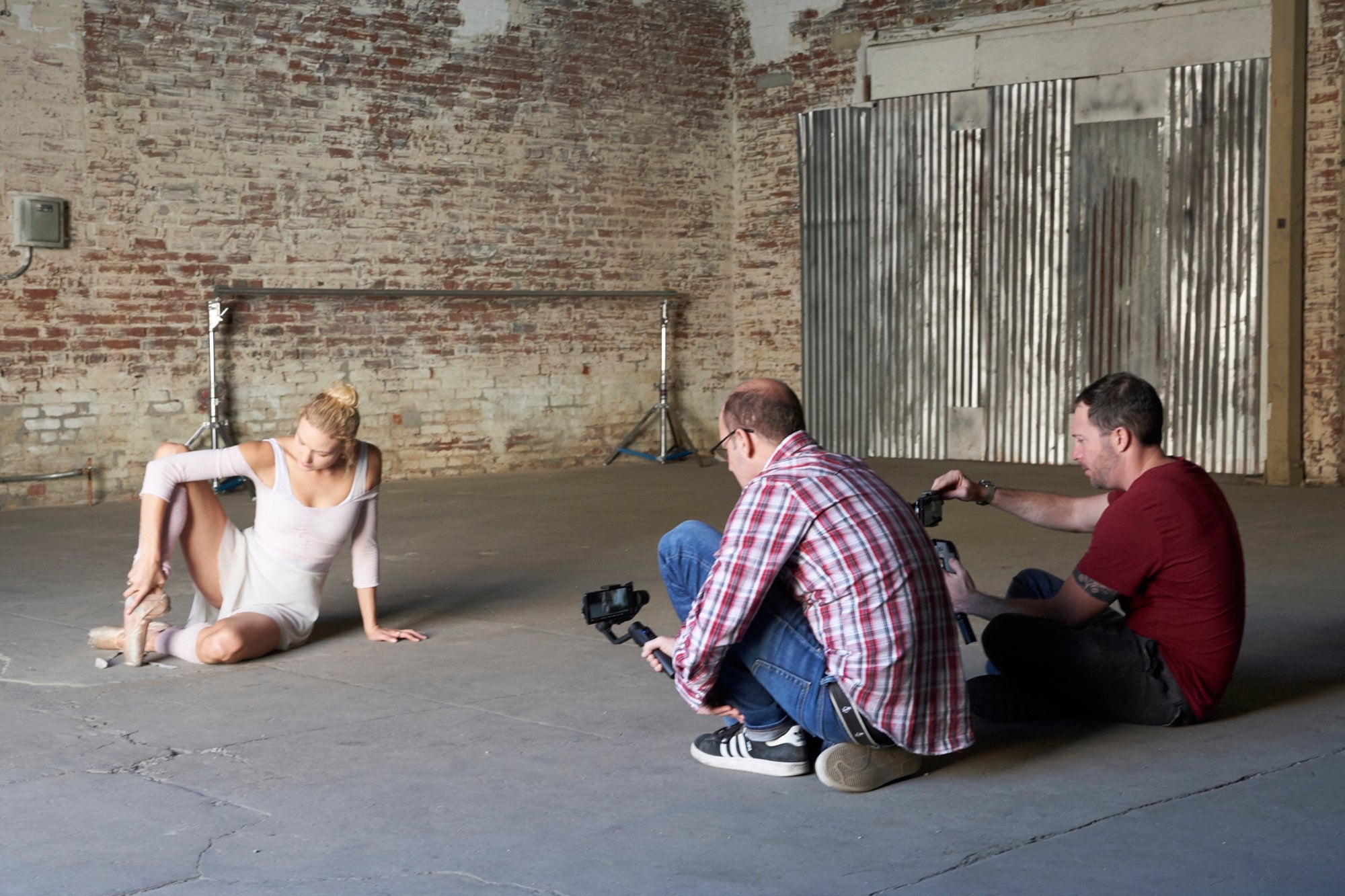 Getting coverage and b-roll as Madeline puts on her pointe shoes and stretches.
We had one day to shoot this film, by design, on a couple Xperia phones mostly on Moza phone gimbals, moving quickly in and around Downtown L.A. Our aggressive shooting day was predicated on the fact that I felt we were super-mobile and could move quickly with our compact gear, getting all the shots we needed to cut a coherent piece together. We shot 100% natural light, though I did have some Rotolight LEDs always at the ready should conditions warrant. Starting our day at the Electric Pony Studios just south of Downtown, we shot the backbone of the piece on the two phones, capturing any necessary audio separately on a Sony PCM-D10. To control the amount of light reaching the sensor, to ensure proper exposure, I fabricated a couple ND-accepting phone cases. I sourced Xperia cases that had a more porous texture and with the magic of epoxy, modified them with 58-67mm filter adapter rings. This worked perfectly.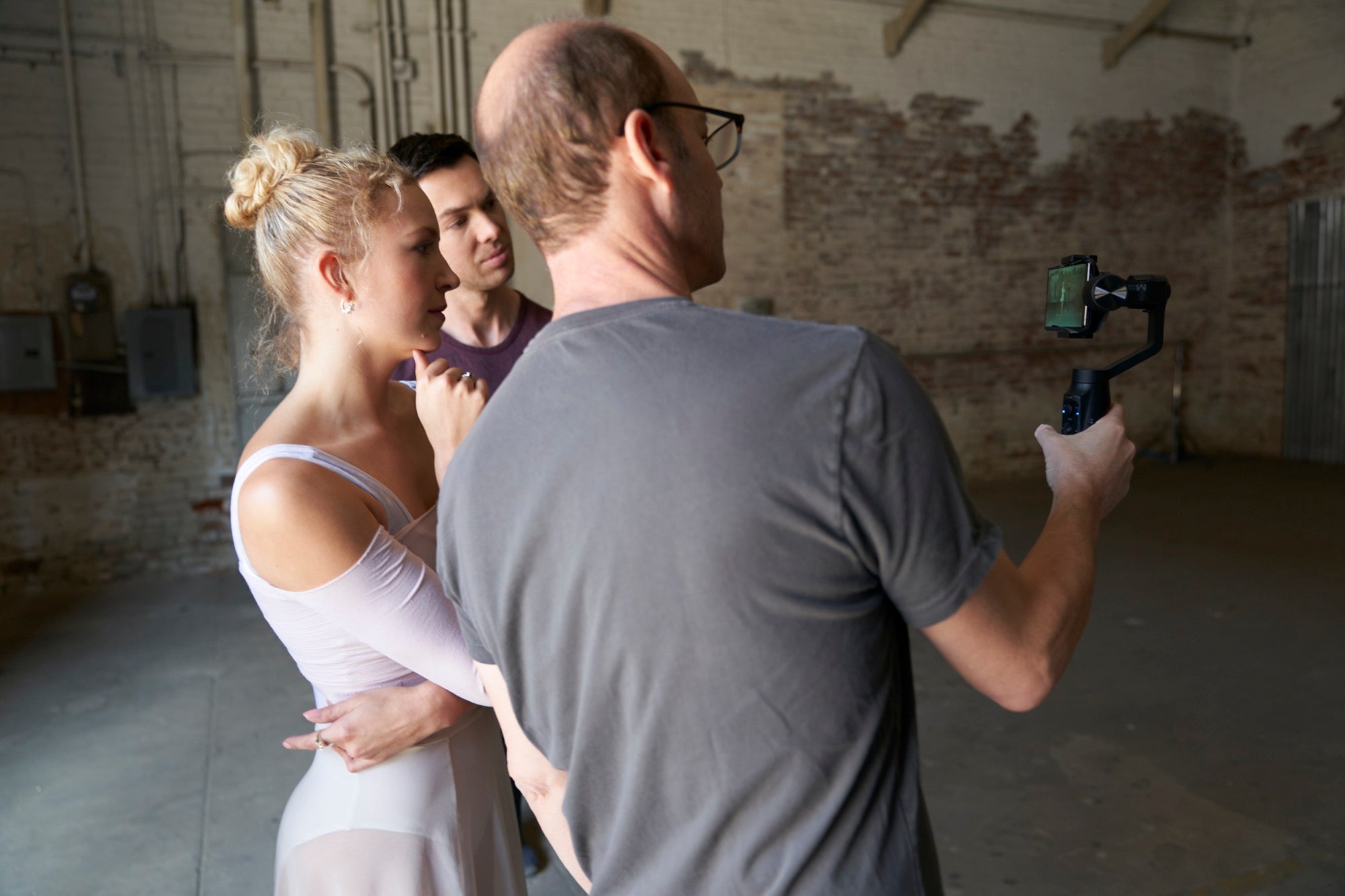 Reviewing playback and giving direction during the studio pas de deux dance segment.
To give our little film a bit more of a cinematic feeling, two Tiffen Black Pro-Mist ½ filters lived on the phones for the whole film; we stacked NDs above them. Why Black Pro-Mist? They are great for slightly reducing contrast, pleasantly flaring while still controlling highlights, and taking some edge off of skin, cleaning things up just a tad. They're one of my favorite filters from Tiffen and I use them, or their cousin, the Black Diffusion FX filters, on many projects. The various flavors of ND allowed us to capture Madeline in varying lighting conditions prancing and dancing across Downtown, and arabesquing and pirouetting and plié-ing with her fellow dancer, Josh Brown, or reminiscing over a cappuccino in a sun-drenched French café.
Jeff fabricated two phone case filter holders to receive 67mm Tiffen Pro-Mist and ND filters.
Post production was a bit surprising, I'll admit, once I saw the files in Resolve and on the scopes. Looking at the waveform and parade, I was pleased to see that we were never clipping in the brighter daylight areas that appeared in frame, like the open garage door in the wide studio shots. Not that I wanted to bring detail back into these areas; I didn't, but that there was information there and they weren't totally blown out was impressive. Indeed, that rollup door was our main light for those scenes. And while I would love to see an SLog option in a future firmware update, if that's even possible, we had enough latitude in the VENICE CS LUT, which is an S-709 LUT, to grade the image in Resolve to my satisfaction. The result is Madeline.