Challenging yourself is always going to be tough. There's comfort in the familiar and many of us don't enjoy going outside of that comfort zone despite the benefits that could be had in trying new things. Growing up, my family moved so much that I developed a routine of sticking with what I knew whether it be food, surroundings, or people. It wasn't until I started breaking out from my norm in my late teens and early adulthood that I realized I was missing out on so much because of that refusal to try new things or travel to new areas. Recently, I took on one of the biggest challenges of my life going outside the country to Japan, and I undoubtedly experienced so much more than I ever had in one short week.
"…I realized I was missing out on so much because of that refusal to try new things or travel to new areas."
Although I was already going outside of my norm traveling to Japan, I wanted to go the extra mile and also use gear I normally wouldn't. I typically use a single Sony α7R III camera paired with the Sony 85mm f/1.4 G Master, but for this trip I was using a pair of Sony α7R IIIs with the new 135mm f/1.8 G Master and 24mm f/1.4 G Master lenses. Going wide with one camera and telephoto on the other would allow me to capture both an array of scenic and intimate scenes that I was constantly scanning to find.
Japan has always been the one place I wanted to travel to for its rich culture, beautiful night life and vibrant color. One of the first places we traveled to on the trip, Shibuya Crossing, had all of that. Despite my attraction to telephoto lenses, I knew I needed to go wide at this spot so I decided to use the 24mm f/1.4 GM to capture all of the beauty. I also wanted to make it a bit bigger than life. In order to do this, I got into a low position which helped me capture the scene exactly how I wanted it.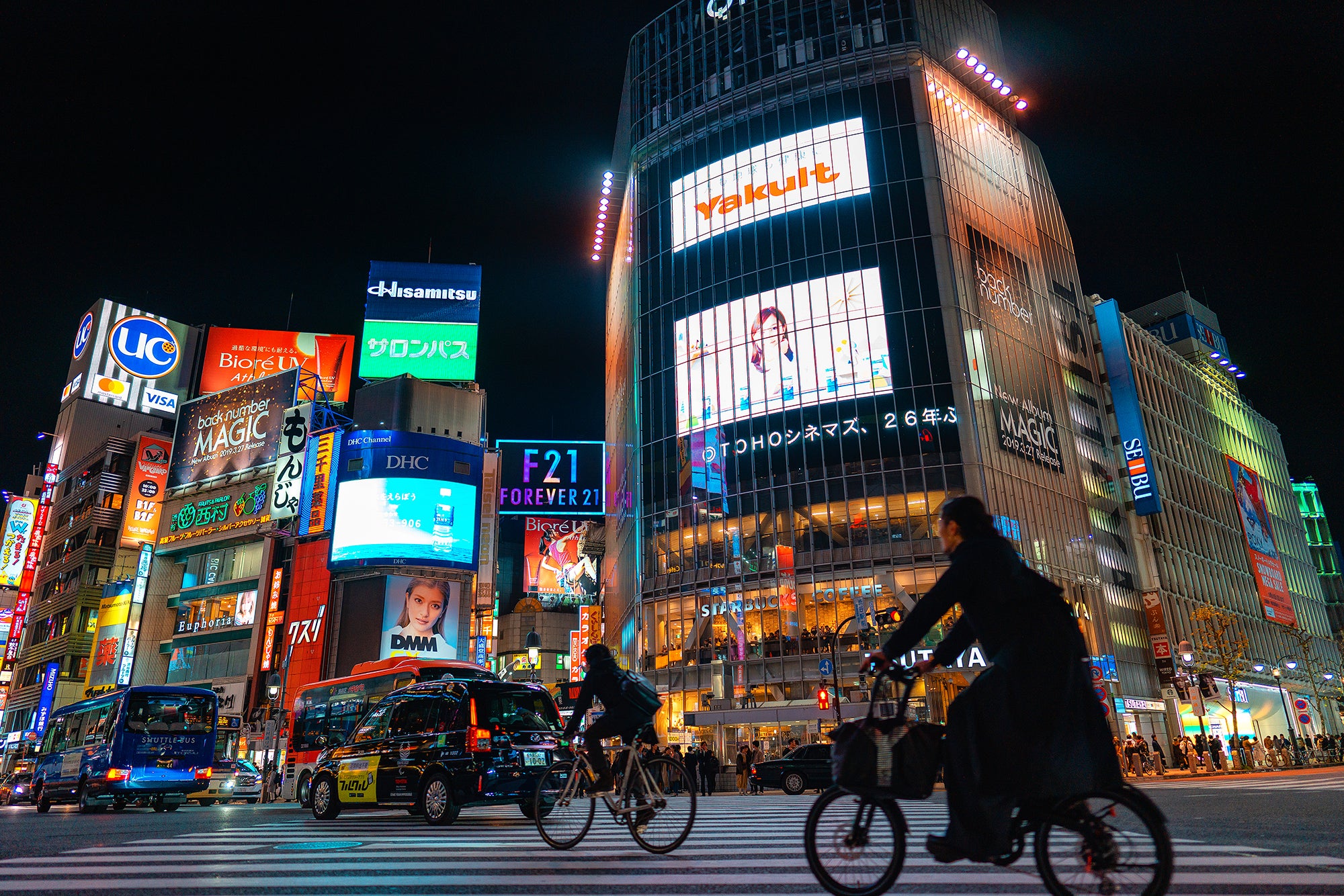 Sony α7R III. Sony 24mm f/1.4 GM. 1/320-sec., f/1.4, ISO 400
As the night continued and we all headed back to our hotel, I found myself constantly rushing to the front of the crowd in order to get more scenic shots with the 24mm f/1.4 GM. This was definitely not what I usually do when I go out with friends or family as I typically stick with the 'pack' and use a telephoto lens to capture something further away. If I had done that on this night the shot below wouldn't have been created. It's one of my favorites because of the symmetry and the blue tones.
Sony α7R III. Sony 24mm f/1.4 GM. 1/50-sec., f/1.4, ISO 400
When we traveled to Tokyo Skytree the next day I was once again met with gorgeous scenery. The view we had was overwhelming in the best way and I found myself mesmerized by the mixture of buildings below us. Everywhere you looked there was something new and it was almost impossible to familiarize yourself to the city underneath our feet. My mind was telling me to choose one spot and focus on that with the 135mm f/1.8 GM, but I was really pushing myself to stick to shooting wider angle street photos on this trip since that's something I never capture. I busted out the 24mm f/1.4 GM again and adjusted my settings in order to grab all the buildings in focus.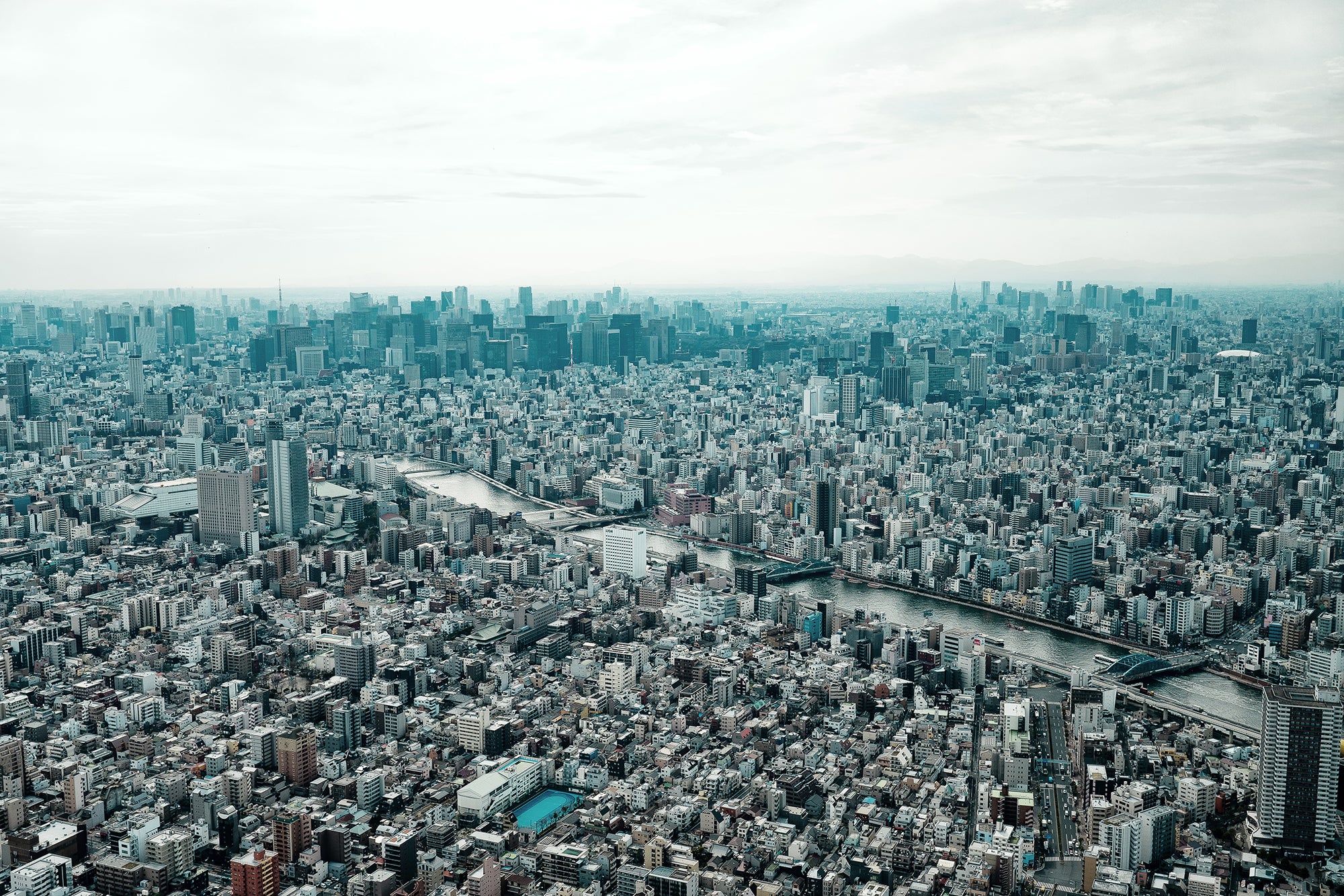 Sony α7R III. Sony 24mm f/1.4 GM. 1/200-sec., f/10, ISO 100
Something I love capturing in my photos is color. While thinking of ways to challenge myself further I couldn't remember the last time within the past few years that I had taken a black and white photo. This ultimately began my search for the perfect scene in that genre.
One thing plentiful in Tokyo was the amount of people in subway stations. What wasn't common in those locations, however, is a way to make a single person stand out. When traveling to the next location for the day I noticed a strong ray of sunlight on the steps I had just walked off of and I had what I like to call a 'eureka' moment. That light was the perfect thing for isolating someone so I waited a few minutes until I was able to capture a man walking down and right in that sunlight. Not wanting to be too obvious and to only capture the moment without interrupting it, I shot in silent shutter mode and at 10fps.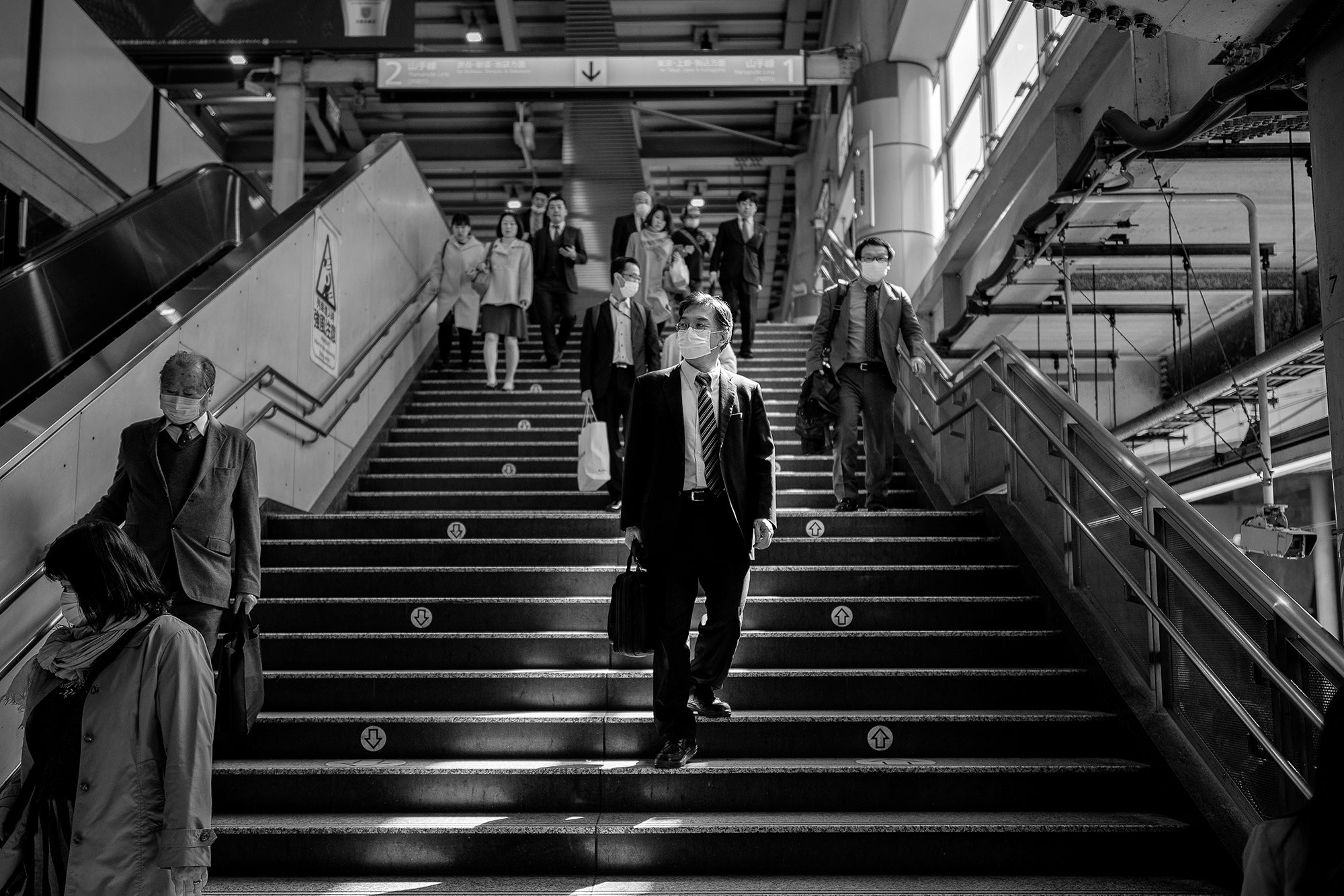 Sony α7R III. Sony 24mm f/1.4 GM. 1/800-sec., f/1.4, ISO 50
I was feeling pretty happy with the photos I was taking since they were outside my norm of portrait work. I'm not used to such wide angle shots and the difficulty in terms of timing that comes with street photography. But we were already halfway through our trip and I had given not as much attention to the 135mm f/1.8 G Master for the street photos as I wanted to. Until that point, my thought process was it would be easier using the 85mm G Master, but it turned out to be the opposite. Finding a subject wasn't hard at all. It was framing that subject in a pleasing way that gave me a hard time. I had been a bit down trying to get a telephoto shot while we roamed the Tokyo streets at night when I spotted this stunning yellow gradient on a clear glass window beside me. Apparently it was an enclosure to steps leading to a subway below us, but in reality, at least to me, it was an ideal frame.
I moved quickly to get ready for my shot. People were coming up and down and I was taking photo after photo focused on them not even realizing that I was also capturing a blend of nice buttery bokeh made from buildings directly behind them as well. Finally someone walking down gave me the shot I had envisioned.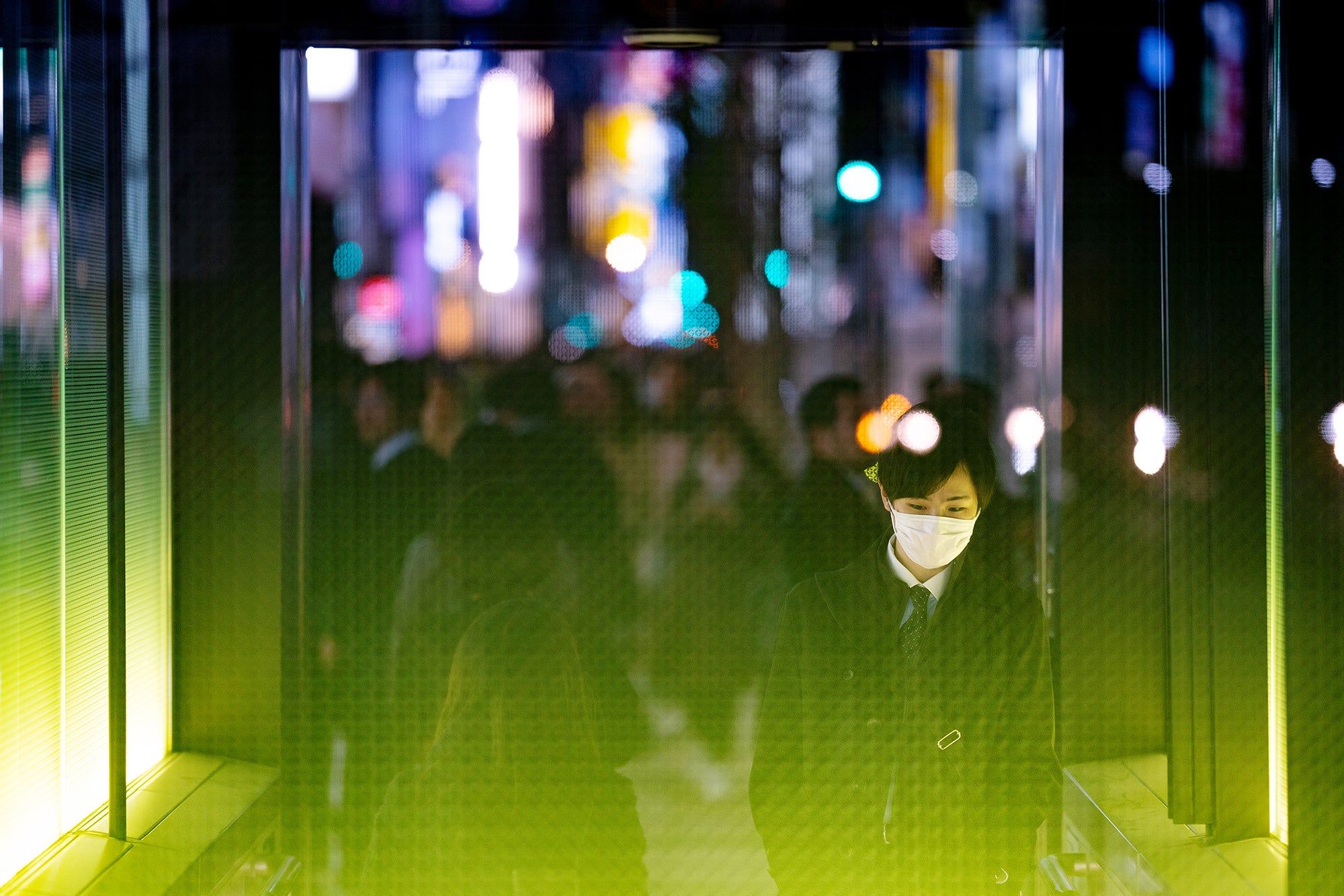 Sony α7R III. Sony 135mm f/1.8 GM. 1/320-sec., f/1.8, ISO 400
One of the last things I wanted to do on this trip was capture a mixture of street and what I mostly take, which is portraits. I wasn't sure what exactly that would look like, yet it had been on my list and I knew it would be something that I would see in front of me and click right away. That moment occurred on our way to eat when I spotted an elderly man sitting quietly on a little bench at the top of the stairs leading out of the subway. He was holding onto his bag and wearing his Sunday best. It looked like a scene out of a movie. I quickly grabbed the Sony α7R III and 24mm f/1.4 GM combo and took a few shots yet again in silent shutter mode as to not disturb the nap in progress.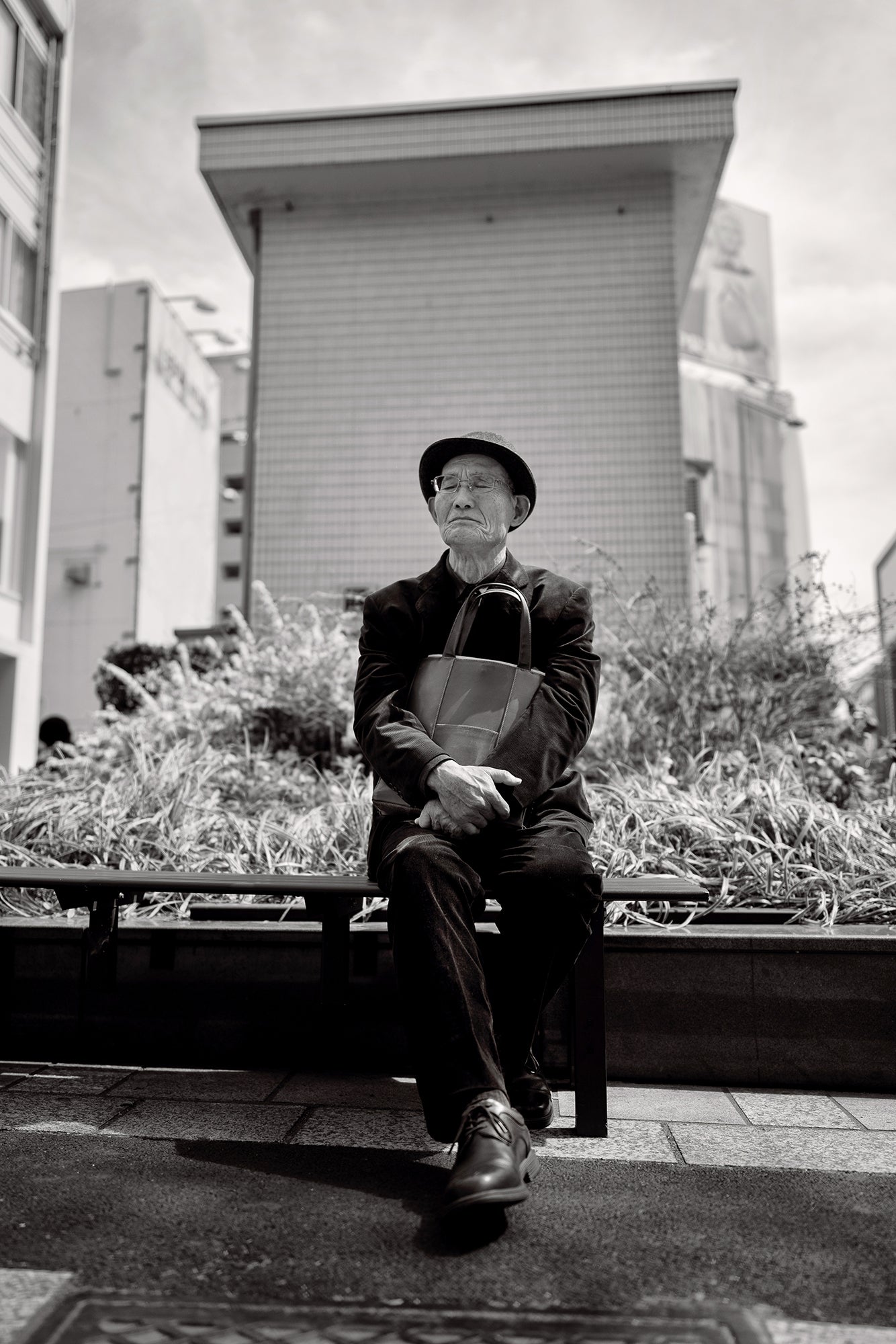 Sony α7R III. Sony 24mm f/1.4 GM. 1/5000-sec., f/1.4, ISO 100
Over the time spent on this trip and through the challenges I was facing, I realized not only how much fun I was having, but also how much I was enjoying the photos that were coming from them as well. It had been years since I had intentionally taken a photo in black and white. I don't think I ever used wider than a 35mm on a full frame camera and I never take on street photography. It was through being uncomfortable in an unfamiliar part of the world that brought me to take these photos. I was loving it and I absolutely encourage you all to get outside of your comfort zone and do the same. You never know what you will capture unless you go out there and put yourself somewhere new. I only wish I had done so sooner, but better late than never!