It all started when he was just looking for a creative outlet. Keith Afadi was working in marketing and at advertising agencies, and having recently switched jobs, he found he had more free time. He had been helping his wife out with her YouTube channel, @AdellaAfadi, who has over 90K subscribers for her content encouraging and empowering women through ideas, conversations and vlogs. He realized that he had his own video ideas and stories he wanted to share. That's how filmmaker, TikToker, YouTuber, photographer and vlogger Afadi started to become known for his witty and visually appealing stories.
Product Preview – In This Article You'll Find:
–Sony Alpha 7C
–Sony ZV-E1


TikTok: A Creative Playground

Through his TikTok account @keithafadi, Afadi has been sharing short narrative videos. These videos are often funny and frequently highlight a fairly mundane aspect of life that most of us can relate to. But Keith films them in different perspectives and in a cinematic way. And that seems to be partially why these have been so successful, garnering millions of views and over 100K followers.
Afadi himself described it by saying, "I was just like 'Yeah, you know what? Let me just have fun.' So I make any video that comes to mind, whether it's a short film, or 'this is what I'm wearing today,' or like recording something in a different style, it's not about numbers, it's just about, wanting to see something through from start to finish and just have fun and learn in doing so. I would say TikTok is my creative playground."
Hopping On The Wes Anderson Trend 

If you're on TikTok, it's likely that you've seen the Wes Anderson trend going around of people sharing content shot in Anderson's distinctive style. Anderson's films are meticulously crafted, including symmetrical compositions, vibrant color palettes and brilliant use of static shots. This was already reminiscent of Afadi's work. When this trend was started by creator, Ava Williams, a friend sent it to Afadi and he thought it would be fun to do something similar. He shared a video of him and his wife getting lunch that ended up getting 9 million views.
"I went home and I uploaded the video, and then my marketing brain kicked in. If it worked well, just rinse and repeat, do it again. And then that one went crazy. And then I think at that point, it became 'mainstream.' Ava was really onto something and my videos helped get the trend seen even more."
The TikTok Storytelling Process

Afadi says his stories start out in his notes app, he just jots down anything that comes to mind. Especially for his narrative stories, he likes to have the general idea of what it is going to be. Then he has an idea of where he wants to shoot in his home, so he goes around and takes pictures of how he wants to set up the scene. Next he draws on the picture placing the subject and props. Afadi even sent us an example, check out the image below which was the sketch for his first film, "Nah."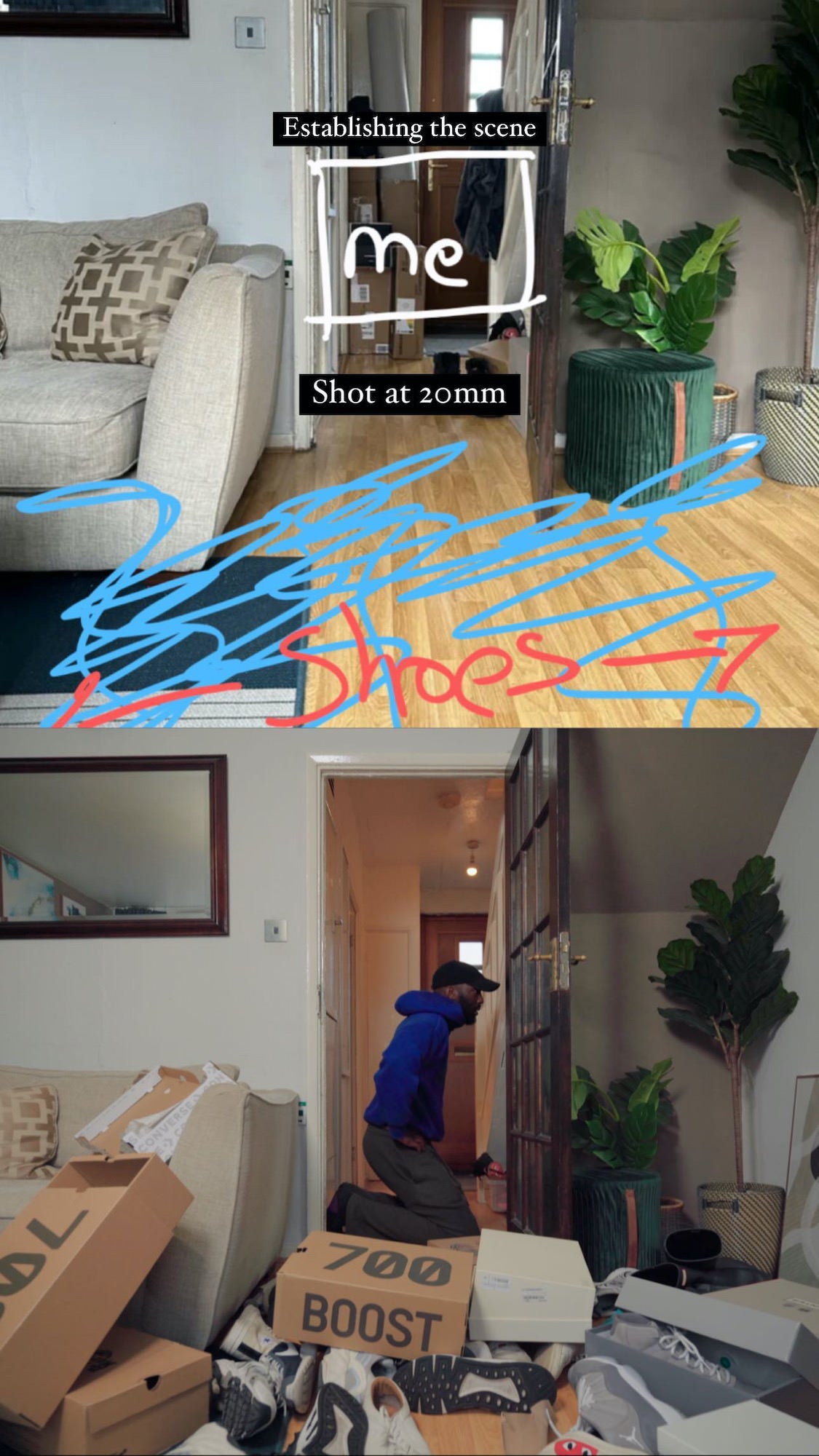 Afadi's Planning sketch vs. Actual frame
Once he has it all planned out, it comes down to the actual shooting. Afadi shares his cameras with his wife (so they really have to communicate on their content creation schedule)! The pair shares the Sony ZV-E1 and the Sony Alpha 7C. Sometimes he will shoot scenes twice, once vertically and once horizontally. However, typically for his narrative films he shoots it horizontally and then in post production he crops it to the 4:3 format, which works better for TikTok.
"I tend to do everything as much as possible with natural light, which means really getting to know my camera and what's happening with the sun during the day and so on. Everything with natural light. And then I just put all the shots together, piece everything out in my timeline, and then go back to the original story that I had in my notes and piece the story together."
Afadi tends to gravitate toward short format stories, told in a minute or so. He thinks it's because of his marketing background, he's used to quickly telling stories and getting to the point. Though he mentioned that he's been investing in his YouTube channel more and he's interested in exploring long-form storytelling. "I think of it like these short pieces capturing moments of time in a longer video and like eventually getting into longer short form pieces that can turn into long form and so on. So I'm working my way up"
Finding Motivation & Adafi's Advice
 For Others
Afadi mentioned that film students are starting to reach out to him asking how he became a filmmaker. He told us that he remembers first starting and being nervous to make work and share it and it was his wife, Adella Afadi who encouraged him by saying, "The pressure comes when you think about what other people are going to say. But we readily forget that we are our own first critic. So once we get over our own thoughts of something not being good enough or whatever, get rid of perfectionism, you will actually start to enjoy the things that you're doing and the learning process."
He has been sharing the advice of his wife and telling the students to make what they see in their heads without the pressure of sharing it. He also said that once he embraced that and stopped aiming for perfectionism, it changed the way he took comments on TikTok. "When someone comments and says, 'You should have done this or that,' I'll say 'Thanks, I'll file that away for next time.' Even if they meant it in a mean or negative way, I just take constructive feedback for next time."
Keep up with Keith Afadi's next stories by following him on TikTok and Instagram and by subscribing to his YouTube channel! You can also keep up with his wife, Adella by subscribing to her YouTube channel!
What stories are in your head that you want to make? Join us in chatting about it over on the Sony Alpha Community Forums!