After nearly two decades of covering professional golf for magazines like Sports Illustrated, Golf Digest and Golf World, Darren Carroll now spends much of his time shooting the sport for the USGA, PGA of America, and the PGA Tour, as well as working for various sponsors, equipment companies, and retailers. Traveling to tournaments on the PGA Tour and LPGA Tour among others over the past couple of years, Carroll has photographed the biggest names in golf at some of the biggest tournaments in the world. Carroll switched to the Sony Alpha mirrorless system to get the kinds of shots that hadn't been possible with his previous DSLR, both on the course as well as the pageantry around the events. We caught up with him to learn more about how he got the shots that no one else could during his "photographer's tour."
Carroll is shooting primarily with the Sony α9. "This camera literally changes the way that I work," he says. "It helps me make pictures that I never could before. In doing that, it makes me look at things differently, because I'm no longer just walking down a fairway saying, 'Well, I can't shoot right now, so I might as well just get over here.'"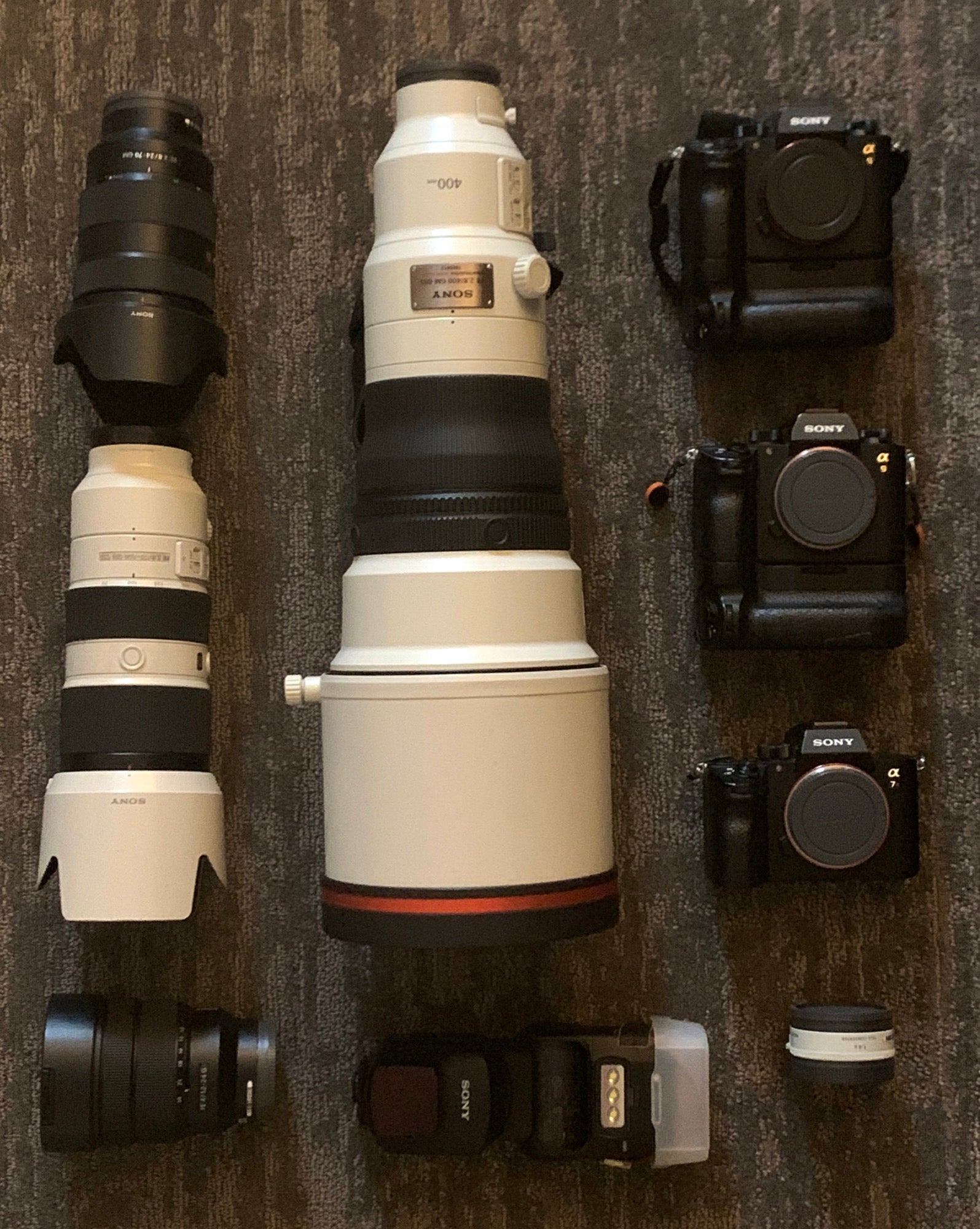 Darren Carroll's preferred gear for shooting golf includes a pair of Sony α9 bodies, an α7R III, the Sony 12-24mm f/4 G, 24-70mm f/2.8 G Master, 70-200mm f/2.8 G Master, a 1.4X Tele-converter, Sony HVL-F60 flash and the 400mm f/2.8 G Master. "The 400mm G Master is just as much of a game-changing improvement over previous technology as the Sony cameras themselves. The fact that I can (and do) hand-hold it, both because it's so lightweight and because it's so perfectly balanced—also changes the way I can work and shoot."
He continues, "The high frame rate is one aspect of the α9 that's obviously hugely helpful, but I don't think that's necessarily the be-all and end-all of it. The silent shooting is another big capability for me, but there are a number of other things that I find myself using that weren't present in my old system."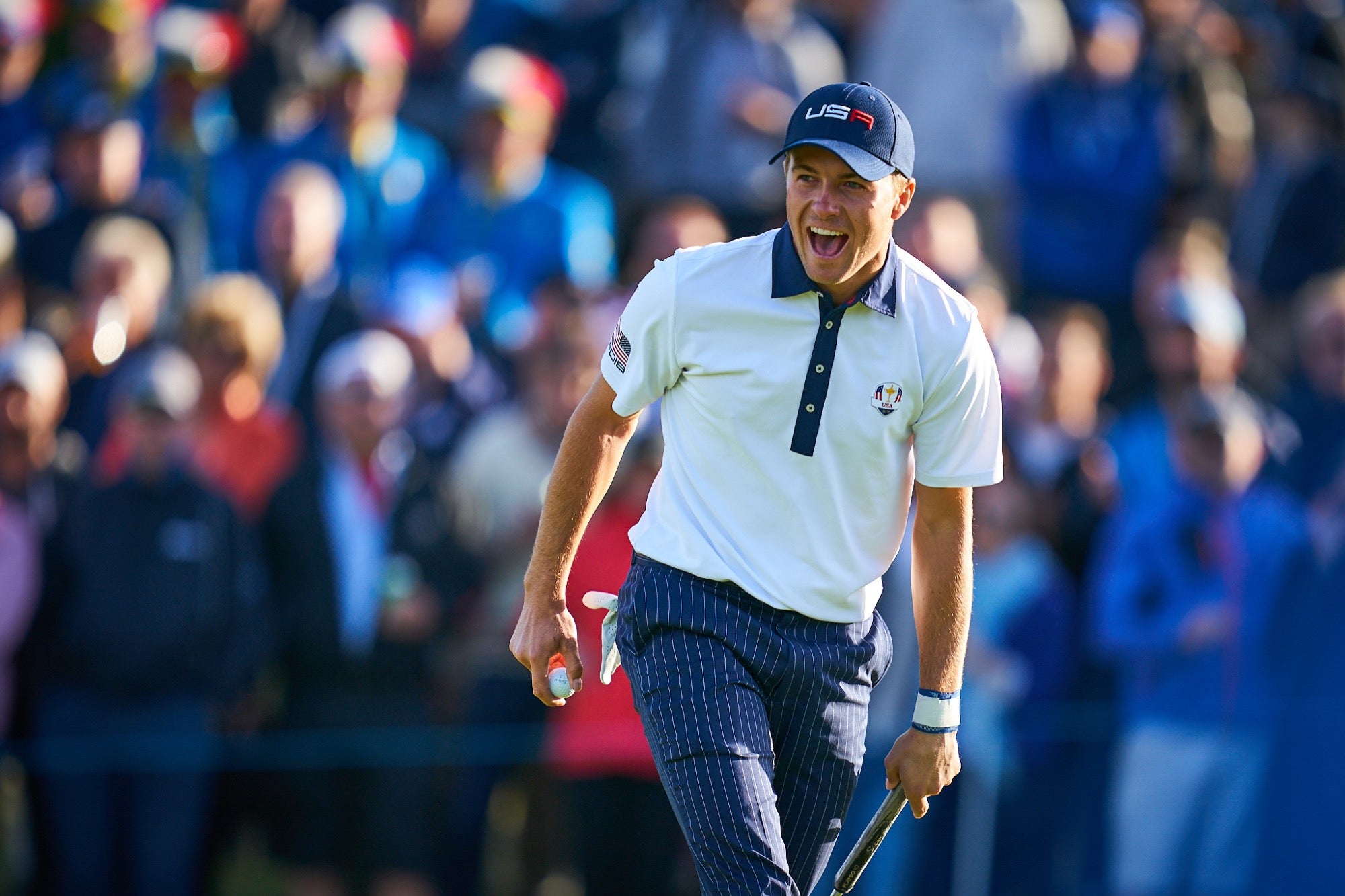 2018 Ryder Cup. Jordan Spieth.
"I've found the Eye-AF function to be really helpful," says Carroll, "especially when you have a player reacting to a shot. If they're rolling in a putt and they walk the line of the putt toward you or if a player high-fives his caddy, it's critical to have the focus maintained on the eye. If you have your focus point locked on the middle, sometimes the player will end up half cropped out of the frame. When I have the Eye-AF function on, then I can recompose knowing that the player's face is going to be in focus exactly where I want it to be in the frame."
"I have both of my cameras set to back button focus. I don't use the shutter button to start auto focus, I have that turned off. The AE lock button is set to continuous auto-focus, flexible spot medium. I've turned the AF-On button to Eye-AF. So now I have a choice on what I use, depending on the situation. If I just need a quick snap of a player from 30 yards away, I can just use continuous auto-focus because I know that the player who is fully in frame will be in focus. But then if I need to switch to Eye-AF quickly, I can do that just by moving my thumb about an inch to the left."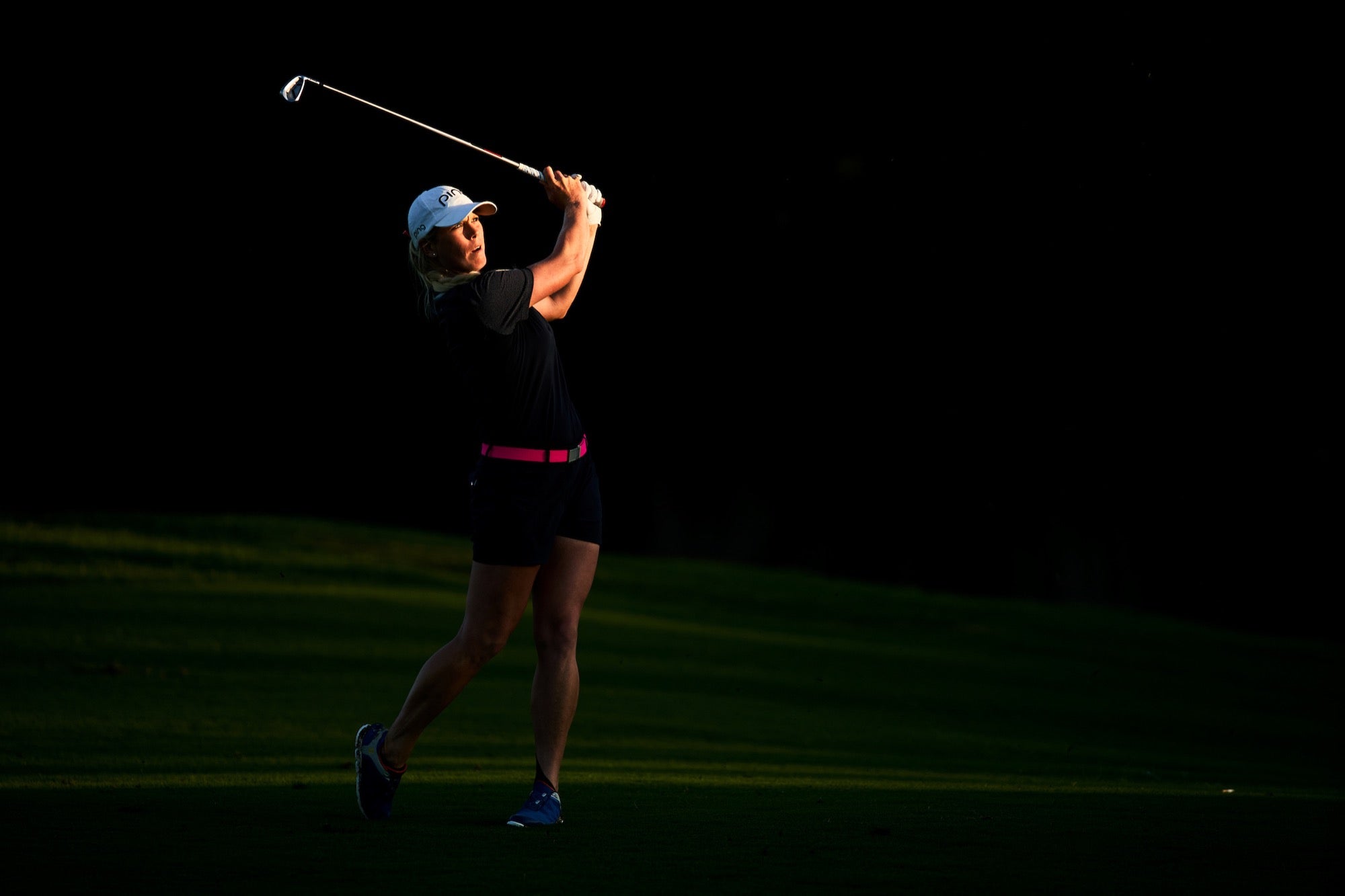 LPGA player Jacqui Concolino
"The electronic viewfinder delivers me exactly what I see," says Carroll. "When I have a fleeting split second of light and I need to have that exposure dialed in perfectly, the electronic viewfinder is so important. If you guess and guess wrong, you've missed it. That perfect piece of light coming through the trees is not coming back. Being able to just dial in and see exactly what I'm doing to get that picture is something I've never really had the opportunity to do before."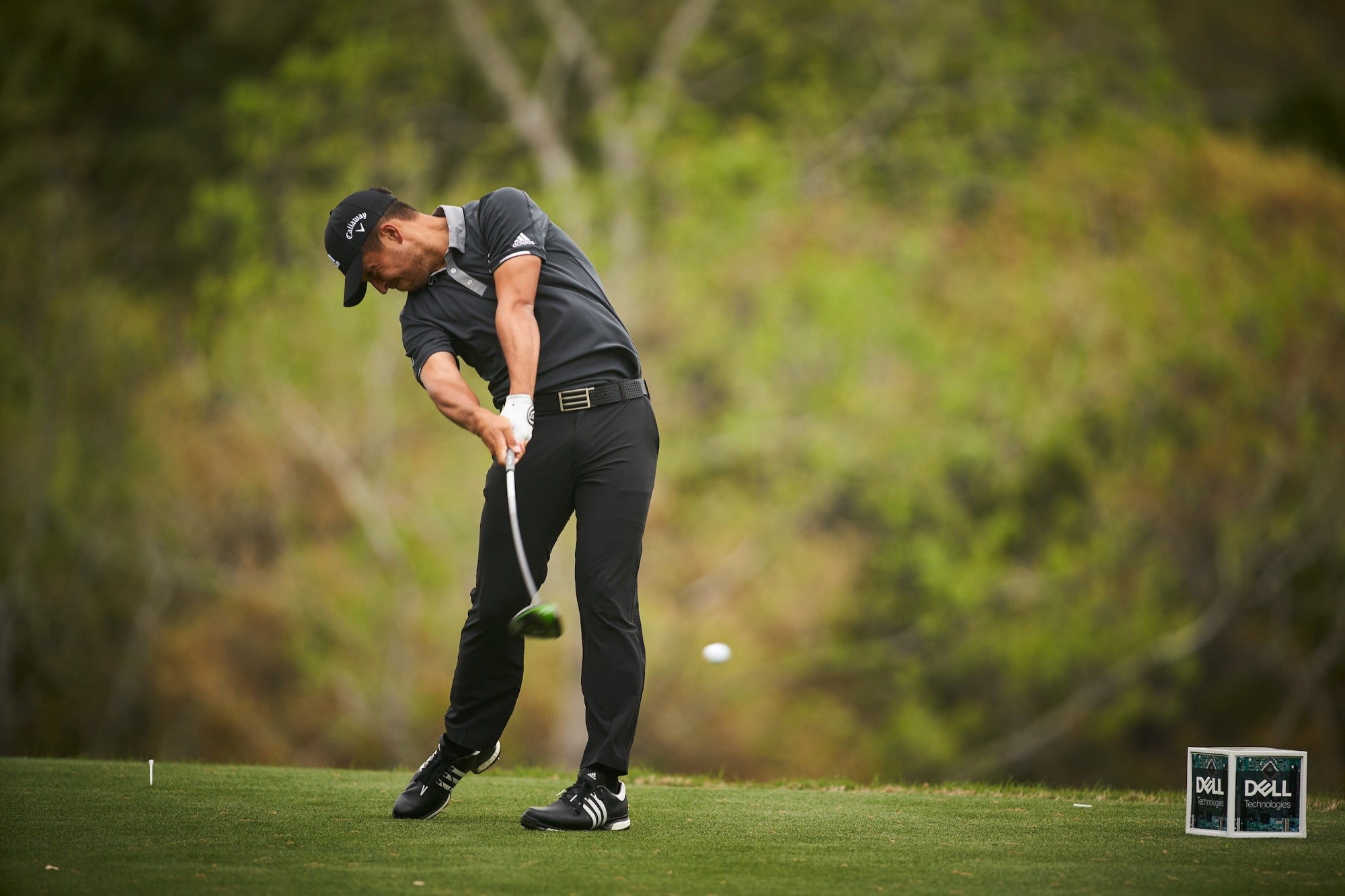 WGC Dell Matchplay. Xander Schauffele.
During a player's backswing, photographers have to be completely silent and, if using a DSLR with a moving mirror, they cannot shoot until after the clubhead has struck the ball. Because the α9 is absolutely silent, Carroll has options, but it's not just about getting the shot with the clubhead at the top of the backswing. The 20 fps shooting speed and the fact that it's silent enable him to get the perfect shot off the tee.
"This is just a picture of Xander Schauffele teeing off. The things that I like about it is his position, the tee is up in the air and you get a little bit of motion blur on the club. My exposure is probably around a thousandth of a second, which I like to do to have a little bit of motion in the ball and the club with the ball in the right place. That helps tell the story that there's action going on. To get the shot I was shooting at 20 frames a second, and I started the sequence before he struck the ball. Getting this shot has an element of timing to it, so it's the result of being able to shoot silently at 20 fps. You can't just go at the top of somebody's backswing and let it rip and hope that you'll get it there."
Carroll continues, "A golf swing is a very speedy thing, so if you want to catch that moment of impact, you kind of have to know when to start shooting to get it in that first few frames. You can't try to start at the beginning of a players swing and have your impact shot be the tenth frame in your sequence of 20. That's never going to happen. But if I start trying to get impact with the ball in the first shot or few shots in my sequence, that's when the 20 frames a second makes it happen. Not only will I probably get that impact, but then I'll get the frame after it. Like the above photo of Xander is, where the ball is in a little bit better place and I have a little bit of speed on the club head."
Tiger Woods at The Ryder Cup
Carroll's embrace of mirrorless has been about more than just the cameras. The lenses have changed how he's able to work on the course. The 400mm f/2.8 G Master, used for the photograph of Tiger Woods at the Ryder Cup shown above, in particular has made an impact on several levels. "The 400mm f/2.8 is has changed my life, it really has," Carroll says. "They handed me the Sony 400mm G Master and I put a strap on the lens, threw it over my shoulder, then I walked around and shot handheld all day. That lens has never seen a monopod, for me, in six months of shooting golf with it. Never. I walk around with it as if it's a 70-200mm on my shoulder. It allows me to be so much more mobile. In terms of shooting golf, it has changed my life. It's that much lighter. And don't even get me started on how much sharper it is – it's incredible."
"The other thing that has made a huge difference in my photography, believe it or not, is the control via smartphone function," says Carroll. "I've been able to put my camera in low positions and walk away from it. I can change exposures, trigger the camera, whatever I need to do with the camera in a place where a human being probably couldn't be. I can put my Sony α9 on a 25-foot pole and walk around the golf course while getting vantage points that nobody else is getting. Before having this function I could waste a ton of time changing things around. Now I'm there for that one frame that I need – I get it and I'm gone."