Looking at my photos, you'd probably never guess I'm afraid of heights. I don't like standing on balconies. I won't fly in a hot-air balloon. And watching videos of those Russian kids scaling towers and bridges and rooftopping, that makes my palms sweat. But flying in an airplane without a door, and hanging out of it while photographing another airplane tucked in, in close formation, that fine, go figure.
It definitely helps to be a licensed pilot when shooting this type of work. There's a lot of aviation-specific information to know. For any air-to-air photo shoot, we do a big briefing on the ground where we set frequencies for air-to-air communication, discuss the mission and objectives of the shoot, establish emergency procedures if someone loses sight of the other, brief airspace, our departure and procedures when forming up, and how exactly directions will get from me, in the camera ship, to the pilots in the subject airplane.
Sometimes the flights can be quite turbulent. The cameras I shoot with, the Sony α7R II and α9, have internal image stabilization (IBIS) and that helps tremendously in those conditions. When shooting propeller-driven airplanes, I never really want a shutter speed faster than 1/250-sec., and I'll try and get it as slow as practical, even down to about 1/90-sec., and therein lie one of the benefits of in-body stabilization. Another benefit is that with the stabilization system in the camera, all of my lenses are, in effect stabilized. You'll notice that I use the 24-70mm f/2.8 G Master in some air-to-air photography. I can use it despite the fact that it's not a Sony OSS lens because I have in-body stabilization in both of my main bodies.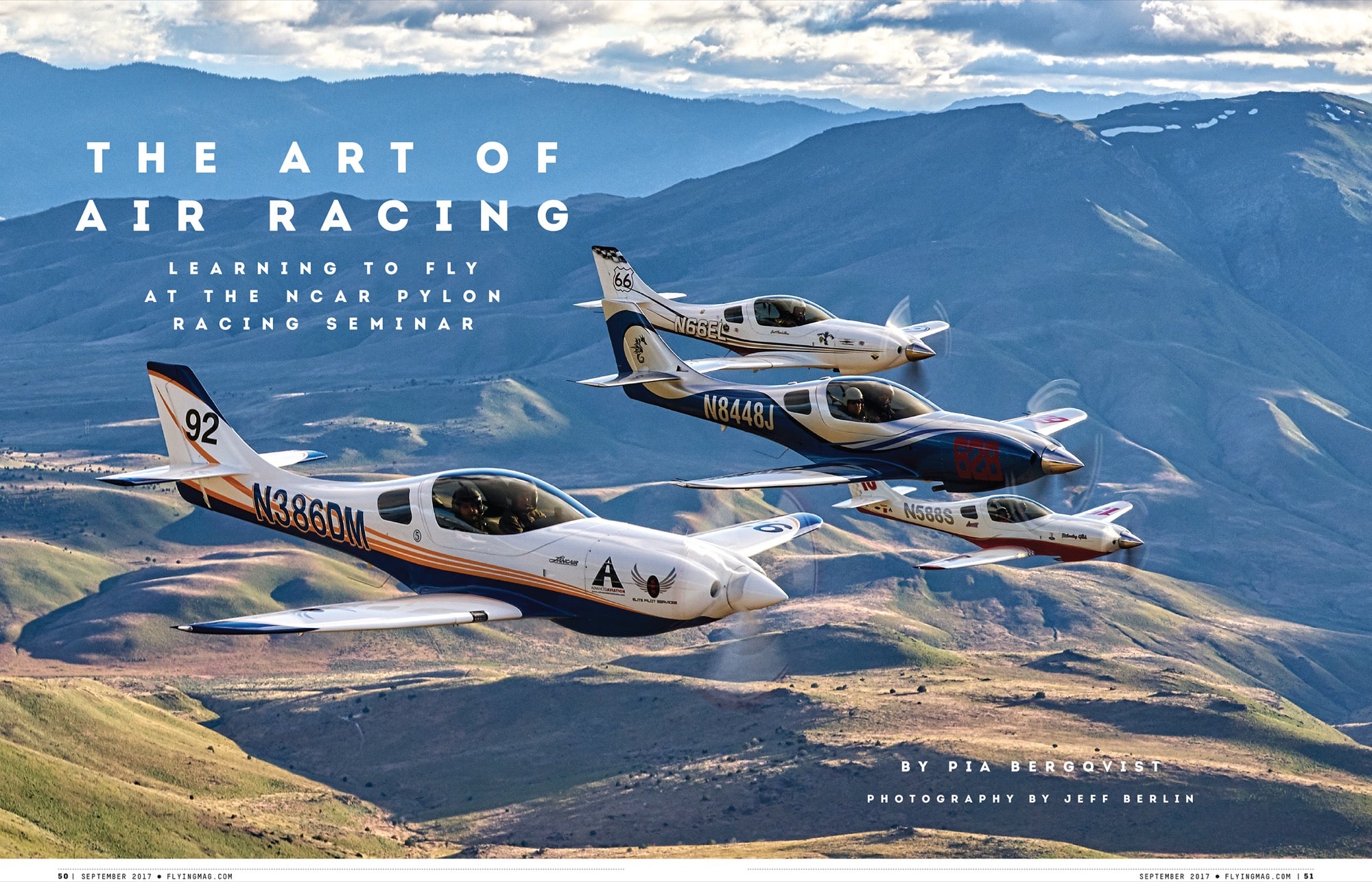 Photo by Sony Artisan Jeff Berlin for Flying magazine. Sony α7R II. Sony 24-70mm f/2.8 GM lens at 41mm. 1/200-sec., f/10, ISO 200
If you look at the photo of airshow star Bill Stein, the guy in the purple airplane, you'll notice that his propeller is blurred into a singular disc while the plane (and the pilot at the controls) are sharp. This is the ideal in air-to-air photography when shooting propeller-driven airplanes. This is why I use a slow-ish shutter speed. And of course, Bill was flying at a high RPM, and that helps too. Something I always request of the other pilot is to please fly at the highest RPM possible.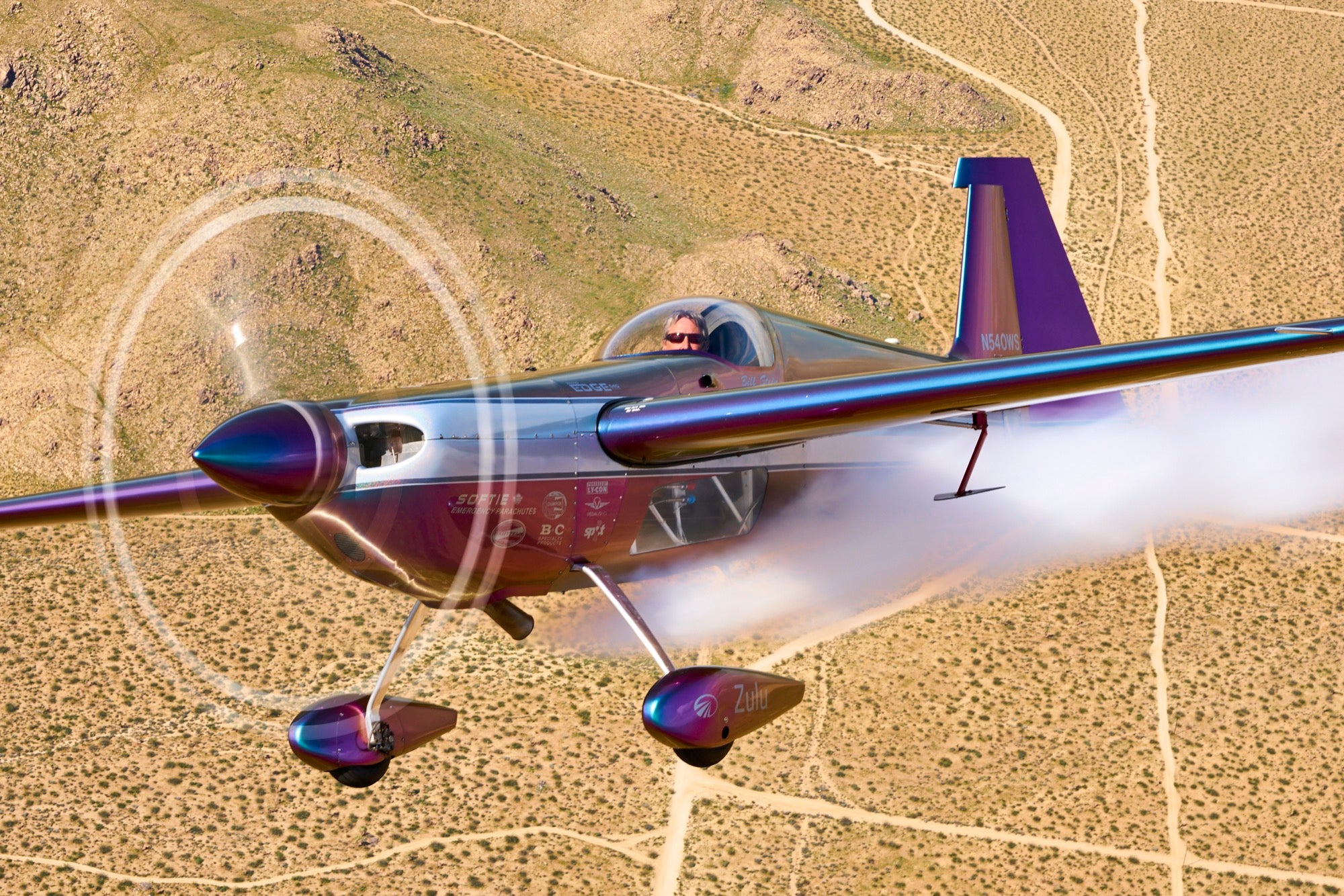 Photo by Sony Artisan Jeff Berlin. Sony α7R II. Sony 24-70mm f/2.8 GM lens at 60mm. 1/125-sec., f/16, ISO 160
I got into air-to-air photography because I've written about flying airplanes for magazines for years. I would always illustrate my own stories. It took off, so to speak, from there. In this article, the race planes, called Lancair Legacies, were photographed to illustrate an air racing story for the Sept. 2017 issue of Flying Magazine.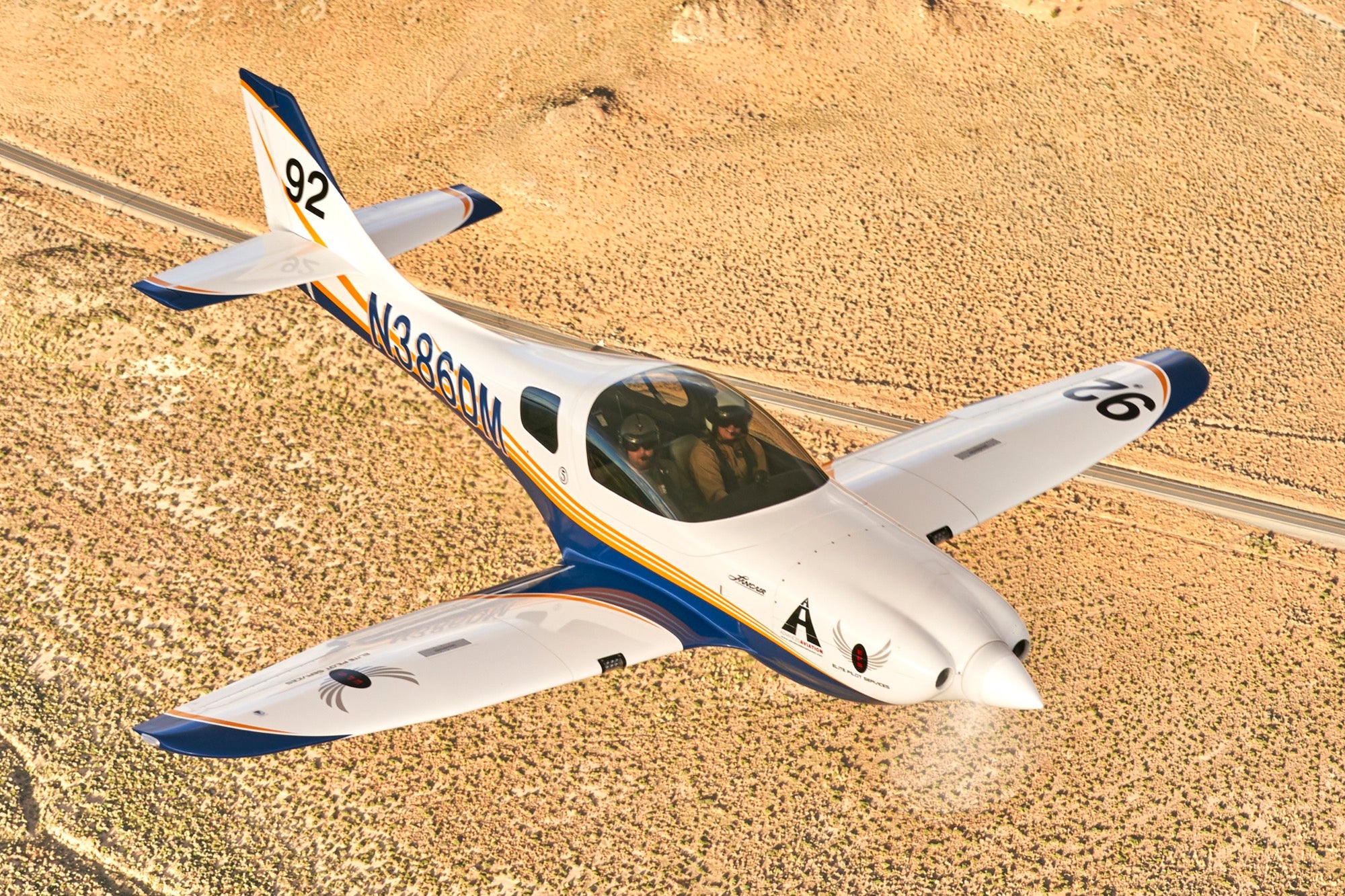 Photo by Sony Artisan Jeff Berlin. Sony α7R II. Sony 70-200mm f/2.8 GM lens at 82mm. 1/125-sec., f/11, ISO 200
Both the photo flights I've noted in this piece were really quite turbulent. There is no doubt I had as many sharp images as I did due to the Sony IBIS in my α9 and α7R II cameras.
Oh, and if you have any friends who are pilots and want to try this, I suggest you absolutely do not until you have the proper training and aviation experience. Air-to-air, close-quarters photography should only ever be done with formation-qualified pilots and pilots experienced with photo flights. There is little margin for error and I only ever do it with world-class pilots. The airplanes are indeed flying as close as they appear.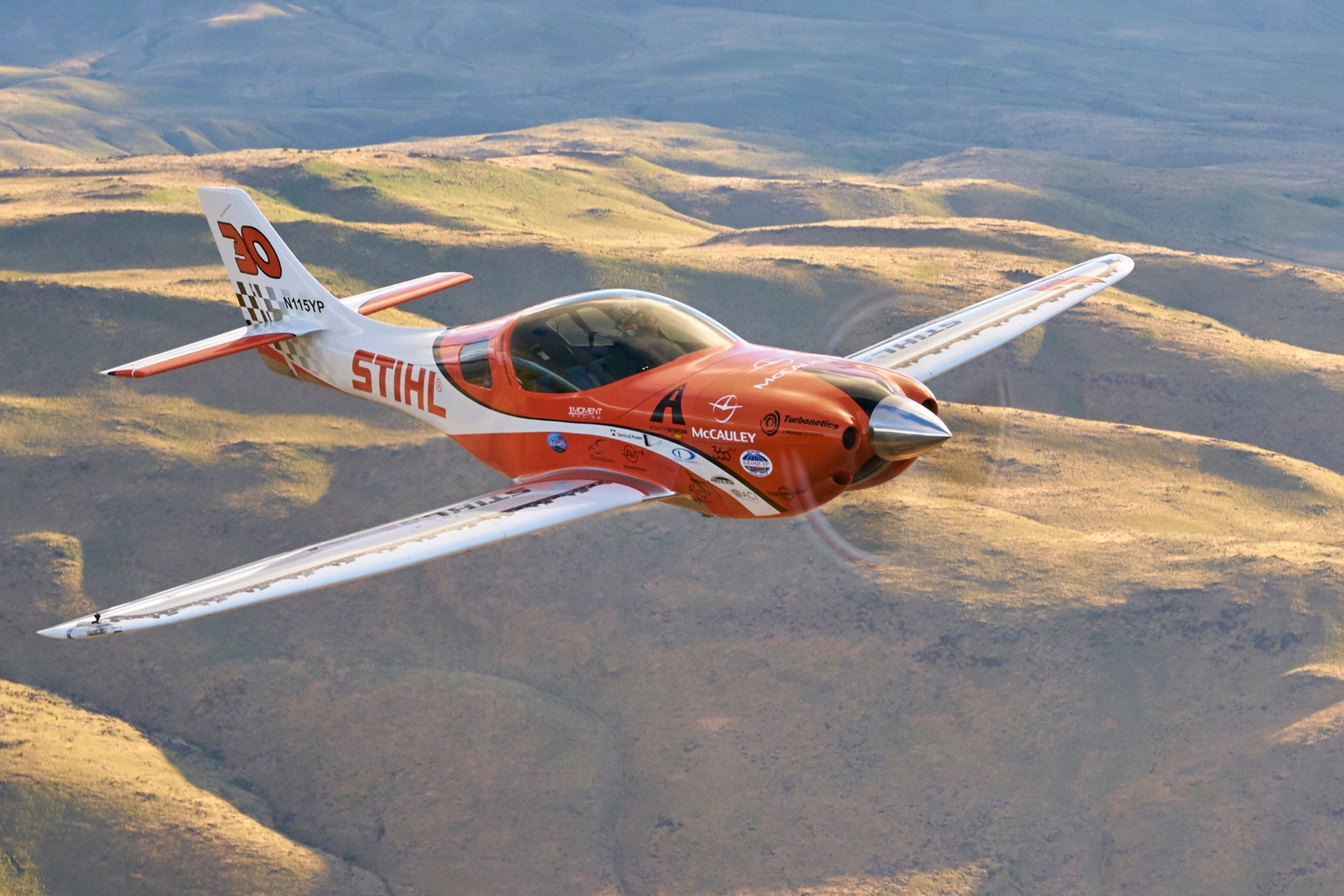 Photo by Sony Artisan Jeff Berlin. Sony α7R II. Sony 24-70mm f/2.8 GM lens at 41mm. 1/200-sec., f/10, ISO 200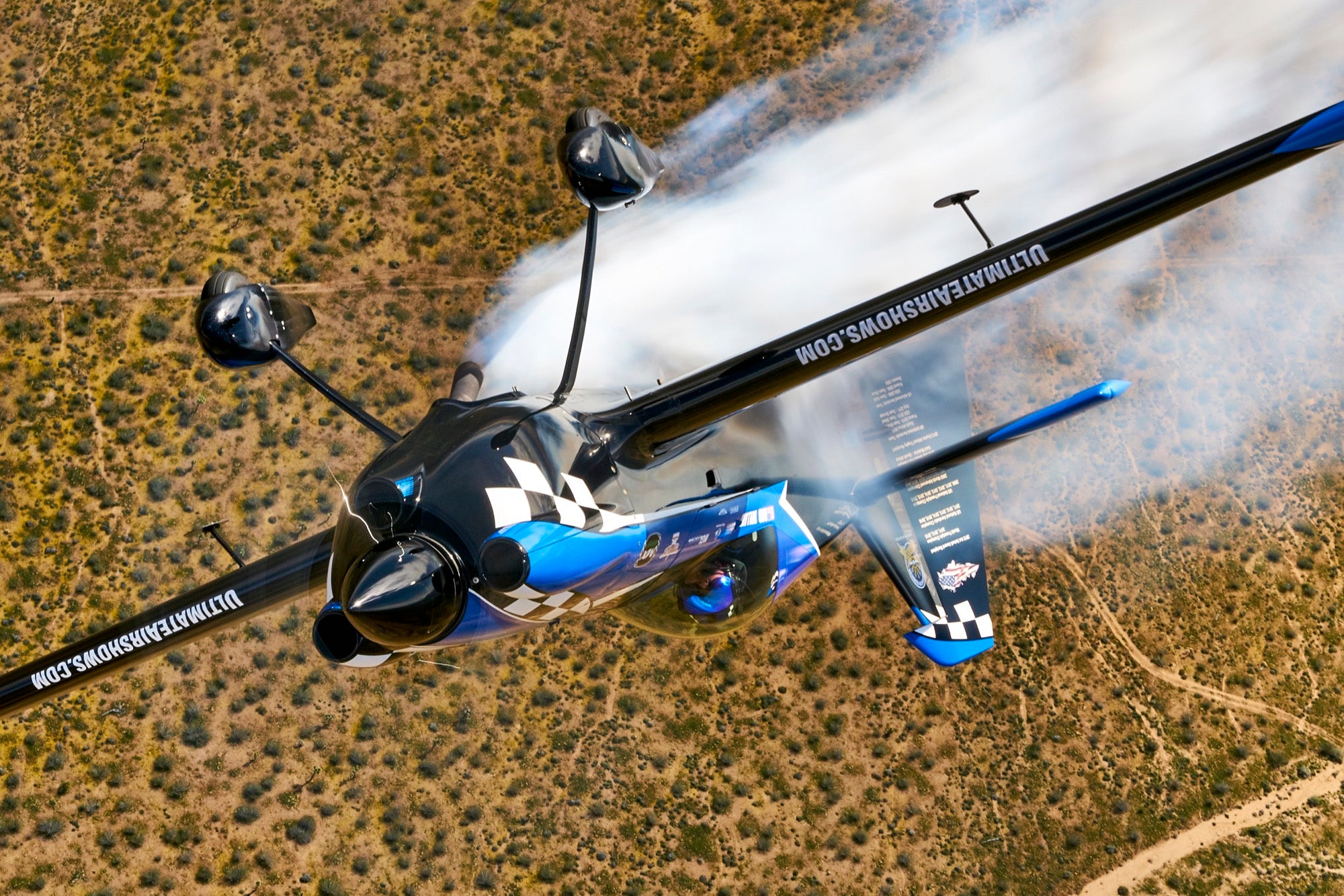 Photo by Sony Artisan Jeff Berlin. Sony α7R II. Sony 24-70mm f/2.8 GM lens at 70mm. 1/125-sec., f/22, ISO 160
Thanks to airshow stars Bill Stein and Rob Holland and special congratulations to Rob, who just won his 7th straight U.S. National Aerobatic Champiionship.
Jeff Berlin is a Sony Artisan of Imagery. See more about him here. You can follow him on Instagram @jtberlin