There's nothing better than seeing cities filled with twinkling lights that get you into that magical, holiday spirit. As a travel photographer and lover of architecture, I enjoy going around to various places and photographing the holiday lights in creative ways. I use a Sony α7R II as my primary camera and a few Sony E-mount zoom and prime lenses. Here are a few of my tips on how to capture the lights during this beautiful season, and some of the photos I've taken around Italy during this festive time of year.
Travel photographer Dorian Pellumbi shows how he uses perspective and fast lenses for dramatic effects when the Holiday season's twinkling lights are on display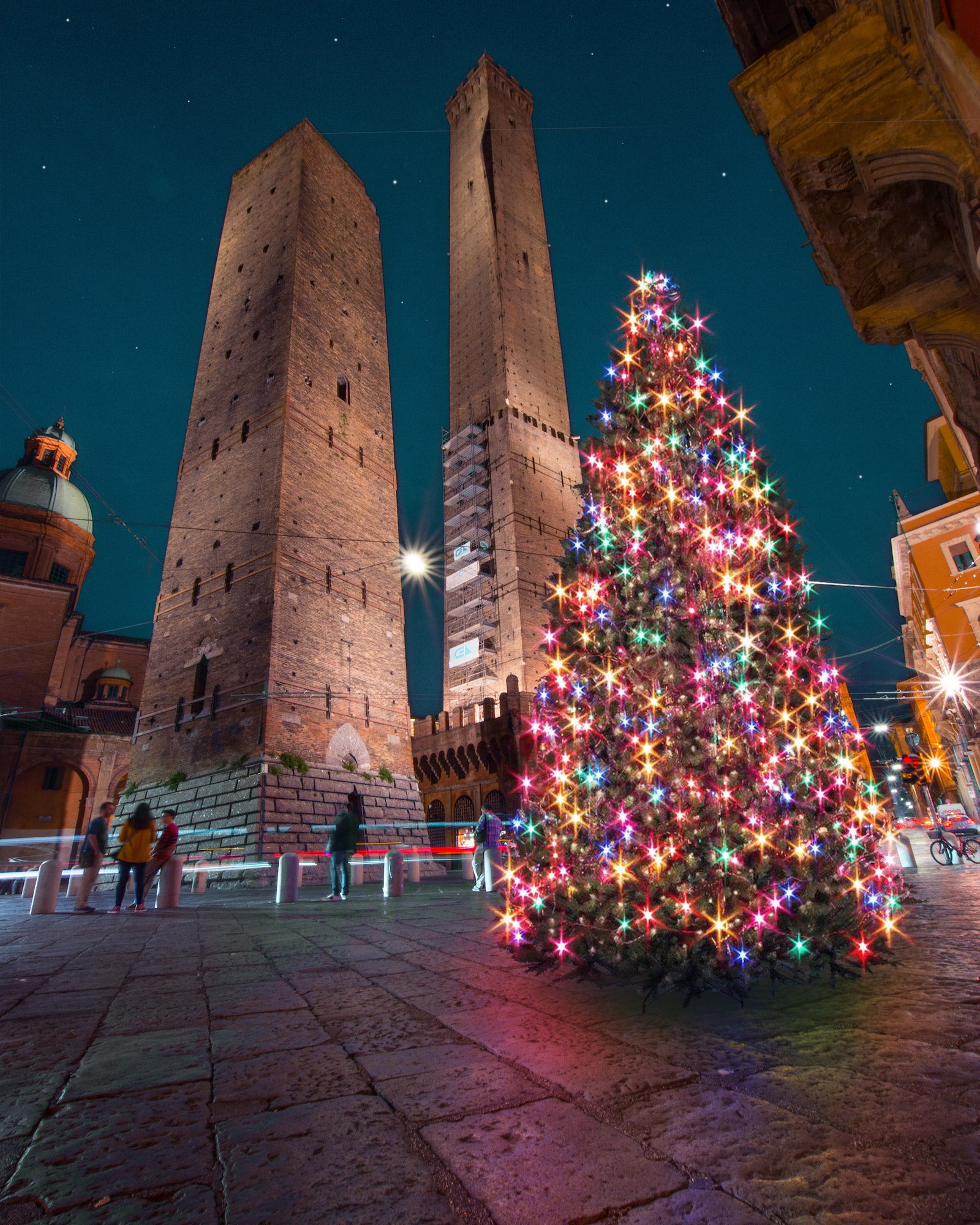 Taken in Bologna, Italy. Sony α7R II. Sony 16-35mm f/4 lens. 1/60-sec., f/4, ISO 800
Know What Time To Go
I like to photograph the lights most during blue hour, right after sunset. It's just the right time for the holiday decorations to really stand out. If you go in the morning, you'll probably end up having more light from the sky so the holiday lights won't be as twinkly or have quite the same look. The blue hour lets you balance the ambient light with the decorative lights to make an image that has good contrast and detail throughout.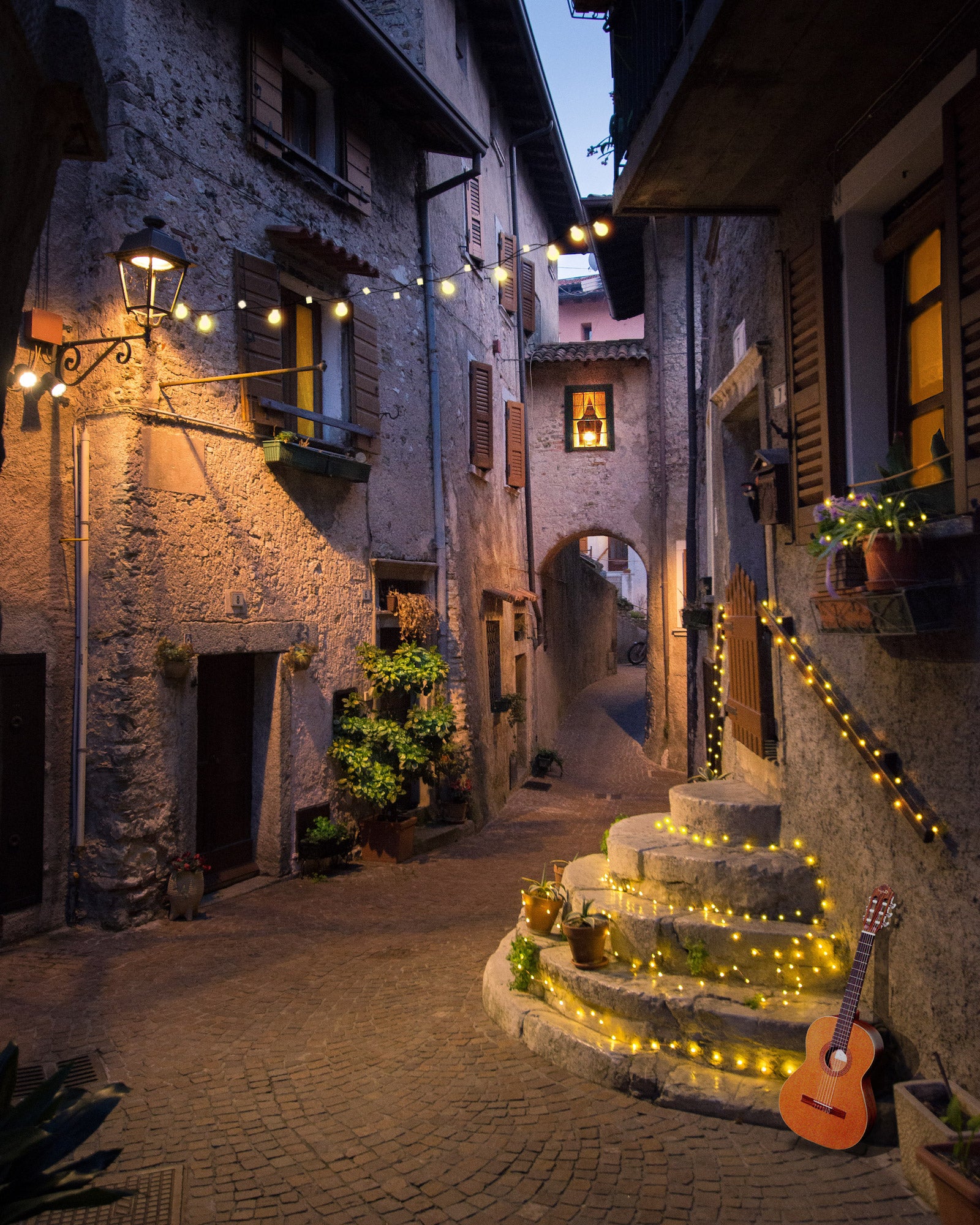 Taken in Tremosine at Lake Garda. Sony α7R II. Sony 35mm f/1.4 lens. 1/100-sec., f/2.8, ISO 800
Choose Your Lenses Wisely
I suggest being careful when choosing which lens to use to capture the lights. I know that it might not seem like there is much difference, but the right lens will help to make your picture look just the way you want it to. I typically choose a prime lens with a larger aperture (here I've used the Sony 35mm f/1.4 lens) in order to capture more light, which also allows for creating nice bokeh in the background or foreground. Foreground bokeh doesn't get nearly as much attention as background bokeh, but for holiday lights, it creates a lovely, out of the ordinary effect in the image.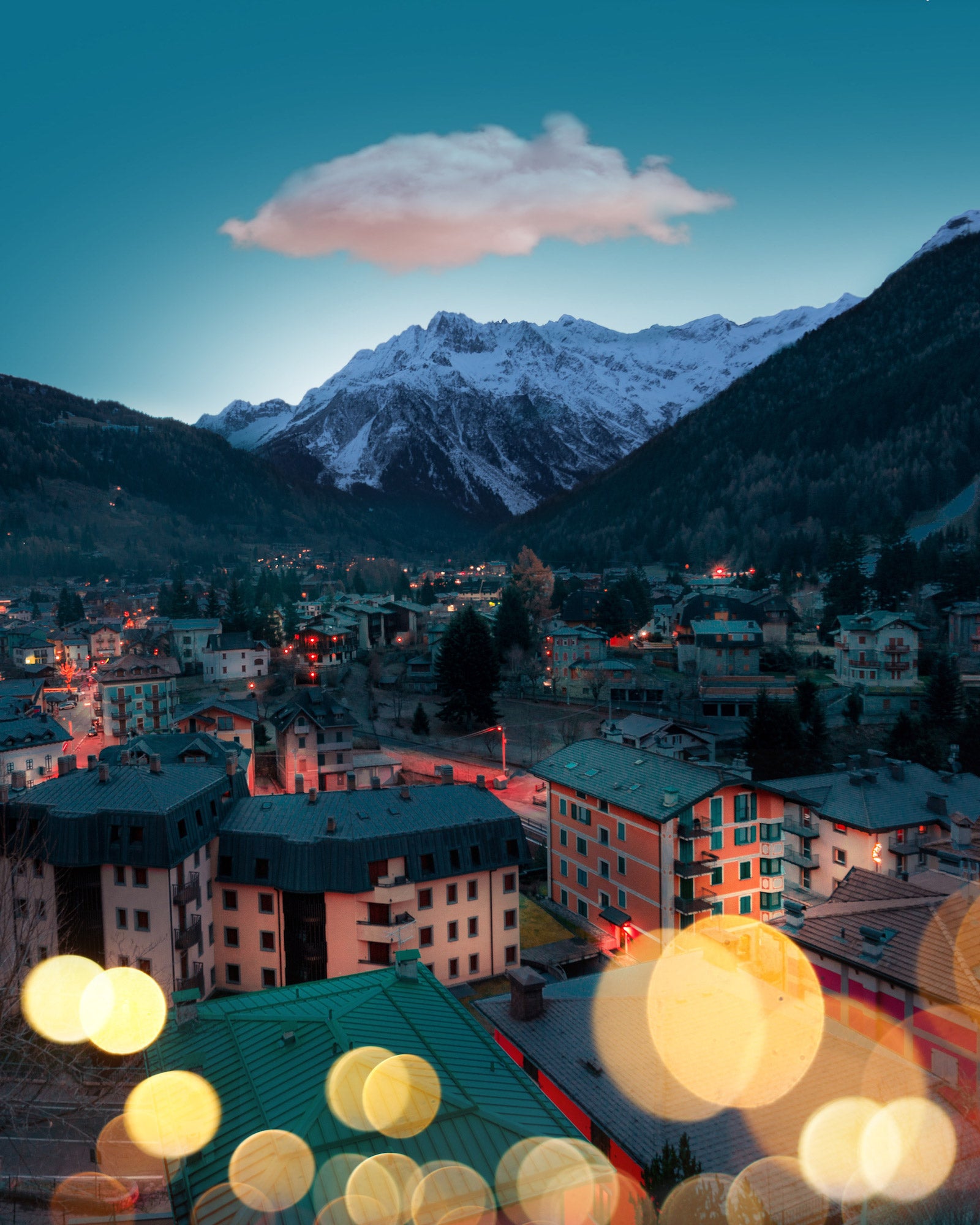 Tonale Pass in Brescia, Italy. Sony α7R II. Sony 35mm f/1.4 lens. 1/4-sec., f/2.8, ISO 100
Decide On Your Subject And Composition
Before you start snapping away, choose the subject of your photo. What is your photo going to be about? Take a moment and look and think. It's so easy to just start shooting, but that can be counterproductive. Once you know your subject, then you can work to compose the rest of your photo. The festive holiday lights should enhance the subject. Look for elements that would make your photo more complete. Include whatever buildings or objects you need to give your audience the full effect.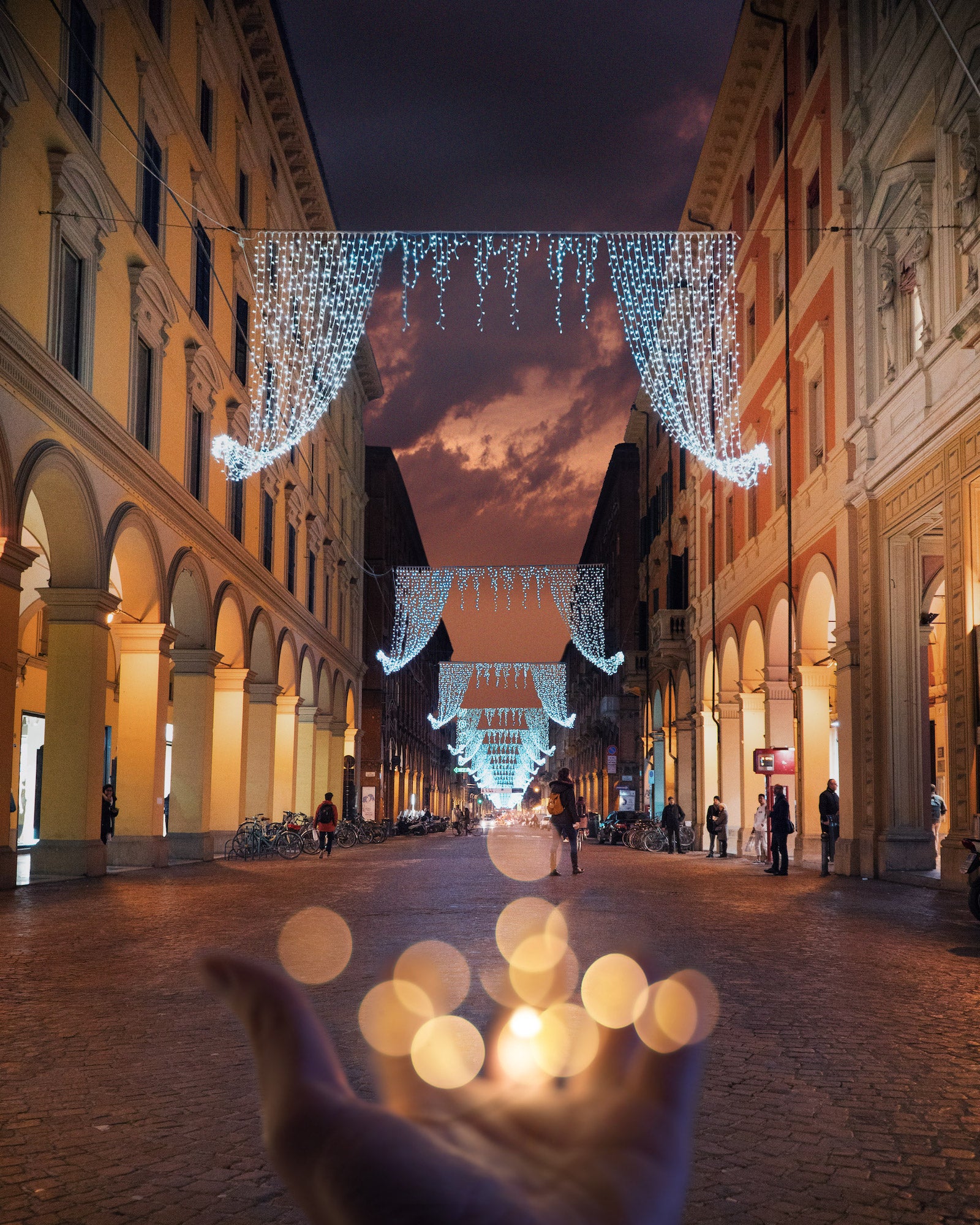 Taken in Bologna, Italy. Sony α7R II. Sony 35mm f/1.4 lens. 1/80-sec., f/1.8, ISO 800
Do The Work
Once you have your gear and you've decided on your subject and planned out your composition, you can move onto finding just the right perspective. Finding the right angle is everything. Move around until you get that perfect twinkling light then take your shot. And once you've found the perfect angle and taken the shot, keep looking. There's often more than once perfect angle. Again, it's ok to use the lights of the season sparingly. Sometimes, less is more.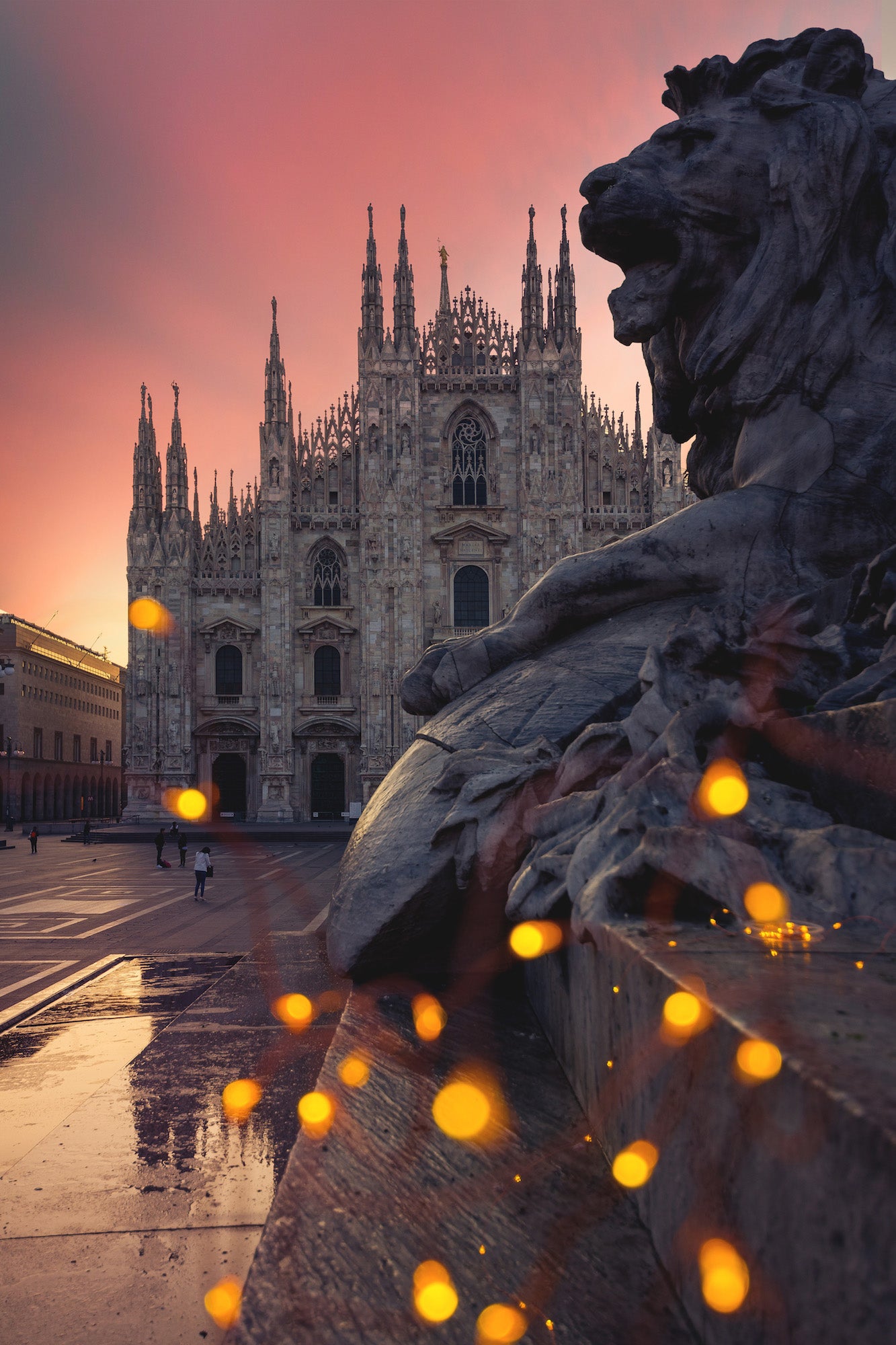 Duomo Square in Milan, Italy. Sony α7R II. Sony 16-35mm f/4 lens. 1/100-sec., f/4, ISO 100
Dorian Pellumbi is a travel photographer based in Italy. See more of his work on his Instagram @dorpell.