The first thing that takes your breath away in Paris is the beautiful, repetitive architecture of apartment buildings known as the Haussmann style from the late 1800s. These distinctive buildings became the background for my camera and lenses during a brief stint in Paris. However, that presented some difficulties. Incorporating distinctive architecture when photographing people is frequently challenging for any photographer. How do you photograph people and large buildings, especially if you don't want the people to be at a distance and end up looking small? You need to find scale and elevation for your subject. That was the task as we explored the City Of Lights.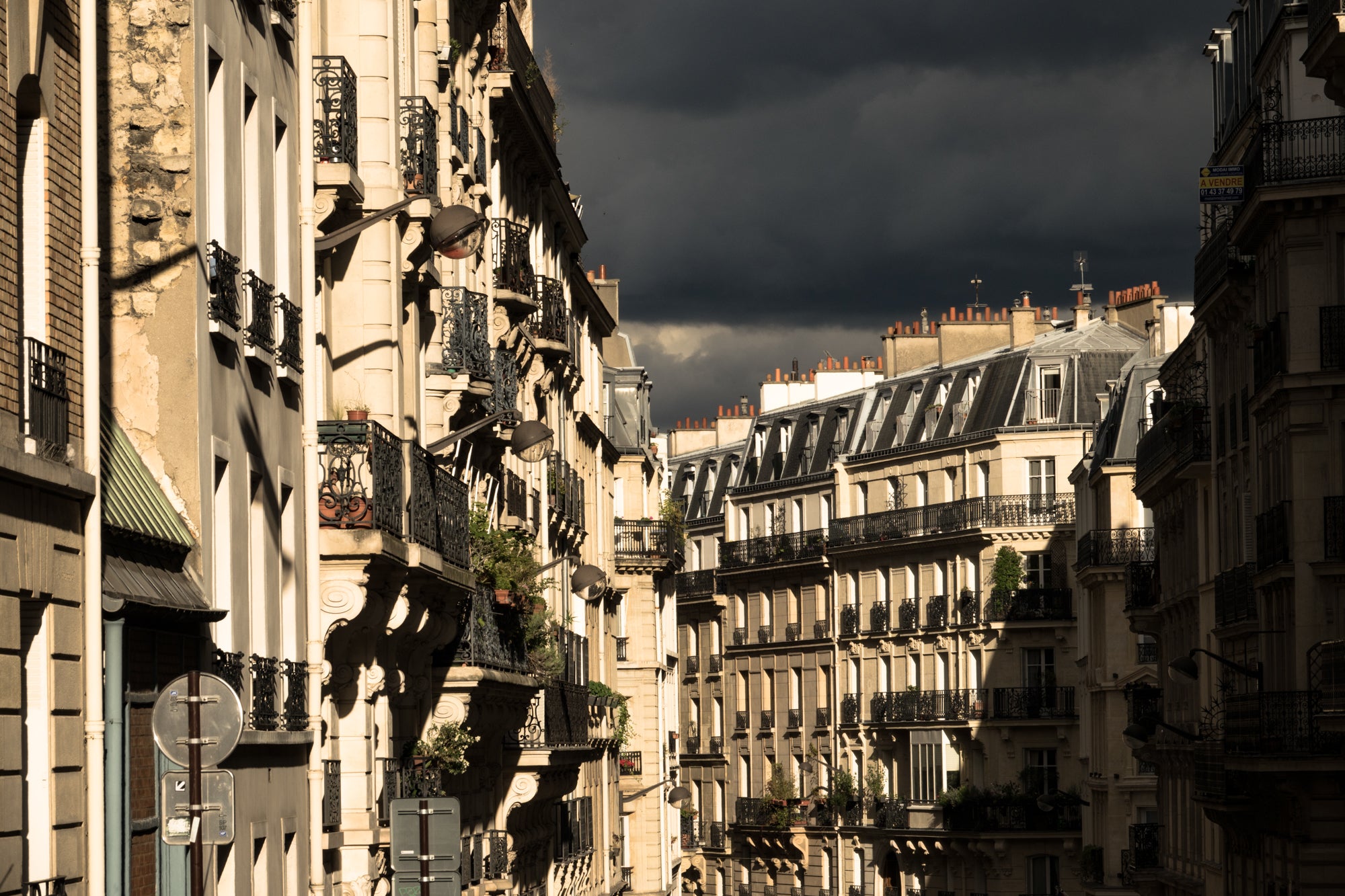 Our family was in Paris in transition between picking up the kids in Belgium and teaching a photography workshop in Italy. It was a demanding schedule and traveling to France had me feeling cross eyed. I couldn't keep my eyes open on the train. But my daughter Pascaline was full of energy.
Pascaline had dreamed of going to Paris since she was little. At 16, experiencing Paris, an epicenter for fashion, was her dream come true. Within thirty minutes of arriving at our rental apartment, Pascaline burst out of the bathroom with her hair done up. She was dressed in a beautiful white, pressed blouse, high waisted skirt and booties to match. With a big smile, she looked at me and said "Mom, Paris is waiting for me! I can't waste a single moment!"
I looked at Brian with his overgrown five o'clock shadow and messy hair. Our son, Blaze, shrugged his shoulders as if to say, 'I'm not surprised.' And then I looked at my own travel clothes that needed to either be burned or washed three times over. Pascaline was the exact opposite of all of us in energy and couture. As exhausted as we were, there was only one response. We jumped up, changed our clothes, and grabbed our cameras. This whole situation was screaming "Photo Shoot in Paris"!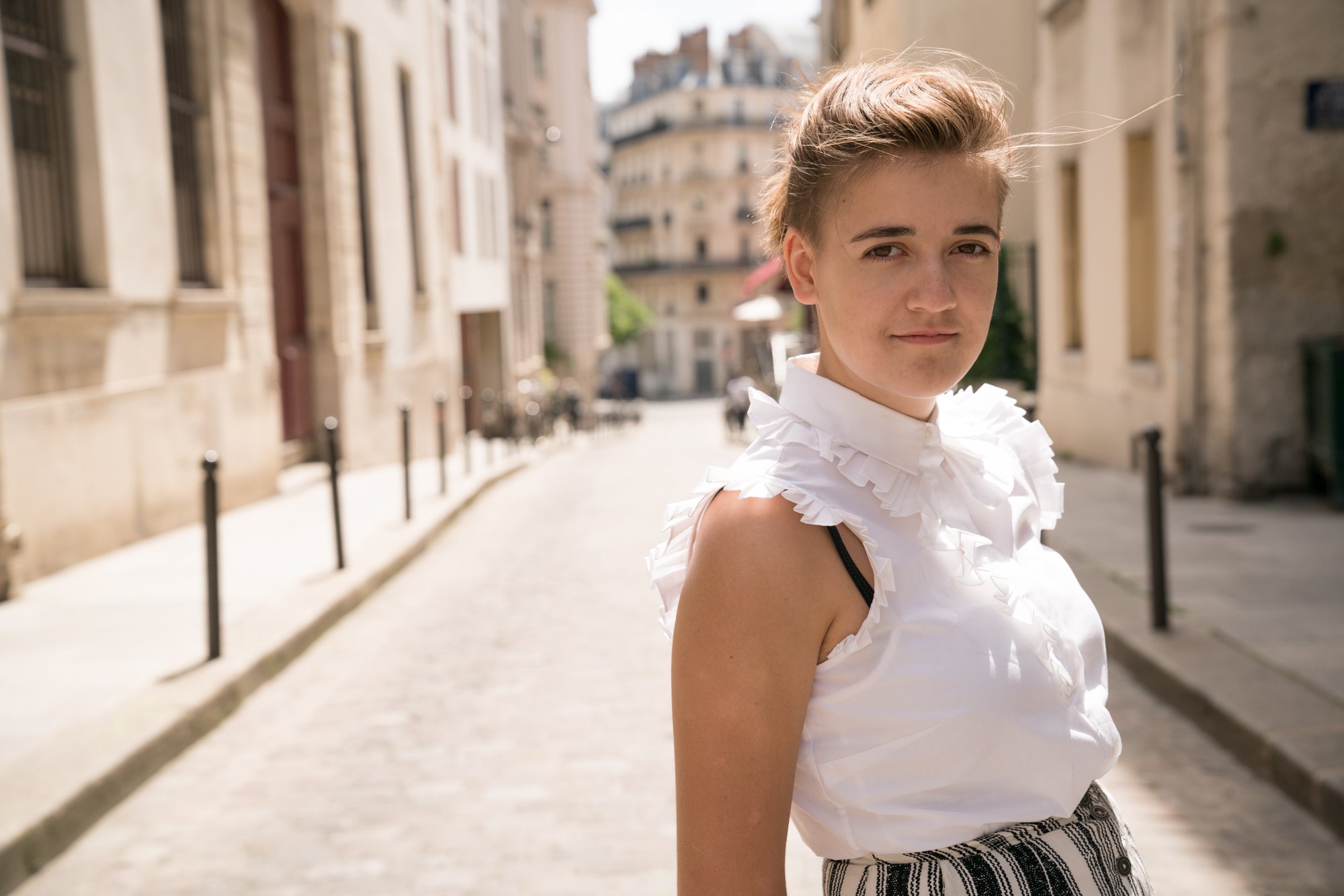 If we were going to film a photo shoot of Pascaline in Paris, I knew right away the Haussmann buildings needed to be a part of the story. They have a uniform look made from cream colored stone. The lofty ceilings on the ground floor are for shops and cafes. The second floor has more ornate window frames and balconies. This floor was also called the "noble" floor because the rich didn't want to exhaust themselves with climbing more stairs. The third and fourth floors are plain and straight forward. Most of them don't have balconies. But a running balcony returns on the fifth floor. I assumed the running fifth floor balcony was also for the rich or noble, but it's purpose is purely aesthetic to give visual, architectural balance. The last floor with sky blue roofs was for attic rooms.
As we walked the streets of Paris. I was looking for specific streets where I'd be able to compose the photos with Haussmann buildings on either side of Pascaline and one behind her. A dead-end street would work perfectly. The Haussmann building in the background was key because it would allow me to capture the blue roof tops and overall architecture. If it wasn't in the background, we'd only see the street level architecture on either side of her. To take it up a notch, I also wanted to find a cobblestone street. This cobblestone added another element of texture and depth to the shots. These storytelling pieces would allow Pascaline to be the subject with Paris's architecture complimenting her on all sides.
Once we found the street, I realized I needed to photograph Pascaline at an upward angle. If I didn't get the Haussmann rooftop architecture behind her, the story wouldn't feel as Parisian. I usually try to avoid this angle when photographing women because it can run the risk of making us look bigger. To avoid this, I stepped back a little farther and using my 24-70mm lens on my Sony α7R II, I zoomed in on her.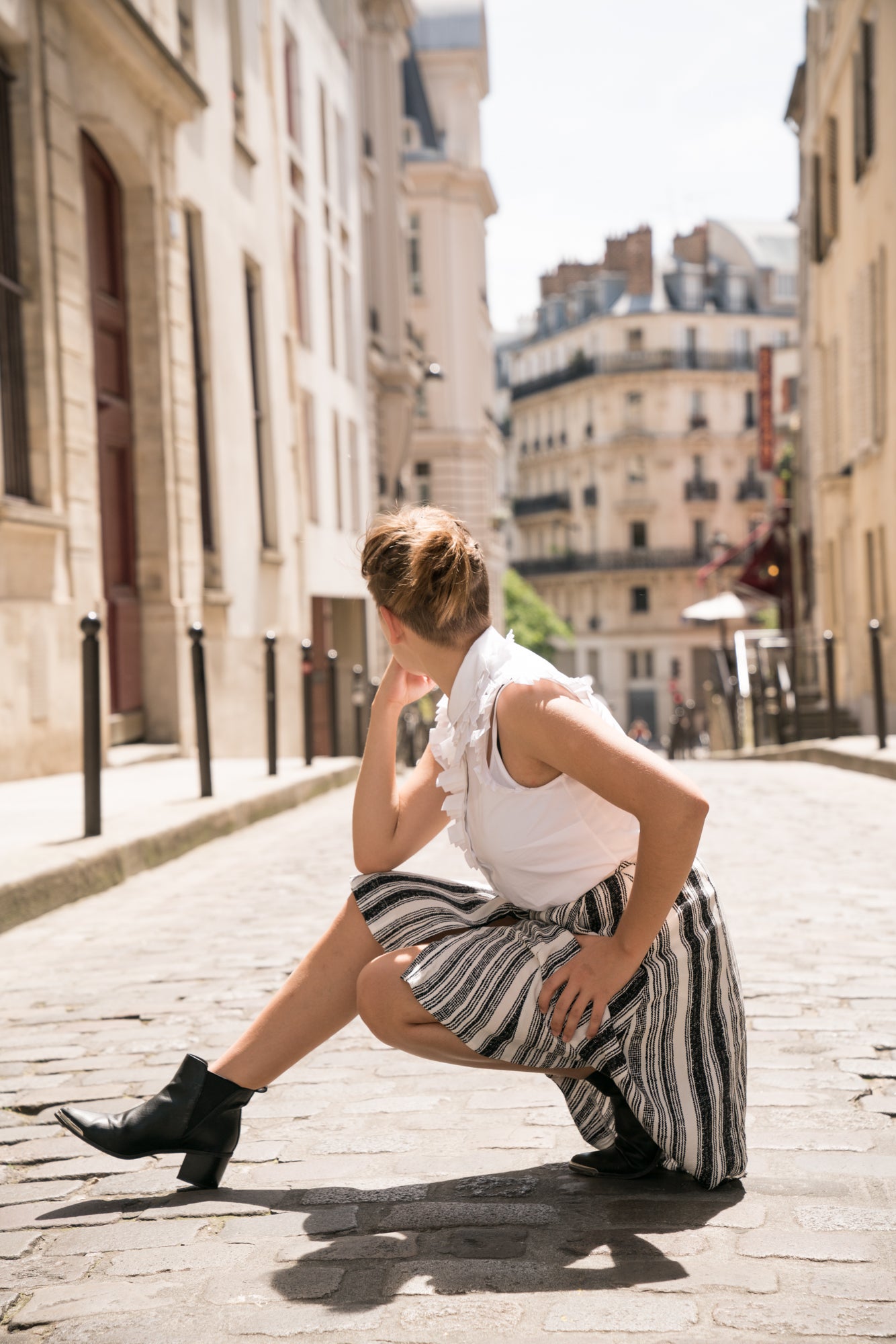 Sony α7R II, Sony 24-70mm f/2.8 G Master lens. 1-800 sec., f/4.5, ISO 100
Since this shoot had a fashion style feel to it, I had her do a few things to accentuate that look. Instead of looking at me, she stood at an angle and looked a bit upward to give a slight lift to her chin. When she walked across the street, I had her swing her purse to add a sense of motion.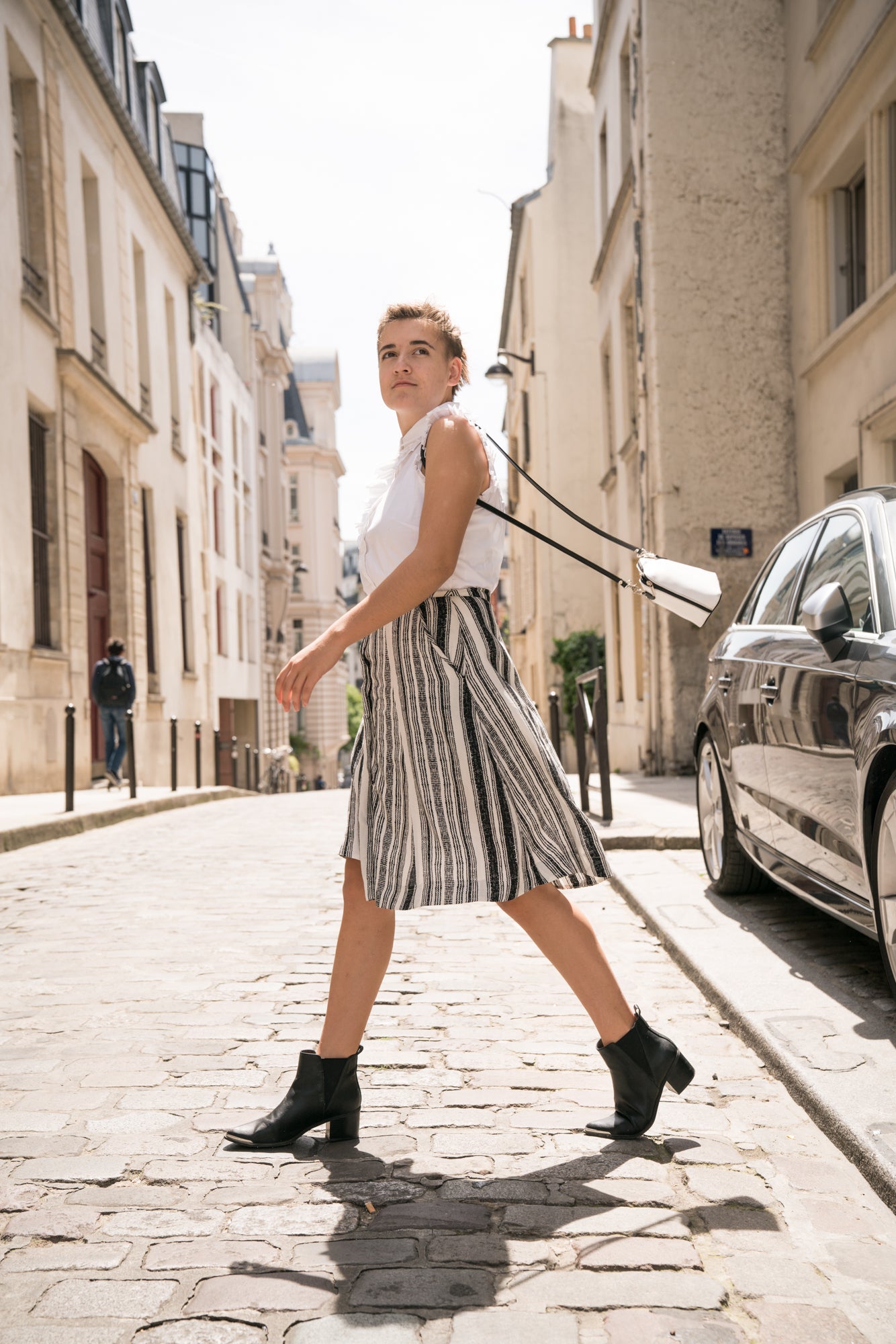 Sony α7R II, Sony 24-70mm f/2.8 G Master lens. 1-800 sec., f/4.5, ISO 100
I also had her swish her skirt to add energy and movement.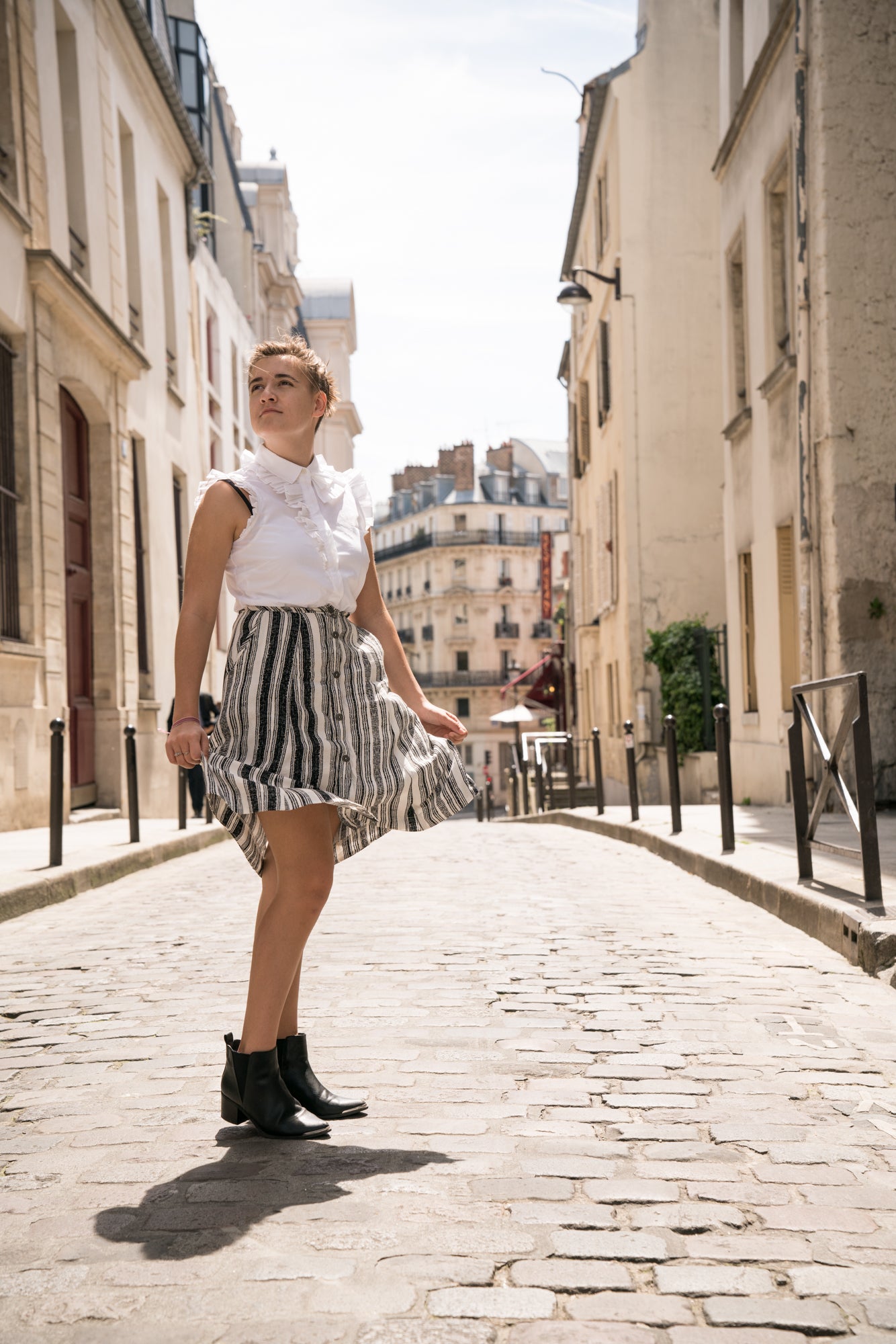 Sony α7R II, Sony 24-70mm f/2.8 G Master lens. 1-800 sec., f/4.5, ISO 100
Creating a specific look and feel with photography can happen with a few simple movements, gestures, and direction. As we returned to our apartment, I noticed the light and shadows from the afternoon sun. I asked Pascaline to pause halfway through the gated entrance. This shot was for me. I never wanted to forget the day Pascaline was bursting with excitement and said "Mom, Paris is waiting for me!"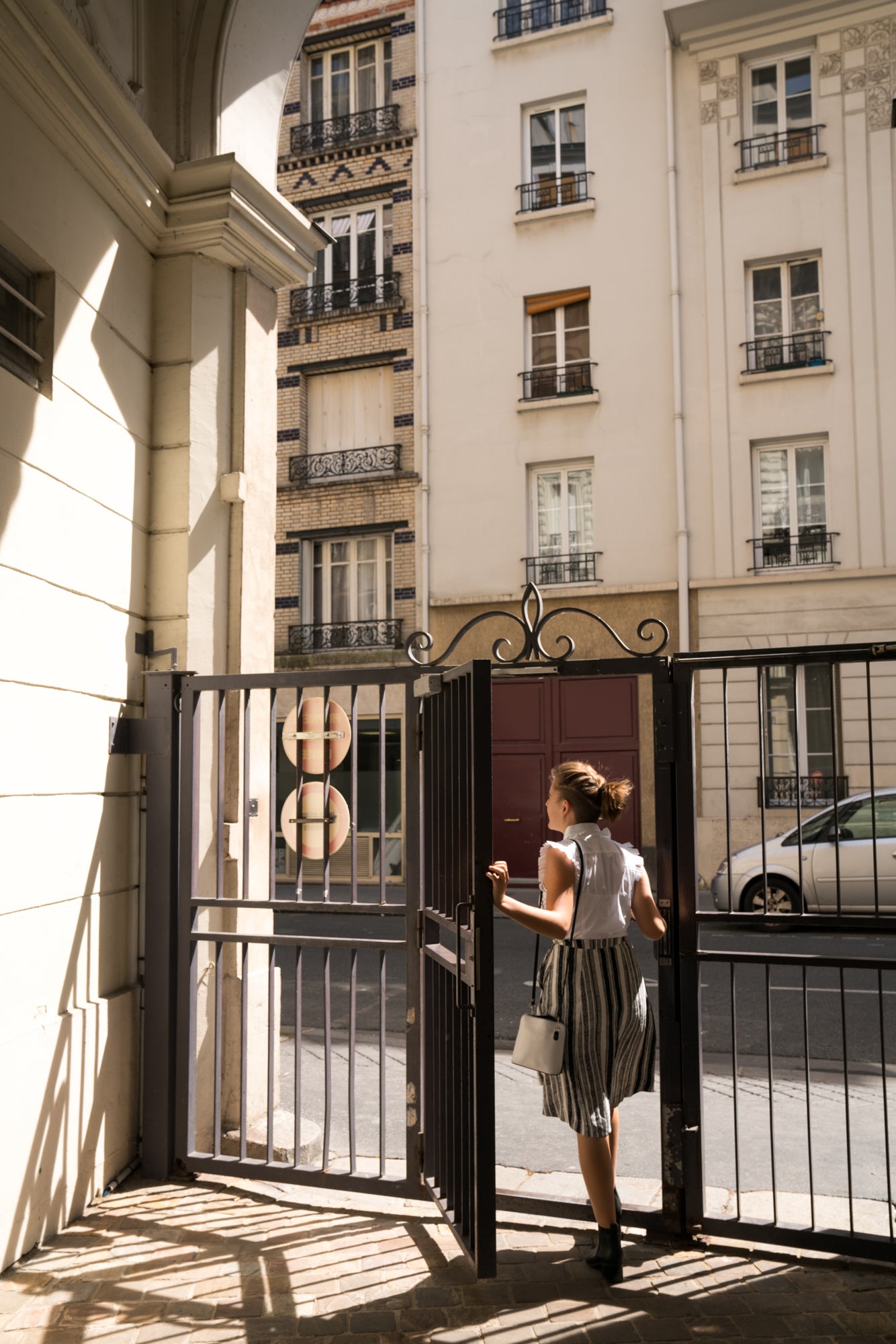 Sony α7R II, Sony 24-70mm f/2.8 G Master lens. 1-125 sec., f/7.1, ISO 100
To watch my photo shoot of Pascaline in Paris, check out our Adventure Family episode: 8 Things to Do in Paris with Family and Friends
You see learn more about Paris architecture and Haussmann buildings here and here.