When you think of Santorini, there are a handful of iconic images that come to mind; painted blue church domes, lazy windmills and white, sugar-cube homes high up on the cliffs overlooking pristine blue water. We assumed we would need to visit different locations to photograph each one of these scenes. But our family didn't expect to find all these iconic images in a small village called Oia.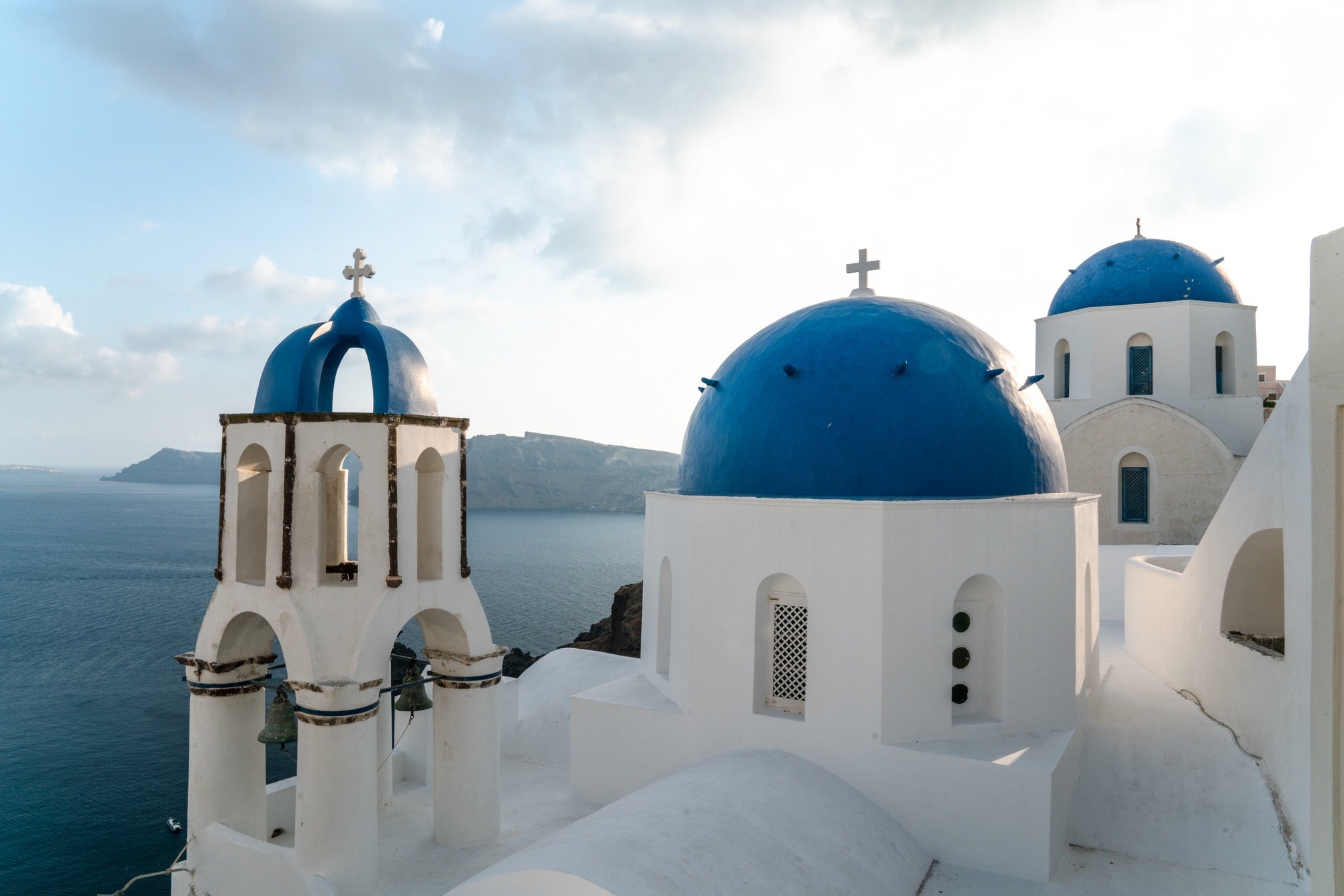 Sony α7R II, Sony 24-70mm f/2.8 G Master lens. 1/60-sec., f/18, ISO 100
You've probably heard of Santorini, but the village of Oia is likely less familiar. It's Santorini's northern most village and in this place you'll see some of the most beautiful sunset scenes to photograph in all of Greece—maybe even the world. Our family went to scout the area for a future Portrait of Greece workshop. Finding exact shooting locations, figuring out time of day, and what camera gear we would need were a few of the many questions we were determined to answer.
The most stressful part of scouting areas is there are no guarantees. You never know if the investment of time and money are going to pay off. And, because we love to take our Portrait of the World workshops to places off the beaten path even more investigating and pre-planning is necessary.
The first day we arrived in Oia, we scouted out spots for shooting the windmills and sugar-cube homes at sunset. It was already late afternoon, so we asked locals to help us find specific spots that overlooked the water. A handful of locals suggested a particular favorite lookout point to shoot from so we headed that way. We were shocked when we found hundreds of tourists already camped out there waiting for sunset. There were so many tourists crammed together, you couldn't set up a tripod to save your life.
I was deflated.
The crowds of tourists were the exact opposite of what we wanted, and yet the view and the so much of the place was phenomenal. It was everything I'd pictured when I thought of Greece.
In my disappointment, I realized how much the situation reminded me of Venice with all the cruise ships that bring in hordes of tourists for the day. And then I realized that we've figured out tricks and tips to beat the Venice crowds and help our workshop students capture the city's magic. If we can make Venice work, we can do the same thing here in Santorini!
Looking over and in between heads, I could tell the sunset was amazing with the windmills and light reflecting off the sugar cube homes. A couple hundred people held up their smart phones and fired their flashes as the sun slipped behind the ocean and mountains. And then the unexpected happened. The moment the sun set (and I mean the exact moment), the crowd cheered and then did a mass exodus to their cruise ships. Brian and I looked at each other in shock! Everyone was leaving just as the light and the colors were becoming truly amazing! We had our pick of perfect spots to set up our tripods!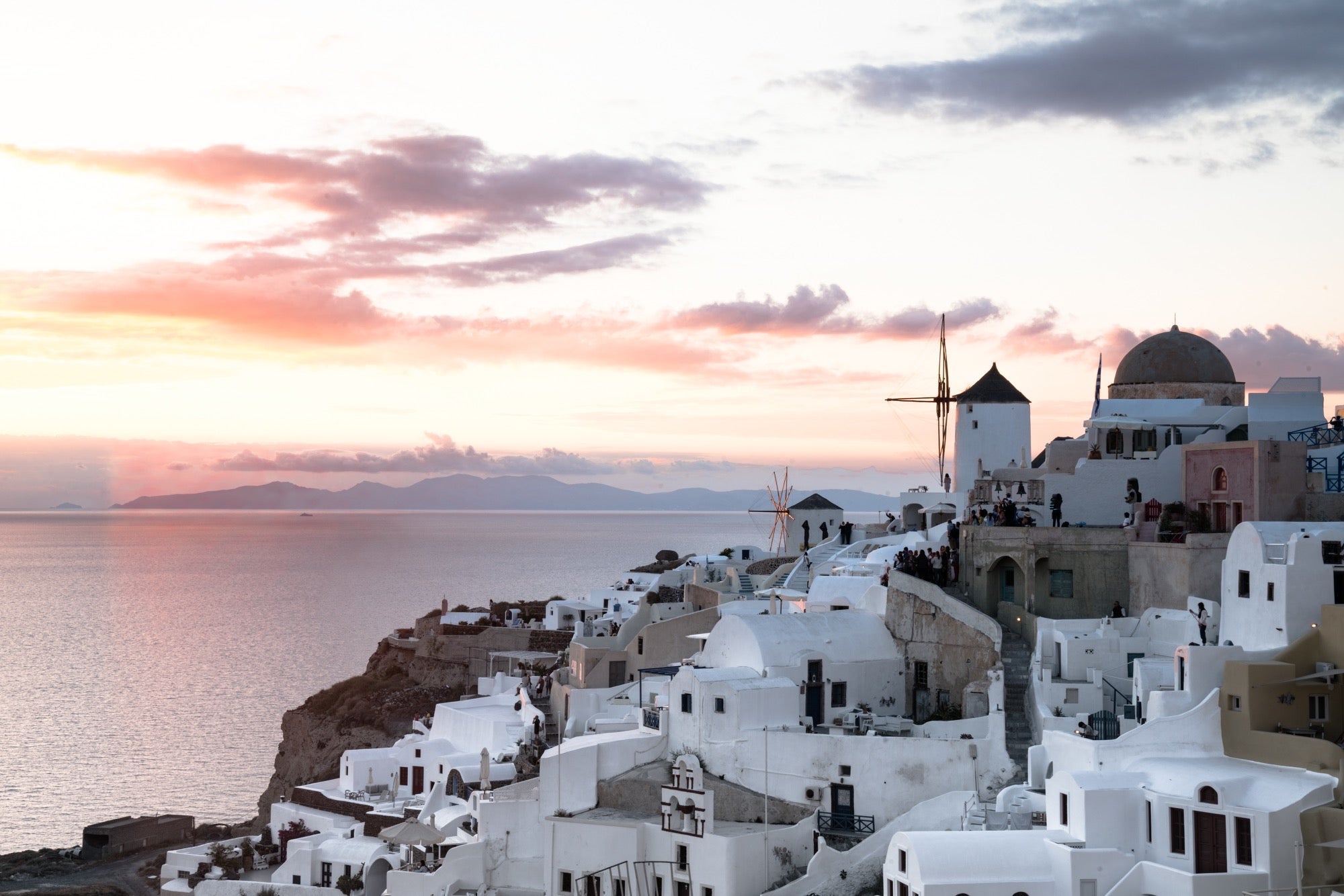 Sony α7R II, Sony 24-70mm f/2.8 G Master lens. 1/4-sec., f/22, ISO64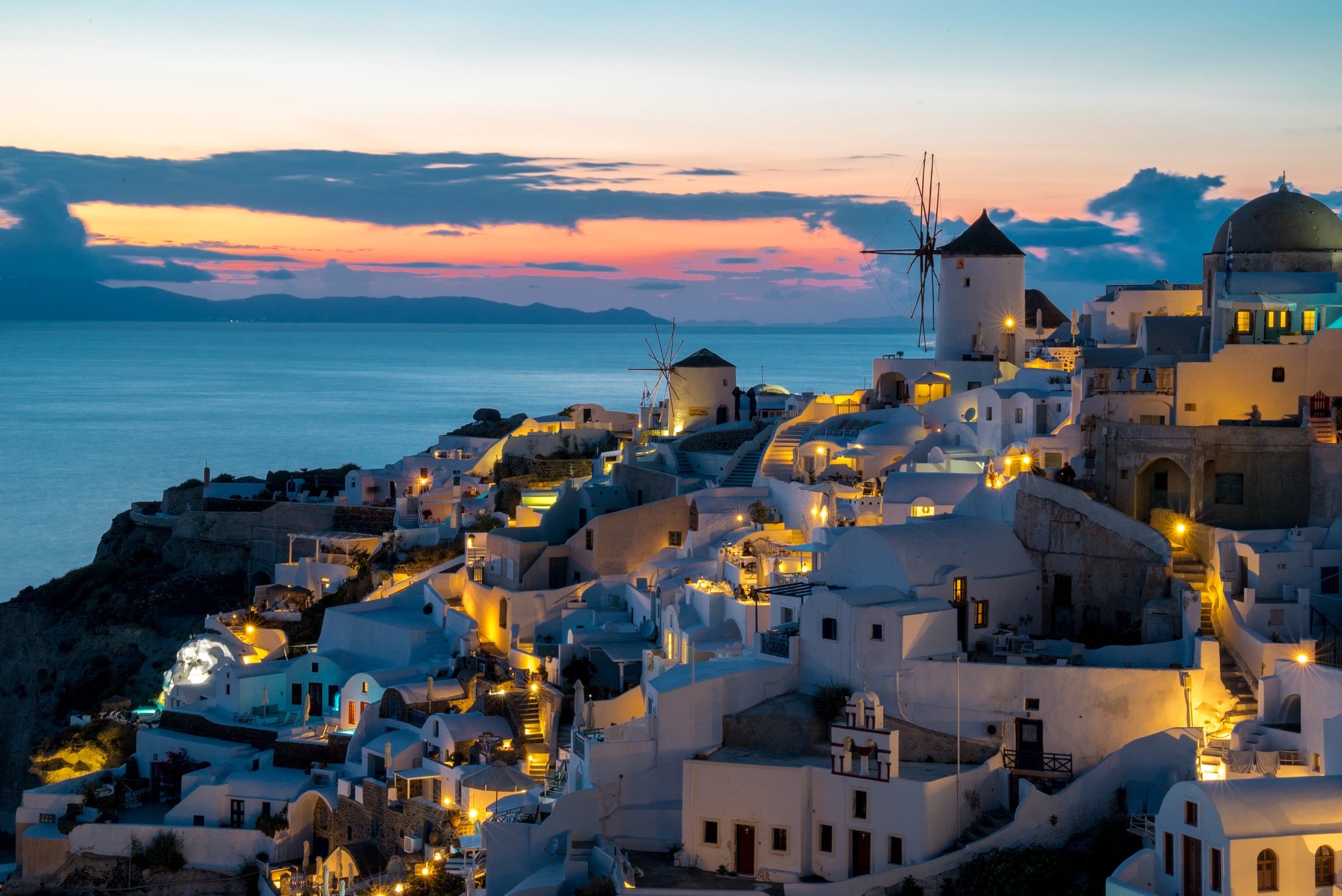 Sony α7R II, Sony 24-70mm f/2.8 G Master lens. 30-seconds., f/22, ISO 400. Oia Castle is where you get the most breathtaking, iconic views of the sun setting over the Aegean Sea splashing warm hues of color on sugar cube, stacked homes and lazy windmills. Lots of people get to Oia Castle two to three hours in advance to watch the sunset. You can do this too. Or you can get there a half hour before sunset and wait for the mass exodus that happens right after sunset. (I'm not kidding. Everyone leaves RIGHT AFTER the sun disappears.) Little do they know that this is when the sky's colors start to get really good! Brian shot this by leaving his shutter open for 30 seconds.
A handful of tourists passed us with furrowed brows. You could tell they were trying to figure out why we were staying and setting up our tripods. We kept our lips sealed. Within ten minutes, a hundreds of people vanished and only seven photographers remained. Even though we were all strangers from different parts of the world, we laughed together in sheer delight at our great fortune.
The thirty to forty minutes following sunset is when you often have the most amazing color in the sky. Blue hour is the finale, giving you the bluest sky. With our camera gear set up, we shot the most gorgeous Greece sunset. And now we saw that we could bring our workshop back here and have shooting success while also avoiding the crowds.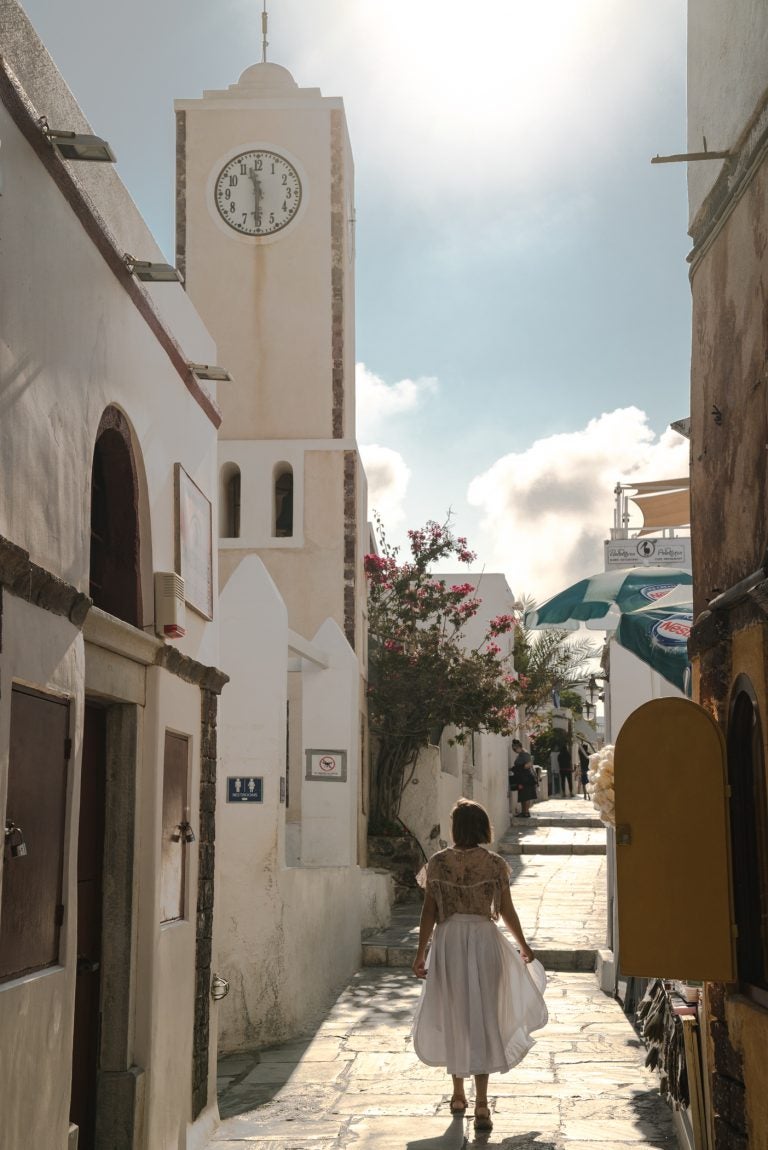 Sony α7S II, Sony 24-70mm f/2.8 G Master lens. 1/800-sec., f/8, ISO 100. I often encourage my subjects to wear white or sheer blouses and/or skirts so the light can pass through them. See how the morning light illuminates Pascaline's skirt? Staying in Oia Village gave us the advantage of doing an early morning photo shoot while the walkways were still empty.
During the rest of the scouting trip on Santorini, we called on our experience in popular destinations. We've learned that as photographers, we have different goals and different timelines compared to most tourists. This is especially true when it comes to islands where the cruise ship industry calls. Thankfully, their itineraries are almost the complete opposite of ours. That leaves us to enjoy the best locations at the best times of day for photography almost entirely alone. The key is to be patient and, when you get to the place where you want to take your photos and it's overrun with tourists, have faith that they'll be gone at the exact time when you want them to be gone. And it's the same for early morning when you can have an iconic vista to yourself during the good light and be packing up to enjoy a well-earned breakfast just as the first throngs of cruise ship passengers arrive.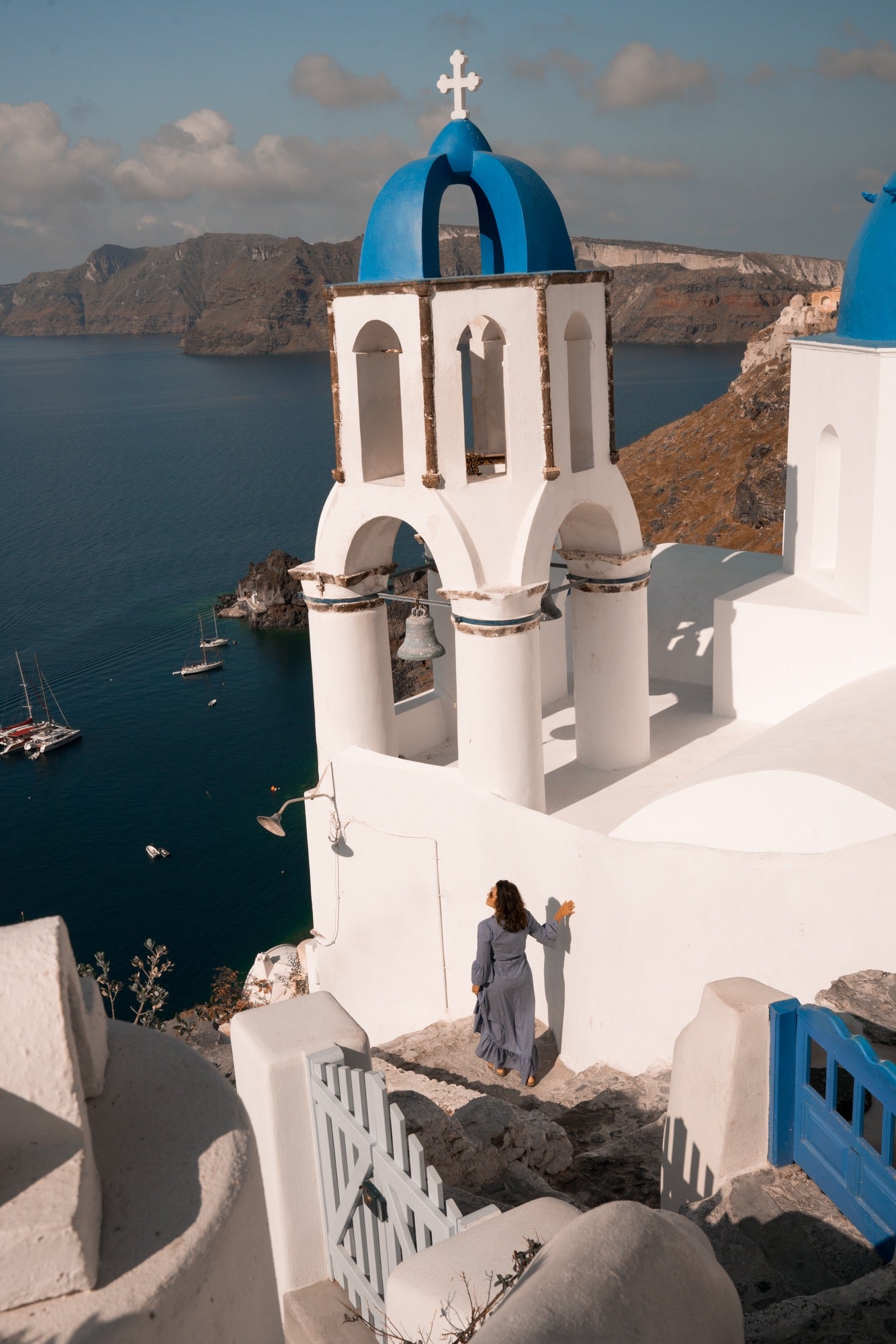 Sony α7R II, Sony 24-70mm f/2.8 G Master lens. 1/250-sec., f/11, ISO 250. Pascaline, my 16 year old daughter, took this portrait of me! It's my favorite! I wanted a photo that captured the story of how much my heart loves to explore foreign lands, believe in the impossible, and never stops seeking truth.
If you plan to visit Greece, specifically Santorini, stay in a cave villa in Oia village so your shooting time is not limited to the cruise's schedule. Follow the crowds to the lookout spot where you see the windmills overlooking the water. Instead of stressing about having a great spot to see the sunset, stand back and let the tourists get their shot with their smartphones.
When they start to leave, pick your favorite view point and start shooting. As the light fades more and more, you'll be adjusting your shutter speed to stay open longer and longer. Get ready to come home with gorgeous photos!
To see where we shot from and get more ideas on what to do in Oia, Santorini, watch our episode of Adventure Family from Santorini.