Cinemagraphs are a special type of creation that blend both still photography and motion. Virgo Haan (@virgohaan) is a creator of cinemagraphs and living photos who is known for his high-end commercial work for social media marketing campaigns. He relies on a kit of Sony Alpha cameras and lenses including the 24-70mm f/2.8 G Master (click HERE to see special pricing, through June 28, 2020, on camera & lens bundles as well as lenses, including the 24-70mm f/2.8 G Master) to create them, and we wanted to dive deeper behind one of his creations to learn how he does it. In this cinemagraph he captures Jazz and Bossa Nova singer Inga Kaare with moving water and a burning flame. Read more on how he did it below.
See how motion artist Virgo Haan combined a still photo with two looping videos to create this cinemagraph using his Sony α7R III & 24-70mm f/2.8 G Master.
The Inspiration
Inga Kaare is a super talented Jazz and Bossa Nova singer and she has just released her latest album LUZ. She asked me if I would have some creative ideas for her music videos. I have been quite fascinated by fire lately, so I had the idea to add some beautiful fire to already beautiful things. And I wanted to challenge myself to burn things that usually don't burn. That's how the burning head idea was born.
The Gear
For this cinemagraph I used my main workhorse camera – the Sony α7R III. This camera has made it through all of the difficult conditions I shoot in. I have done a ton of shoots at the beach where there is a lot of sand, I've been standing in the water and in the rain. Fortunately my camera has not failed me yet. The main reason I like to use this camera is for its very high dynamic range. In outdoor situations, light conditions can be in very high contrast so the risk of blowing out highlights is very high. The dynamic range allows me to capture it all without worry. I also love that I can focus using the touch screen as I am often in very low positions, where it's difficult to use other methods.
I chose the Sony 24-70mm f/2.8 G Master lens for this shoot. It's a very versatile lens and my go-to when I'm doing a shoot where I need some zoom options. It also has incredibly fast and reliable focus speed and accuracy which is exactly what I need for my cinemagraphs. (NOTE: Through June 28, 2020, you can getspecial pricing on camera & lens bundles as well as lenses, including the 24-70mm f/2.8 G Master. Click HERE for details.)
How He Captured It
Still Photo Of The Subject
To capture this cinemagraph I had my α7R III in full manual mode with my white balance set. I was set up on a tripod and gave instructions to the subject to stay as still as possible. When choosing my exposure, I always prioritized the subject so that she would be correctly exposed. I think one of the most important things about outdoor shoots is where the sun will be and from which direction it will hit your subject's face. For this shoot I chose sunset time, so that light would reach her from a lower angle. Having a bit of a cloudy day gave me that softer light that I love. The clouds also gave me some nice texture for the sky as the background.
Moving Water With Reflection
Making a cinemagraph in the water is a bit tricky because I can't just film moving water and fuse it together with a photo of a model. Water has reflections and without a reflection of the model it would look fake. So for shooting the water part for my cinemagraph I needed my model to stand in the water and stay very still for about 6-10 seconds. It was quite hard for her as the water was about 6 degrees Celsuis (42.8 degrees Fahrenheit) at the moment and she had no winter swimming experience, but she really wanted to make it work and she survived :) One of the main thing about composite photos is to have a constant focus point so you could fuse all the different part together seamlessly, so I usually start with eye focus and shoot all the photos, when I am done with photos a switch to manual focus so I would not lose correct focal point when I shoot other parts of cinemagraph. Filming water in slow motion is also a good idea as it will make water look more dreamy.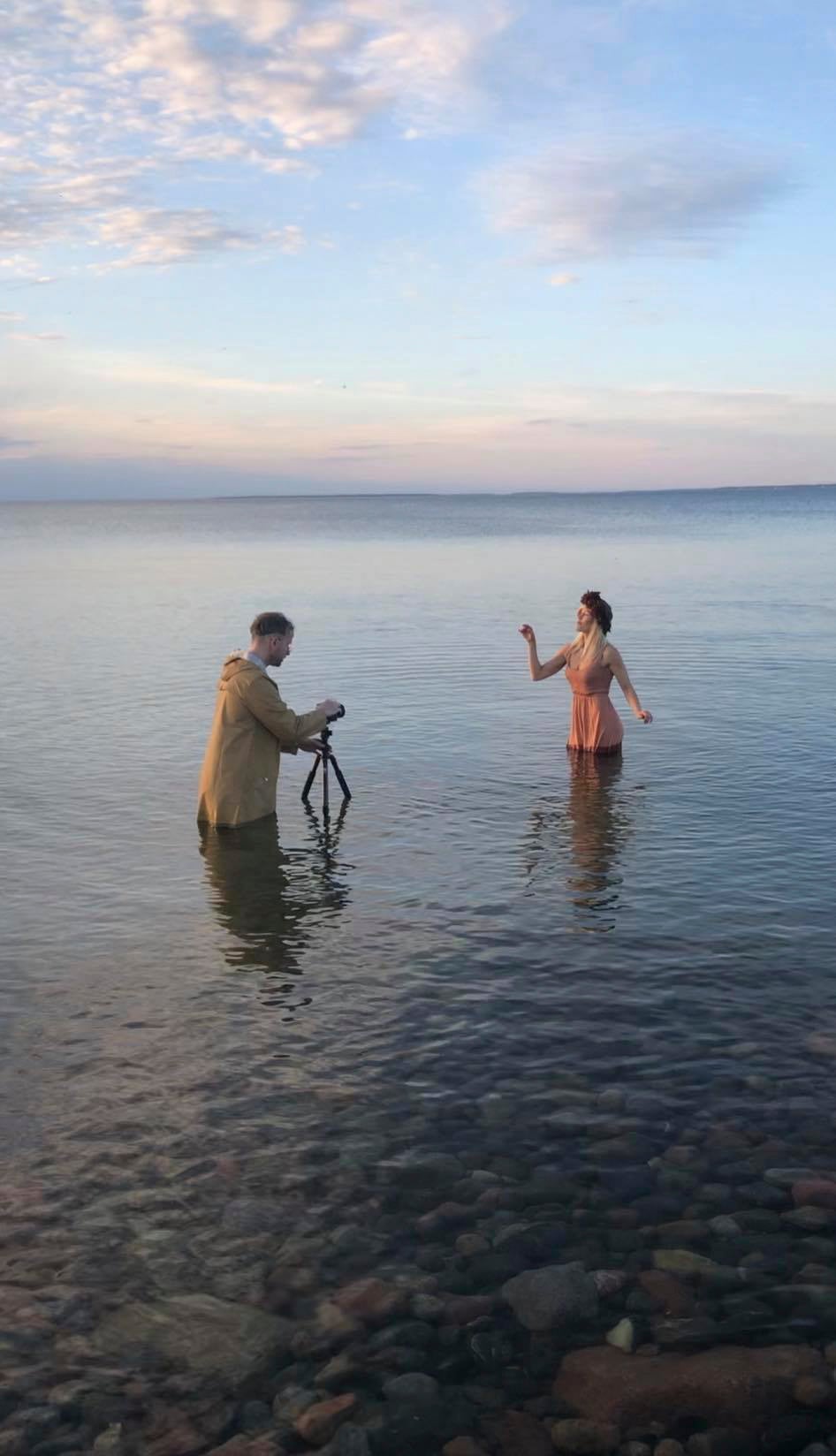 Burning Head Piece
To create the burning head piece image I placed it on a lightning stand using a Manfrotto super clamp and soaked it with liquid fire starter and added some nail remover to get more bould darker colors. I think the nail remover was a bit overdone as it destroyed my super clamp. One thing that I learned was that outdoors and at the seaside it is very hard to get a fire burning, so it's wise to bring some special windproof fire starter.
Post-Processing
In post-production I had three different parts I needed to fuse together – the photo of the subject, the footage of the waving sea with the subject's reflection and the footage of the burning head piece. I started with her photo in Photoshop, where I cut her out of the background (this part needs to be as precise as possible). Next I placed her photo on top of the waving sea footage in After Effects. Under her photo on the sea footage, there was a moving version of her and at some moments I could see her behind the still photo, so the next step was to use the Liquify Tool in After Effects to hide her behind her photo. Then I had to add the burning head piece that I had filmed from the same angle and size that I had filmed her. I just placed it as a top layer and masked out everything that I did not need. Last step was to make a loop, for that I cut the whole footage to half and placed the first half on top of the last half and faded it from 0 opacity to 100.