If you know of Sony Artisan Don Smith, you know he's chased down some incredible natural wonders to photograph. From lightning on the rim of the Grand Canyon, to the wild weather of the desert monsoon season, to a variety of just plain beautiful landscapes – he's seen (and photographed) a lot. His latest journey took him back to the big island of Hawaii where the eruption of the Kilauea Volcano has been going through a new, dramatic and highly destructive phase. Smith had actually seen Kilauea erupting before, but that was nothing like what's happening now. Not knowing exactly what he would be doing photographically, Smith brought gear that would be versatile in a variety of situations. In addition to his Sony α7R III and α9, he brought his 24-105mm f/4 G and 100-400 f/4.5-5.6 G Master lenses.
On the morning of Sunday, May 27, Smith made the decision to go. Traveling with his 22-year old son Aaron, they departed on a flight to Kona on the west side of the island and then drive to Hilo. "When we landed in Kona it was almost like we were in a fog," said Smith. "You couldn't see a whole lot, everything was really smokey and what hit me right off the bat was the smell of sulfur. We got a rental car and as we were driving you couldn't even see the ocean, which was no more than a mile away from us."
When they got to their hotel there was a large information board in the hotel lobby to help visitors monitor for air quality and to keep everyone in the loop regarding evacuations. The biggest concern at the hotel was the possibility of a tsunami from the earthquakes associated with the eruption. Regardless, Smith was ready to get out and begin working with his camera, something that proved harder than he had anticipated.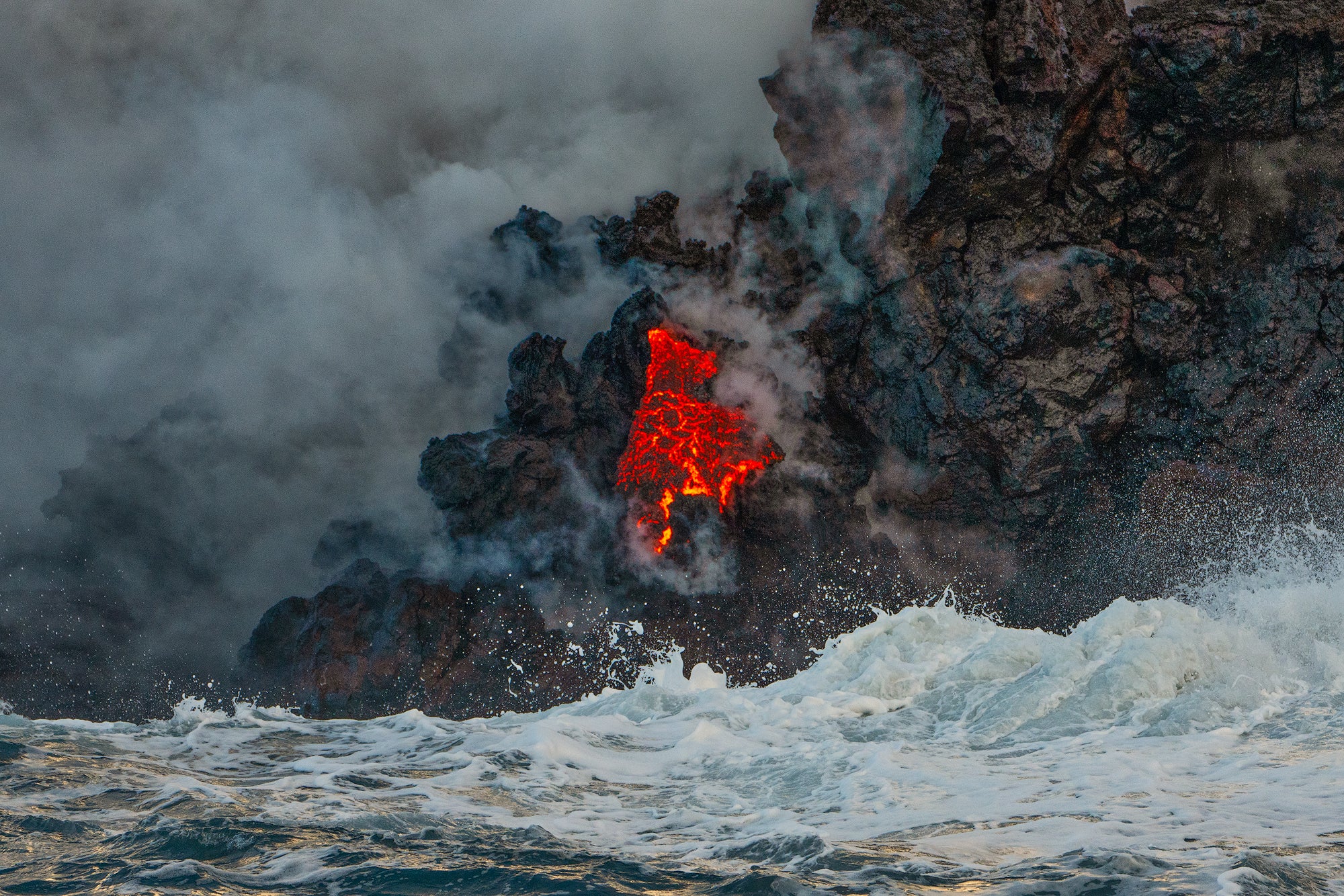 Lava from Kilauea Volcano pours into Pacific Ocean along Kapoho Coast on the east side of the Big Island of Hawaii. Sony α7R III. Sony FE 100-400mm f/4.5-5.6 G Master lens. 1/1600-sec., f/5.6, ISO 1000.
Because of the toxic sulfuric acid clouds, the National Guard was tightly controlling access. In Volcanoes National Park there was a 12-mile stretch where the air quality was so bad that signs and rangers were alerting people not to roll down their windows or get out of their cars. When Smith talked to some of the locals for more information, he was able to find a spot where he could capture the fountains of lava pouring from the new fissure, Fissure Eight, but the closest he could get on the ground was still five miles away, so he decided to try to capture it from the ocean.
"There were probably 50 or 60 people on the boat and the captain was a real no-nonsense guy," said Smith. "He announced to the group: 'I'm going to tell you right now if you think this is a dinner cruise and we're sipping Mai Tais, I'll give you a refund right now. The minute we leave the bay and get past the breakwall, we're in open ocean and it is rough.' He let us know that we were going to be in an are where the North and South Pacific split so there are currents running two different directions. They called it the washing machine."
Equipped with his Sony α7R III, Sony α9 and seasickness pills, Smith focused on photographing Fissure Eight from the boat despite the rough waters. In the difficult conditions, Smith, whose long career as a sports photojournalist has made him accustomed to shooting in fast-changing situations, concentrated on the image in the frame and let the cameras handle the rest. "I felt I was pretty successful thanks to the AF systems in both my α7R III and α9 cameras." With photos the sea safely on his memory cards, it was time to get a completely different perspective. "The next morning we arose and took an early morning ride on a doors-off helicopter to try our chances from the air."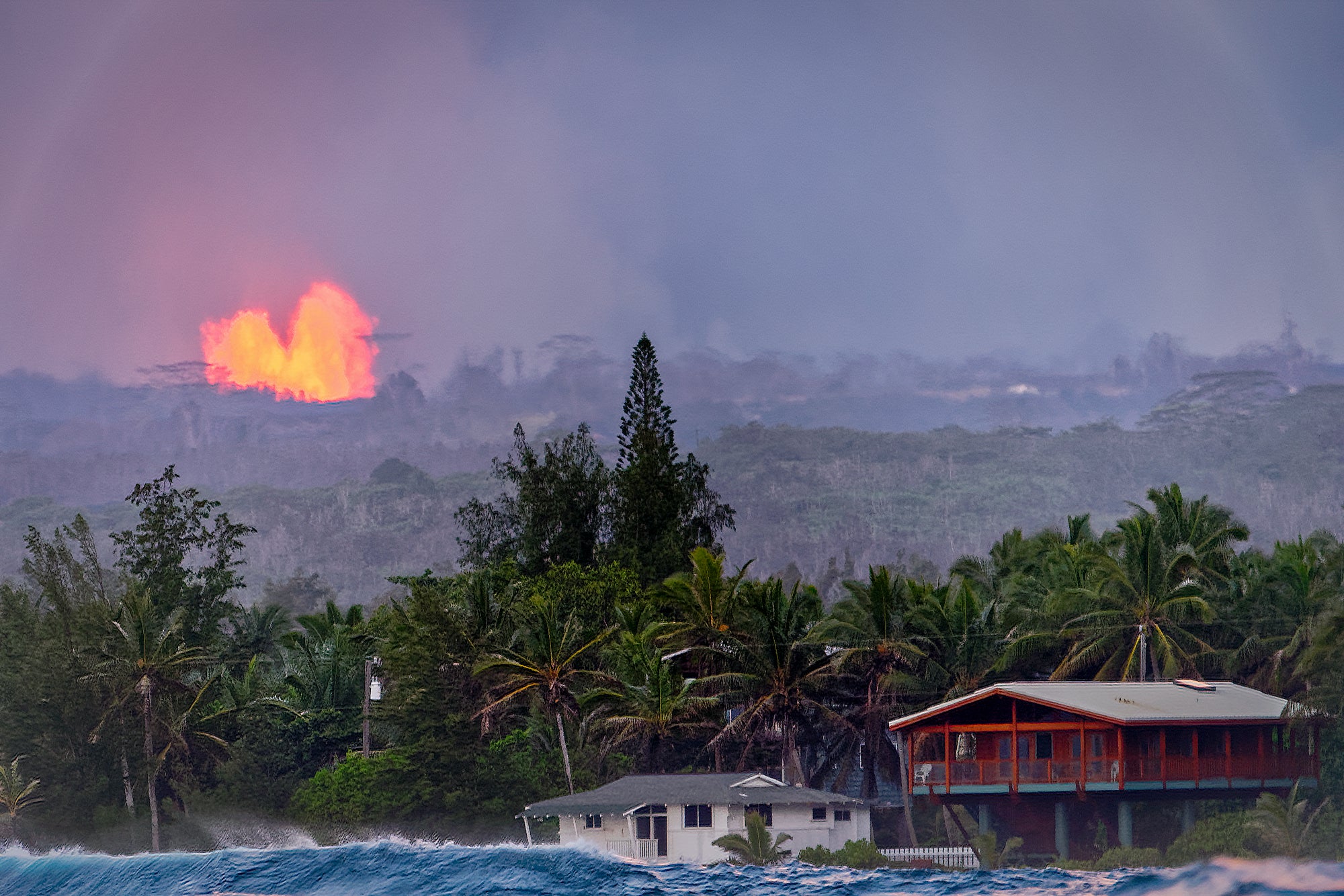 Lava Fountains and Houses in Pahoa, Hawaii. Sony α7R III. Sony FE 100-400mm f/4.5-5.6 G Master lens. 1/125-sec., f/5.6, ISO 3200.
"Most of the aerials that I shot were with the α9," says Smith. With lava shooting some 300 feet into the air, he was working from an open-door helicopter flying around the new fissure. "With the doors off the vibration is just incredible up there and so I didn't want to be switching cameras and lenses too much. It was hard to frame an image because of the winds just buffeting you but I was overall very pleased with what I captured. I give credit to the people that do this kind of thing all the time because it's really tough photography."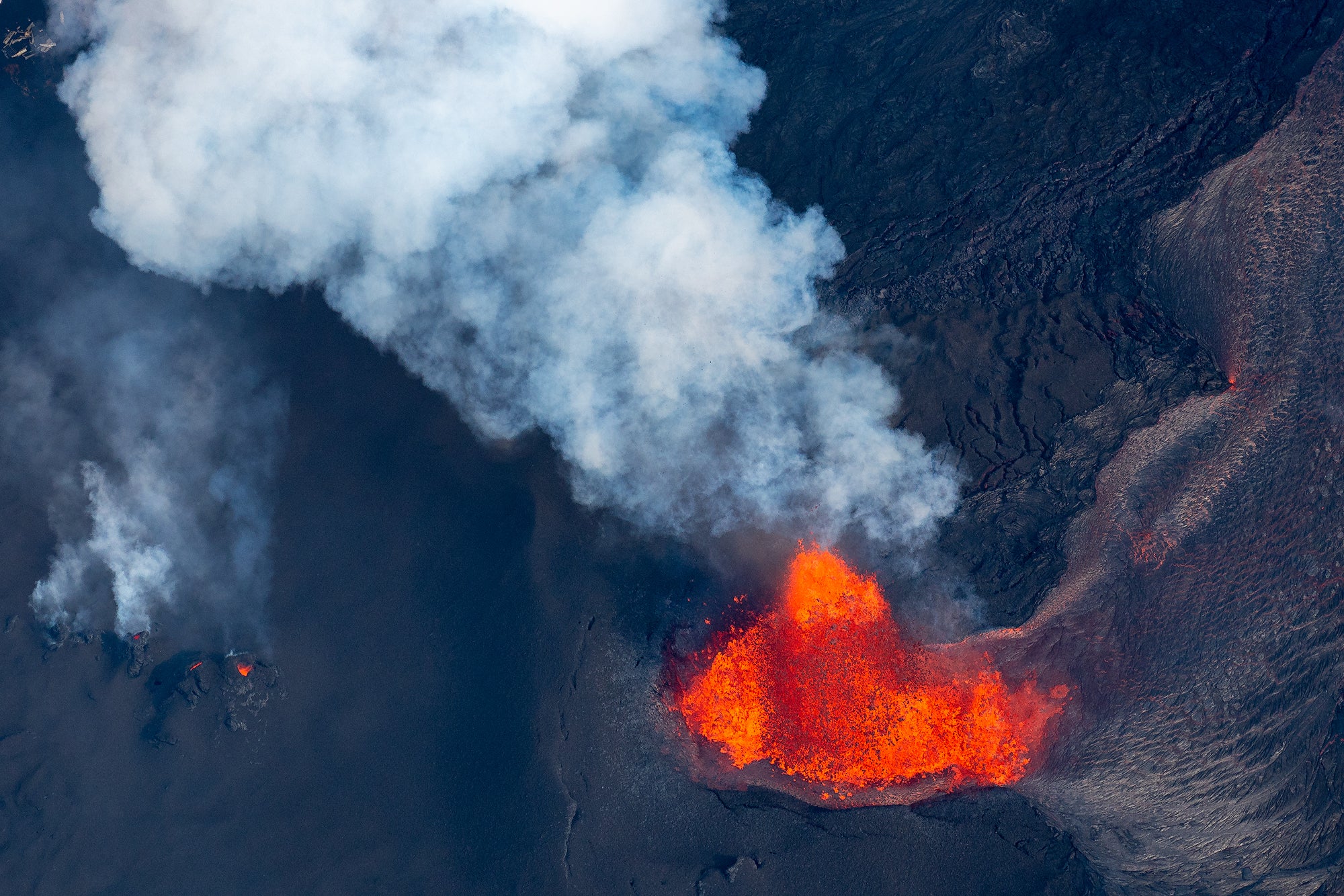 Kileaua's Fissure Eight spews lava 300 feet into air in Leilani Estates in Pahoa, Hawaii. Sony α9. Sony FE 24-105mm f/4 G lens. 1/3200-sec., f/4, ISO 800.
Capturing clear images of the lava wasn't the only difficult part of the trip. Seeing the devastation the eruption was leaving behind and how people's lives were going to be forever changed was a challenging thing to process.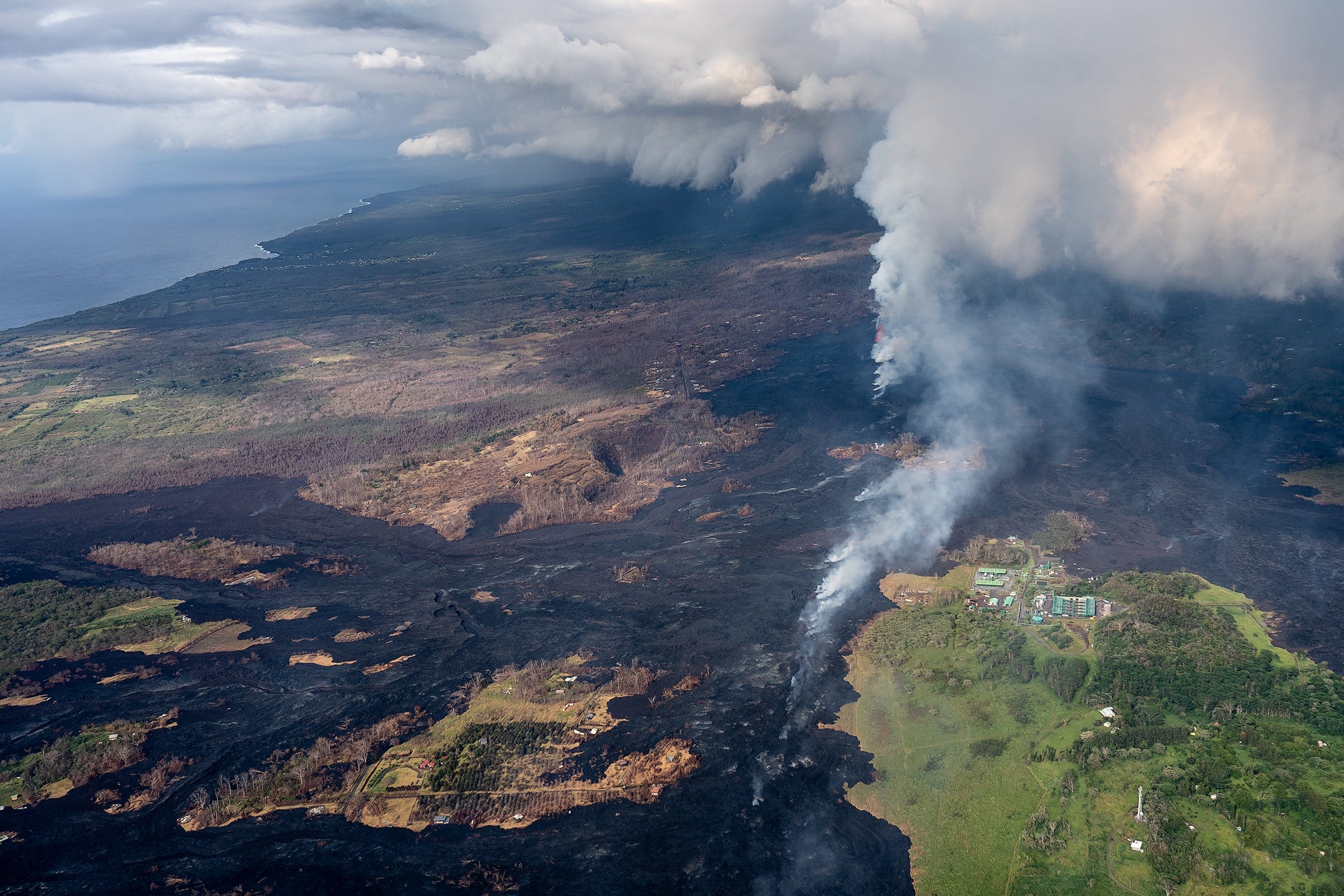 Lava from the Kilauea Volcano cuts a destructive path through Leilani Estates, Pahoa, Hawaii. A geothermal plant is visible on the lower right portion of the image. Sony α9. Sony FE 24-105mm f/4 G lens. 1/2000-sec., f/4, ISO 320.
"It was difficult as a photographer because I was there to kind of capture the beauty of it, but at the same time I told my son that we have to be very aware that people are losing their homes daily here. I just feel so sorry for the people that are living over there having to breathe this air with really no end in sight. It could go on for awhile, it could start shutting down. No one is really able to predict it."
Don Smith is a Sony Artisan Of Imagery. See more about his journey to Kilauea here.