I've traveled all around the globe over the past few years, both on my own and with the Alpha Imaging Collective, but all my past experience did not prepare me for what I witnessed and photographed in the Kingdom Of Tonga. I flew over 6,000 miles over 24 hours to get there and swim with my camera for hours on end with a humpback calf and its mother, an experience that has changed my life. The opportunity came when my close friend Larry Beard asked me to be a part of his crew at whaleswimpros.com. My task was to capture, in images, the story of coming face-to-face with humpback whales in this remote part of the world.
Shooting wide with the α7R III was essential. When these humpback whales get close, I could barely fit them in a frame.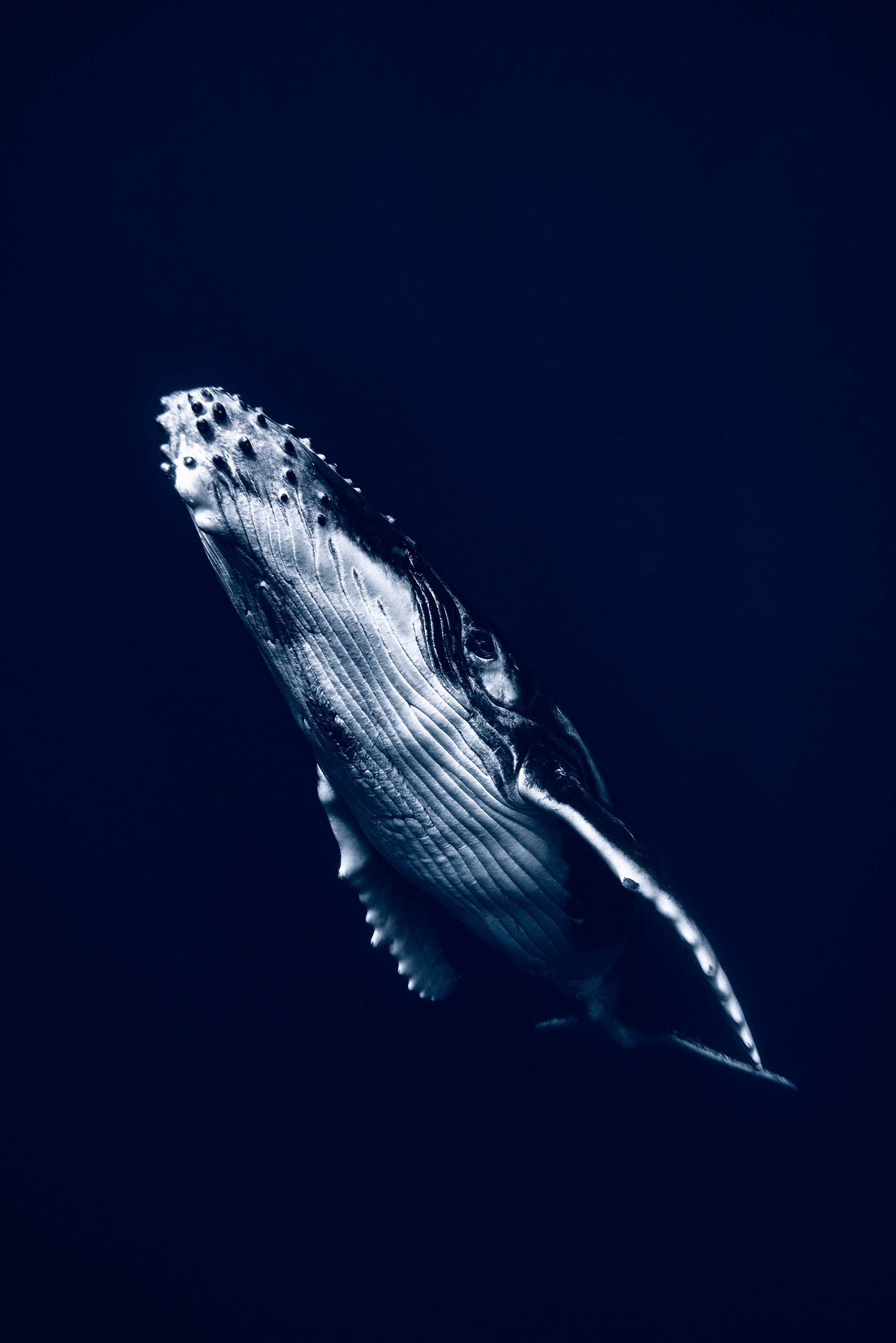 Sony α7R III. 1/250-sec., f/11, ISO 400.
Knowing that a lot of swimming and a bit of luck would be needed to capture these beauties in their natural habitat, I needed to travel as light as I could. My kit included my Sony α7R III attached to a Sony E-mount Zeiss Batis 18mm in an Aquatech Imaging Solution α7 Elite Water Housing. I also attached my Sony RX0 to the top of the housing to shoot video while the α7R III handled the photos. Since this was my first time swimming with whales in the open ocean, I wanted to have as compact a rig as possible without limiting what I could capture. The α7R III in the housing and the RX0 mounted on top proved to be a excellent combination. Shooting wide with the α7R III was essential. When these humpback whales get close, I could barely fit them in a frame.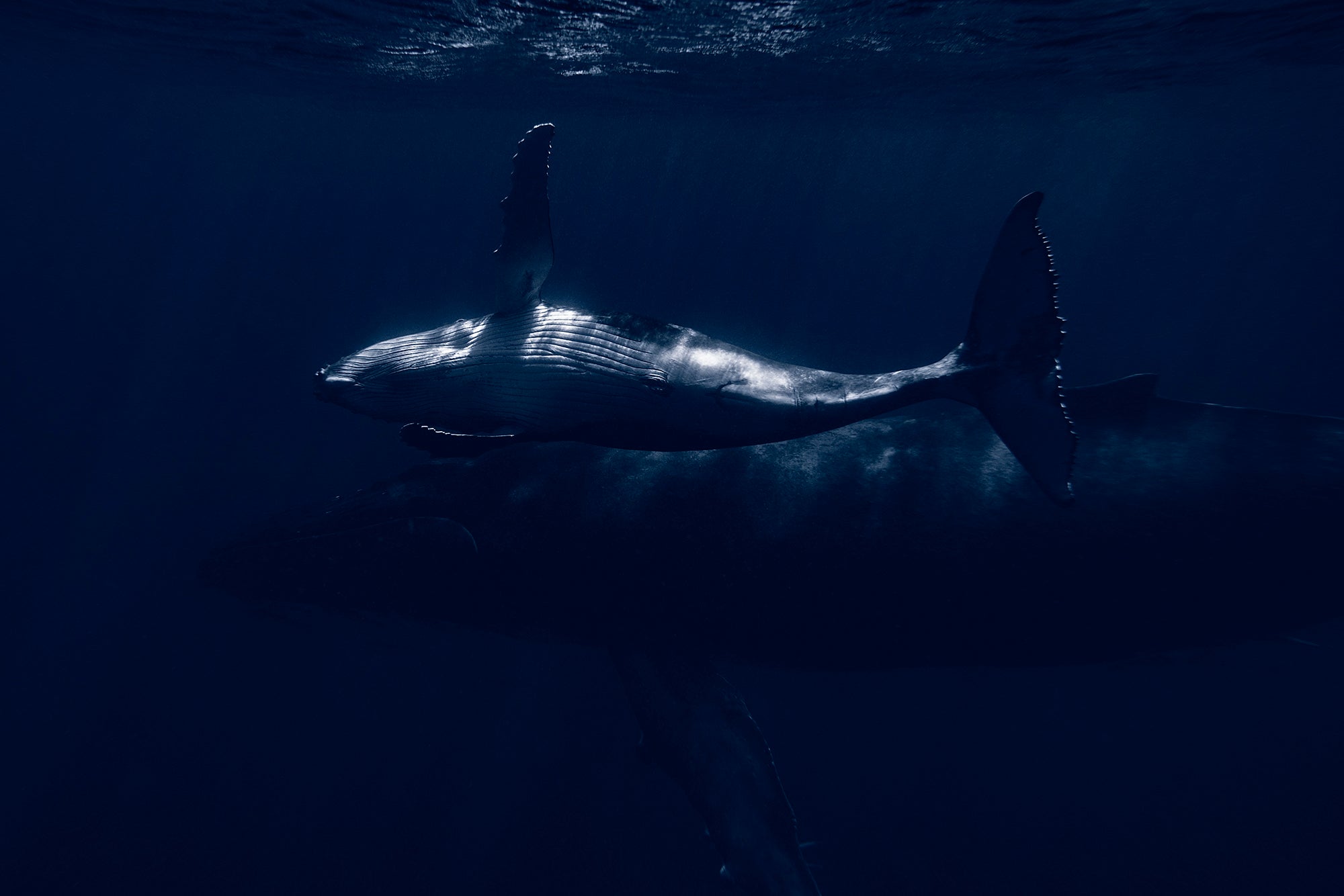 Sony α7R III. 1/640-sec., f/7.1, ISO 500.
Seeking out humpbacks in the open sea for seven hours each day for five consecutive days was not an easy task. We'd leave the Vava'u Harbor at 6:45 each morning with no real guarantee of a sighting. We often encountered open ocean swells that were so big that sea sickness was inevitable. Some days brought heavy rain, but after the storm, the clouds would part and rainbows seemed to rise up from the ocean itself. Weather in the open ocean is unpredictable and often changed in an instant, but none of these dangers stopped our group. Connecting eye-to-eye with a humpback calf with no barrier in between us was like nothing I have ever felt in my life. The enormity of this creature, even as an infant, is truly overwhelming and I must admit I got a bit emotional, fogging up my mask as I cried.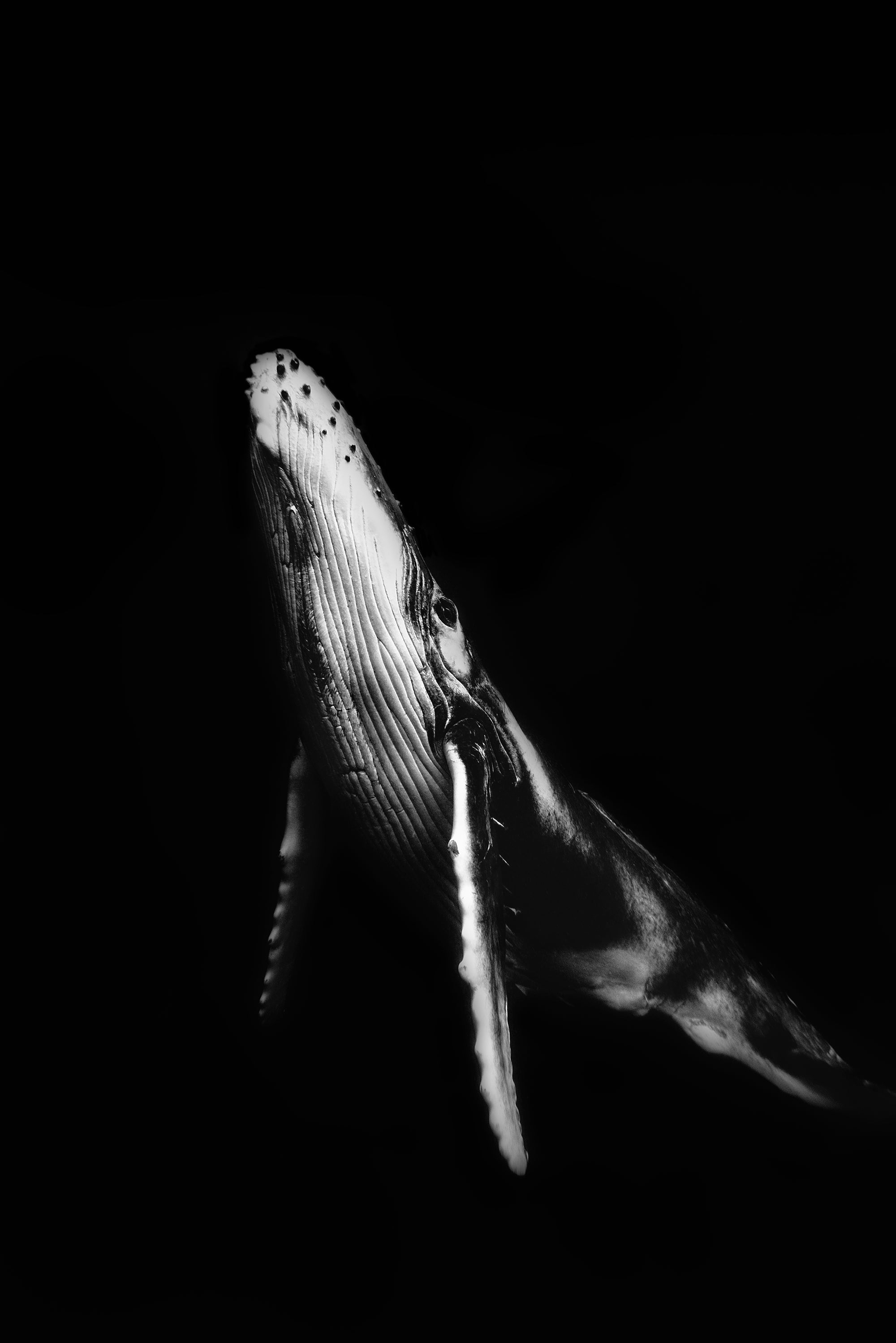 Sony α7R III. 1/250-sec., f/10, ISO 400.
Saying these creatures are "big" is the epitome of an understatement. They are so massive, they could have easily capsized our boat and the entire crew with minimal effort. However, while being in the water with them, I got the feeling that they are incredibly self aware. Both mother and child were absolutely aware of my presence and seemed to take care when moving around me. It was almost as if a trust was built between us. There was me, hoping I wouldn't be crushed or drowned and at the same time the whales were trusting that though I was an intruder with a camera in their environment, I would not pose a danger to the baby.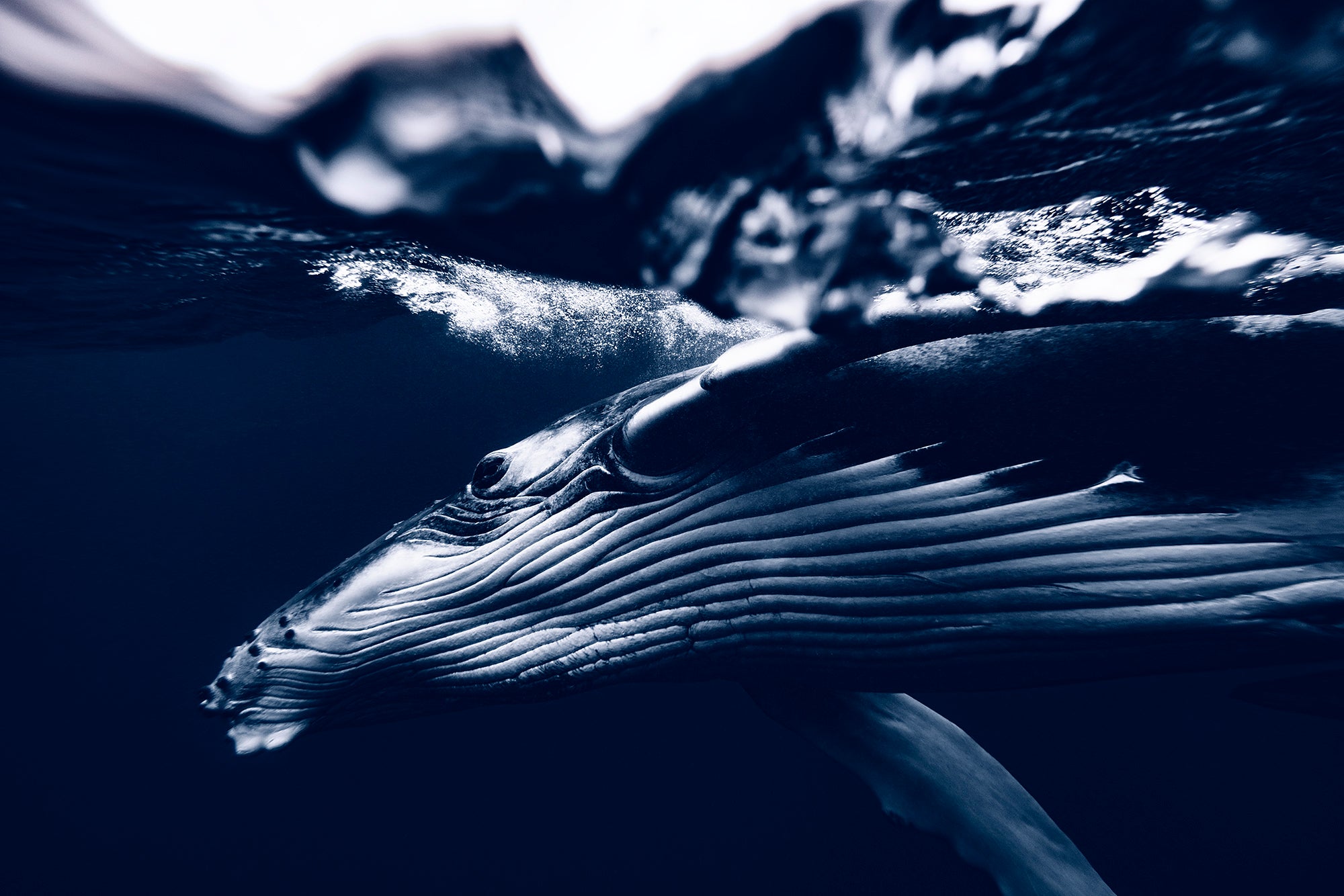 Sony α7R III. 1/250-sec., f/8, ISO 500.
The positive energy that exudes from these humpbacks is really remarkable. I could feel it in the ethereal songs they sang to each other and the joy in breeching high into the air just for the sake of making a big splash. Sitting back writing all this now gets me teary-eyed when thinking back to that connection I made with the calf when we were close enough to touch. In that moment, I was euphoric.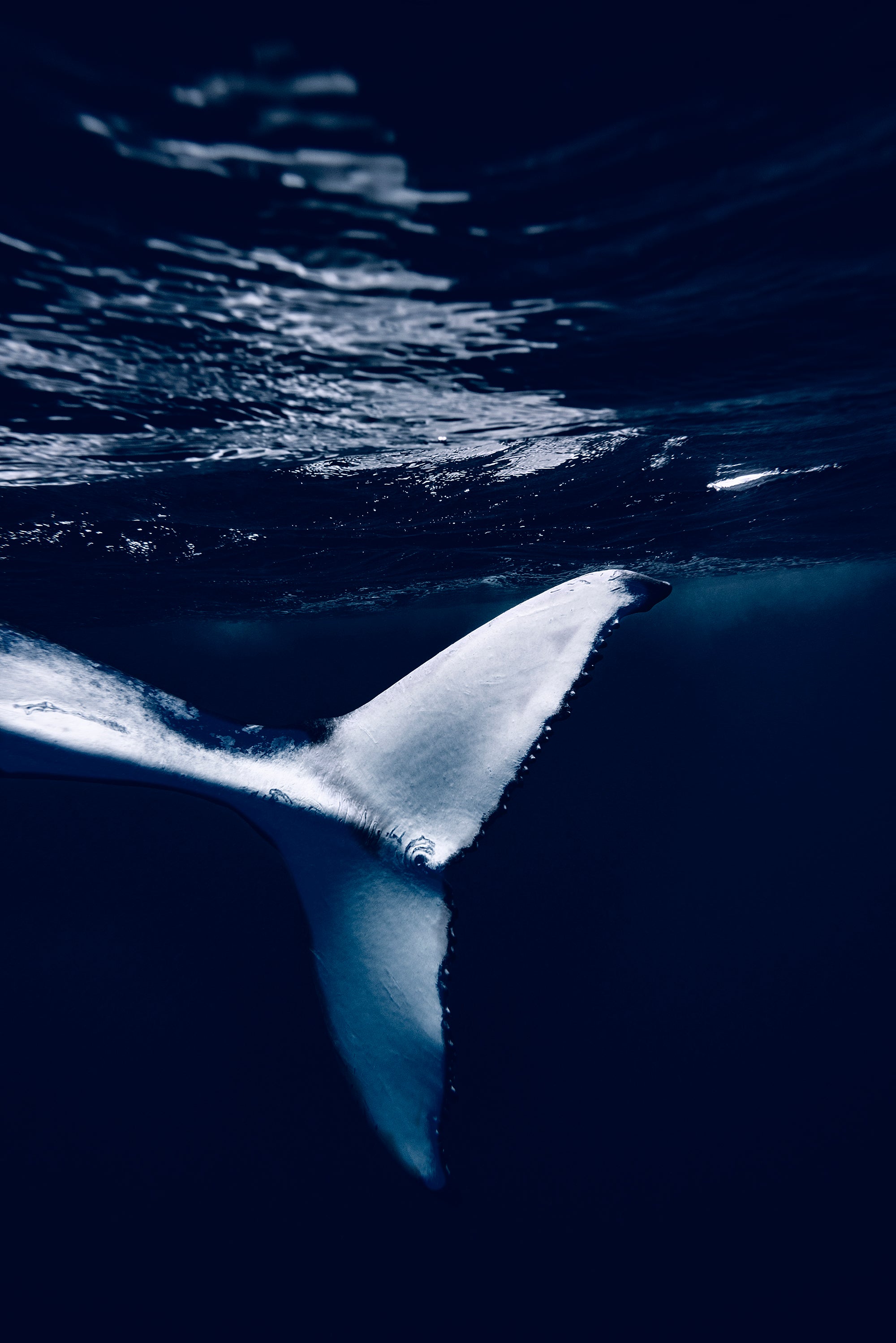 Sony α7R III. 1/320-sec., f/9, ISO 500.
Working With The Camera
Getting the camera dialed in was, obviously, essential. I would be snorkeling with the whales and not using any artificial lighting. The whales move gracefully and relatively slowly and I needed to balance depth of field and motion-stopping. These settings I detail below were PERFECT for this style of underwater photography.
α7R III Still Photography Setup: I had my Sony α7R III set to Shutter Priority at 1/250-sec, ISO starting at 400, and I bounced between f/5.6 - f/7.1 by decreasing or increasing my ISO. I set Auto White Balance, and the AF was Single Shot and the Focus Area was set to Center. I had the Drive Mode set to Continuous Shooting, Hi+. A huge tip I have is to make sure you drop your exposure compensation by 2/3 to a stop to help control your highlights. The white areas on a whale can be so bright that they can really blow out the photos, especially when sun is shining down on them and if they swim belly up.

RX0 Video Setup: I set the RX0 to 60p 50mbps in XAVCS HD so I can slow it down in post if I choose. I was set to Program Auto with Auto ISO set to a max of 400, picture profile Cine2 Pro, and focus area set to center. I've always loved this little camera and all it can do to make things easier for a filmmaker. In Tonga I used it without the underwater housing because I wasn't going to be going deep with it.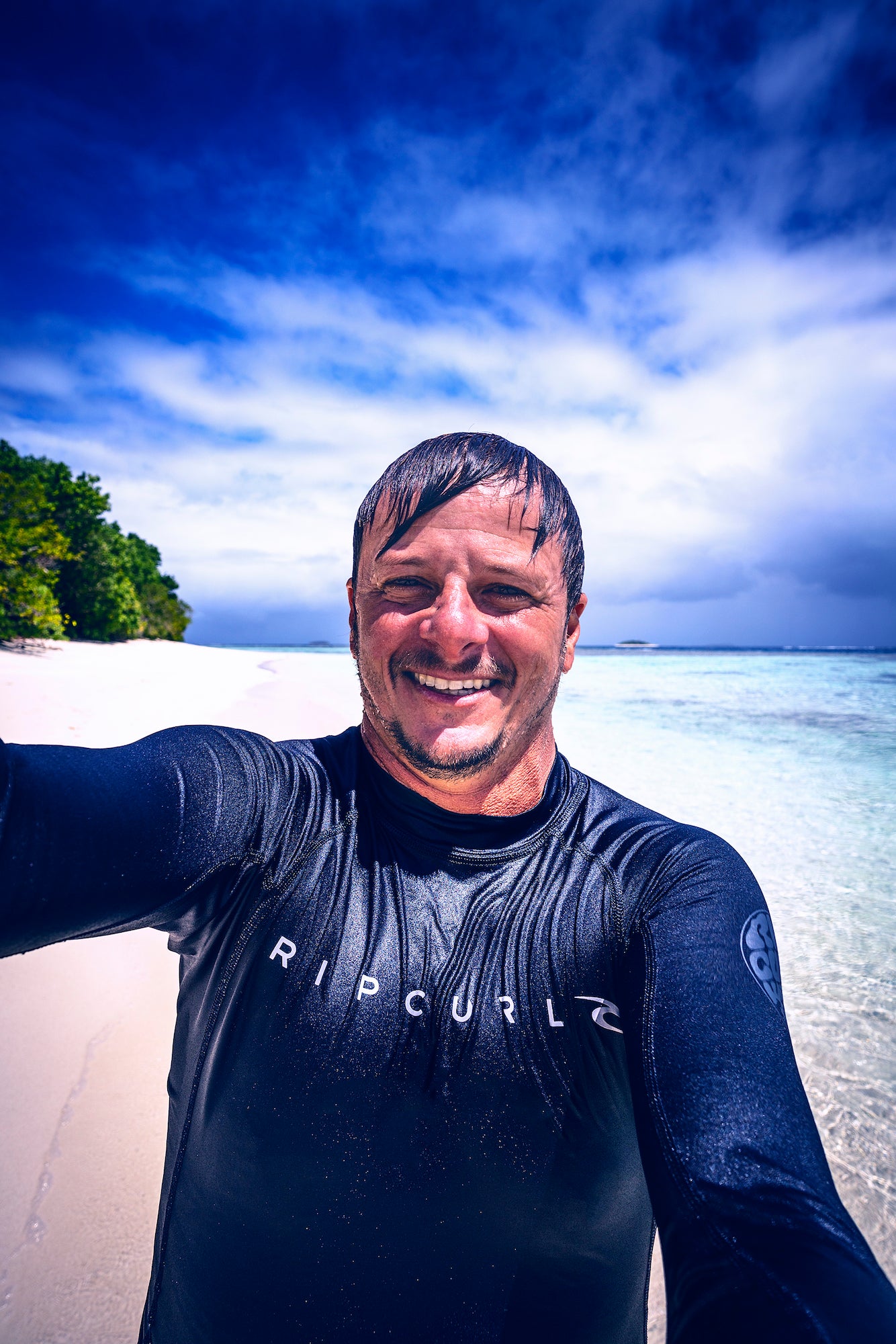 Stan Moniz. Sony α7R III. 1/1000-sec., f/7.1, ISO 100.
Next year I will be returning and leading my own group to Tonga. Find out more at stanmoniz.com.