The 28-135mm f/4 G OSS is a power-zoom designed for filmmakers. An ideal match for 4K shooters using the Sony α7S II and α7R II cameras, its Super Sonic Wave Motor (SSM) is as quiet as it is precise. Inheriting technology from Sony professional equipment, the 28-135 incorporates a precision optical design with minimum breathing and image shift. This 28-135 is a professional-caliber tool for professional-caliber results.
Like many Sony E- and FE-mount lenses, the 28-135 f/4 G (SELP28135G) is available at a special price during the 2016 Semi-Annual α Lens & Accessory Promotion. You can get it for $2,399 until May 14, 2016.
The 28-135 f/4 G OSS Power Zoom has been reviewed extensively. Here's what the press and filmmakers think of the lens:

Cinema5D.com
"The Sony FE PZ 28-135mm f/4 G OSS Lens is truly a stunner. It comes with many very useful (if not essential) features for professional shooters and brings broadcast lens functionality into the full frame world at a compact size.
"Optically the lens is better than the very popular Canon EF 24-105mm lens in any area. The great build quality, internal zoom, parfocal construction and superb image stabilisation make it a lens of choice for video shooters and justify the price difference." - Sebastian Wöber, Cinema5D
Newsshooter.com
"The Sony 28-135mm is a remarkable feat of engineering. It brings an ENG style level of operation to full frame Sony cameras like the α7S, as well as Super35mm cameras like the FS7, FS100/FS700.
"I highly recommend this lens if your a Sony full frame FE mount camera owner." - Matt Allard, Newsshooter
Reviewed.com
"There's no denying that the Sony FE PZ 28–135mm f/4 G OSS is a serious piece of kit. It feels the part, has the specs to back it up, and features all the bits and bobs that working videographers demand from their gear.
"It's an auspicious start for Sony in this category, and we're hoping it's just the first of many such lenses to come. The line between stills and video cameras is blurrier than ever, and having a robust ecosystem that supports both disciplines is essential to the health of any camera manufacturer." - Ben Keough, Reviewed.com
B&H
John McQuiston uses the 28-135mm f/4 G OSS on the Sony α7S in this hands-on review. "I liked it. When I use a zoom I need one that will give the kind of precise and steady speed I struggle to get with a DSLR zoom, because they're not designed for that and this one is… Both the power zoom and the focusing on this lens are next to silent. You just don't hear them."
Technology
Independent Zoom, Focus & Iris Rings For Superior Control
Independent control rings for zoom, focus, and iris (aperture) are provided for the first time in an α lens. The focus mode can be switched from auto to manual simply by sliding the focus ring forward so control is maintained at all times. Zoom speed can be precisely controlled over a wide range, with zoom rotation direction reversal capability. All three control rings have been engineered to provide ideal torque for comfortable, responsive operation. Even the pitch of the scalloping on the rings has been painstakingly designed for comfortable, slip-free control.
No "Breathing"
When making movies you're frequently focusing while shooting, either with autofocus or manual focus. A lens that hasn't been designed with movies in mind might exhibit "breathing", or variations in the angle of view while focusing which can be a jarring distraction. The SELP28135G features an optical design and control technology inherited from Sony's professional camcorders that ensure no breathing.
No Focus Shifting Or Axial Displacement While Zooming
Zooming is a fundamental moviemaking technique that is used for both practical framing changes as well as creative effect. "Smooth" is the key requirement for video. Any tracking irregularities such as jitter or axial image shifts are unacceptable. The SELP28135G delivers exceptionally smooth tracking throughout the zoom range at any speed and eliminates any axial image shifting. Zooming is quiet as well as responsive thanks to advanced mechanical actuator design.
Circular Aperture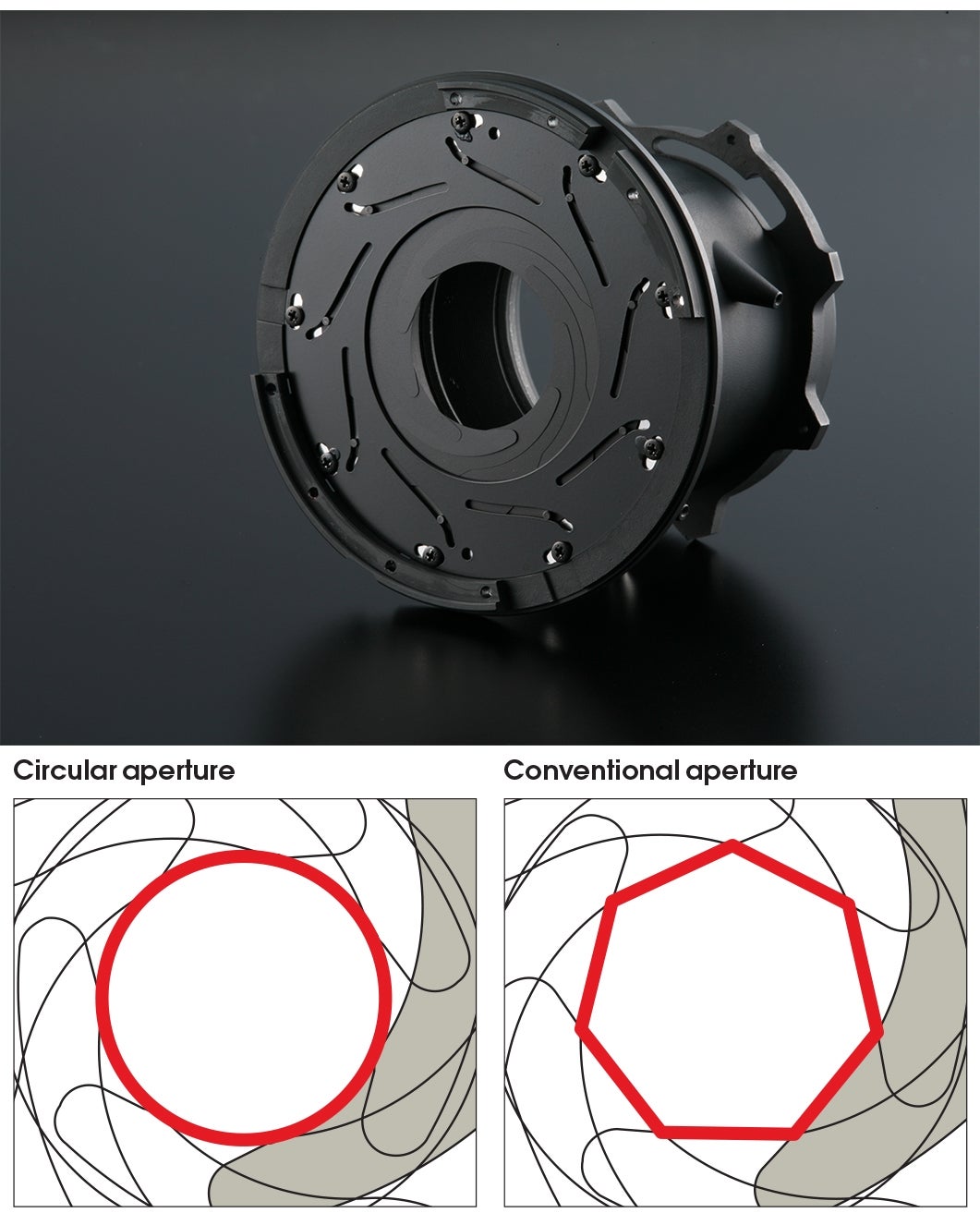 Constant f/4 maximum aperture maintains exposure and depth of field regardless of the focal range you chose to zoom to. When changing your aperture to defocus the background, the areas out of the focal plane appear blurred. This 'bokeh' effect of the blurred background can be enhanced with circular aperture blades used in this lens. Conventional aperture blades have flat sides creating unappealing polygonal shaped defocussed points of light. α lenses overcome this problem through a unique design that keeps the aperture almost perfectly circular from its wide-open setting to when it is closed by 2 stops. Smoother, more natural defocusing can be obtained as a result
Super Sonic Wave Motor (SSM)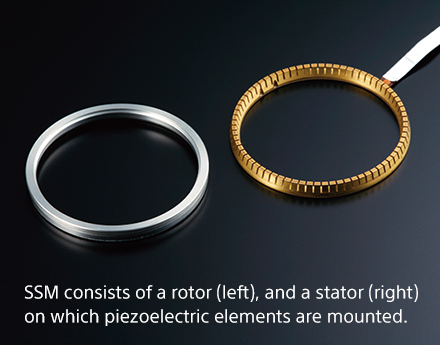 This power zoom lens offers enhanced control and expressive potential for moviemaking, with smooth, consistent zooming that is difficult to achieve manually. Details like smooth acceleration and deceleration are important too, and of course tracking is excellent throughout. The SELP28135G features the world's first SSM (Super Sonic Wave Motor) drive in a lens designed for moviemaking to achieve quiet zoom and extra-smooth iris control.
Quiet Iris & Auto Focus
Noise while adjusting iris or focus can be an unwanted distraction on your movie soundtrack. Sony's advanced iris control and linear AF motor drive system achieve quiet focusing that is also extremely responsive. Part of the reason that focus control is so quiet is that original Sony linear motors are contactless, with no gears or mechanical coupling to generate noise
Dust & Moisture Resistant Design
The dust and moisture resistance design makes this lens appropriate for heavy-duty outdoor use, especially when combined with a camera that employs weather resistant measures such as the Sony a7 series of cameras.
Lens-Based Optical SteadyShot Image Stabilization (OSS)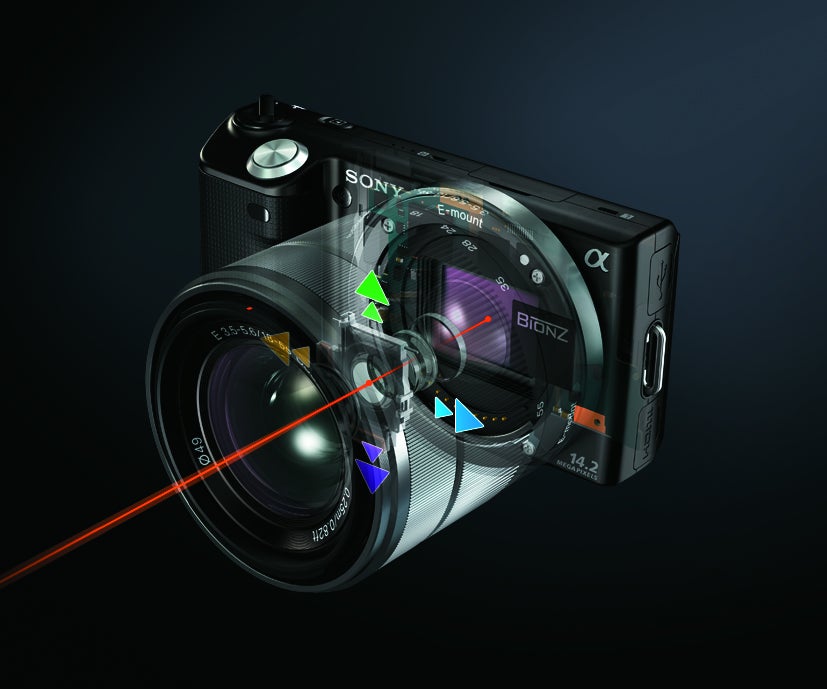 Gyro sensors built into the lens detect even the slightest movement, and the stabilization lens is precisely shifted to counteract any image blur that might occur. The use of precision, quiet linear motors and technology inherited from high-end Sony professional camcorders results in exceptionally quiet, effective image stabilization that contributes to high-quality movies as well as stills.
Internal Focusing
The middle AF group of the optical system is smaller, lighter, and easier to move rapidly to achieve focus, so the overall length of the lens does not change and the lens is able to achieve shorter minimum focusing distance. The filter thread at the front of the lens does not rotate, which is convenient if you're using a polarizing filter.
Nano AR Coating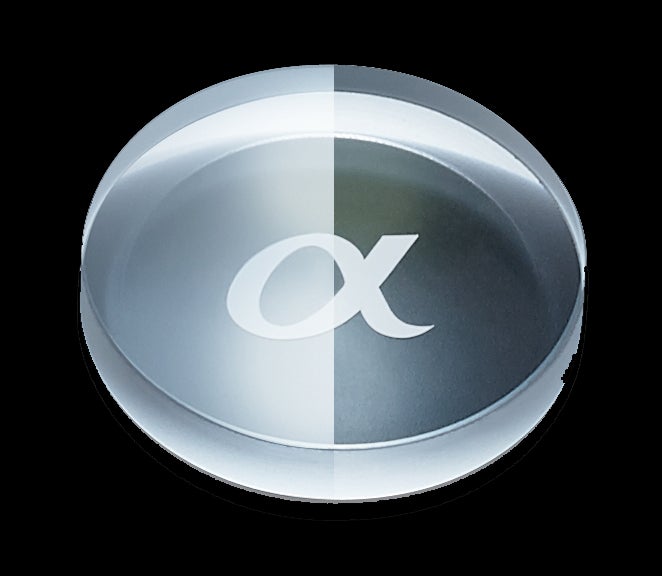 Effectively suppress reflections that can cause flare and ghosting with Sony's Nano AR Coating technology. This precisely defined regular nano-structure allows accurate light transmission, contributing to high-quality images, even more so than lenses with coatings that use an irregular nano-structure. The reflection suppression characteristic of the Nano AR Coating is superior to conventional anti-reflective coatings, providing a notable improvement in clarity, contrast and overall image quality.
ED (Extra-Low Dispersion) Glass/Super ED Glass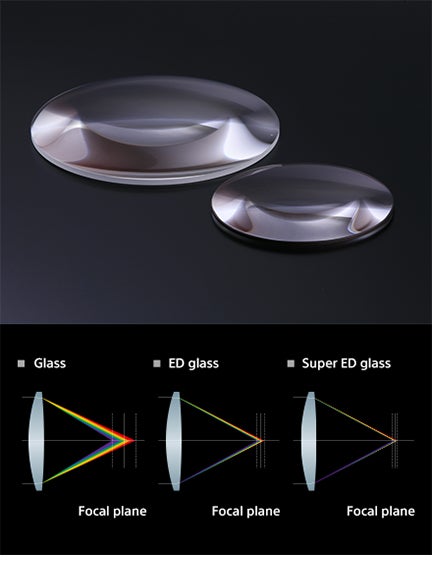 As focal lengths get longer, lenses built with conventional optical glass have difficulties with chromatic aberration, and as a result images suffer from lower contrast, lower color quality, and lower resolution. ED glass dramatically reduces chromatic aberration at telephoto ranges, and provides superior contrast across the entire image, even at large aperture settings. Super ED glass provides enhanced compensation for chromatic aberration
Aspherical Lens Elements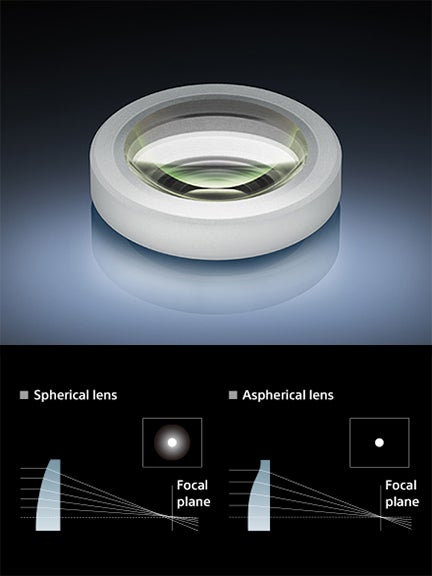 Aspherical lens design dramatically reduces spherical aberration while also reducing lens size and weight. Spherical aberration is a slight misalignment of the light rays projected on the image plane. This is caused by differences in refraction at different points on conventional spherical lenses which degrade image quality in large-aperture lenses. Specially shaped "aspherical" elements near the diaphragm restore alignment of light rays at the image plane, maintaining high sharpness and contrast even at maximum aperture and can also be used at other points in the optical path to reduce distortion. Well-designed aspherical elements can reduce the total number of elements required in the lens, thus reducing overall size and weight.