On October 13, 2016, Thailand's King Bhumibol, the world's longest-reigning royal—spanning seven decades on the throne—passed away. The news of his death was publicized throughout the world as Bangkok residents began to mourn and fold "more than 10 million flowers made of sandalwood, whose scent is believed to guide souls to the afterworld." Thailand spent the following year building a crematorium to host his funeral. In late October 2017, world dignitaries and leaders came from every corner of the world to pay their respects.
We were in Bangkok for one day and we had a once in a life time opportunity to visit the late King Bhumibol's crematorium—a sacred sanctuary that would be dismantled within weeks. But one hundred thousand other people had the same idea that day.
Throughout the last ten years of visiting Thailand, our family has seen first-hand love the people of Thailand have for the king. Thais will often wear yellow on Monday because he was born on a Monday. Whether you're in a simple fishing village in the south or amidst the hustle and bustle of Bangkok, everyone honors the king by displaying his picture in their home and place of work. I wondered at first if this devotion was genuine or forced. But the more our family got to know Thailand, the more we discovered this was quite genuine and also rare in the 21st century.
King Bhumibol was known to walk through the fields, meet with villagers, and personally oversee his developmental projects of "milk-pasteurizing plants, dams that watered rice fields, factories that recycled sugarcane stalks and water hyacinths into fuel" to name a few.
He was also a 21st century Renaissance man. Most foreigners don't know that he was born in Cambridge, Massachusetts. His father was a student at Harvard, and the king went to college in Switzerland. He was fluent in Thai, English, French and German, and he embraced the arts by composing jazz music, painting, writing, horticulture and photography. The king was given his first camera at seven, and photography became a lifelong passion. It's not unusual to see photos of him with his favorite camera hanging from his neck.
I think about where I am in my life, running our photography business and raising two teenagers. I haven't sat down to play my piano in years because I feel too busy. Yet the King of Thailand made time not only to redeem his country from the opium trade, but also compose jazz music that you can download from iTunes. Incredible!
Our family happened to be in Thailand in October 2017, having finished up our Portrait of Thailand photography workshop and tour. We had heard a visit to his crematorium was an unprecedented experience. But I had no idea how deeply it would impact me.
We heard to expect to wait in line for hours since it was the weekend. Despite Bangkok's hundred-degree heat, our family decided to brave the lines. Our taxi dropped us off at the end of the line—a line that extended for almost a mile. Brian was the first to notice that there didn't appear to be any foreigners in the line as far as the eye could see. We had heard from local expatriate friends there was a separate line for foreigners and Buddhist monks. Our family decided to walk to see if we could find it.
We spotted the Thai National Guard blocking the bridge to enter the crematorium's grounds and decided they were the best people to ask for directions. With big Thai smiles, they escorted us over the bridge to security. We were asked to show our passports and have our bags checked. Next, we were led to a visitor's tent where a government representative met us.
The representative explained that we could stand at the crematorium's gate and take photos for 15 minutes, but we were not allowed to enter the actual crematorium, unless we waited in the massive line. If we'd been able to visit on a weekday the lines would have been bearable, but not on a Saturday. We decided to stay on the other side of the gate.
This may have seemed like disappointing news, but it was an incredible opportunity for our family—especially as photographers. Because I didn't know what to expect, I was traveling light, photographically. I had my RX10 III because its built-in 24-600mm (equivalent) lens makes it extremely versatile.
The crematorium was largely made up of an ornate golden spiral structure that reached into the sky. All sides were open, and to get the whole structure in the frame you had to stand quite a distance back. The temporary gate that served as the boundary was the perfect distance for our photography and filming.
We were doubly fortunate because the government representative who escorted us was eager to explain the significance of the crematorium. Our fifteen-minute window turned into a rich, educational hour. We could tell that she felt that it was an honor for her to share with us, but we were the ones who felt honored. She walked us to the side where we were able to stand within fifty feet of the main structure. It was an amazing sight to behold.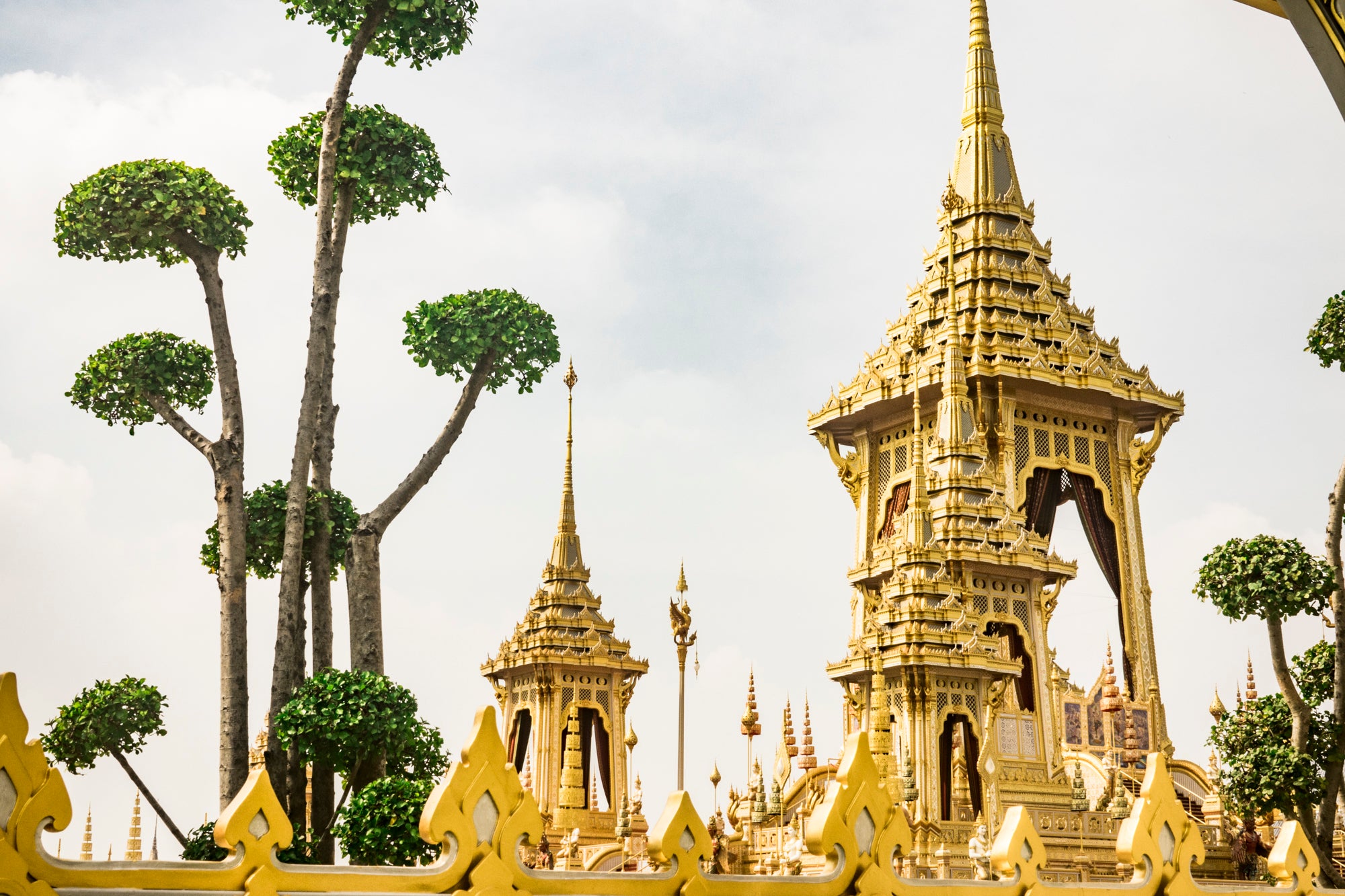 Sony RX10 III.
King Bhumibol's crematorium represented the "mystical Mount Meru, where Buddhist and Hindu gods are believed to dwell". Every detail was purposed to honor his life. There were engravings of golden rabbits along the outside of the crematorium because he was born in the Year of the Rabbit. There were yellow marigolds planted everywhere because he was born on a Monday which is also assigned the color yellow. Rice was planted throughout the crematorium to symbolize his flood control projects that grew their economy.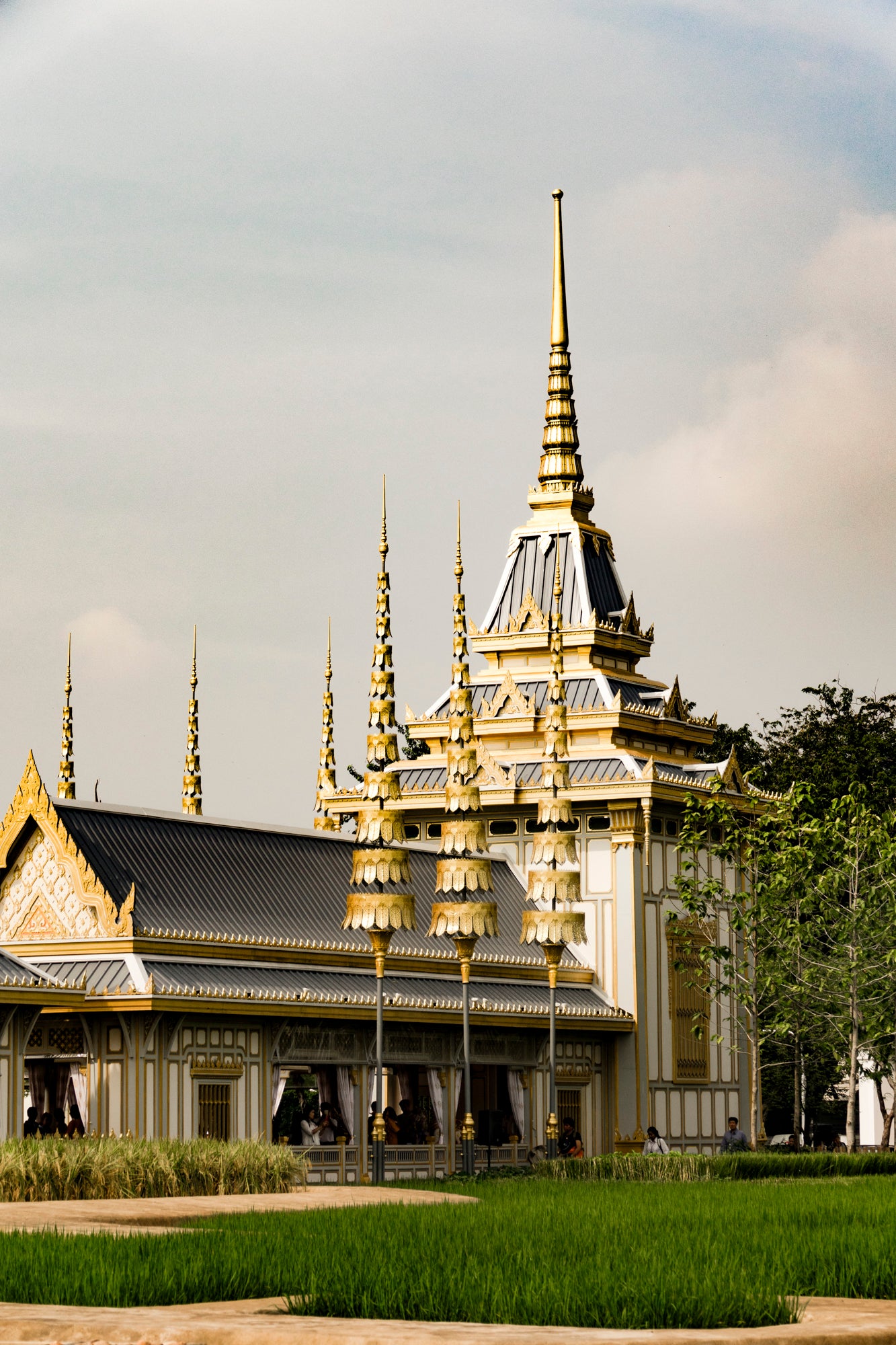 Sony RX10 III.
Every hour of each day, over five thousand people visited the crematorium to say goodbye. Over one hundred thousand were expected to visit in a single day. One Thai woman in her late 70's got in line at 3AM and had been waiting for over five hours to enter. There were thousands of people with similar stories. Part of the urgency was because the crematorium was scheduled to close and to be disassembled at the end of 2017. Our guide told us that the magnificent structure with detailed carvings that took a year to create, would all be removed and the land that it was on next to the Grand Palace, would all be turned back into fields.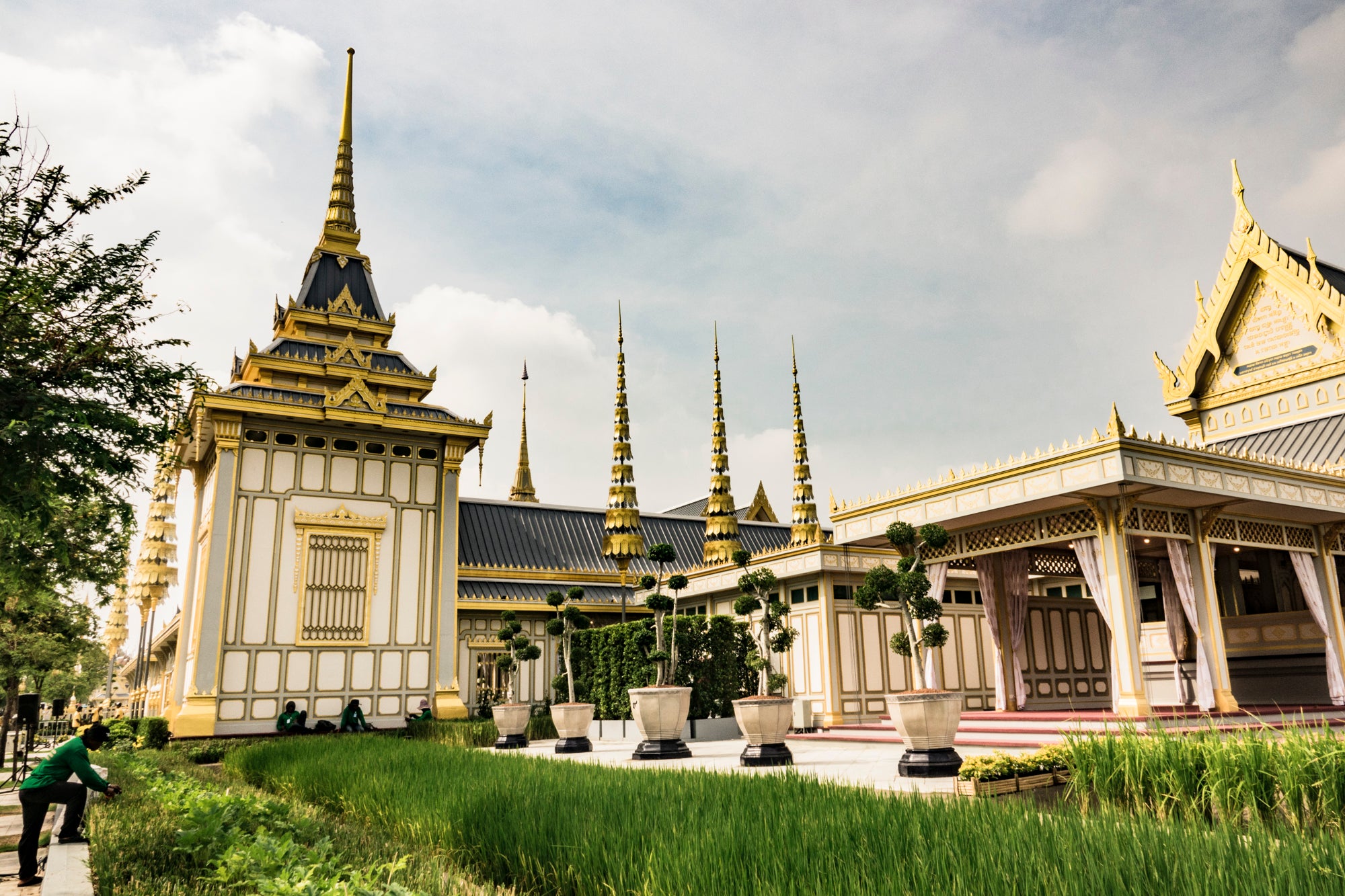 Witnessing thousands of people say goodbye to their king was a foreign concept to our family. We live in an age when we can expect to hear something negative about America's political leaders multiple times a day. Facebook and Twitter feeds can leave you feeling depressed after five minutes. But in Thailand, it's the opposite. Their king was universally loved.
I stood behind the gate and watched the people come and say goodbye. Some stood in silence and closed their eyes. Others bowed down and you could see their body shake from the tears. Our guide leaned over and said "He was not just our king; he was our father. The people have come to say goodbye to their father."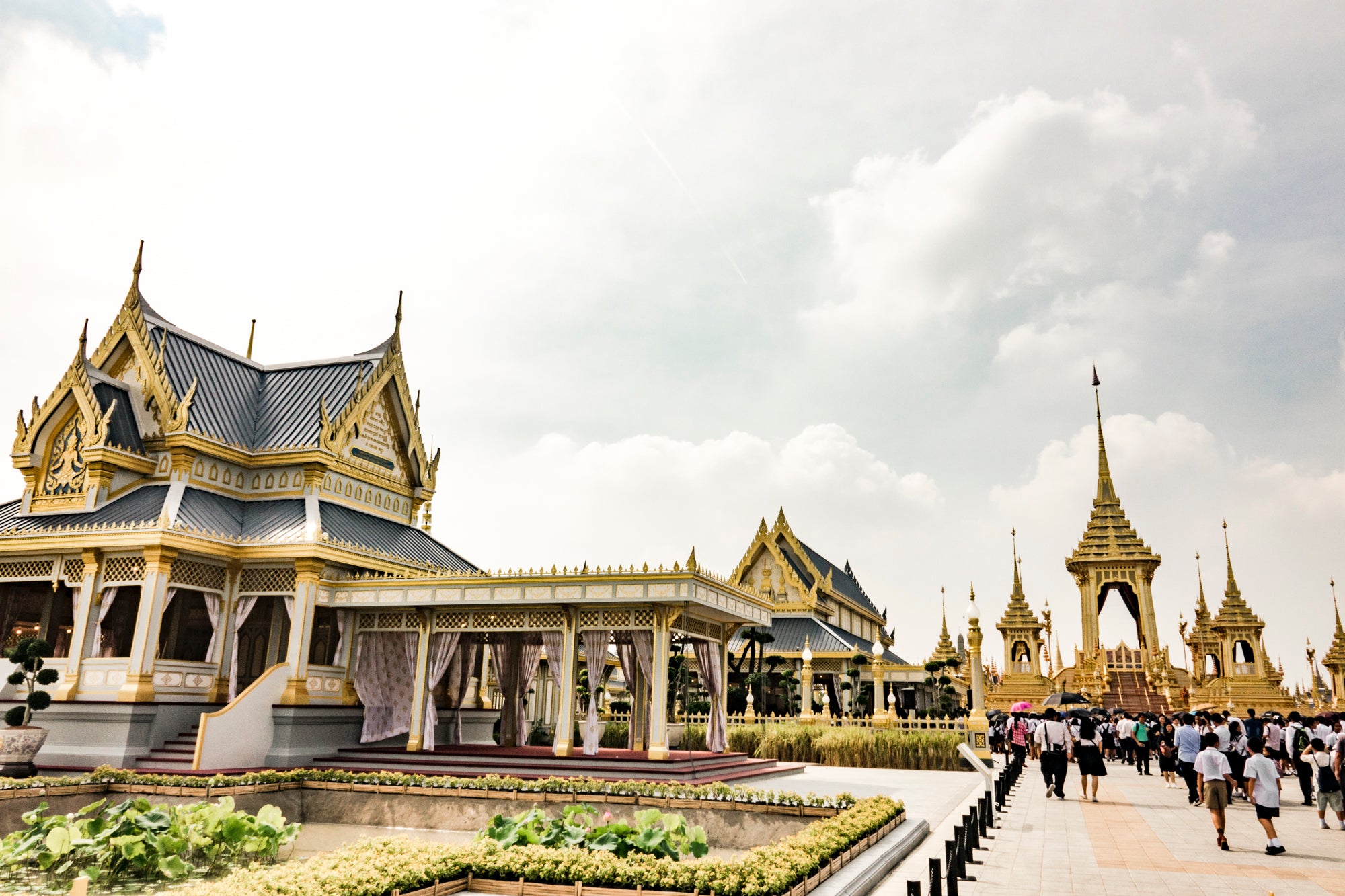 Sony RX10 III.
In that moment, I realized just how significant this experience was. This wasn't a tourist destination to check off. It was an intimate, long goodbye. Not only did it suddenly seem inappropriate to walk past the gate, but it also felt like an honor to stand on the other side and witness their goodbyes first-hand.
All photos by Sony Artisan Of Imagery Me Ra Koh. See more about her here. Follow her on Instagram @merakoh