Kyle Obermann (@kyleobermann) is a photographer, filmmaker, Mandarin speaker, ultramarathon runner and an influencer on China's social media platforms. If you're exhausted just reading that list, you're not alone. Obermann works tirelessly to share conservation stories about China, where he lived for the past 10 years. His work exists at the intersection of nature, wildlife and adventure photography. We chatted with Obermann to learn about his storytelling methods, how he connects with audiences, his epic adventures and the gear that brings his stories to life.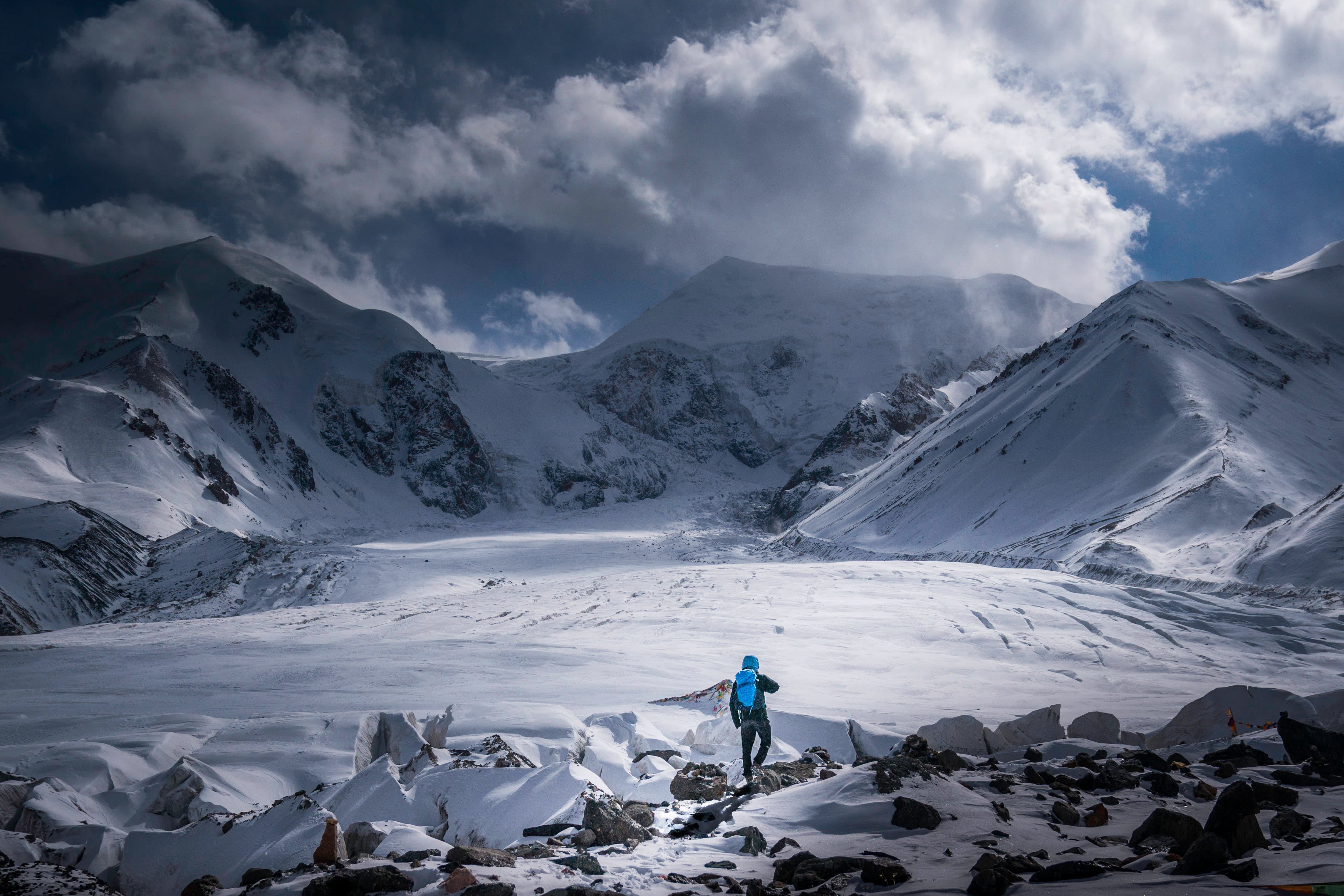 Photographer Kyle Obermann.
Kyle Obermann shares more about his epic adventures, storytelling methods, how he connects with audiences and the gear that brings his stories to life.
Career Snapshot
Obermann went to college in the U.S., where he studied political science. He had a special interest in U.S.-China relations, especially when it came to environmental issues. He moved to China to continue studying Mandarin...and ended up staying. When he first arrived in China, he was amazed to learn about China's wilderness and land preservation. "I was surprised to learn that there was a whole side of the story not being told," Obermann stated. "There was extremely little exposure and attention to the relationship between the people of China and the wilderness in China."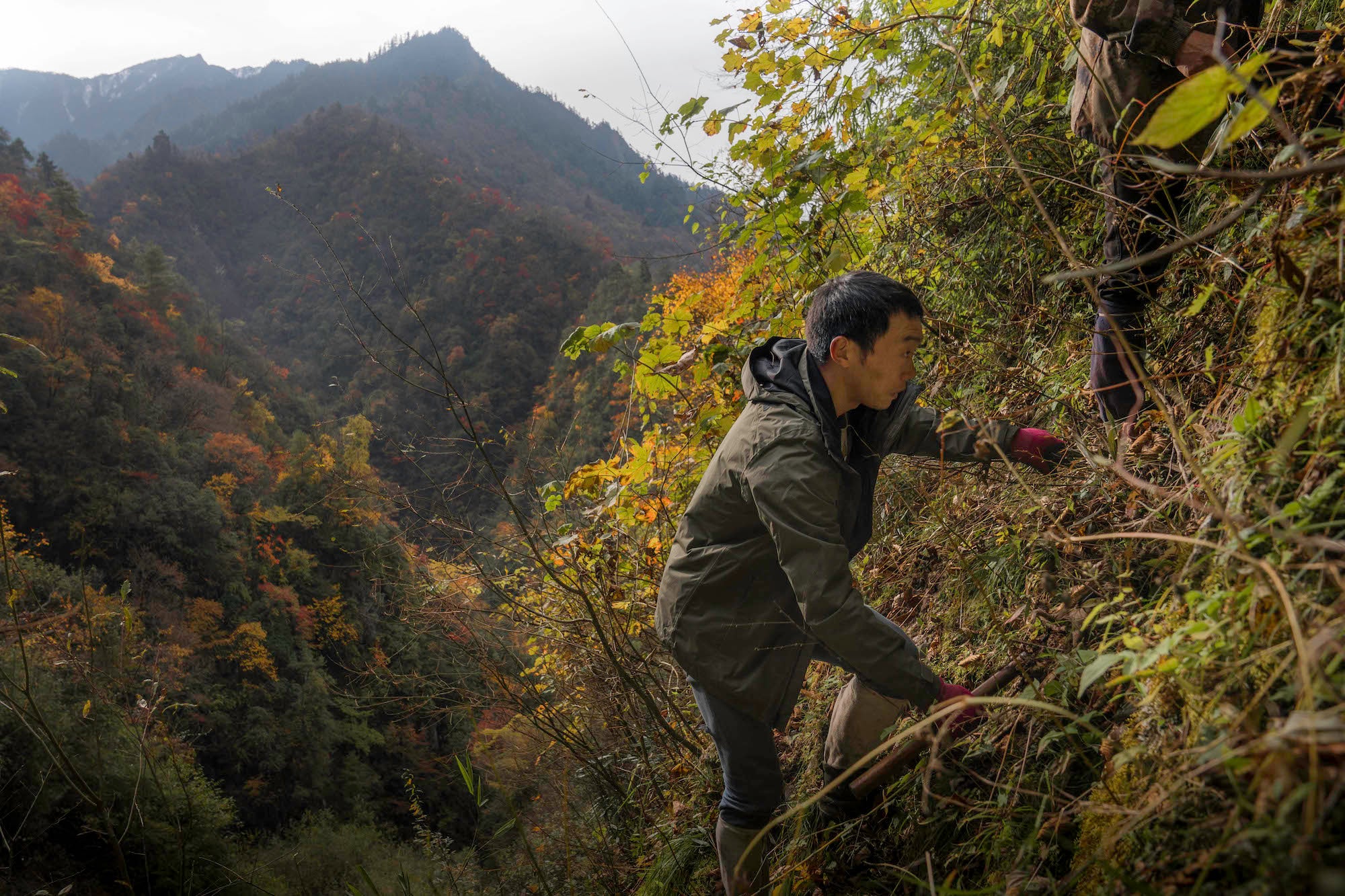 Photo by Kyle Obermann. Sony Alpha 9. Sony 24-70mm f/2.8 G Master. 1/320-sec., f/5.6, ISO 100
Obermann then took his childhood love for photography and began telling those untold stories. He goes on to explain that the reason he believes many of these stories weren't getting told were because of the language barrier and the different internet sites allowed in China. This meant that most stories were being shared domestically, but very few were shared to an international audience. "I really saw myself as a storyteller, but also a bridge builder between these two worlds that are so often separated."
"I really saw myself as a storyteller, but also a bridge builder between these two worlds that are so often separated." – Photographer Kyle Obermann
Finding & Telling Untold Stories
Most of Obermann's work focuses on indigenous people in China working to protect nature. "Local people, groups in China who are working inside of nature reserves for the new national parks for a variety of reasons – to combat poaching through anti-poaching patrols and removing wiretaps, or to help scientists in gathering scientific data about species through infrared camera traps or in field observations of endangered species."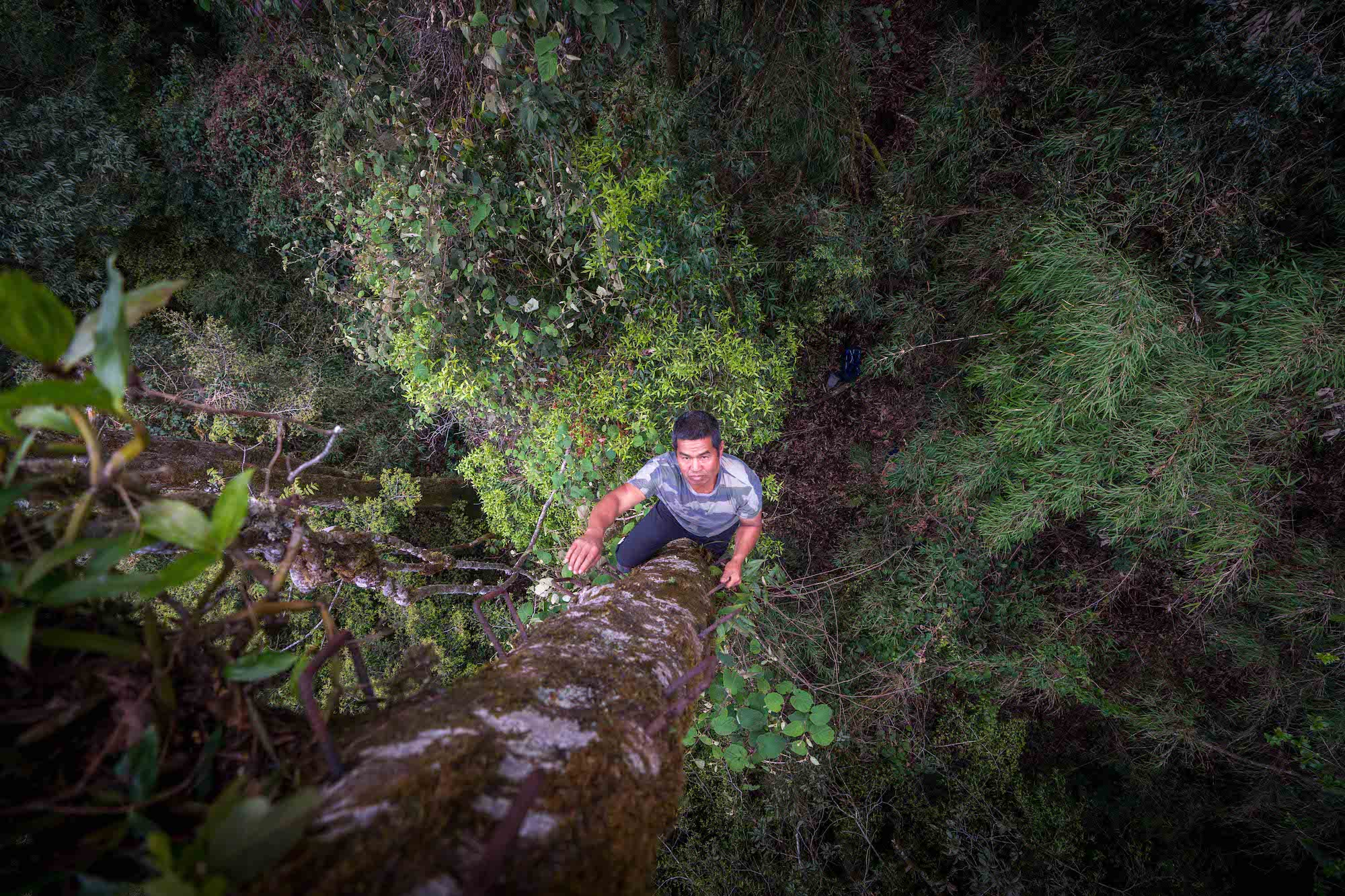 Photo by Kyle Obermann. Sony Alpha 9. Sony 16-35mm f/2.8 G Master. 1/500-sec., f/2.8, ISO 250
Obermann also explained that his storytelling differed depending on his target audience. If he was looking to share these stories within China, he focuses on the danger and hardship of the work. Whereas, for an international audience, he would include more imagery of what life in these small mountain towns would look like. "In the U.S., a lot of editors want to see the culture of the village, the rangers and the overall economic situation and lifestyle of these people and their work," he said. "But in China, people know what village life is like, so they don't really need to see that in an image. What they don't know is just how incredibly risky, dangerous and awe-inspiring it is to do this work. For example, to put up an infrared camera in panda habitat, you are navigating through the most dense, most miserably wet, leech-infested, steep, slippery slope, bamboo forest ever imagined. And it is miserable! It is totally miserable and very, very dangerous as well. So I was really looking at the merging of the outdoors and the adventure side of conservation."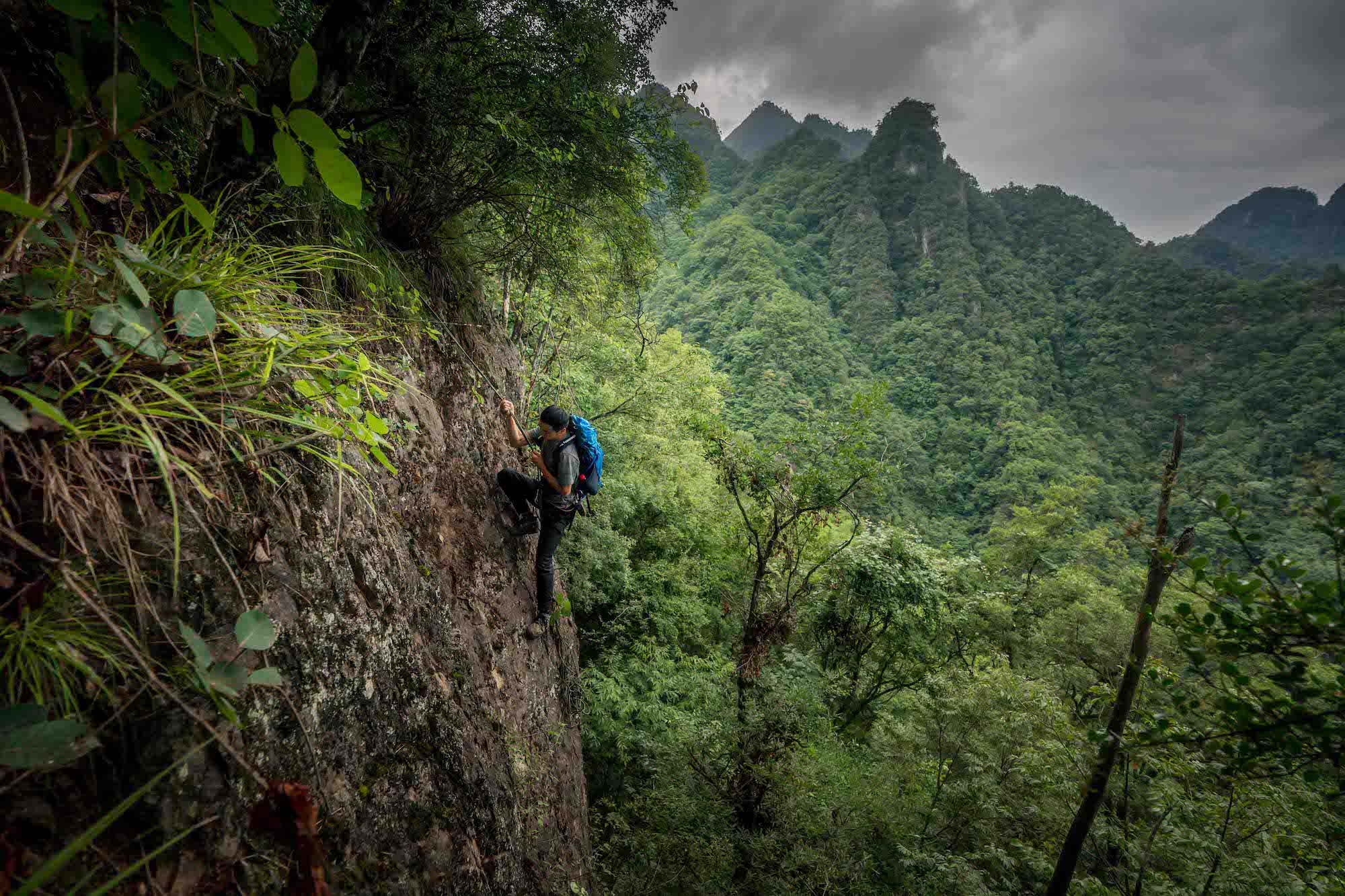 Photo by Kyle Obermann. Sony Alpha 9. Sony 16-35mm f/2.8 G Master. 1/1250-sec., f/5, ISO 160
Adventure Meets Conservation
Obermann partnered with the North Face to launch a project called Explore to Conserve. "The mission really is to expand the definition of what an explorer and outdoor athlete is. We often think of someone creating new records or climbing peaks, or something to push their own physical limits. But these rangers are doing that, not for a record or a film, they're doing it for conservation. And that kind of selfless risk is what I really focused on."
Since Obermann focused on documenting the intense efforts of these rangers, he also had to participate in epic outdoor adventures. "​​I actually love the athletic challenge of hiking with Tibetans at 5,000 meters on a glacier and not delaying them. My biggest thing is making sure I'm not impeding their work. Their work comes first, they have a plan and they can't be worrying about me falling behind or getting injured. So for me, then the athletic challenge of photographing these people is actually very entertaining."
A High-Quality & Lightweight Kit
Since Obermann's work is so physically demanding, it is critical that he select a kit that performs at the highest quality but is as lightweight as possible. His primary camera body is the Sony Alpha 9, which he selected for its ability to photograph fast moving animals in low light conditions. His most-used lenses are the Sony 16-35mm f/2.8 G Master and the Sony 70-200mm f/4 G. Obermann explains that he originally chose the 70-200mm f/4 G over the f/2.8 version because it was significantly lighter. However, he's now eyeing the new Sony 70-200mm f/2.8 G Master II, since it is much lighter than its predecessor. He also explained, "I really love my Sony 50mm f/1.2 G Master for portraits. I love more environmental portraits that, like, give more of a sense of place they're in, and that lens is great for that."
Obermann is also wrapping up a year-long documentary series called, "U.S.-China Journey to Net Zero." The filming involved climbing mountains and traveling through many states for filming. Obermann shared some of his setup for that project.
"This project was a very light operation - we had to travel light and fast to many places. And one of the things which was very interesting was climbing the Middle Teton in Grand Teton National Park. And one of the cameras we use the most was the Sony Alpha 7C, because it's still full frame and it's super lightweight. We paired that with the new Sony 40mm f/2.5 G and the Sony 24mm f/2.8 G. We basically shot the whole docu-series on those two lenses alone. I love both of the focal lengths and I love the light weight. And also, I figured out that if you put the Sony Alpha 7C with one of these primes, you can use it on a gimbal that is intended for a point and shoot, which is much much lighter. So suddenly, you're climbing the Tetons with an extremely lightweight kit that is also going to produce high-quality footage. It helps the storytelling and makes the climb much less frustrating."
Moving forward, Obermann wants to shoot a film on the Sony Xperia. He mentioned that he loved the compactness of it and the ability to connect more deeply with a subject, without a full-frame camera and lens in their face.
Looking Ahead
For the time being, Obermann is living in the U.S. At the start of the pandemic, restrictions blocked Obermann from remaining in China. However, he hopes to return and continue his conservation efforts. "China recently announced its first five national parks, which is a story I was following before the pandemic, and now it's really come to fruition. I am eager to get back and continue documenting that story."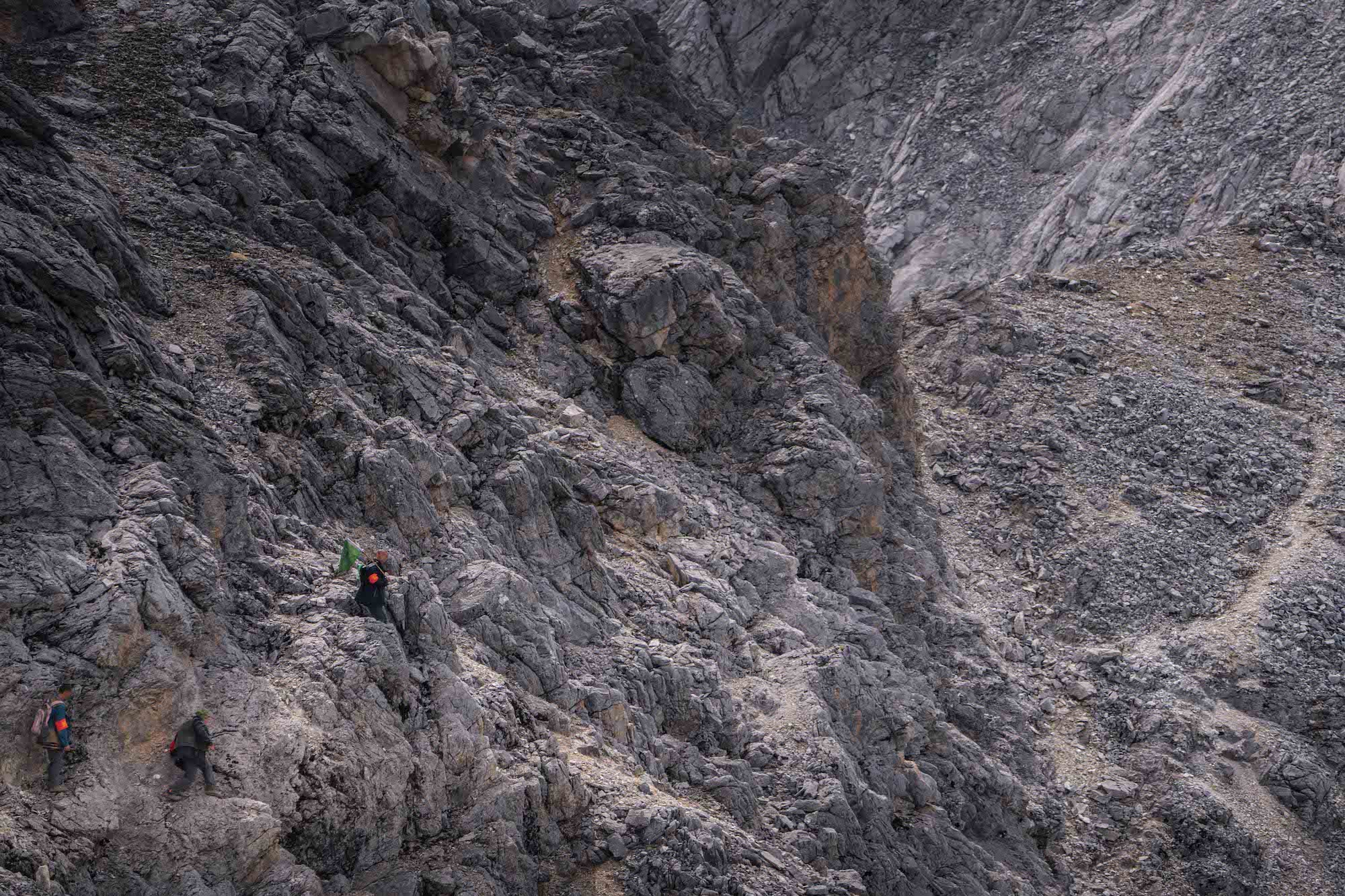 Photo by Kyle Obermann. Sony Alpha 9. Sony 70-200mm f/4 G. 1/640-sec., f/5, ISO 100
"But in the meantime, I am working with two other Chinese photographers to develop a project called the 'China Outdoors Collective.' It will be a platform for Chinese nature and landscape photographers to get their work out to the world. This will be a website that uses photography to bring people in, appreciate China's nature, and then centralize the conservation assets."
We can't wait to see Obermanns current projects roll out and see what he will do next. Keep up with his work on Instagram @kyleobermann.