On any given day, a photographer or filmmaker could find their office for the day to be the edge of an arctic glacier, a windowless studio, a bustling city street, or an outdoor wedding in the sweltering summer heat. No matter where you might find yourself on your next gig, one thing is for certain – you gotta eat! Keeping up your energy and avoiding any possibility of becoming hangry is critical to being on your game and going strong throughout the entire day. Adding go-to fuel that's on-the-job friendly to your kit may just save the day and keep you from seeing a mirage of munchies in the bokeh of your shot. Just take it from these Sony Artisans of Imagery that never leave home without packing their snacks.
A photographer's job can be a demanding one. See the energizing snacks that these Sony Artisans pack for long shoots.
Chris Burkard's high-octane global projects can be physically demanding and land him nowhere near a store or restaurant to refuel. He depends on a choice that packs a delicious punch and travels well. "My favorite snack is definitely the GoMacro bar. It's just a super-healthy energy bar that is made to order." When Burkard says "super-healthy" he's referring to GoMacro's description of their wares as "Certified Organic, Vegan, Gluten-Free, Kosher, non-GMO, C.L.E.A.N., R.A.W., and if there were a certification for delicious, we'd have that too!"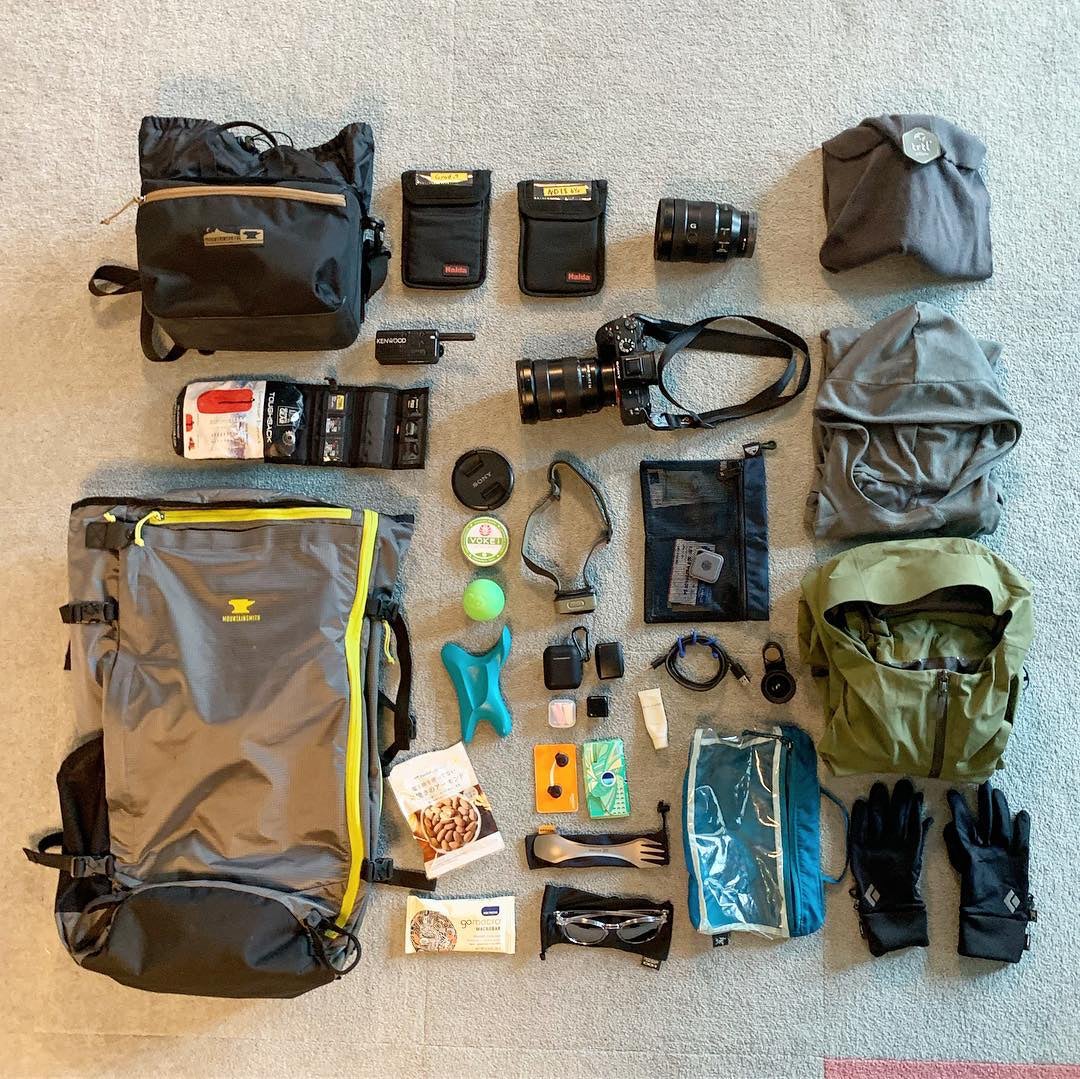 Chris Burkard's day-to-day kit includes a GoMacro bar.
Timelapse pioneer Drew Geraci is in a field that involves long periods of sitting and waiting punctuated by short bursts of intense activity. To get through the lulls while staying ready for the next move, Geraci has a sweet tooth for something chewy and compact, "My favorite snack is gummy bears. Specifically Albanese 12-flavor Gummy Bears. They're delicious and great-tasting treats for on the road and on shoots. They also fit really nicely into my backpack and give me hours of enjoyment."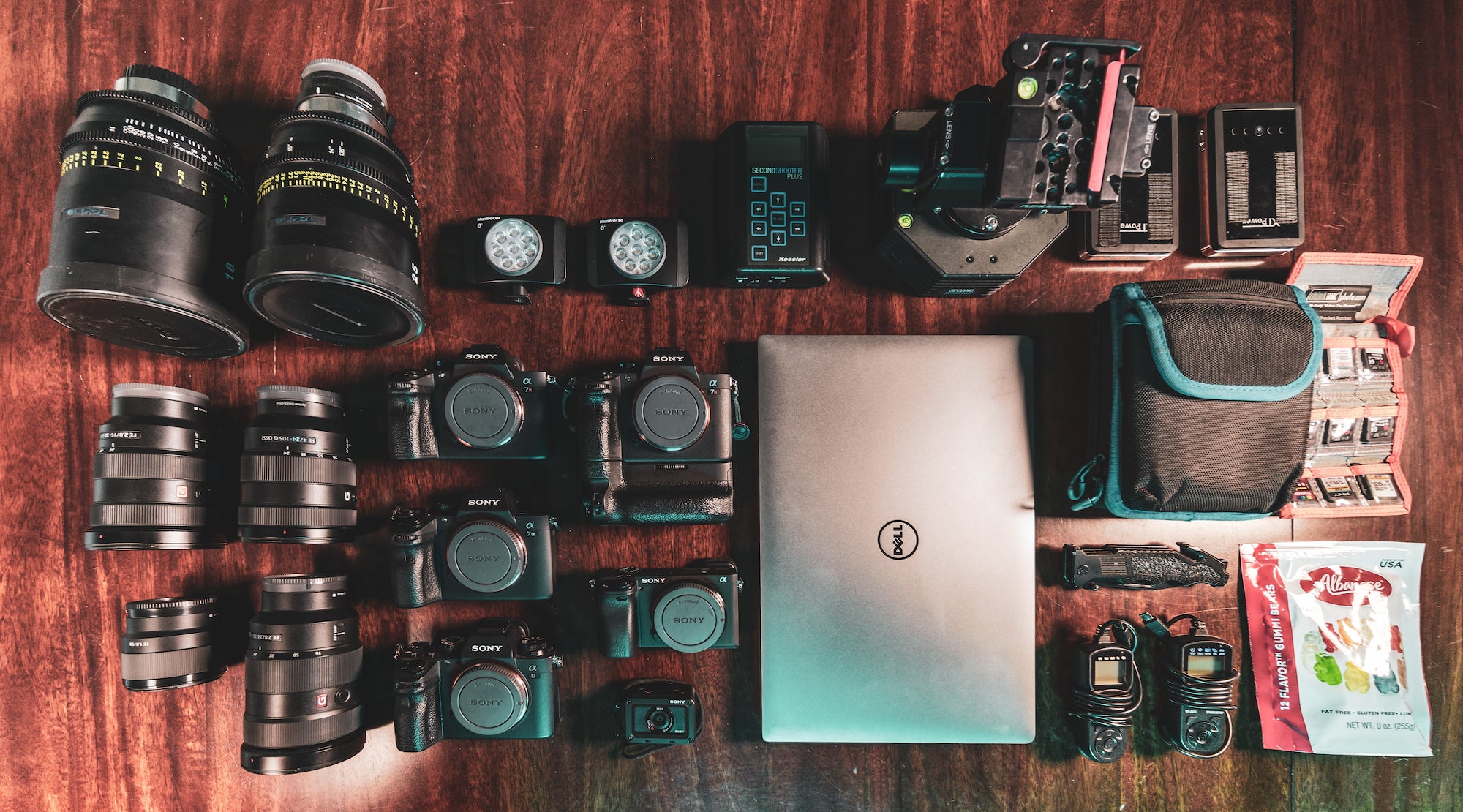 Drew Geraci's high-end timelapse kit, complete with gummy bears.
To stay sharp during the very long hours from preparation to ceremony to reception and more, Amber Baird, one half of the Eyenamics wedding filmmaking team, has an entire snacking game plan to last any marathon shoot. "In addition to a small cooler with water, Gatorade and a few Diet Cokes, I love to have just a plain ol' turkey sandwich packed for long wedding days. I also usually have some string cheese, fruit of some type, and power bars with us as well." That "plain, ol' turkey sandwich" has a secret power. "For some reason the turkey sandwich gives me a huge boost midway through the day to help me keep going. If I'm hungry at all during a shoot I find myself not as creative."
Amber also has a warning of what not to do when it comes to on-the-job fortifications: "Never try anything new for the first time on a shoot day. you need to make sure you know how your body is going to respond to that particular food. And yes, that's speaking from experience!"
Editorial and portrait pro Tony Gale has a reliable favorite that's versatile enough to suit a shoot on location or in a studio. "My go-to snack for photoshoots is Trader Joe's dried mango. It's light, portable and super tasty. I can have it in my bag for a commercial portrait shoot or I can bring it with me while hiking in the mountains photographing landscapes."
Chad Wadsworth has a calculated three-step approach as he works the myriad festivals and clubs in and around his home base in Austin, TX. That's right, snacking for the renowned music and editorial photographer is all about performance and endurance. Here's Chad's snack prescription for before, during and after a day shooting on location:
Pre-Shoot - "The Soul Boulder smoothie (add cayenne) from Juiceland in Austin, TX. All those fruits and proteins get me charged up and ready to shoot."
On-the-Shoot - "An RX Bar (Chocolate and Sea Salt) is easy to throw in my bag and with only four ingredients - egg whites, almonds, cashews and dates – they keep the energy flowing and don't weigh me down."
Post-Shoot - "After photographing a show at one of the downtown Austin music venues, I'll wander over to Arlo's food truck and grab their delish plant based Bac'n Cheezeburgers and tater tots."
The next time you pack your bag for your next shoot, take a cue from these pros and don't forget to include some essential on-the-go fuel.