By Russell Holliday
The Idea
The idea of shooting the eclipse had been spoken about amongst ourselves all year, but none of us wanted to think about it. Our studio has been so busy with commercial work this year that we all were thinking on a project by project basis to not get overwhelmed, but the idea for the eclipse felt like it was always looming. Chris would turn around to me and say "this whole eclipse thing just stresses me out" and the feeling was mutual. We both wanted to shoot something that hasn't been done before but also didn't want to overthink it. With any project like this, I can always rely on Chris to coordinate a plan and come up with something incredible but it had remained a gray area for a long time as we were trying to figure out what to do.
The Decision
We were actually on a job for Airbnb in Oregon near Smith Rock and I could tell Chris was eyeing the rock formation in the background of our photographs called "the monkey's head" and that's where the "what ifs" started turning in his mind. Using the Photopills app to see what the sun and moon's movement would be on eclipse day, we found that it would be rising directly over the monkey's head. The eclipse was due to start just after 9AM and reach totality around 10:15AM meaning the sun would be pretty high in the sky. The timing was perfect because it gave us the ability to shoot straight up at a subject while allowing the eclipse to be in the background. I knew Chris was set on this location instantly and the next question was what would the "subject" be?

Over the last 2.5 years of working and traveling with Chris I've found there to be one main theme that he chases when photographing: uncertainty. What started in traveling to harsh places to find perfect waves has transitioned into seeking out remote places and showcasing their beauty. That inevitably means jumping into a project head first not knowing exactly where it will end or what the result will be. That same jump into uncertainty applied to this project as well.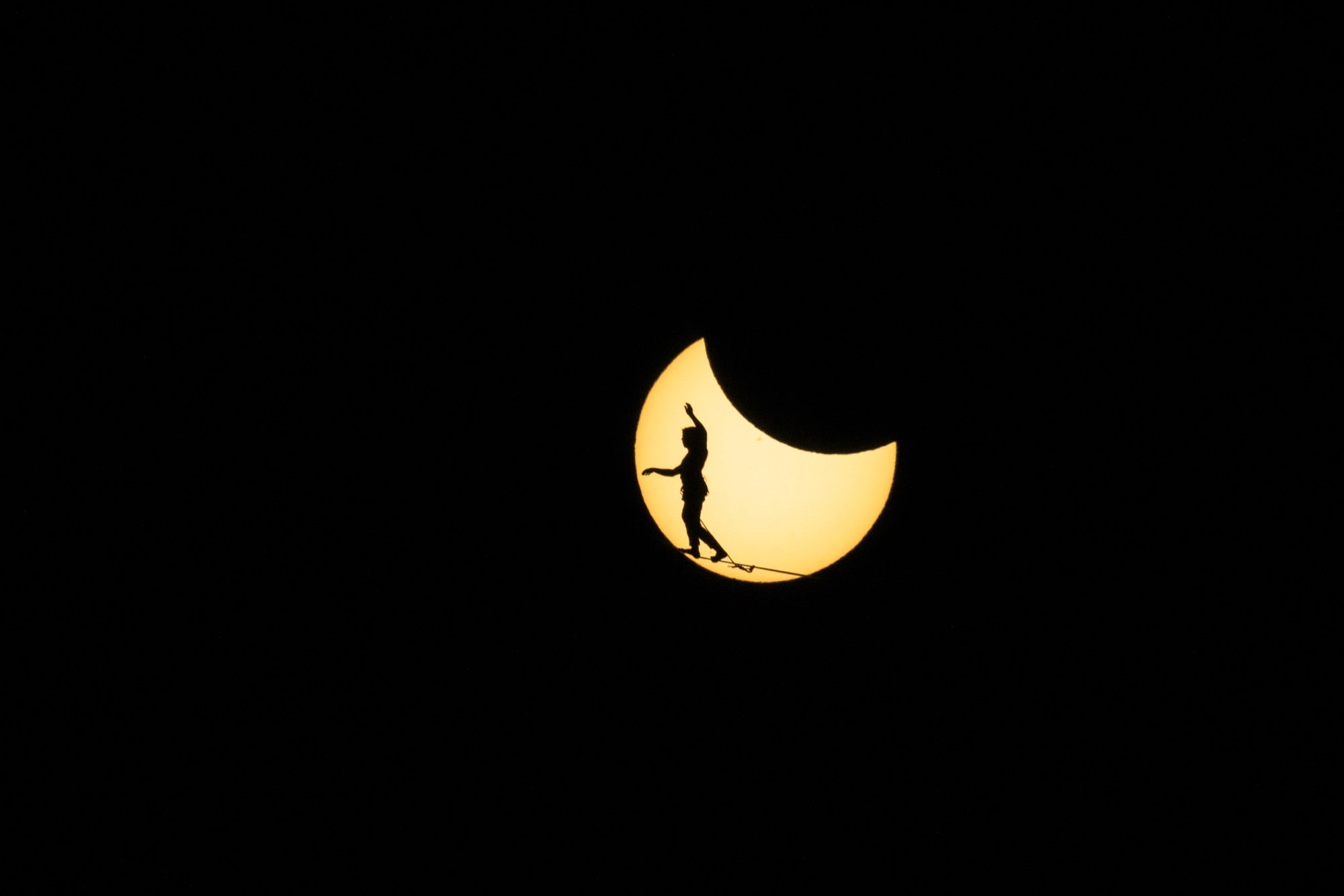 Sony α7R II, Sony 500mm f/4 G lens. 1/80-sec., f/22, ISO 640
We had first discussed simply having someone stand up on the ridgeline, but that didn't seem like enough. Then Chris proposed having a high-liner walking a line in front of the eclipse. I instantly was skeptical that we could make it happen. Honestly. I thought that it would add too many variables like the positioning of the line, the position of the athlete and all while taking into account the movement of the Sun and Moon. Chris assured me the if we could make it happen it would be well worth it. On the other hand, if we just did something where we played it safe and eliminated all of the uncertainties, we'd walk away disappointed. We made the decision to move forward and reached out to Ryan Robinson and Garrison Rowland, two professional high-liners, to work out the logistics of setting and walking the line.
The Equipment
The next step was figuring out what gear we'd need to make it happen. A lot of reference photos we saw of solar eclipses were composited from bracketed images, but our goal was to capture the shot in camera. For this reason we decided to shoot with Sony α7R II bodies and utilize their uncompressed RAW format which captures images in uncompressed 14-bit RAW. This would allow for higher dynamic range and better shadow recovery when exposing for such a challenging subject as a solar eclipse.

The next step was lenses. The plan was to have me, Chris, and Ryan Valasek each shooting a different focal length so we decided on the following set ups:
Chris Burkard:
(2) Sony α7R II
Sony 100-400mm f/4-5.6 G Master
2x extender (Equivalent focal range: 100-800mm)
Sony 500mm f/4 G (A-mount attached via LA-EA3 Adapter)


Russell Holliday:
Sony α7R II
Sigma 500mm f/4

Ryan Valasek:
Sony α7R II
Sony α6500
Sony 24-70mm f/2.8 G Master
Sony 70-200mm f/2.8 G Master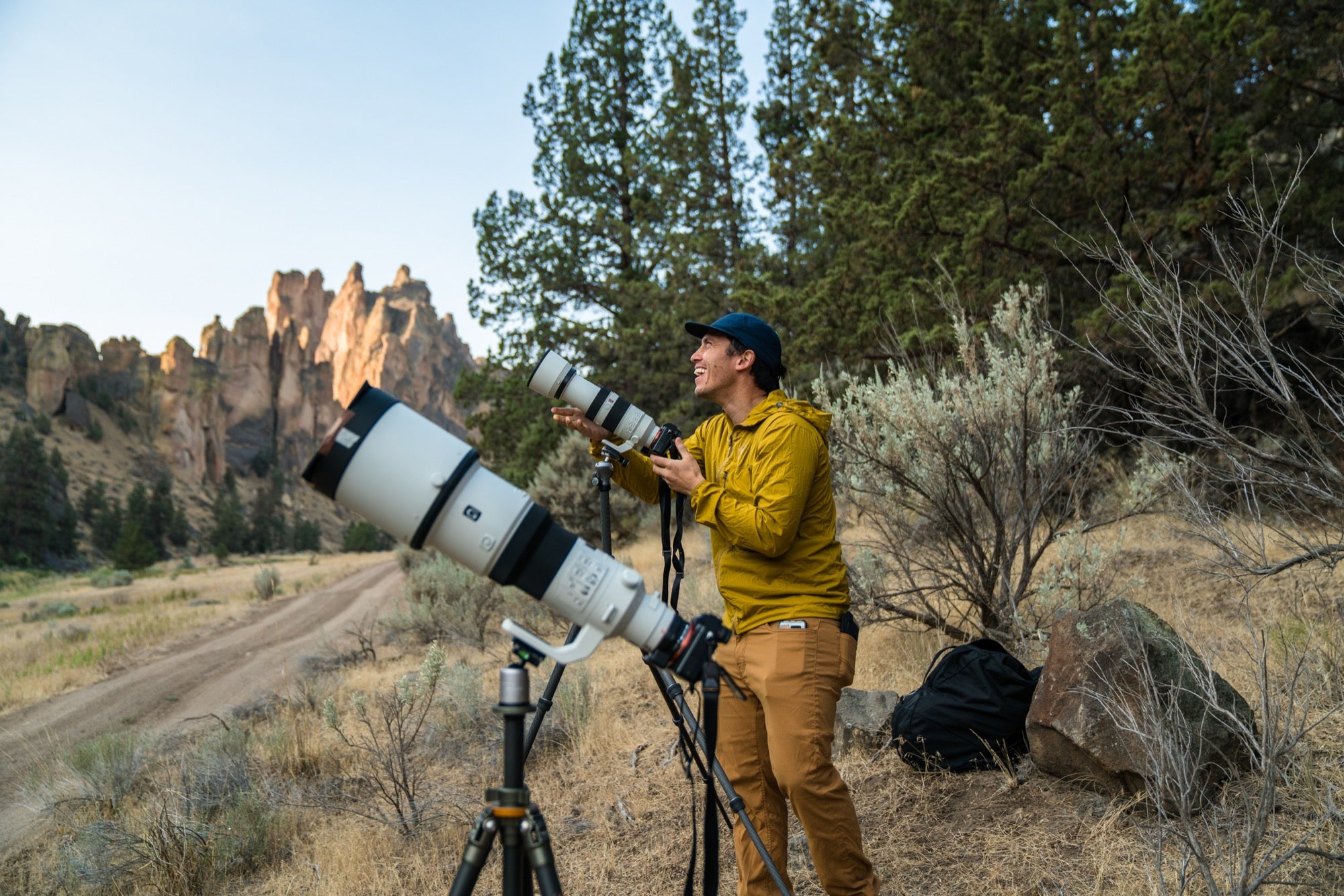 As totality approaches, Chris Burkard mans a pair of Sony α7R II bodies with the 500mm f/4 G and the 100-400mm f/4.5-5.6 G Master lenses.
The goal was to have the entire team capturing something different whether it be a different focal length or a different position. Cameras were mounted on Gitzo Mountaineer and Traveler tripods and we used 20-stop ND solar filters to be able to shoot the Sun before the eclipse reached totality. For the smaller lenses, we used 100x100mm Haida filters and for the bigger lenses we used 150x150mm Haida filters. We used gaffers tape to tape each filter to the lens hood and cardboard to block out all ambient light. The cardboard and filter were attached to the lens hood so that we could easily remove the filter once totality was reached and throw it back on as the sun began to appear again. It was definitely a little jury-rigged but hey...if it works it works!!
The Prep
We left our home base of San Luis Obispo, CA at 5PM and arrived in Smith Rock at 6AM the day before the eclipse to do a trial run. During the all-night drive we subsisted on snacks, coffee and watching about 15 episodes of The Office (whoever was driving would just listen along). The next morning Chris, Ryan V. and I were scouting angles from below as Ryan R. and Garrison were up top figuring out the rigging. Although the line wasn't up, we had a general idea of how to frame it and we found some preliminary positions, but we wouldn't know if they were exactly right until eclipse day. That night, Ryan and Garrison started the rigging at around 1AM and spent the night up top after finishing.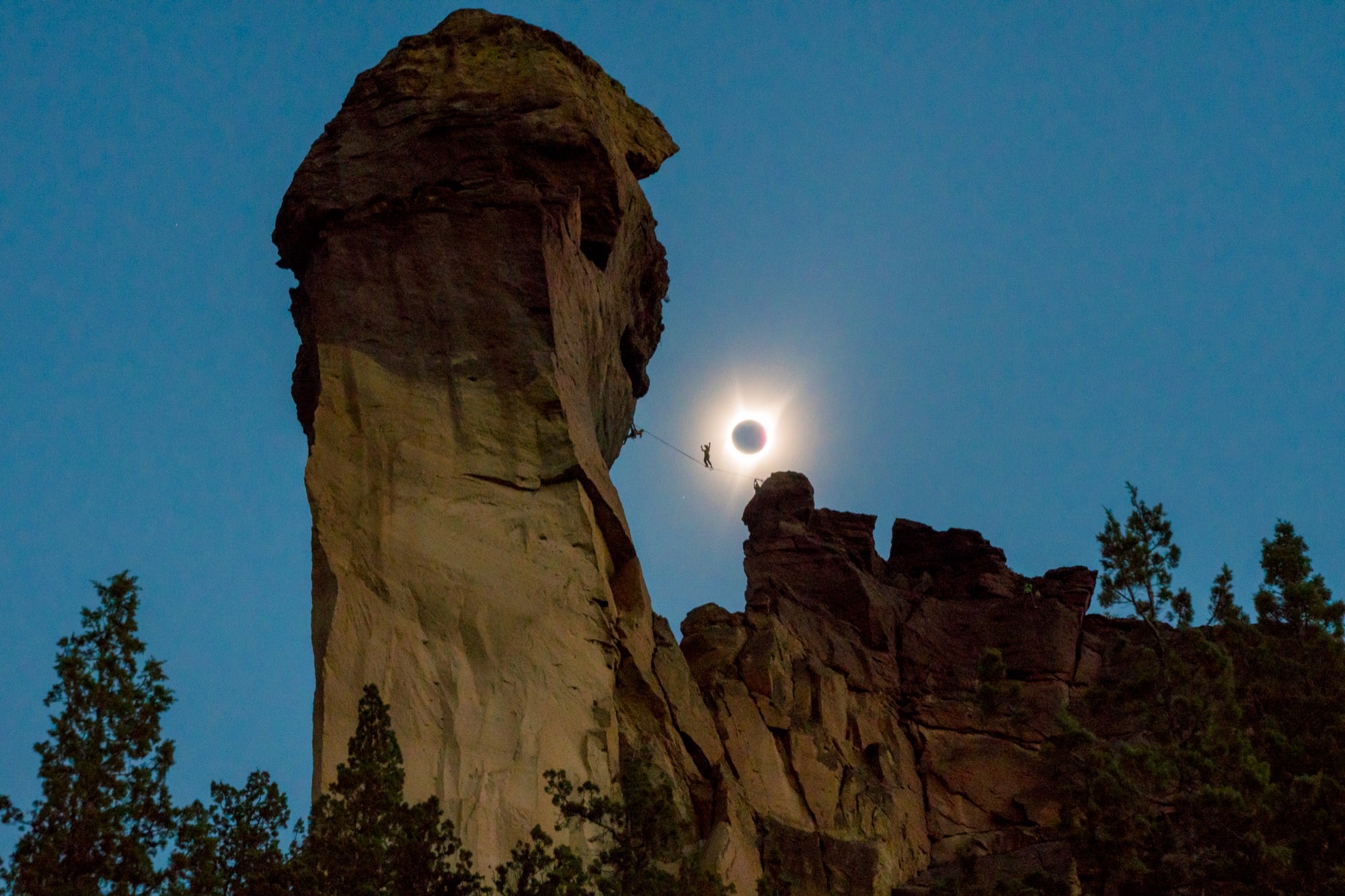 Sony α6500, Sony 24-70mm f/2.8 G Master lens. 1/30-sec., f/5.6, ISO 2000
The Crux
The morning of the eclipse, we started prepping cameras around 7AM. We didn't want to sit in one spot and wait for totality, we wanted to track the entire process which required us to be on the move. The trajectory we planned on taking lead straight into the river which raised the question, "Would we have to cross the river?". As the saw the sun begin to peak over the rocks, it was game time. Shooting at different focal lengths meant that each of us would be seeking out new vantage points at different times so we stayed in close contact via walkie-talkies while Chris communicated with the highliners to direct them.

We watched as the moon began to cover the sun little by little. As we moved closer and closer to the river, I knew one of us was going to have to cross it to capture the tighter angle during totality. The river was probably around 10 ft. in front of us so I took off running with all my gear parallel to the river bank looking for anywhere shallow enough to cross. Even the shallowest area looked questionable, but I went for it using my tripod to check the depth in front of me. I made it across, soaking wet up to my chest in all my clothes and took off sprinting back towards the correct position. At that point I had about five minutes before the eclipse would reach totality. Ryan V. followed close behind and made the crossing as well.

We barely made it and got set up with a few minutes to spare. We removed our solar filters as totality approached and Chris relayed to the high-liners that it was almost time. I was shooting the tighter angle while Chris shot wider from the across the river and Ryan covered a wide angle from next to my position.

What happened next is something I'll remember for the rest of my life. The entire landscape below went dark, hoots and shouts were echoing through the valley, and I looked from behind my camera to see the total eclipse with my naked eye. I knew seeing and experiencing this eclipse would be cool, but I didn't know it would be such a life changing event for all of us. Those two minutes were a complete blur, my hands were shaking uncontrollably, my heart beating heavily, all while smiling ear to ear and shouting at the top of my lungs like everyone else. In that moment, everyone around was in such a primal state of mind, all we could do was look up and marvel at this natural phenomenon in the same way that humans thousands of years ago would. After the sun began to appear again and the climax of the event had passed, I began to review the images and reflecting on what just happened. I vividly remember Chris crackling in over the walkie saying "I don't even know how to react to what just happened!!" We were all ecstatic.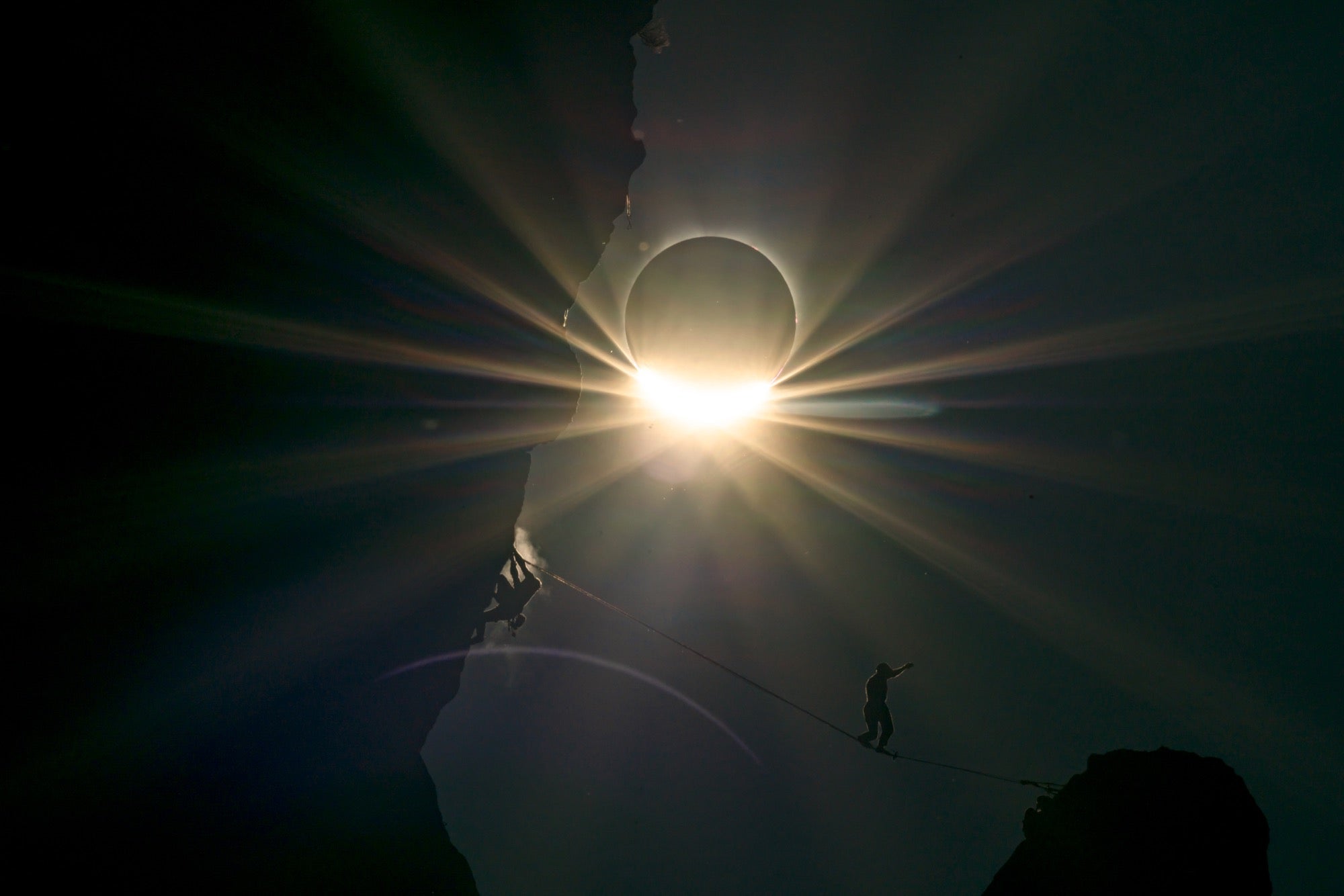 Sony α7R II, Sony 500mm f/4 G lens. 1/125-sec., f/32, ISO 160
Lessons Learned
It took some time for all of us to process what had just happened. I feel like everyone at our studio is wired to analyze shoots and ask ourselves, "How can we be better, how can we be more efficient?" but in this case we were all just dwelling on how valuable this experience was even more than the getting the photos. Many of our take-aways were not revelations but reminders that if you compromise your approach, then the images you capture will inherently suffer. This idea led us to look to our approach and analyze how it helped us capture what we did.
Uncertainty is the key to capturing something "different"
Aiming to capture variation within your images can be more rewarding than searching for "the shot"
Allow yourself to truly experience the moment, otherwise the photographs are irrelevant
Sharing the experience with others can be more rewarding than the photograph itself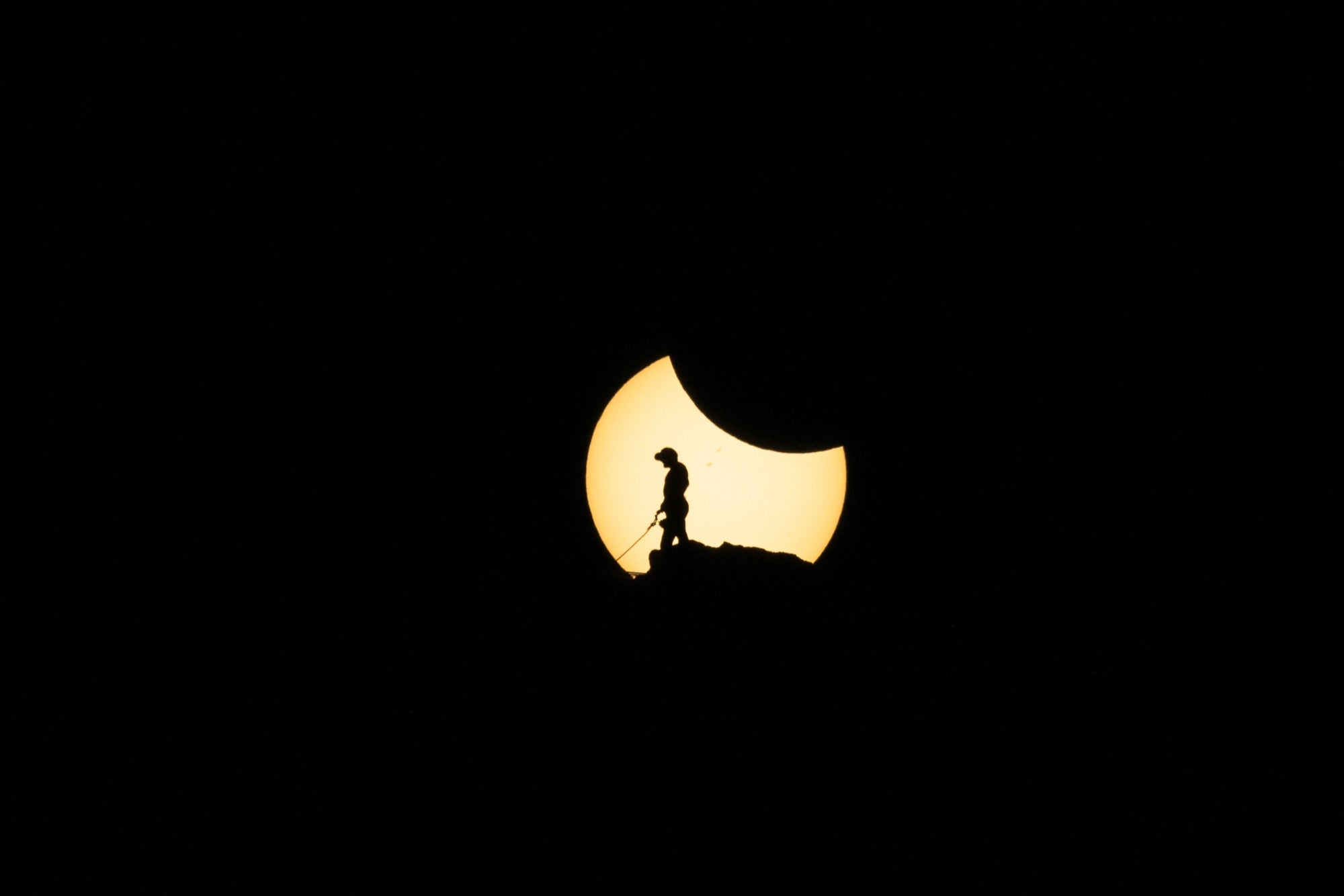 Sony α7R II, Sony 500mm f/4 G lens. 1/80-sec., f/22, ISO 640
See more about Sony Artisan Of Imagery Chris Burkard here. You can follow him on Instagram @chrisburkard