If you're a fan of nature and wildlife documentaries, you may have already seen The Elephant Whisperers, a 40-minute documentary on Netflix. The film features Bomman and Bellie, a couple in South India, who had devoted their lives to caring for an orphaned baby elephant named Raghu, forging a family like no other that tests the barrier between the human and the animal world. It is a beautiful story of hope, unusual families and the human-wildlife connection. The film is currently nominated for an Academy Award in the Documentary Short Film category (UPDATED: The Elephant Whisperers won the Academy Award for Best Documentary Short Film.). We sat down with the director and executive producer, Kartiki Gonsalves (@kartikigonsalves), who is a Sony Artisan of Imagery in India, to learn more about the making of the documentary.
We sat down with the director and executive producer Kartiki Gonsalves to learn more about the Academy Award Winning documentary 'The Elephant Whisperers' currently on Netflix.
Finding The Story

At the heart of all good films is a fantastic story. This film is Gonsalves' directorial debut and we asked how she found these fantastic characters and the story itself. Gonsalves told us, "In simple words, I fell in love with Raghu. I first met Raghu when he was three months old. Bomman noticed my curiosity towards the elephant calf and beckoned to me to come with them for their morning bath in the river. I didn't hesitate. It was a dream to be able to spend time with such a young calf. I had been visiting the sanctuary since I was three years old but this was different. Over the course of that evening, I forged an unbreakable bond with Raghu. It brought me so much happiness to be able to share this beautiful connection with a being so wild yet so young and so vulnerable. I observed that Bomman had a connection to Raghu like nothing else I had ever seen before. Raghu was a son to Bomman and much more."
"2017-2018 was a very special part of my life. The three of us would happily splash around in the river, I would spend hours scrubbing Raghu and patting his tongue (which he absolutely loved) while he enjoyed pulling my hair and splashing me with water. We would stick our tongues out at each other. They are such intelligent creatures. I wanted people to be able to understand these beautiful beings on a deeper level and recognize their similar traits and intelligence. I hoped to get people to want to protect them and their landscape. I also wanted to show the importance of indigenous people and their knowledge and most importantly to give them a voice. Bomman, Bellie, and Raghu share a very special bond. It developed over time as we started our five year documentation of their lives in a place that is also home to me."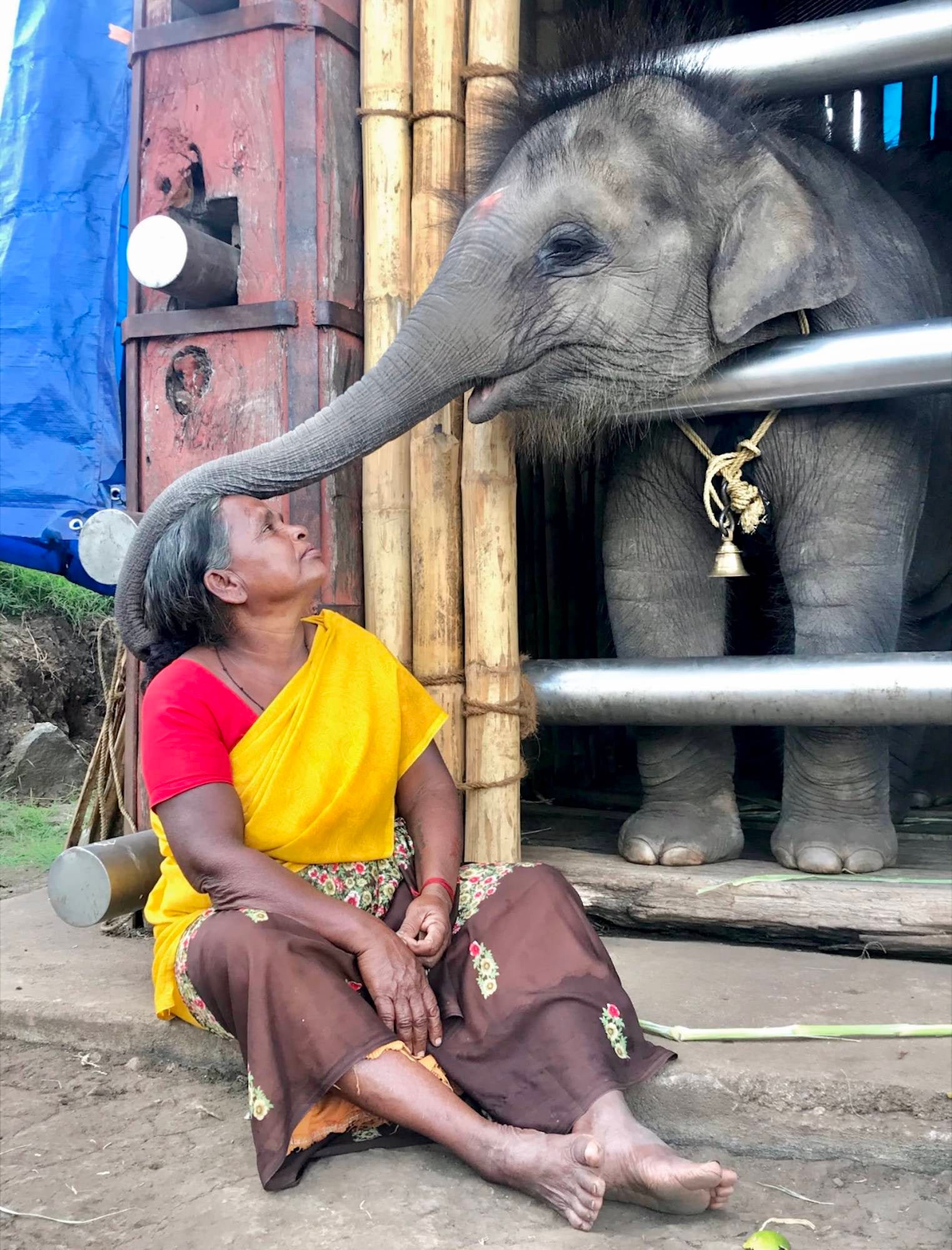 Photo from "The Elephant Whisperers"
Aside from splashing around with elephants, Gonsalves recognized the power in telling a hopeful story. So often, particularly in nature and wildlife films, audiences are inundated with negative and tragic issues like climate change, drought, wildlife conflict and much more. Gonsalves didn't want to linger on these issues, but rather showcase the special bond between the elephants and their caretakers. Her hope is that the empathy can be translated to other living creatures. And based on the thousands of emails, fan art, and letters she's received...it seems to be working!
Netflix Acquisition & Sony Equipment Partners

Gonsalves worked on this film for about six years. She began filming when Ragu was only three months old, in 2017. She spent a lot of time building trust and relationships with the community. With that footage, she put together a promo pitch for Natiflix that was accepted in February of 2020. Since then, Netflix has been able to help with her permits and other logistics. She was also able to bring on Sikhya Entertainment and a producer, Guneet Monga, who is well-known for serving as an executive producer on the Oscar-winning short "Period. End of Sentence."
Sony is honored to be the equipment sponsor for the film and Sony India supported the film. Gonsalves broke down the gear they used for the stunning cinematography in the doc. "We started out with the Sony FS 7 II and the Sony FS5. And after that we immediately moved on to the Sony FX9. We also used the Sony Alpha 7R III for timelapses and stuff like that. Then we used the Sony Alpha 7S III for low lighting conditions."
In terms of lenses, the team used a wide range of lenses including the Sony 16-35mm f/2.8 G Master, the Sony 24-70mm f/2.8 G Master, the Sony 70-200mm f/2.8 G Master, the Sony 200-600mm f/5.6-6.3 G. "And because it was verité documentary, we tried to use the 24-70mm as much as possible because we were running around with the cameras on us at all times." Gonsalves favorite thing about the Sony setup was how compact it was, she told us that since it wasn't too bulky, she could really be in any situation and shoot naturally, without feeling like it took away from the moment.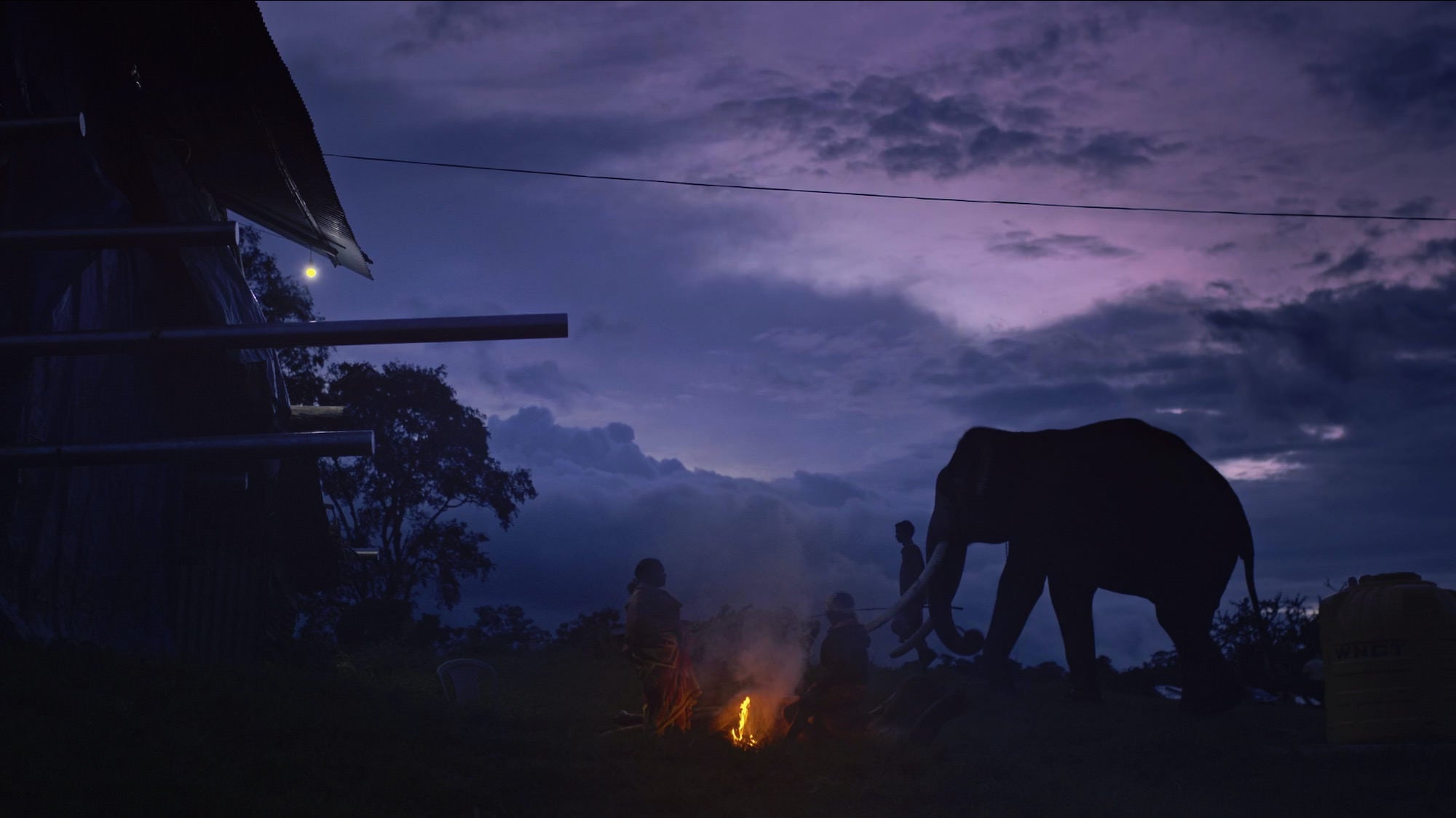 Photo from "The Elephant Whisperers"
Filming Challenges

While making the film, Gonsalves and her team faced a number of challenges. First, just acquiring permits to film was tricky. Beyond that, Gonsalves shares that being a woman in the industry made it challenging for her to gain trust. Also, filming around wild and unpredictable animals is a tough situation. The film team included a naturalist and scientist to help inform decisions and keep the team safe.
"I think one of the biggest challenges was that a lot of documentaries are usually made on archival material, or they are going through footage that's already been filmed. And then they tried to put the story together on the edit table with the sequences that they have or what they have. But I think the challenge here was that we were filming this in live time. It didn't come from archival footage, it was not a story from the past, but it was something that we were on the ground and living it as we were documenting it. It was really hard not to get emotionally invested in the many things that were happening on the ground. I think as documentary filmmakers, we need to really understand that we're merely spectators and we're there to see what's going on and documented authentically."
Photo from "The Elephant Whisperers"
Additionally, Gonsalves and the team made the conscious decision to film the entire documentary in natural light. "On one hand, it's absolutely stunning to shoot with natural light and it really shows the beauty, but it's also challenging with the contrast between filming in sunlight and filming in shade. And I think it's also one of the other things that I had to do to be ethical about the fact that we were really working with animals and you can't shine bright lights onto animals. And I also wanted to really bring out the rural atmosphere that Bowman, Bellie, and the elephants lived in and they use candlelight. So that's something that I wanted to put in the forefront. I didn't want to go in there with an outsider's perspective that, 'Oh, we should have more lights so that I can get my beautiful shots,' because I think there's a certain beauty in showing everything that they do have. And I think representing that in the right way is also something that needs to be done."
The Oscar Nomination

"It's absolutely surreal," Gonsalves says on the film's Oscar nomination (UPDATE: The Elephant Whispers won the Academt Award for Best Documentary Short Film.). "I feel extremely grateful and thankful to each and every one of the members of the Academy for nominating our documentary 'The Elephant Whisperers'. I am very thankful to the wonderful team at Netflix for believing in the power of this truly unique family story which showcases the lovely sacred bond between man and animal. 'The Elephant Whisperers' is a hopeful story of respect for and cooperation with nature in an era rife with conflict and denial of the threats to our beautiful planet.' We hope this film helps create more awareness, empathy, and connection to elephants and other living beings that we share our spaces with."
"It took five years to make my debut documentary 'The Elephant Whisperers,' a long personal journey from the place I call home, that wouldn't have been possible without the support of the Kattunayakan Community, who opened their hearts and trusted us with their unique experiences and a pathway ahead. On behalf of Bomman, Bellie and our beautiful elephant friends Raghu and Ammu, we are thrilled to receive this great honor! I am also thrilled as the extra publicity will help spread the message of the film. I am also grateful to Guneet and Sikhya entertainment for all their support on this journey."
Looking Ahead

After seeing the stunning story and success of this film, we are eager to see what Gonsalves will do next. "While making my debut, I learned that storytelling is at the heart of human existence. Storytelling can be very powerful and can change our brains and our hearts bringing us closer to one another. Sadly it is also used to divide communities. I hope to use storytelling as a tool to unite different communities and species and share the beauty of the natural world. I hope that cinema becomes more inclusive - attracting people who have not had a voice before and showcasing their images of the world, and exploring their perspectives."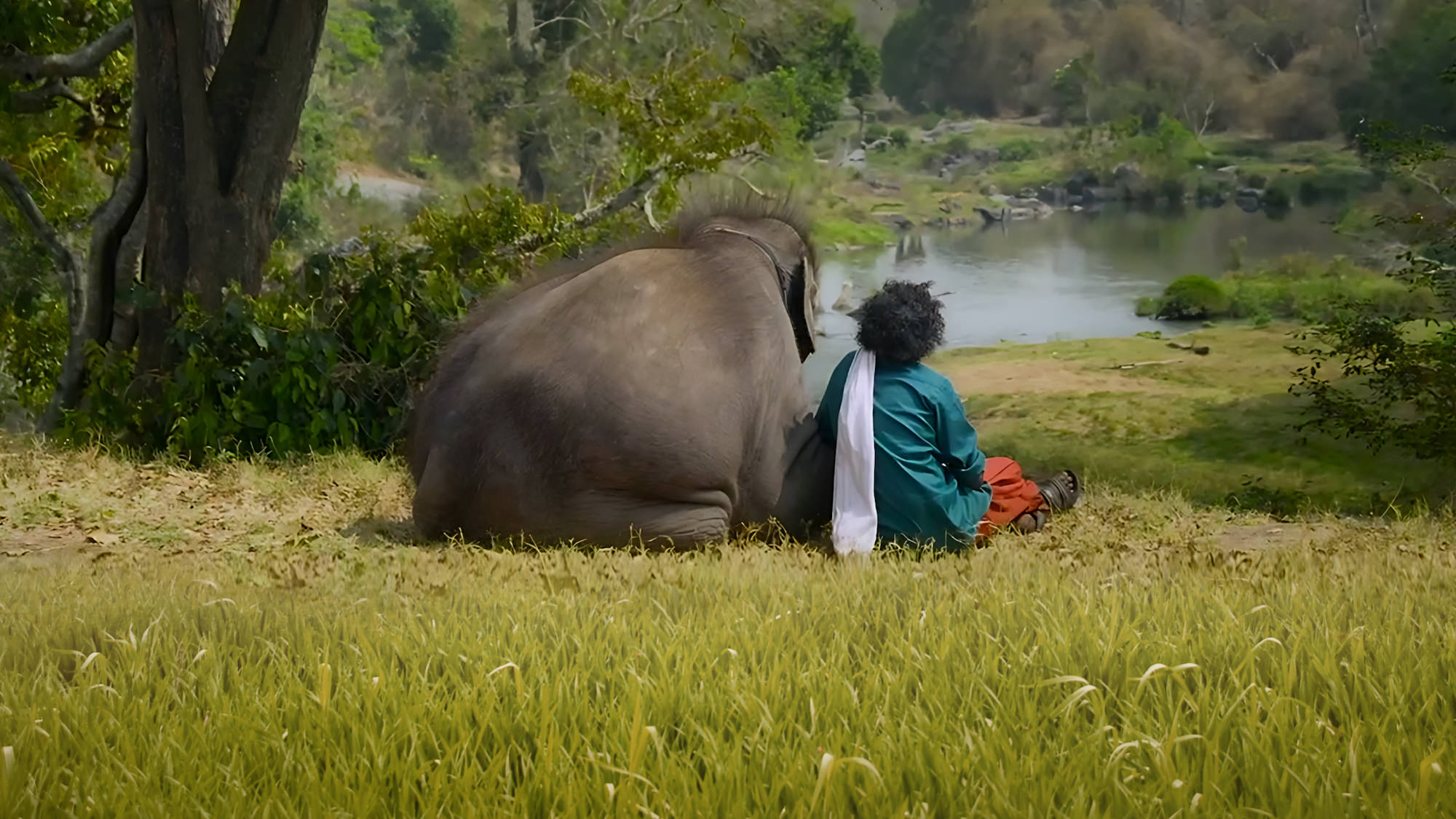 Photo from "The Elephant Whisperers"
Gonsalves is in the early stages of her next film, which will look at Orca/human relationships next. She is hoping this will open a whole new dimension and perspective on the relationship between man and nature. In the meantime, keep up with Kartiki Gonsalves on her Instagram account (@kartikigonsalves) and be sure to watch The Elephant Whisperers on Netflix!