Imagine it for a moment – spending an entire month trekking a grueling 189 miles through the Himalayas in Bhutan. Battling unpredictable weather and the harsh glare from the snow blinding your eyes, experiencing headaches, muscle fatigue and shortness of breath from gaining over 48,000 feet of elevation and trying to manage the complex terrain without getting injured. Does it sound like something you could do? What about completing it in half the time, AND while filming it all? Shooting with Sony α7 II and RX100 IV cameras, that's exactly what cinematographer and mountaineer Ben Clark did. "The Snowman Trek," is a feature-length film that documents a group of ultramarathon runners who visit the country of Bhutan seeking a record time on what's perceived as the world's hardest trek.
UPDATE 7/10/2018: The film is now available for download. Click here.
"I'm a commercial filmmaker and I definitely love great equipment, but when it comes down to it you have to approach a shoot like this as an expedition first," said Ben Clark, who ended up shooting the majority of the film himself after his friend Chris had to be evacuated by helicopter for pulmonary edema on Day 5. "That's what I always did and that's why I'm still alive as somebody who has climbed a lot of mountains and been to some really rare places. Since you're treating it like an expedition first and not like an artist, then you're probably going to sacrifice some quality. But what was so great about these cameras is having the ability to review my footage in the field to see if I'm getting what I want."
Clark really had to think about what kit he should put together for the trek. He wanted to capture the highest quality content possible, but also realized the high risk of the equipment not being up to the rigors of working in the brutal conditions. There was also the fact that he had to carry all of this on him, so it needed to fit on his body and he had to be able to run with it the entire time.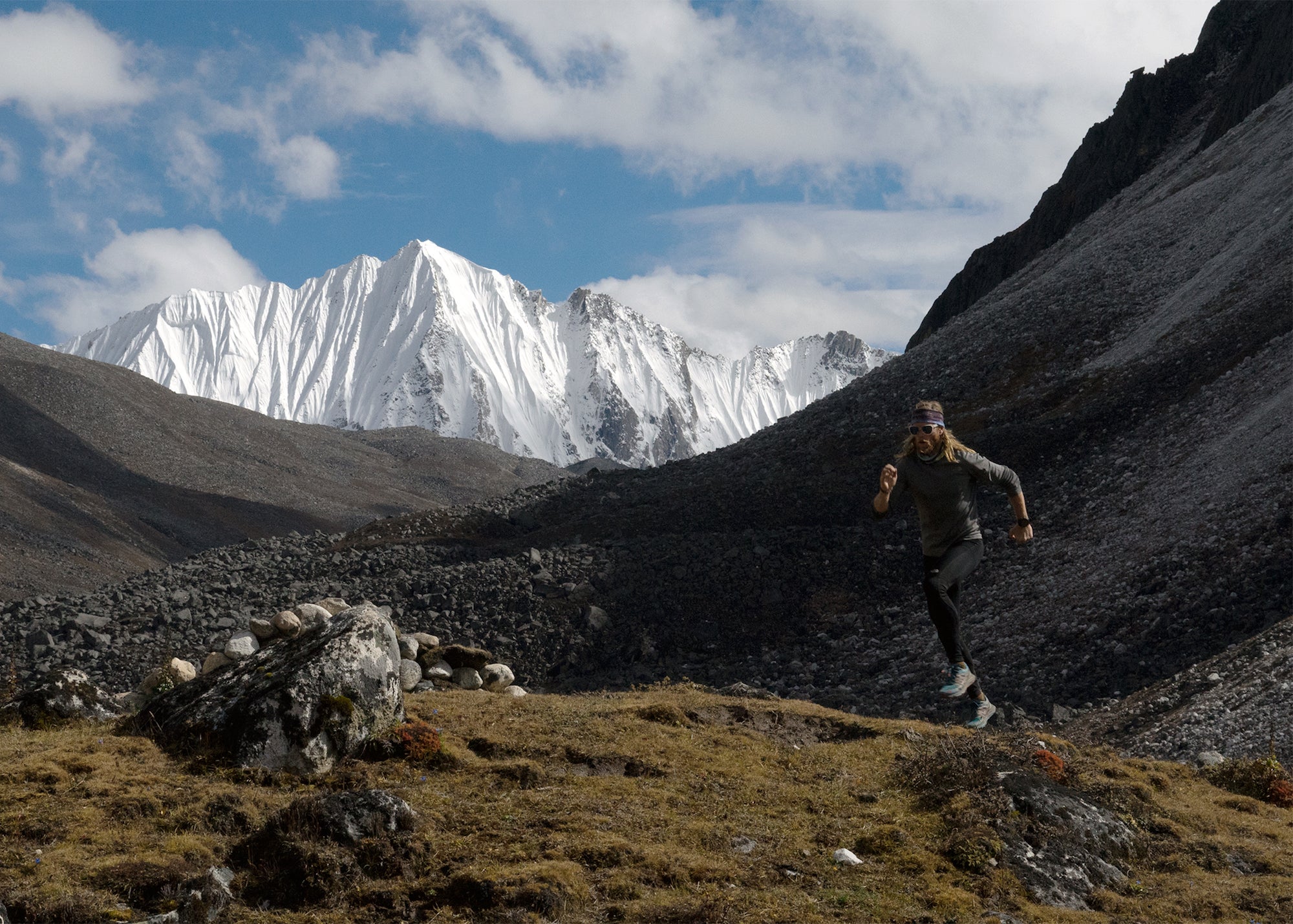 "I knew I wanted to have something that was mirrorless where I could really capture those shots that I would want to capture if I were shooting commercially," said Clark. "While I was capturing real-time, actual footage that could have some graininess, still having the ability to shoot something super sharp and not having to fear on the trail that I didn't get it because I could instantly look at it was great. I also needed the absolute best stabilization possible for my shots to carry the audience through 81 minutes. And the α7 II and RX100 IV are the ones that I could easily pare down and carry on my body with no tripod. The entire film is shot primarily handheld on these two cameras. I don't think anybody knows having seen the film that these were so tiny, but that's the capability that is in there."
Clark also had the Sony 85mm f/1.4 G Master, Sony 18-200mm f/3.5-6.3, Sony 50mm f/1.8 and Sigma 19mm lenses, as well as the Sony MC50 compact camcorder and a DJI Phantom Professional 3 Drone. Such a simple set of gear meant that production didn't get in the way of telling the story, which Clark thinks made all the difference.
"This time going to Bhutan, I feel like we met an intersection where the technology in my hand was so small and yet so capable," said Clark. "Suddenly. I'm able to shoot high frame rate. I'm able to get HD or 4K. I could easily change lenses. I've got small batteries and enough of them – and I can carry all this stuff on myself. These cameras lended themselves to so much accessibility, and as it turns out, just while we were documenting this story we captured this beautiful friendship and this struggle to try to set a record with our new friends."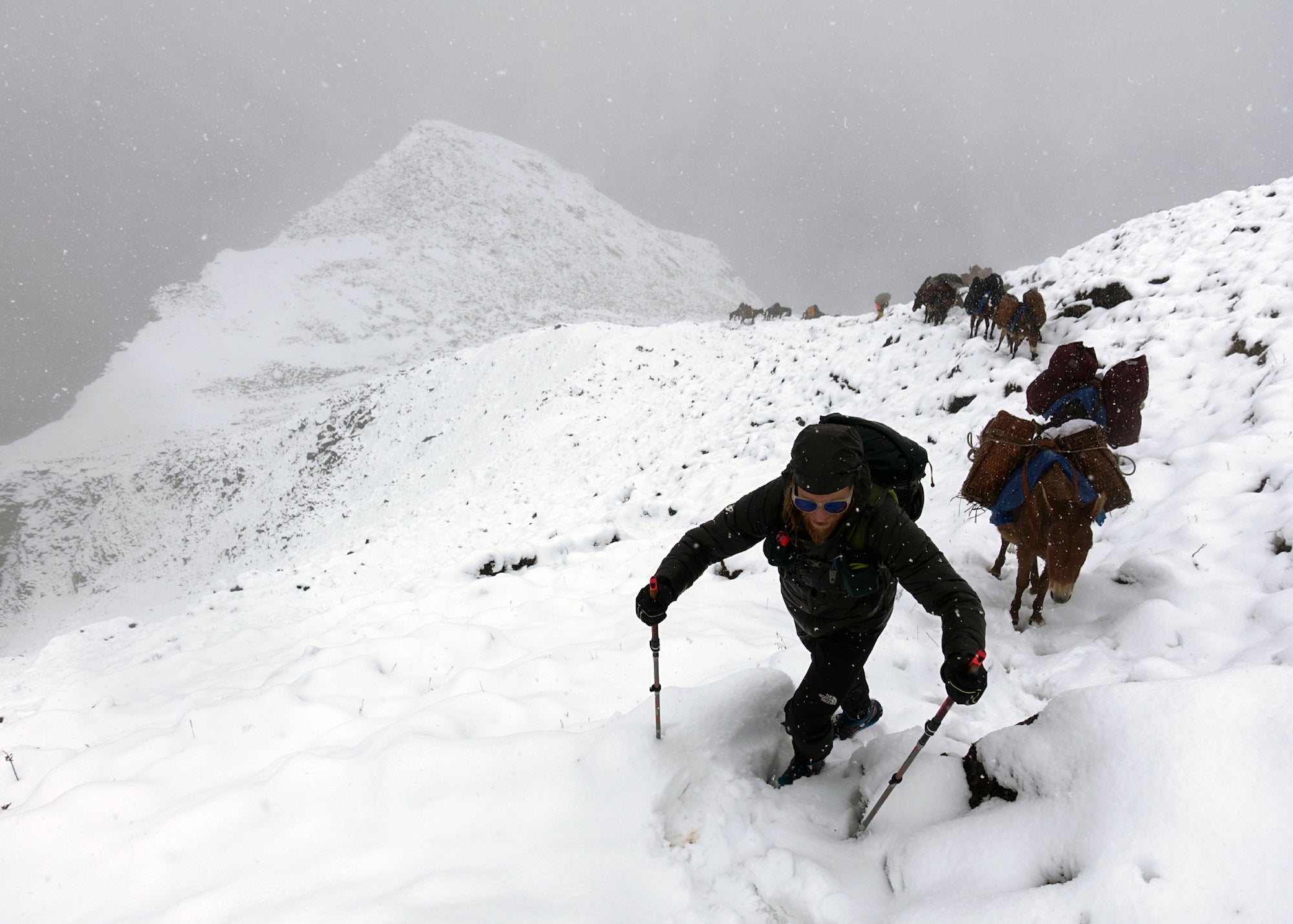 Even with his perfect kit of gear put together, the trek was obviously not without its gear challenges. The biggest one being no electricity for almost 16 days. Clark was prepared with batteries, solar panels and power banks, and was impressed with how the system delivered. What was a major concern going in, ended up being no problem at all. He even had power left in his power source at the end. The other issue he dealt with was the constant moisture and the extreme highs and lows that your gear goes through.
"The moisture was just so extraordinarily terrible. You're going to bed in a really wet environment and then suddenly you're out in the sun, but still I really can't say anything didn't work for me out there. I had fast lenses that were pretty lightweight and could deal with the rain. I dropped these things in the mud. I would leave them sitting on a rock and the moss. I would have to change lenses in the middle of a rainstorm or middle of a dust storm and nothing was getting inside the camera and messing it up. So I think it's safe to say The Snowman Trek pretty much throws everything that you could imagine at you and your gear and these cameras handled it perfectly."
While plenty of the unexpected occurred, in the end Clark captured incredible footage detailing a story of determination. He didn't expect to shoot most of it on his own, but it made him realize that all of his past experiences had actually prepared him for that situation. Instead of being overwhelmed with the assignment of shooting a feature film alone, he took the opportunity and made it happen. And this example of not overthinking it is the advice he would give to someone wanting to create a feature.
"You can be a filmmaker. It's all happening right now, just don't worry about failing. You want to know how to make a movie? Start making a movie. That's it. Go for it. Don't be scared. Buy the ticket, get the camera and go wherever you think your heart is leading you to. And when you get there, make sure your battery is charged and you hit record."
After a special one-night theater showing in mid-May. UPDATE 7/10/2018: The Snowman Trek movie is now available for download.