The Namib desert is one of the most unforgiving places on the planet for human beings. Stretching some 1,300 miles from South Africa to Angola, its inhospitable nature is matched only by its beauty. In early 2018 a pair of elite athletes, Ray Zahab and Stefano Gregoretti set about running the length of the Namib with minimal support. Traveling along with the Trans Nambia Expedition was a small team of photographers and filmmakers. Their work would bring the expedition to the world to achieve the runners' goal of immersing viewers around the globe in one of the Earth's most remote and unique environments.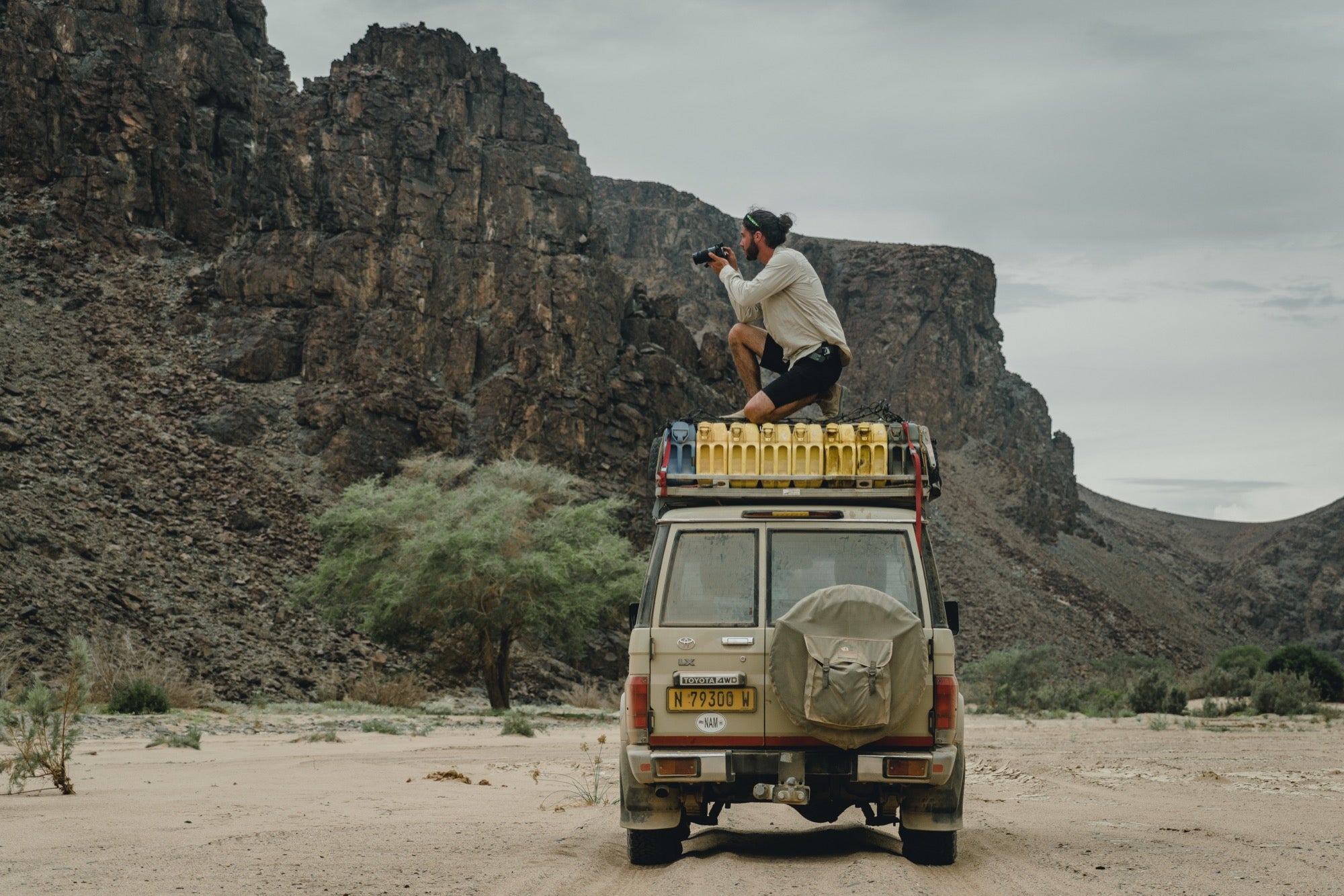 Ryan Richardson photographing the Trans Namibia Expedition. Photo by Jon Golden.
Canadian outdoor photographer and filmmaker Ryan Richardson was part of the team capturing the visuals of the Trans Namibia Expedition. The self-taught visual artist was tapped to shoot both stills and video for the event. Photos and videos would be uploaded to the web and social platforms daily as the runners progressed through the Namib. Like Zahab and Gregoretti, Richardson had minimal support and he had to pack extremely lightly. His gear had to be efficient and just about everything in his bag had to be able to multi-task.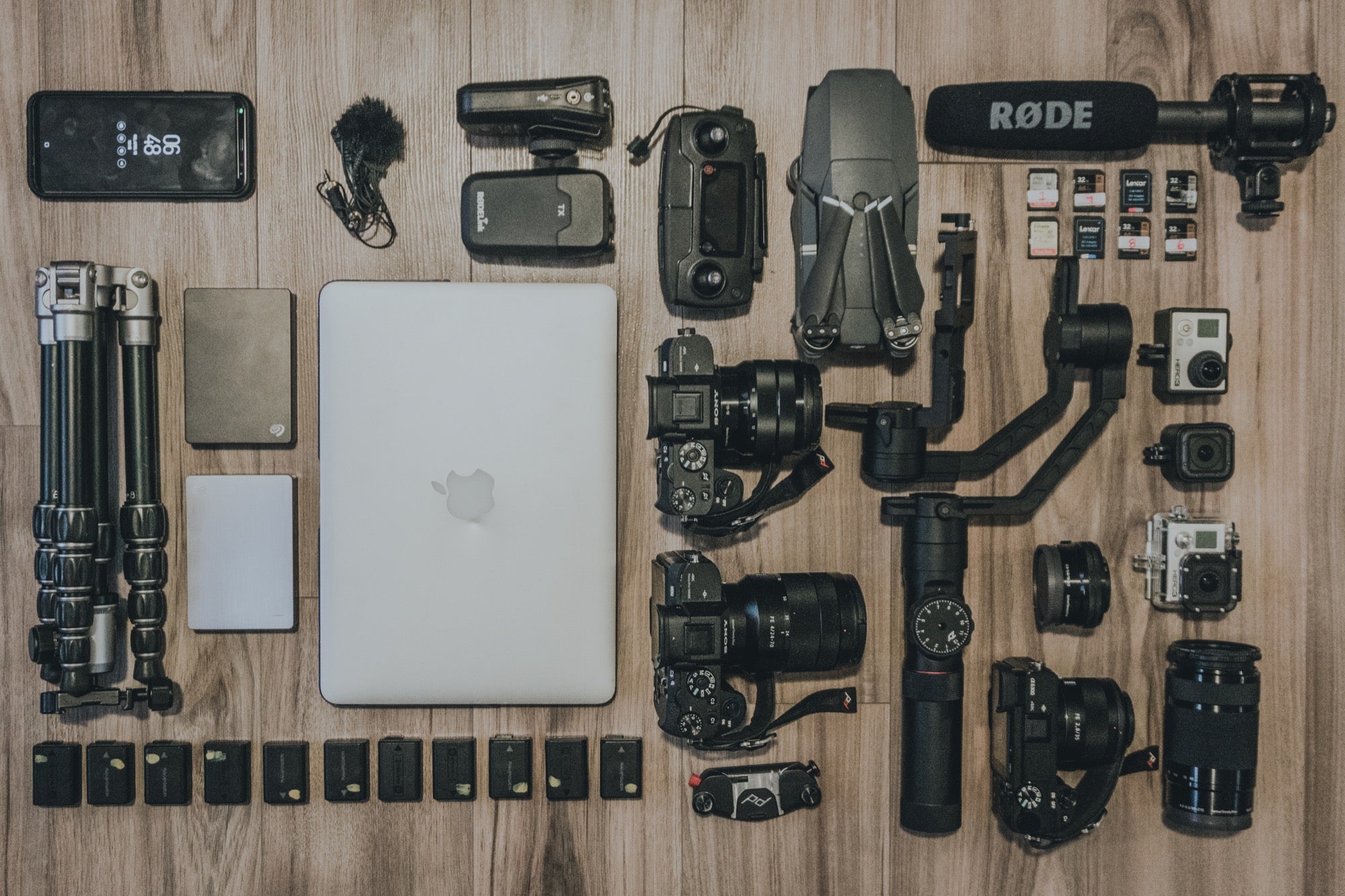 Alpha Universe had a chance to sit down with Richardson and talk through the gear he brought on the remarkable trek.
Cameras
Sony α7R II: I had a pair of α7R II bodies as my main cameras. I used both for stills and video. The 42 megapixel resolution gives me the ability to make huge prints and they also work well for various print publications. I kept lenses on them pretty much the whole time – the 10-18mm f/4 and the 24-70mm f/4. The sand in the Namib is very fine and gritty and it just cakes on everything so changing lenses was something I didn't want to be doing at all.
Sony α6300: I also had two α6300 bodies with me and like the α7R II bodies I kept lenses on the α6300's all the time. On one of them, the crop sensor gave me a little extra reach with the 55-210mm mounted and on the other I kept a 35mm f/2.8. I used both α6300's for stills and video as well.
Having four cameras that could all shoot SLog made doing the video edits really easy. I didn't have the time to do a lot of specific color correction, so I would shoot in SLog then throw an adjustment layer on top of the footage in Premiere and correct everything at once. Even when I was shooting with two different camera models, it worked out seamlessly. That was kind of a huge deal because I just didn't have a lot of time to do the daily edits.
Lenses
Sony E 10-18mm f/4 OSS: The 10-18mm is technically not for full-frame cameras, but I used it on one of my α7R II's in full-frame mode. I got that idea from following Chris Burkard. I saw on an Instagram shot that he posted shooting out of a helicopter that he was using the 10-18mm on a full-frame camera and I decided to give that a try. Even though it's not really a full-frame lens, I didn't have any problems with the stills I shot with it. In a few shots I could see some vignetting, but with 42 megapixels, that was easy to crop out.
Sony FE 24-70mm f/4 OSS: I kept this lens on one of my α7R II's the entire time. It's lighter and smaller than the 24-70mm f/2.8 which also made it easy to use on my gimbal. Everything was so run and gun and having the smaller lens was totally worth it.
Sony FE 35mm f/2.8: I kept the 35mm on one of my α6300's. With the crop sensor it's like shooting with a normal 50mm. I used it for portrait shots and I did a lot of low-light with it. Even though it was on the α6300 with the smaller sensor and it's an f/2.8, I could bump the ISO a stop and it worked out fine.
Sony E 55-210mm f/4.5-6.3 OSS: Like the 16-50mm kit lenses I brought, this one is small, light and it works well. On the α6300 it gave me around 300mm.
Sony E-PZ 16-50mm f/3.5-5.6 OSS: It's just the kit lens, but it's small and light and it was good for keeping my gear compact. On the α6300 it gives me about the same perspective as the 24-70mm on my α7R II. I knew I would be using that range a lot and this gave me redundancy.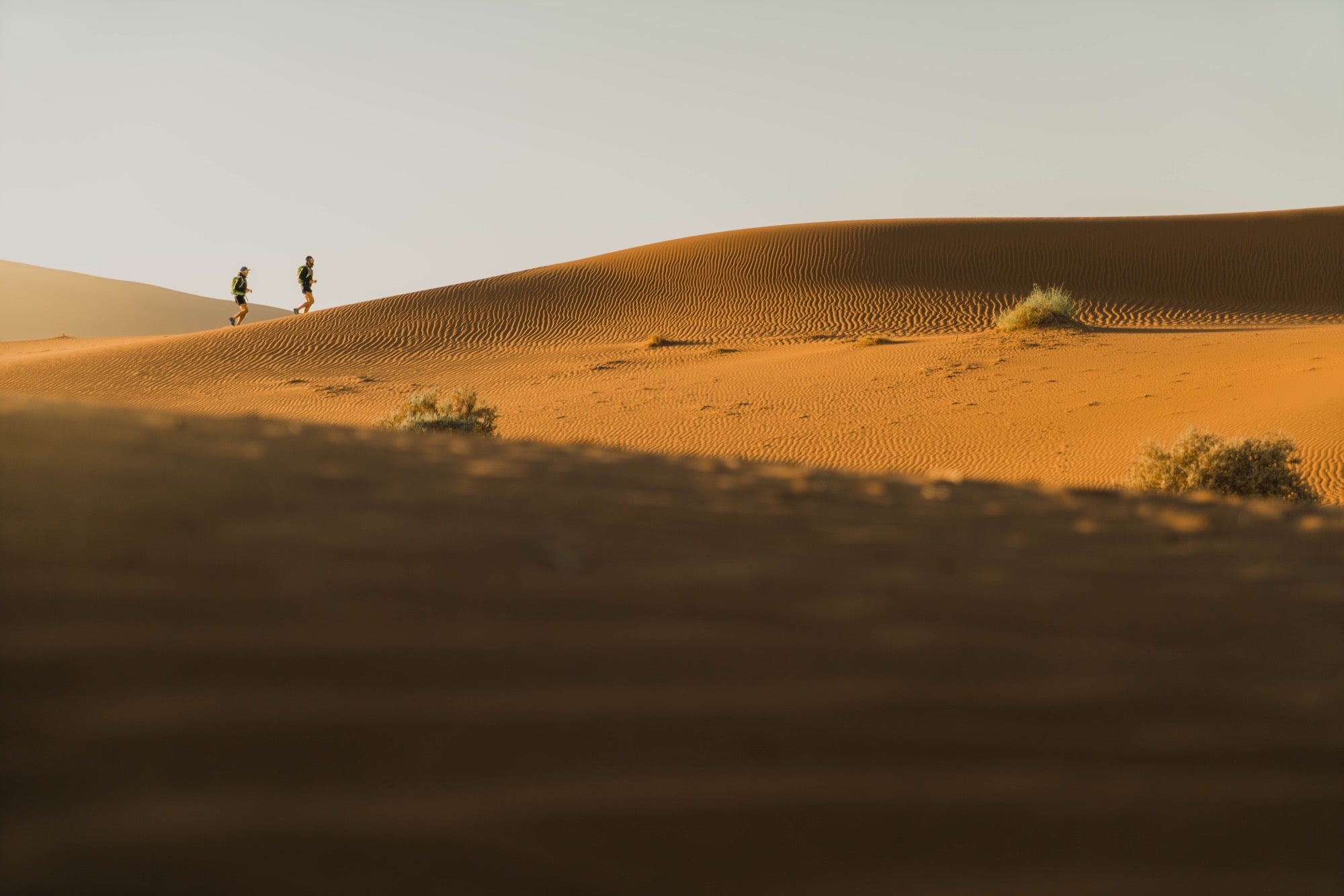 Other gear
DJI Mavic Pro: Even though just one is in the photo, I brought two of these drones. I didn't have the room to bring Pantoms, but the Mavic Pro did fine for video.
Zhiyun Crane V2: Having a gimbal was a necessity for a lot of the video footage. This one works well with the α7R II, α6300 and the lenses I brought. I can get a camera onto it and pretty well balanced in just a few seconds which was a requirement for the run and gun shooting in Namibia. It was well worth its weight on the expedition.
RODELink Filmmaker Kit and Shotgun mic: I used the mics to record directly to the camera. Between the lav kit and shotgun I could get pretty creative with the audio. They're both really versatile. I'm not a really technical audio guy so keeping things simple worked out well.
Mefoto BackPacker tripod: It does the job.
Seagate hard drives: I had two, four-terabyte drives which I used every day to keep all of the images and footage organized. Staying organized was extremely important because I would have maybe nine or 10 memory cards that had been used during the day and it would have been very easy for images and footage to get lost.

15-in Macbook Pro: We were uploading photos and videos constantly, so I was editing with Premiere and Lightroom on the laptop all the time. I don't use Photoshop much at all, preferring to do everything in Lightroom.
Batteries: I had plenty of batteries and kept them charged up as much as possible.
Peak Design Capture Pad and Straps: I was frequently bouncing from one camera to another and I could just clip off with the Peak Design Capture Pad.
GoPros: During the expedition, I'd have the runners attach the GoPros to themselves and at the end of the day I'd see what we got. Near the end of the journey, they couldn't carry the bigger Hero 3 camera because even just a that extra weight was too much. It's hard to really comprehend the tremendous strain their bodies were under.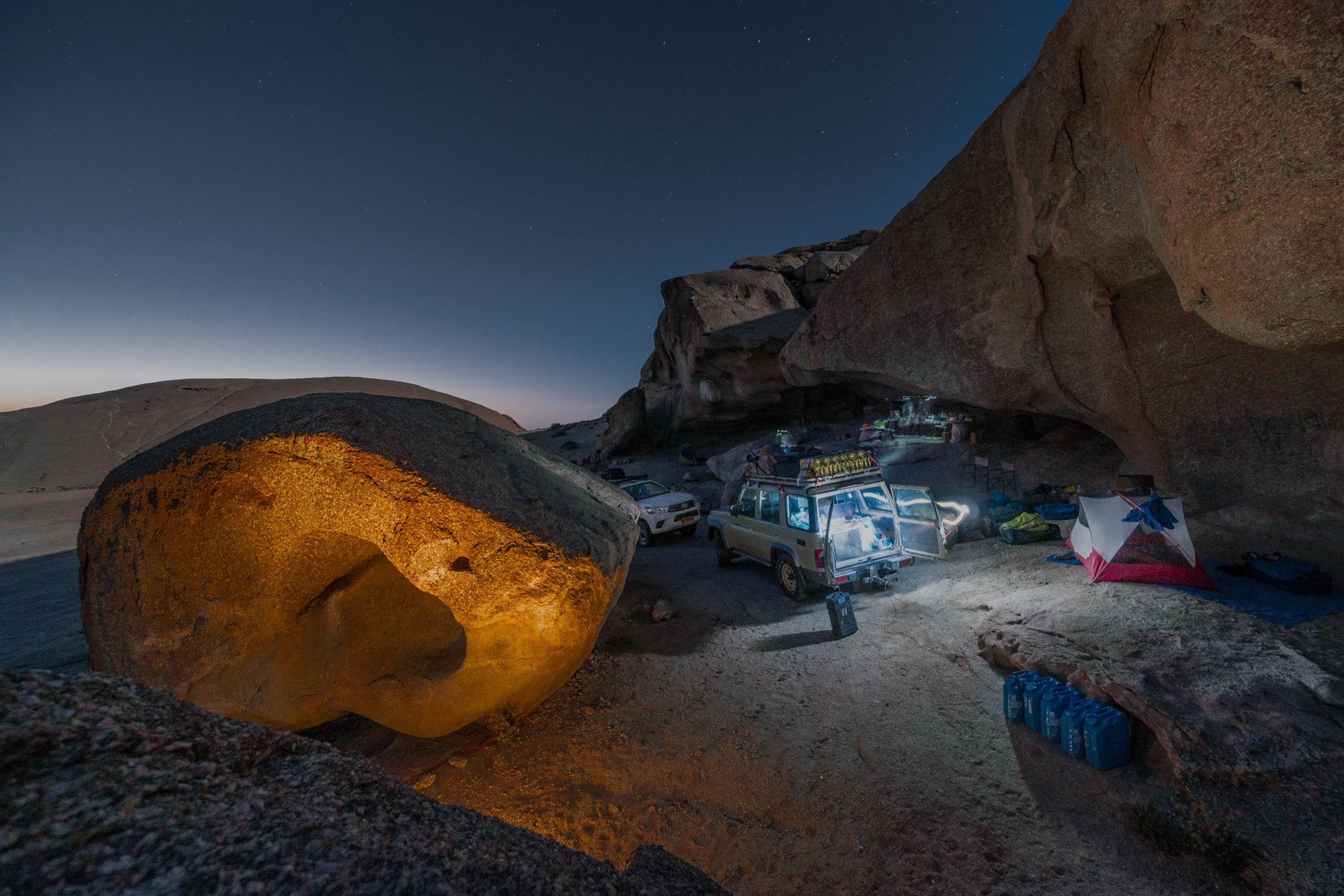 See more about the Trans Namibia Expedition here.
For more about Ryan Richardson, check out his website.