I did a solo video and stills shoot this past summer that explored the topic of Healing for CaringBridge, an amazing non-profit. I had to travel around the country and interview and photograph people who had found ways to heal in the face of great adversity. This required a lot of interviews, dealing with sound and shooting stills. This is the kit I brought along with me. It was light and versatile. You can see all of the stills and video I shot with it at davidmclain.com.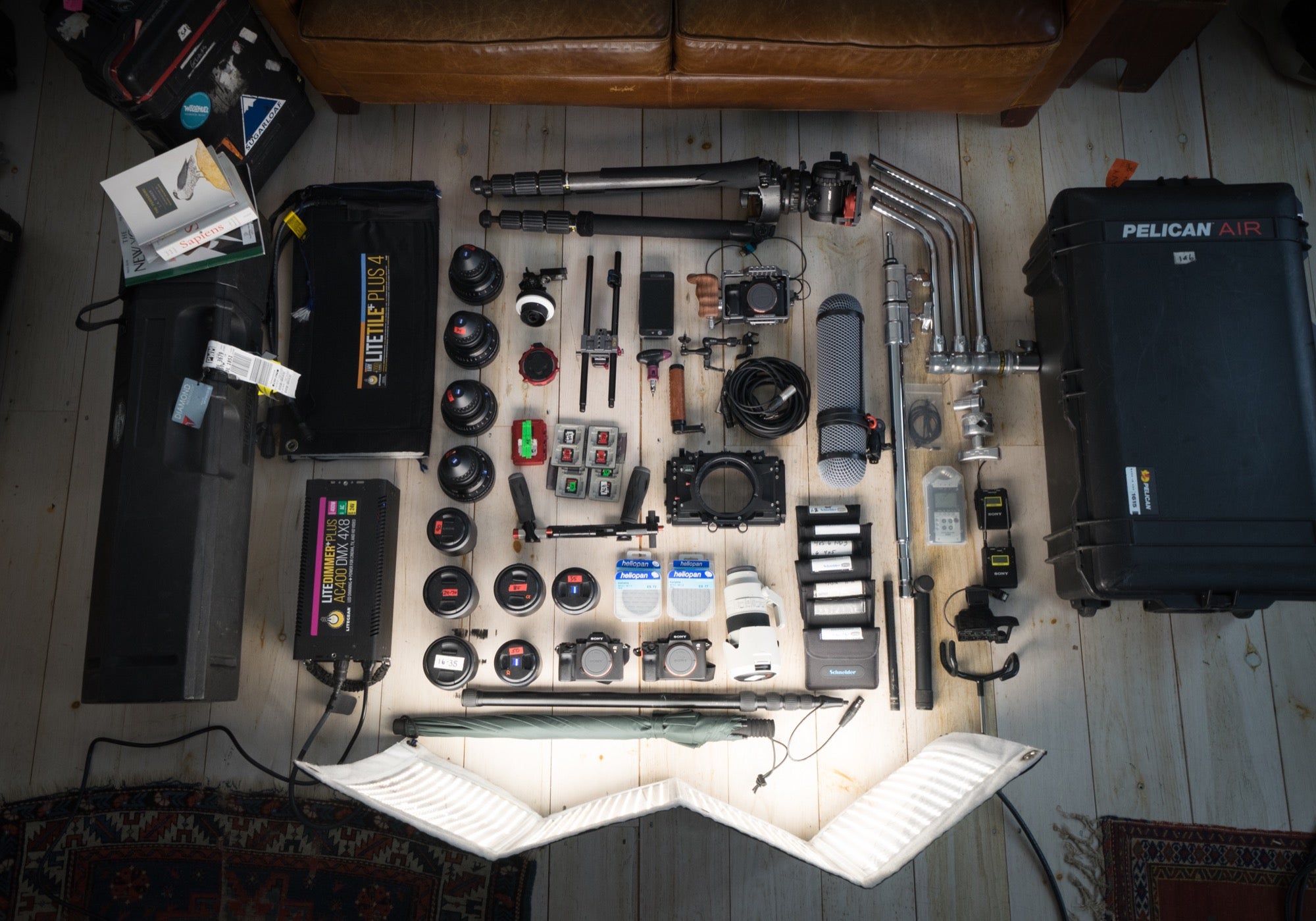 Cameras

Sony α9: The α9 is a joy to use. I really like the new ergonomics of the camera and having manual top dials to control shutter speed and focus mode. The autofocus is just plain nuts. It's without a doubt the best autofocus camera I have ever used, especially with the newest lenses.


Sony α7S II: I did all of the interviews on the α7S II. It was permanently in the cage and set up to shoot video which was all shot in S-log3. It's really nice to have dedicated still and video bodies on a shoot like this.
Sony α7 II: For this shoot the α7R II was my backup camera.

Lenses

Sony Planar T* FE 50mm f/1.4, Sony FE 85mm f/1.4 G Master and Sony FE 35mm f/1.4:

The 50mm is my favorite E-mount lens of all time. I can't get enough of it. I use the 35mm and 85mm all the time and they are my go-to lenses along with the 50mm. Fixed focal length lenses make you compose better images. These lenses are just a joy to work with. The build quality is solid. They have manual aperture control which makes you wonder why they ever got rid of it in the first place. For AF lenses, they're relatively easy to focus manually, which I do all the time.
Sony FE 16-35mm f/2.8 G Master: I primarily rely on zooms when I can't move (in a helicopter, on a cliff etc.) The 16-35mm is a really versatile wide-angle zoom.

Sony FE 24-70mm f/2.8 G Master: As I stated earlier, I primarily rely on zooms when I can't move. That said, this zoom is so nice it makes me break my own rules sometimes and I find myself using it even when I have full range of motion. It's sharp, quick to snap into focus, and incredibly versatile.

Sony FE 100-400mm f/4.5-5.6 G Master: This is my go-to long lens now. Paired with the α9 it has autofocus that's so good it almost feels like you're cheating.

Sony FE 90mm f/ 2.8 Macro G: With the way that I shoot I only use this lens occasionally, but when I do there is no substitute for it. It never ceases to amaze me how different the world looks through a macro.


Zeiss CP.2 50mm f/2.1: CP.2's are great entry level cine lenses that are designed to be focused manually. It may come as a surprise to still photographers but many cinematographers focus manually. 

Zeiss CP.2 21mm f/2.1: This is my go-to wide CP.2. There is something about this focal length I love, especially on a Steadicam.

Zeiss CP.2 35mm f/2.1: I guess if I was forced to only have one CP.2 this would be it. The 35mm focal length is timeless for a reason.
Accessories:

Sony XLR-K1M Adapter: The XLR adapter allows you to send two mics directly to the camera via XLR cable.

Sony UWP-D11 wireless lavs: I shot all the interviews with wireless lavs on the subject and backed it up with a shotgun. Both mics fed the α7S II directly via the dual XLS adaptor.
Sony SD cards labeled with roll number: When I shoot video, each card gets a camera letter (A,B, or C) and a roll number (1,2,3). This makes it much easier to organize and track footage.
Tilta ES-T17-A handheld cage for α7S II with rosewood side handle: Best build quality for the price I've been able to find. Honestly, I don't understand how these are so inexpensive.
16x9 PL to E mount to convert the CP-2s (PL mounts) to the α7S II (E mount): They make E-mounts for the CP-2s now but I have not gotten around to buying them yet. Rails and base plate are to hold the follow focus and matte box.
Rode NTG-3-B shotgun mic: This mic hits the sound quality/price sweet spot for me, especially while doing interviews. It has a really warm sound to it.

Boom for microphone: It's a simple yet essential piece of gear to position the mic close to a subject while keeping it out of frame.

Portable C-stand with turtle base and knuckle: For holding boom mic for interview.

Two 4x2 LED Lite Tiles: You can see one folded in the upper left of the frame, one standing up in the front of the frame lighting the shot, and the dimmer in the lower left of the frame. They are super easy to travel with and set up and you can control the color temperature and intensity.

Euroschirm Hands-free umbrella: I always travel with it. It's the best way to keep a camera dry while shooting in the rain. It comes with a chest mounted clip so you can use it hands free. It's German and it just works.

Black Diamond screwdriver: This thing is great. The top unscrews and holds a variety of bits to assemble the cage. Knuckle with rail mount to hold the monitor.

Sachtler DV 10 SB head on a Miller carbon fiber tripod: Sachtler heads are really expensive but like most German-made things, you only buy them once and they are built to perform and last.

Zoom Handy Recorder H4n: I never needed the H4n because the XLR adaptor allowed me to go direct to the α7S II, but I had it with me as a backup.

Arri MmB-2 LWS Matte Box: You can stack 4x4ND and 4x5ND filter with this Matte Box which will allow you to shoot wide open in bright daylight and maintain amazing image quality in a way that is impossible with variable ND.

Shape handles with offset: These are cheap but I really like them. These handles have quick release buttons that allow you to quickly put the handles horizontal when you want to shoot low or on the ground.

Rycote Super-Blimp NTG for shotgun mics: It's kind of amazing how well it works in the wind.

Arri MFF-1 Follow Focus: I love this follow focus. It's more expensive than a lot of the DSLR ones but so worth it.

72mm+77mm Variable Neutral Density Lens Filter: Good in a pinch when you only need to lose a few stops or want to travel really light, but more and more I find myself relying on a proper matte box.

Small HD 502 monitor: This is a great little monitor I bring with me everywhere. It will de-squeeze anamorphic which I shoot sometimes and you can also load various LUT's which come in handy.