Documentary wedding photographer David Stubbs is based in Manchester in the UK. With his distinctive style, he gets called upon to shoot weddings throughout the UK and overseas. David's documentary approach makes high demands on his gear. He explains, "I don't stop or pose anyone at a wedding. I ask that everyone just forgets I am there and just enjoy themselves. I shoot close to the action and need a camera system that is fast focusing, lightweight and allows me to take photos generally unnoticed." With those requirements, at the heart of his kit are a pair of Sony α9 bodies, 3 primes and a zoom lens.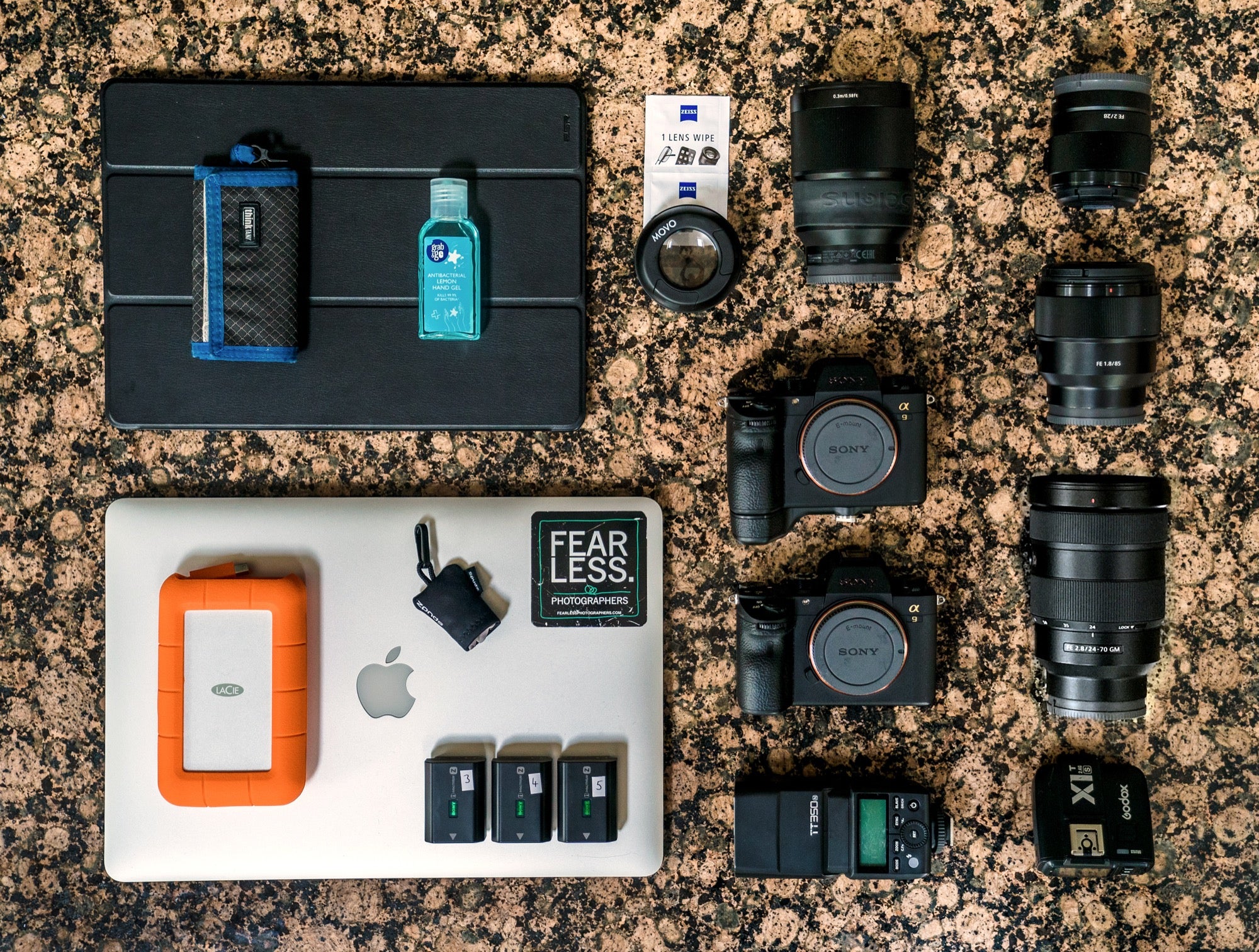 Bodies
Sony α9: I use a pair of Sony α9 bodies. I have declared this the best camera on the market for wedding photography. You can see my full review on my website.
Lenses
24-70mm f/2.8 G Master: 

This is my go-to lens for most of the day. After shooting only with primes for several years I have learned to think as if I always have a prime and move my feet accordingly. I use this lens mostly in the 24-35mm region. I try to make my photographs complex with multiple subjects in them and this lens works well for me at f/2.8 and f/4 in particular.

Sony 85mm f/1.8: Initially I bought both the Sony 85mm f/1.4 GM and the 85mm f/1.8 lenses. Reviews I have watched and read suggested the f/1.8 version was nearly as good as it's bigger brother. I found those reviews were correct after I tested the lenses side by side. I'm sure a pixel peeper will find some differences, but with its overall performance and image quality and because I'm looking for smaller and lighter gear, the Sony 85mm f/1.8 is perfect. I don't regret my decision. I use this lens to create a variation on my typical wide story-telling photo. It's great for the ceremony when I can't get very close, and it's good for the speeches too.

Sony 35mm f/1.4: Most of the time, I have the 24-70mm f/2.8 G Master attached to my first body, and the 85mm f/1.8 to my second body. However, there are some instances when I would like to shoot with a wider aperture. In the UK venues can be very dark and as I generally don't use flash other than on the dancefloor, this can mean pushing to ISO 12,800 with the 24-70mm. That's not a huge deal, but to be able to shoot f/1.4 and bring my ISO down to ISO 3,200 can be very helpful sometimes. There are occasions when I want a particularly shallow depth of field with a wider lens. This Sony 35mm f/1.4 fits that slot. This lens is also a back-up for the 24-70mm. If I were to drop and damage that lens, I could quite easily photograph a wedding with the 35mm f/1.4 and 85mm f/1.8 combo.

Sony 28mm f/2: This is such a small and light lens. I use it for photos on the dancefloor. Before moving to Sony, I used 24mm exclusively to photograph the dancing action. When I switched and started using the 24-70, I found it a little too big and for how I shoot on the dancefloor. This Sony 28mm f/2 is perfect for me now. Attached to my second body, it creates a lightweight set-up for dance photos.
Other Gear
Grip extension: Not to be confused with the battery grip. Because I use a heavy 24-70mm for most of the day, I find the grip extension valuable in gripping the cameras securely. This is not essential for any of my other smaller and lighter lenses. That's why I only have it on one camera body.

Spare batteries

: Typically I will need 4 batteries for a wedding. The batteries get swapped around meal time in each camera. I have a 5th battery just in case I have a battery fail.

Godox TT350N & X1TS: This is a flash setup I used before moving to Sony. Generally, I will not use any flash at a wedding until the dancing starts. My dancefloor technique is to hold this flash in my left hand with my left arm extended out with the flash pointing in at the subject (set on low power only). I have the 28mm lens in manual focus mode, set at exactly 1 meter, f/10 or f/11 so everything from around 50cm to 2m is in focus. The camera set at ISO 2,000 and 1/13-sec. (adjusted according to the ambient light). Without the need to focus, I will shoot dancers all day long like this whilst popping a bit of light directly at them. The flash works well for this purpose. I use it only on low power, and the flash is lightweight with only 2 x AA batteries.
MacBook Pro: This is my workhorse computer. At the wedding I use it to download and back-up all the files before I leave. I use Photo Mechanic to ingest the cards and back up directly to my external hard drive.
iPad Pro: I take my iPad Pro and do some editing during the meal. I can actually edit a recent wedding whilst the current wedding is downloading to my hard drive on my laptop. This is hugely time efficient.
Lacie 4TB Thunderbolt External hard drive: Everything gets backed up to this drive. I also use this drive for culling the files down (Typically 8,000-10,000 frames edited down to 400-550 final photos). Only after the cards have been backed up to this drive, and to a second backup on my NAS RAID at home (so the files are in three places) will I then format the memory cards.

ThinkTank Pixel Pocket Rocket: Memory card storage plain and simple.
Spudz Lens cloth: For cleaning lenses on the go when they get dirt, fingerprints or rain on them.

Zeiss Lens Wipes: To clean the lenses when they get particularly dirty, before drying off with the Spudz.
Movo sensor loupe: This is a great tool for checking that my sensors are perfectly clean. I've started cleaning the sensors myself (Sony recommends that sensors should be professionally cleaned) every two or three weddings and the sensor loupe helps with this.

Hand sanitizer gel: To keep my hands germ free as possible after rolling around in the mud getting the shots I need.

See more of David Stubbs work at his website.