My name is Michael Schaake (@michael_schaake_photography) and I'm a landscape and nature photographer from Germany. For me photography is always about being outdoors, hiking and enjoying nature. My passion for photography started very early at the age of 13. The first camera I used was my father's analog Praktica SLR and as my love for photography grew I moved to the Sony Alpha mirrorless system and I now use full-frame α7 and α9 cameras and a combination of Sony zoom and prime lenses.
People often ask me what drives me to go out to photograph, even under harsh conditions. When I try to answer this question, I'll be quick to rave: Endless landscapes, no noise other than the wind, fast changing weather conditions, nobody else but me and the sheer beauty of the unspoiled nature is what makes me go out again and again.
Here is the Sony Alpha gear I bring with me to capture the beautiful nature I'm lucky enough to encounter.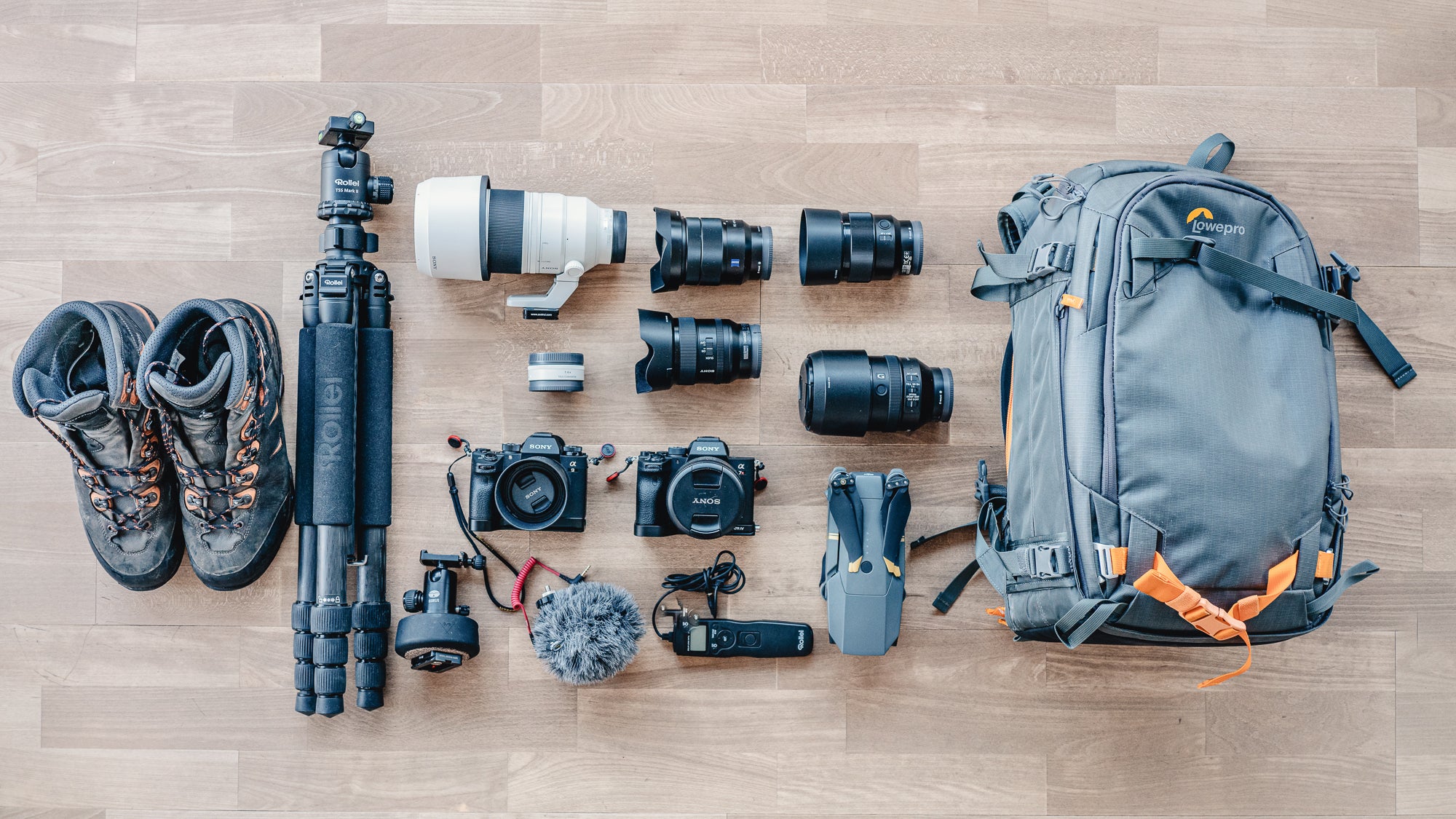 "This lens is just a gem. Lightweight, great range and very sharp. I really love this lens!" -Michael Schaake
Lenses
Sony 24mm f/1.4 G Master: This is a fantastic wide angle lens. Sharp and wide open it can be used for so many things like landscapes and the Northern Lights.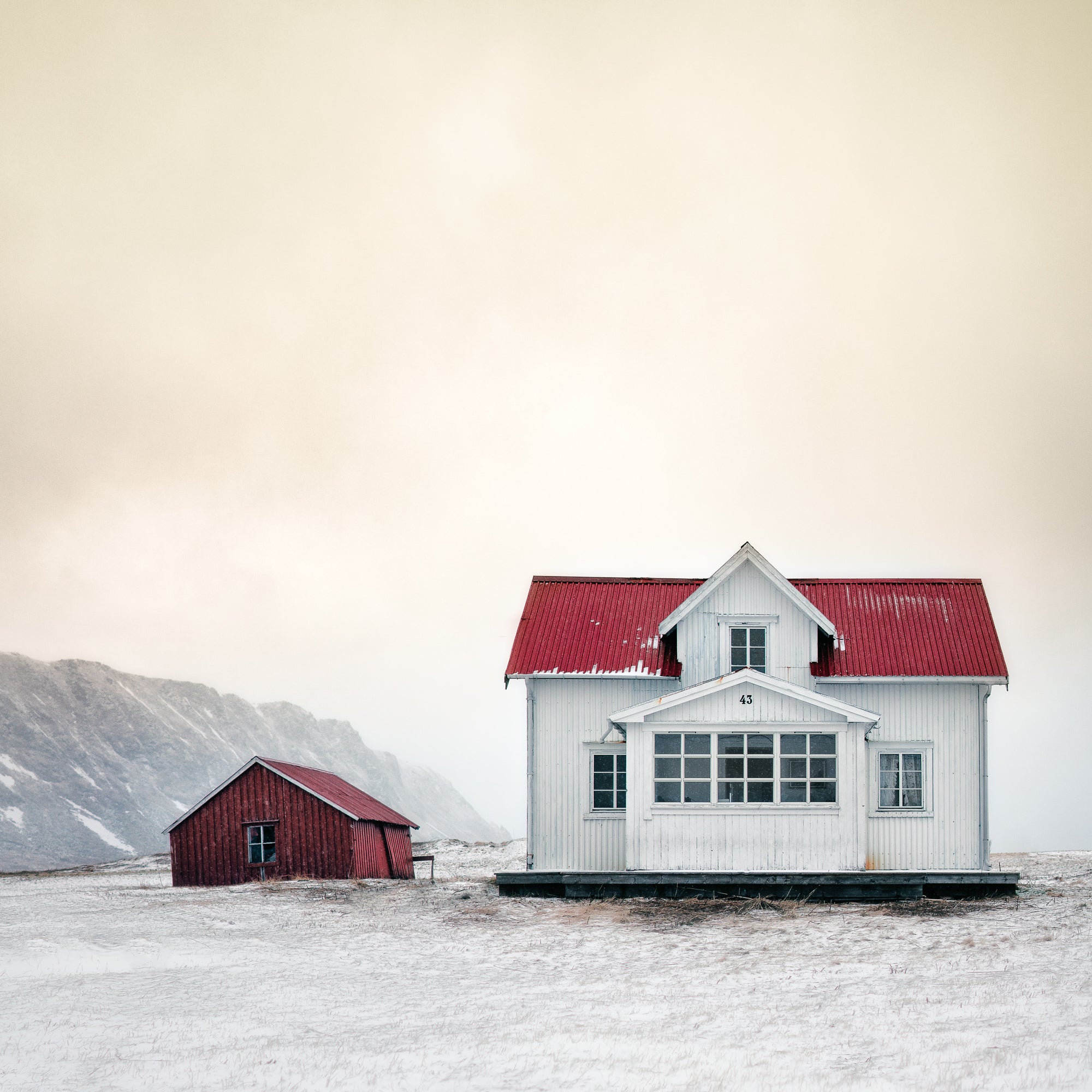 Sony α7R III. Sony 24mm f/1.4 G Master. 1/2500-sec., f/1.4, ISO 100. One of the typical houses on the Lofoten Islands. It was very stormy and with f/1.4 at ISO 100 I could still photograph with 1/2500-sec to minimize shake in this strong wind.
Sony 70-300mm f/4.5-5.6 G: A small and lightweight telephoto lens that I often take with me when hiking where the 100-400mm G Master lens is too big and heavy.
Sony α7R III. Sony 70-300mm f/4.5-5.6 G. 1/400-sec., f/5.6, ISO 100. Hiking in the Eifel, Germany I had this wonderful encounter of two stags watching each other and then turning their heads to my direction. Good to have a lighter tele zoom lens always with me for moments like this!
Sony 85mm f/1.8: While I don't necessarily use this much for nature, it's a perfect lens for portraits and people. I use it at weddings to have a good background separation.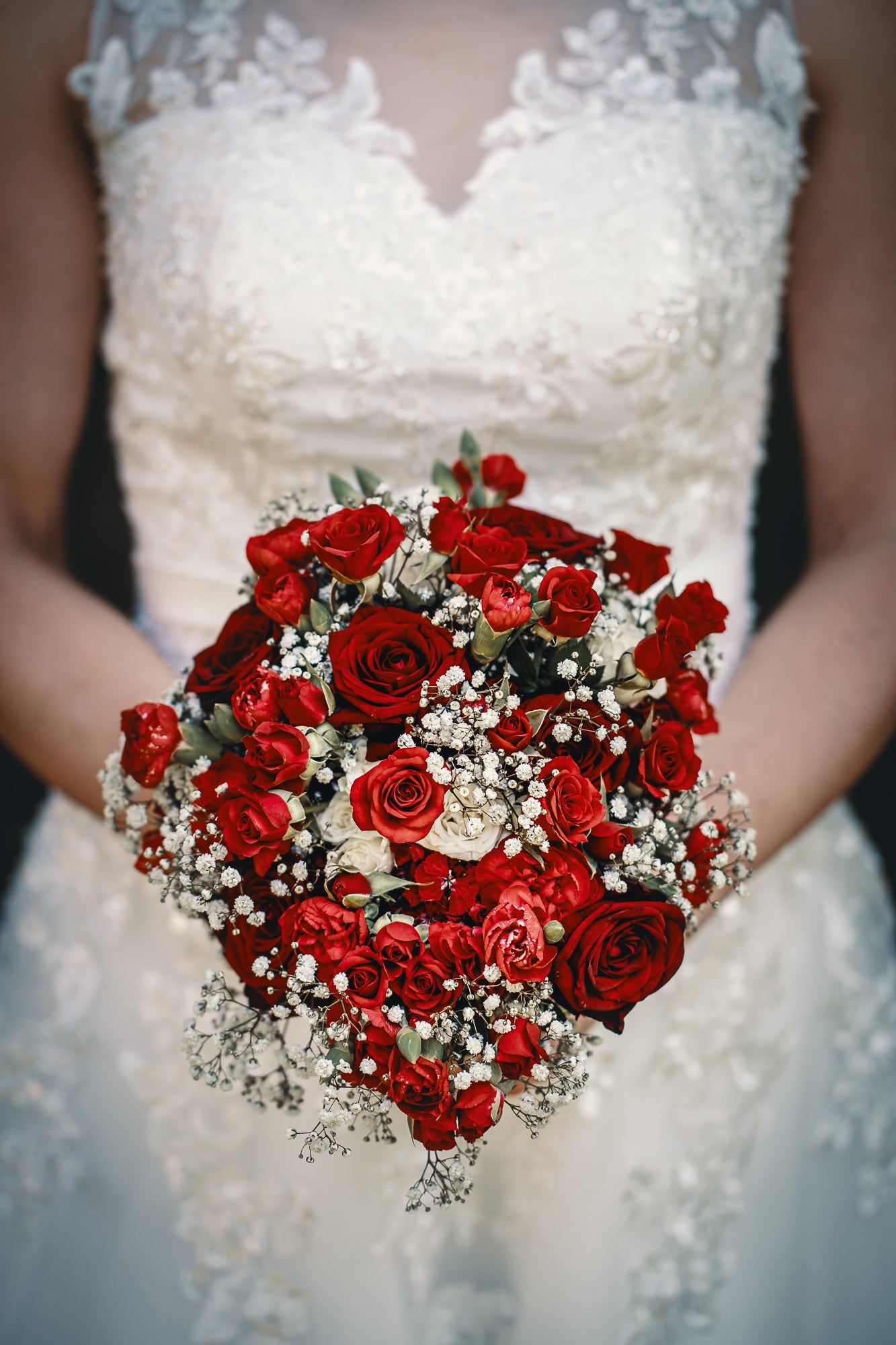 Sony α9. Sony 85mm f/1.8. 1/640-sec., f/2.8, ISO 100. Bride holding the flowers with some background separation, just enough to blur the background but still get the context of the shot.
Sony 100-400mm f/4.5-5.6 G Master: My actual lens used for wildlife photography. I really love the sharpness and size of the 100-400 GM lens. Even with the 1.4X tele-converter the results are stunning.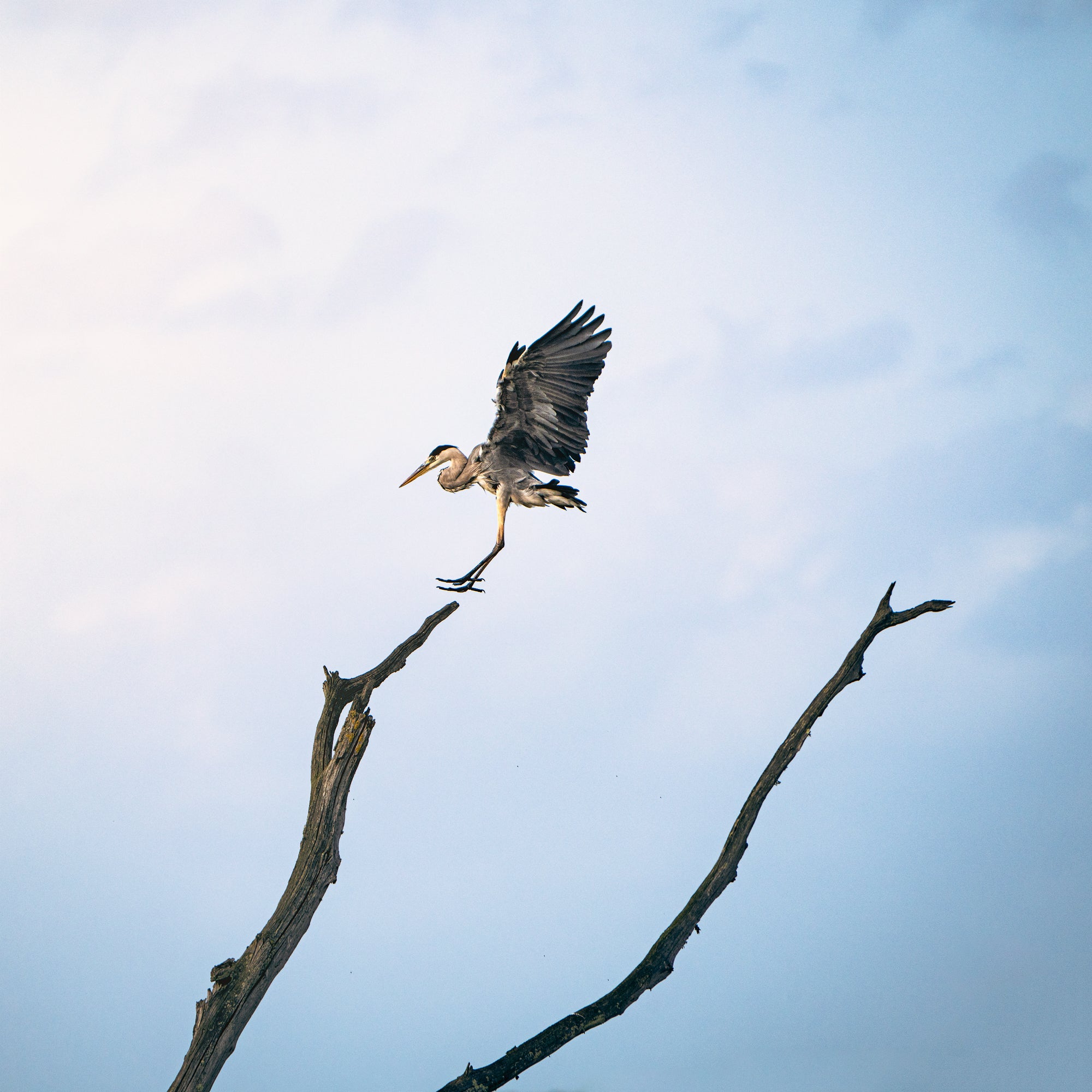 Sony α7R IV. Sony 100-400mm f/4.5-5.6 G Master. 1/1000-sec., f/10, ISO 250. Heron landing on a dead tree. Due to the great AF performance of the α7R IV - 100-400mm GM and 1.4 TC combination I was able to capture this moment easily.
Sony 24-105mm f/4 G: My most used lens on my hikes and adventures. This lens is just a gem. Lightweight, great range and very sharp. I really love this lens!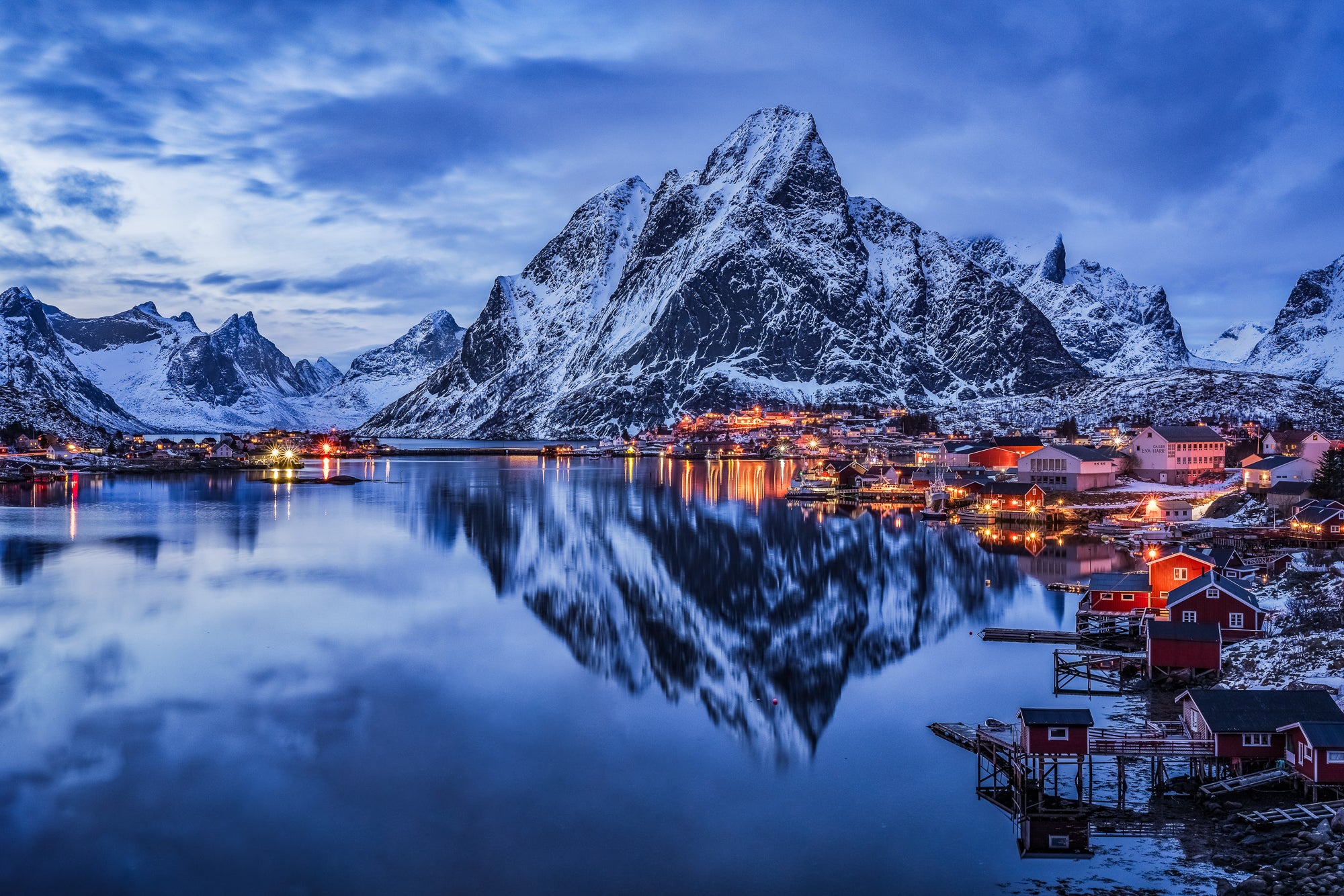 Sony α7R III. Sony 24-105mm f/4 G. 8-sec., f/10, ISO 200. Reine, Lofoten in Norway at the blue hour. This little village is so cute and the blue hour really means blue light here up in the north. Shot from a tripod with 8 seconds at f/10 to get these little stars around the lights.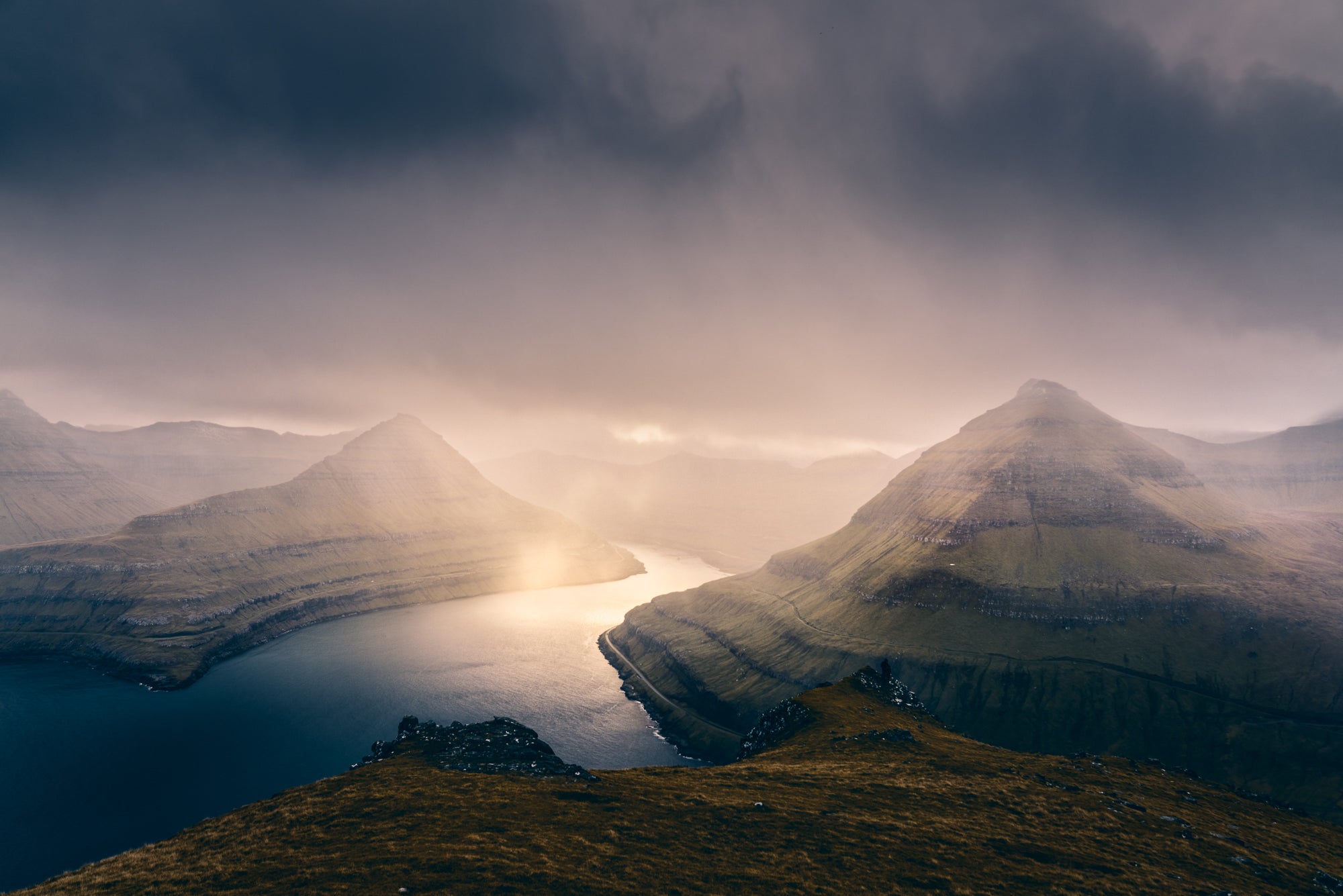 Sony α7R IV. Sony 24-105mm f/4 G. 1/5000-sec., f/44, ISO 100. With the very fast changing weather conditions on the Faroe Islands it is good to have the image stabilisation not only in the camera body but also in the lens. So this photo is taken while hiking in reaction to the fantastic light.
Sony 16-35mm f/4: Hiking a lot I also choose my lenses because of weight. But the 16-35mm f/4 is not only lightweight but also a very good lens which is very sharp.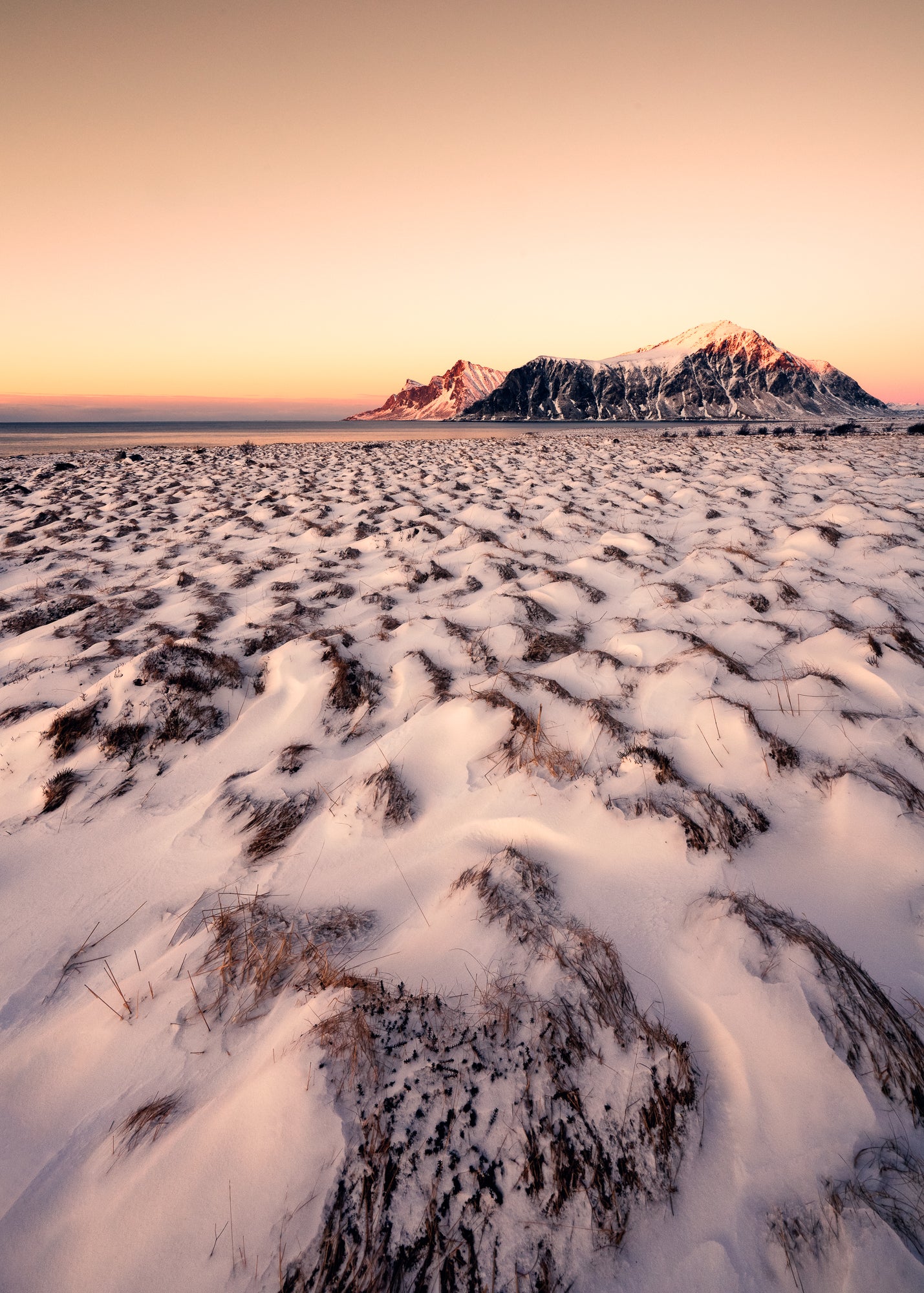 Sony α7R III. Sony 16-35mm f/4 G. 1/30-sec., f/16, ISO 500. Near Ramberg in Lofoten, Norway – the new snow was still untouched and the wind was just strong enough to show the grass under the snow. Shot from a tripod in a low position. The next day snow covered everything and this view was gone.
Cameras
Sony α7R III: This has been my main body for landscape photography. I shoot with it 80% of the time. This camera has so much dynamic range and resolution, it makes it a perfect fit for my work. On top of that it is small, has a reliable and very fast AF system and great battery life. This camera can handle nearly every situation.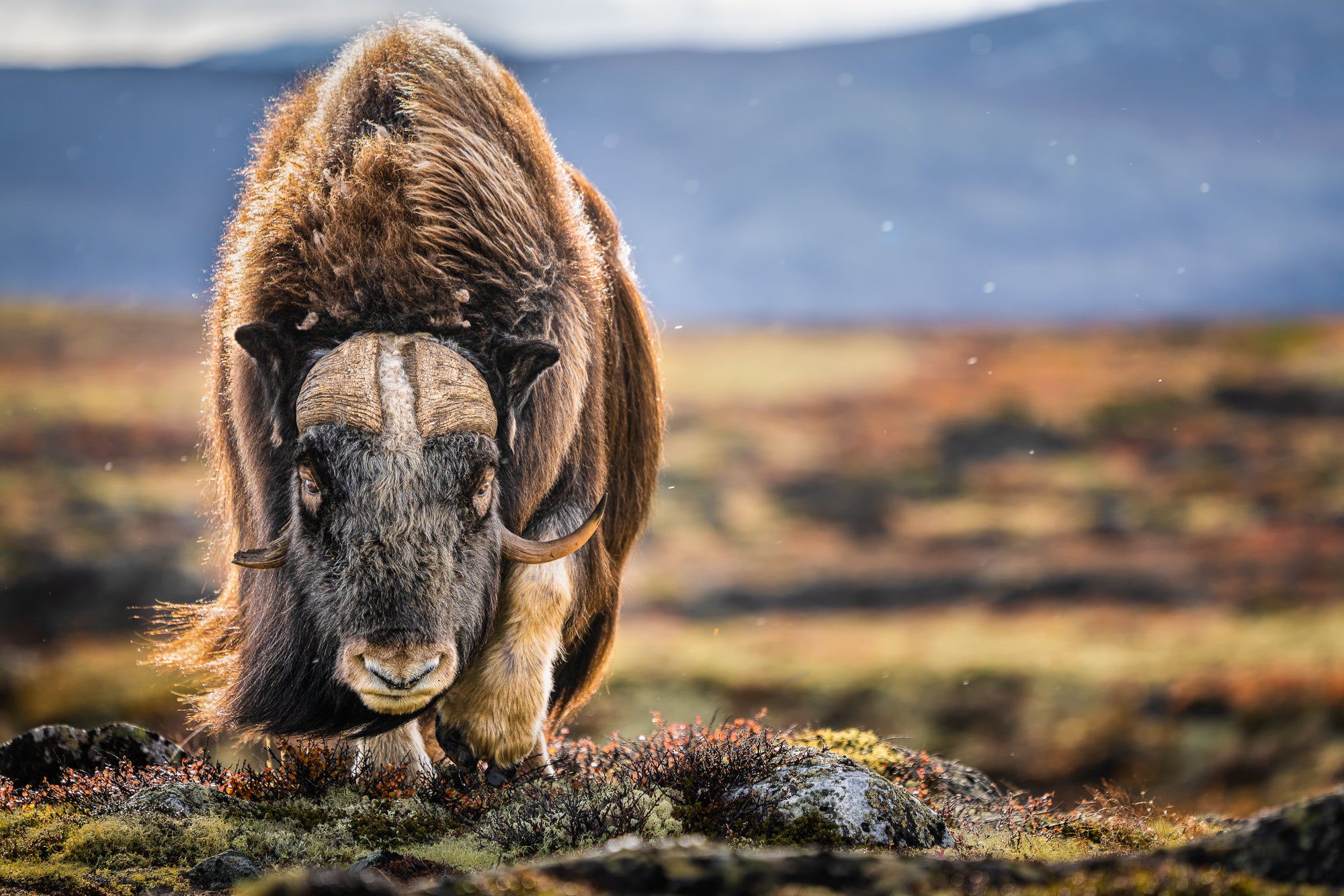 Sony α7R III. Sony 100-400mm f/4.5-5.6 G Master. 1/800-sec., f/5.6, ISO 160. This photo was taken in Rondane Nationalpark in Norway. I hiked for hours to find this musk oxen and finally was able to stay with him for two hours. He was very relaxed and suddenly turned into my direction to come very close. A reliable AF was very welcome to get this shot in the right moment, lifting up his left leg while coming towards me.
Sony α9: The speed demon. A tiny bit behind in dynamic range and resolution, this camera gives you the best AF System around on mirrorless cameras. Reliable tracking, up to 20 frames/sec. I often have this camera as a second body with me, with the Sony 100-400mm f/4.5-5.6 G Master lens attached in case there is some wildlife.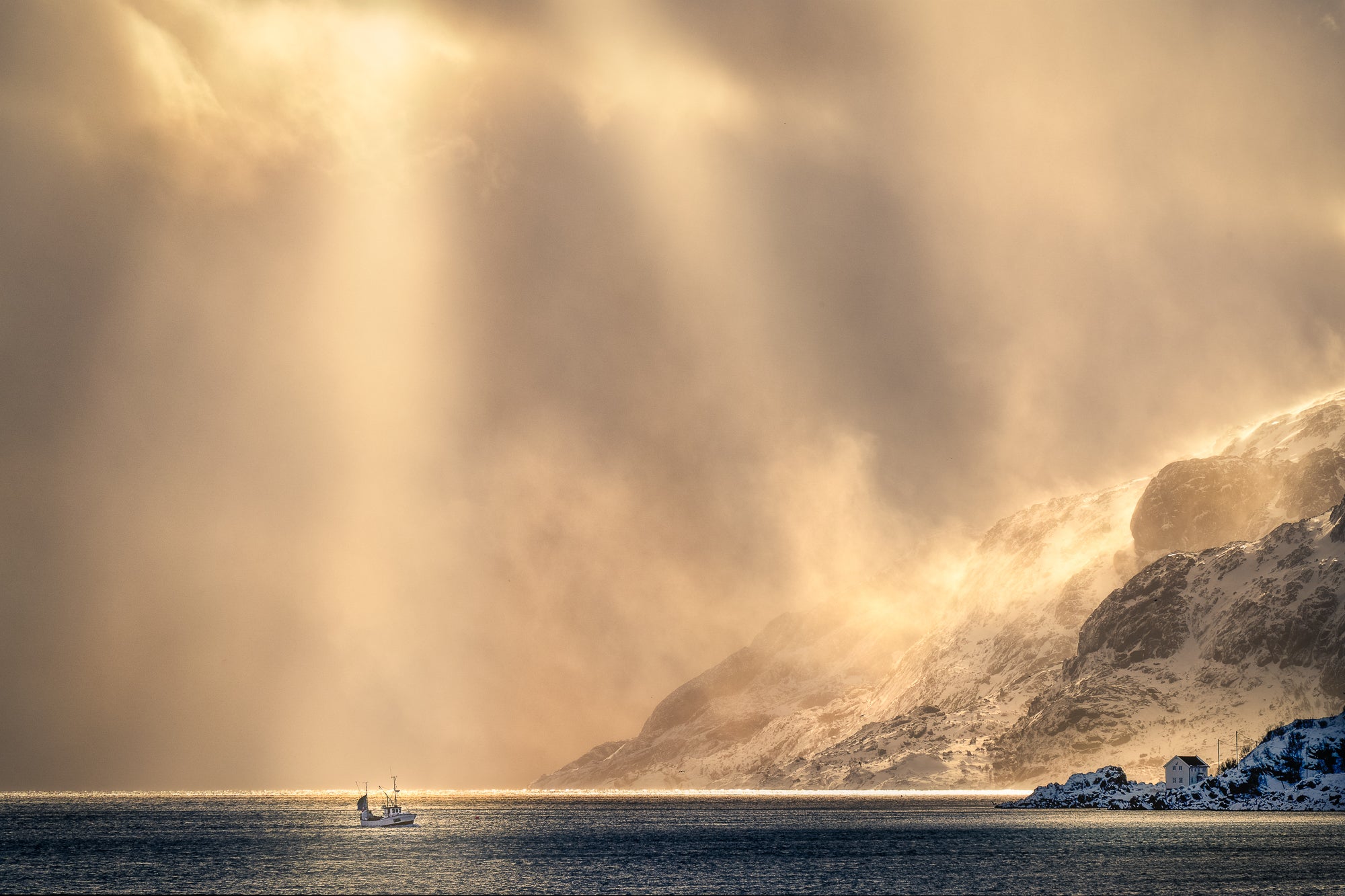 Sony α9. Sony 70-300mm f/4.5-5.6 G. 1/1250-sec., f/8, ISO 100. This scene from the Lofoten Islands in Norway was a fantastic view on the little fisherboat coming home from a long day out, the sun directly on the boat. I shot this one handheld and the α9 was quick enough to capture this unique moment that lasted only for one minute, after that the light was gone again.
Sony α7R IV: I just upgraded to the α7R IV and it will be my new main landscape camera.
Accessories
DJI Mavic Pro: Shooting photos and videos from above can be very interesting. Fantastic views are possible that couldn't be achieved otherwise.
Cable Release: For tripod long exposure work.
Rode Microphone: For better sound.
Syrp Genie Mini: For movement in timelapse photography.
LOWA Hiking Boots – Absolutely necessary.
See more of Mike Schaake's work at flipbook.schaake.de and on Instagram @@michael_schaake_photography.