On the wedding day, it's go time and I make sure to have everything I need for anticipated as well as unanticipated moments. I strike a balance between having a full bag of gear while still being mobile. The last thing you want is to be prepared for everything, but being too weighed down to get where you need to be. That's one of the reasons why I switched to mirrorless. I can carry primary, secondary and backup bodies and a full range of prime and zoom lenses in a bag that's considerably lighter and smaller than a similar DSLR kit.
Cameras:
Sony α9: The Sony α9 is the ideal wedding camera for me for so many reasons. I love the focusing speed of the 693-point AF System that will stay locked on and shoot 20 fps, even in RAW, when I need it. The 24-megapixel file is ideal for weddings, not too big and not too small. The silent shutter is key in situations such as during the ceremony or the quiet moments of a heartfelt toast where I don't want to be a distraction. The Sony α9 gives me all the advantages for capturing authentic moments with stunning image quality, that my clients demand.
Sony α7R III: As the newest version of the Sony α7R series, the α7R III, is a beautiful piece of technology. On the wedding day, I use this camera more for backup and some portrait work where I want maximum resolution. At 42 megapixels, the files are a little more than what I need for most of the day. If I were to use it to photograph the entire wedding day, I would have to own a lot of hard drives.
Sony α6500: I keep the α6500 in my bag as a backup camera as well as a second body. It's light and fast, plus with its 1.5 crop factor I can get a little more effective focal length from my lenses if I need to.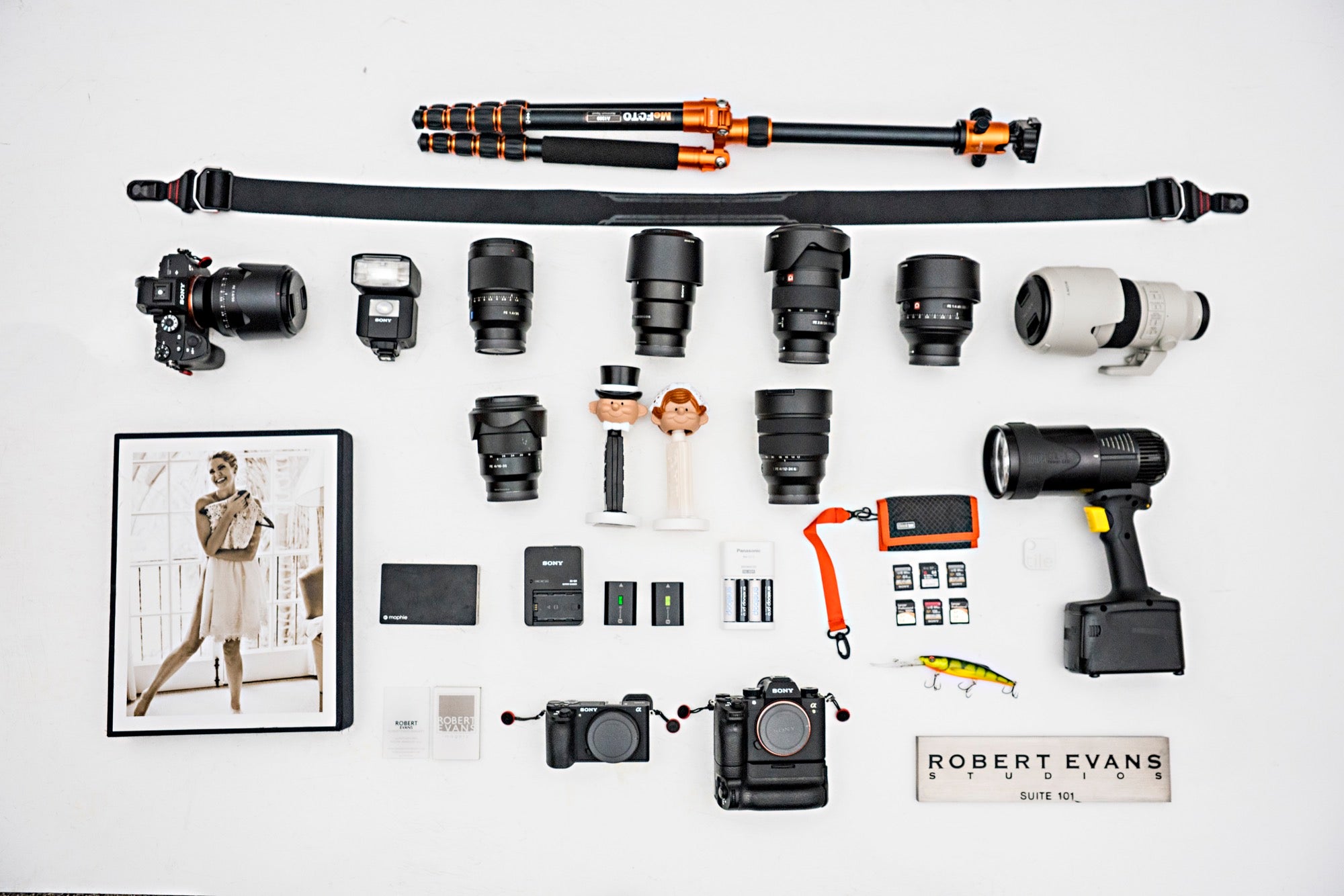 Lenses:
Sony 24-70mm f/2.8 G Master: When people ask me if I could only choose one lens to photograph a wedding, what would it be, this lens is my answer. From a very practical standpoint, you can't beat it. The versatility of 24-70mm range, the fast f/2.8 aperture and the quality and clarity from edge to edge is what makes the Sony 24-70mm f/2.8 G Master the one lens I would choose, if I could only pick one.
I use this lens for getting ready, cocktail hour, reception and exclusively right before the ceremony when I hang out with the bride, thirty minutes before she walks down the aisle. I capture some of the best candid images of the day during this time. The 24-70mm range allows me to zoom in or capture a wider view, depending on the emotion and the moment. If you are thinking about stepping up to truly first rate piece of glass, I would start with the 24-70mm f/2.8 G Master.
Sony 70-200mm f/2.8 G Master: The 70-200mm f/2.8 G Master is another lens that I wouldn't want to be without on the wedding day. I use it extensively. I almost always shoot with this lens wide open at f/2.8 to minimize the background and keep my images focused on what's important. The 70-200 allows me the flexibility to shoot full length if I need to, while I also have the ability to zoom in instantly to capture the emotion of the moment.
During getting ready time I can get in close without cramping other people's space in a tight room with lots of bodies. For the first look, I like to keep a comfortable distance away from my couples when they see each other for the first time. I use this lens during every ceremony where the f/2.8 aperture helps in low light and I can keep my distance and not be obtrusive while still capturing private moments.
After the ceremony, when the location is conducive, I suggest that my couples keep on walking after they kiss and say I do. I follow them, shooting with the 70-200mm from a distance, as they savor the moment, just after they become man and wife. It's kind of a second "first look" or what I like to call "bride and groom bonus time."
When I head to cocktail hour, I have the 70-200mm f/2.8 GM still mounted to my camera for candid headshots of the guests. I single out individuals and try to capture a pleasant smiling face. My clients love these images of their family and friends. At dinner, I use the 70-200mm f/2.8 for photographing people giving toasts and reactions during the toasts, including my couples. It's also great lens during first dance and cake cutting depending on the room.
Like I said, the 70-200mm f/2.8 G Master is a lens I couldn't live without.
Sony 50mm f/1.4: The Sony 50mm f/1.4 has been my favorite portrait lens for some time now. In the photo above, it's on my α7R III which is a natural combination on the wedding day. The quality and clarity of this lens continues to impress me, shoot after shoot. The wide f/1.4 aperture is a great compliment to the α7R III and the α9 sensors, especially in low light situations like inside a church, getting ready, and at the reception. Working with this 50mm, I use little, if any, flash all day long.
Sony G Master 85mm f/1.4 G Master: This is my go-to close up portrait lens especially for tight portraits of the bride and groom. I use this for the solo shots of each, through the veil of the bride's face and eyes, and occasionally during the reception to capture the bride and groom's toast reactions. When coupled with a higher ISO and the f/1.4 aperture, it allows me to use the available light in the room, without the distraction of the flash.
Sony 35mm f/1.4: This is another great portrait lens for me. When I purchased it a few years ago, I quickly realized this was the lens I didn't know I needed. I use the 35mm f/1.4 for group shots, for some bride and groom portraiture and during the reception for first dance and other reception candid moments. The f/1.4 aperture allows me to photograph during the reception without a flash.
Sony 16-35mm f/4: I use this lens mostly on the dance floor to capture dancing candids. I use my flash with this lens in TTL mode and the camera on autofocus and I take advantage of the wide-angle so I don't have to look through the camera the whole time. I can walk the edge of the dance floor looking for smiling faces and people having fun, engaging people with my eyes and face, and interacting with them without a camera blocking my face. With the camera on continuous autofocus and a medium-fast frame rate, I fire away, capturing real emotion that would not be as authentic with a camera blocking my face.
Sony 12-24mm f/4 G: I keep this wide-zoom in my bag to capture the epic wide shots on the wedding day. Photos of the overall ceremony, the entire reception room, big décor shots and sometimes during first dance. An epic wide shot is a great scene setter which helps me tell the whole story in the wedding books that I make for my couples.
Sony 90mm f/2.8 Macro G: The 90mm Macro is in my bag on the wedding day for one reason, to photograph the rings. As other photographers have shown, you can take great portraits with it too, however I seldom use it for that purpose.
Flash & Continuous Light:
Sony HVL F45RM: When I do use flash, it's usually at the reception and occasionally as a fill outside on overcast days. I have two HVL F45RM wireless flashes in my bag, a primary and a backup. Once in a while, I use both flashes together, utilizing the built in slave, for detail and décor shots.
Lowel GL1 LED Gun Light: I use this light a lot, especially inside or at night, in conjunction with other ambient lighting on the streets and buildings, or inside hotels. It's fast and bright. I can focus the light wide or tight and the output of light can be dimmed to mimic other surrounding lighting.
Accessories:
Sony SD Cards: These days I'm only buying Sony media cards. I like the newer Sony SF-G Series UHS-II SDXC Memory Cards for the speed, especially for my α9 when I want to shoot 20fps.
Sony NP-FZ100 Rechargeable Lithium-Ion battery: The new FZ100 batteries last a long time. I usually get through a ten hour day on just the two batteries in the vertical grip on my Sony α9. I keep two extra in my bag, just to be safe. Sony BC-QZ1 Battery Charger: I have yet to use this on the wedding day, but I keep it on hand should I need to charge the NP-FZ100 batteries in my Sony α9 and α7R II.
VG-CEM Vertical Grip: The vertical grip on my α9 also works on my Sony α7R III so I can switch it back and forth as needed. However, I will most likely be ordering another one for my α7R III body, because I like to grab and go!
Mophie External Battery: The wedding day is long and I usually need to charge my phone by the end of the day. Many times, I let bridal party members and even my couples use it to charge their phones which makes me a hero!
Eneloop AA Batteries & Charger: I use Eneloop rechargeable batteries in my flash. They last forever, I change them every two or three weddings, and I always have spares in my bag,
Think Tank SD Card Holder: I keep my SD cards in the inner suit pocket of my suit coat. If someone walks away with my bag, at least the images are safe. Insurance will replace my gear but not my clients' wedding images.
Robert Evans Business Cards: Always keep an ample supply of business cards nearby.
MeFoto Tripod: I keep a tripod with me on the wedding day, but I rarely break it out. When I do use the tripod, it's for long exposures with movement and sometimes for detail and décor photos.
Peak Design Camera Strap: As far as I'm concerned, this is the best strap design ever! You'll notice the red & black strap clips on all my Sony bodies. I can clip and unclip this strap easily with one hand. It's a brilliant design.
Other Things:
My Couture Book: I always keep my portfolio with me just in case there's someone at the wedding who's getting married as well. Over the years, I've booked at least five weddings, including one celebrity wedding, just by having my portfolio to show a potential wedding client.
Bride & Groom Pez dispensers: Just because they're fun. I was given these years ago from a couple who had used them as decorations on the tables at their reception. They gave them to me as gift at the end of the night.
Fishing Lure: Because fishing is always on my mind.
TILE Locator: Although it's hard to see in the photo, I keep this TILE hidden deep in my bag. It's a GPS locator chip. Should my bag ever walk away, I can track it.
Robert Evans is a Sony Artisan Of Imagery. See more about him here. Follow him on Instagram @robertevans.