Alpha Collective members Karl Zoltan (@karlzoltan) and Kathryn Dyer (@kathryn_dyer) are soulmates who used their cameras to heal while Kathryn was fighting cancer. Through their lenses they were able to shape their world and see beauty again amongst the darkness of illness. The camera gave them a reason to get out and see things they otherwise wouldn't have seen. Cancer gave them a new appreciation for life and the camera gave them the tools to capture that. They began looking at light in a new way. They saw the beauty created by fog or rain or even snow. The pair realized that if you look at most things the right way, you will see its beauty. Sometimes you just need to adjust your angle. Creativity is a great way to bring joy into your life again. Karl is a caregiver advisor and Kathryn is a cancer advocate and they continue to utilize the camera to heal. See the Sony Alpha cameras and lenses you can find in each of their bags for capturing the beauty of the natural world.
See the Sony gear Alpha Collective members Karl Zoltan & Kathryn Dyer pack in their bags for capturing beautiful landscapes.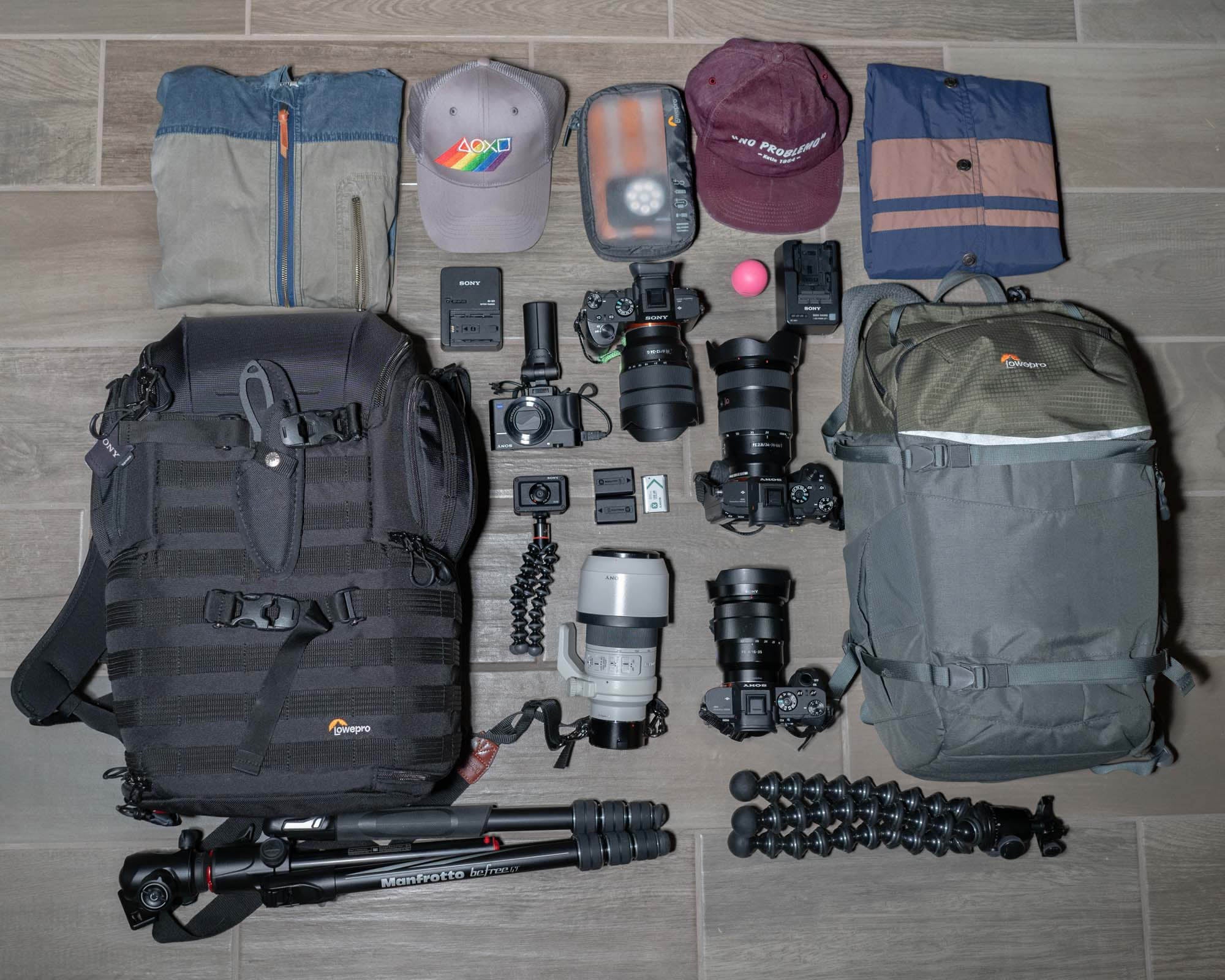 Karl's Gear
Cameras
Sony α7R III: I use the α7R III because of the image quality from the 42 megapixel sensor and how it captures what I need. I can pull so much detail, texture and rich tones from the image file when I edit. If I need to crop, I have ample resolution so I don't lose overall image quality. The low light capabilities, which I push in landscapes at the edge of the day, are second to none. The autofocus is outstanding and it makes my job easy.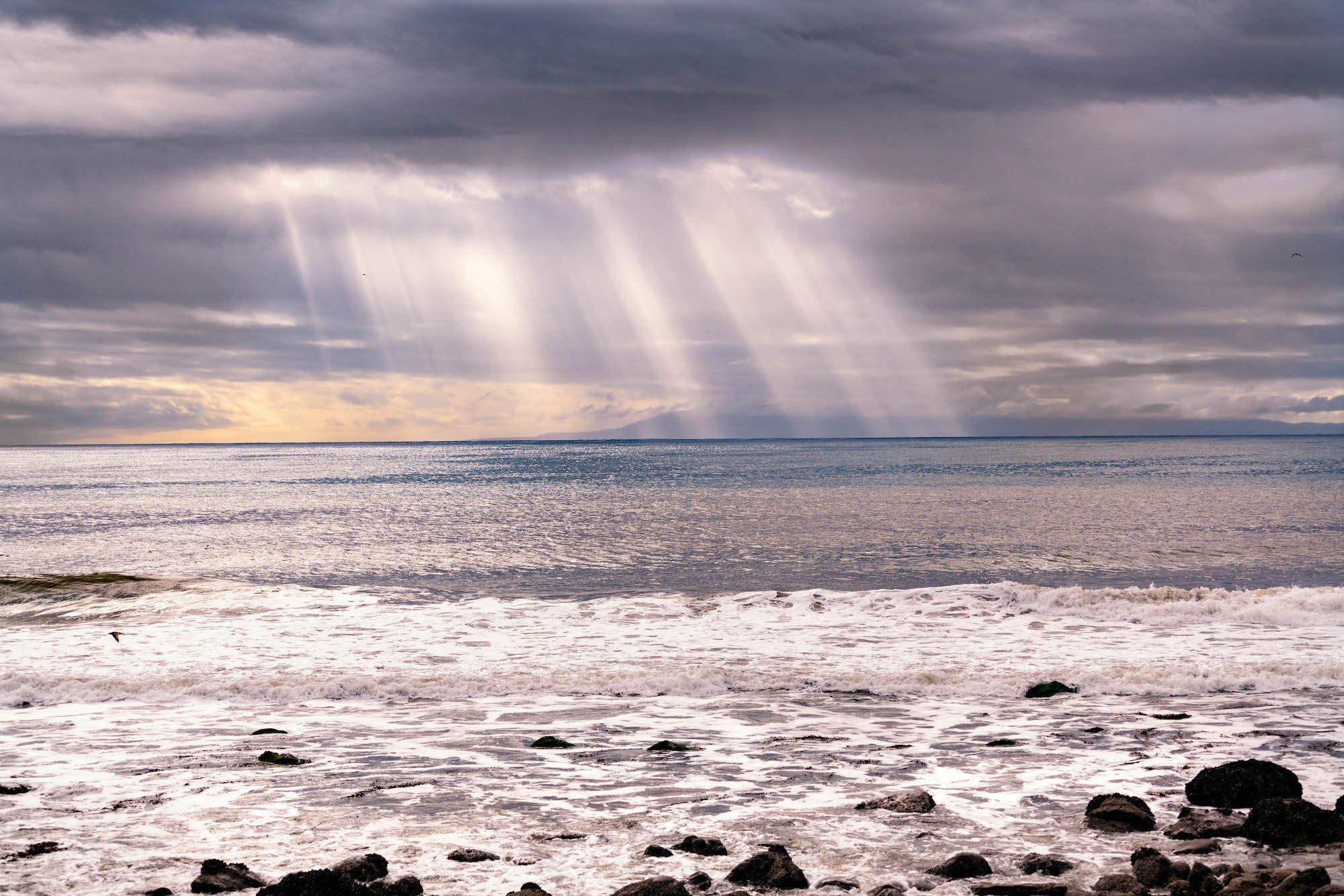 Sony α7R III. Ventura. To get this shot in Ventura, I was glad to have the α7R III to capture the dynamic light rays which the camera was able to bring to life. Thankful for the dynamic range as the clouds were dark, the rays were bright and there was a strong glare on the water, but the camera brought it together.
Sony RX100 V: I carry the RX100V wherever I go. The options, quality and its ease of use are astounding. The camera fits in my pocket and is readily available anytime. I can get those quick shots I would've missed by utilizing the RX100 V.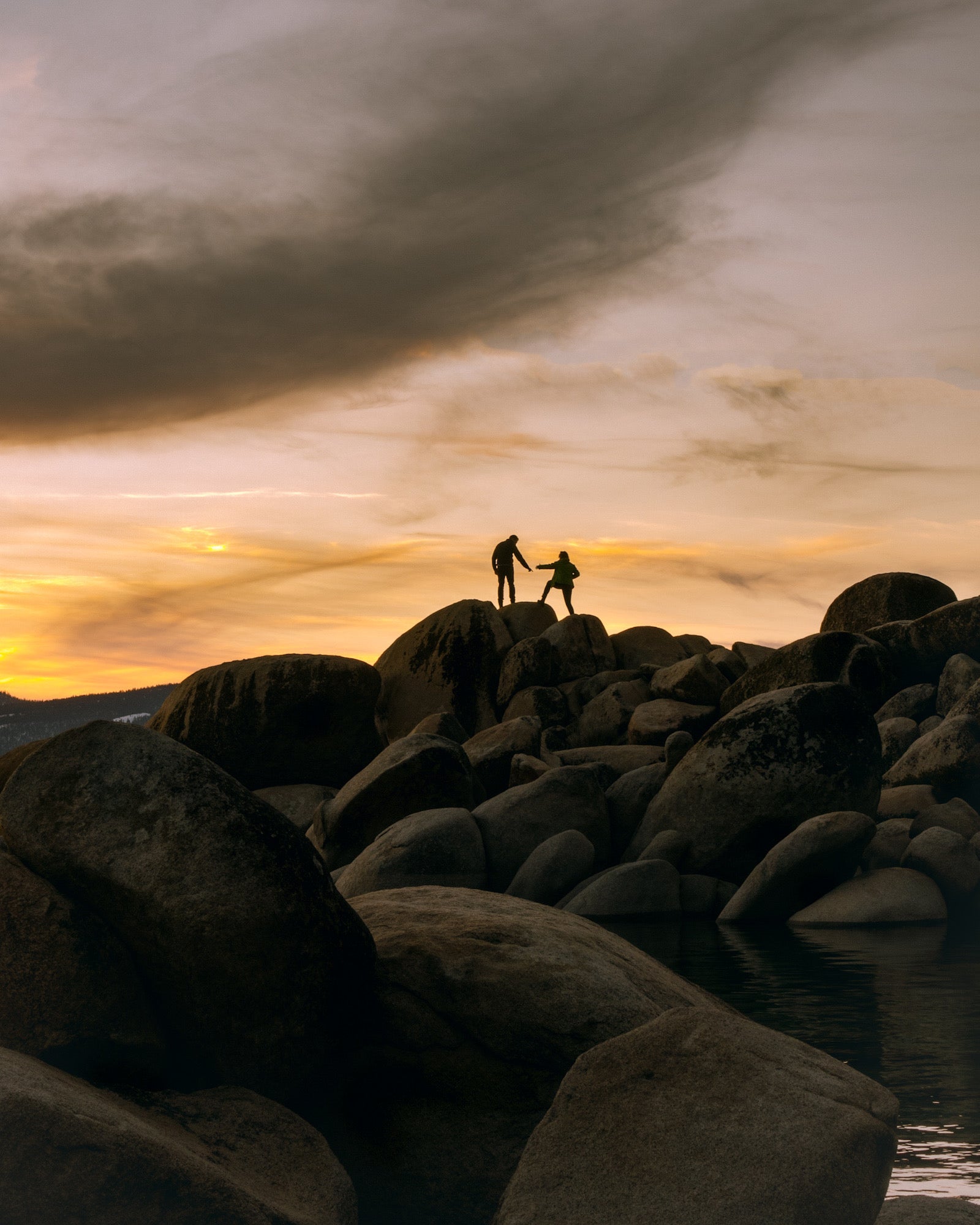 Sony RX100 V. Tahoe. While walking to shoot the sunset I saw a couple on top of the rocks. I quickly retrieved the RX100V from my pocket to capture a moment in time I would've missed.
Sony RX0 Camera: I like the convenience and durability of the Sony RX0. It's waterproof and easy to carry. I use it to take a lot of video B roll utilizing the HFR (high frame rate feature). The RX0 fits in the palm of my hand and I can use it anywhere. The quality of the photos is great. I actually put the RX0 in the puddle to get his reflection shot at Yosemite. You can't get a lower perspective than that.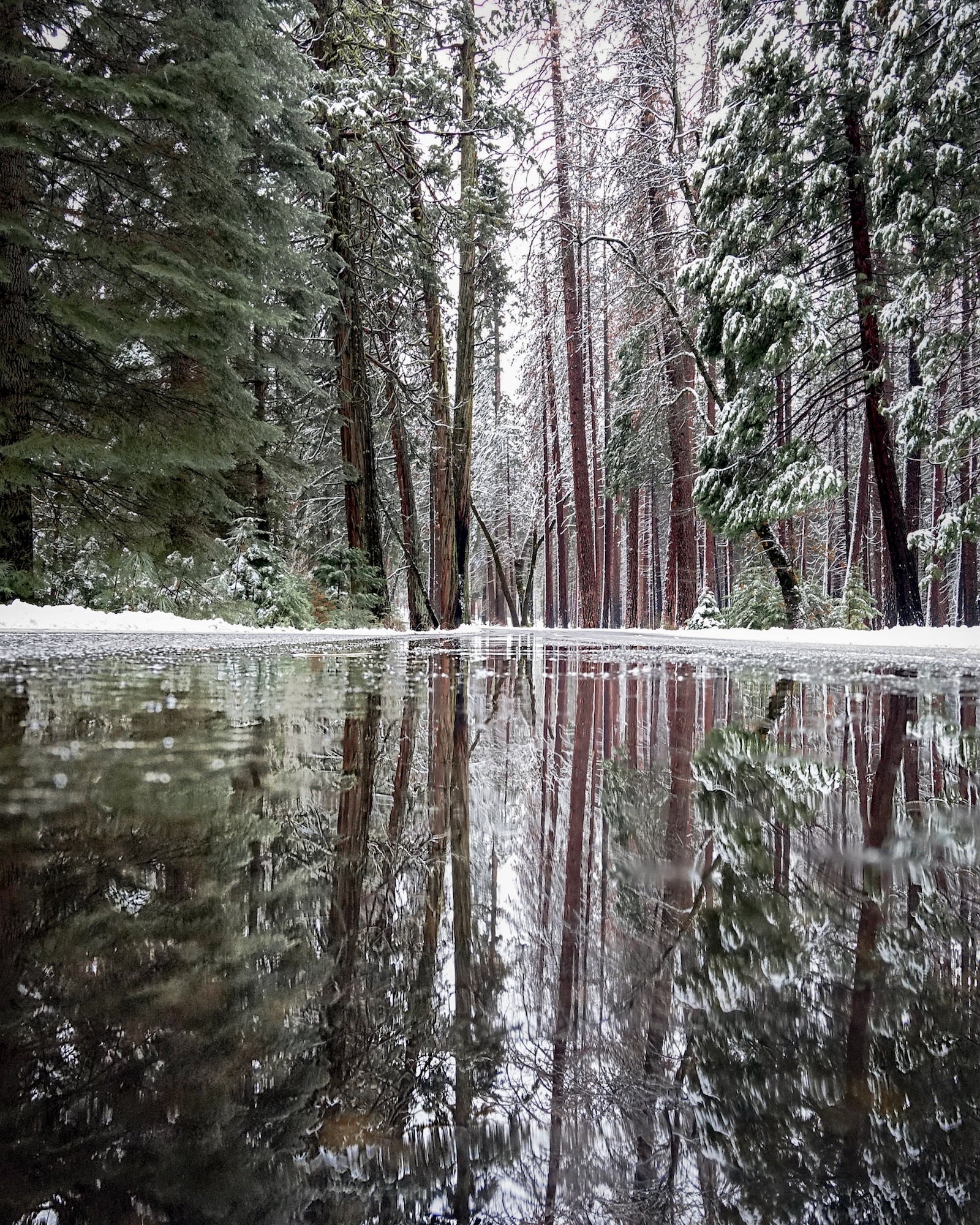 Sony RX0. Yosemite. I wanted to shoot the reflection at an extremely low angle. So, I utilized the waterproof RXO and set it in the puddle to get the shot.
Lenses
Sony 12-24mm f/4 G: Out of all the lenses I use, this is my favorite. It gives me a lot of options to be creative. The area you can get in frame is awesome. The quality is second to none. When I shoot nature there are a lot of tight spaces and this lens will overcome those obstacles. I love the ultra-wide perspective and it's perfect for landscape.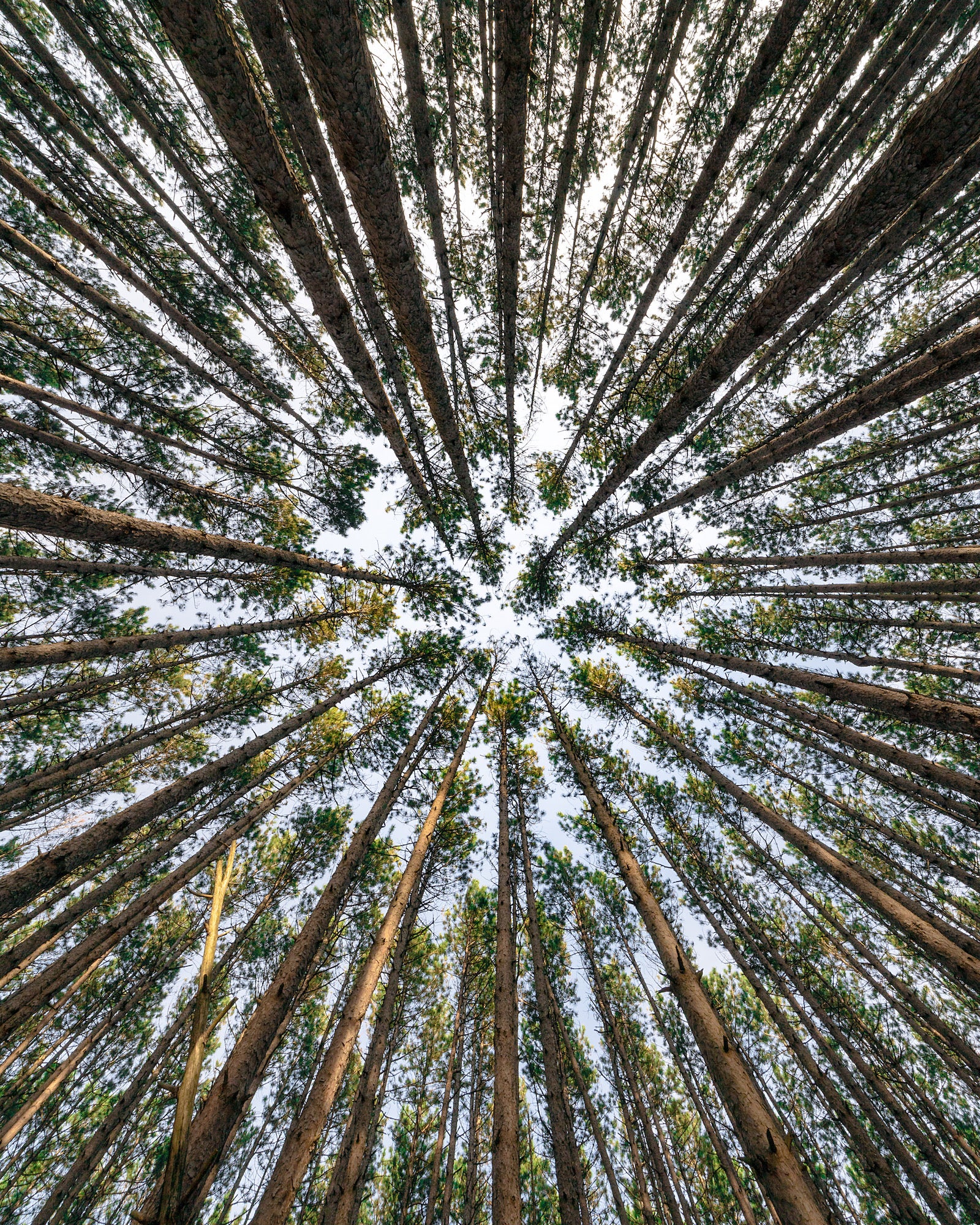 Sony 12-24mm f/4 G. Ohio. On our road trip going through Ohio, we stopped at The Spot. The trees are symmetrical and when you look up the view is dynamic. This was a perfect shot to utilize my 12-24 to get the shot I wanted.
Sony 70-200mm f/4 G: This lens is the perfect complement and companion to the 12-24. Where the 12-24mm f/4 G is covers me from the ultra-wide to moderately-wide, the 70-200mm f/4 G handles moderate telephoto out to the longer 200mm. This lens gives me the ability to shoot scnes that I may not be able physically to get to. I can shoot wildlife from a safe distance and as a bonus, it's lightweight and very sharp.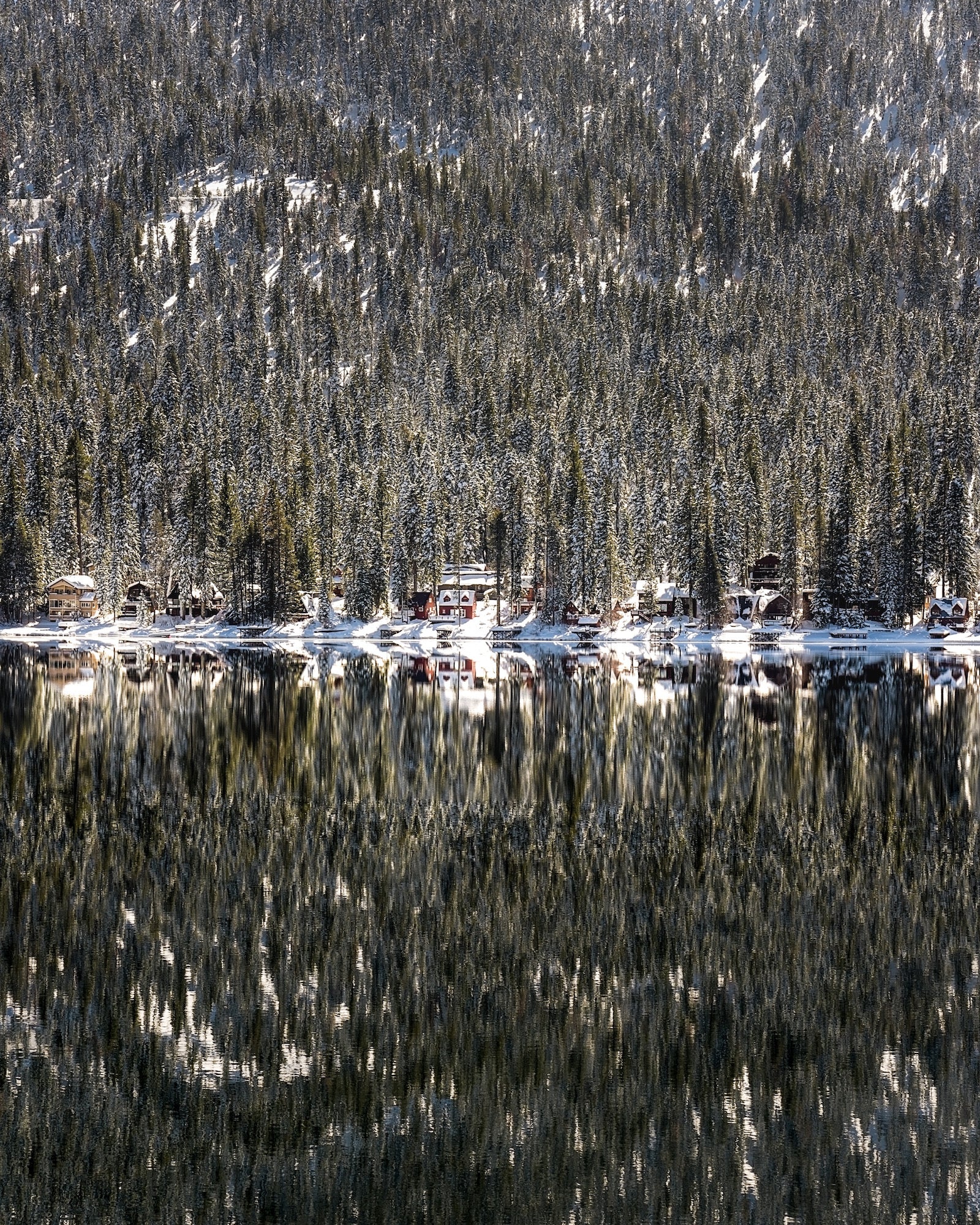 Sony 70-200mm f/4 G Donner Lake. We were at Donner Lake on a crystal clear and calm day. The cabins on the opposite side of the lake were approximately two miles away and it was an ideal shot for the 70-200.
Accessories
Sony Shooting Grip: I travel with this attached to my RX100V. I can shoot one handed with a firm grip while controlling the camera with my thumb. It has become an integral part of my gear. Compact, lightweight too!
Sony Charger: On the road, I have these plugged in most of the time. Luckily, my truck has a 110 outlet and we charge while we drive.
Extra Batteries: This is a must, so I never have downtime and lose a shot.
Lowepro Pro Tactic BP 450 AWII Bag: I love the size and the excellent organization system. The SlipLock loops and tabs are great because I can attach gear as needed per trip. It is also FormShell-molded which makes it more durable and protects my gear better.
Lowepro Gearup Pouch: Is great to separate small items and keep them organized on the road.
Manfrotto Befree GT XPRO Aluminum Tripod: Lightweight and durable. Excellent 90-degree column system for a variety of angles.
Katin USA Jacket: Weather changes quickly. It's easy to carry and versatile.
Sony Pride hat: I wear a hat to shade my face from the harsh sun. Sony because they're awesome and Pride to show I'm an ally.
Kathryn's Gear
Cameras
Sony α7R III: This was a big purchase for me, and I am so glad I went for it. I often wander around when I get to a location looking for something that really hits me, and I shoot handheld a lot which the in-body image stabilization allows me to do. I have been amazed at what I can bring out in images with the 42 megapixels. It has so much quality but is still compact and lightweight and I really appreciate that.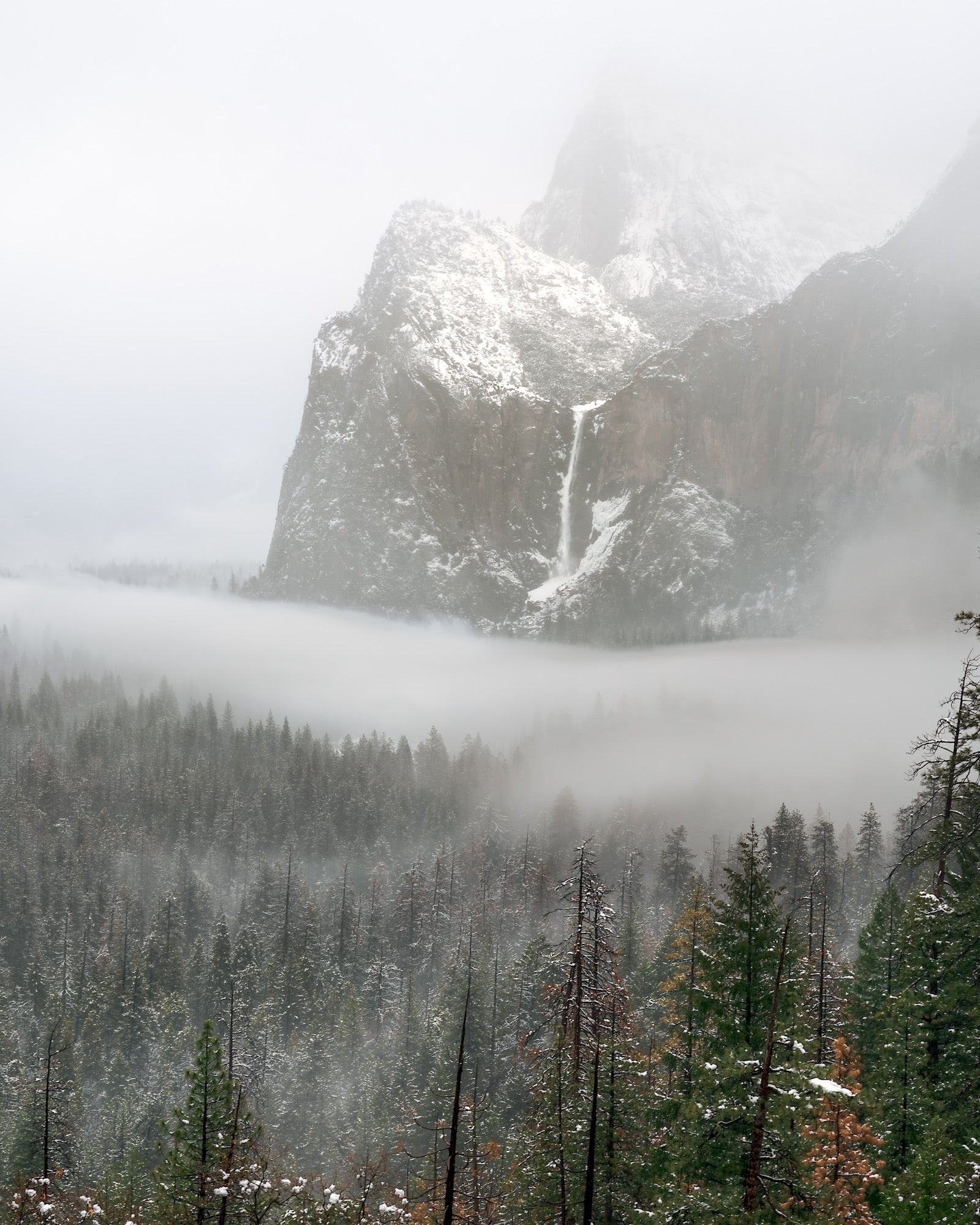 Sony α7R III. Yosemite. I often carry my α7R III and 24-70 when wandering around. On this day, there was heavy fog and snow in Yosemite and when we stopped at Tunnel View, I was able to get this shot due to the versatility of the setup and the IBIS and zoom. I find this setup to be the most versatile and if I don't know what I'll be shooting it is my go-to.
Sony α7R II: This was my first Sony camera and I still shoot with it when I'm out on the road. After my breast cancer surgery, I purchased this camera to lighten my gear and gain quality. I was hooked immediately! I usually keep one lens on this and one on the α7R III. It's in my bag everywhere I go.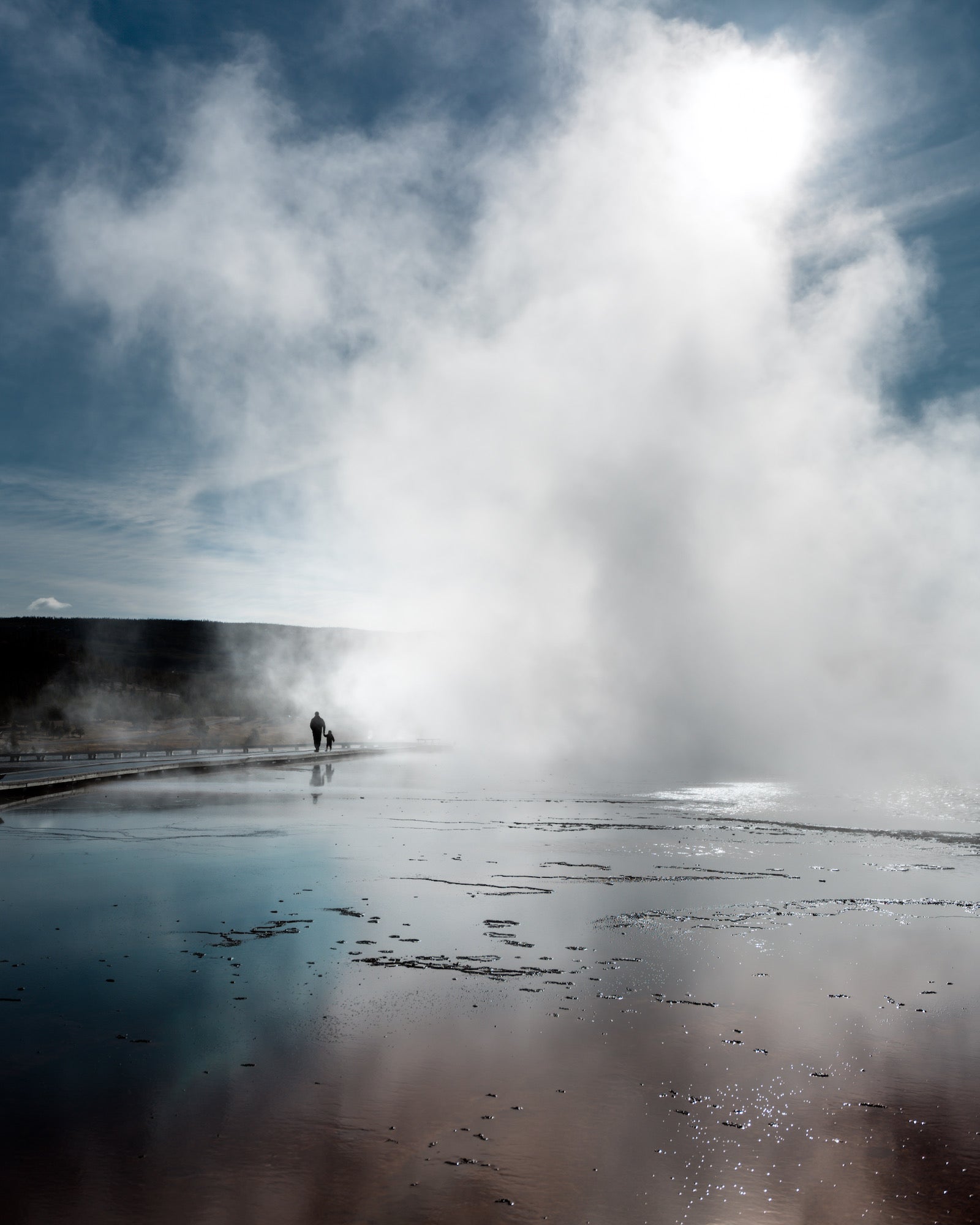 Sony α7R II. Yellowstone. The Grand Prismatic at Yellowstone is so magical. This was my first time here and I spotted a parent and child coming out of the mist. I had my α7R II set up with my 16-35 and it was perfect for this shot.
Lenses
Sony 24-70mm f/2.8 G Master: This lens was one I knew I wanted as soon as it was announced. I really try to limit the weight of what I carry and if I only take one lens this is it. It's very versatile, from landscapes to portraits. Focus is fast and accurate; the range is excellent and image quality is great.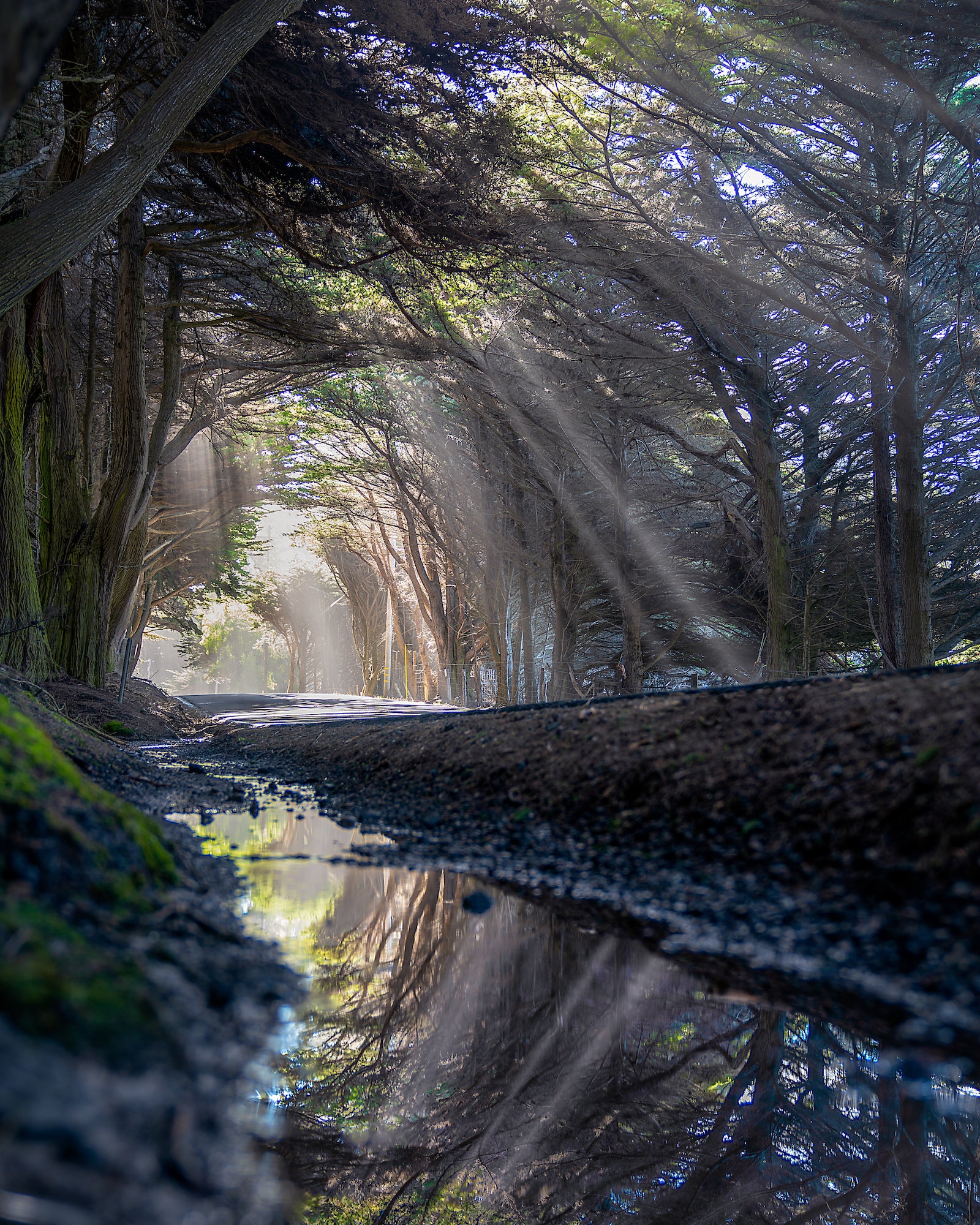 Sony 24-70mm f/2.8 G Master. Fort Bragg. When traveling I carry the 24-70 because of its range. It is my workhouse. For this image, I got the camera very low, near the water in a ditch on the side of the road. I was unsure if the rayswould truly come across however, the 24-70 came through!
Sony 16-35mm f/4: I've always been drawn to wide lenses. I'm essentially a landscape photographer and this lens was my first Sony lens and one of my favorite wide angles of all time. Unlike some wide lenses, distortion is minimal, and clarity is excellent. The 16-35mm f/4 is always in my bag.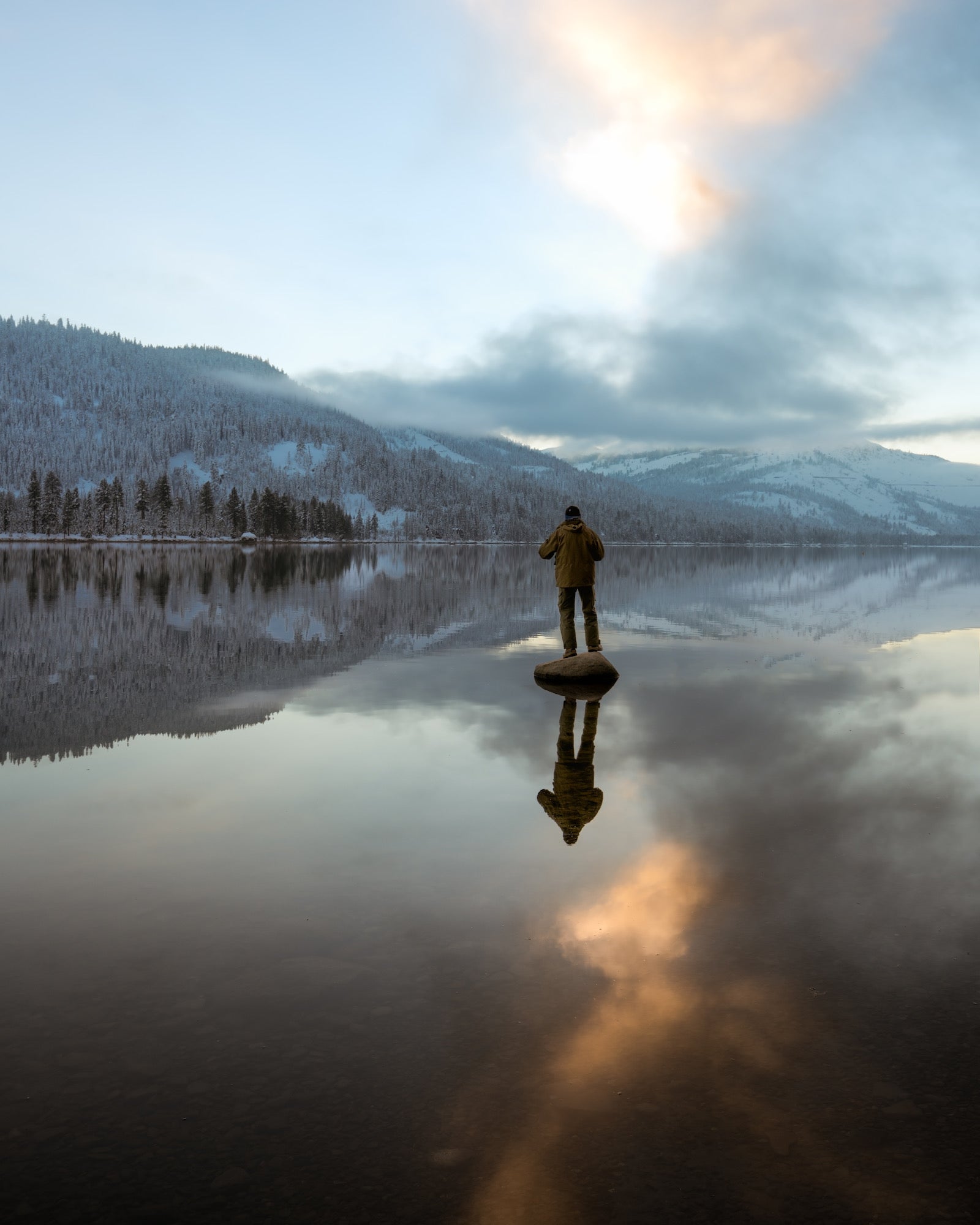 Sony 16-35mm f/4. Donner Lake. I absolutely love this lens for landscape photos I love have a partner that will step into frame for me too! The wide perspective suits so many landscape scenes and the 16-35 is amazing.
Accessories
Lowepro Flipside Trek BP 450 AW: I love this bag! A great feature is the main access is in the back. It makes me less worried about my gear in crowds. The padding on the straps makes it very comfortable to carry and that's important because I do have ongoing pain from my breast cancer surgery.
Joby GorillaPod: I love the fact that this is lightweight and extremely versatile. I can attach it to a railing as it wraps around. It is also compact and doesn't take much space.
Katin USA Lightweight Jacket: Many times, we experience temperature changes out on the road. I like to keep a lightweight jacket with me, so I'm prepared. I really like the quality and style Katin offers and I can really fit this jacket in a small space.
Katin USA "No Problemo" hat: As a cancer survivor I try to stay out of the sun. A hat is a good helper with that, and I love the motto "No Problemo" to remind me to stay positive!
Lip balm: My skin is much drier since chemotherapy and with changing weather conditions lip balm is necessary.