Eric Wallace (@polymathicwallace) is a photographer and model from Winston-Salem, North Carolina with a passion for vintage-style portraiture. "With my music stations locked on the Rat Pack and related artists, and my television most often displaying a classic film of the golden Hollywood era, much of my inspiration comes from classic movie scenes, iconic portraits, and timeless moments of celebrated stars of history." The gear in his bag has evolved over the course of his career to help him capture the shots how he envisions. We connected with him to learn more about how he creates his vintage look and why he uses the pair of primes and one zoom on his Sony Alpha cameras for portraiture.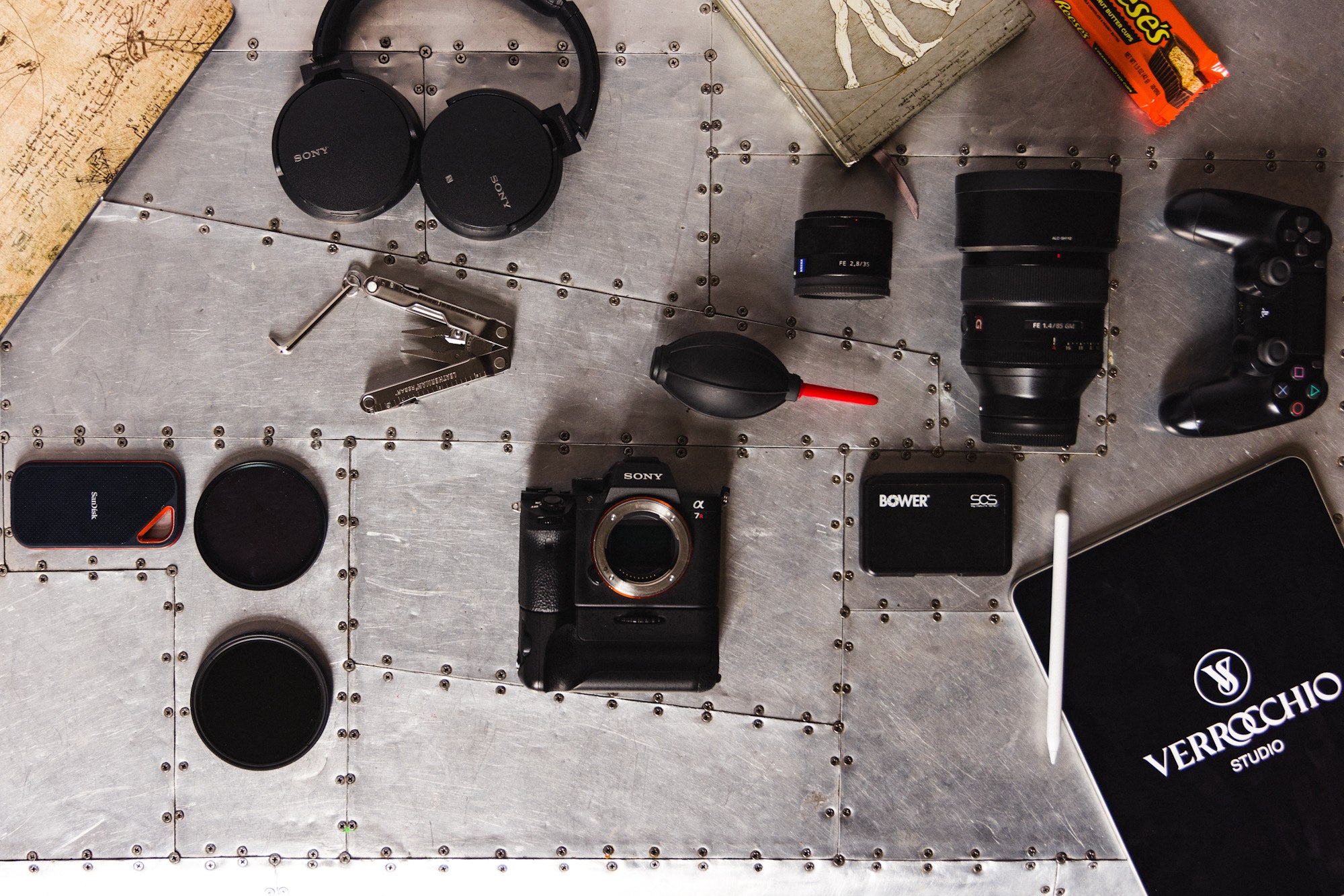 With inspiration from the Rat Pack to movies from Hollywood's golden age, photographer Eric Wallace uses a tight collection of gear to make a vintage look.
Cameras
Sony Alpha 7R II: I started my photography career in 2019 with a Sony Alpha 6000, recommended to me by my then and now photography mentors. I upgraded to the Sony Alpha 7R II at the beginning of 2020. I knew I wanted to focus more on detailed stills, and with its 42 megapixels and incredible dynamic range I've been able to capture some fantastic photos over the years and grow as a photographer. The Alpha 7R II has been my go-to ever since upgrading. I've developed new editing techniques over my journey and 42-megapixel photos allow me to revisit photos from my archives with no frustrations or limitations.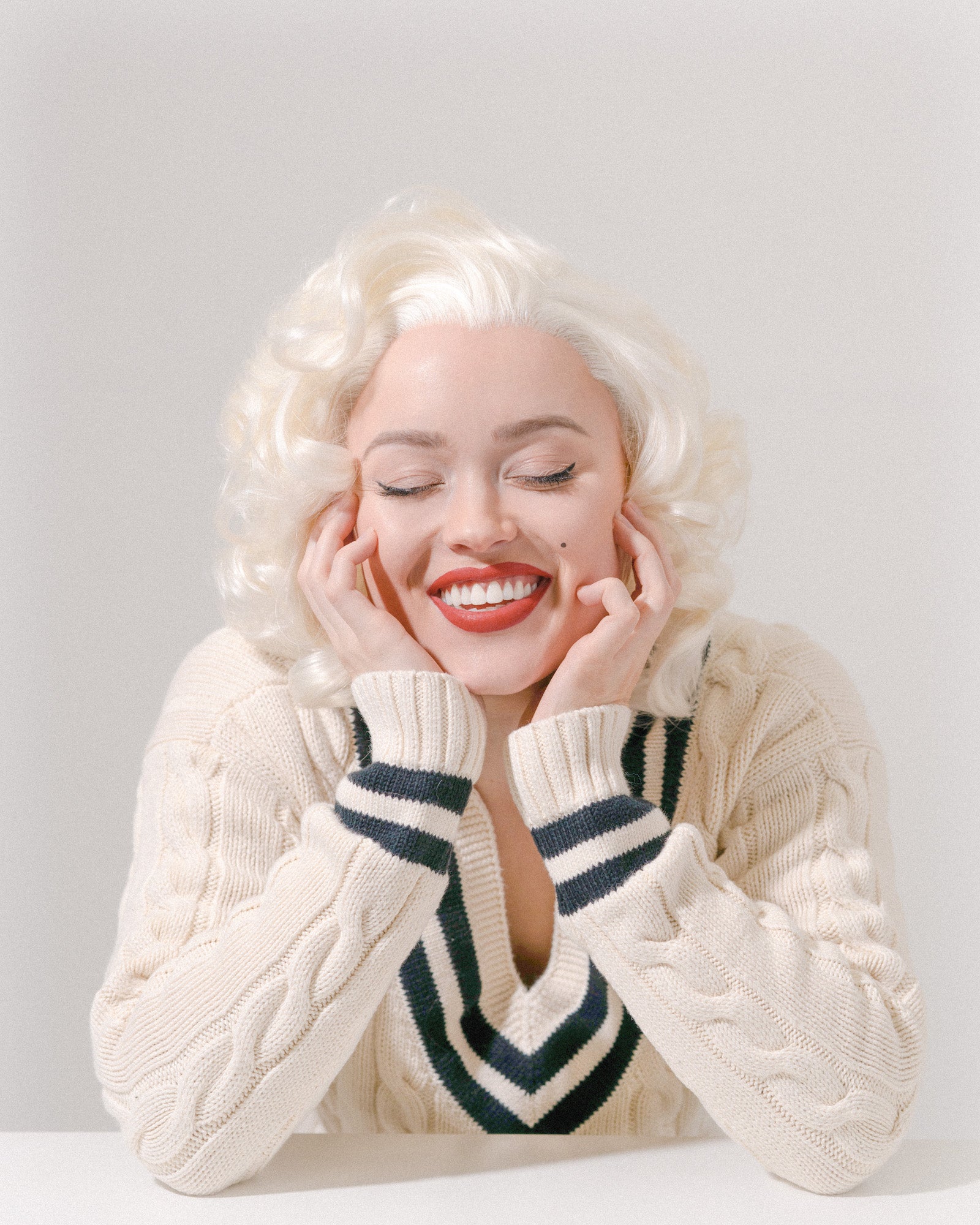 Photo by Eric Wallace. Sony Alpha 7R II. Sony 85mm f/1.4 G Master. 1/200-sec., f/4, ISO 200
Sony Alpha 6000: This is the camera that started it all! When asked how I got into photography I'm always thrilled to tell the story. Being a professional model for nearly nine years now, I've had the pleasure of meeting a number of fantastic and different personalities behind different lenses. I met my photography mentors in 2016 when I started modeling for DXL as a big and tall model. I found myself having a lot of fun on set in many different locations around the country and noticed they enjoyed taking photos. I asked them how do I do what you do? They recommended I find a used Alpha 6000, shoot something every day for two weeks straight, you'll know if this is for you; I haven't put the camera down since, only upgraded. It will always have a place in my bag. The Alpha 6000 is a fantastic camera to have in my bag that, to this day, still takes very high-quality photos for me!
Here I used it to take this action capture of my friend, fellow pro athlete and Carolina Panther (NFL), Josh Hawkins on the rooftops of Charlotte, NC with the Alpha 6000 and kit lens.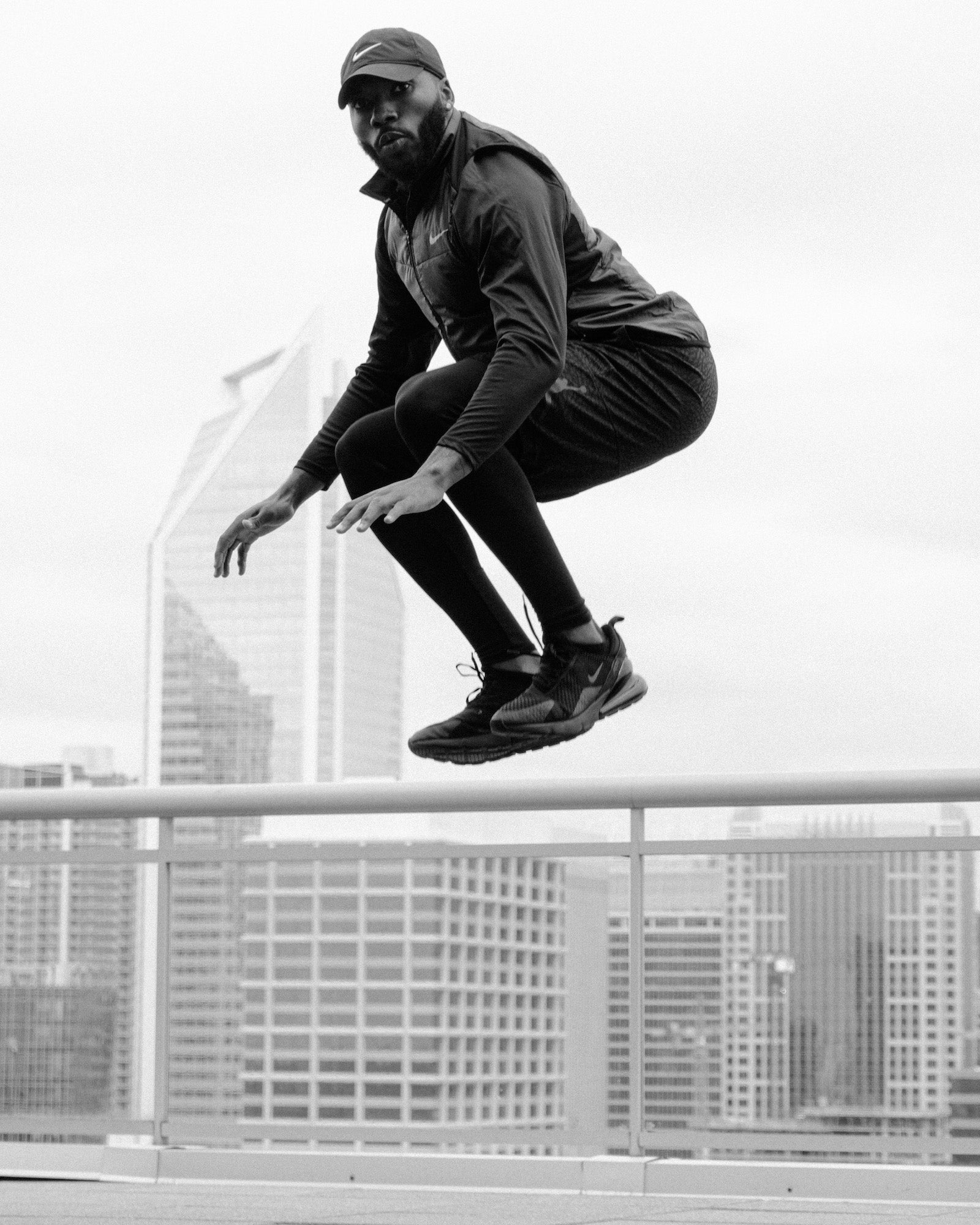 Photo by Eric Wallace. Sony Alpha 6000. 1/500-sec., f/5, ISO 125
Lenses
Sony 85mm f/1.4 G Master: What can I say about the 85mm G Master other than "it stays on my camera at all times!" As a portrait photographer it's the go-to focal length. When I had saved up enough to pull the trigger on 85 G Master I had not one second of hesitation in the purchase. It has paid for itself four times over by now! With the 85mm I'm able to really bring out the features of my Alpha 7R II and utilize all 42MP on the face of whatever interesting subject I'm capturing.
In a low light situation, indoors, using my 85mm shooting wide open at f/1.4 I was able to capture one of my favorite photos to date of one of my good friends and fellow big and tall models near some neon lighting at 1X Studio in Charlotte.
Sony 35mm f/2.8: The 35mm f2/8 ZA was the first lens that, at the time of purchase in my career, I spent a considerable amount of money on as I was ready to upgrade from the kit lens. It will always have a place in my bag, especially at it's small compact size, and for being as sharp as it is, I reach for this lens when I want a prime as opposed to my 24-70 zoom lens. Not to mention the quality of Zeiss's glass is proven and has come through for me time and time again in some of my favorite captures.
At the beginning of the pandemic, I had a lot of time to play around indoors and try to still improve my photography. I decided to take a self-portrait with a custom bandana covering my mouth and nose, in accordance with the CDC guidelines at the time. To this day is one of my more celebrated and commented on photos of me. At the time the 35mm was my best and sharpest lense I had in my bag; I would later add to my bag shortly after this photo.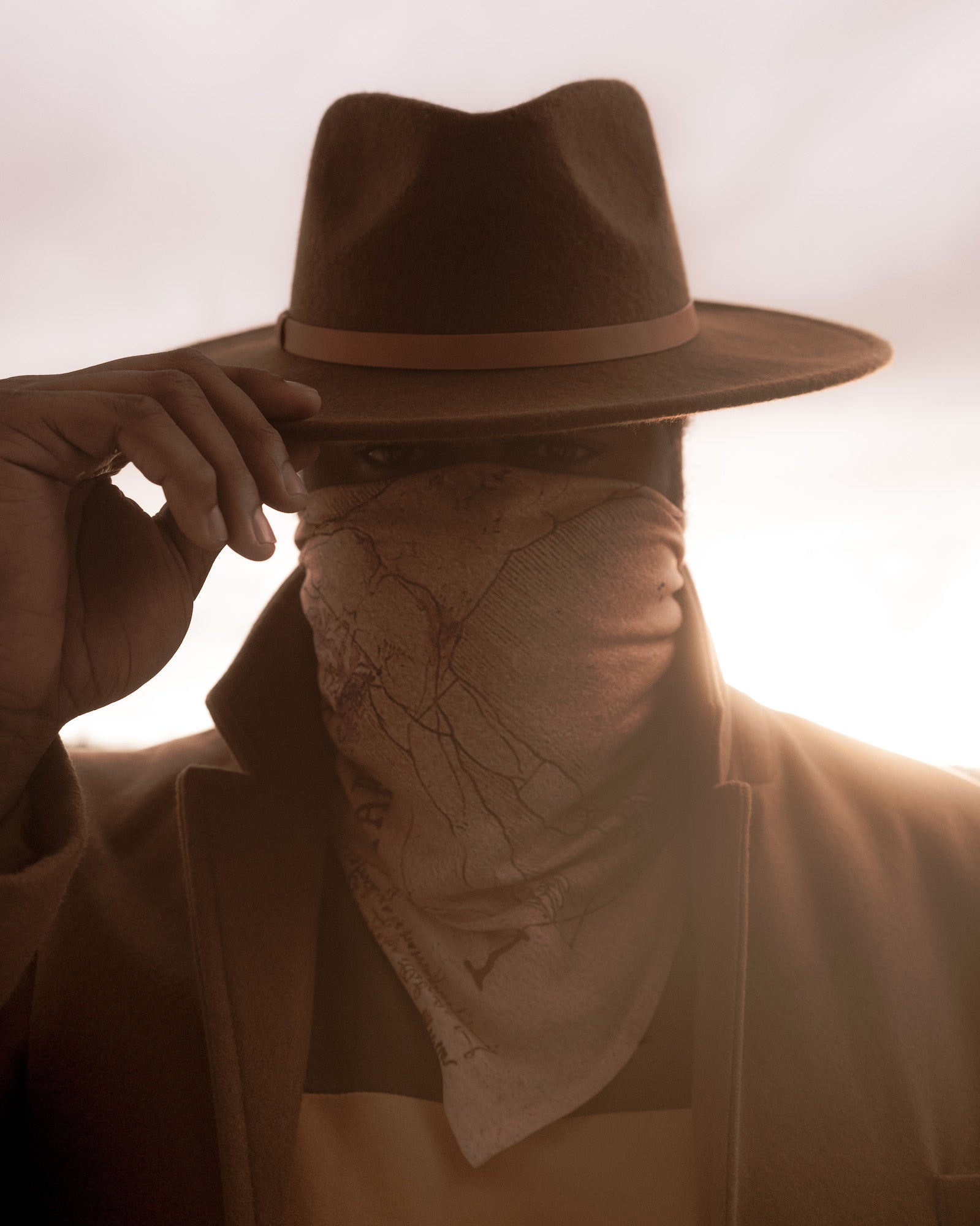 Photo by Eric Wallace. Sony Alpha 7R II. Sony 35mm f/2.8. 1/200-sec., f/4.5, ISO 1000
Not Shown*
Sony 24-70mm f/2.8 G Master: One of the most versatile lenses I have is my 24-70mm f/2.8 G Master lens. Being able to zoom from wide to close up portrait and still maintain the high level sharpness that this Sony lens goives me has been something I'm sure I've taken for granted at some point. Not shown in my photo, because I'm eagerly waiting at my door for delivery back to me from repair. Soon we will be reunited!
It was surreal shooting with Kara Vasseur dressed as Marilyn Monroe because it felt as though I had literally time traveled and was face-to-face with the icon herself.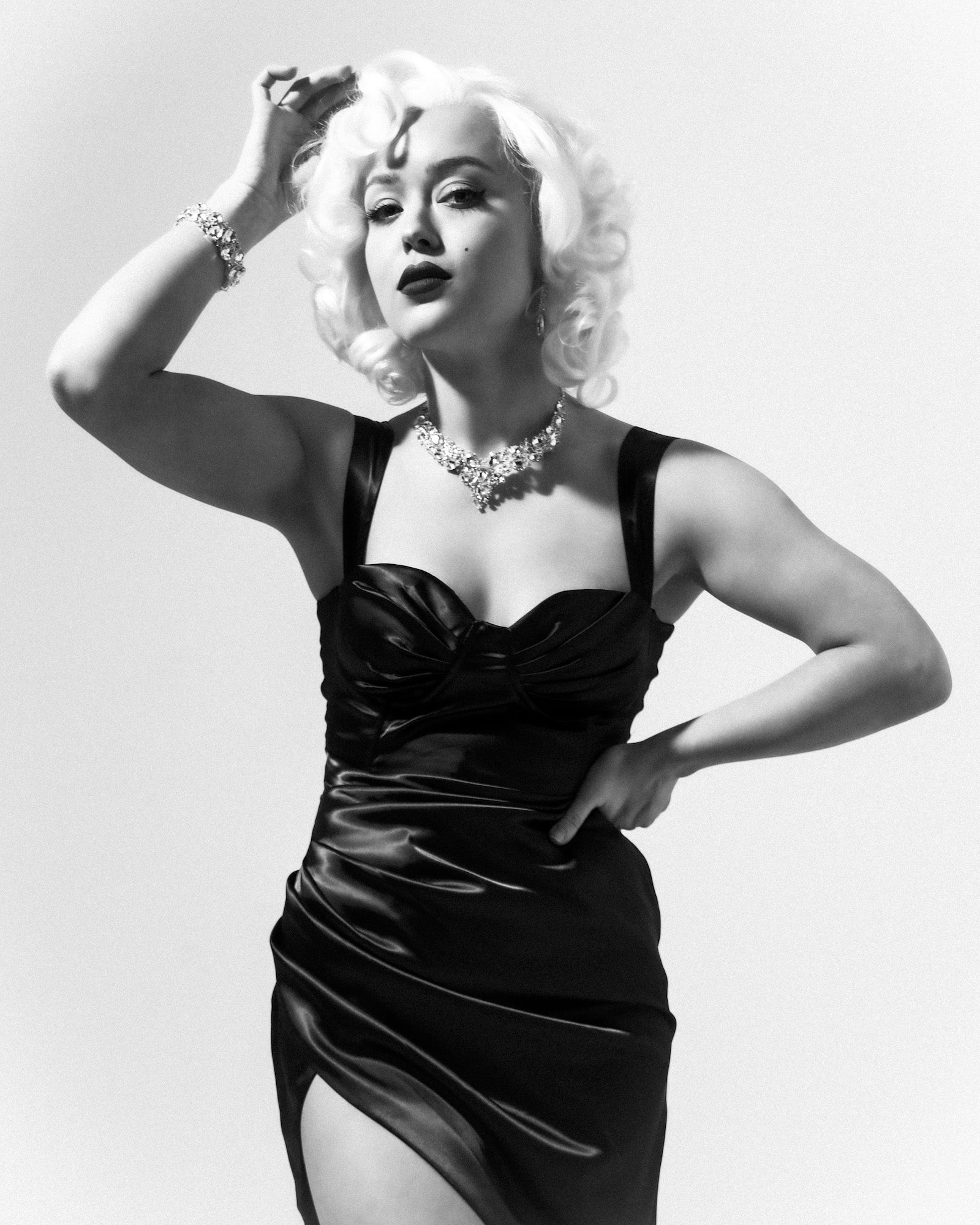 Photo by Eric Wallace. Sony Alpha 7R II. Sony 24-70mm f/2.8 G Master. 1/200-sec., f/4, ISO 200
Accessories
Filters: (ND, Polarizer, Pro Mist): When shooting vintage style portraiture, I've found myself reaching for my Pro Mist filter more often, but of course each filter is essential for helping me capture the shot. Whether it's my Neutral Density for outdoor sunny situations, or my Polarizar for when I want some colors to really pop, they each have their value in my bag!
Sony MDR-XB950N1 Headphones: 95% of the time either Frank Sinatra, Sammy Davis Jr, or Dean Martin (The Rat Pack) is blasting in these noise-canceling, extra bass headphones!
Godox X2T Light Trigger: For my Godox Ad200 and Ad400 this trigger helps me stay connected and in control! I'm really enjoying the Godox lighting system.
Manfrotto Pixi: A sturdy little tripod for self-portrait or self-taping/vlog.
Leatherman Multi-Tool: A stocking stuffer gift from my mother years before I even picked up a camera, has become one of my must haves as a photographer, and even more as a photographer assistant as a multi-use tool.