Hananiah Aldrich (@niahrosephoto) is a full time portrait photographer based in Kansas City, Missouri. She enjoys pushing colors to the max, and traveling to meet new creatives in other cities. Her work consists of off camera flash, and natural light depending on the location. Aldrich primarily shoots in her studio, but she gets outside any chance she gets, especially in the spring when the flowers are in bloom. For her portrait photography, Hananiah says switching to Sony was the best decision she ever made. "I switched to Sony in 2020 after being born and raised on Nikon," she says. I wish I would have done it sooner. Before switching to Sony, I was overshooting and taking the same image multiple times because I couldn't trust my gear to nail the focus. I don't have that problem anymore. I count on Sony's amazing Eye Auto Focus to nail the shot and it does it. As a portrait photographer, I love the ability to interact with my subjects without having to always hold the camera to my eye."
We were smitten with Aldrich's colorful and emotive portraits and sat down with her to learn about her process and the gear that helps her make her images. Keep reading as she shares her kit in her own words.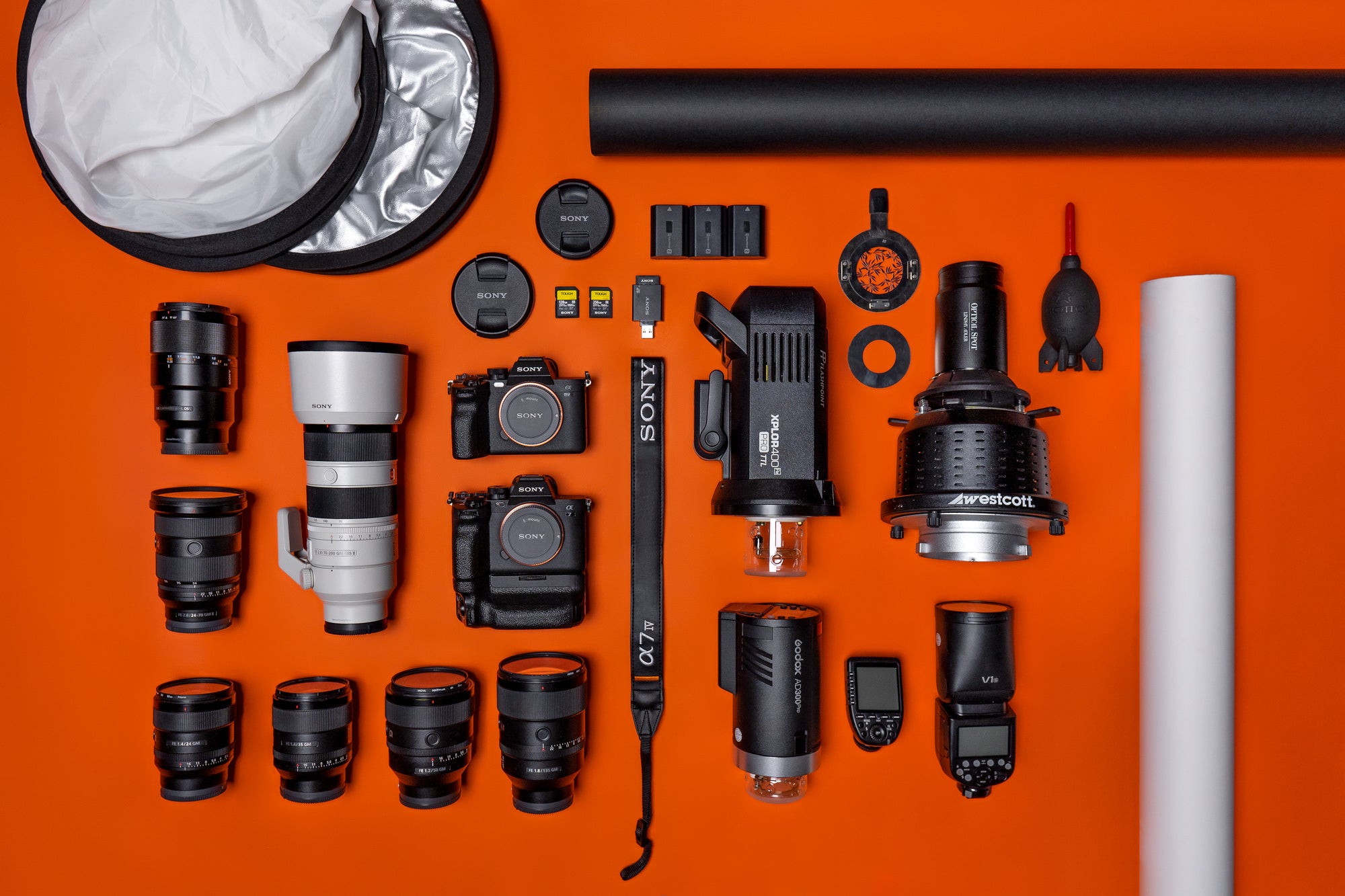 I started my Sony journey with the Sony Alpha 7 III, Sony 35mm f/1.8, Sony 55mm f/1.8, Sony 85mm f/1.8 lenses, but have recently moved to G Master lenses and the new Sony Alpha 7 IV. You can call me a gear hoarder, but I believe there's a lens for every situation. As the classic Pokemon song so beautifully states, "I Gotta Catch 'Em All."
Why this pro portrait photographer switched to Sony after being "born and raised on Nikon." She shows us the Sony Alpha gear she uses to push colors to the max.
Cameras
Sony Alpha 7 IV (2): I preordered two Sony Alpha 7 IV camera's last year to take advantage of the improved autofocus, dynamic range, updated color profiles, larger sensor and better LCD screens. The IV has not disappointed as a portrait photographer and I love showing my subjects previews of the photos to get them excited and boost their confidence. I have seen a big difference in colors and vividness on the LCD and on the computer compared to my Alpha 7 III. The focusing has also been faster in low light, and since I mostly shoot in studio this has been tremendously helpful. The slightly larger file sizes allow me to retain more detail in the image for retouching, and cropping. My average clients don't need their photos blown up to billboard sizes, so this sensor size is perfect for my typical high school senior, maternity, birthday, headshot, model portfolio, and other portrait work.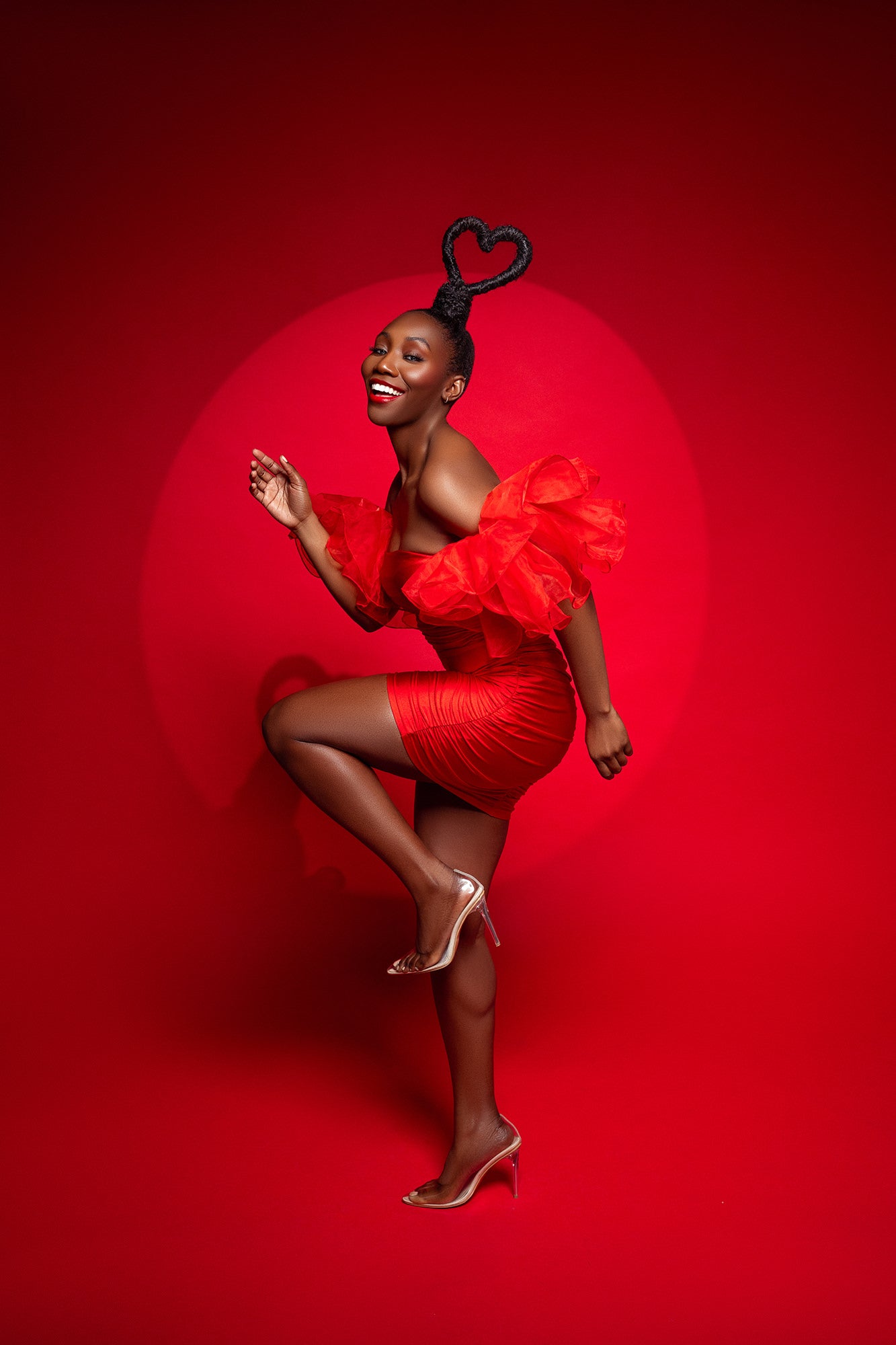 Photo by Hananiah Aldrich. Sony Alpha 7 IV. Sony 24-105mm f/4 G. 1/250-sec., f/5, ISO 500
Having two cameras on location allows me not only to have a backup camera body, but for weddings, events and on-location shoots it's great to have two different focal lengths at my fingertips. I can shoot wide, and telephoto to be sure I'm not missing any moments. It also saves me time switching and changing lenses with less risk of dropping a lens in a hurry, which has happened! Overall, the Alpha 7 IV has been a great upgrade from my Alpha 7 III, and a MASSIVE positive jump from my DSLR days.
Lenses
Sony 24-70mm f/2.8 G Master II: The 24-70 is one of my most used lenses in the studio, at events, and at weddings. Zoom lenses used to get a bad rep in the sharpness department, but that is not the case with these new mirrorless lenses. This lens is extremely sharp, versatile, lightweight, compact, and I very rarely take it off my camera.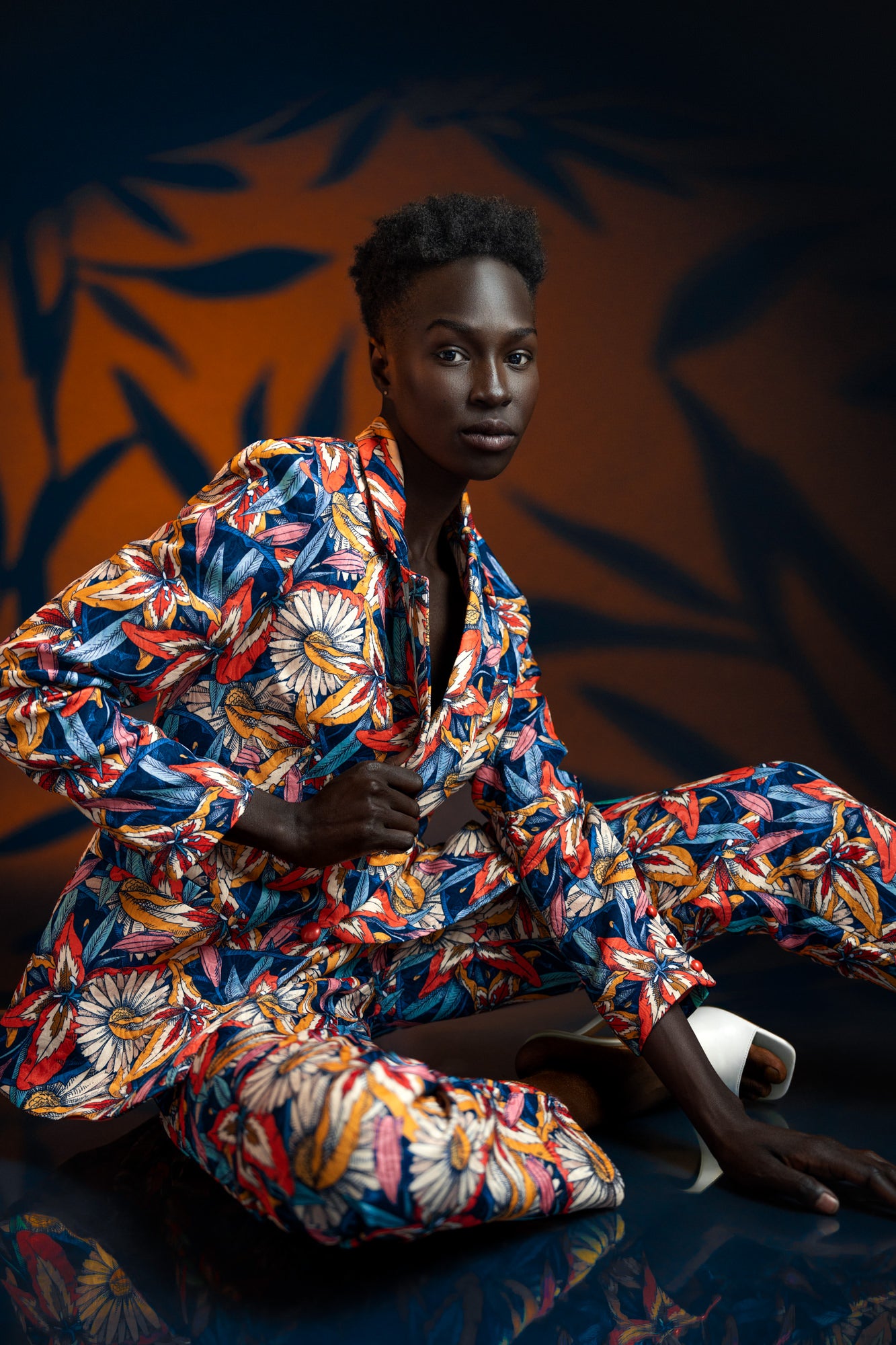 Photo by Hananiah Aldrich. Sony Alpha 7 IV. Sony 24-70mm f/2.8 G Master II. 1/160-sec., f/2.8, ISO 400
Sony 70-200mm f/2.8 G Master II: I use this lens to shoot in studio, on location, weddings, and events. The reach of this lens is better than any lens in my bag. It enables me to capture usable images from across the room without being disruptive. I love using this lens for high school seniors and shoots on location where I'm able to get a variety of close up and full body shots as well as creamy bokeh. It is extremely sharp and saves me time switching between primes.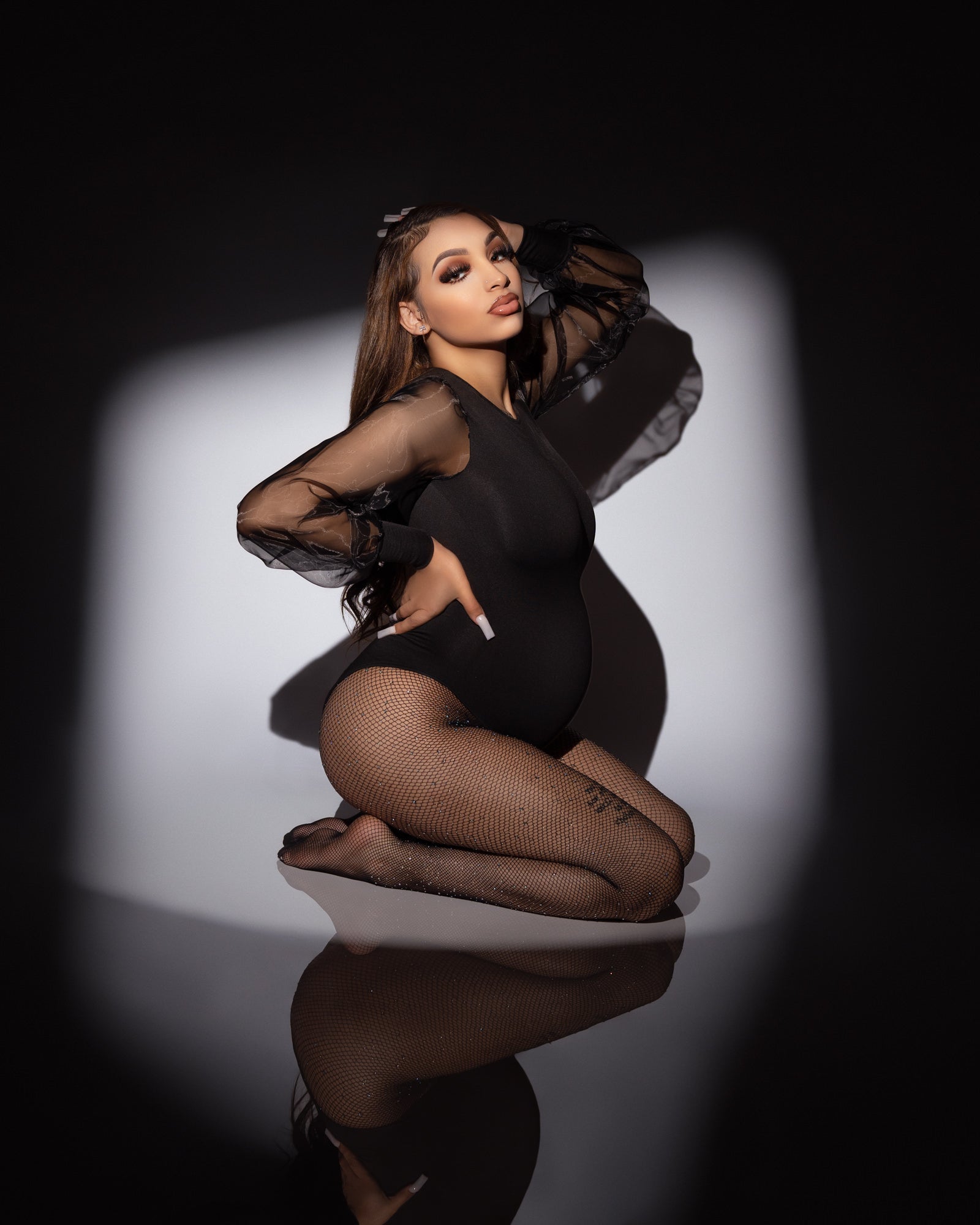 Photo by Hananiah Aldrich. Sony Alpha 7 IV. Sony 70-200mm f/2.8 G Master II. 1/250-sec., f/4.5, ISO 400
Sony 135mm f/1.8 G Master: This lens is the most recent addition to my bag. I primarily use this lens for headshots, and portraits on location. It is sharp, fast, and the way it compresses the background outside is unlike any other lens I own. The bokeh is beautiful.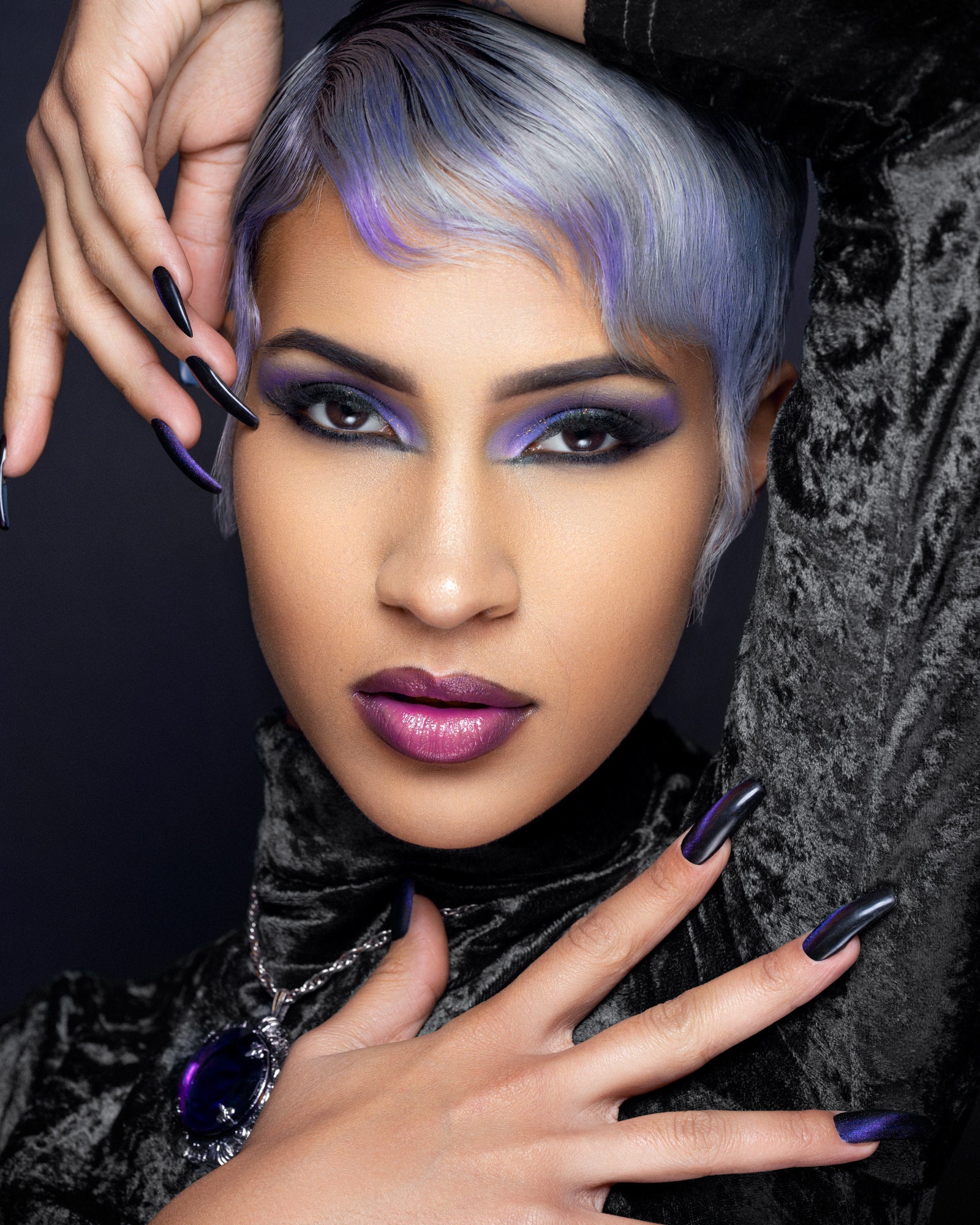 Photo by Hananiah Aldrich. Sony Alpha 7 IV. Sony 135mm f/1.8 G Master. 1/200-sec., f/8, ISO 125
Sony 24mm f/1.4 G Master: The 24mm is a very specific focal length that I have to be careful with portraits. Too close and the face becomes super thin, and distorted, but used correctly it can be a powerful tool. Using the wide to my advantage I'm able to capture more of my environment and emphasize certain features that give a memorable look. I will often use this lens for fashion, models and creative shoots.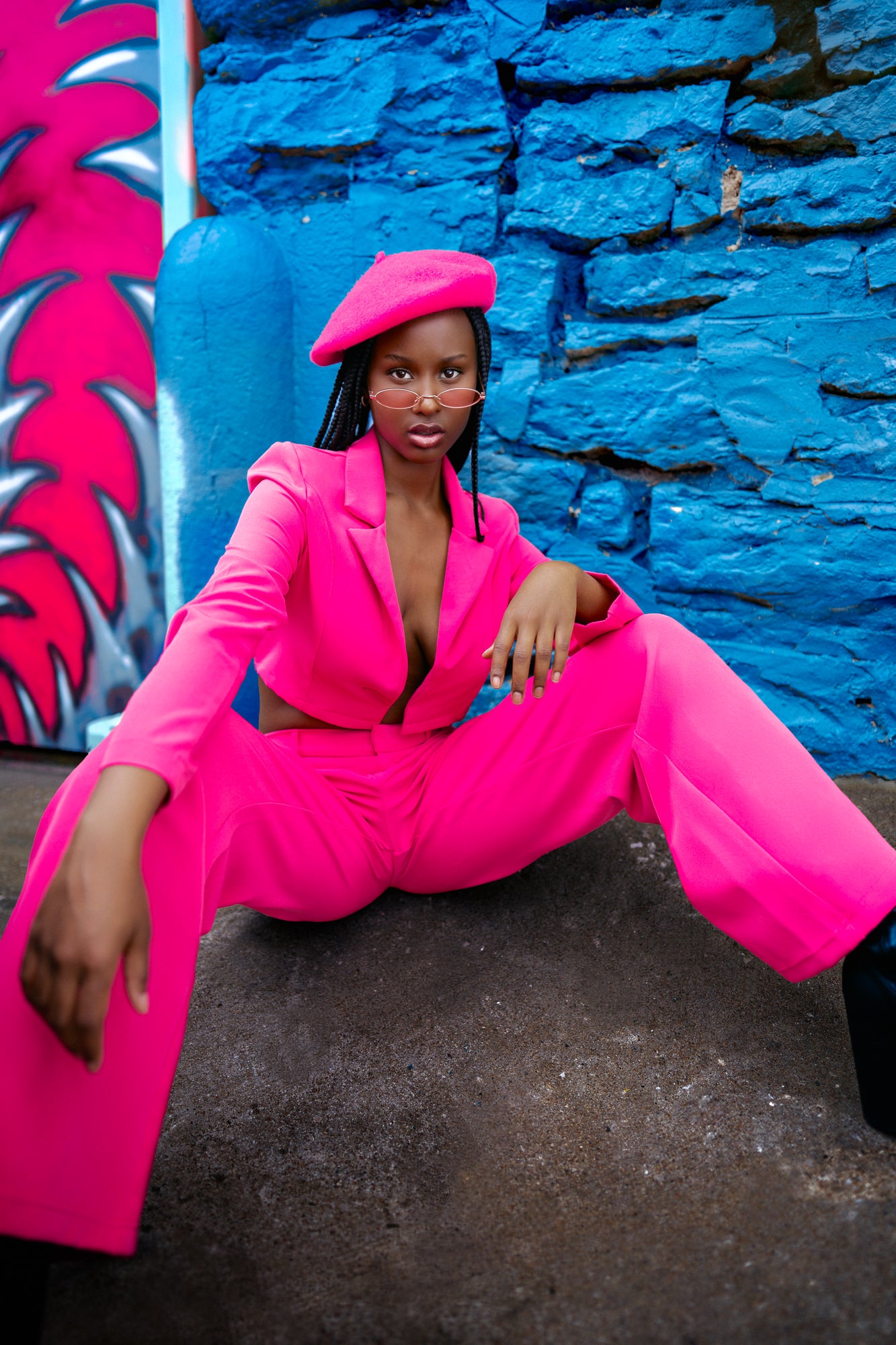 Photo by Hananiah Aldrich. Sony Alpha 7 IV. Sony 24mm f/1.4 G Master. 1/2000-sec., f/1.6, ISO 160
Sony 35mm f/1.4 G Master: I have grown to love this lens. For someone who loves environmental portraits I find myself always gravitating toward this focal length. It is perfect for indoor low light situations, and outdoors. It is light, fast, sharp, and like all the G Master lenses, it is built like a tank. It is definitely one of my most used, and loved lenses.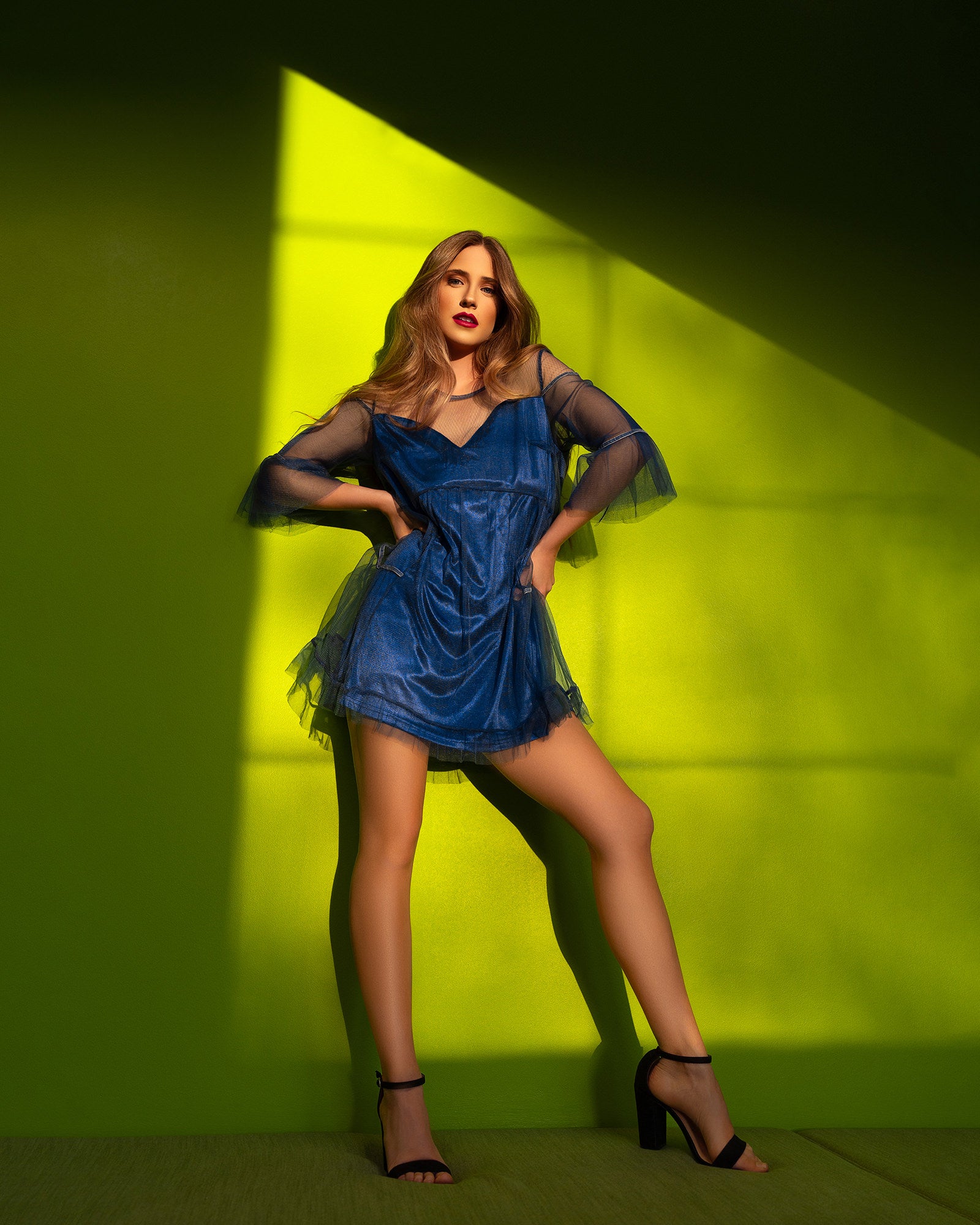 Photo by Hananiah Aldrich. Sony Alpha 7 IV. Sony 35mm f/1.4 G Master. 1/320-sec., f/4, ISO 320
Sony 50mm f/1.2 G Master: They call this lens the nifty fifty for a reason. It is the perfect focal length for almost everything. The 1.2 on this lens makes me pick it up more and more. It has an almost 85mm feel to it, but with a shorter focal length allowing me to interact more with my subjects. This is one of those lenses everyone needs in their bag. I primarily use this lens for my outdoor on location shoots.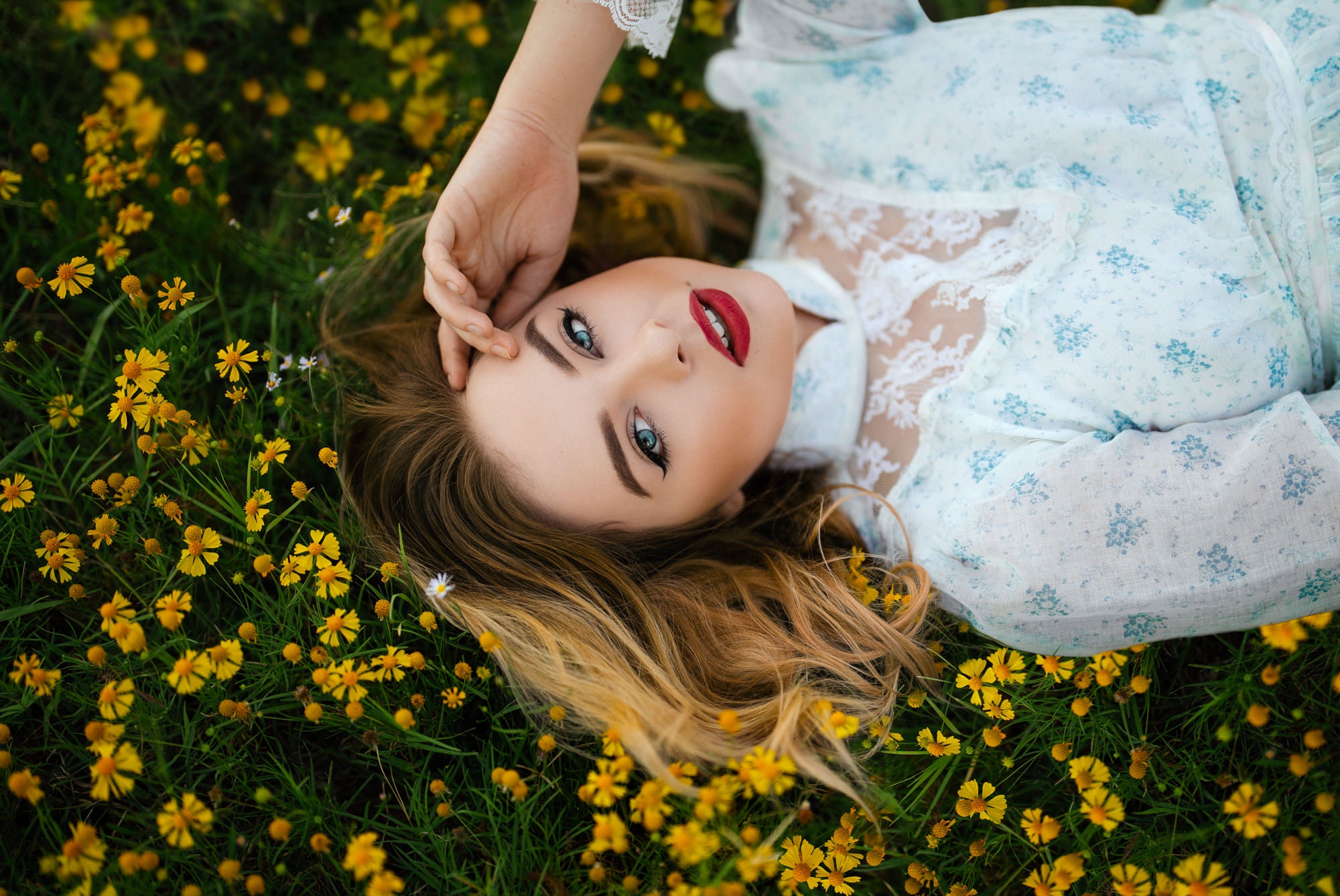 Photo by Hananiah Aldrich. Sony Alpha 7 IV. Sony 50mm f/1.2 G Master. 1/1600-sec., f/1.2, ISO 200
Sony 90mm f/2.8 Macro G: This is the sharpest most detailed lens I own! It is my go to for beauty shots, and studio portraits. The ability to macro focus on the eye, nails and lips makes this lens essential for branding shoots.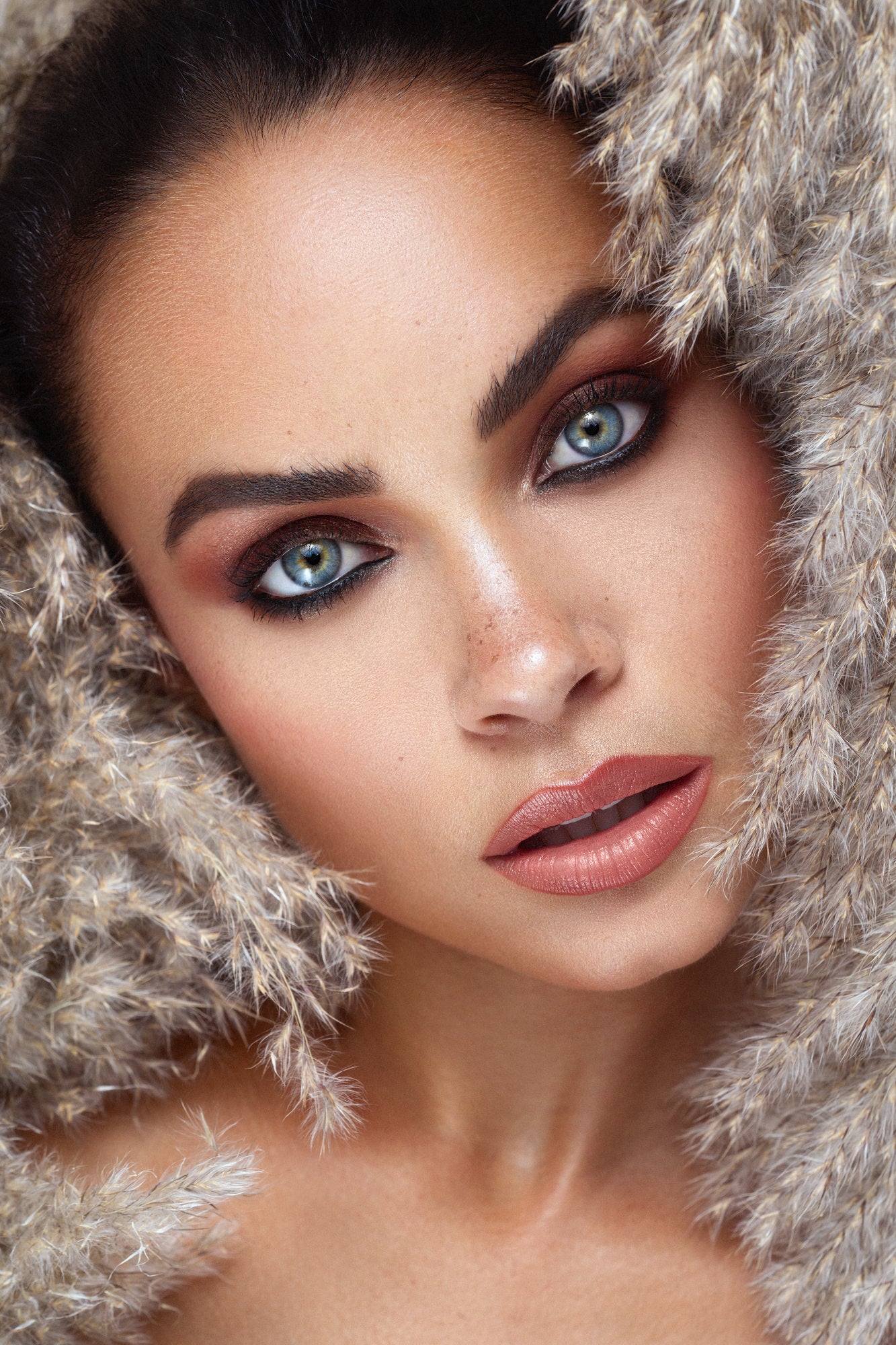 Photo by Hananiah Aldrich. Sony Alpha 7 III. Sony 90mm f/2.8 Macro G. 1/200-sec., f/9, ISO 100
Accessories
Lindsey Adler Optical Spot by Westcott: I can attach this spotlight onto my flash, and LED lights. This spotlight allows me to create lighting effects, patterns, with shapes of light on the background, and subject. Using the leaves to slice the light into rectangles, squares, triangles, and the circle gobos shapes I'm able to creatively control the light to give my image some dimension. I love using colored gels with this tool for some extra colorful fun!
Gobo & Inserts: These gobos "go-betweens" are inserted in the optical spotlight creating even more patterns and shapes you can choose from. They have hearts, windows, circles, blinds, stars, palm leafs, and really anything you can think of to add extra creativity to my images.
AD300: I use these in the studio to light the background, side light the subject, and light the hair from above. These are also wonderful on location or in shady areas when I need to pop my subject with flash and don't have enough light to use a reflector.
AD400 Light: I will often use this as the key or main light in the studio. I will take this light outside when I want a more powerful controlled light on sunnier days.
V1 Speed Lights: I use these speed lights on and off camera at events, and weddings. I will often have one on my camera, and 3 or 4 around the room depending on the venue, and location.
R2 Pro Trigger: This controls all off-camera flashes, and speed lights. With this trigger I'm able to wireless control the brightness of each flash.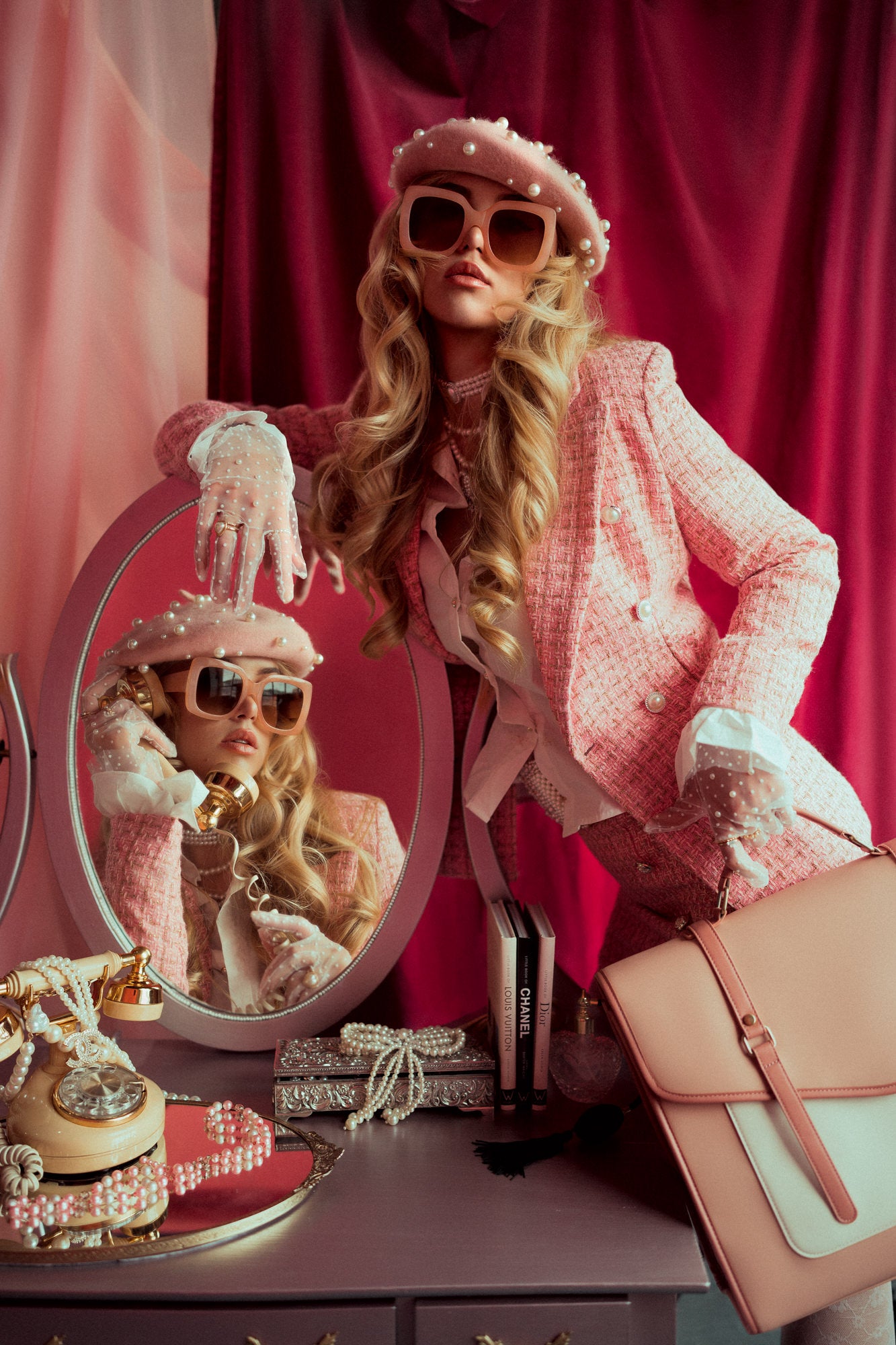 Photo by Hananiah Aldrich. Sony Alpha 7 IV. Sony 35mm f/1.4 G Master. 1/800-sec., f/1.4, ISO 640
Rogue 2-in-1 Super Soft Silver 32" Reflector: If I'm shooting on location you can bet I have this with me. The Rogue soft silver is my favorite reflector. It's a mix between the normal silver most used, and a white. It creates a soft but beautiful bounce back into my subjects when I need more detail in the shadows.
Diffuser 32": The diffuser is a must to cut the harsh sunlight while creating super soft light for my portraits. You'll often see me shooting at high noon using both of these reflectors to cut light and pop back that light.
Seamless Paper Rolls: I love using paper to create beautiful studio portraits. I have over 30 rolls to choose from that I use to make my subject pop while keeping color theory in mind for the perfect backdrop color.
Lens Filters & Caps: I use lens filters, and caps to protect my lenses from scratches, and dust. Lenses are expensive - gotta protect that investment.
Rocket Dust Blower: Shooting at a higher aperture in the studio, those dust particles really love to make an appearance when changing lenses! This little guy helps blow it away for cleaner images with less editing later.
Sony SF-M TOUGH Series UHS-II SDXC Memory Card: I use Sony TOUGH cards because they are fast, and super reliable that I pair with my Sony card reader to transfer my RAW files.

Sony Vertical Battery grip: This is a must on my main camera. As a portrait photographer I primarily shoot vertical. This is so much more comfortable for my hand grip, and bonus points for the extra battery life!
Batteries: I always have extras on hand especially when shooting on location.
See more of Hananiah Aldrich's work on Instagram @niahrosephoto.