Jessica Hirsch (@CheatDayEats and @YourRoomService) is a New York-based photographer and a member of the Alpha Imaging Collective. Traveling the world, Hirsch uses a Sony mirrorless setup to create the mouth-watering food photography for her popular @CheatDayEats Instagram page. We caught up with Hirsch to learn more about the gear she uses.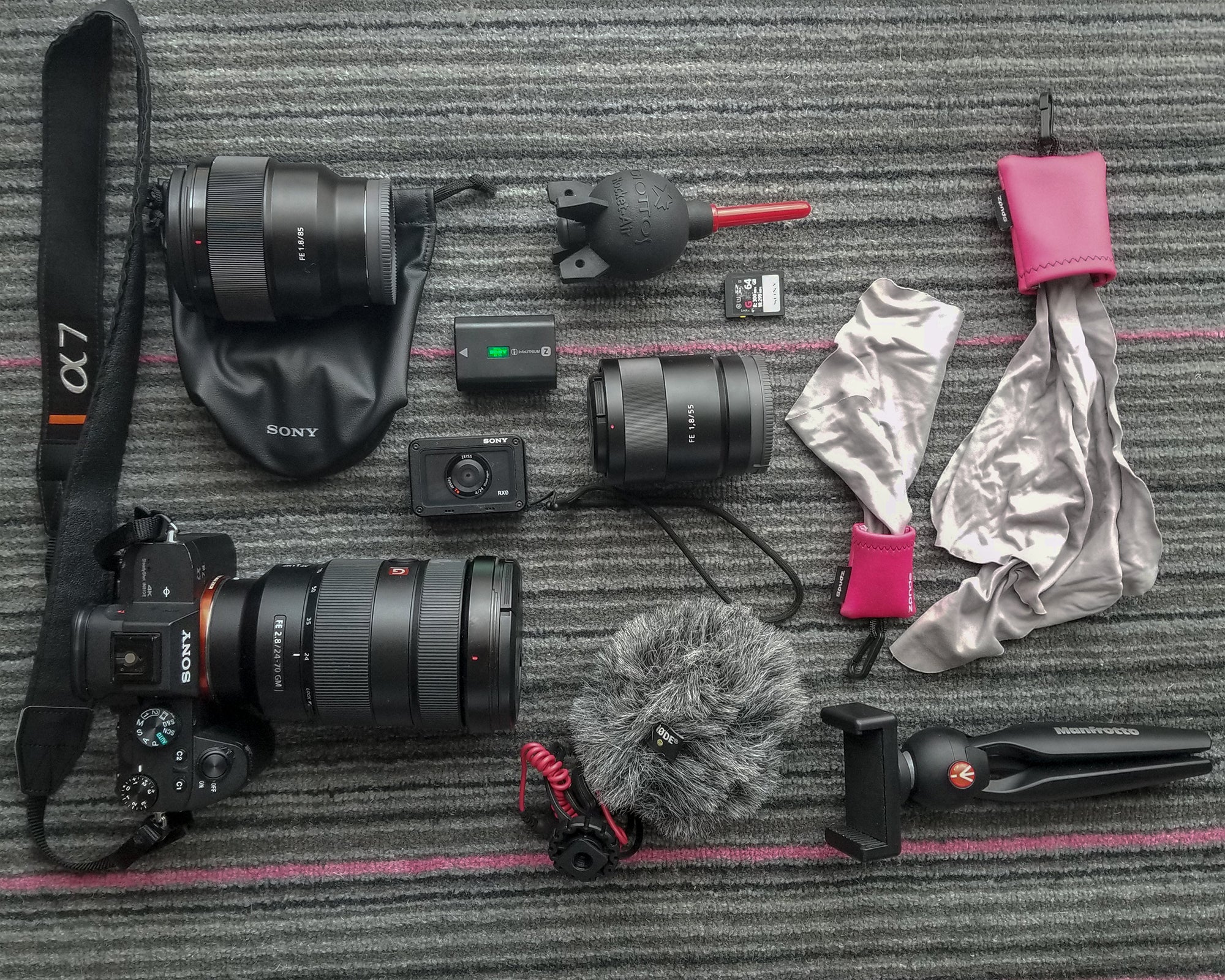 My camera bag is super important to me now that I'm traveling full time. I'm constantly shooting for @CheatDayEats and my Instagram travel page, @YourRoomService, so I need the proper gear to capture food but also the environment and ambiance of a destination.
The value is just so good with all the great features it has.
Cameras

Sony α7 III: The α7 III is my main camera. One of my favorite features is the 10 fps. I LOVE capturing the movement of food, whether it's pouring chocolate, sprinkles falling from a jar or an egg yolk bursting open. I also use it when capturing shots of myself in a destination. I love a good hair flip. No matter what the movement, I have also found that the α7 III's AF performance is great in video and in photos.

The high dynamic range is another α7 III key feature for me. It allows me to capture content for @YourRoomService in particular where I am capturing both indoor and outdoor views in one shot. I am able to shoot the image rather dark to prevent overexposure of any element in the frame and later bump up the shadows and darks in post-production with no issues.
I also rely on the α7 III's UHS-II memory card slots. I shoot 4K video with the camera and having the fast card slots is key. I use Sony UHS-II memory cards (SF-G64/T1) to get the full benefit of what the camera is capable of.
When my somewhat casual photography friends ask me what camera should they get, I always tell them this one. The value is just so good with all the great features it has. The Z battery is great and I have peace of mind knowing I can likely go a full day without needing to swap when I'm in a destination shooting videos and photos all day (though I'm still prepared and bring an extra with me just in case.)
Sony RX0: While the α7 III has a great water-sealed design, you can't take it under water with you. So that's when I switch over to my Sony RX0. It's a great little camera I can wrap around my wrist and bring underwater with me to capture some great content. It's super light and easy to carry around and also shock resistant in case it happens to slip off when you get back on the boat or maybe knock it against a rock on your way to a cliff jump!
Lenses
Sony FE 24-70mm f/2.8 G Master: This is my go-to lens because its range is so versatile and it's super sharp. It stays on my α7 III about 80 percent of the time. This lens allows me to go from capturing a tight shot of a dish one moment, to getting an over the table shot the next. It also lets me get great shots of a dish like a cone of fries, up against the backdrop of a destination. It's also my go-to lens in the kitchen when filming with chefs because I like the ability to zoom while filming, especially in small kitchens where I can't physically back up or get too close to the fire or what's cooking.

Sony Sonnar® T* FE 55mm f/1.8 ZA: This is a recent addition to my collection and I love the ability to create a shallow depth of field with the f/1.8 aperture. I love having that bokeh for a shot that creates a crisp focus of a dish with everything else faded out so the eye is drawn to the subject immediately. I feel like it adds a little more pop to the image.
Sony FE 85mm f/1.8: I put this f/1.8 in my bag for similar reasons to the 55mm. Also both primes are light to carry around on my α7 III. The 85mm lens is great if I'm capturing portraits or when I have my partner get portrait shots of me with food!

Accessories:
Sony 64GB UHS-II memory card (SF-G64/T1): My α7 III can handle UHS-II speeds, so this card is a no brainer to take advantage of that. I like to shoot in 4K a lot and I have no worries using this card to keep up with data transfer speeds.
Giottos Rocket Air Blaster: Powdered sugar on my lens is my worst enemy! Having this air blaster lets me dust it away harmlessly.

Spudz microfiber cleaning cloth: I can't live without it! There's nothing worse than having something on my lens to prevent me from making a great photo. Microfiber is the key. I use it with a solution that's designed just for cleaning lenses.
Manfrotto mini tripod: When getting behind the scenes footage of @CheatDayEats, I'll throw my phone on the tripod and have my partner follow me to see some of the crazy things I do to get a photo.
Røde VideoMicro: This mic mounts to the shoe on my α7 III to enhance unidirectional audio of a subject in front of the camera.
Extra Battery: The Z batteries in the α7 III are amazing, but I always carry a spare for piece of mind. I like to know I have it, just in case.