I'm Jess Santos (@missjessbess), a landscape and astrophotographer based out of Las Vegas, Nevada. My love affair with the desert and its wide open night skies has long preceded my photography career. So when I began taking photos my first priority was learning how to capture those little glittering pieces of light I found so fascinating. I started with a Sony Alpha camera and haven't looked back since. The way these cameras handle low light photography is pure magic. As a member of the Sony Alpha Imaging Collective, I've been able to collaborate and travel with a unique group of creatives, refining my gear. Here's a look at my cameras, lenses and a few other items that I use for Milky Way photography and time-lapses.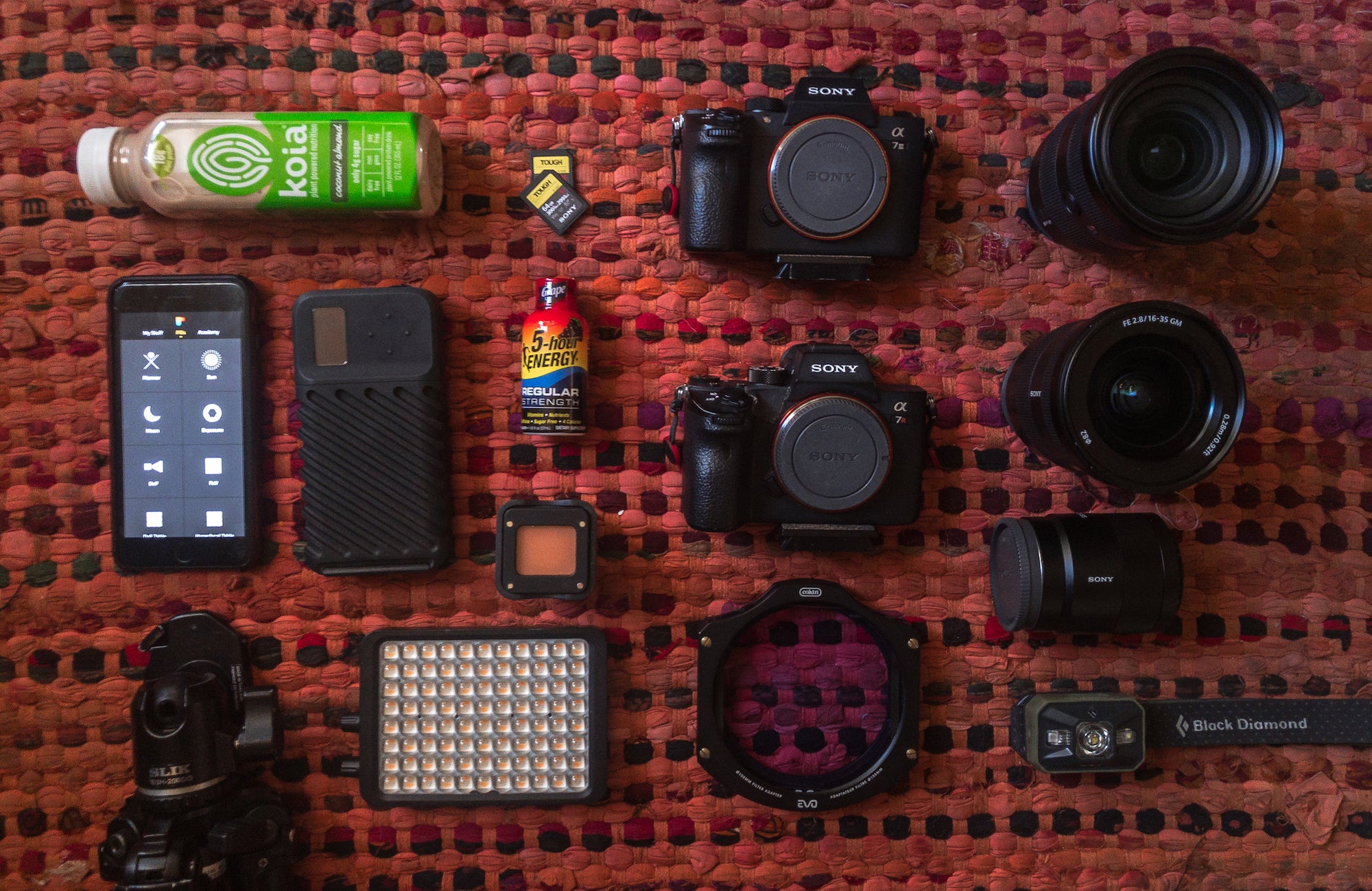 Cameras
Sony α7R III: This camera is a beast and is my go-to camera body. The resolution allows me to to create large prints with no loss of quality but still have a lightweight mirrorless camera body. I also love the built-in intervalometer and use it for almost all my astrophotography shots to achieve a technique called stacking, allowing me to capture consecutive shots and combine them later to get the most color and detail out of the Milky Way. Another feature of this camera is bright monitoring which al- lows me to quickly frame my compositions in the dark without using any lights or taking a million test shots. Even further the focus peaking makes focusing at night in the dark a breeze.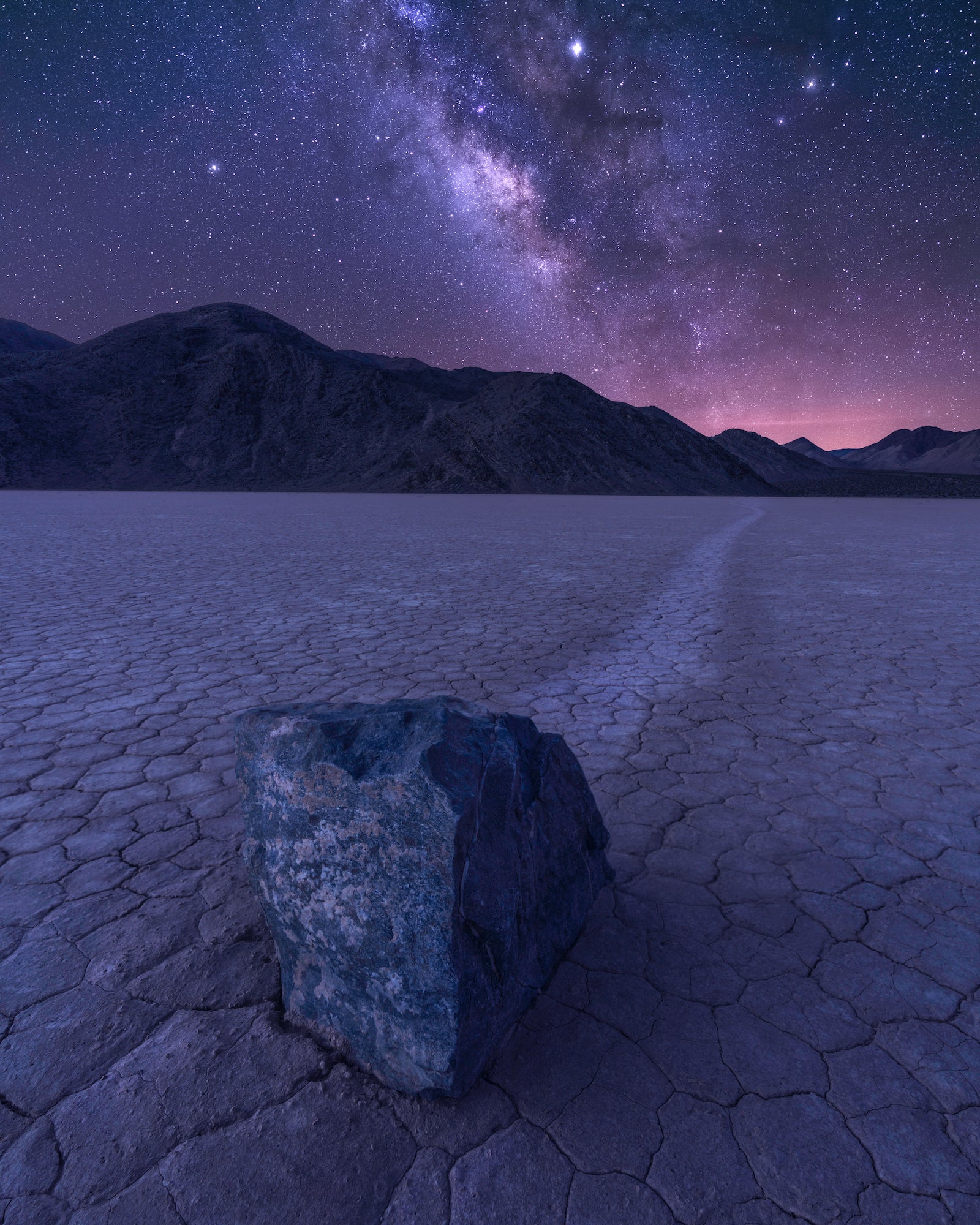 Sony α7R III. Sony 16-35mm f/2.8 G Master. 30 secs., f/11, ISO 100. One of the most fascinating spots in Death Valley. These stones are known as the Sailing Stones and move on their own creating trails behind them. I used my Sony α7 III with the Sony 16-35mm f/2.8 G Master. Using the lens distortion at 16mm allowed me to make the stone in the foreground appear much larger and more prominent in the shot.
α7 III: This camera body is a great complement to my α7R III and I use it a lot when I have two scenes I want to shoot or for timelapsing. Its lower megapixels make it a great option to save on hard drive space, but not so low that I lose quality. It really is a bridge between the higher resolution α7R III and the low light champion α7S II, the best of both worlds for me. It also includes the built-in intervalometer, bright monitoring and focus peaking – a trifecta that helps aid common night photography setups that would normally just guzzle time away.
I love having two camera bodies on me at all times. In this case I used the Sony α7 III to capture this timelapse of one of my favorite arches in Alabama Hills, while I reserved my Sony α7R III for taking still images. Using the built-in intervalometer is super quick and easy. I set up the shot and let it run.
Lenses
Sony 16-35mm f/2.8 G Master: This is my top lens for astrophotography and rarely leaves a camera body. Being able to photograph at f/2.8 or lower is key in night shooting, and this lens has a great range for many different compositions. I generally prefer a wide angle to be able to balance a dynamic foreground with a sky full of stars. I also use the lens distortion to my advantage at 16mm to make foreground elements appear much larger, creating a more compelling composition.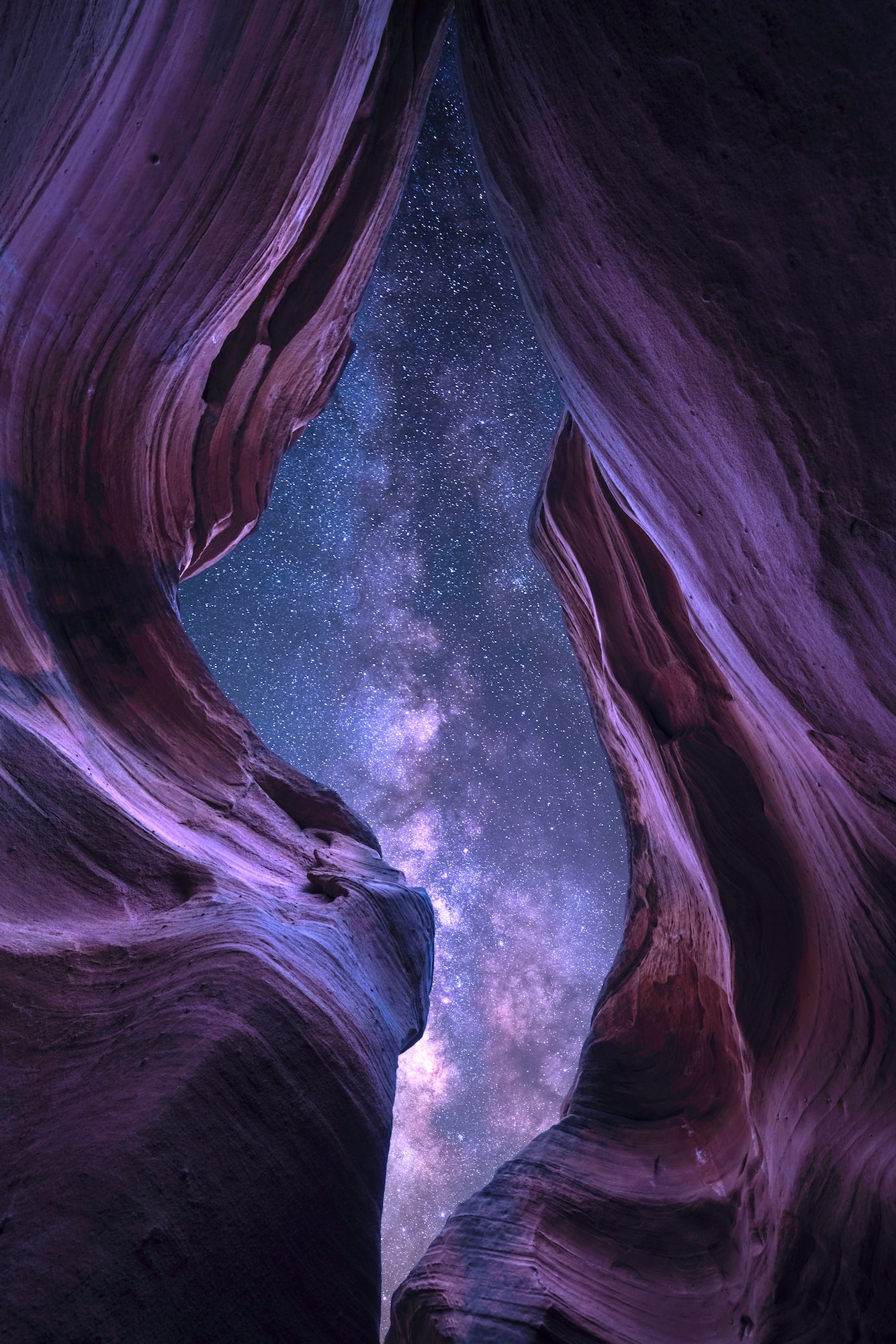 Sony α7R III. Sony 16-35mm f/2.8 G Master. 1/50-sec., f/11, ISO 100. Although this slot canyon in a remote area of Utah may seem tall, it was actually quite short, I was laying on my back to capture the entire opening. Being able to use a wide angle like 16mm allowed me to get the whole scene in.
Sony 24-70mm f/2.8 G Master: This is quickly becoming one of my favorite lenses, at f/2.8 it is a fast enough lens to be able to photograph the milky way and I can expand my focal range when scouting for compositions. I find that a major benefit of this lens for me is the ability to capture the stars at just the right amount of magnification, whether I want to shoot a scene at 24mm or longer I can find just the right length in this lens. Shooting at a longer focal length I can compress foreground and back- ground elements to really pull everything in the scene closer together.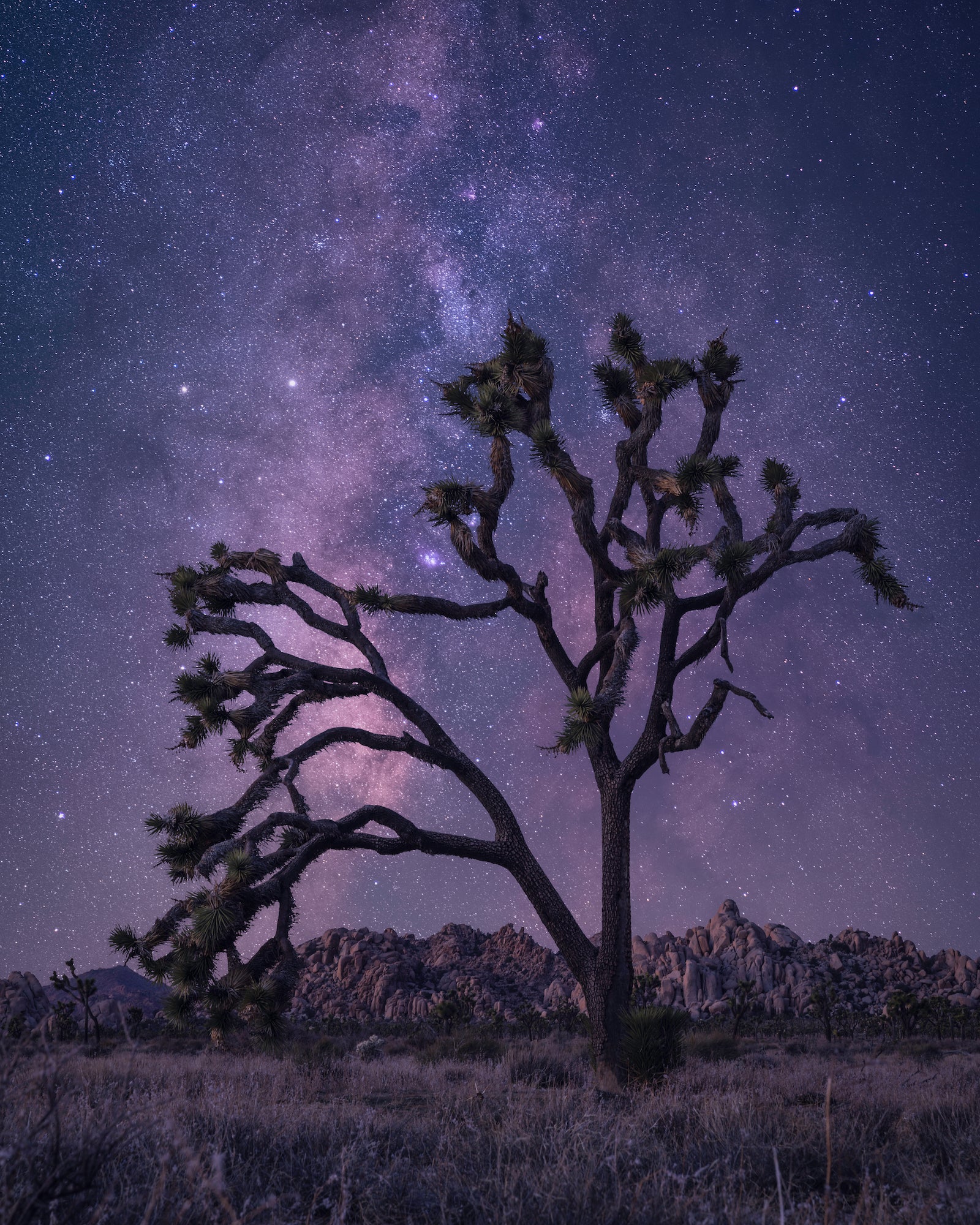 Sony α7R III. Sony 24-70mm f/2.8 G Master. 5 secs. f/11, ISO 100. Using the Sony 24-70mm f/2.8 GM I was able to condense the foreground at a focal length of about 70mm, making the rocks behind the Joshua tree look much larger than they actually were. I then combined it with a Milky Way shot at 50mm to make to stars appear closer to how we actually see them with our eyes.
Sony 55mm f/1.8: This lens has earned a place in my bag because of its sharpness and beautiful photographs it produces, being a prime lens allows me to photograph the night sky with pinpoint accuracy. This lens can also be used at f/1.8 which makes balancing settings between shutter speed, ISO and aperture much easier. For example since I can shoot at a lower aperture, I can reduce my ISO for less noise or increase my shutter speed to let even more light in. The added bonus to this lens is how beautifully it works for portraits as well, so when adding in the human element to a shot this is my number one choice (not to mention how lightweight it is).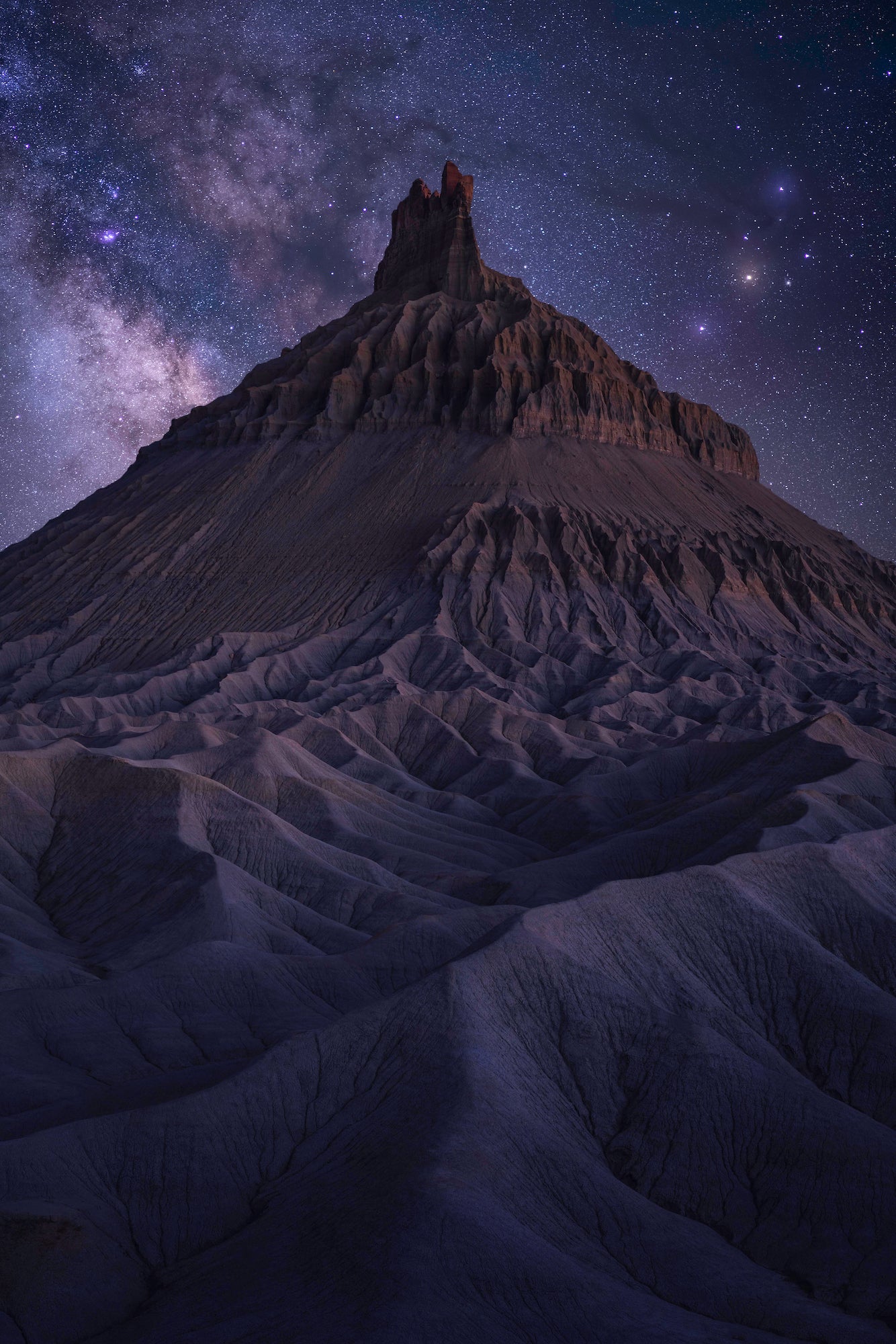 Sony α7R III. Sony 55mm f/1.8. 30 secs., f/11, ISO 100. By selecting a prime lens to photograph the night sky, I get much more overall sharpness, and at a focal length of 55mm this far a way landscape in the badlands of Utah becomes a little more intimate.
Accessories
Luxli Viola LED Light: Used to light up scenes at night for timelapsing – it can be set to any white balance and brightness level.
Slik ProCF 734 Tripod: My favorite tripod, the perfect combination of lightweight and sturdy, both necessary factors for night photography.
Cokin Clear Sky Filter: This filter counteracts the effects of light pollution in my photos, by blocking the amber glow caused by nearby city street lights.
Gnarbox 2.0: To back up all my RAW's while on the road without using a computer.
Photo Pills App: An amazing tool used to plan milky way alignment, moon phases, shutter speed and hyperlocal distance.
A head lamp to navigate in the dark, Lume Cube 2.0 for additional lighting in my scenes. A protein drink and a lot of caffeine to get through a long night of shooting (although I don't recommend my caffeine addiction habits).