I've always been fascinated by the night sky and the mysteries that lie beyond Earth's tallest peaks. It was only natural that I picked up astrophotography soon after my photography journey began, but it wasn't until three winters ago that I first laid eyes upon the mystical dancing lights of the aurora. That light display was so monumental that ever since I've set out to photograph the aurora at every chance possible. If you check out my website or my Instagram (@autpops), you'll see how much I love photographing the night sky and auroras.
This February I traveled to my favorite wintry destination, Lofoten, Norway, to teach a photography workshop. It's not an easy place to get to – from Seattle it took 20-some hours of travel spread out over four flights! Lofoten, an archipelago, sits above the arctic circle at 68º north where the exquisite aurora borealis puts on brilliant shows throughout the autumn and winter seasons. With the newly released Sony FE 20mm f/1.8 G lens in hand (you can see my review of the 20mm f/1.8 G for night photography here), I was excited to put this fast and wide prime through its paces to see how it handles the magical, dancing skies of the arctic.
You can see the aurora in many locations on Earth, but the rich culture of Lofoten is what keeps drawing me back year after year. It's been fascinating to learn about the people who lived with the aurora long before anyone knew what it really was. Some of them even feared the aurora, believing that it was the souls of the dead coming to snatch up those who were disrespectful. One thing is certain: Witnessing a phenomenon like the aurora is an experience that changes you. Something in you lights up, mirroring the sky above, suddenly all you want to do is watch these mesmerizing lights swirl around forever and ever. It's an adventure that seems to transport you to a different planet—one with magic and wands and Horcruxes.
Planning
Photographing the aurora requires several factors to perfectly align:
First things first, you need to put yourself somewhere far north or far south—aurora only occurs near Earth's magnetic poles. The auroras occur year-round, but are best seen in the autumn and winter months when the skies are dark.


A solar storm to actually spawn the aurora! The lights are essentially a function of energetically charged particles from the sun being drawn down Earth's magnetic field lines at the poles and colliding with gas atoms, which results in a release of light. When more particles are released from the sun at once it's called a coronal mass ejection, and it's during these solar storms when the aurora lights are strongest.


Clear skies! Clouds will hide the beautiful aurora.


A whole lot of patience.


And quite frankly, pure luck.


During the week that I was chasing aurora, Storm Dennis wreaked havoc across the landscape, dumping snow, rain, and graupel mixed with howling winds. The cloud cover completely blocked any chance of seeing the aurora near our lodge, but thanks to a handful of weather and aurora prediction apps, knowledge of the terrain, and a van full of stoke, we discovered that it was predicted to be clearer about two and a half hours north! If there's one thing that I've learned about outdoor photography, it's to never give up due to weather. I would have missed this shot if I had. You never know when the clouds will part, so always go! As we drove, the weather seemed to only get worse; we soon found ourselves encapsulated in a whiteout blizzard wondering if we should have trusted the weather apps at all. We persisted on and eventually popped out into a clearing. They were right!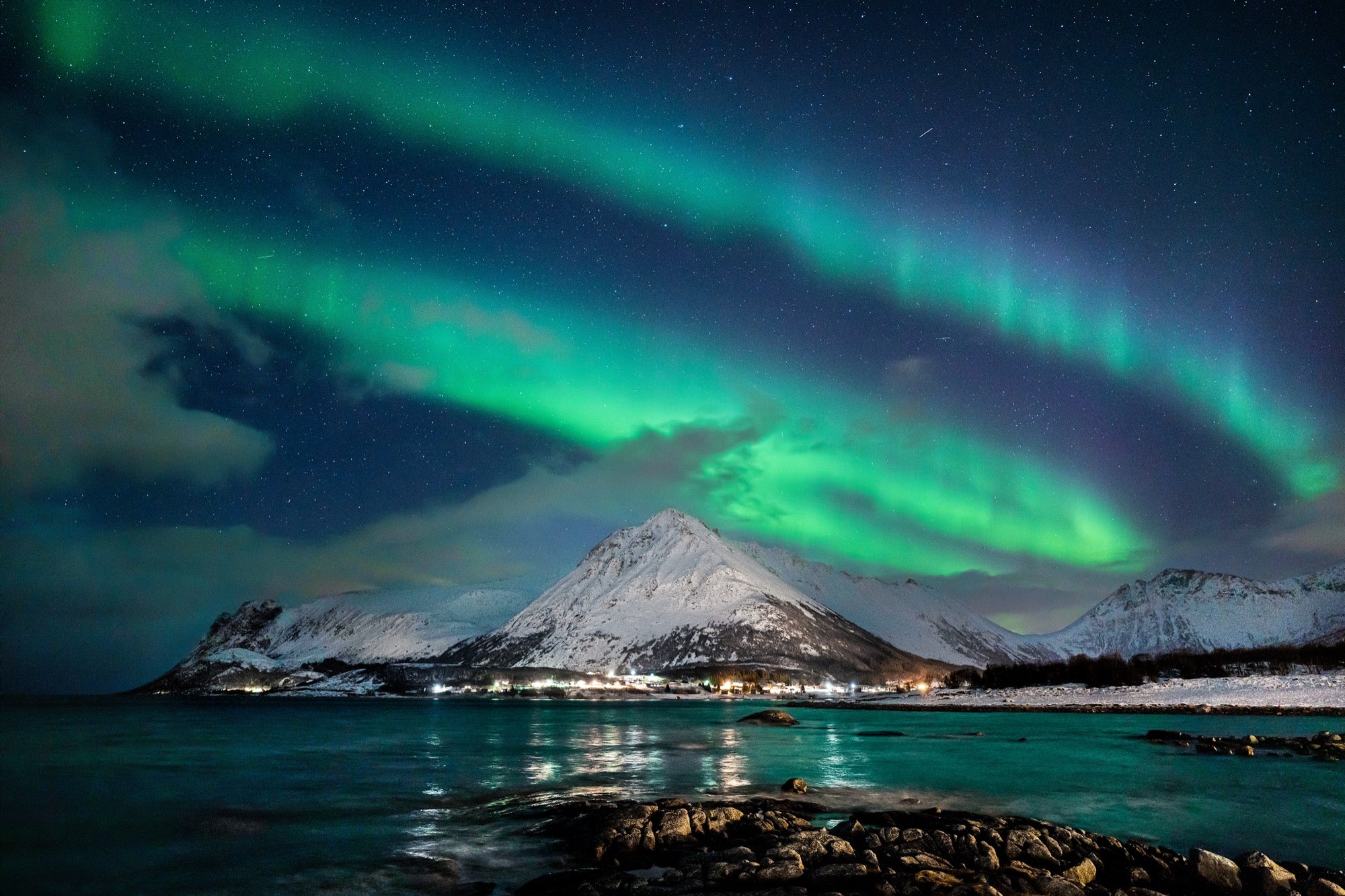 Sony α7R III, Sony FE 20mm f/1.8 G. f/1.8, 3.2-seconds, ISO 2000
Composing The Shot
The aurora shows up wherever it feels like it this far north, so it's difficult to plan an exact location ahead of time. I scouted a few places on Google Earth and within a few minutes we were pulling up to the dropped pin. We all hopped out of the van in glee as the skies above twirled and shimmied. I set up my Sony α7R III on a tripod with the new Sony 20mm f/1.8 G and waited until the lights started to make their way behind the center triangular mountain.
Manually focusing can be challenging at night, especially with wide angle lenses. Thankfully Sony cameras are equipped with MF Assist, which automatically zooms in for you to get a better look once you turn the focus ring. You can zoom in even further if you press the center button inside the control wheel. Another helpful tool I use for manual focusing is Focus Peaking. It works by highlighting the in-focus elements of your frame in a specified color for better focus visibility. I use the color red when I'm photographing the night sky; the other options are white or yellow, which tend to blend in with the stars and camera noise. These focus assist settings help me tremendously as I don't have great vision, but also because stars are tiny at 20mm!
Camera Settings & Lens Selection
I always shoot in the Adobe RGB color space, but it's particularly important when photographing the aurora. Adobe RGB enables me to capture the aurora colors more accurately, as it records more green and blue hues than the sRGB color space.
I select uncompressed RAW as my file type when shooting in high contrast conditions, such as at night with bright lights in the sky. Uncompressed RAW will give you more detail to work with when editing your files later. The file sizes are significantly larger, but worth the extra space when shooting in these scenarios.
When shooting astrophotography, wide lenses with fast apertures are generally preferred. The low aperture of the 20mm f/1.8 is key for shooting the fast-moving aurora, because unlike shooting the Milky Way, you most likely only get 2-4 seconds for exposure time. Not only is the aurora typically moving quickly, but it's also easy to peak the green channel by overexposing. The aurora is constantly evolving, always ebbing and flowing darker and brighter, so it's better to slightly underexpose rather than blow out the beautiful colors. (Note: Schrock isn't the only one who chose the Sony 20mm f/1.8 to capture the auroras. See Sony Artisan Colby Brown's review of the lens and Alpha Collective member Nate Luebbe's experience after putting it through its paces.)
Sometimes it's difficult to detect with your eyes just how quickly the aurora is moving, so I used my camera for help. After testing out different shutter speeds, it became clear that the aurora wasn't moving super quickly. I was able to use a slightly longer exposure at 3.2 seconds, while still being able to capture the texture as it moved across the sky. Because it's a relatively short exposure for night photography, opening up the aperture to f/1.8 helped to keep my ISO down to 2000. I've been quite impressed by the low-light capabilities of the α7R III, so combined with this new fast and wide prime, I was able to worry less about noise and enjoy the moment more.
The Sony FE 20mm f/1.8 G surprised me, frankly. Weighing in at 13.12oz (373g), its compact and lightweight size made it a joy for travel. The image quality is outstanding straight out of camera. The colors are rich with great contrast, the dynamic range and detail in the shadows are excellent and I found the sharpness to be outstanding, even wide open at f/1.8. This is a jack-of-all-trades wide angle lens that surpassed my expectations for astrophotography, and I am planning to leave it attached to my camera for the upcoming Milky Way season.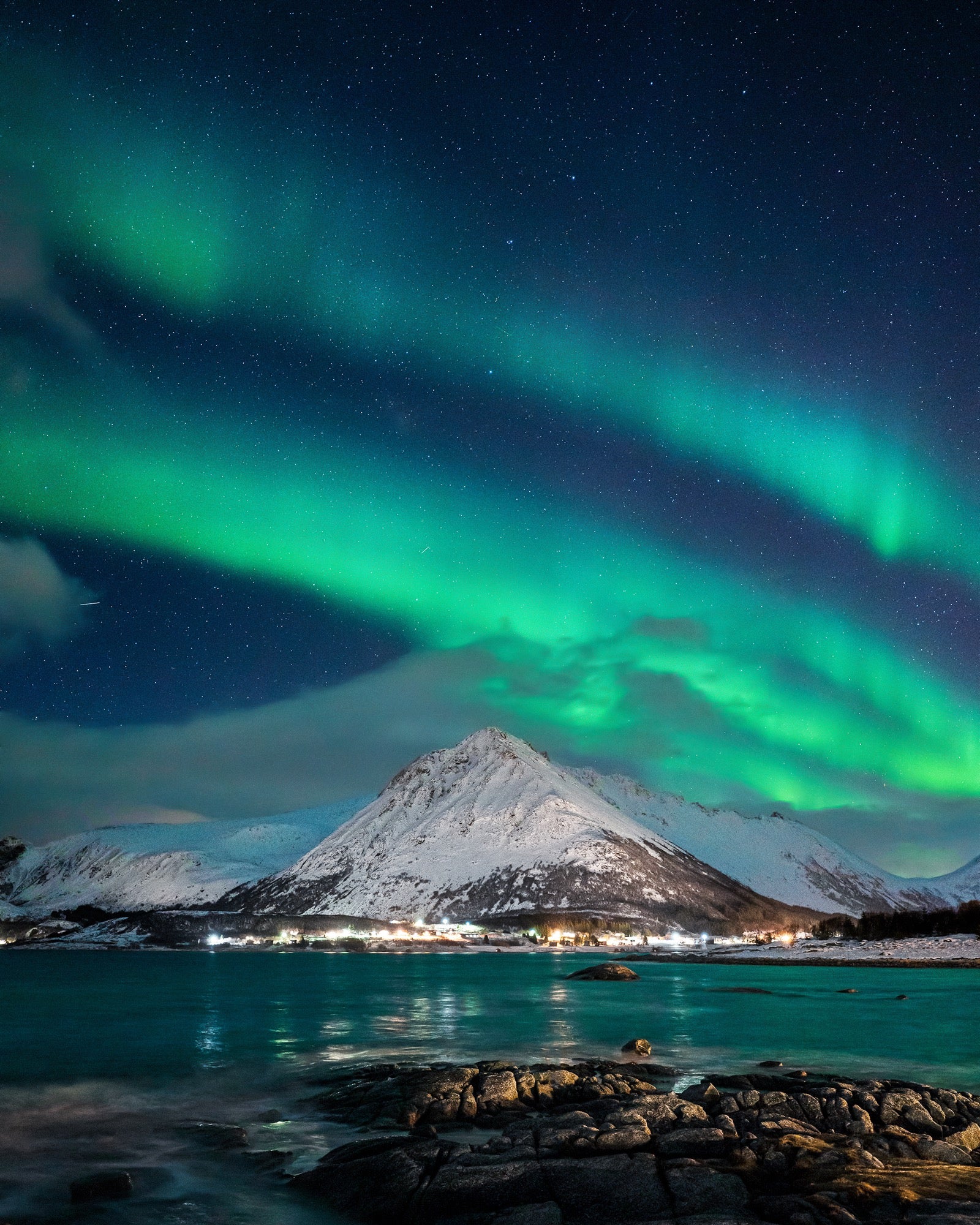 Sony α7R III, Sony FE 20mm f/1.8 G. f/1.8, 3.2-seconds, ISO 2000
One of the many reasons why I have become addicted to shooting the aurora is the challenge. You drive all over the place to find a scenic location with the aurora above it, set up your tripod, manually focus, all the while knowing that it could (and probably will) all change at a moment's notice. On the flip side, some nights you spend hours just hoping the aurora will even make an appearance. Patience is a skill that gets exercised quite often as a landscape photographer, but it's especially applicable while trying to photograph aurora. It's tempting to stay glued to your camera once it does appear, but it's imperative to take time away from your viewfinder to watch it dance ever so gracefully above you. There is absolutely nothing like it, and you would be remiss not to watch it with your God-given set of lenses.