Engagement, elopement and wedding photographer Henry Tieu (@henrysdiary) aims to photograph beautiful moments of life and to create memories his clients will want to cherish. Based in Seattle, the Alpha Collective member travels all over to document love in its most honest forms. With a previous career as a Cardiac ICU nurse, Tieu has a deep understanding that every moment, both large and small, matters. He uses this approach in his photography and provides an inclusive outlook to photograph couples of all kinds. We wanted to learn more about the Sony Alpha mirrorless cameras and lenses he uses to capture these moments, so we caught up with him to learn more about what's in his wedding kit and why:
See the Sony Alpha mirrorless cameras & lenses this wedding photographer includes in his kit to ensure he never misses a moment.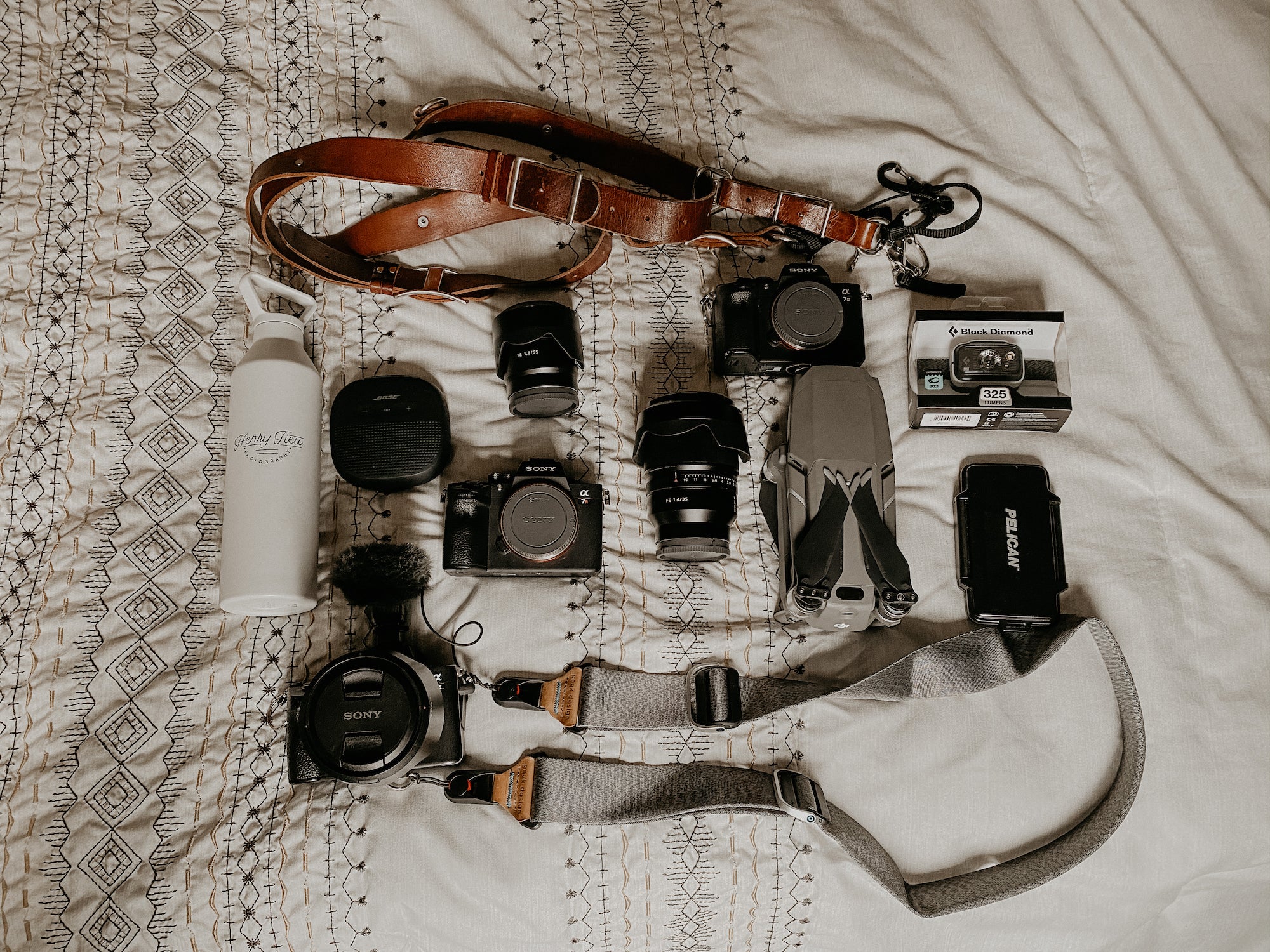 Cameras
Sony α7 III: This is my favorite camera I've ever owned. Not only is the body size perfect for any situation (portraits, weddings, travel), but also the technology inside this tiny camera is crazy powerful. I rely on Sony's autofocus and never miss a single moment during a wedding. The Eye AF is my favorite feature. This allows me to grab shots in wild weather elements and sceneries. One thing I have to point out is how great this camera has been for me in the rain and snow. As an elopement photographer based out of the Pacific Northwest, I often work in the rain. Everyone looks at me like I'm a crazy person when I photograph without a cover.
Sony α7R III: When I decided to upgrade from the Sony α7 II, I went with the α7R III. Its huge file size allows me to crop freely and be creative while delivering the highest resolutions possible. These days, it's the third camera in my bag at all times just in case I need a backup.
Lenses
Sony 24mm f/1.4 G Master: Ever since I got this lens, it hasn't left my camera body. This lens is perfect for low light situations and tight spaces like getting-ready photos or intimate in-home sessions. This lens is also amazing for landscape and travel. I did a personal trip to Vietnam and this was the only lens I brought with me.
Sony 35mm f/1.4: To prevent distortion in close-up photos, this is my go-to lens. In fact, prior to owning the 24mm G-Master, I almost exclusively used this lens for everything.
Sony 55mm f/1.8: On a typical wedding or elopement day, I often use this lens along with my 24mm G-Master. The 55mm allos me to really isolate a single subject and allow the viewers to truly feel what that moment was like. I often use this lens to capture reactions from the groom, family, and guests as well as detail photos of flowers, table sets, welcome signs.
Accessories
Headlamps: For adventure elopements, my couples and I often have to hike before sunrise or after sunset. Therefore, I usually pack with me two headlamps just in case my couples forget theirs
Water Bottle:: I have my branding printed on insulated water bottles so I am a bit obsessed with them. I also gift them to my couples so we can all match on their elopement day :)
DJI Mavic Pro 2: I often try to incorporate one or two drone shots to each session for another perspective on the same scenery and setting to spice things up. Drone photos are a great addition to storytelling.
Pelican Memory Card Case: I tend to bring a lot of memory cards everywhere I go. Memory cards do corrupt all the time, I just want to be prepared and have extra when needed. The Pelican Memory Card Case is great since it's water resistant sealed. This is how I organized everything: right side up for cards without any files, upside down is for cards full of images. Once all photos are edited and delivered, that's when I format the upside down cards and flip them for the next session
Bose Soundlink: Music is a great way for my couples and I to connect. I also use music to direct couples when it comes to capturing organic moments and authentic emotions. This little speaker is small but so powerful and it is weather-proofed so it's perfect for any condition.