We caught up with Mahesh Thapa (@starvingphotographer) to find out about the cameras, lenses and essential accessories he packs for landscape photography. The Seattle-based member of the Alpha Imaging Collective keeps things pretty light, while still giving him a full range of speed, resolution and a trio of G Master zooms with focal lengths from 16mm to 560mm. He walks us through and explains why each item makes the cut: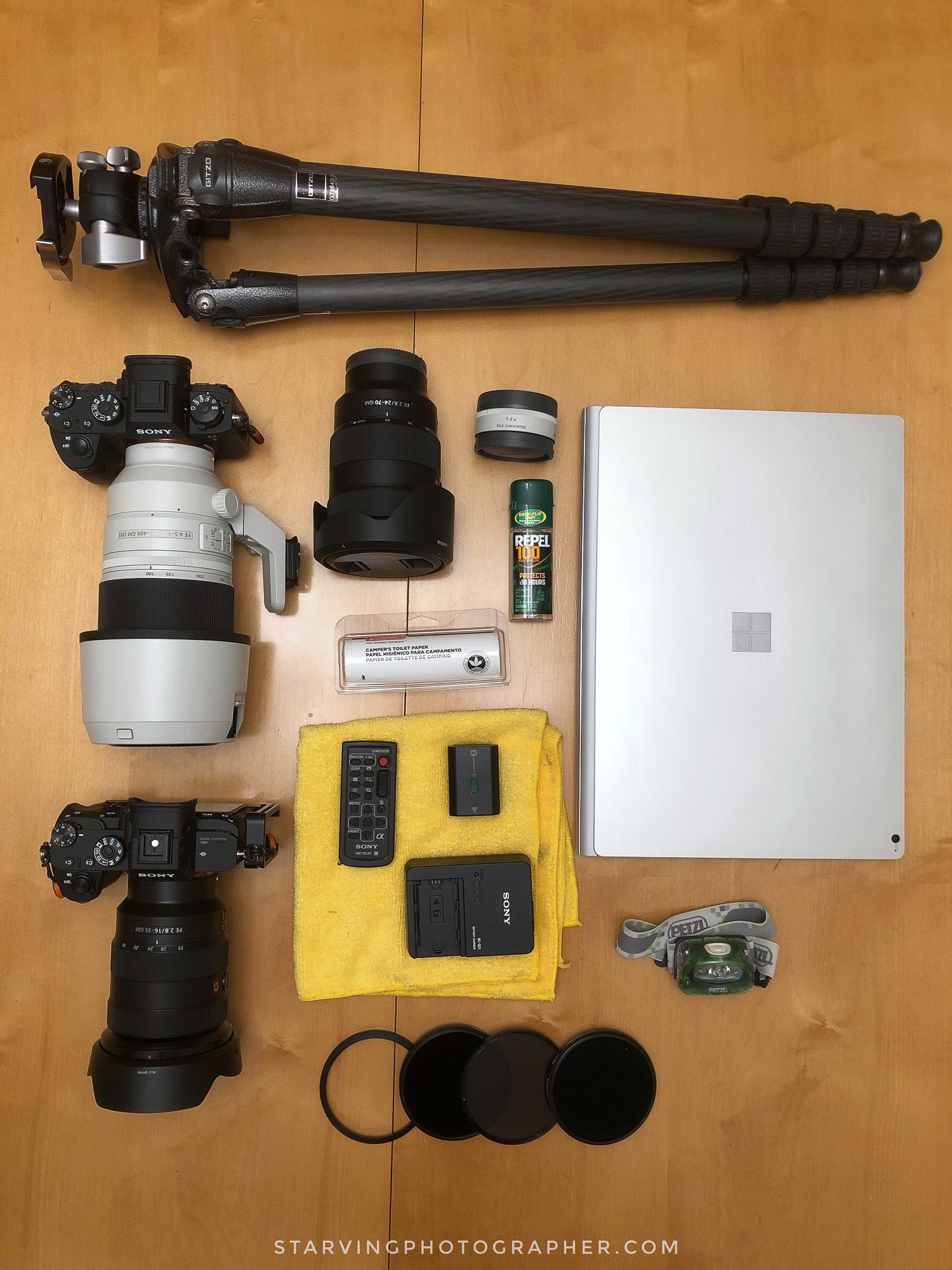 As with many photographers, what I carry in my bag is dictated by what I plan to shoot. I'm largely a landscape and nature photographer, including birds and other wildlife so I make sure I have a broad focal range from ultra-wide to long telephoto. I carry two camera bodies, three zoom lenses, an extender, a sturdy tripod and various accessories.
Cameras
Sony α7R III: This is my workhorse body for landscape photography. It gives me the best in class resolution, dynamic range, and ergonomics. From detailed vistas to pinpoint stars, this camera captures it all with aplomb!
Sony α9: This is my wildlife body because the 20 frames per second and autofocus speed are second to none. I'm especially impressed with its ability to track erratic subjects across the frame. My Sony 100-400mm G Master lens is virtually glued on to this body because the combination is unbeatable for birds and other wildlife.
Lenses
Sony 16-35mm f/2.8 G Master: Approximately 2/3 of my landscape shots are with this lens. The corner-to-corner sharpness is palpable, and the lack of image distortion even at the widest focal length needs to be seen to be believed. It also serves as my primary astrophotography lens, because of its maximum aperture of f/2.8 and sharpness.
Sony 24-70mm f/2.8 G Master: The 24-70mm G Master is my go-to standard lens for landscapes. When the ultra-wide just doesn't have the reach to frame the shot the way I want, the 24-70mm comes to the rescue. It's perhaps the sharpest standard zoom lens I've ever used. Occasionally I want to grab an environmental portrait, and this lens fills that need perfectly.
Sony 100-400mm f/4.5 -5.6 G Master: When I'm shooting a compressed landscape or elusive wildlife, this is my lens of choice. It pairs very well with the Sony α9 body. Sometimes, I'll attach the Sony 1.4X extender to give me a little added reach (approximately 560mm).
Sony 1.4X Extender: Superb optical quality when I need that little extra reach on my 100-400mm lens. With the extender attached, I only lose 1 stop of light while preserving autofocus speed and accuracy.
Accessories
Sony wireless remote: An excellent way to trigger your shutter without having to touch the camera body. It minimizes camera shake.
Extra battery and charger: I always carry an extra battery. Since the α9 and the α7R III use the same battery (the Sony Z battery), I don't have to worry about carrying different types! Plus, the Z batteries last so long, I don't need more than 1 extra.
Circular filters: Circular polarizer, 5 stop ND, 10 stop ND. I've stopped carrying graduated neutral density filters because the Sony sensor have such great dynamic range, I don't find them useful anymore.
82-77mm Step down filter ring: This ring allows me to carry a single set of circular filters. My 16-35mm G Master and 24-70mm G Master are both threaded for 82mm filters. My 100-400 G Master is threaded for 77mm filters. I use the step down ring to attach the 82mm filters to my 77mm-threaded lens.
Gitzo 2542LS tripod & Really Right Stuff BH-40 Ballhead: For landscape photography, especially at night, a sturdy tripod and head are indispensable.
Microsoft Surface Book 2 laptop: Excellent screen with pen input and plenty of horsepower (15"; 16 Gigs of RAM; 1 TB SSD)
Headlamp: At night, allows me to keep my hands free while I hike or search for camera equipment.
Microfiber towel: Great to keep water spray off your equipment and to wipe them down if they get wet.
Bug spray: To keep the critters away.
Biodegradable toilet paper: When nature calls.