My name is Jon Wyatt (@jcwyatt) and I'm a Delaware-based adventure photographer. As someone who is a full time college student and works a full-time job simultaneously, I often find myself burned out and longing for adventure outside of the confines of a classroom or an office. Three years, ago, I decided to purchase a used Sony Alpha α6300 in hopes of capturing some of my weekend trips. From the moment I picked up the camera for the first time, I was amazed by the amount of power and potential that was housed in such a small body. I'm a hybrid shooter, working on video projects for clients and shooting stills as a hobby, but I've found that my Sony gear holds up to whatever challenge I'm able to throw at it.
Hybrid photographer/filmmaker Jon Wyatt shows us how he packs in his bag and why he uses a pair of Sony Alpha bodies for stills & video on his weekend adventures.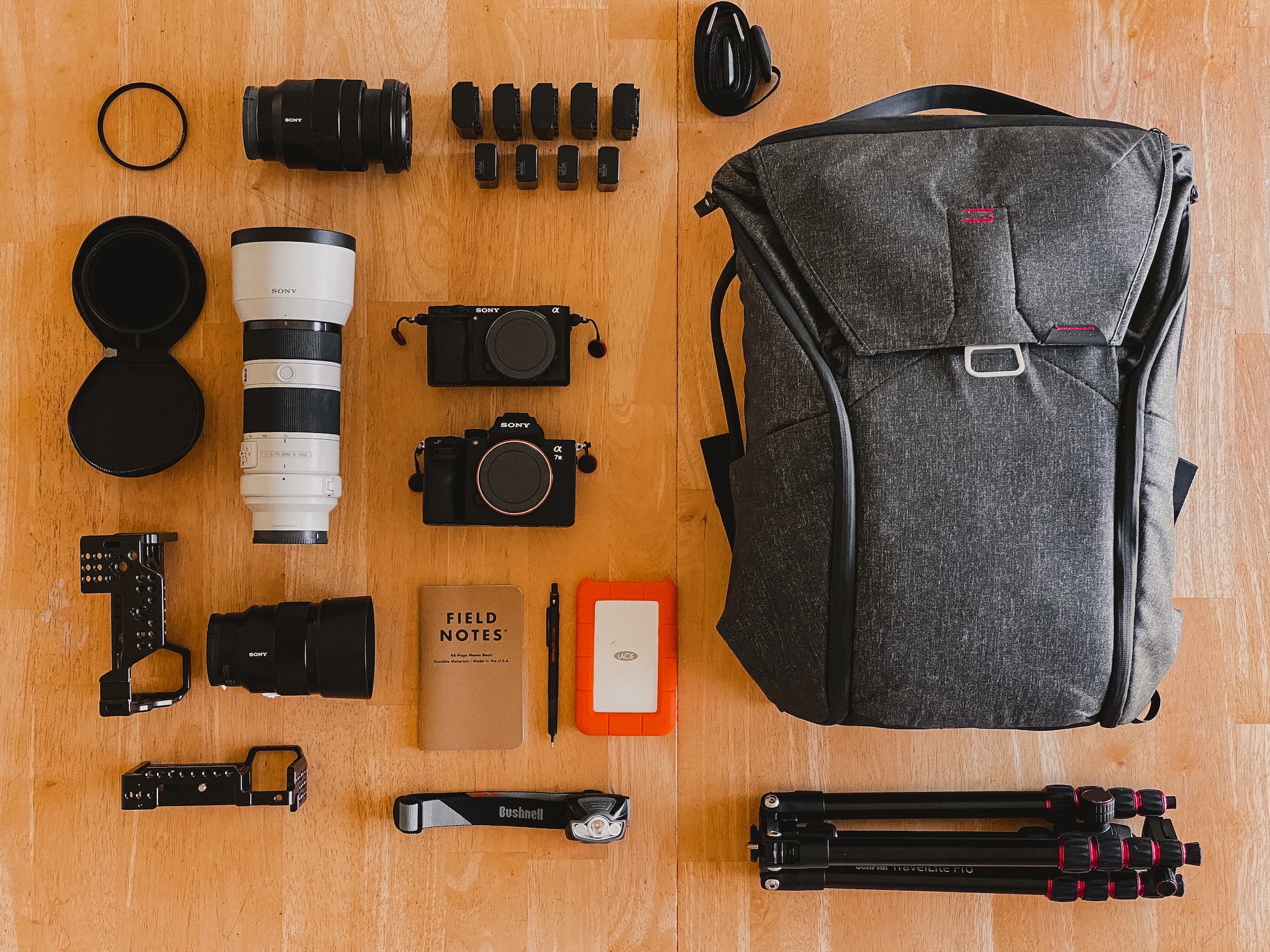 Cameras
Sony α7 III: The Sony α7 III was my first full frame body and has never stopped impressing me. Since I like to keep my bag light when hiking or traveling, a full frame camera of this size and weight is perfect. The large sensor performs well in dim environments, and the in-body sensor stabilization lets me capture long exposure shots handheld if a tripod isn't an option. Having two SD card slots is one of my favorite features, as it allows me to have redundancy in the field. The 4K video from the α7 III is crisp, but the ability to shoot in Cine4 and S-Log is what drew me to this camera for video. Whether I'm shooting stills or capturing video, I'm confident that the α7 III will be a good tool to shoot a project with.
This is one of my favorite images I've captured with my α7 III. Last year, I took my first international trip: a weekend in Iceland. I'd never experienced anything like the frigid conditions and unpredictable weather I found there, but the α7 III was reliable and resilient through the harsh conditions.
Sony α6300: Since it was my first Sony camera, the Sony α6300 still holds sentimental value for me, but even now, years after its release, the images and videos that I'm able to capture are rich in detail, color, and quality. Because the sensor is not as large as the one in my α7 III, I'm able to capture images from a distance taking advantage of the "crop factor." And my FE glass works on this camera as well. Having a small camera with the same mount as a larger one is a game-changer for me.
As the end of 2018 was nearing, I decided to take a weekend trip to Maine, a state that I'd been wanting to visit for a while. I finished the day at work, headed home, packed a bag, and started an all-night drive up the coast. Ten minutes before sunrise, I arrived at Portland Head Light, where I pulled my α6300 out of my bag, took some stills of the lighthouse, and headed to a local coffee shop for breakfast. Although I was exhausted after such a long drive, the custom buttons on the α6300 allowed me to access settings quickly without browsing through the menu system.
Lenses
Sony 16-35mm f/4: The Sony 16-35mm f/4 is one of the most versatile lenses for shooting photos and video. I have also used the Sony 16-35mm f/2.8 GM, but I personally prefer the Sony 16-35mm f/4 for its lightness and excellent reliability. This lens uses Optical Steady Shot, and when used with a stabilized sensor, like the one on my α7 III, I can capture some truly unique results.
This photo was captured just as the last light was leaving the northern sky in the summer of 2019. Over the course of this weekend, I had spent 27 hours driving, and when I was heading back to my campsite for the night, I pulled off to the side of the road and snapped this photo. At 16mm, I was able to capture the composition I wanted.
Sony 70-200mm f/4 G: The Sony 70-200 f/4 G stays on my camera bodies quite a bit. At 200mm, I love the look I can get from the compression. As a lens with the ability to toggle various focusing limits, stabilization options, and modes via physical switches, it provides a lot of customization. In addition, the custom buttons allow me to access my favorite features quickly.
When I spent a weekend camping in Alaska last summer, I knew that I wanted to capture the scale of the beautiful landscapes there. One morning, I noticed a lone fishing boat on Resurrection Bay, and zoomed in to 200mm to create compression in the image. To date, I've never seen an image that can capture the breathtaking splendor of Alaska, but this photo reminds me of the incredible scale of the mountains there.
Sony 85mm f/1.8: The Sony 85mm f1.8 is a lens that I don't use enough. I prefer zoom lenses for their versatility, but the lightweight construction of this lens makes it a perfect short telephoto for me. Having a fast lens like this one gives me options during blue hour, since I can let quite a bit of light hit my sensor at f/1.8. It's also great for portraits, so if I'm traveling with friends, I can be sure that I'll get sharp shots. This lens also works incredibly well with the Eye-AF feature on both of my Alpha bodies, which gives quite a bit of an advantage when I can't afford to spend time manually focusing.
While Emerald Lake is likely one of the most photographed locations in Canada, there's nothing like seeing it for the first time. I slept in my car the night before, since a bear had been wandering around my tent. After driving to the lake in the dark and grabbing a few frames with my 16-35mm, I put my 85mm on my camera, set it to f/2.2, and captured the last moments of blue hour.
Accessories
Peak Design Everyday Backpack (30L): At 6'6, I need a bag that can hold a lot of gear while being comfortable on my back for hours. This bag has been with me through earthquakes, countless flights, three years of college, and lots of weekend adventures.
SmallRig Cages: By adding an extra layer of protection and extra mounting options, I'm able to rig my cameras in various ways. I usually have one of these cages on each of my bodies.
Batteries: I keep at least ten batteries in my bag. If I'm on a long trip and don't know when I'll be able to recharge, I like to keep shooting with peace of mind. The NP-FZ100 batteries that most new Sony cameras use are great and can run for quite a while.
Lens Filters: I always have a Simmod Variable ND filter with me. Though not the most popular at the moment, this filter provides high-quality results when paired with any of my lenses for long exposure stills and properly-exposed videos. It also comes with a small leather case. I also keep a circular polarizer with me to cut down reflections on water and soften highlights in the sky.
LaCie Rugged Drive (4TB): This hard drive has been dropped, thrown, lost, and drenched, but it's held up well. I like to use it as a backup if I'm on a long shoot.
Field Notes: It's only a notebook, but when I don't have my phone with me, it's always helpful to have the option of writing something down. If I'm at a location, I'll often note some places I'd like to return to or shoot in a different season.
Pencil: The rOtring 600 is the best pencil I've ever used. It's light, well built, and is weighted perfectly.
Bushnell Headlamp: If I'm hiking in before dawn or finding my way back from a summit after dark, I'm able to keep both hands free while still being able to see the path in front of me.
SunPak TravelLite Pro: I purchased this tripod from a local store just after my first camera arrived. At the time, I knew very little about what I would need from a tripod, and while it's missing a foot, it's been with me on all of my adventures.
Peak Design Anchors and Strap: For easy access to two bodies, I keep these anchors on both of my cameras. I can use the same strap with both, plus, I can mount the cameras on my bag itself.