Tiffany Nguyen (@tiffpenguin) is a Los Angeles-based travel photographer and member of the Sony Alpha Imaging Collective. Her engaging landscape, travel and adventure photography has garnered the attention of over 373k+ followers on Instagram. Learn more about the gear she uses to create them below and read her two simple tips for creating your own engaging photos.
"It's essential to have gear that's reliable & versatile... My entire kit fits in a 21L bag and I have all the tools necessary to capture the best images possible and not be compromised in any way." -Tiffany Nguyen (@tiffpenguin)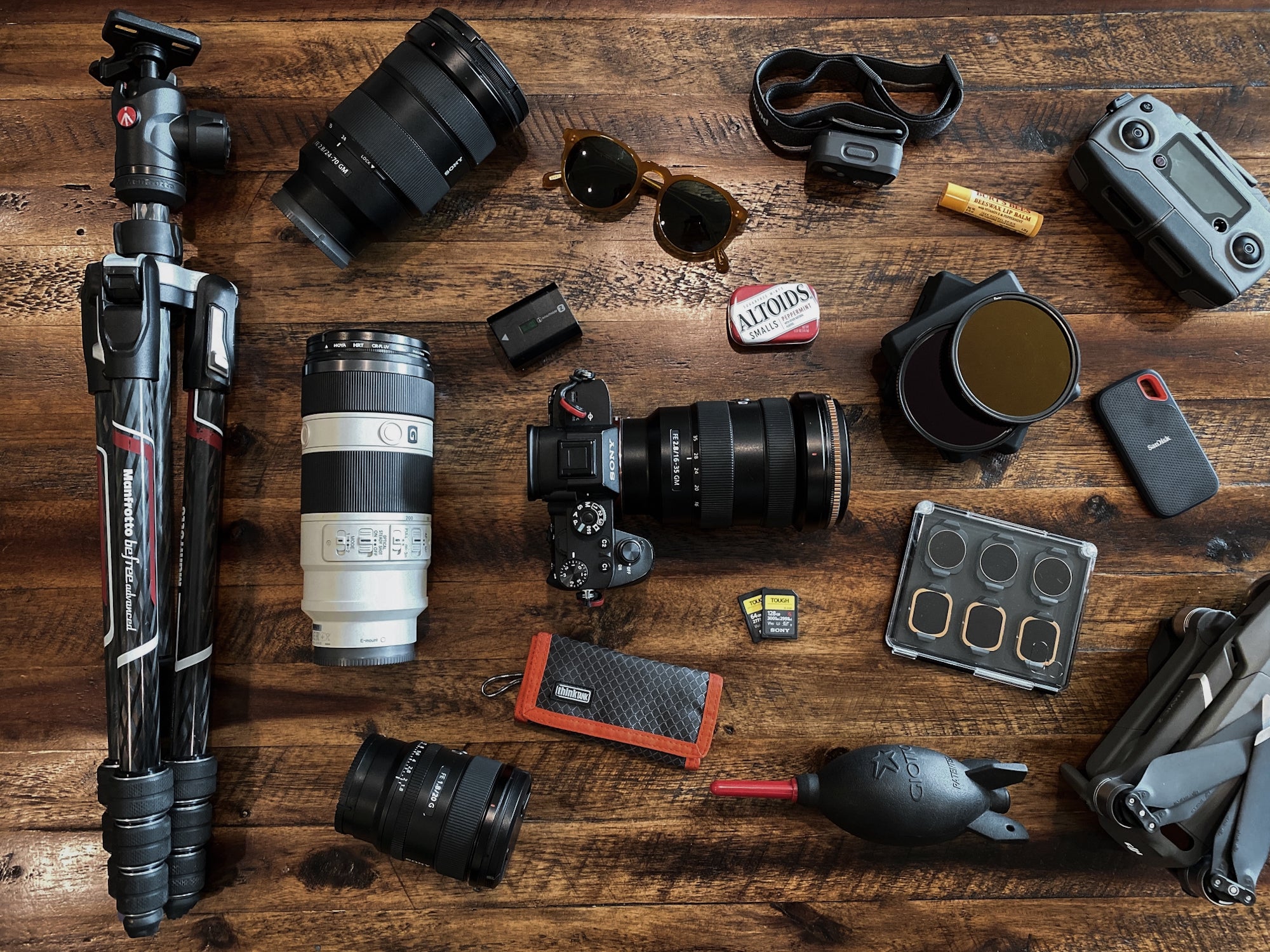 One of the most important things for me as a travel photographer is having gear that can keep up and will allow me to fully execute my vision. You can have a good eye and know all of the right shooting techniques, but if you don't have the right gear then you're going to be limited. It's taken me a long time to optimize my kit, but over the years I've determined exactly what I need to have with me in any shooting situation. It's essential to have lightweight and compact gear that's reliable and is versatile enough for any shooting situation. My entire kit fits in a 21L bag and I have all the tools necessary to capture the best images possible and not be compromised in any way. I'm always on the go so it's super important that I'm only carrying what I need and I don't have anything unnecessary adding weight to my pack.
Camera
Sony α7R III: This has been my go-to camera for years now. I need a camera that's not only lightweight and compact, but can also produce flawless high-res images. I love that I have the ability to blow up my images or crop in when necessary with the ultra high resolution of the α7R III.
Lenses
Sony 16-35mm f/2.8 G Master: This is hands down my favorite lens for landscape photography. I shoot a lot of landscapes and having that wide field of view is essential when capturing vast natural landscapes. It's also super lightweight and pairs perfectly with the α7R III to make a high quality yet compact setup.
Sony 24-70mm f/2.8 G Master: If I could only carry one lens with me, it would definitely be this one. It's wide focal length range makes it super versatile so I can use it in almost any shooting situation. It also does great in low light which is a huge bonus.
Sony 70-200mm f/4 G: For photos of vast layered landscapes where you want to compress the scene, this is the perfect lens to give you the depth you're looking for. Some of my favorite photos I've ever captured were taken with this lens. The depth created by this lens makes for such a unique look. I don't usually carry it with me on long hikes but it's definitely in my bag when I travel because I'm always on the lookout for new perspectives.
Sony 20mm f/1.8 G: I absolutely love this prime lens. It's as compact and lightweight as it gets but this f/1.8 wide angle lens is a beast when it comes to low light photography. It's perfect when I need a small setup to carry around the city or for shooting astrophotography.
Accessories
Manfrotto Be Free Tripod: Having a reliable and sturdy tripod that you can trust is so important — especially for long exposures and time lapses. I also need a tripod that's going to be lightweight if I need to take it on a hike or travel with it.
Battery: The α7R III has great battery life so I usually only carry two batteries with me. I can go days before I need to charge sometimes. I've been in situations where I've shot in -58 degrees-F and the battery life was still great.
Sony Tough Memory Cards & Case: Having a reliable memory card is so important. I usually carry a few extras with me in a protective case and I always keep a close eye on them. These Sony cards are shockproof and waterproof so I know my data is always safe on these cards.
Polar Pro UV filter, Circular Polarizer & ND Filters: A UV filter should almost always be on your lens to protect the glass. Accidents happen so you want to make sure your gear is protected at all times. A circular polarizer is great for midday shooting to cut glare and to add richness to your colors. I don't always use neutral density filters but I love having the ability to capture long exposures especially when I'm shooting a lake or a waterfall. It really depends on the situation but they're always good to have on hand if you're looking for a more dramatic look.
DJI Mavic Pro 2 Drone: Sometimes I want to capture a scene from above. Aerial photography gives you a completely different perspective and this small and compact drone from DJI produces high quality images and videos.
Polar Pro Drone Filters: I almost always put on an ND or polarizing filter when I'm using my drone. This helps cut glare, adds richness to the colors, and makes grading videos a lot easier.
Rocket Blower: This is something I always have in my camera bag. It allows me to remove any dust or debris that gets on my sensor or the back of my lens when I'm switching lenses in the field. I usually carry a medium sized one with me since it doesn't weigh much and it saves me time when editing my photos later.
Black Diamond Headlamp: I always carry a headlamp with me on my hikes. You never know when you might need it and you always want to have a light source on hand just in case.
SanDisk 1TB External SSD: This is as small as it gets when it comes to data storage on the go. I always like to have multiple backups of my images and videos from a trip and I know I can rely on this drive to keep my data safe.
RAEN Sunglasses: Sunglasses are always clutch on a sunny day in the field.
Burts Bees Chapstick: Honestly I don't think I ever leave home without my chapstick.
Altoids: There's nothing better than having fresh breath when you're traveling.