Reece Hickman (@reece_hickman) is a 25-year-old landscape and adventure photographer based out of Duluth, Minnesota. "At 18, while in college I developed a degenerative cornea disease which put my collegiate ski career on hold," Hickman says. "After many tests, getting into a clinical trial, and some time to rest, by 19 I was back living in Duluth, going to college at UMD, and spending all my free time solo adventuring along Lake Superior." It was there, continuously surrounded by beautiful views, that Hickman was inspired to pick up a camera and teach herself photography. "I was waking up for every sunrise I could," she says, "staying out late trying to see the northern lights, and capturing everything through the camera that it could pick up better than my eyes could." Now, a few years on, Hickman has made Duluth her permanent home, and she's upgraded to Sony Alpha cameras as she specializes in landscape, adventure and travel photography. We caught up with Hickman to learn more about the core camera gear she uses and why she almost always rents before buying – keep reading as she shares what's in her bag.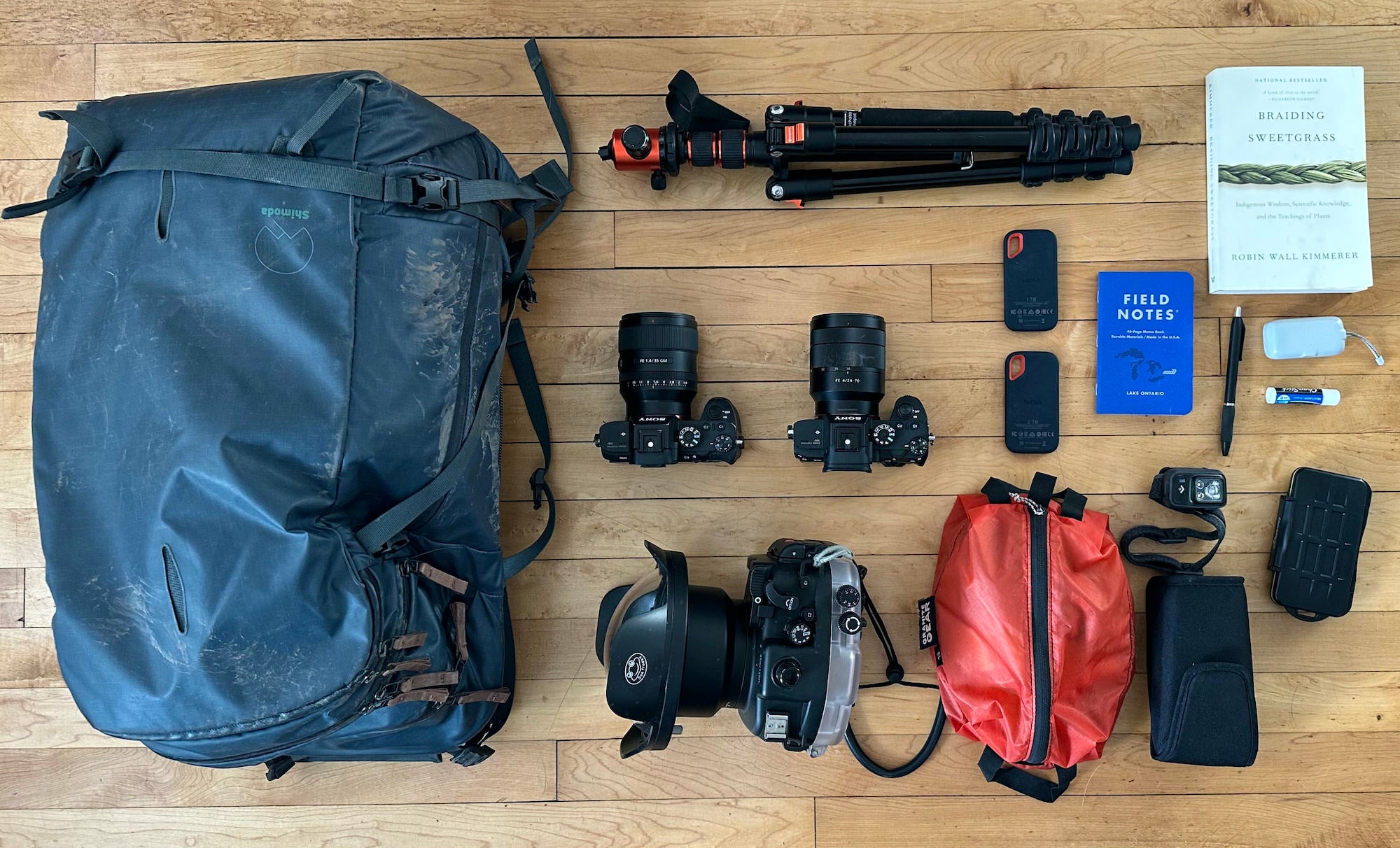 See how this landscape and travel photographer packs two Sony Alpha cameras, a Sony GM prime lens and a lightweight Sony zoom for landscapes underwater & more.
Cameras
Sony Alpha 7R III: The Alpha 7R III is the perfect camera for what I need as a landscape photographer with a growing passion for action photography. One of the things I love the most about Sony bodies is the ability to see exactly what I'm going to get through the viewfinder as I'm shooting. My eyes still struggle with contrast at night, as well as being able to take an in-focus image, so being able to easily focus in on a star while I shoot astro has been a real game changer for me. Sony's ability to shoot in low light situations, without making a super noisy image just confirms that any aurora chaser should have it.
Photo by Reece Hickman. Sony Alpha 7R III. Sony 35mm f/1.4 G Master. 6 sec., f/1.4, ISO 800
Lastly, one of my favorite things to shoot is "sea smoke." This is a phenomenon that occurs on the Great Lakes. This is when the air temperature gets so cold that plumes of steam rise off the lake. Oftentimes I end up shooting in -20 degrees (or colder) so batteries go quick. When I shot solely on the Alpha 7R II there were times where I would go through 2-3 batteries in one sunrise shoot. Since switching to the Alpha 7R III a single battery has a sea smoke sunrise fully covered.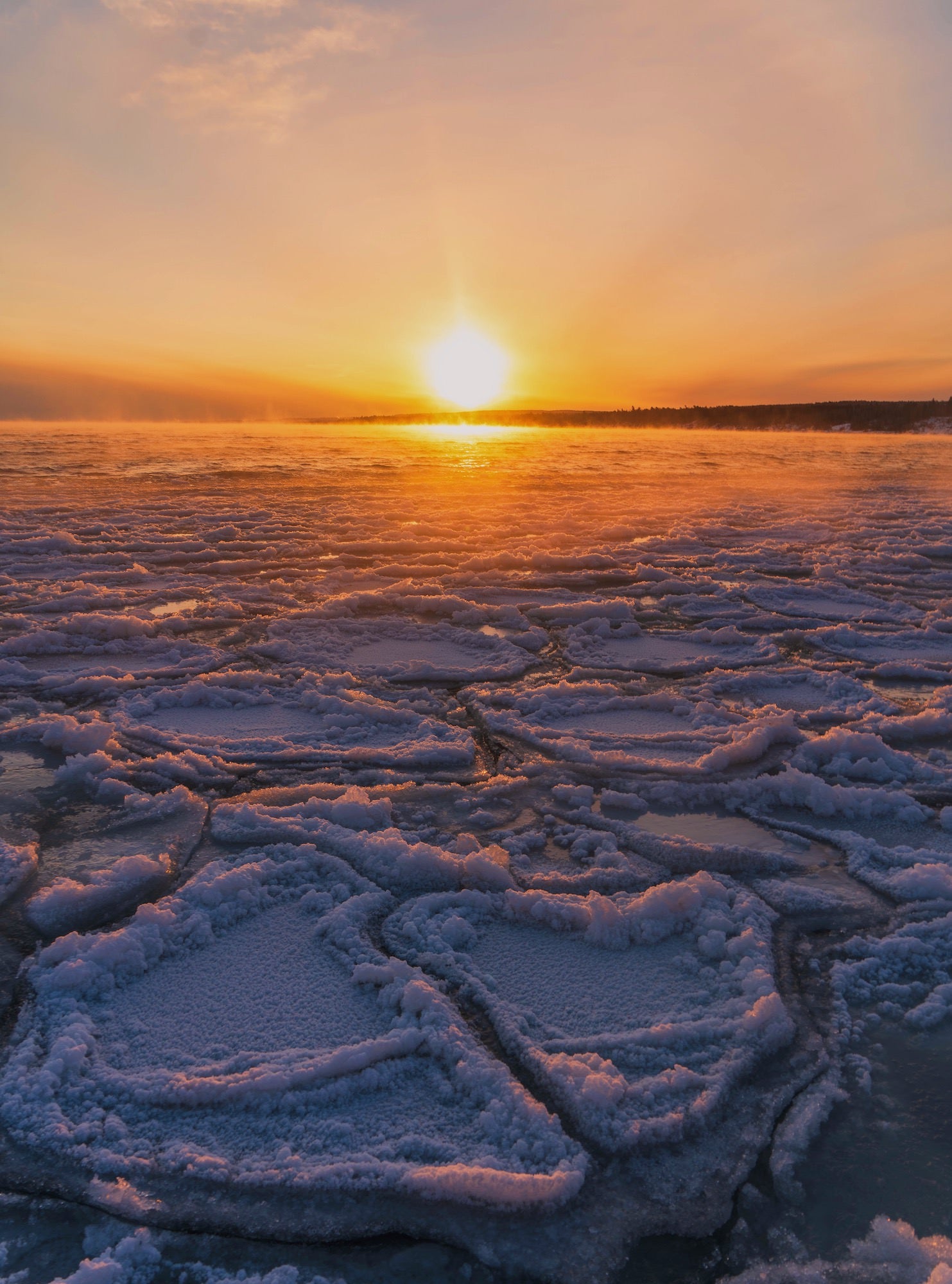 Photo by Reece Hickman. Sony Alpha 7R III. Sony 24-70mm f/4. 1/125-sec., f/7.1, ISO 50
The upgrade on the subject tracking speed has been crucial for shooting both mountain biking and surfing as an action photographer. During quick moments when you have minimal time to get the "shot," having the ability to shoot so many images at such a rapid rate and the camera being able to keep up is huge.
Sony Alpha 7R II: This is my go-to underwater and back up camera. When I decided to start taking photography more seriously and that this was something I was passionate about I took the leap and got this camera body. I was a very broke college student at the time and could not afford a lens, so I was lucky enough to have friends that would lend me theirs. I think the A7R II is such a great body and when I switched to shooting on it, I really was able to level up my photography skills. It opened up doors into being able to shoot in more low light situations as well as produce a much larger image. I now mostly use this body for my underwater photography. Just in case something were to go wrong with my underwater housing it is reassuring to know that it's not the main body that I use that would get damaged.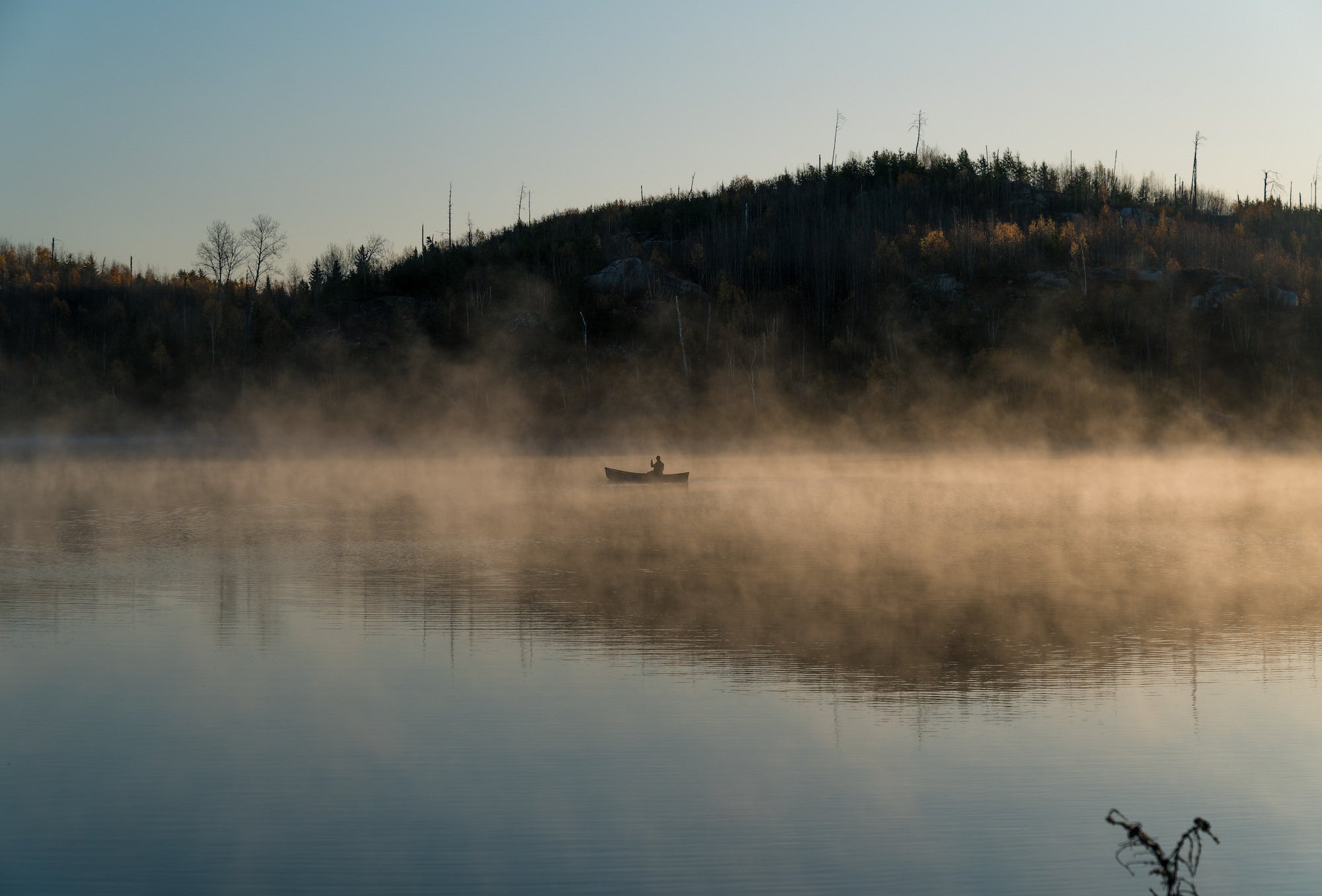 Photo by Reece Hickman. Sony Alpha 7R II. Sony 24-70mm f/4. 1/1000-sec., f/4, ISO 50
Lenses
Sony 35mm f/1.4 G Master: This is my go-to lens for just about every situation. I love the quality and simplicity of shooting on one prime lens. I fall into the category of being an unconventional landscape photographer. I don't really use a tripod, and I don't use a wide lens when I shoot landscapes. Nine times out of ten if it's a situation where I want a wider image I will end up doing a stitch. They range anywhere from 6-12 images depending upon the situation and how wide I need it to be, but still keep it at the 35mm focal length compression I love. This lens also has the lowest aperture in my kit, making it my first choice when it comes to the Northern Lights.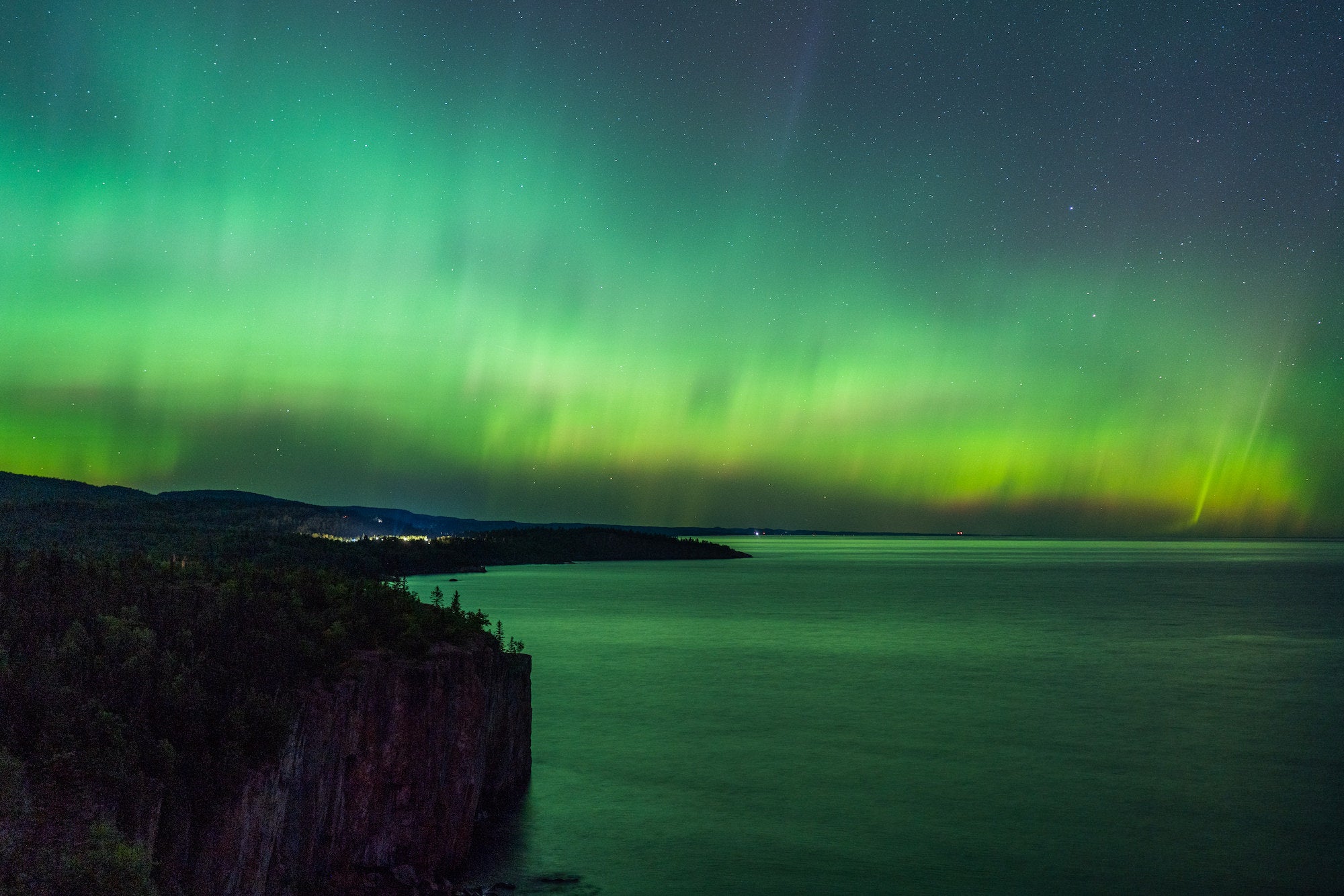 Photo by Reece Hickman. Sony Alpha 7R III. Sony 35mm f/1.4 G Master. 6 sec., f/1.8, ISO 800
Sony 24-70mm f/4: This lens is sturdy, a workhorse, and is a must in everyone's bag. The variety in the focal lengths opens up so many possibilities with just one lens. Action, landscape, or portraits – it has the ability to do it all. For days when I have a long hike ahead of me, and want to keep the kit lite I'll just bring this lens due to its compactness and versatility.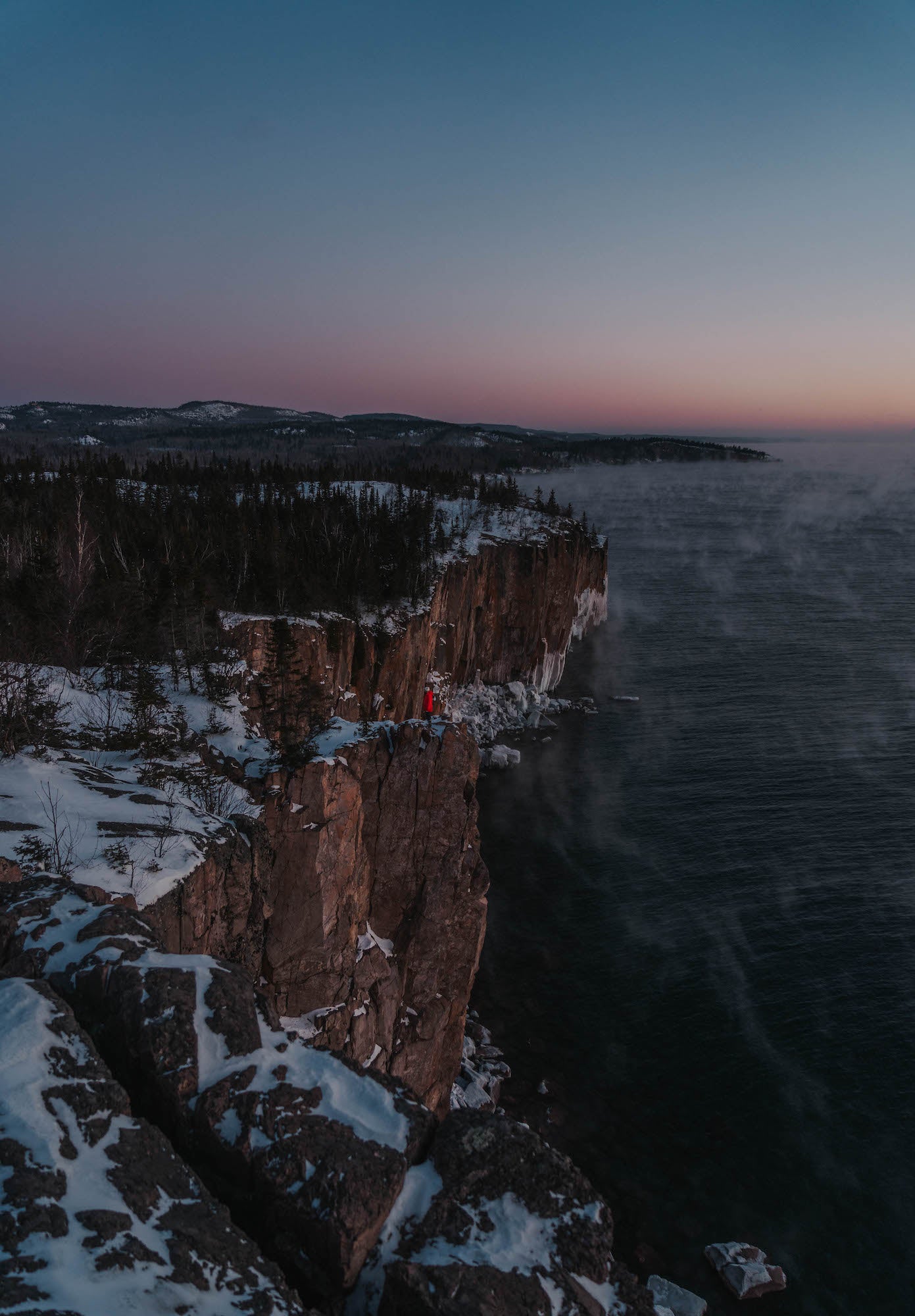 Photo by Reece Hickman. Sony Alpha 7R III. Sony 24-70mm f/4. 1/60-sec., f/4, ISO 200
Accessories
Tripod: I use a pretty basic tripod that I found off amazon. To be honest I only use it when I'm shooting the Northern Lights. Overall I feel like tripods limit creativity when it comes to shooting, and it keeps people stuck shooting the same angle instead of getting creative and mixing things up.
L Bracket: I bring this with me whenever I shoot with a tripod. I enjoy having the option to take both horizontal and vertical images.
Underwater Housing + Dome: Meikon Underwater Housing w/ dome. 40M/130ft Waterproof housing for the Sony Alpha 7R II. This is the most affordable (while still being reliable) underwater housing I could find.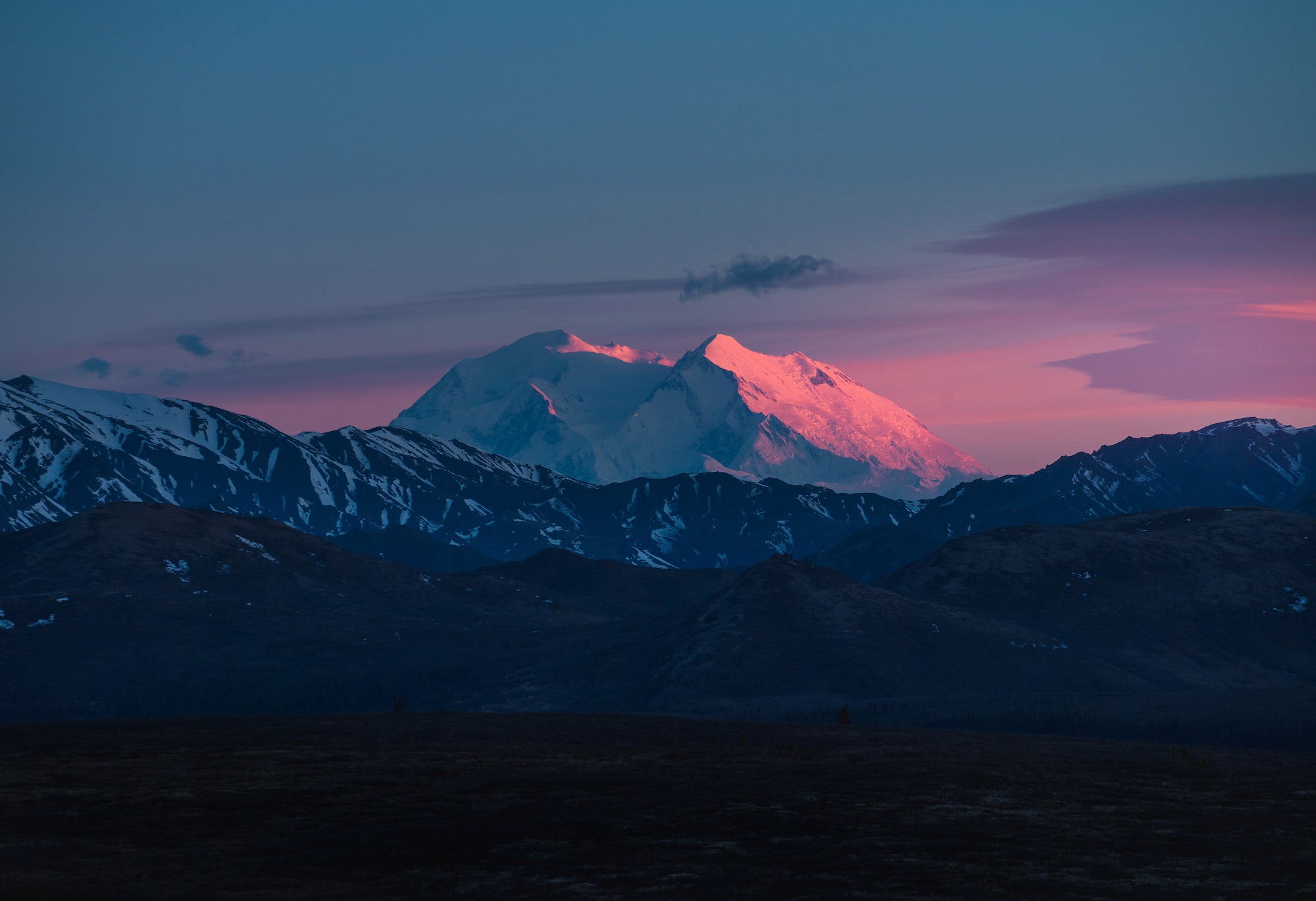 Photo by Reece Hickman. Sony Alpha 7R II. Sony 70-200mm f/4 G. 1/100-sec., f/7.1, ISO 320
Rent: I always rent lenses before I decide what to buy. Before trips or weekend excursion I will rent a lens or two that I have been wanting to play around with. One of my favorites was the Sony 100-400mm f/4.5-5.6 G Master telephoto. I took this on a surf trip to Oregon and the images were amazing. The glass was surprisingly light for being a tele and the images turned out so crisp. It's definitey going to be one of my next purchases.
Honorable mentions: Extra SD cards (when I'm responsible), snacks, journal, water, swimsuit, camp towel, goggles, wetsuit, book, headphones and my Granite Gear Zipsack to hold everything small.
See more of Reece Hickman's work on Instagram @reece_hickman.