Michael Hollender (@mrhollender) is a NYC-based travel, landscape and astro-photographer and a member of the Sony Alpha Imaging Collective. His love of photography, long exposure and the outdoors has brought him to 54 different National Parks, where he's captured so much of their beauty both day and night. His passion has also become his profession. While Hollender's photography spans a number of genres, he keeps his photo gear pretty tight, relying on a single Sony Alpha full frame body, two G Master zooms and two fast Sony primes. We connected with Hollender to learn more about the gear he packs for capturing it all. Keep reading as he shares what's in his bag for landscape, astro and more.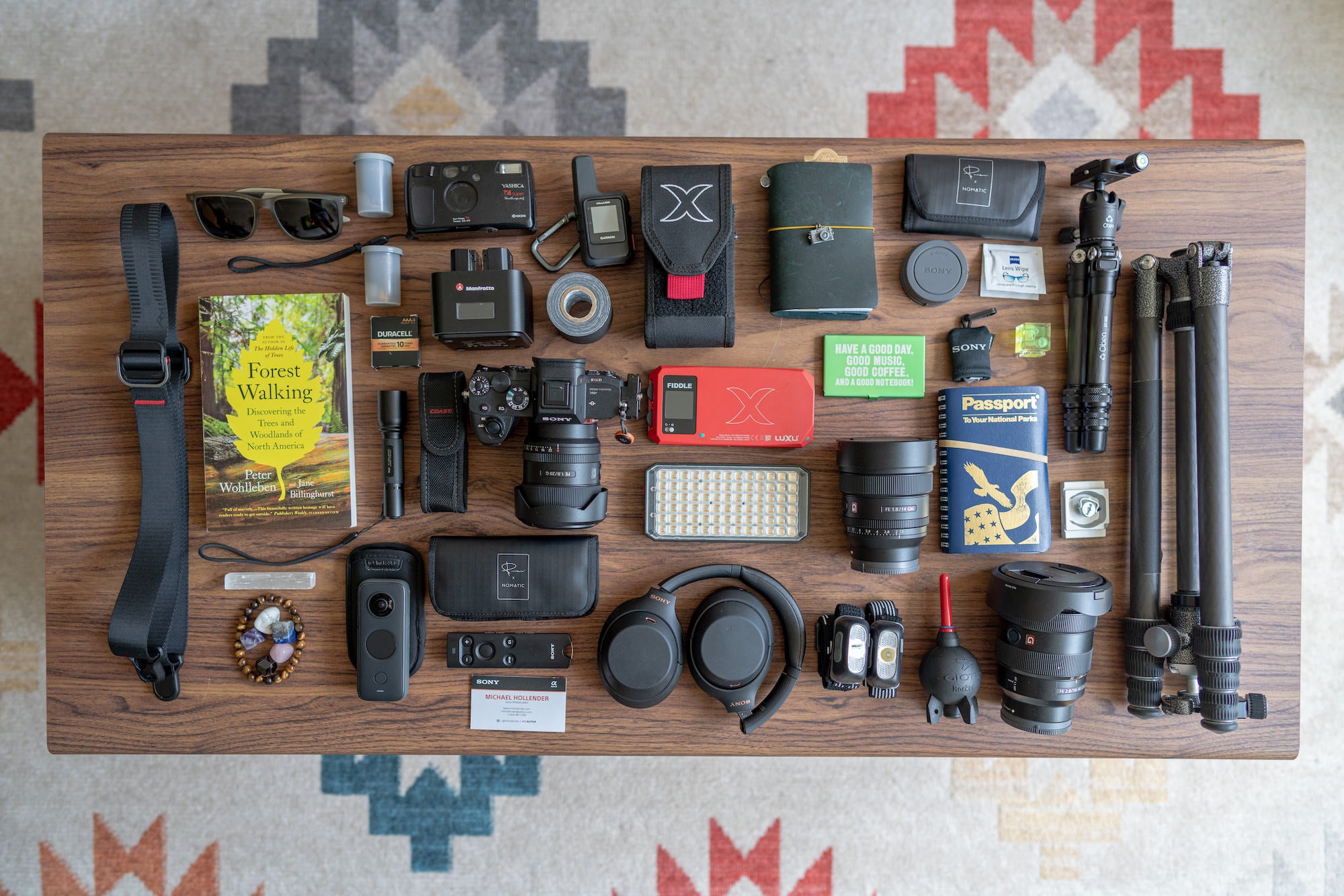 Sony Alpha camera? Check. Sony lenses? Check. National Park Passport Book? Check. This Alpha Collective member has been to 54 National Parks…see the gear he packs for each trip!
Cameras
Sony Alpha 7R IV: The A7R line has been my go-to camera system for the better part of the decade! I love the Alpha 7R IV for its high resolution, speed and reliability! The luxury of being able to crop landscape images with 61 megapixels almost guarantees my resolution will not deteriorate. Battery life on this camera is incredible, paired with its extensive weather sealing the Alpha 7R IV can also handle the cold and frosty winter months!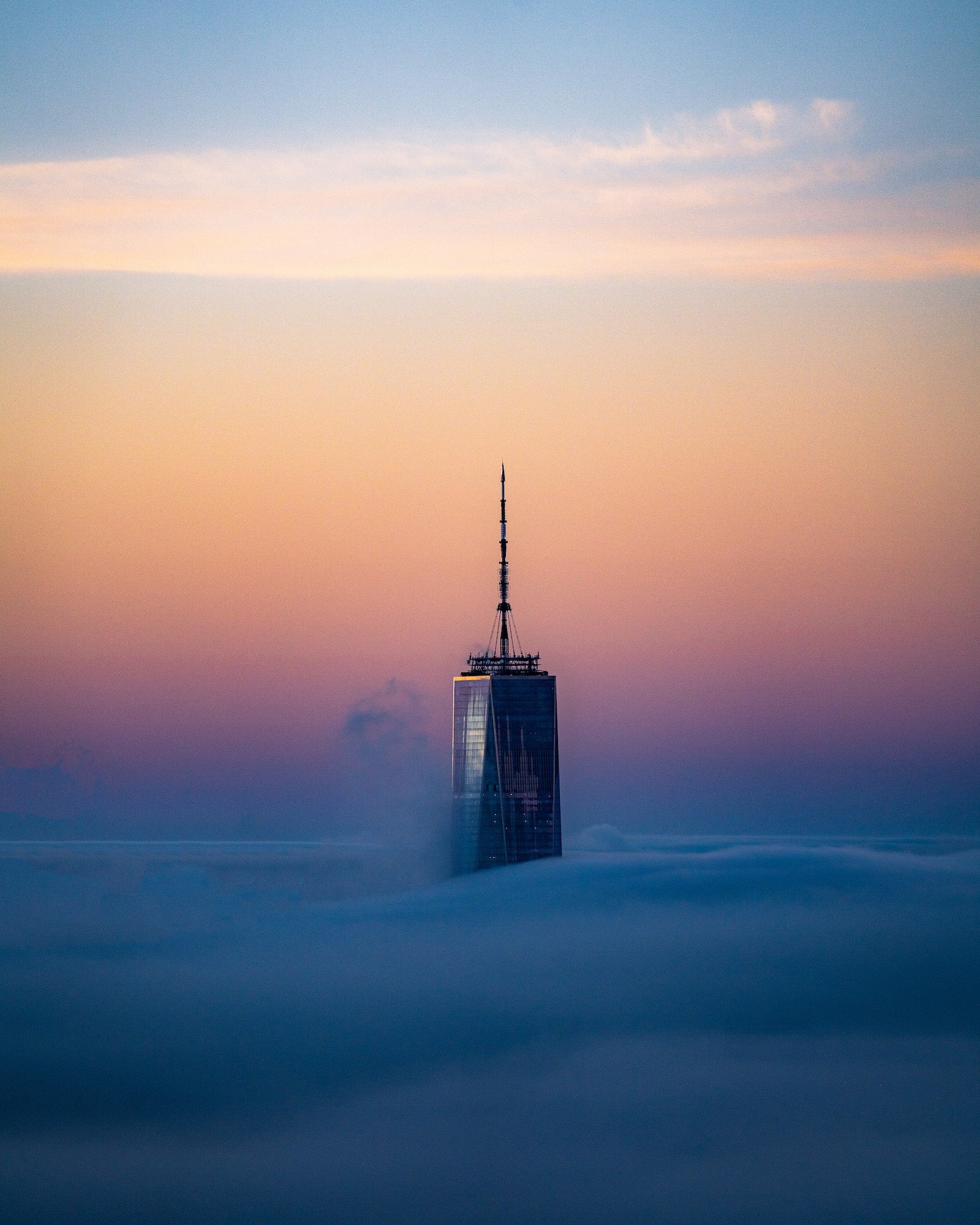 Photo by Michael Hollender. Sony Alpha 7R IV. Sony 70-200mm f/2.8 G Master. 1/500-sec., f/4.5, ISO 500
Lenses
Sony 16-35mm f/2.8 G Master: Every landscape photographer needs a 16-35mm f/2.8 lens in their pack. I rarely leave this focal length range making this zoom lens the perfect one lens solution.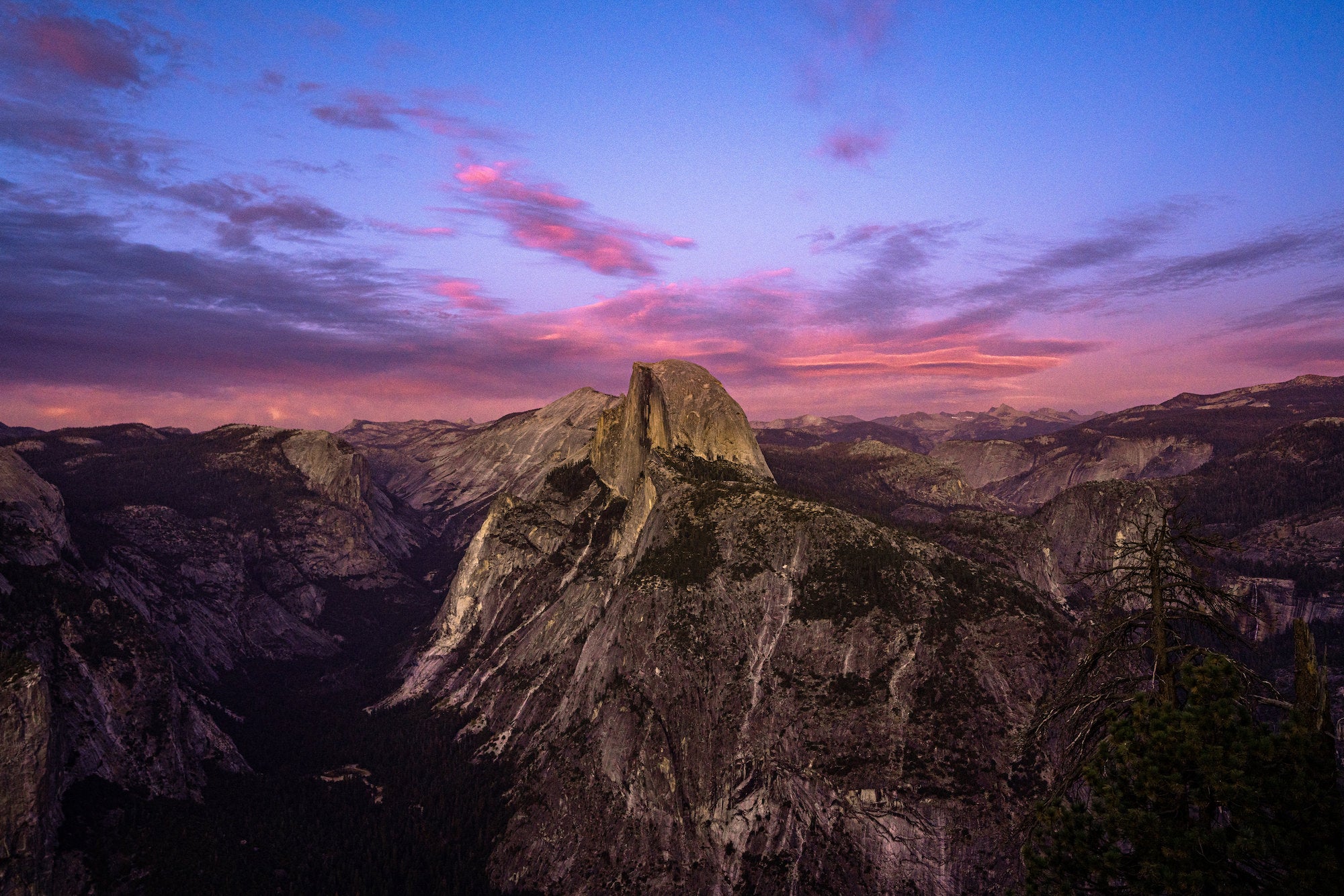 Photo by Michael Hollender. Sony Alpha 7R III. Sony 16-35mm f/2.8 G Master. 1/160-sec., f/7.1, ISO 800
Sony 14mm f/1.8 G Master: Recently added to my kit! When the 16-35mm f/2.8 GM isn't wide enough or fast enough. I'm excited to put this lens to work on some upcoming adventures. It has the build quality you would expect from any GM lens and I love how this prime has a dedicated aperture ring.
Sony 20mm f/1.8 G: I've always gravitated towards the 20mm focal length. If you ask me, its the sweet spot for wide angle landscape photography. Although the Sony 16-35mm f/2.8 GM zoom has me covered at 20mm, this prime lens is lighter, more compact and faster with an f/1.8 aperture. This is also a great budget friendly lens for astrophotography!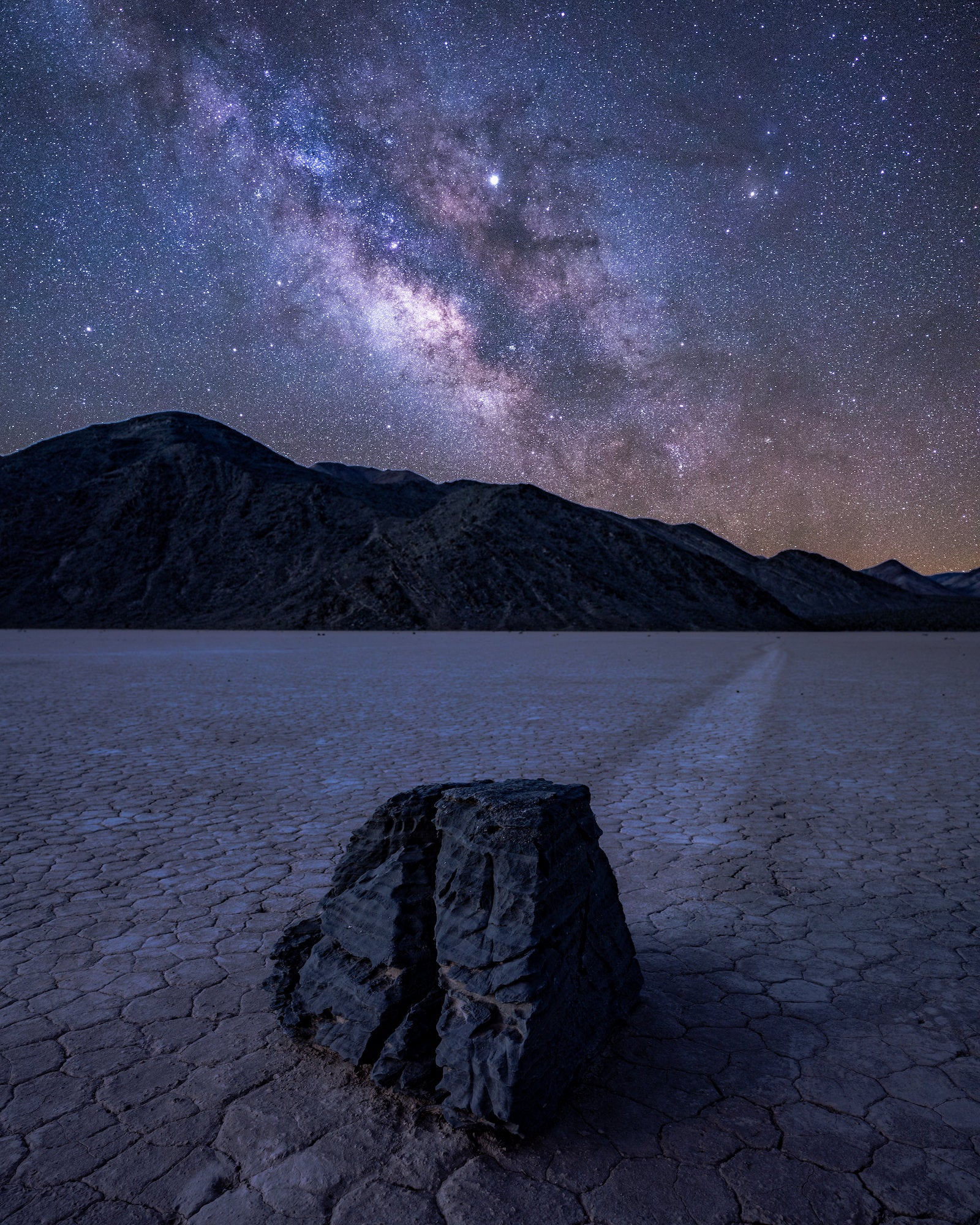 Photo by Michael Hollender. Sony Alpha 7R III. Sony 20mm f/2. 30-secs., f/11, ISO 100
Sony 100-400mm f/4.5-5.6 G Master: For all your telephoto needs! I love being in the viewfinder with this lens on. It's so fun to hunt for new compositions and seek wildlife from a safe distance. This lens is quickly earning a permanent space in my pack.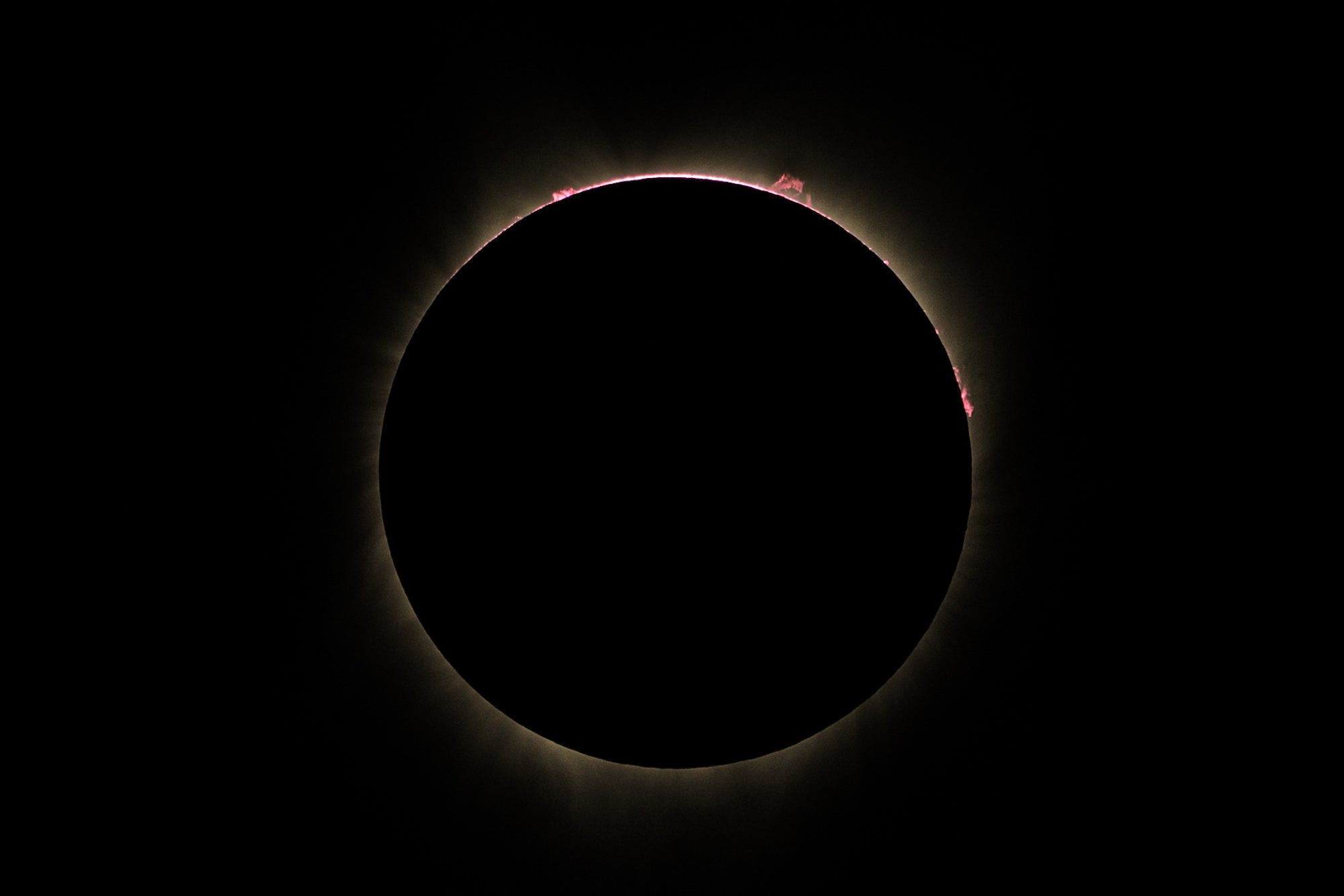 Photo by Michael Hollender. Sony Alpha 7R II. Sony 100-400mm f/4.5-5.6 GM. 1/2500-sec., f/5.6, ISO 250
Photo Accessories
Sony RMT-P1BT Wireless Remote Commander: Key item for long exposures, especially while working in the dark. I love how this accessory is wireless and has a lock mode to avoid wasting battery.
Atlas Packs: There is no perfect camera backpack… yet! I've used nearly every Camera Backpack across the industry and Altas Packs has been leading the pack on comfort, design and functionality. The Atlas Adventure Pack is my goto for hiking in the National Parks. I love how I can quickly increase or decrease the size of the camera cube based on my day to day adventures.
Gitzo Traveler Carbon Fiber Tripod with Ballhead: Is this the last tripod I'll ever own? Investing in this high quality tripod has already paid off. Five years and over 50 National Parks and my tripod is as solid as the day I bought it.
L-Bracket: Vertical imagery is key when sharing on social media. Sometimes we put our tripod in some precarious situations, which is fine if you are doing it safely & effectively. Mounting your camera vertically and not relying on the ballhead to do so, helps keep the center weight on top of the ball-head and not off to the side. My L-Bracket never leaves my camera and ensures my tripod is always balanced.
Luxli Fiddle Pocket RGBAW LED Light: My favorite light to travel with. I've used Luxli LEDs for a few years now and the new Fiddle is Mastery. You can immediately tell this light is well built and tough enough to handle the elements, including the cold. This light also has two built in tripod mounts for easy positioning and is both charged and powered by USB-C. I also bundle this light with the Magnetic Honeycomb Grid, Magnetic Diffuser and a handy Hip Pouch Accessories.
Oben CTT-1000 Carbon Fiber Tabletop Tripod: This mini tripod is not just cute! It's small and lightweight but also strong enough to hold my a7 on a tabletop for Zoom meetings or for photographing a subject very low to the ground, like mud cracks or frozen ice bubbles. It's also my goto for holding my LED lights and action cameras.
Coast HP5R Flashlight: Coast Flashlights are solid, lightweight and work both with rechargeable batteries and disposable AA. The HP5R also has a focusing head allowing you to control how wide the beam of light is. Great for light painting! SOLD!
LoveBeams Headlamp: I love this headlamp! I bet you can't say the same thing about a simple headlamp. Ever go out and night with a group and continuously get blinded by each other's headlamps? LoveBeams makes a headlamp that's meant to be used in group and collaborative settings. With a simple gyroscope, along with some other really fun and smart features, it automatically goes to low beams when looking up towards someone in the eye. Look back down and your high beams are lighting the way. Genius!
Vello Three-Axis Hot-Shoe Bubble Level: This level connects via the hot shoe port on top of my Sony Camera.
Nomatic McKinnon Memory Card Case: To hold my Sony TOUGH Memory Cards.
Nomatic McKinnon Battery Case holds three extra Sony NP-FZ100 Batteries. Each battery fits perfectly in its slot. Hot Tip! Store your batteries with the contacts facing down if the battery is fully charged and the contacts facing up if it needs to be charged.
Yashica T4 Super Film Camera: Sometimes film just hits differently and it's always exciting to get the film processed and then scanned. I use a home setup for scanning using a lightbox, film carrier, tripod and Alpha 7R III + Sony 90mm f/2.8 Macro G lens. Having a little film companion has been a fun addition to my pack as well as my workflow. This 35mm point and shoot film camera has a fixed 35mm f/3.5 lens.
Other Accessories
Sony Headphones: The most important item when flying by air! Ever wear your in-ear headphones for too long and get a stretched and sore ear? No more! I love my overear WH1000XM4. I routinely wear them for an entire six-hour flight without comfort fatigue. These headphones look and feel like the most luxury piece of tech I own.
National Park Passport Book: My most prized possession! Checking off new National Parks has been a side-by-side passion to my love for landscape photography. This booklet can be found in most National Park Visitor Centers and lists all 400+ National Park Sites and provides extra space for a park sticker and dated stamps that most parks offer. This collection of Stamps is a priceless timeline log of my travels and expeditions. I don't leave home without it and I always stop at a Visitors Center.
Journals: Documenting in a journal is just as important as a camera. When I hit the road I write down everything. This is not a Diary but rather a detailed log of my adventures: Who was I with? What were the weather conditions on the trail? What hotels did I stay at? What restaurants did I go to? Were they good? Where did I find hipster coffee shops with good WIFI? Not only is this a great way to document, it's something I can reference in the future and share with friends when they ask for Travel Recommendations. Currently I'm using the Passport sized Journal system from The Travelers Company. This system has endless options to customize your Journal.
See more of Michael Hollender's work on his Alpha Universe Profile and on Instagram @mrhollender.