Craig Elson (@craigelsonphotography) is an award-winning American wildlife, landscape and aerial photographer based in Los Angeles, CA. He has traveled to more than 60 countries throughout Africa, Asia, Latin America, Europe and the Caribbean over the past 30 years. Craig made the switch to Sony from Canon in early 2020 with an initial setup of just the Sony Alpha 9 and the Sony 200-600mm f/5.6-6.3 G lens for wildlife. Months later, his entire gear bag switched over to Sony. Today his bag is really two bags – one for wildlife and one for landscapes. And he says that that can cause some real packing headaches at times. We caught up with him to learn more about his current photography kit - keep reading as he shares what's in his bag.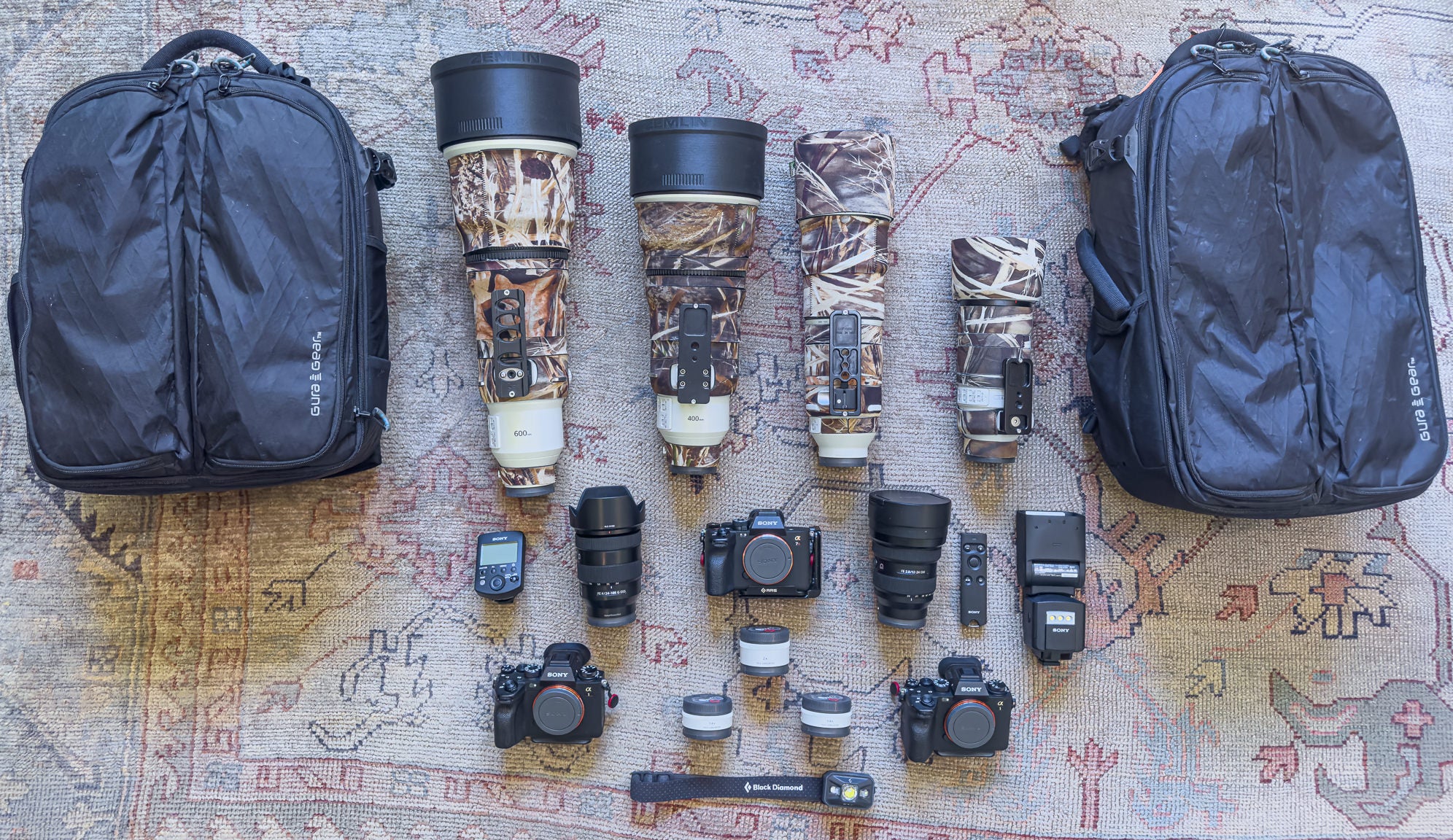 Photographer Craig Elson made the switch to Sony from Canon in early 2020 with an initial setup of just the Sony Alpha 9 and the Sony 200-600mm f/5.6-6.3 G lens for wildlife. Months later, his entire gear bag switched over to Sony.
Cameras
Sony Alpha 1 (2): I have owned two Alpha 1 bodies from the day Sony released it and I've never looked back. They replaced the Alpha 9 II, my wildlife body, and the Alpha 7R IV, my landscape body. The versatility of 50 megapixels coupled with the ability to capture 30fps and its groundbreaking AF + Eye Tracking has allowed me to utilize the Alpha 1 for all shooting scenarios. Zebra technology for still images has proven to be a game changer as I no longer have to chimp or utilize the luminance histogram to nail exposure. High ISO performance is exceptional. The ability to fully customize the a1, and really any of the newer higher end Sony bodies, through the menu choices and programmable buttons has given me the freedom to instantly adapt to changing circumstances in the field without taking my eye away from the viewfinder.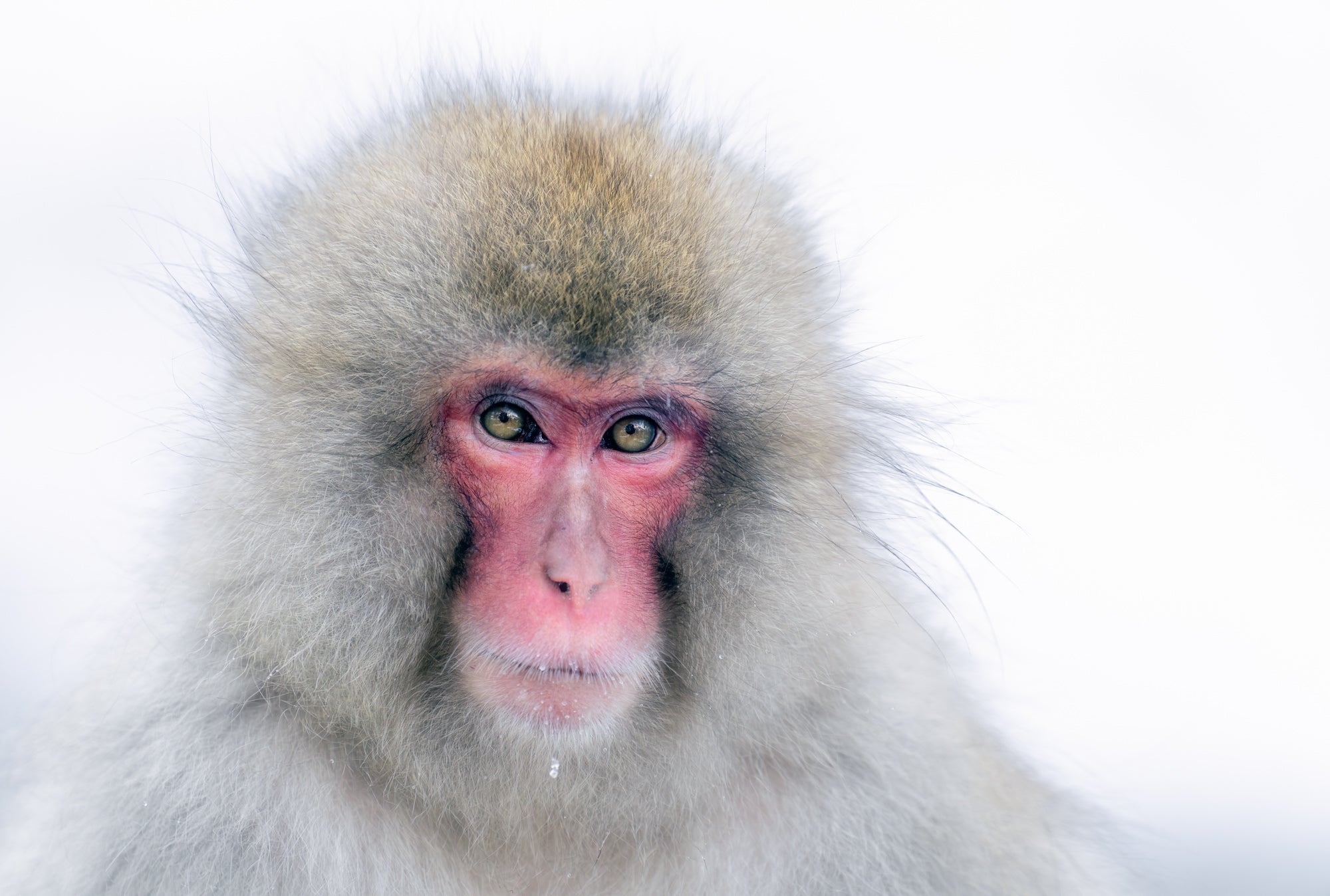 "The zebra functionality coupled with the WYSIWYG nature of the LCD screen in Live View helped me determine the proper exposure for this high key snow monkey portrait." Photo by Craig Elson. Sony Alpha 1. Sony 70-200mm f/2.8 G Master + 1.4x TC. 1/500-sec., f/4, ISO 1000.
Sony Alpha 7R V: I recently purchased the Alpha 7R V primarily for my landscape and aerial photography. The 61 megapixels are a nice bonus when compared to the Alpha 1, but the features of this body that I coveted include the in-camera focus bracketing, the 8 stops of IBIS, and the 4 axis LCD screen. For all the touting of great technological features, the articulating screen might be the biggest gamechanger. The ability I now have with this camera to shoot wide angle landscapes handheld in low light and from low angles has given me so much more flexibility in my shooting style.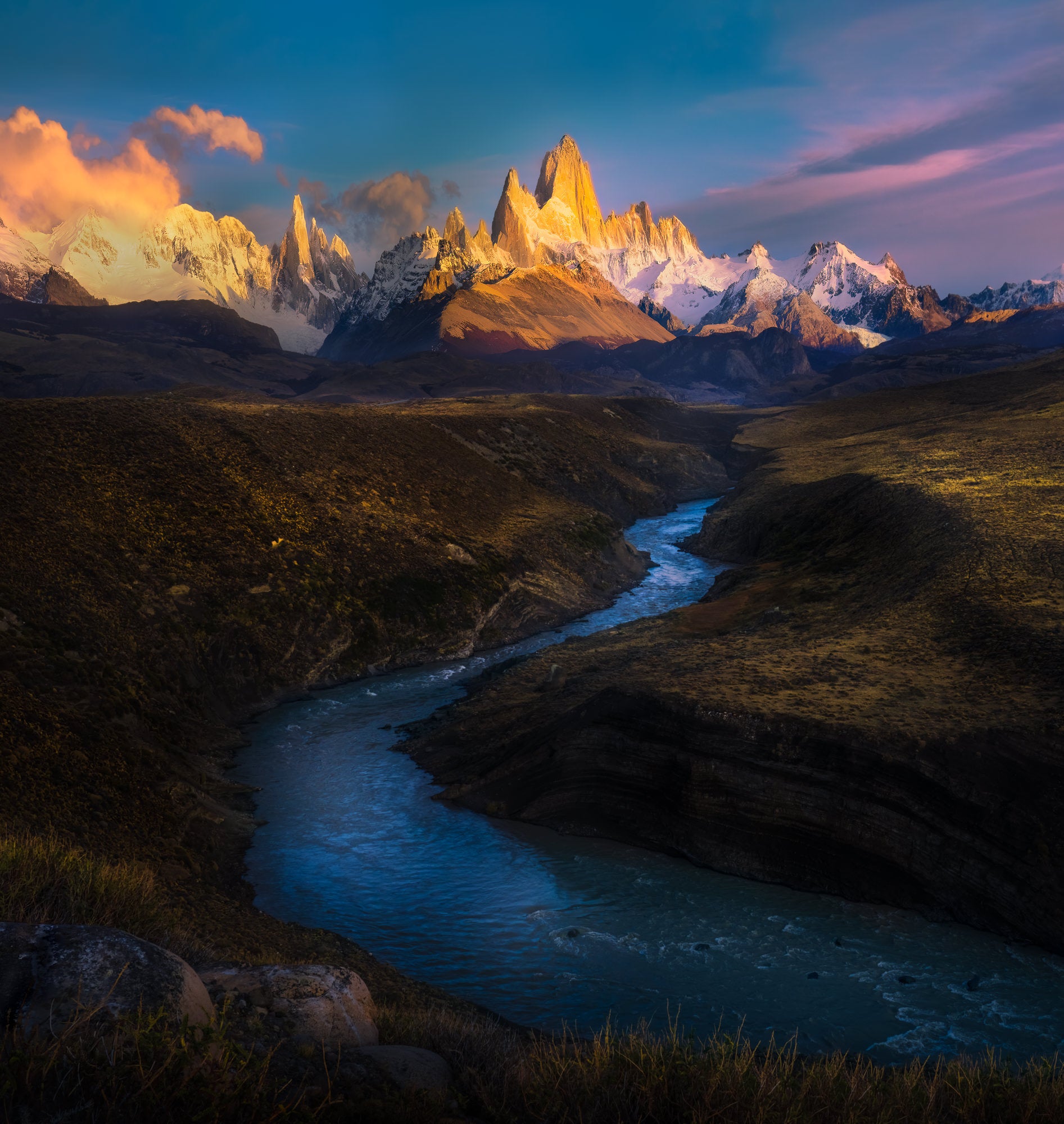 "The articulating screen and 8 stops of IBIS in the Alpha 7R V were both relied upon to capture this low angle sunrise image of Fitz Roy and Cerro Torre in Chalten, Patagonia." Photo by Craig Elson. Sony Alpha 7R V. Sony 24-105mm f/4 G. 1/40-sec., f/22, ISO 500.
Lenses
Sony 200-600mm f/5.6-6.3 G: The 200-600mm is the first Sony lens I ever purchased. In my opinion, to this day, there is no lens on the market that compares to it in terms of value for your money. For anyone looking for a wildlife lens to start out with, this is the one I always recommend. You can handhold the lens all day long given its relatively light weight. The short travel of the zoom ring and the internal zoom mechanism are welcome bonuses. The wide range of the zoom creates tremendous versatility in your ability to capture birds and wildlife, especially during fast action, when framing could otherwise present a problem with a long prime lens.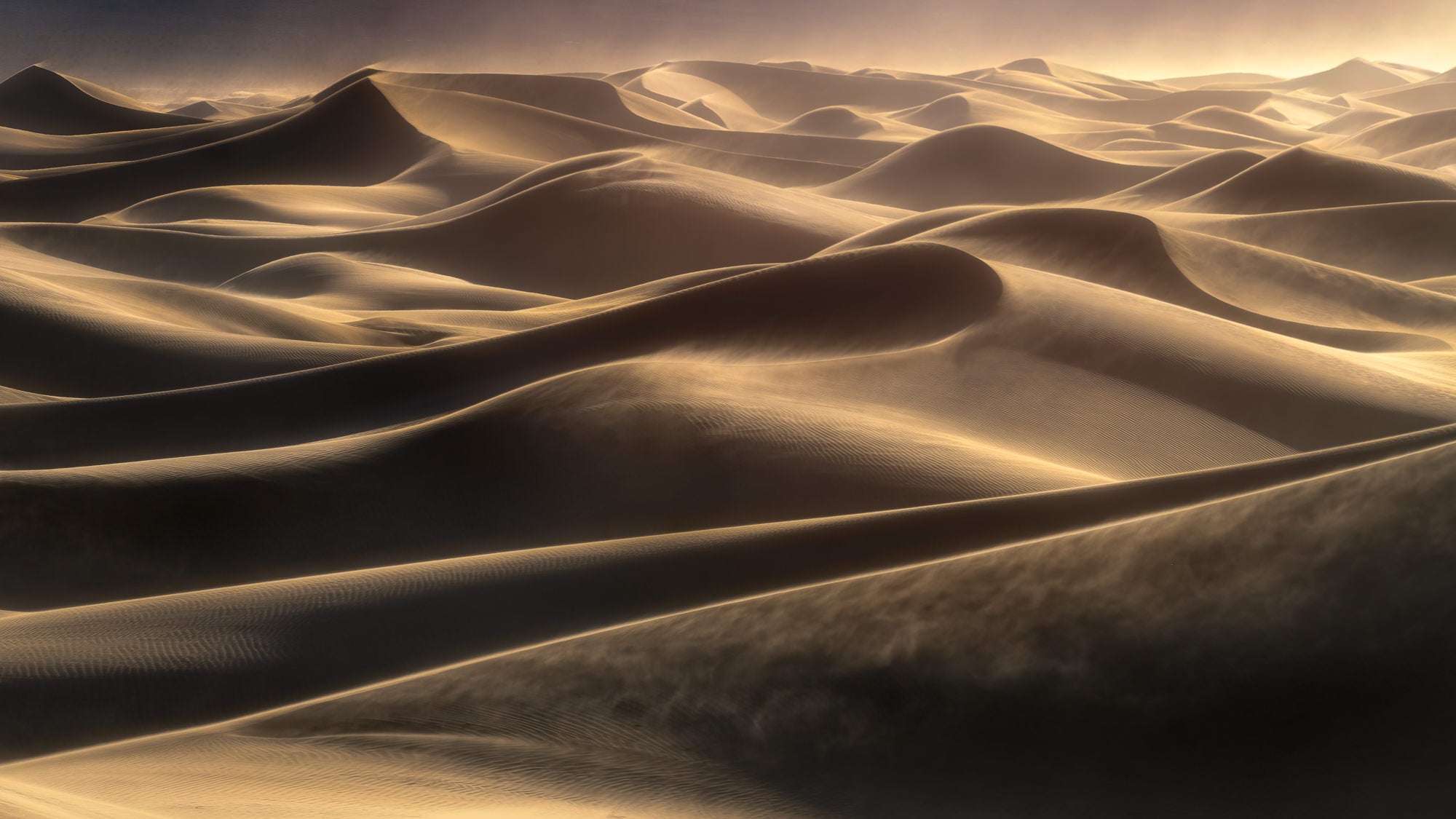 "In addition to its wildlife capabilities, I have found another great function for this lens in my bag. The 200-600 has become a versatile landscape lens for me in addition to its primary function as a bird and wildlife lens. This image of a sandstorm in Mesquite Dunes, Death Valley CA demonstrates how this lightweight long lens can help compress space and give the appearance of a wide angle lens." Photo by Craig Elson. Sony Alpha 1. Sony 200-600mm f/5.6-6.3 G. 1/250-sec., f/18, ISO 250.
Sony 600mm f/4 G Master: As a wildlife photographer, and one who likes to shoot birds, reach is always a major consideration in a lens. The 600mm f/4 G Master was the second lens I purchased after switching over to Sony. The constant f4 aperture married to the 600mm focal length has been vital to my success with wildlife in the low light situations in which I frequently put myself. The bokeh you can achieve with this lens utilizing proper technique is sublime. While by no means light, at 6.7 lbs. it is noticeably lighter and better balanced than the older generation of 600mm f/4 lenses. Consequently, I am now able to handhold it for much greater periods of time which allows for a more flexible shooting style (read: tripod stays home!)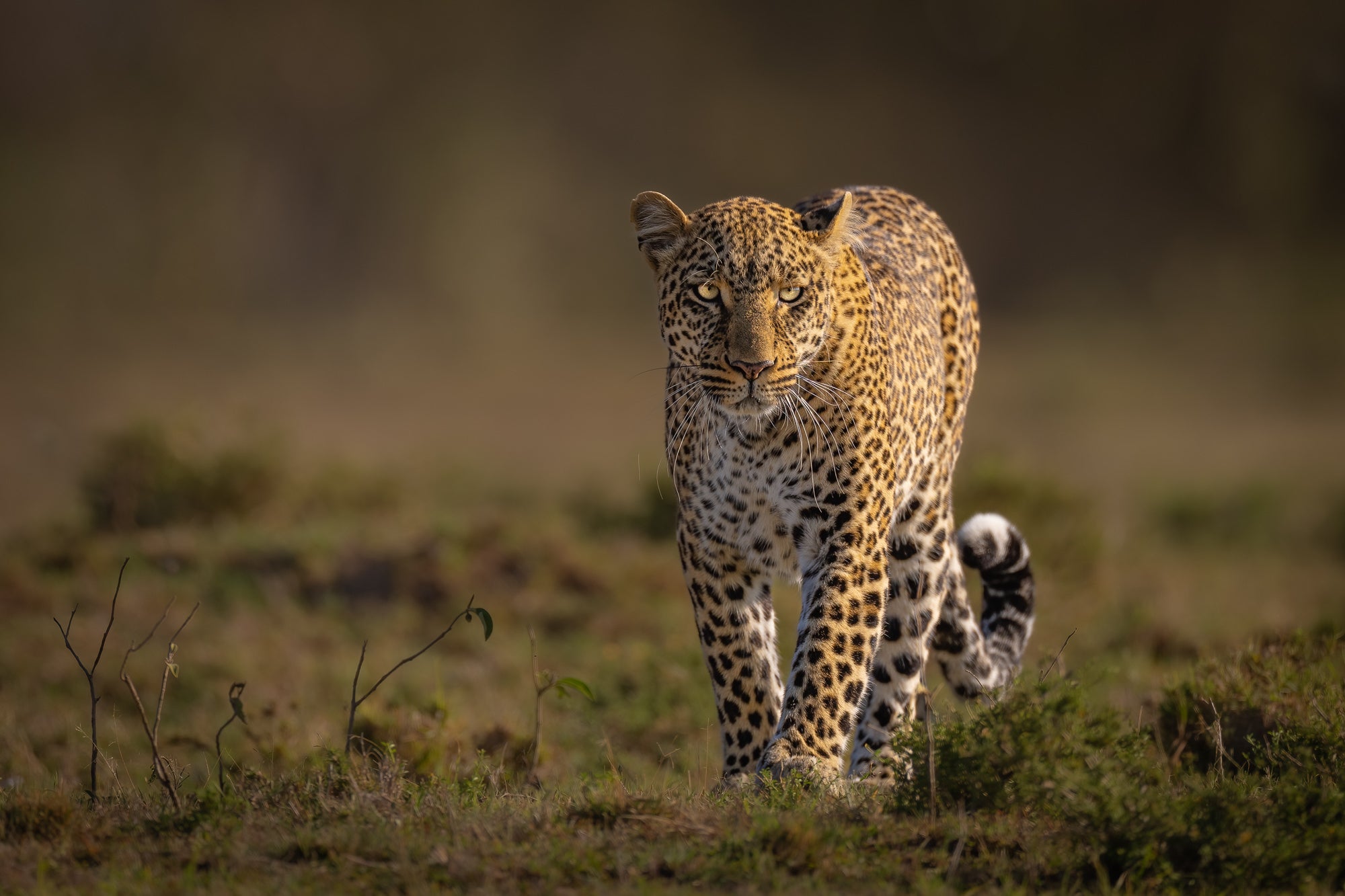 "I was hanging off the side of our safari vehicle in the Masai Mara with my arms fully outstretched, positioning the lens as low to the ground as possible and relying upon the Alpha 1 Eye Tracking plus the Live View LCD screen and the optics of the 600mm lens to do the rest. There is no way I could have captured this image with the DSLR gear I had been using a mere 18 months prior." Photo by Craig Elson. Sony Alpha 1. Sony 600mm f/4 G Master. 1/1000-sec., f/4, ISO 200.
Sony 400mm f/2.8 G Master: The 400mm f/2.8 G Master lens is a lens I never thought I would want or need once I owned the 600 f/4 G Master and the 200-600mm f/5.6-6.3 G. But one of the professional wildlife photographers I respect the most implored me to get it, saying it would change my photography forever. I eventually decided to purchase it and now all I think about is how I wish I'd had it on every previous trip I've ever taken! It is, quite simply, my favorite lens of all time. The subject-background separation this lens delivers wide open at f/2.8 is something you cannot put into words until you see your images on a large computer screen for the first time. The sharpness of the lens is simply extraordinary. The extra stop of light with the 2.8 aperture coupled with the world class optics and the a1 body allow me to acquire focus instantaneously in what most people would consider "darkness," so my shooting window is easily 10 minutes longer than someone who is working with an f/4 lens. While only slightly lighter than the 600 f/4, the balance on the 400mm f/2.8 is even better, allowing me to handhold effortlessly for long stretches of time.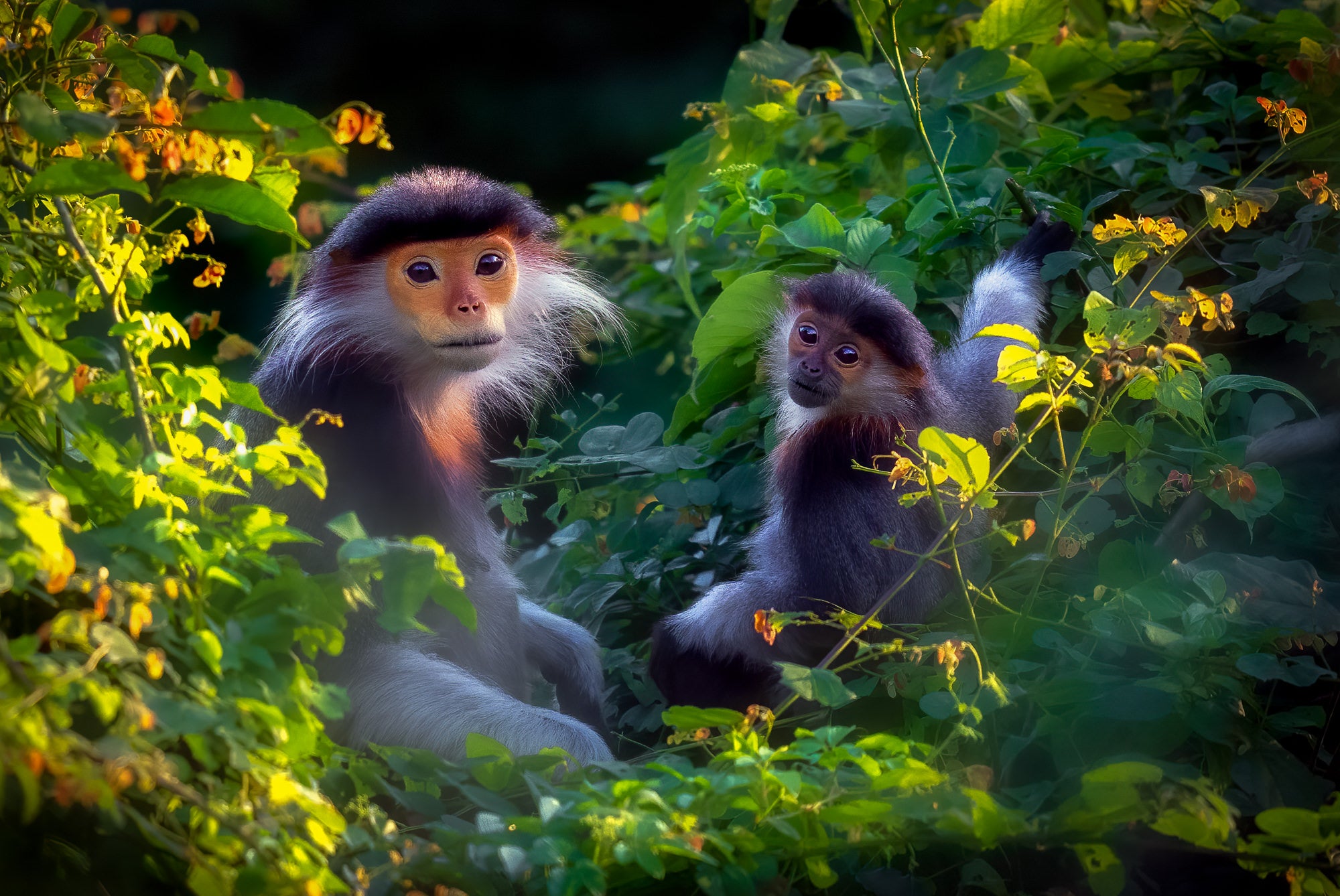 "I had both the 600mm and 400mm prime lenses with me while photographing the beautiful red shanked douc langurs in Vietnam, but the images from the 400mm, always shot handheld and wide open at f/2.8, were in a different league. The sharpness and fine detail from this lens are jaw dropping, even in a considerably cropped image like this one." Photo by Craig Elson. Sony Alpha 1. Sony 400mm f/2.8 G Master. 1/1600-sec., f/2.8, ISO 2500.
Sony 70-200mm f/2.8 G Master II: The 70-200mm f/2.8 G Master II is a lens I almost never leave home without. For landscape and aerial photography it is my long lens, and for wildlife photography it is often what I like to use to incorporate the environment into the shot. This latest version is noticeably lighter, and the AF is noticeably faster, than the previous version, which I owned for several years. It is also an internal zoom, which I prefer, and it can be paired with Sony's 1.4x and 2.0x teleconverters for additional reach when you need it. If there is a sharper zoom lens in Sony's lineup, I am unaware of it.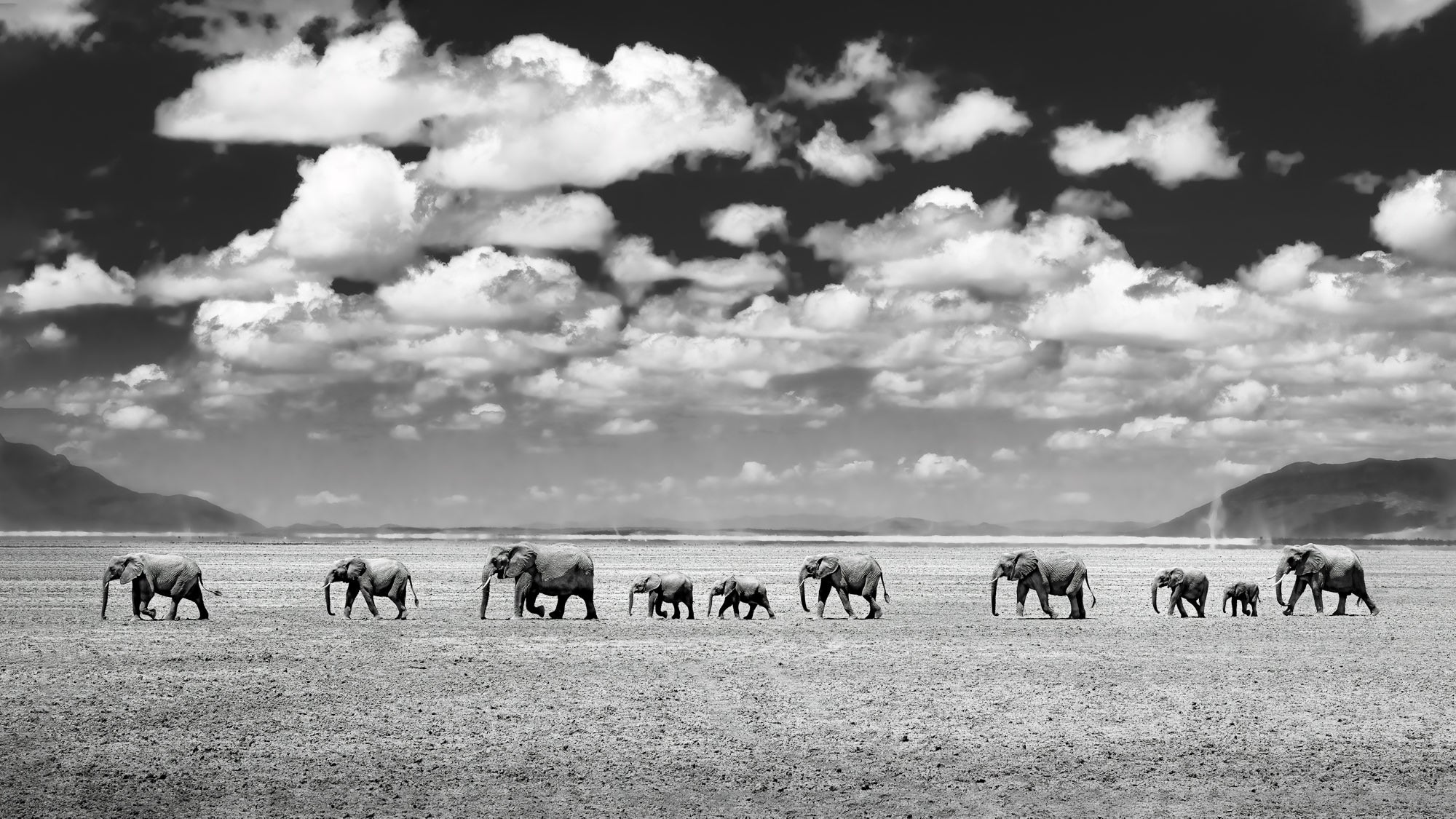 "It is hard to find a sharper zoom lens than this one at the f/8 aperture. Taken in Amboseli National Park, Kenya." Photo by Craig Elson. Sony Alpha 1. Sony 70-200mm f/2.8 G Master. 1/1000-sec., f/8, ISO 400.
Sony 24-105mm f/4 G: While it is one of the older lenses in Sony's current lineup, I still cannot bring myself to leave home very often without the 24-105mm f/4 G in my bag, regardless of the subject matter I will be shooting. Given the tradeoff of gaining additional focal length vs. losing a stop of light (when compared to the 24-70mm f/2.8 GM II), I prefer the greater focal length for my style of shooting. In short, this is my general purpose "walking around" lens and my primary lens for aerial imagery because of its great focal length versatility and constant f/4 aperture.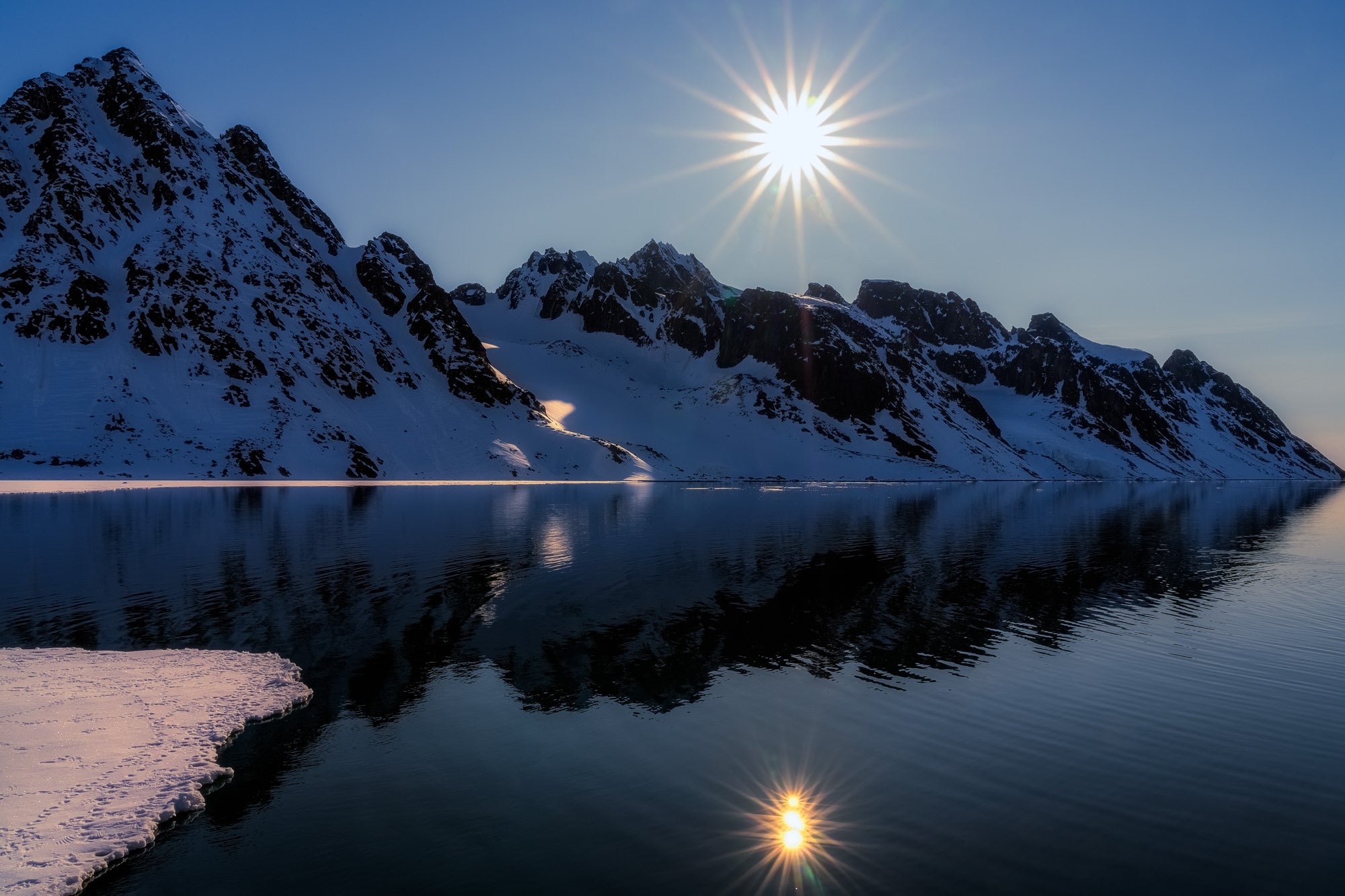 "An image taken from the deck of our boat in one of the many fjords of Svalbard - one more aspect of the versatility of this lens is the sun stars it can produce at apertures of f/16 and smaller." Photo by Craig Elson. Sony Alpha 7R V. Sony 24-105mm f/4 G. 1/250-sec., f/22, ISO 100.
Sony 12-24mm f/2.8 G Master: For my landscape work, my shooting style has evolved over the years to where I now find myself working at very wide angles. As such, the Sony 12-24mm f/2.8 G Master is now my "go to" lens for landscapes. I chose the f/2.8 version of this lens to be able to handle my astrophotography pursuits as well. This lens pretty much lives on my Alpha 7R V these days.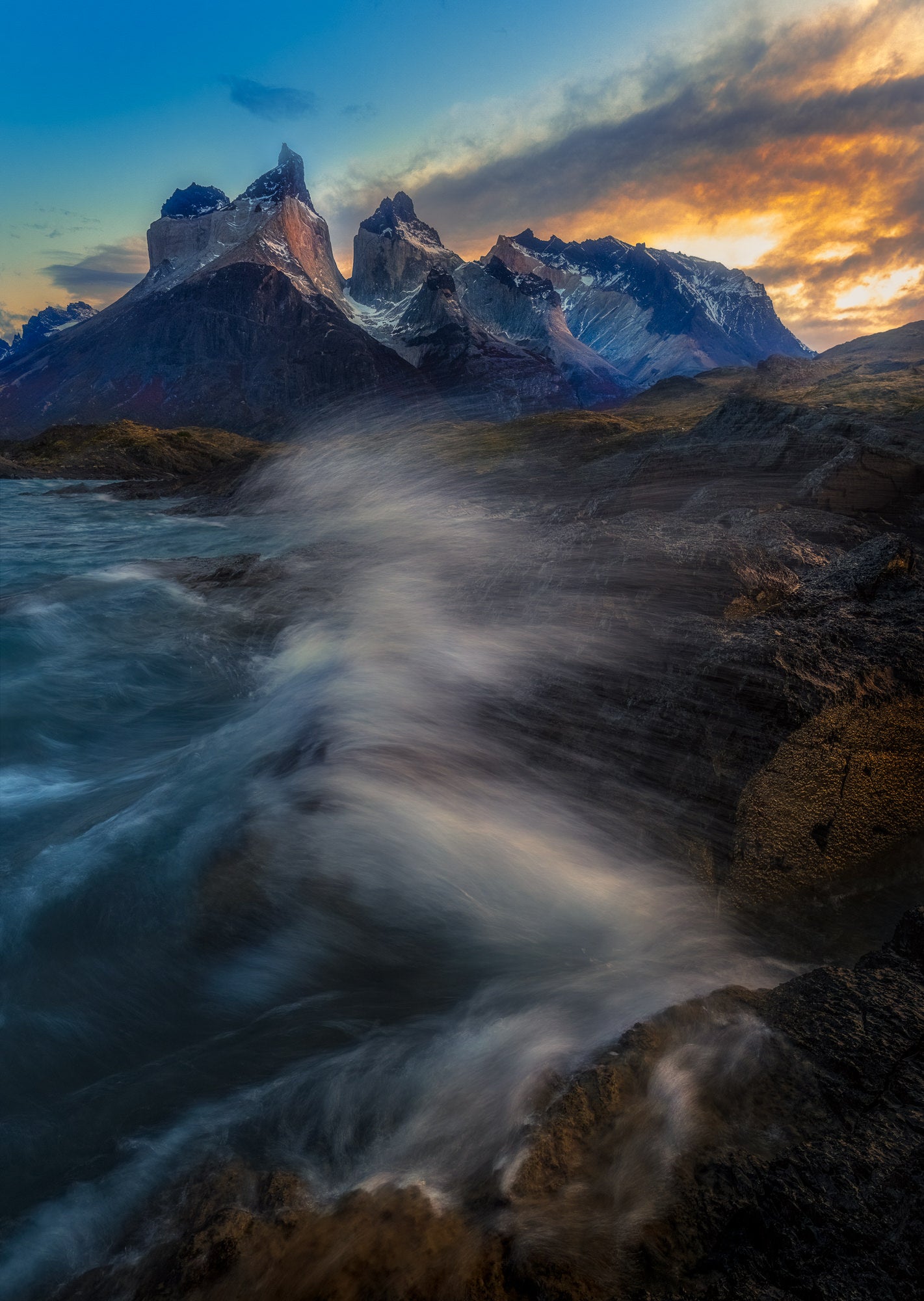 "The articulating screen of the Alpha 7R V was super helpful here in capturing this very low angle vertical composition in Torres del Paine National Park, Patagonia, Chile while keeping an eye on the wave action at the same time." Photo by Craig Elson. Sony Alpha 7R V. Sony 12-24mm f/2.8 G Master. 1/6-sec., f/11, ISO 800.
Sony 1.4x Teleconverter and Sony 2.0x Teleconverter: While I would always prefer to not attach a teleconverter, sometimes you need to do so to get the shot you envision. Sony's teleconverters perform better than any others I have used in the past in terms of sharpness and AF speed, so I do not hesitate to use them when necessary.
Accessories (Pictured)
Zemlin Replacement Lens Hoods: When space and weight are tight and I don't need to worry about extreme weather conditions, these hoods always get the call for my 400 and 600mm lenses.
Gura Gear Kiboko Camera Bags (22L and 30L versions): I have both sizes, one for landscape and one for wildlife. There is no lighter bag out there than can carry both the 400mm and the 600mm primes. I also own the Chobe 16" laptop bag with both inserts which pulls double duty as a second camera bag for long international trips.
Really Right Stuff L-Bracket: This lives on my new Alpha 7R V for all vertical compositions requiring a tripod.
Sony HVL-F60RM2 Wireless Flash: I don't use flash all that often but this one has always been up to the task.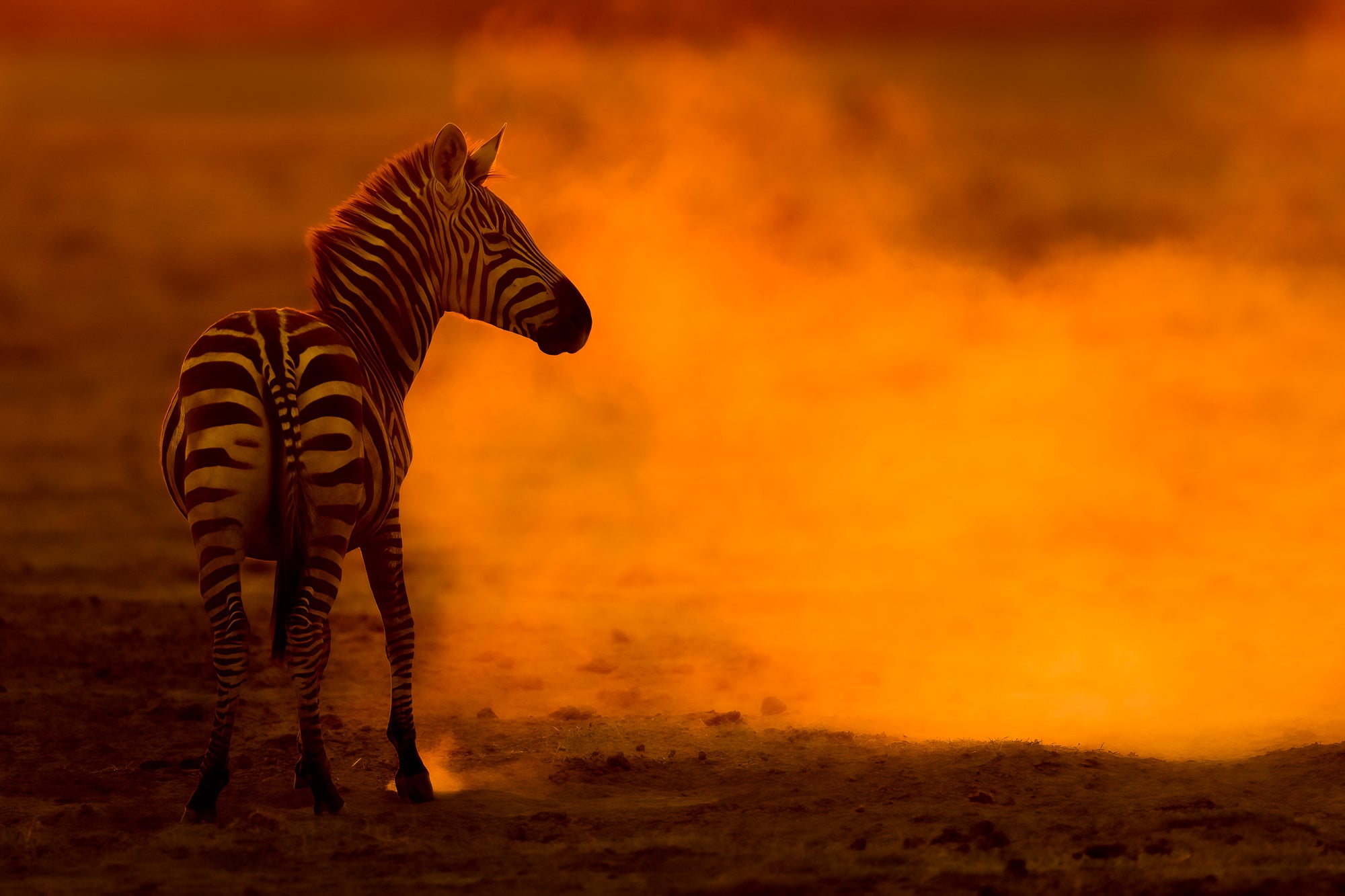 "The twin complicating factors of dying light and swirling dust seen here in this image of a zebra in Amboseli National Park, Kenya prove to be no issue for this magical lens when shot wide open." Photo by Craig Elson. Sony Alpha 1. Sony 400mm f/2.8 G Master. 1/2000-sec., f/2.8, ISO 1600.
Sony FA-WRC1M Wireless Commander: If I am using flash, it is typically off camera which is where this piece of equipment comes in handy.
Sony RMT-P1BT Wireless Remote: Frequently used when doing long exposure photography and astrophotography.
Black Diamond Storm Headlamp: For all the pre-dawn and post-sunset hiking that comes with being a landscape photographer, as well as astrophotography, this is an invaluable tool that is always in my bag.
Lenscoat Lens Covers: To help protect my valuable Sony lenses from the elements as well as general wear and tear so they hold their value in the aftermarket, I put these on all my long lenses as soon as they are purchased.
Accessories (Not Pictured)
Sony TOUGH Memory Cards: They've never let me down yet, so I have not felt compelled to switch for price or any other reason. There are two in each of my bodies.
Black Rapid Double Breathe Harness: While I will use this at times photographing on the ground, it is what I rely upon every time I am up doing aerial photography to keep my valuable gear safe.
Expert Shield Glass LCD Protector: One of these goes on every new camera body right out of the box. They have saved me from a damaged LCD screen more than once.
Breakthrough Filters: I have found these to be the best in the market in terms of sharpness and lack of color casts. I use all their various ND filters as well as the circular polarizers for my landscape work.
Kolari Rear Mount ND Filters: I've recently added this to my kit specifically for my Sony 12-24mm f/2.8 G Master lens which cannot take front mounted filters.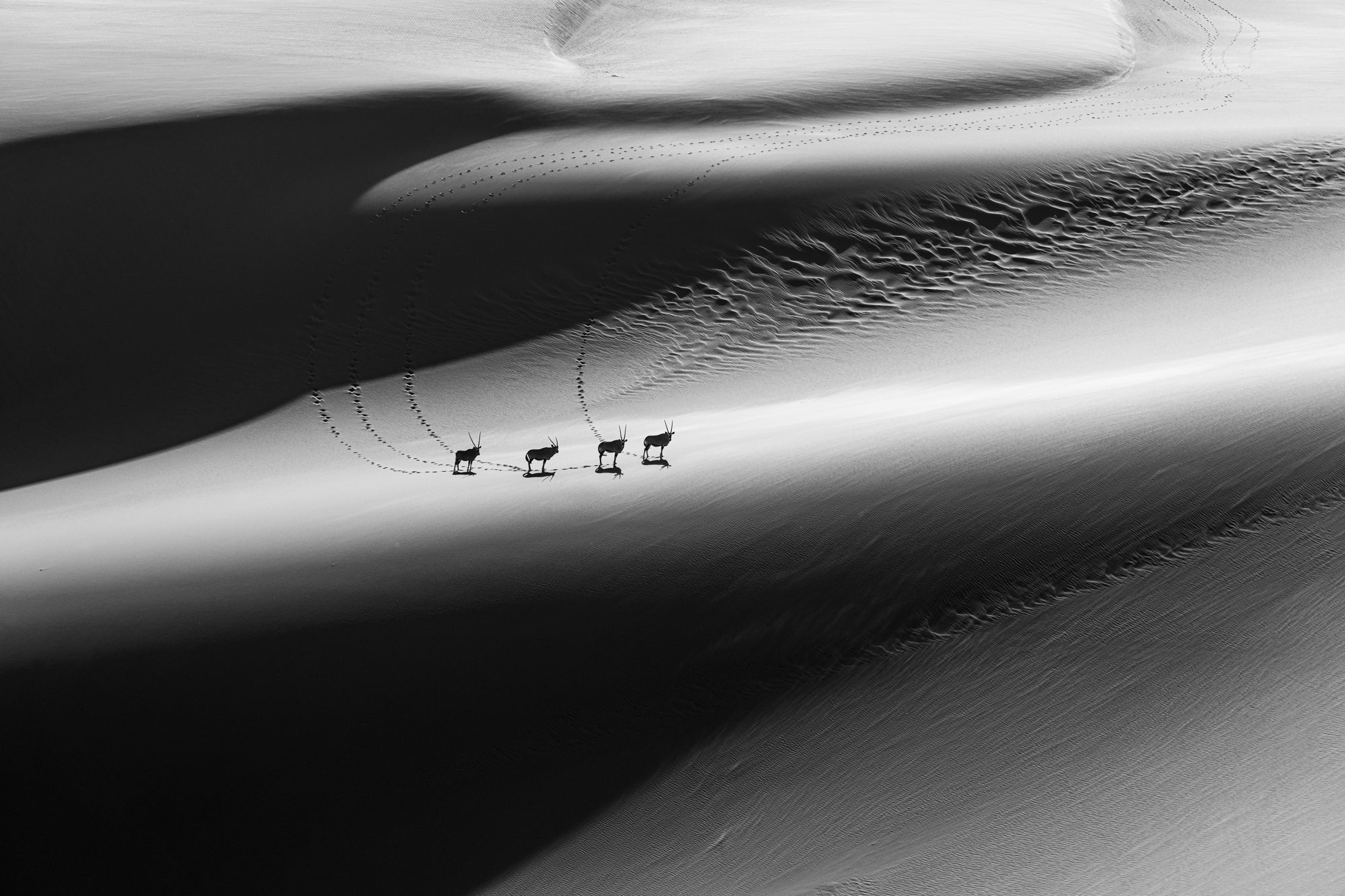 "Taken from a helicopter while flying over the Skeleton Coast of Namibia, the tracking capability of the a1 helped me nail this shot as I acquired focus well in advance of the shot and then waited for the framing to present itself." Photo by Craig Elson. Sony Alpha 1. Sony 70-200mm f/2.8 G Master + 1.4x TC. 1/3200-sec., f/4, ISO 250.
Induro Stealth GIT304L Tripod: On the rare occasion I am not handholding, this is the tripod I use for wildlife photography with long prime lenses. It has been discontinued for some time now, but it has been a reliable and sturdy workhorse whenever called upon.
Really Right Stuff TFC14 Travel Tripod: Lightweight and compact, this is the tripod with me for all my landscape work unless high winds are likely and the larger, more stable Induro is needed.
Flexshooter Pro Ballhead: This amazing piece of equipment has been in my bag for several years now and has replaced the gimbal I used previously. It pulls double duty as a gimbal and a ballhead, so any time I will be doing both wildlife and landscape photography on a trip this gets the call.
Induro BH-1S Ballhead: If I am traveling light and it is a landscape shoot, this is the ballhead on my RRS landscape tripod.
Really Right Stuff Leveling Base: Always on the tripod with me to quickly level the scene without having to adjust the tripod legs.
See more of Craig Elson's work on Instagram @craigelsonphotography.