Brian Di Croce is the founder and lead photographer of Momentura Studio (@momenturastudio), a wedding photography boutique based in Montreal, Canada. We connect with him to learn more about the Sony Alpha cameras, Sony lenses and more in his kit for wedding and portrait photography. On this Valentine's Day, see the gear he uses below for documenting love and why each piece has a place in his bag.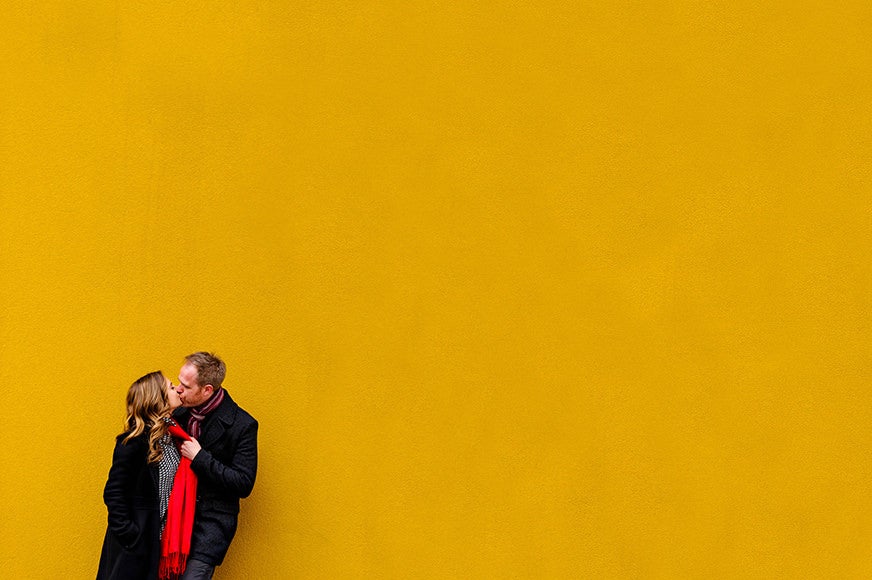 Photo by Brian Di Croce. Sony Alpha 7 III. Sony 35mm f/1.8. 1/250-sec., f/2.8, ISO 400
Wedding photographer Brian Di Croce gives us the rundown on the gear you'll find in his kit for capturing the love on wedding day.
My photography focuses on documenting moments on a wedding day using a storytelling approach. Besides documenting precious moments, I also take great pride in crafting portraits for my clients. This includes creative portraits of the bride and groom, but also simple portraits of people attending their wedding such as the bridal party, their parents and siblings, their extended families, friends and colleagues. Each one of those people are important to me on that special day, because they matter the most to my clients. I want them and everyone at the wedding to remember everything about their special day.
A wedding day isn't like any other day: the hours magically tend to pass by faster than on a normal, typical day. In order not to miss a moment, speed and perception are of the utmost importance for my photographic style. Perception comes from feeling what's going on in the moment, and anticipating what will come next. Experience, intuition and grit help in this area. Speed, however, is largely influenced by the physical equipment at hand. In order to be creatively and physically agile with my equipment, I make great use of my Sony Alpha collection of lightweight cameras, lenses, and flashes which provide the necessary hardware to produce good images regardless of the environment I may be in.
More specifically, I use two Sony Alpha 7 III full-frame camera bodies equipped with a Sony 35mm f/1.8 and Sony 85mm f/1.8 lens for the most part of the day. This combo is light and durable enough to capture a scene in any lighting context. I cannot express the importance of carrying lightweight equipment for a day that can sometimes last up to 15 hours. The more physical pain the human body endures, the less creative our minds tend to be. Therefore, I try to minimize the physical pain by minimizing the weight of my equipment, without sacrificing the quality of the image.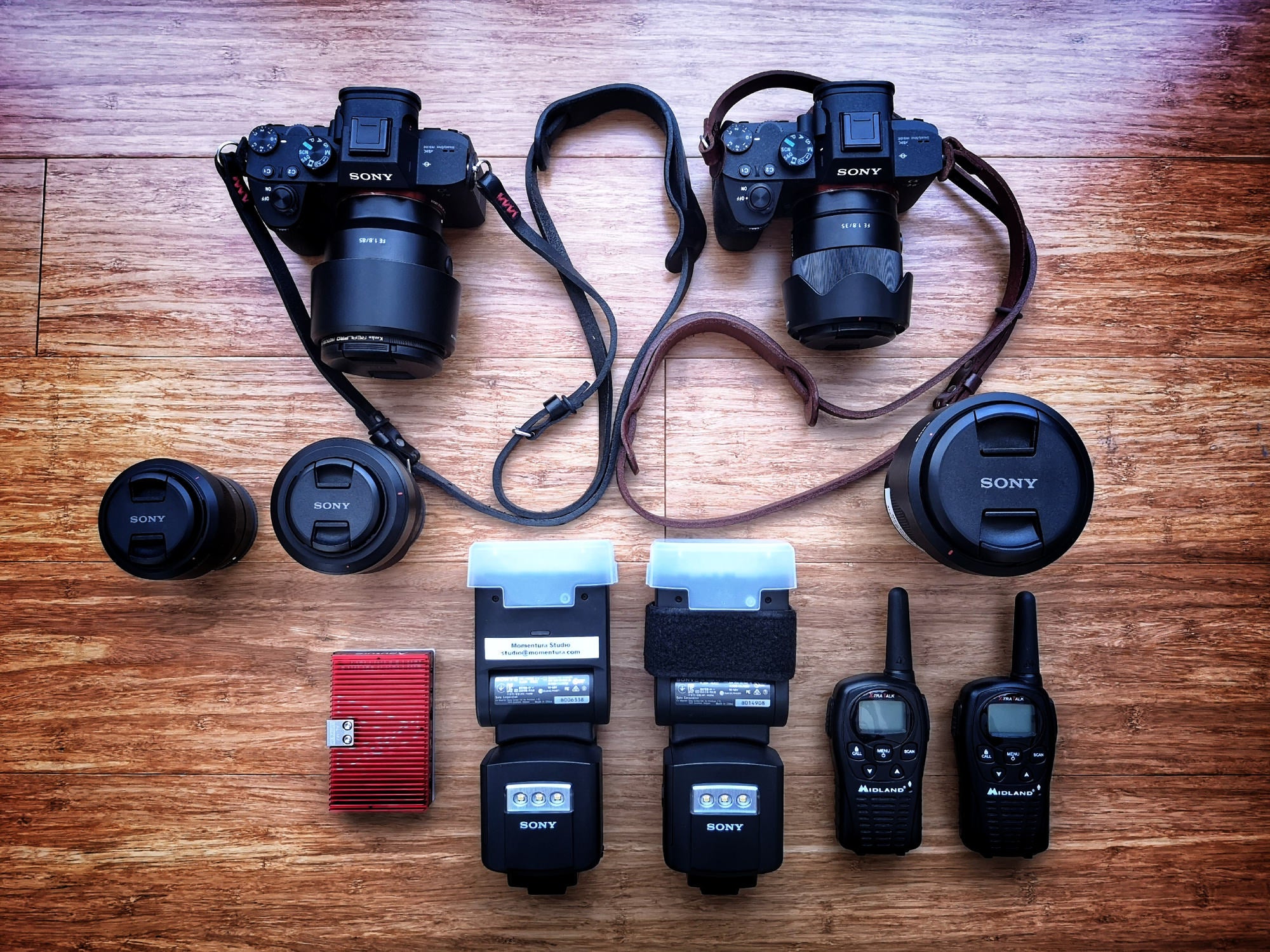 I also bring with me a Sony 28mm f/2 to capture the lively scenes on the dance floor during the reception, and a Sony 55mm f/1.8 for portraits or to change my perspective when documenting moments. I also carry a backup zoom lens which I leave in the car in case of an emergency: a Sony 24-105mm f/4 G. If I want to add a spoonful of creativity to my images with an extra light, I make use of a pair of Sony HVL-F60RM flashes which are guaranteed to supplement all the power I need to create any photo I envision at any time of the day. I enjoy the remote/controller feature of these flashes because I can use them wirelessly without adapters. If I need constant lighting for a scene, I will use their video light capability, but if I need more control of the light, such as changing both its color and brightness, I'll use my handy Aputure light emitter.
My passion for documenting weddings comes down to capturing unique, impactful, timeless moments for my clients. When the rough parts of life will come knocking at their door, my desire for them would be to look back at their wedding photos and be reminded that everything is going to be alright, because they know who they are and, most importantly, they know what they have built together.
Cameras
Sony Alpha 7 III: I use two Sony Alpha 7 III full-frame mirrorless camera bodies for all my professional photography work because of their amazing low-light capability for focusing on static or dynamic objects, and its dynamic range when processing RAW files. Each camera is equipped with dual 256GB Sandisk SD cards which can accommodate just about 10,000 images if I need. The reason for having two of the same body is mostly for peace of mind and redundancy in case one of them should fail for whatever reason. The chances of that happening are very slim, but no one can know for sure when it comes to man-made technology. Compared to a DSLR, a mirrorless camera is quiet. This can be very advantageous when photographing a solemn wedding ceremony that otherwise can be ruined by the sound of the mirror constantly flipping up from a DSLR. As a wedding photographer, my goal is not just to produce good images for my clients, but delivering a remarkable experience as well. The Sony Alpha 7 III camera helps me do both equally well.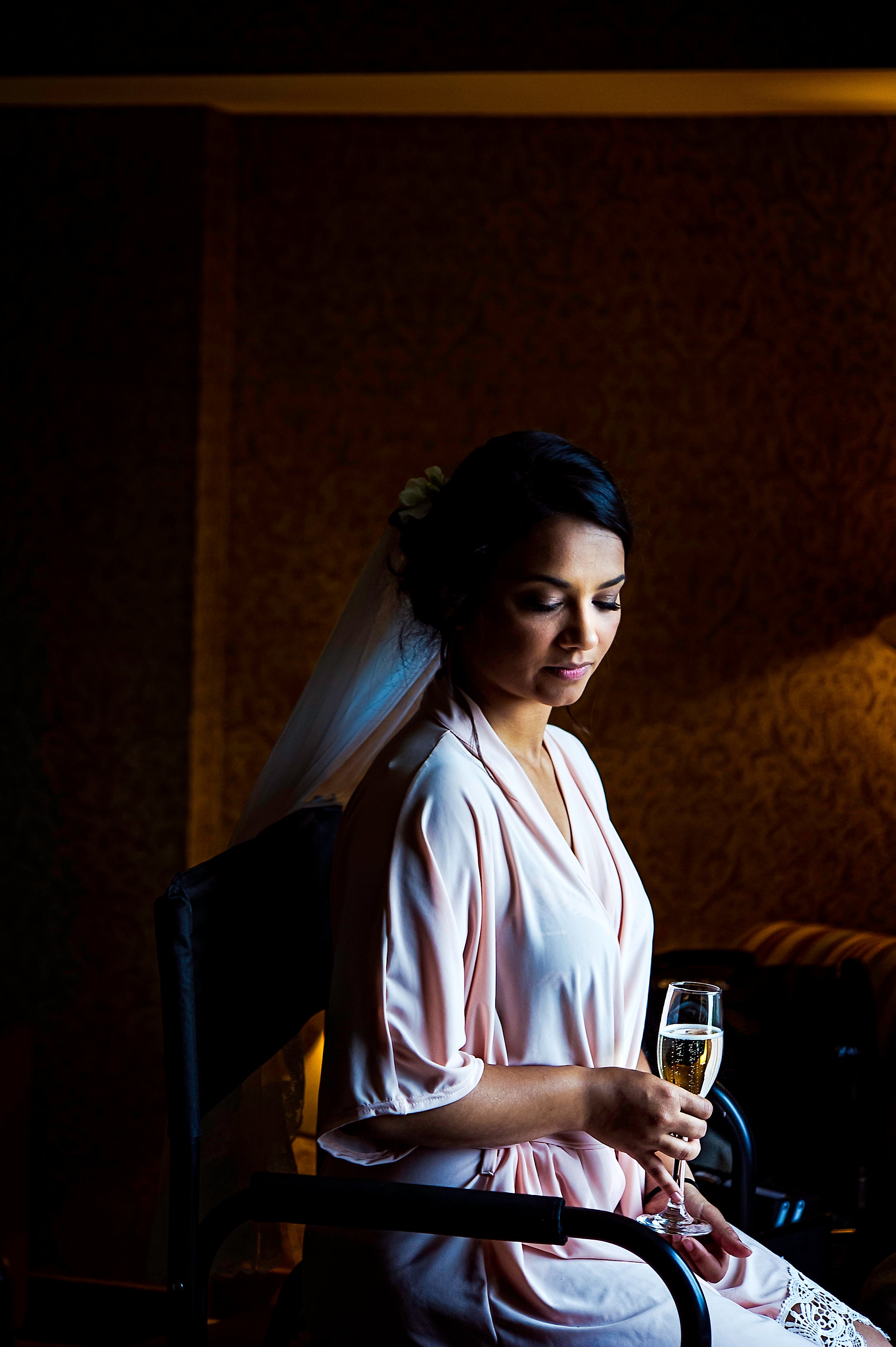 Photo by Brian Di Croce. Sony Alpha 7 III. Sony 55mm f/1.8. 1/640-sec., f/2.8, ISO 400
Lenses
Sony 28mm f/2: This lens sits in between a wide 24mm and a normal 35mm. It's a great focal length for when I'm physically constrained in a small place. It's light and fast enough to carry all the time. When I get tired of using the 35mm focal length, I swap it with the 28mm, and a new creative world opens up. I also use this lens primarily on the dance floor when I want to get close to the action.
Photo by Brian Di Croce. Sony Alpha 7 III. Sony 28mm f/2. 1/2000-sec., f/2, ISO 200
Sony 35mm f/1.8: This is my primary lens which stays on most the wedding day. I love this focal length for documenting moments because it helps me to incorporate both the subject and its environment in one frame.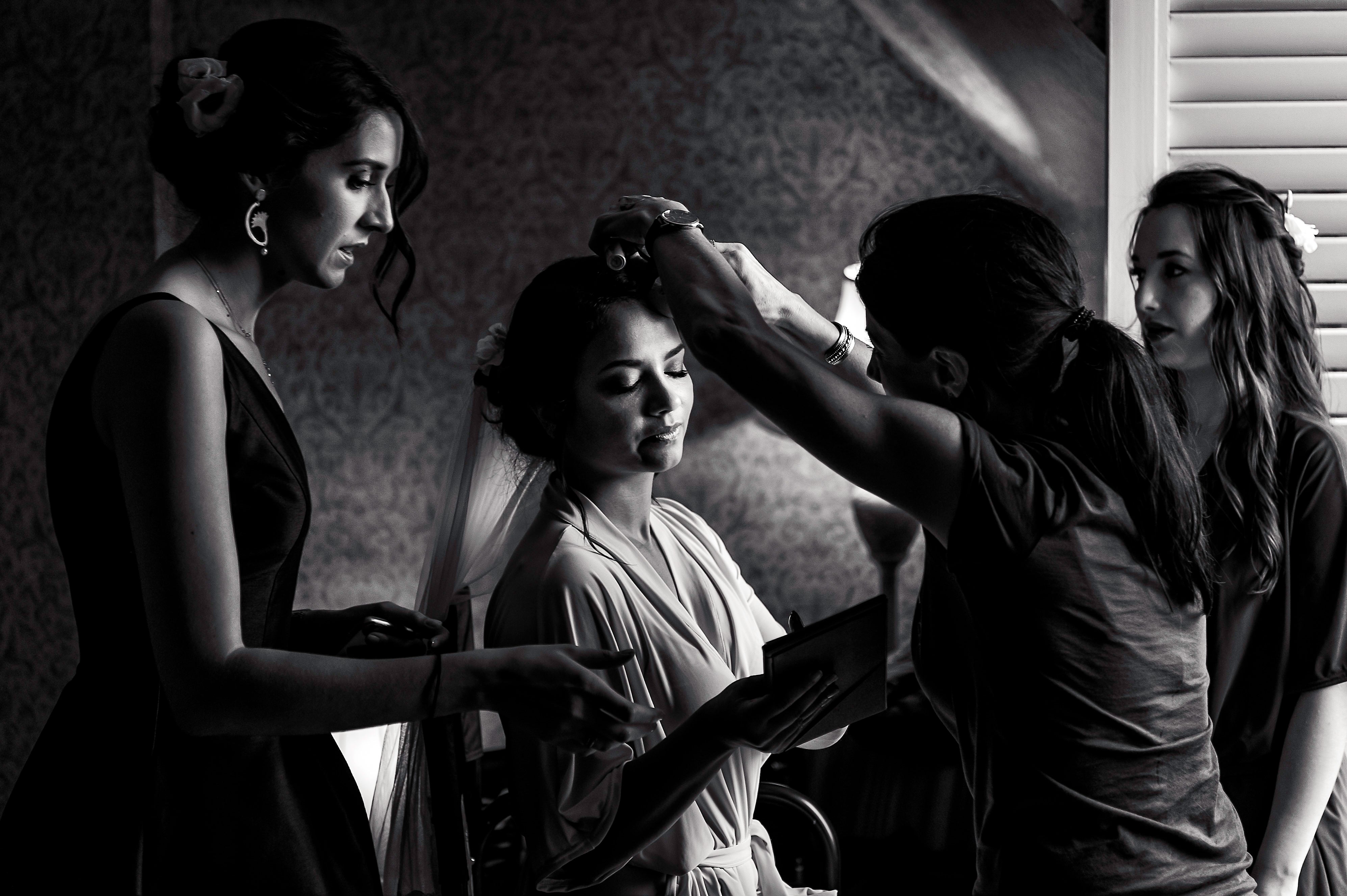 Photo by Brian Di Croce. Sony Alpha 7 III. Sony 35mm f/1.8. 1/400-sec., f/2.8, ISO 200
Sony 55mm f/1.8: This is the latest one in the collection. I was looking for a focal length that would sit in between the 35mm and 85mm. I didn't want the standard 50mm because I wanted something different from my many years in shooting 50mm on my film camera. This little guy proves its worthiness by being light and fast, and providing me with the right bokeh when photographing portraits.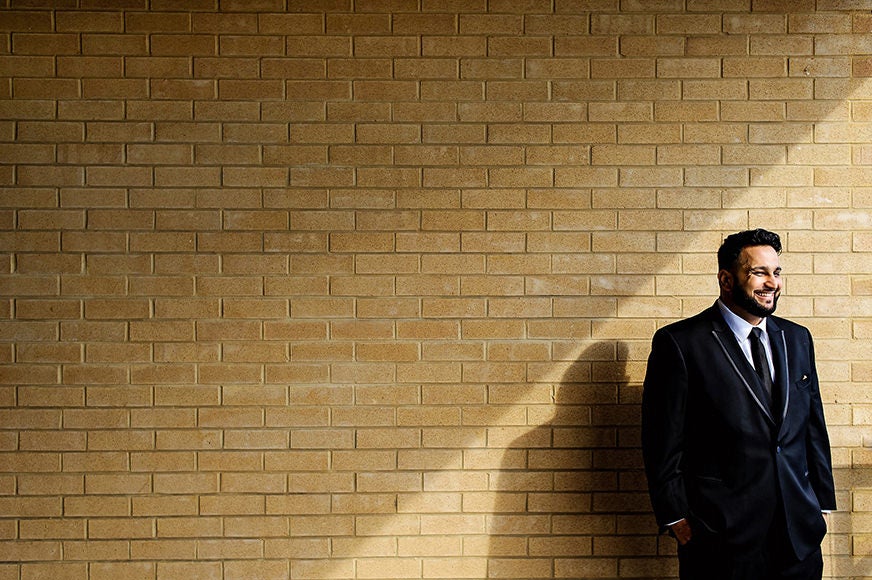 Photo by Brian Di Croce. Sony Alpha 7 III. Sony 55mm f/1.8. 1/1250-sec., f/2.8, ISO 200
Sony 85mm f/1.8: This lens serves as a nice telephoto lens to capture portraits and isolate a moment from its background. Most of my lenses are from the f/1.8 collection because of how light they are compared to their f/1.4 counterparts without sacrificing the build quality.
Photo by Brian Di Croce. Sony Alpha 7 III. Sony 85mm f/1.8. 1/200-sec, f/1.8, ISO 640
Accessories
Bag: The Think Tank Airport Advantage roller bag keeps the equipment organized and protected from the environment. The quality of service from Think Tank has always been stellar, and I've been using many of their bags for the past 10 years.
Leather straps: I use two leather straps from the good folks at Fab. They also happen to be based in Montreal. The straps are stylish and comfortable for when I'm carrying the cameras on my neck and shoulder. I use the brown leather to distinguish the camera with the wide angle lens, and the black leather to distinguish the one with the standard or telephoto lens attached to it.
Walkie-talkies: A pair of Midland walkie-talkies are used so that I can communicate with my couple when the physical distance makes shouting unproductive for everyone.
See more of Brian Di Croce's work on Instagram @momenturastudio.