Craig Coker (@craig.coker) is a drone pilot and photographer. "I shoot commercials, sports and events, but I also love to travel on adventure assignments. I'm a photographer of 15 years and drone pilot for 12. My bag has a mix of familiar equipment but with a twist. I fly Sony's new drone, Airpeak, and I mount a variety of equipment to it." We caught up with him to learn more about how he pairs his Sony Alpha 1, Sony FX3 and Sony Alpha 7R V cameras with the Sony Airpeak S1. Keep reading as he shares what's in his bag for capturing action both on the ground and in the air.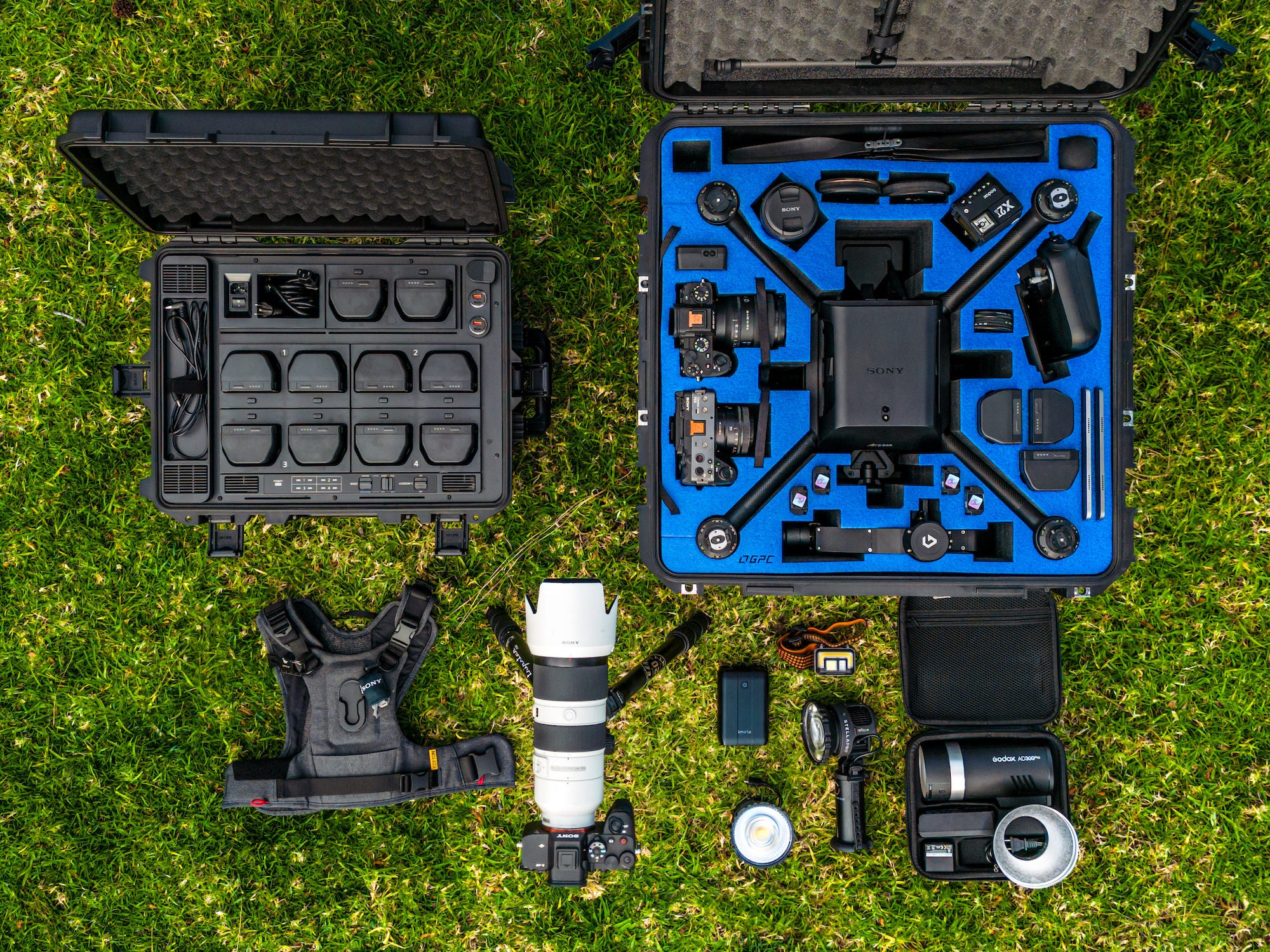 Drone pilot and photographer Craig Coker shares the cameras and lenses he uses with the Sony Airpeak S1 for high-quality, breath-taking photos and videos.
Drone & Cameras
Sony Airpeak S1: Sony's Airpeak Drone is hands down, the ultimate drone for my Alpha Cameras. Airpeak is a powerful beast for creatives and filmmakers. For me, it's not just about mounting Alpha cameras to Airpeak. I also mount light equipment to Airpeak and beam light down on subjects and landscapes.
Sony Alpha 1 and Sony FX3 and Sony Alpha 7R V: These cameras cover it all, both in air and at ground level. The FX3 has been my primary video camera for Airpeak. The dual ISO for low light sensitivity is phenomenal. Match that with 4K at 120FPS and there's nothing that compares to it on a drone. I also love the built-in fan when hot weather environments are inescapable. The Alpha 1 flagship camera is just that. On Airpeak, I can quickly switch from 8K video to 50mp photos. That is a game changer. On the ground, when I'm shooting drone light photography, I get those crispy, high-res images. Recently I've been working with the new Alpha 7R V both for ground and aerial. I'm loving it for the new 7 stop IBIS for long exposures and the responsive autofocusing. The 61MP photo resolution over Alpha 1 is certainly appreciated.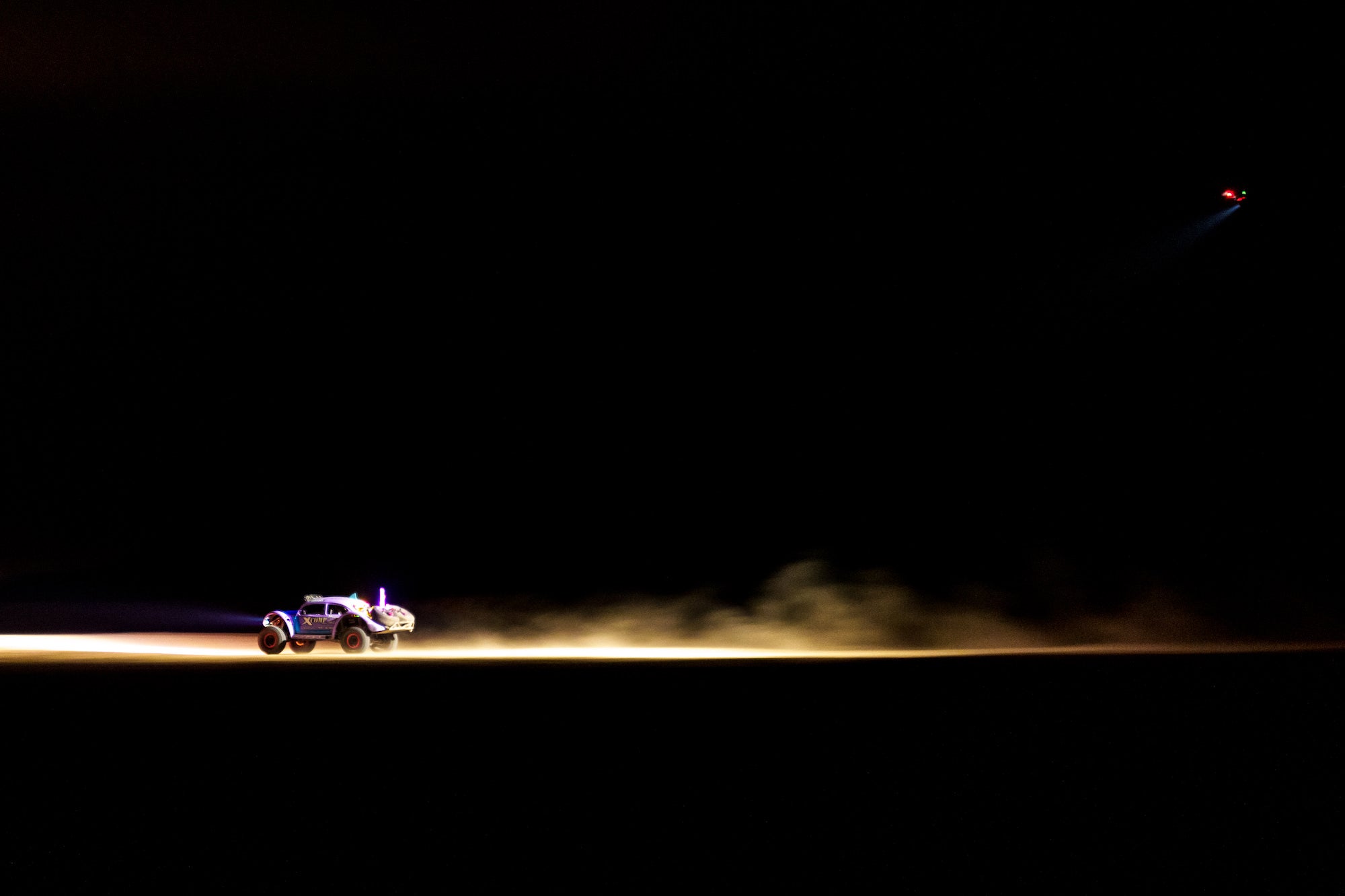 From Craig Coker's 'Light The Night' Project. Sony Alpha 1. Sony 24-70mm f/2.8 G Master. 1/8-sec., f/3.2, ISO 6400
Lenses
Weight is everything on a drone. More weight means less flight time and makes it harder to stabilize the big lenses on a gimbal. This trio of glass is my primary for Airpeak. They are small but tack sharp and let plenty of light in.
Sony 16-35mm f/4 PZ G: This lens is a solid choice for my landscapes and wide perspectives. I can also use the power zoom on Airpeak.
Sony 50mm f/2.5 G: This lens is my go-to happy medium. I use it on Airpeak a lot and love how small it is yet sharp.
Sony 85mm f/1.8: It's hard to dismiss this lens and its offerings. It's smaller and lighter than the 85mm f/1.4 G Master but still spectacular on a drone. I'll get close dolly shots of subjects or tight details when tracking a car. The 85mm also provides background to foreground compression. With the longer focal length I achieve parallax movements on the drone and the result is a cinema look that your eyes love.
My glass on the ground:
Sony 70-200mm f/2.8 G Master and Sony 24-70mm f/2.8 G Master: When I'm shooting drone light photography I run the 70-200mm f/2.8 GM or 24-70mm f/2.8 GM. The range of focal length and tack sharp results make these bad boys my fave combination. I find these lenses give me plenty of range in all scenarios. Primes are great but tough to manage when you're operating the drone and ground camera simultaneously. I'm moving around a lot when shooting drone light photography and focal length flexibility is paramount to me.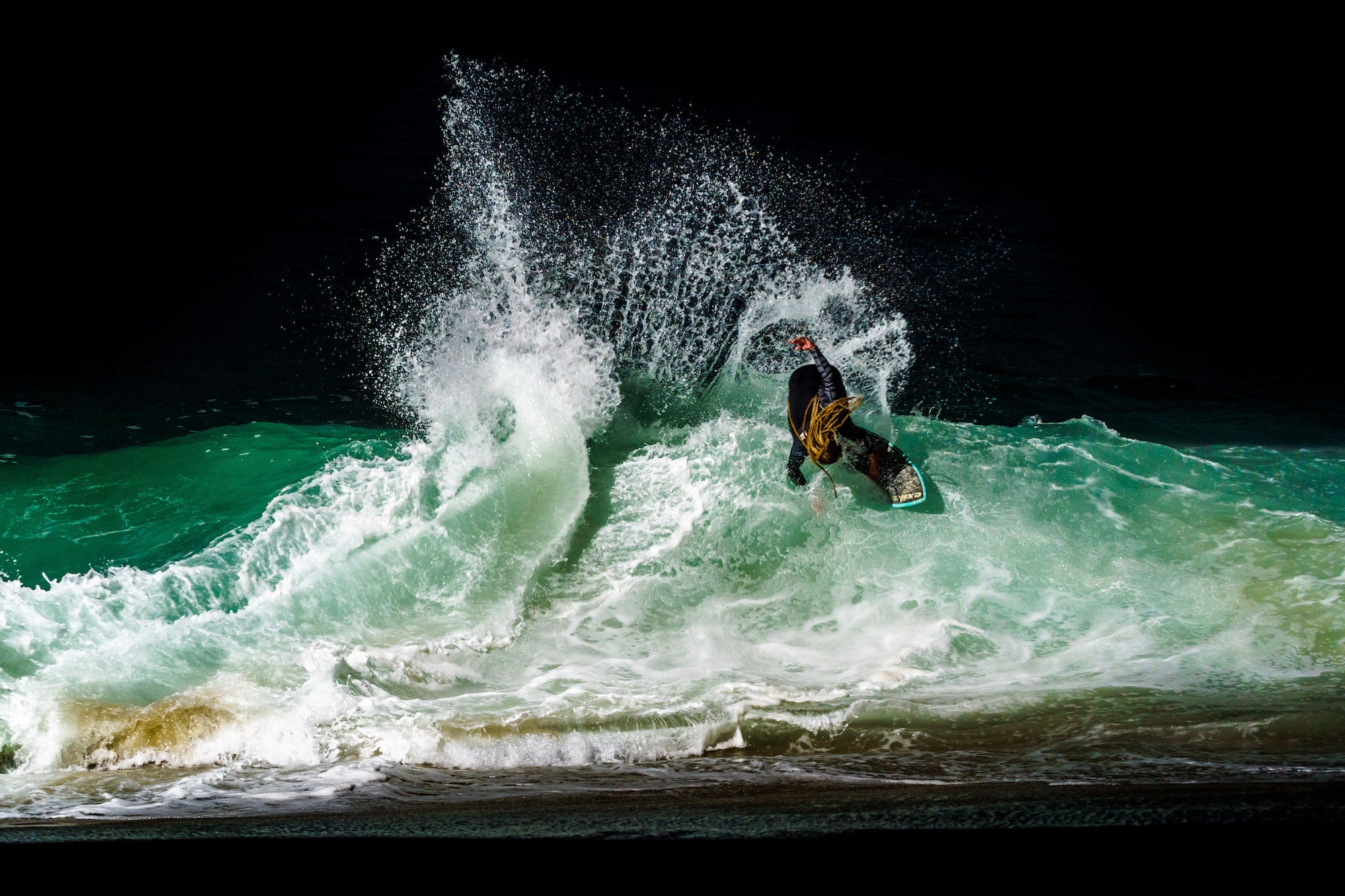 Photo by Craig Coker. Sony Alpha 7R IV. Sony 70-200mm f/2.8 G Master. 1/250-sec., f/5, ISO 500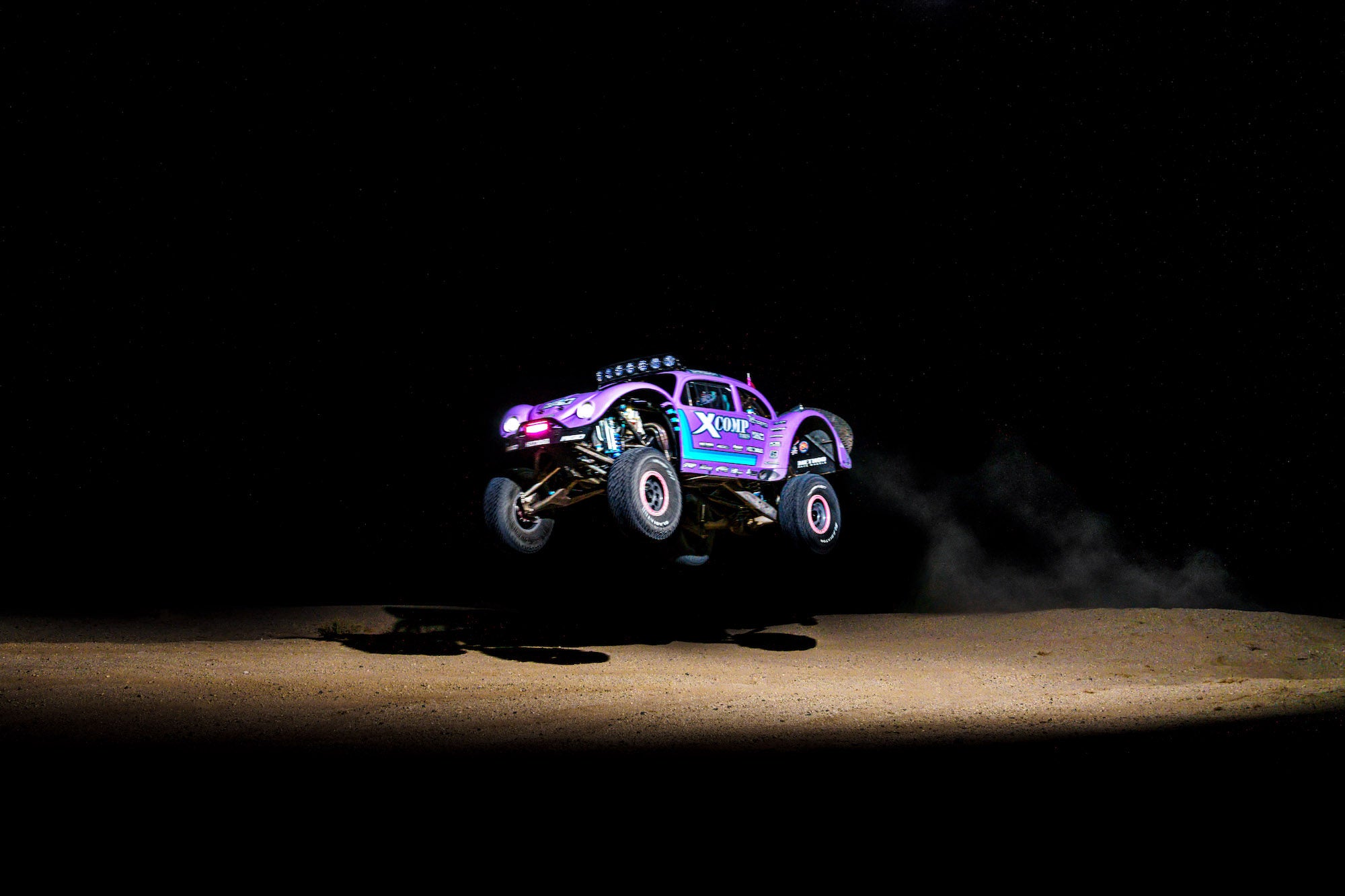 Photo by Craig Coker. Sony Alpha 7R IV. Sony 24-70mm f/2.8 G Master. 1/400-sec., f/4.5, ISO 800
Accessories
Godox AD300: This fits perfectly on Airpeak. Best yet, it's stabilized by the Gremsy Gimbal with tilt control. The AD300 also has a built-in wireless transmitter. I pair this to the Godox XT2. It's important to get a good wireless trigger range to your camera and I've found this system is the best.
Light & Motion Reflex S LED/Flash Head Paired With Airpeak: This small put extremely bright LED gets me up to 9,000 lumens of continuous light and 18,000 lumens burst mode for images. Like the Godox, it also has a built-in wireless transmitter. I run this light with the Gremsy Gimbal to get tilt control and stabilized light. I've chased down off-road baja trucks, freestyle skiers and surfers with this setup. It's my own personal UFO that beams light on demand.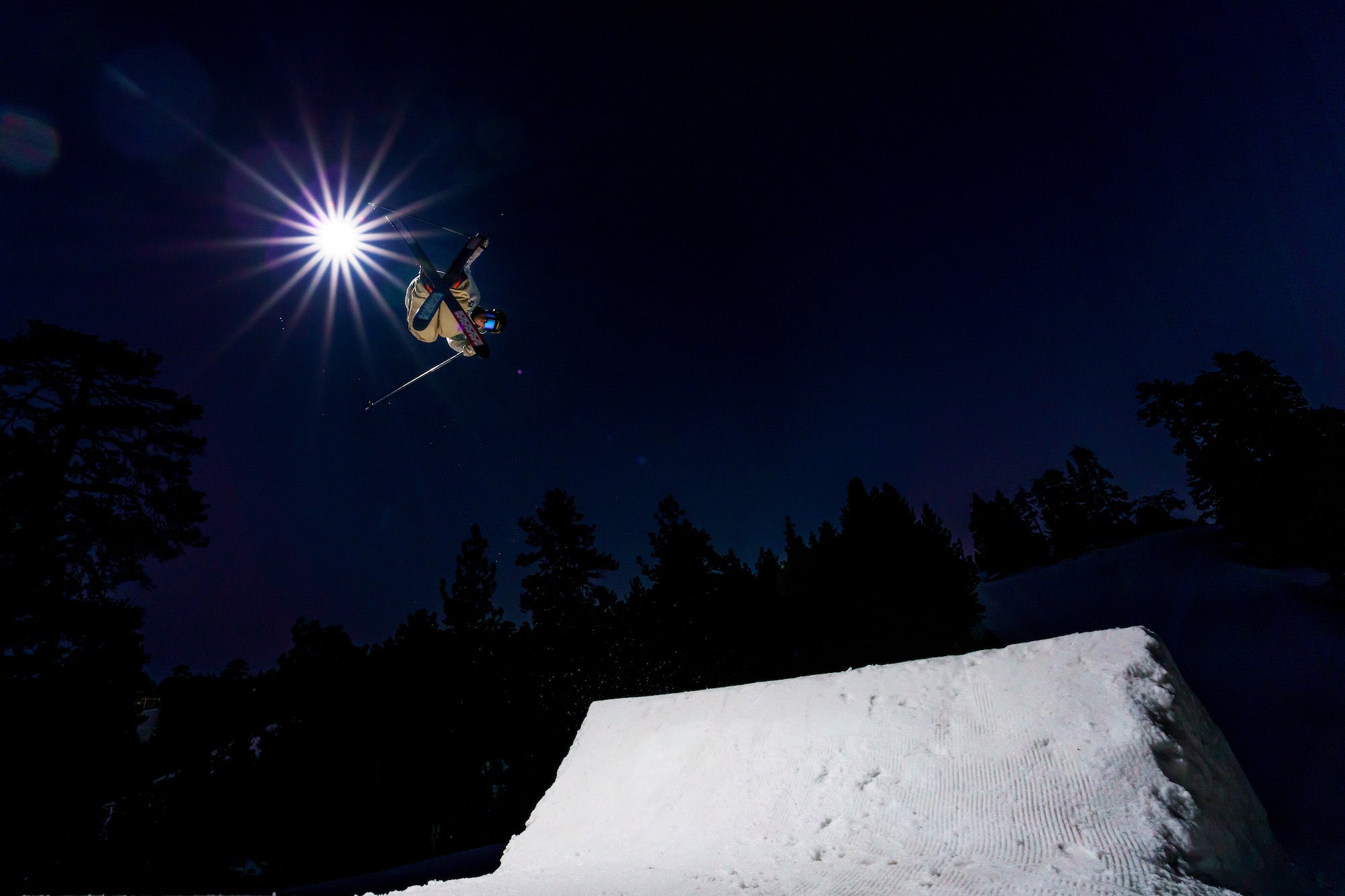 Photo by Craig Coker. Sony Alpha 7R IV. Sony 14mm f/1.8 G Master. 1/250-sec., f/10, ISO 500
Polarpro Variable ND: The Peter Mckinnon Edition II are my jam. What's important are the locking stops so it won't move while flying. I have a wide range of stops (2-9) from just two filters. No need for a quiver. This satisfies my needs on most projects. I'm also impressed how these filters eliminate cross-polarization and vignetting at every stop.
GPC Airpeak Case: The most compact aircraft case with all the bells and whistles. It holds your lenses, two cameras with room to spare. Ive traveled everywhere with this thing and surprised how well its held up.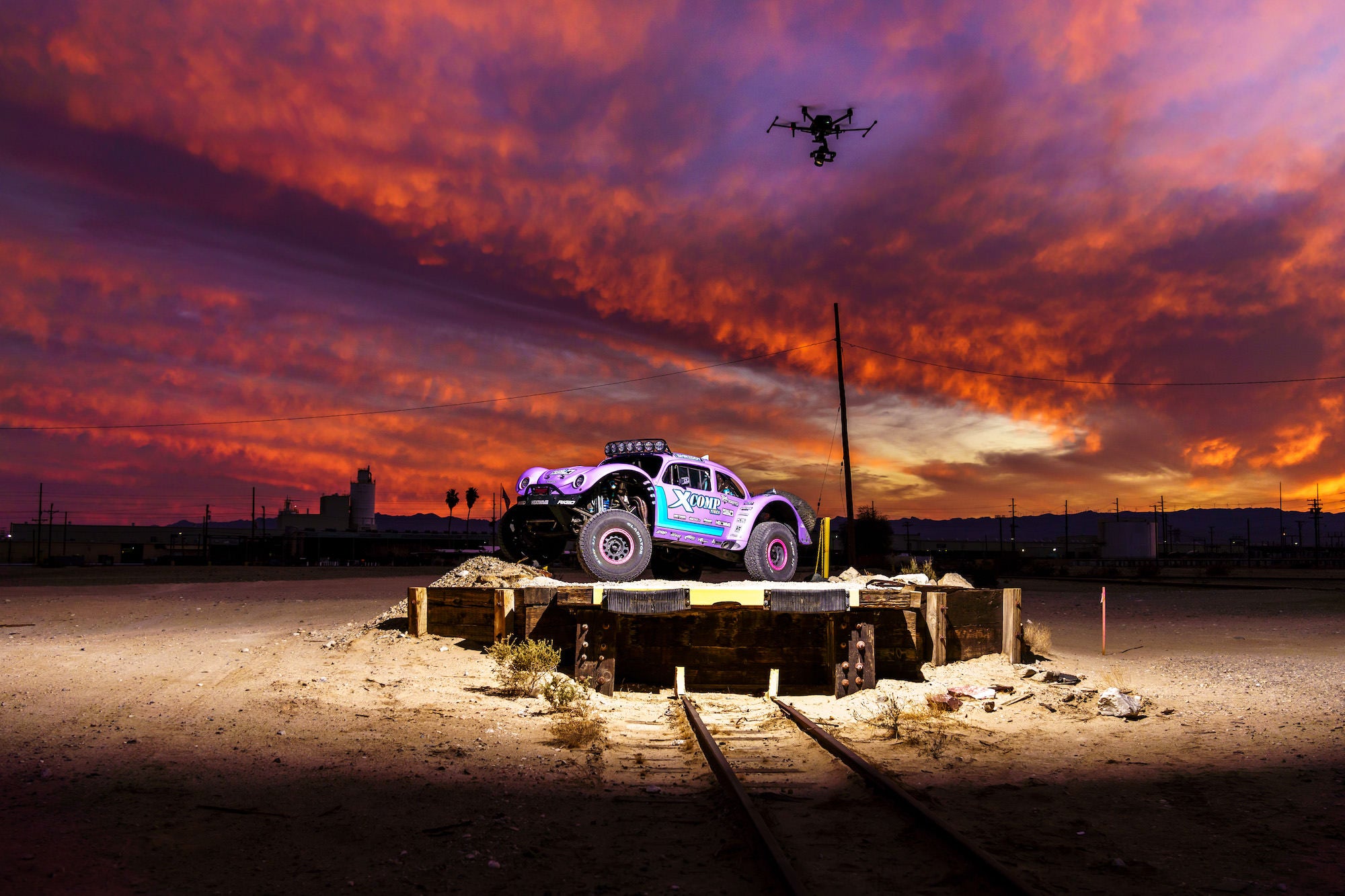 Photo by Craig Coker. Sony Alpha 7R IV. Sony 24-70mm f/2.8 G Master. 1/250-sec., f/4.5, ISO 50
Sony Airpeak Charging Station: It holds a whopping 10 Airpeak batteries but small enough to take on the airlines as carry-on. It also charges the Airpeak remotes and accessories. It also has a fast charge mode for those fast pace projects.
Cotton G3 Camera Harness: This securely holds my equipment on the go. I frequently have assignments that require two cameras. I also momentarily pull my hands away from the drone remote and operate a ground camera. This chest harness is my life line on all shoots and allows me to multitask.
See more of Craig Coker's work on Instagram @craig.coker.