Dylan McMains (@mcmainsphoto) is a landscape and astrophotographer based in Seattle, Washington. He was born and raised in Albuquerque, New Mexico, where he developed a deep appreciation for powerful skies (both during the day and night) and breathtaking landscapes. He loves going out and capturing the natural world because it is one of the few things humans cannot control and its ever-changing nature always offers something spectacular. Dylan uses an assortment of Sony gear to help him immortalize the beauty before him and we connected with him to find out more about the kit he relies on to capture landscapes and the night sky.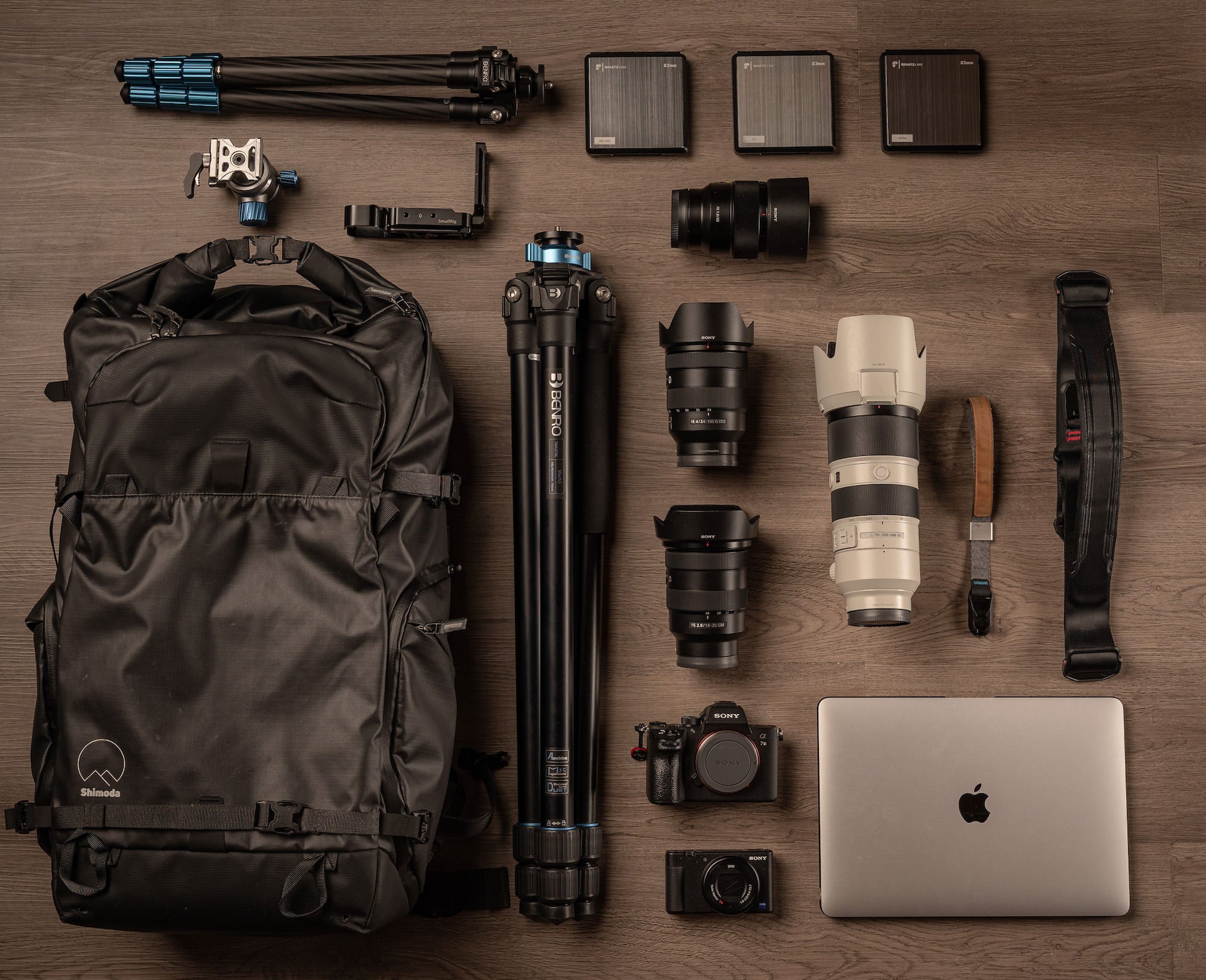 Landscape and astro-photographer gives us a look at his well-rounded kit of two Sony Alpha cameras, three zooms and a pair of primes.
Cameras
Sony Alpha 7 III: The Alpha 7 III is the second Sony body I've had but it's the one I've had the longest now. I absolutely love that no matter what kind of photo I am after, this camera can really do it all. Do you need a crisp landscape shot for a physical print? It can do it. Do you need impeccable low-light performance to bring out as much detail in the stars as possible? You're covered. Are you shooting a scene with harsh varying light and need to retain as much info as possible? The dynamic range this camera offers will not let you down. I have shot every kind of scene imaginable with this camera and it has exceeded expectations every time.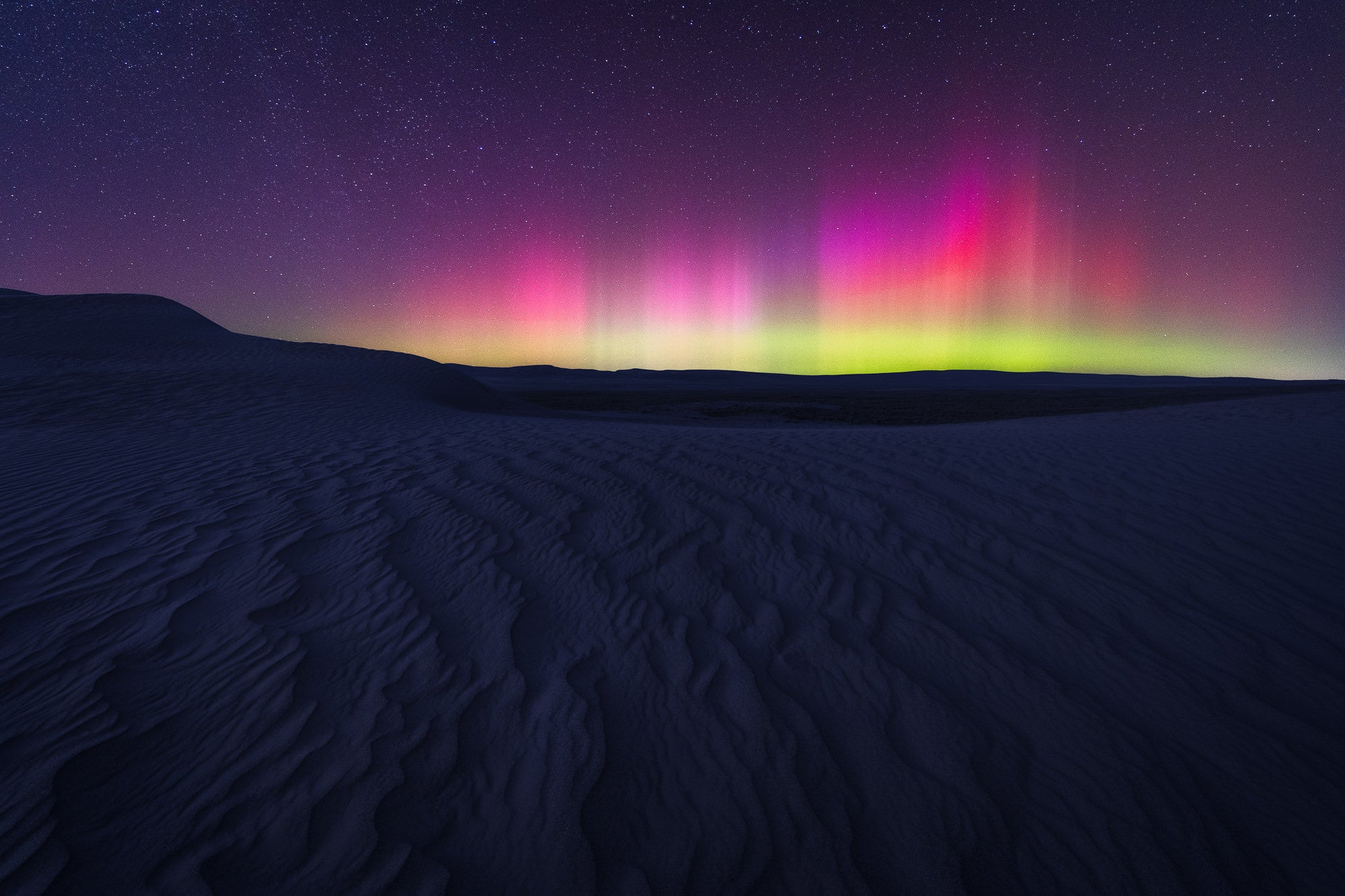 The Northern Lights above some sand dunes in eastern Washington State. Photo by Dylan McMains. Sony Alpha 7 III. Sony 16-35mm f/2.8 G Master. 10-sec., f/2.8, ISO 3200
Sony Alpha 7R II: The Alpha 7R II was the first Sony I ever owned and what a powerhouse it was. The 42MP sensor allowed me to catch so much detail in my photos that cropping in for a better composition or printing upwards of 5 feet long was never a worry. Having a full-frame sensor for the first time and seeing the huge jump in quality it offers was really a game changer for me.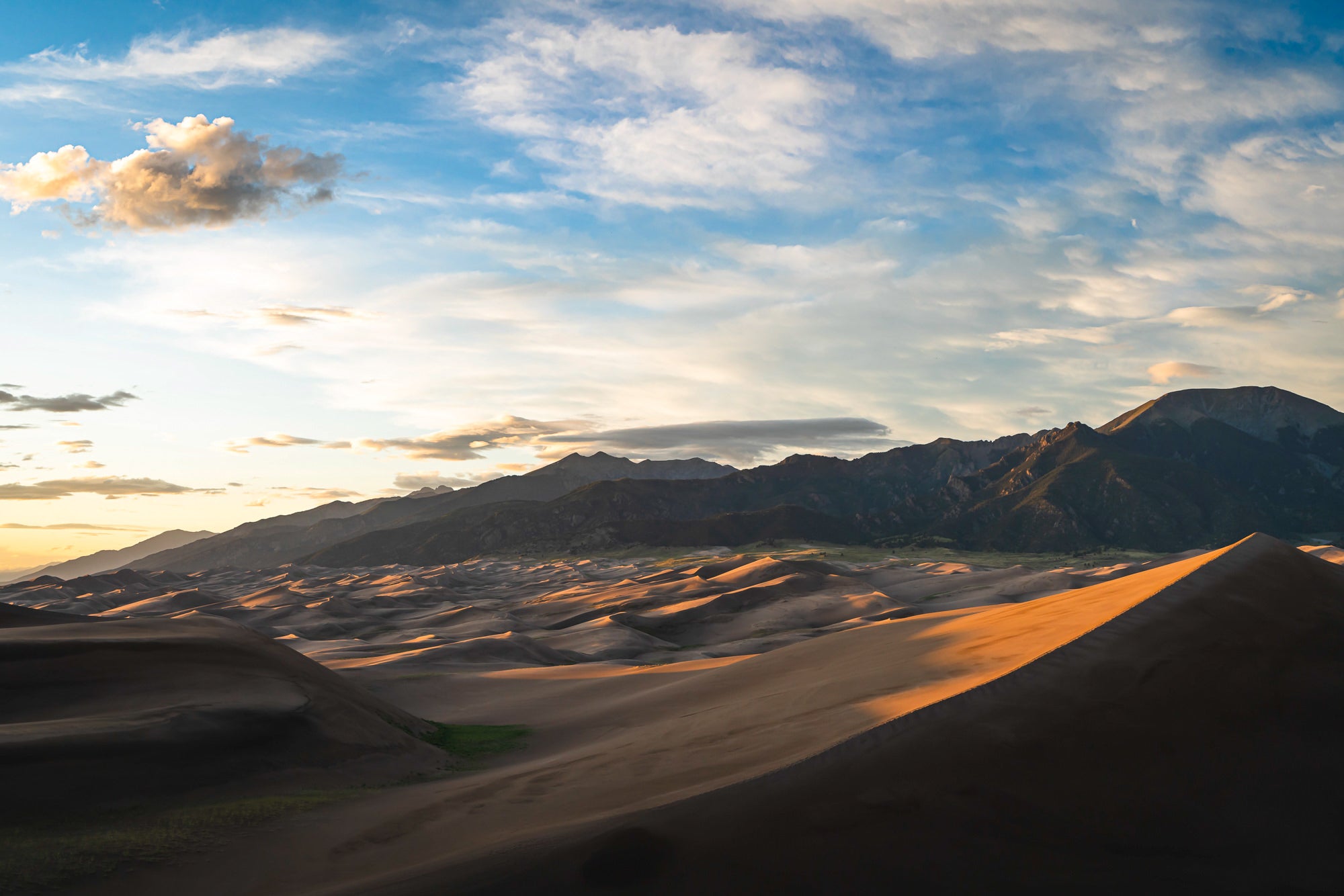 A sunset in Great Sand Dunes National Park in southern Colorado. Photo by Dylan McMains. Sony Alpha 7R II. Sony 16-35mm f/2.8 G Master. 1/500-sec., f/4, ISO 250
Lenses
Sony 16-35mm f/2.8 G Master: A lot of the time, landscape photography is all about taking a huge scene and catching it and all its grandeur in a single frame, so you need a lens that will help you do just that. The 16-35mm G Master, with its super wide focal length and impeccable sharpness has been a go-to of mine for a while. Having a fast 2.8 aperture is also incredibly helpful when you're out photographing the Milky Way in that you do not have to raise your ISO or shutter speed as highly, resulting in better photos.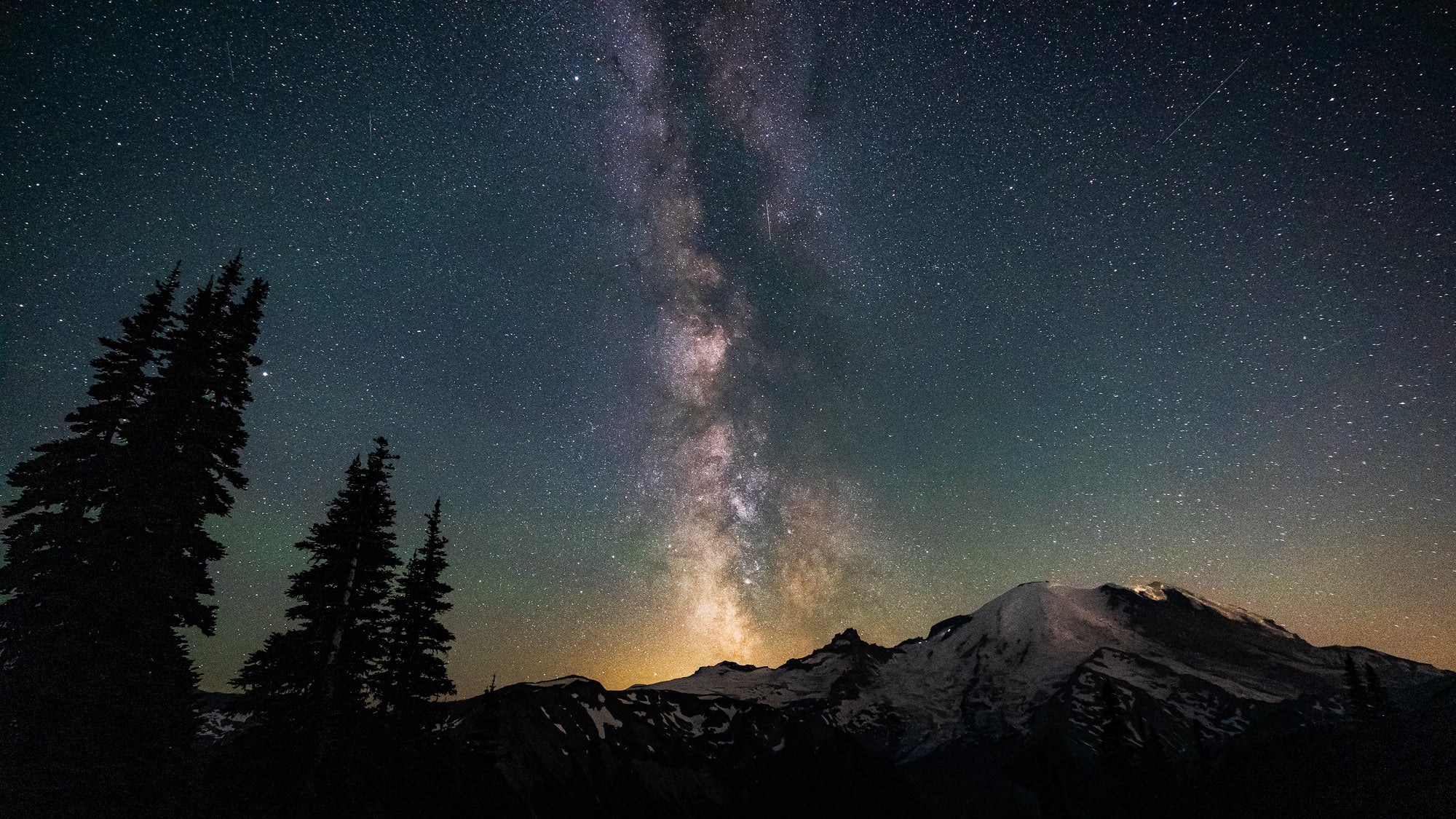 The core of the Milky Way setting behind Mount Rainier in Washington State. Photo by Dylan McMains. Sony Alpha 7 III. Sony 16-35mm f/2.8 G Master. 13-sec., f/2.8, ISO 12,800
Sony 24-105mm f/4 G: Like I said, usually in landscape photography you're looking to capture something big and expansive, but there are definitely times when you want to zoom in a little tighter and change up your perspective. The 24-105 G lens is, in my opinion, the most quintessential landscape lens you can get for exactly this reason. Between its versatile focal range, fantastic clarity, and surprisingly compact design, there's almost nothing you couldn't photograph. If I could only buy one lens in my bag, it would be this one.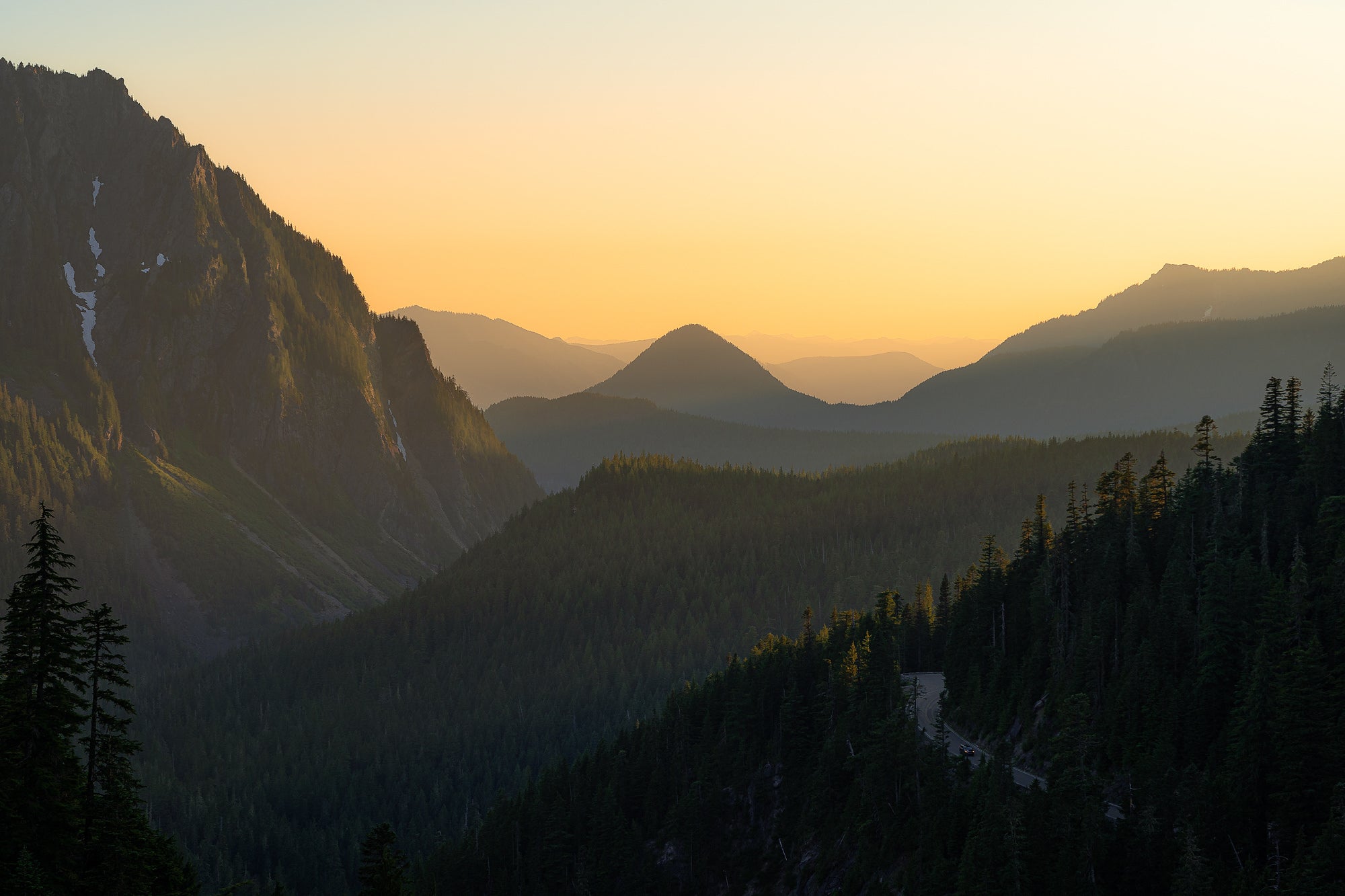 A golden sunset glowing on the hills inside Mount Rainier National Park in Washington State. Photo by Dylan McMains. Sony Alpha 7 III. Sony 24-105mm f/4 G. 1/160-sec., f/8, ISO 100
Sony 70-200mm f/2.8 G Master: There come times when you just can't get close enough to what it is you're trying to photograph and you have to take shots from far away. Or, there are some compositions that work best when you exaggerate the scale of your subject by zooming in super tightly on it. For instances like these, I love having a telephoto lens like the 70-200mm G Master in my bag. It can also really help you if you're wanting to compress a scene and make it all work on the same plane, rather than having some things noticeably closer than others.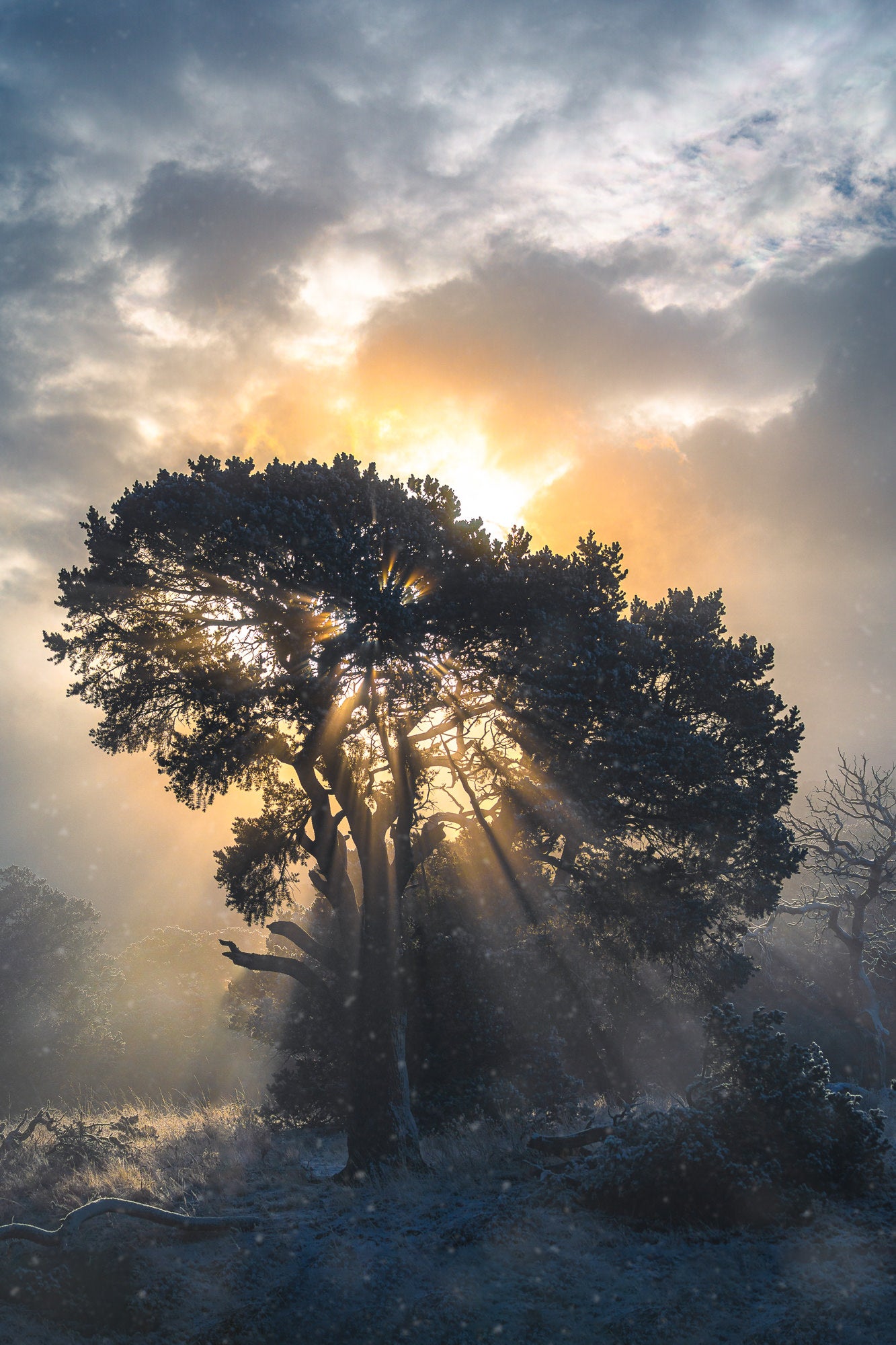 Some fog helps the morning sun to create some golden rays of light through this tree in southern Colorado. Photo by Dylan McMains. Sony Alpha 7 III. Sony 70-200mm f/2.8 G Master. 1/5000-sec., f/4, ISO 100
Sony 85mm f/1.8: Although 99% of my landscape photos are taken with zoom lenses, sometimes it can be nice to change it up and throw on a prime instead. I have always found that setting creative "limitations" on yourself, like only shooting with a prime lens, can lead to much more thoughtful photos. My favorite lens to do this with has been the 85mm f/1.8 because it isn't too zoomed in to where it would be unusable in most scenes, but still presents enough of a challenge to keep me on my toes.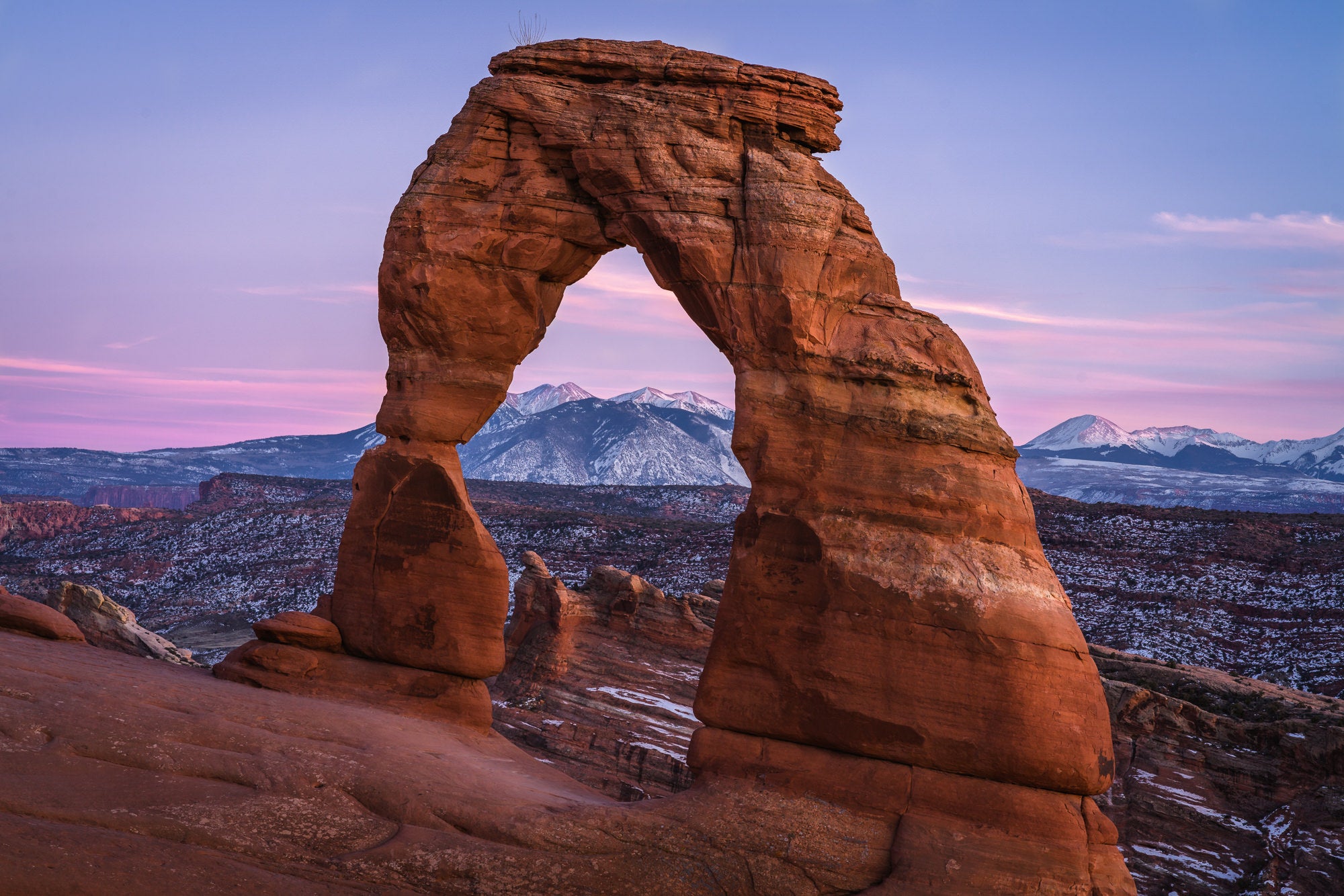 A post-sunset glow on the famous Delicate Arch in Utah's Arches National Park. Photo by Dylan McMains. Sony Alpha 7R II. Sony 85mm f/1.8. 1/13-sec., f/11, ISO 100
Sony 35mm f/1.4 G Master: By that same token, there is one prime lens that I think stands above all the rest in terms of its versatility (not just in landscapes). The 35mm f/1.4 G Master is an insanely sharp, light, amazing lens to have on you. Being less than 85mm, this lens is still wide enough to capture most landscapes, but still limiting enough to make me think a little harder about how to capture what I see in front of me.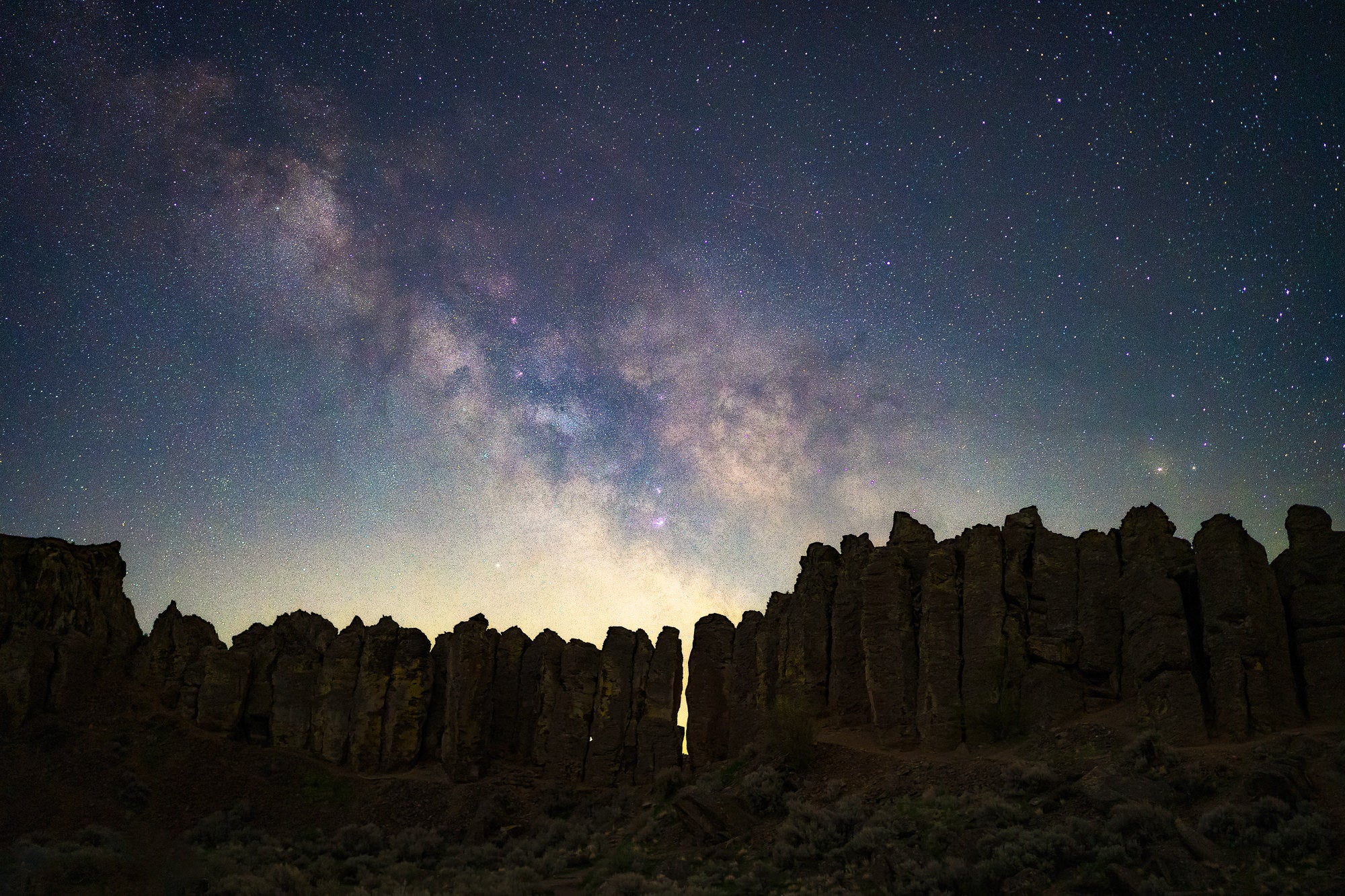 The core of the Milky Way rising over some stone pillars in eastern Washington State. Photo by Dylan McMains. Sony Alpha 7 III. Sony 35mm f/1.4 G Master. 5-sec., f/1.4, ISO 4,000
Accessories
Benro Tripods: A couple years ago I had a cheap plastic tripod that broke and I decided it was time to finally invest in a nice tripod. I bought one of Benro's carbon fiber tripods from Best Buy and have not bought anything else since. I am now the proud owner of 3 separate models, from a small lightweight carbon fiber tripod to my taller, much heavier aluminum tripod that's perfect for harsher conditions.
Colorado Tripod Company Highline Ballhead: Almost as important as the tripod is the head you put on it. I have tried a number of these as well and am currently using the Highline Ballhead from Colorado Tripod company. Its solid construction, compatibility with my tripod plates and L-brackets, and precise movements are a great combo for me.
Polar Pro CP/ND Filters: A good filter set is an essential part of any landscape photographer's bag to help us achieve whatever look we are trying for. When I was purchasing my first set I knew how important the quality is so I went with a circular polarizer, a 6-stop ND, and a 10-stop ND filter from PolarPro. I bought 82mm filters and a set of step-down rings to make them work on all my lenses.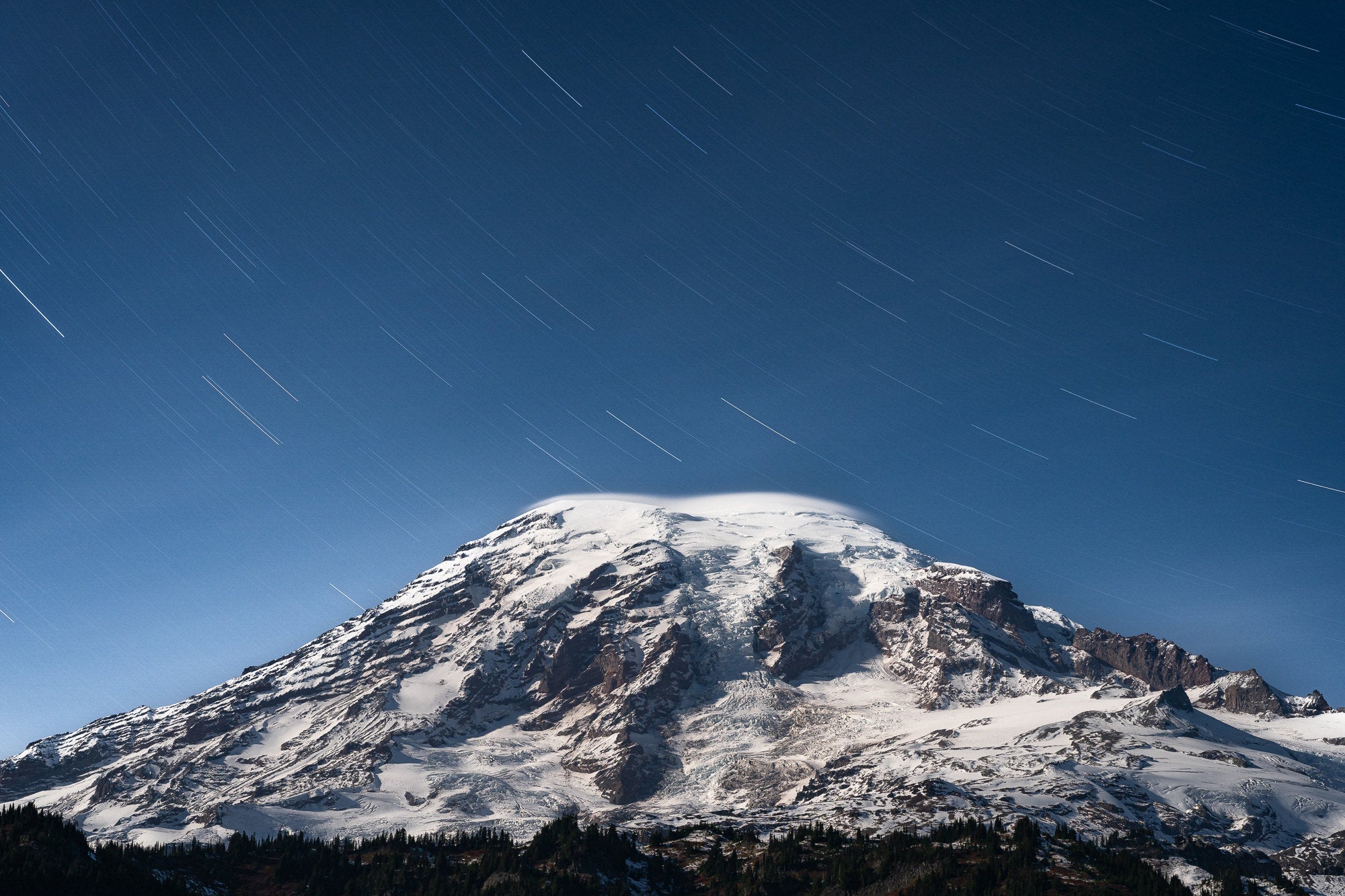 A long exposure image of the stars in motion above Mount Rainier, illuminated only by moonlight. Photo by Dylan McMains. Sony Alpha 7 III. Sony 24-105 f/4 G. 40-min, f/11, ISO 100
Shimoda Action X50 bag: Finding the perfect bag for me has been one of the hardest things I've done as a photographer. After trying MANY, I bought the Shimoda Action X50 bag a couple years ago and finally ended that search. Its immense storage, modularity, comfort, and ruggedness make it absolutely perfect for any and all adventurers.
Peak Design Straps: I have never been a big fan of traditional neck straps and how annoying they can be to take on and off so when I saw Peak Design's strap anchor system for neck, shoulder, and wrist straps I had to jump on it and I am so glad I did. Peak Design makes some of the most innovative and well-built photo accessories out there.
SmallRig L-Bracket: Since I am constantly switching between vertical and horizontal compositions to change up my scene I wanted to find a solution that was better than leaning my camera to the side of my tripod, messing with its center of mass. I found L-brackets from the company SmallRig that allow me to mount my Sony camera on my tripod vertically or horizontally. That way I am always as stable as possible.
Laptop: Having a powerful computer when it comes to getting ready to process the awesome images you've taken is absolutely critical. Having a monitor that's color-accurate and detailed, a strong processor that can handle hundreds of images, and memory to hold everything effectively, are all super important factors. I have used a 27" Apple iMac as my main workhorse for a couple years and recently picked up an Apple MacBook Air with their M1 chip as my on-the-go computer and they have both done the job splendidly.
See more of Dylan McMains' work on Instagram @mcmainsphoto.