Tanner Thibert (@tannerthibert) is a self-taught outdoor lifestyle and commercial photographer originally from the Pacific Northwest but currently most likely found in either California, Brazil or somewhere in his van. This vagabonding photographer has been fascinated by van life since he was a young teenager. It took him many years, three vans and a lot of perseverance to finally get to the point where he could afford and commit to building a reliable van. "In recent years, living in a van has become a very glamorized subject," he says. "In my experience van life isn't for everybody and serves its purpose best when you can use it to enable a lifestyle. There are trade-offs like anything. For me, having the ability to chase changing conditions, move without much resistance, and enable the lifestyle I love, is well worth all the struggles that come along with it." With space at a premium, Tanner uses a lean Sony Alpha full-frame kit, that consists of a body, three zooms and a fast prime. We caught up with Tanner to learn more about living the van life and taking photos along the way.
Outdoor & lifestyle photographer Tanner Thibert (@tannerthibert) on the cameras, lenses, essential gear and more that he packs for his van life adventures.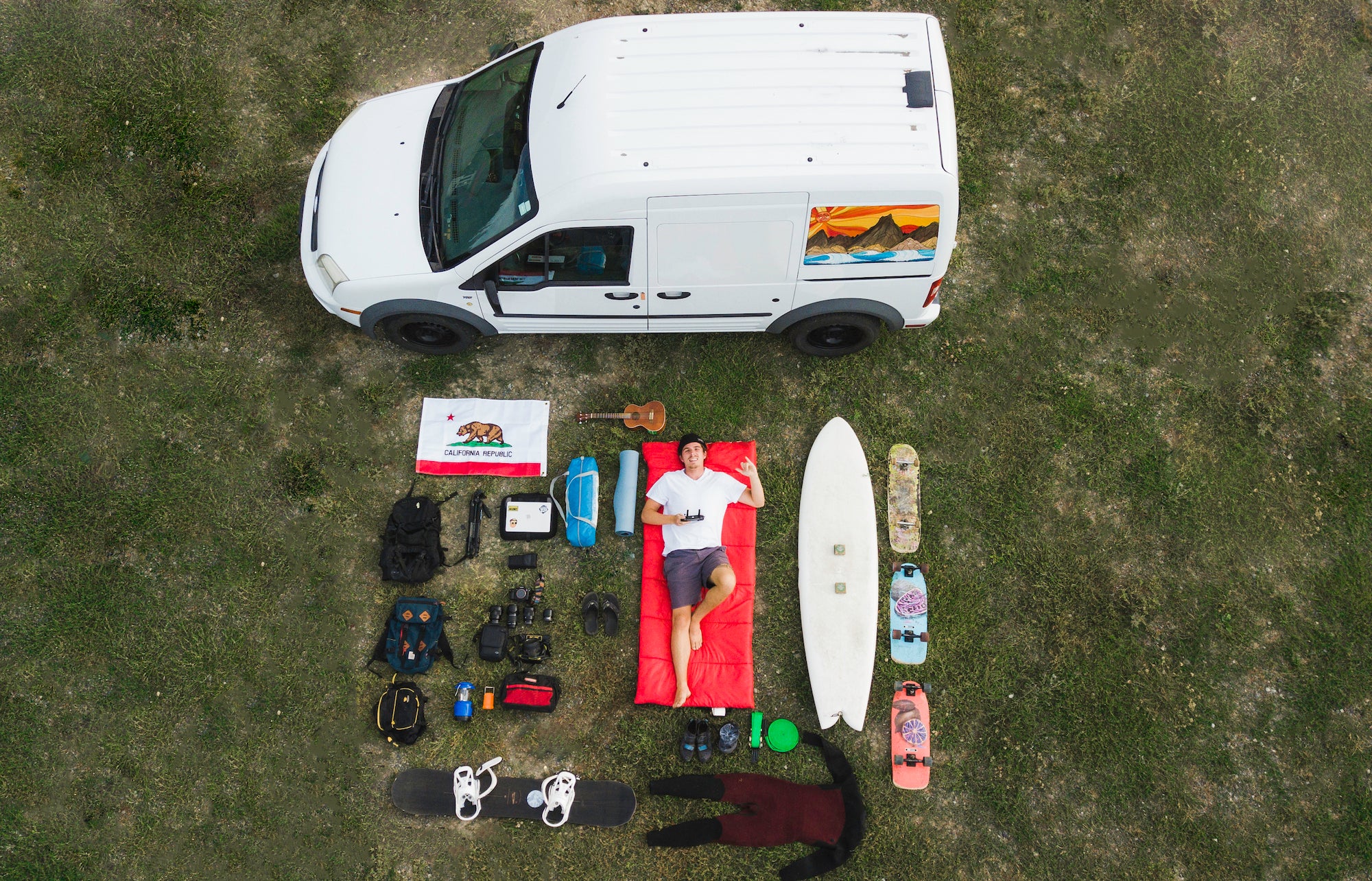 I am passionate about sharing stories, seeing the world and bringing intriguing projects to life. I am always looking for opportunities to learn new things, meet new people, and support organizations who share common goals. I love to shoot a lot of fast-paced adventure based activities. This means on top of all the gear I need to bring either into the ocean, snowboarding on a mountain or whilst traveling. Heavy bulky camera gear not only makes it more difficult physically, but adds an unwanted layer blocking the intimacy between me and my subject. That's why I choose Sony Alpha, and this is the gear you'll find with me in my van ready for the next photo adventure.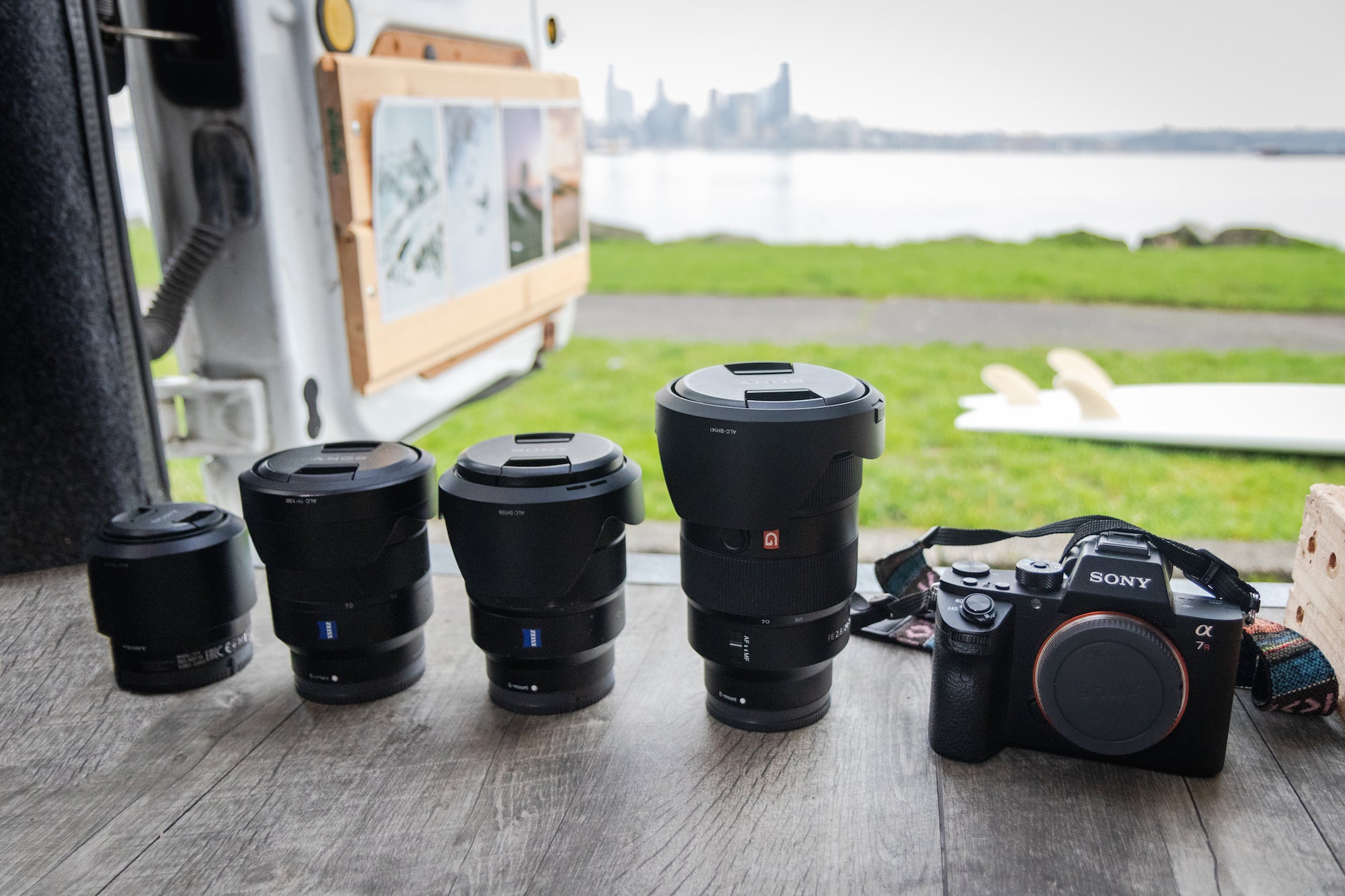 Camera
Sony α7R II: My go-to camera right now is the Sony α7R II. I fell in love with the Alpha line because like I mentioned before, this camera checks all of those boxes. Seemingly made for what I want out of a camera, the Sony α7R II offers that small compact body with amazing resolution, and also amazing video capabilities. Although this is my current camera, the entire Alpha line has different options that I hope to continue moving toward in the future. For example the Sony α6500 is a perfect option for very fast-paced situations such as shooting surfing in the ocean, shooting off of a snowmobile or motorized vehicle, or long difficult physical shoots that require minimal gear. I'm striving to upgrade to the newer α7 models because those features are absolutely cutting-edge in the industry right now.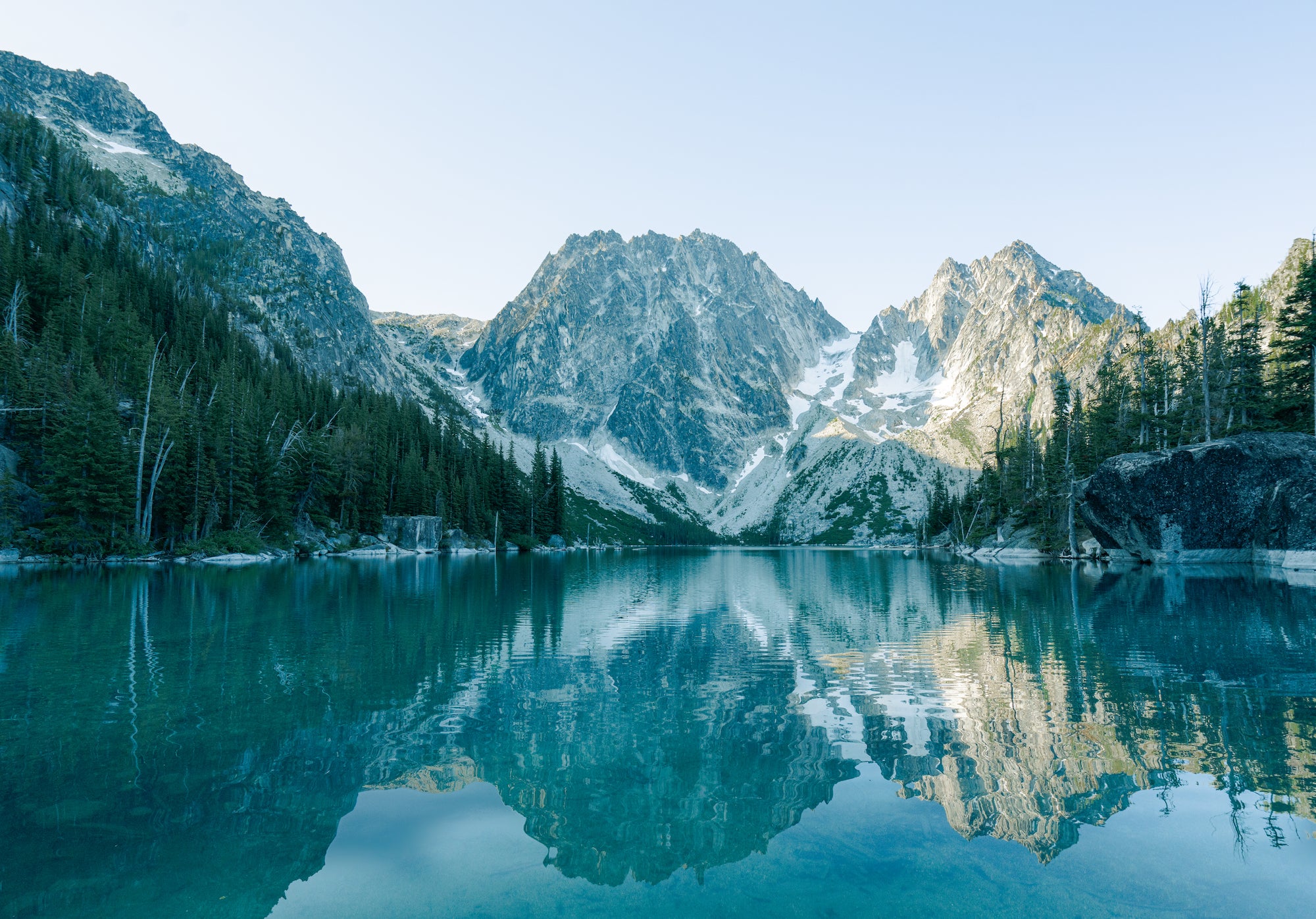 Photo by Tanner Thibert. Sony α7R II. Sony 16-35mm f/4. 1/125-sec., f/7.1, ISO 400
Lenses
Sony 16-35mm f/4: This is my favorite lens and what is on my camera almost all of the time. Being an outdoor photographer, most of the time I would prefer to have a wide angle lens to capture the vastness of a scene and give scale to the location. I usually pair this with polarizer filters such as my Polar Pro ND filter, which gives greater natural contrast and vibrance.
Photo by Tanner Thibert. Sony α7R II. Sony 16-35mm f/4. 1/160-sec., f/6.3, ISO 400
Sony 24-70mm f/2.8 G Master: The other main lens I use is the Sony 24-70mm f/2.8 G Master. The G Master f/2.8 is one of my favorite lenses of all time. The bokeh when shooting close subjects and tack sharp clarity are just a few reasons I love those lenses.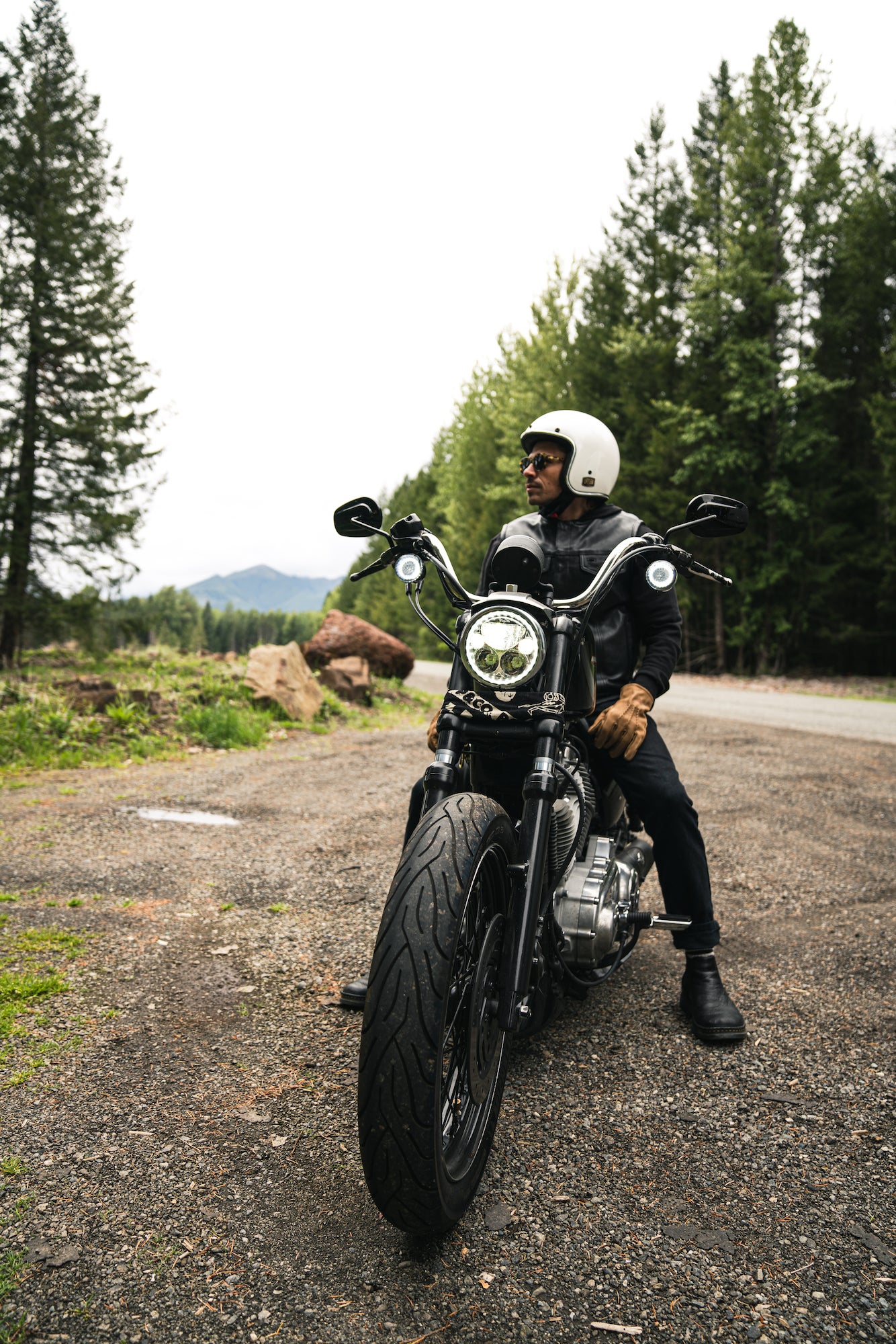 Photo by Tanner Thibert. Sony α7R II. Sony 24-70mm f/2.8 G Master. 1/640-sec., f/2.8, ISO 125
Sony 24-70mm f/4: This 24-70mm f/4 was my original purchase and it is an amazing all-around lens from portraits to landscape. I upgraded to the 24-70mm f/2.8 GM which I mostly use in place of this now, but I kept the 24-70 f/4 and it still sees action when I want a smaller, lighter lens on my camera.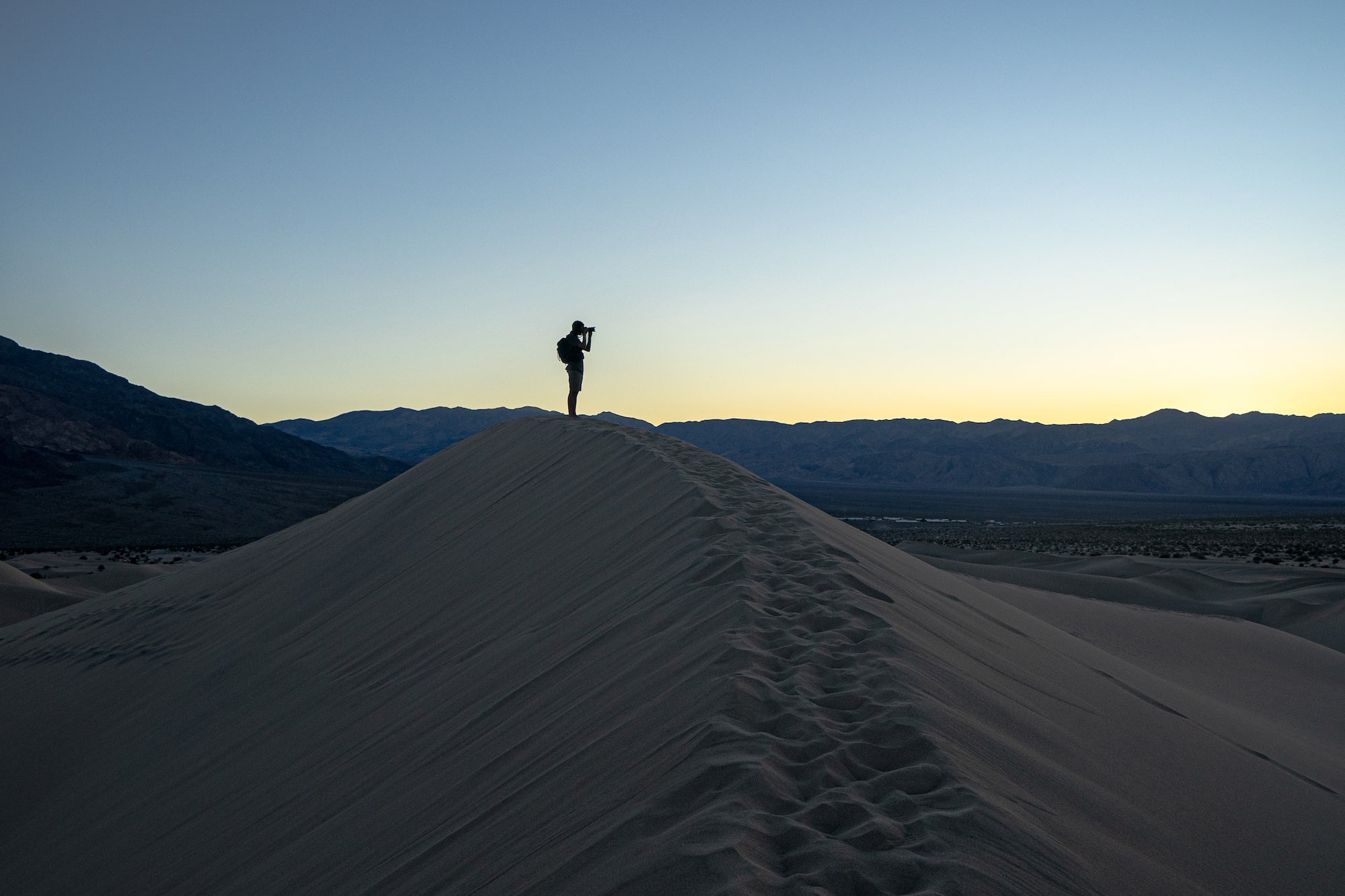 Photo by Tanner Thibert. Sony α7R II. Sony 24-70mm f/4. 1/640-sec., f/5.6, ISO 200
Sony 50mm f/1.8: This is another great lens I have used for taking portraits, and up-close, more detailed shots. The shallow depth of field provides a very intimate feel. It's small compact build also provides for a great lightweight option to use in situations requiring minimal gear.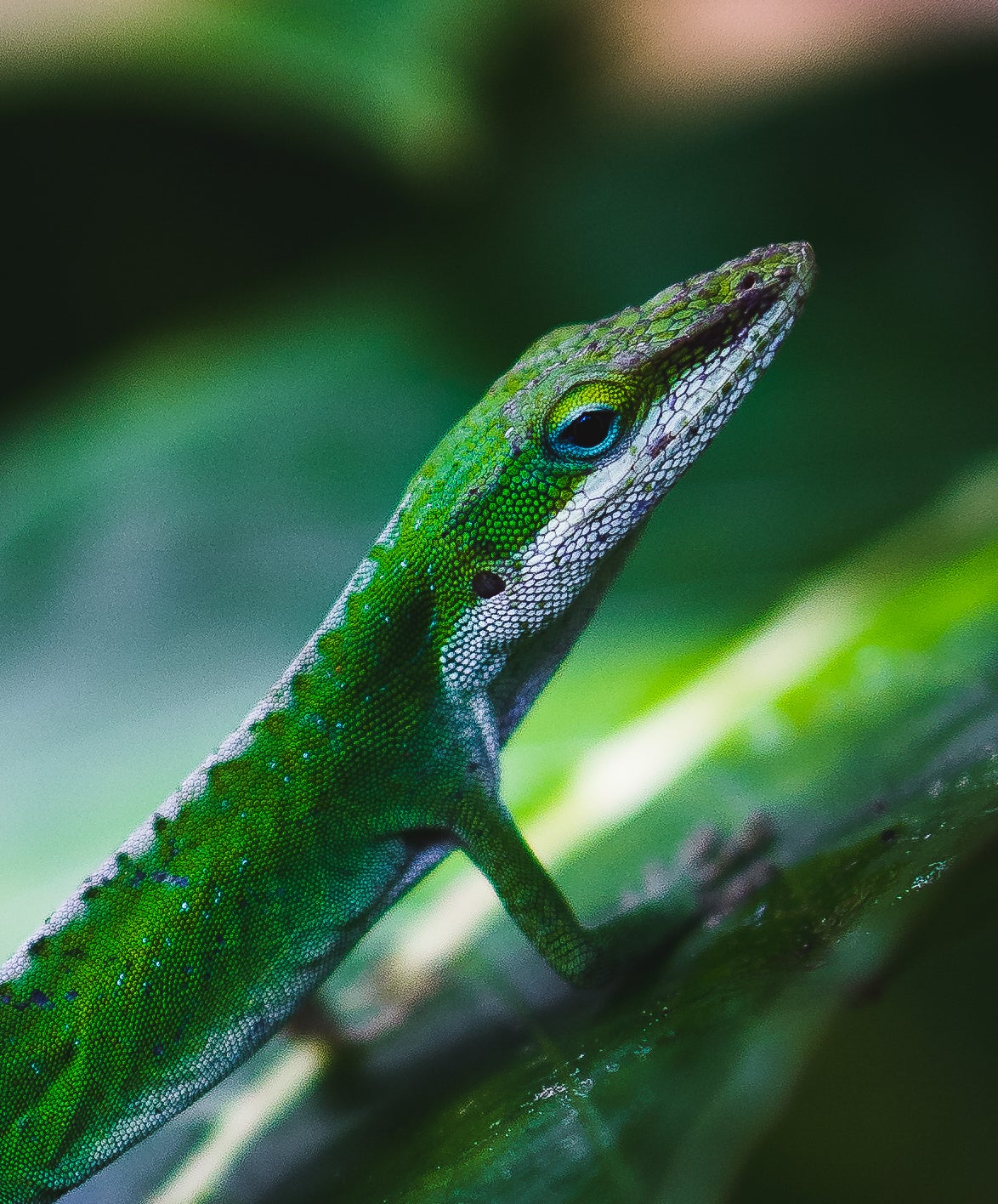 Photo by Tanner Thibert. Sony α7R II. Sony 50mm f/1.8. 1/500-sec., f/1.8, ISO 160
Accessories
In addition to my Sony cameras and lenses, some of my other photo-related accessories and essentials that are likely to be spotted in my van on an adventure include:
Macbook Pro: My tool for editing photos, one of my favorite parts of the photography creative process. Over the years I have experimented with tons of different editing styles. From muted desaturated tones, to specific color palettes, composites and everything in between. The original reason I picked up a camera was to use it as a tool to bring me closer to the things I love and to share that with others. Although I believe finding your style is a continuous process, I gravitate back towards bringing out the natural colors in a scene yet also keeping a clean and stylized color palette. My goal is not to necessarily portray reality but an emotion I felt when capturing that scene. A typical edit would include starting on the tone curve, adjusting the highlights, lights, darks and shadows. Then moving on to color, temperature and vibrance. Finishing off local adjustments, sharpness and sometimes some light Photoshop.
Tripod: I can't always be stable when holding the camera during my adventures so a tripod is a must.
Drone: For those shots from above that capture the vastness of a scene.
Other Van Life Essentials
For me my van is all about bringing the adventure with me, so aside from my Sony Alpha gear and photography accessories, there are some non-photo related essentials included.
Boards: All types of boards are a must! Surf, snow and plenty of skateboards for outdoor adventures.
Climbing Shoes & Slackline: In case one of my outdoor adventures leads me to a new boulder to climb.
Diving Gear: There's another entire world to explore underwater.
Camping Gear: When I'm going to be out and about in my van for extended periods of time, I need to have all of the necessary camping gear. I bring my camping stove, food, heater or air conditioning, blankets and clothes.