We've teamed up with Sony Artisan Brooke Shaden for #WhiteWallWednesdayPortraits challenges, where you take a self portrait against a blank wall every Wednesday and see what your creativity can morph it into from there. Throughout the challenge Shaden will show her own White Wall Wednesday results along with a video that walks you through her entire workflow from start to finish. Watch this video to learn how Shaden creates using textures and below it check out the story behind a #WhiteWallWednesdayPortraits image made by photographer Maureen Denny (@maureendenny) who was up for the challenge. Join the challenge by making your own self-portrait and posting it to Instagram using #WhiteWallWednesdayPortraits.
See the story behind a #WhiteWallWednesdayPortraits image by photographer Maureen Denny and learn how Sony Artisan Brooke Shaden uses texture in her images.
#WhiteWallWednesdayPortraits Spotlight
My name is Maureen Denny (@maureendenny) and I'm a freelance photographer. About two years ago I wanted to learn how to get past just taking photos on my phone. I did a few night workshops, a fine art course with a 4x5 vintage camera and time in the darkroom, and a weekend wildlife workshop. I finally understood aperture, shutter speed and ISO. I got hooked. Although I absolutely loved the large format black and white and the darkroom process I found digital photography gave me quick feedback to help improve my skills. One day I hope to pick up another vintage 4x5 camera and be able to see how my experience with digital cameras has changed how I would take the B&W film images.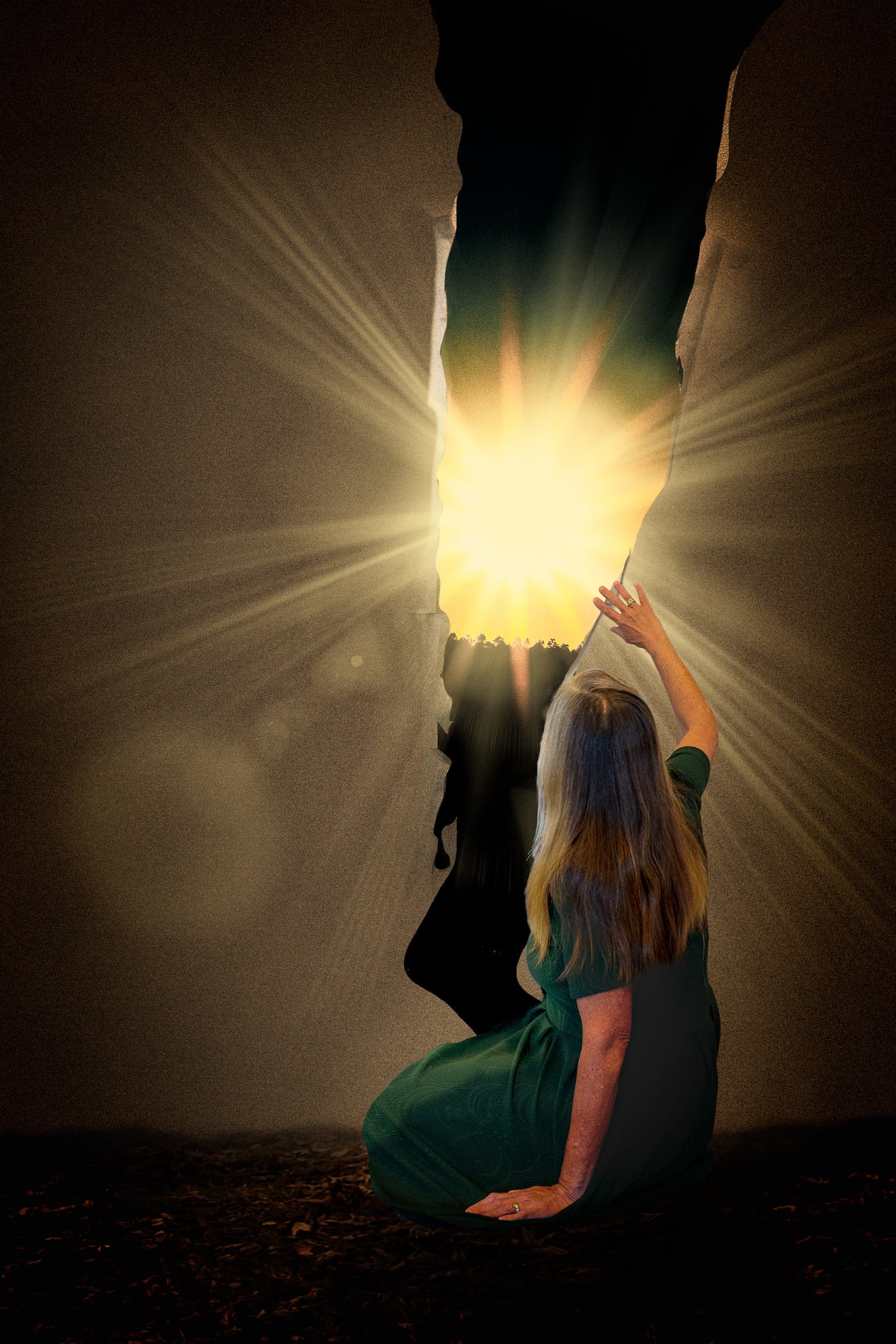 The Inspiration
I ran across Brooke Shaden's work and became interested in fine art composite photography. I first learned about it by watching Brooke Shaden's "White Wall Wednesday" YouTube series. She recently started producing more videos for the series and it inspired me to try another one. Watching how things can be created from almost nothing was my inspiration. Another workshop I recently participated in challenged us to look around the house and find unusual props to use.
I have always been a bit on the geeky/technical side, so seeing how putting different images and components together to create something unique really spoke to me. I am also drawn to landscape photography. Lately I have been trying to meld my landscapes and self-portraits together. Being a big introvert I found that it was easier to take self portraits to use in learning compositing. Having my picture taken is a painful experience for me ironically so I try to hide my face as much as possible.
We are currently in a "Stay at Home" order like so many. We had a trip planned to the coast and canceled out of caution. This image came to mind as I thought of how it will be when we are able to move around freely again. I know that it will happen and so the sunrise was a way that I can show the promise of better days ahead.
The Gear
I got my Sony camera (the α7 III) about a year ago after watching Brooke's videos. I like that Sony has such a supportive community which made me want to switch to Sony to be a part of it. I love that my camera is full frame and mirrorless. Seeing what the image will look like in real time has been a big advantage over my DSLR. It helps me to improve my photography while allowing me to have a better understanding on how settings affect the image. I am limited on lenses so I make what I have work. This photo was taken against a wall in my bedroom and the Sony 24-70mm was the one that worked for me in that space. I have the f/4 version of the lens and I would like to try with the G Master lens at f/2.8 and see how it does with faster shutter speeds and low light.
How I Created The Final Image
The main shot is made of four different images. The crack in the wall, the subject (me), the ground, and the sunrise. The photos of the wall and the subject were taken inside against a blank wall. The ground and the sunrise came from my own stock images. I am constantly taking photos of random things and places. It's amazing how I have been able to use some of them in my composites.
I shot this in my bedroom. I had a box of blank newsprint used for packing and moving. I tore a couple of these sheets in half and taped them to the wall. At first I took a couple of shots of just the wall with the paper in case I needed to fill in areas. Then I sat in front of the torn paper and imagined I was looking through a crack in the wall and seeing "hope."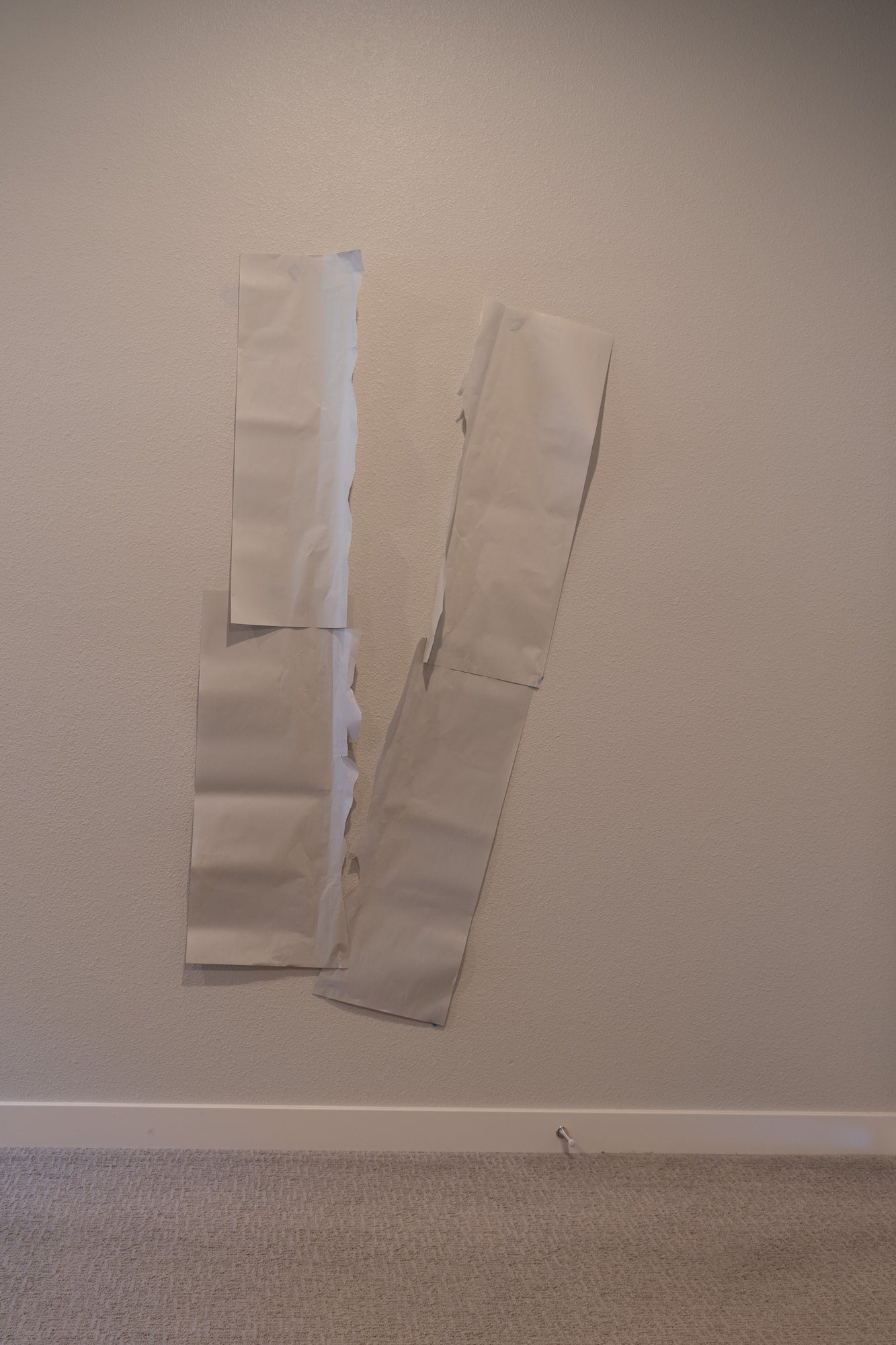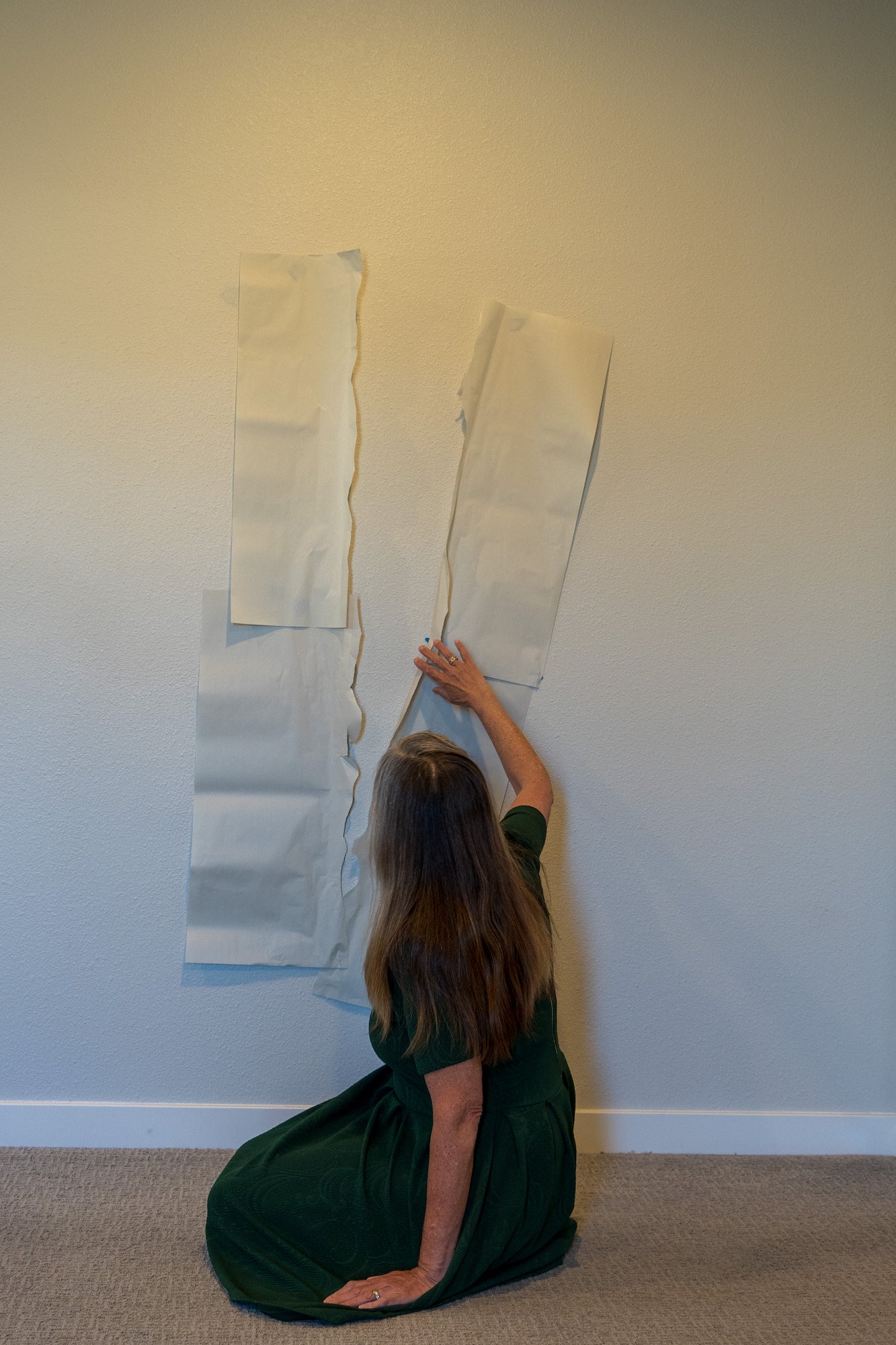 The tripod was about waist high and as far back in the room as possible. I try to stick with this height so that shots I take without knowing how I might use them will have a better chance of working with other ones I have shot because they have the same angles. I used all natural window light from the left and straight on – I haven't actually worked with added light yet.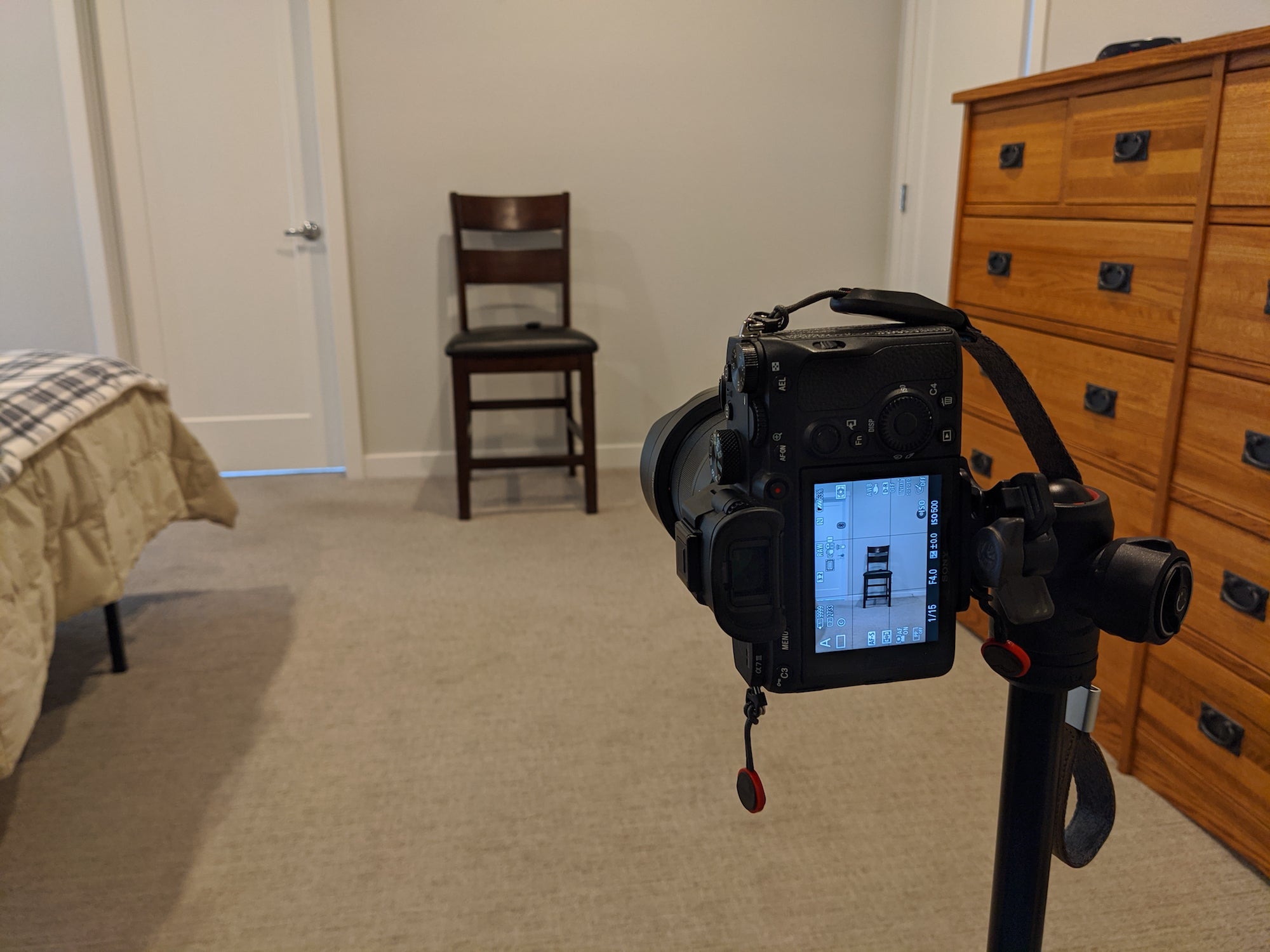 Photographing it was really pretty straightforward. After I shot the plate, the plain wall as the background, I took a couple of different shots of me standing, leaning over, sitting and actually interacting with the paper. The hand of the shot I used was holding the paper back a bit and that piece was composited into the final image. It's helpful to have something the frame as a "stand in." After taking too many photos where I wasn't in the frame I've learned to find ways to mark where I need to stand or sit. Both the wall and the model were shot at 28mm, f/4.0, aperture priority. The wall was shot at 1/10-sec and ISO 200, and the model at 1/50-sec and ISO 640.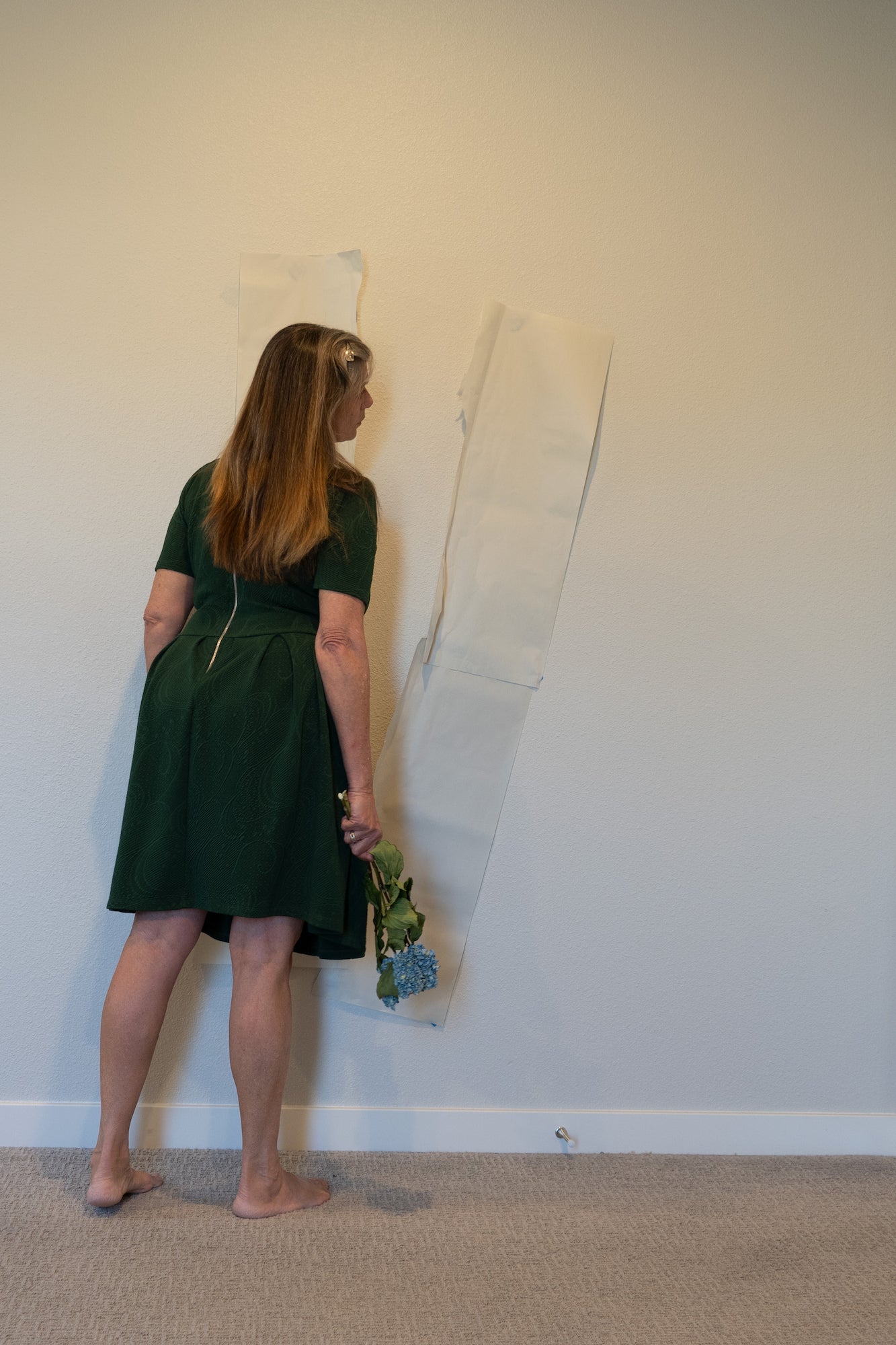 Post-Processing
I use Photoshop to composite the images starting by creating the plate which is the cracked wall. I used textures and curves to blend the edges of the paper into the wall. I then used color adjustments and hue/saturation to bring the brightness down. Masking out between the torn paper allowed the sunrise from a lower layer to show through. Adding the ground with a blurred edge helped to have a good transition and hide the carpet.
In order to make the sunrise a bit more realistic I used a sunburst brush on a separate layer on top of the wall and blurred it slightly to soften it. I wanted to make it an almost blindingly bright light. Adding to the original sunrise image helped to make it feel more a part of the final image. It really turned out to be almost a template of sorts that I layered color on top of.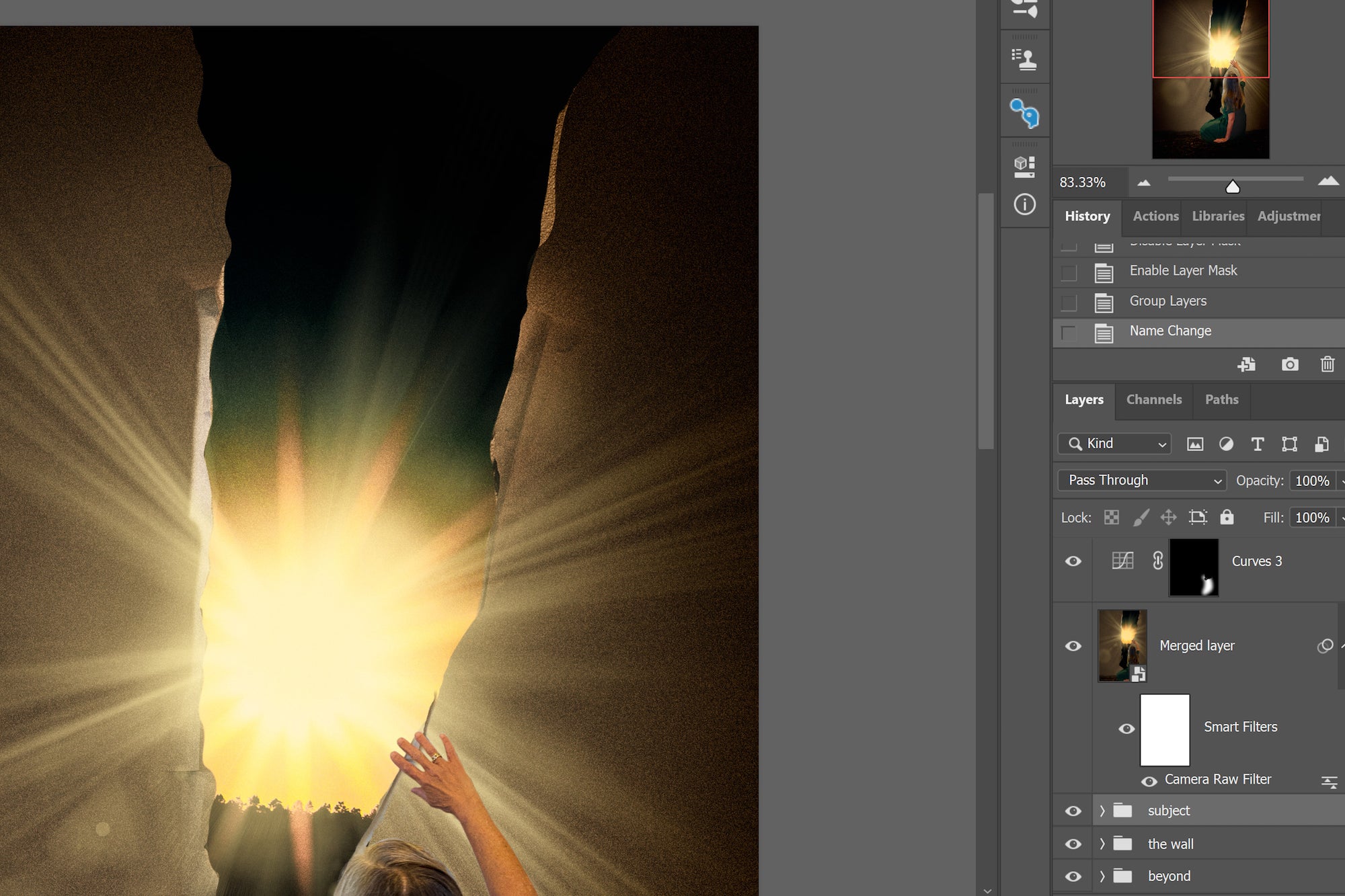 Once I had all of the pieces put together I merged a copy and brought it into Adobe Ccamera Raw. This is something new I have started to do. Another thing that I have recently started doing is converting certain layers into Smart Objects and I am able to go back to a certain point and make some adjustments. Photoshop is such a beast and there is always something to learn – and about a hundred ways to do the same thing.
Check out some of her other #WhiteWallWednesdayPortraits on Instagram @maureendenny and see more of her work at maureendenny.com.