Today the Associated Press (AP) officially announced their switch to the Sony Alpha system. Much of the news and corresponding photos and videos you see from various news outlets comes from the AP, an independent global news gathering organization that creates and distributes content worldwide. With hundreds of staff photographers and videographers around the world, and thousands of freelancers who contribute, the AP is a massive and trusted source that covers both the expected and unexpected. We spoke with AP Director of Photography J. David Ake and Deputy Managing Editor Derl McCrudden to find out what the AP decision means. See why they say their switch to Sony will change the way they work and provide their team with new opportunities.
The Associated Press on the organization's switch to Sony.
"The AP has always been a forefront of new technology and new photography technology," explains Ake. "We're always interested in being the cutting edge of photography, and as mirrorless has evolved we've been very interested in shifting to that."
"We're always assessing new technology and the cameras, of course, is just a core foundational part of what we do," says McCrudden. "Speed is at the heart of everything we do, but so is quality. Not only do these cameras tick both those boxes for speed and quality and how they fit into our workflows, they also give us new opportunities for working way more flexibly in the future. We're always developing what we're able to do and how we're able to push the boundaries so that we can cut corners with speed. That's how we can do a job in the most effective way possible."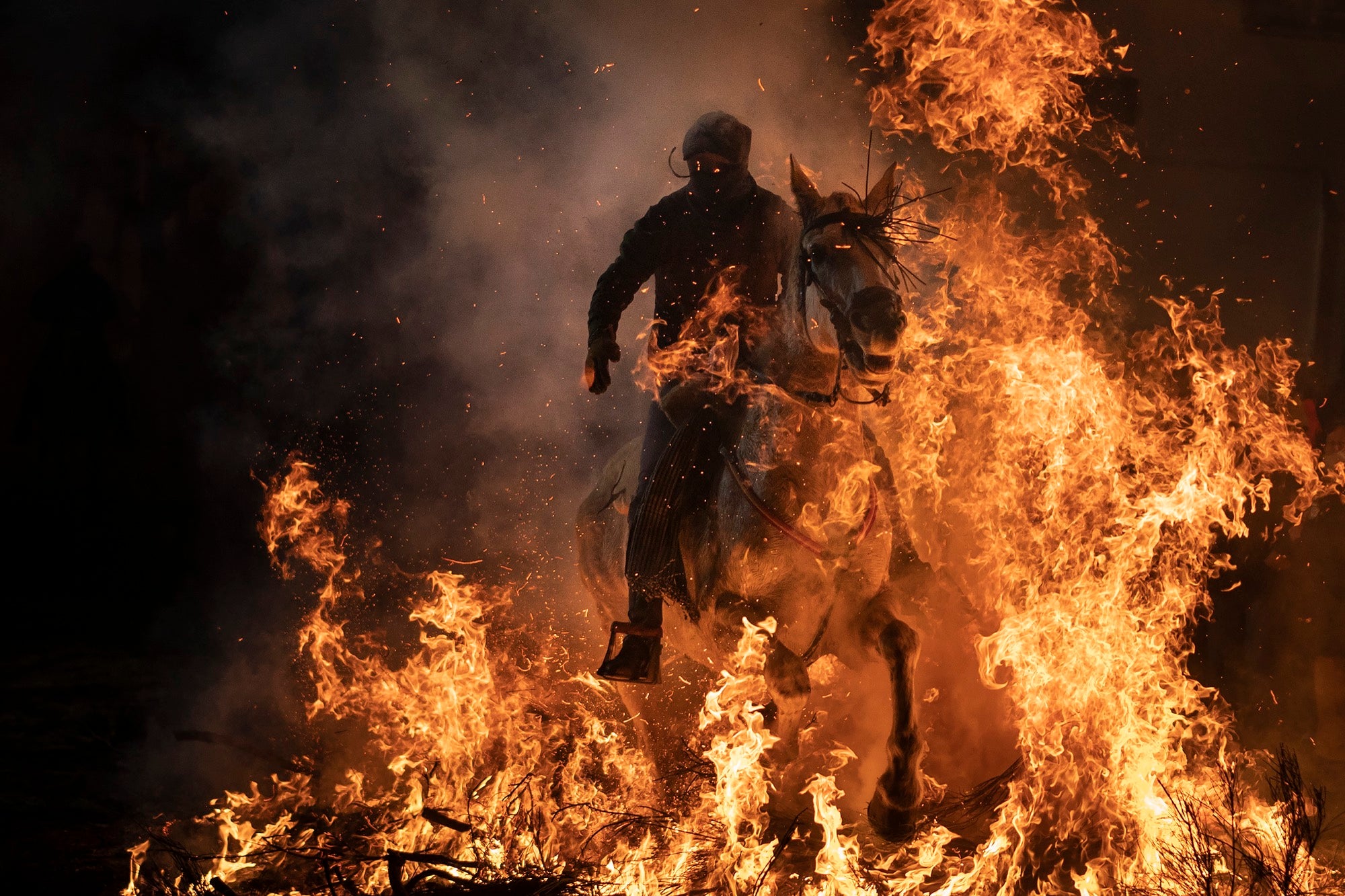 A man rides a horse through a bonfire as part of a ritual in honor of Saint Anthony the Abbot, the patron saint of domestic animals, in San Bartolome de Pinares, Spain, Jan. 16, 2019. (AP Photo/Felipe Dana) Sony α9. Sony 55mm f/1.8 lens.
Making this kind of a switch is no simple feat, but, as McCrudden explains, it's an investment in the future of visual journalism. "This is the biggest investment in cameras we have ever made," he explains. "It's a really clear statement of intent about where AP sees the future of visual storytelling, both in terms of photography and video. That photojournalism and that video goes to every single platform imaginable in terms of the type of platform. So I'm really thrilled and excited that we got to this point with Sony and this will give us lots of opportunity ahead to explore new ways of storytelling and really expand what we do today."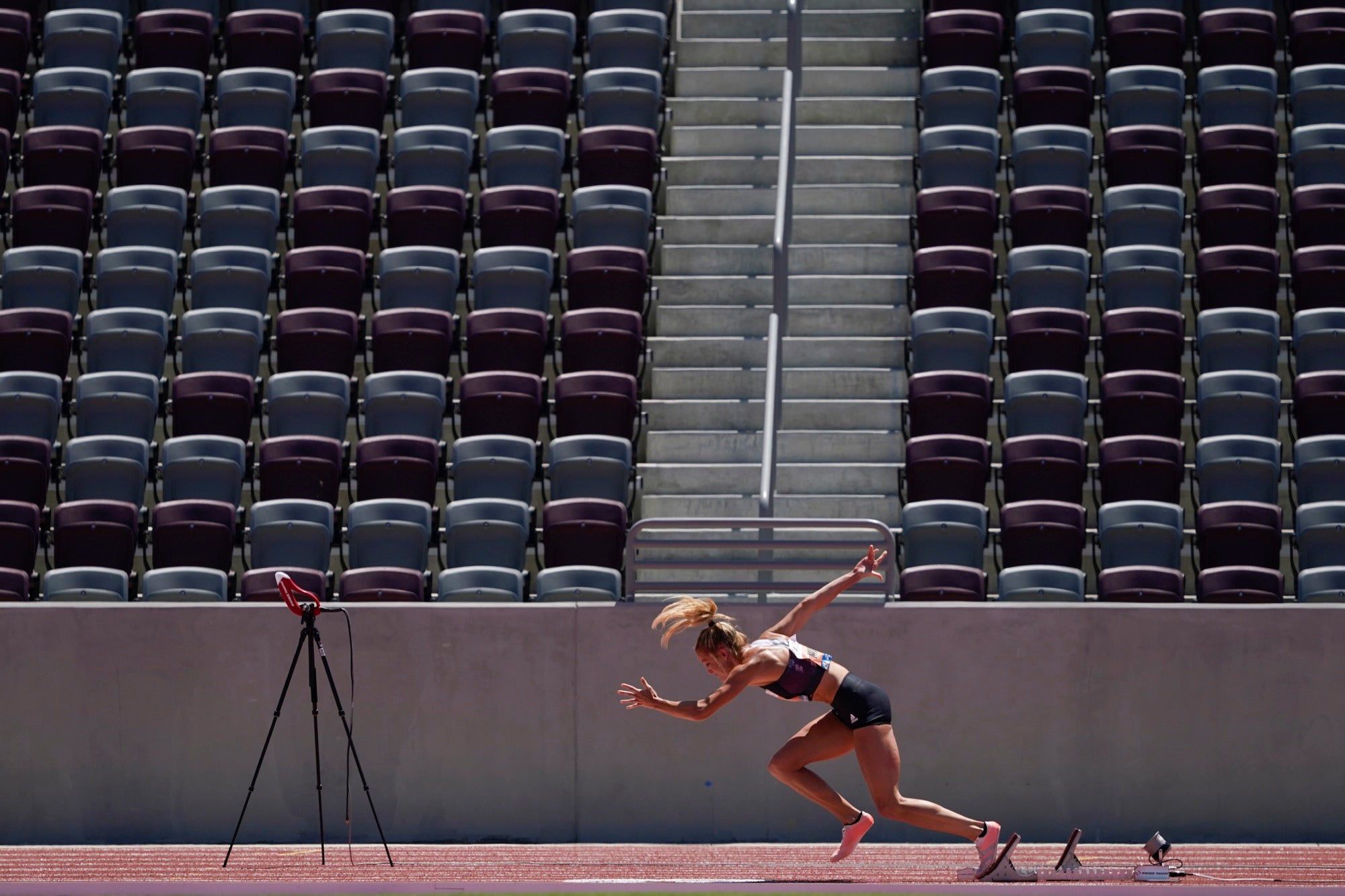 Georganne Moline competes in women's 300-meter hurdles at the Weltklasse Zurich Inspiration Games at Mt. San Antonio College, July 9, 2020, in Walnut, Calif. (AP Photo/Ashley Landis) Sony α9 II, Sony 400mm f/2.8 G Master lens.
The ability to shoot quickly and flexibly is very important for photographers and videographers of the AP. Switching to the technology provided by the Sony system brings a number of benefits for both still and video shooters working in such fast and varying environments.
"We're excited to switch to this new technology partly because it can operate quietly, which makes it easy for us to go places that before the noise of a shutter might be distracting. Now we can go places and tell stories from different perspectives that we couldn't before. We also like the fact that what you see is what you get in the viewfinder. So if your color balance is off or your exposure is off, it is apparent immediately. We also like that it's lightweight." says Ake.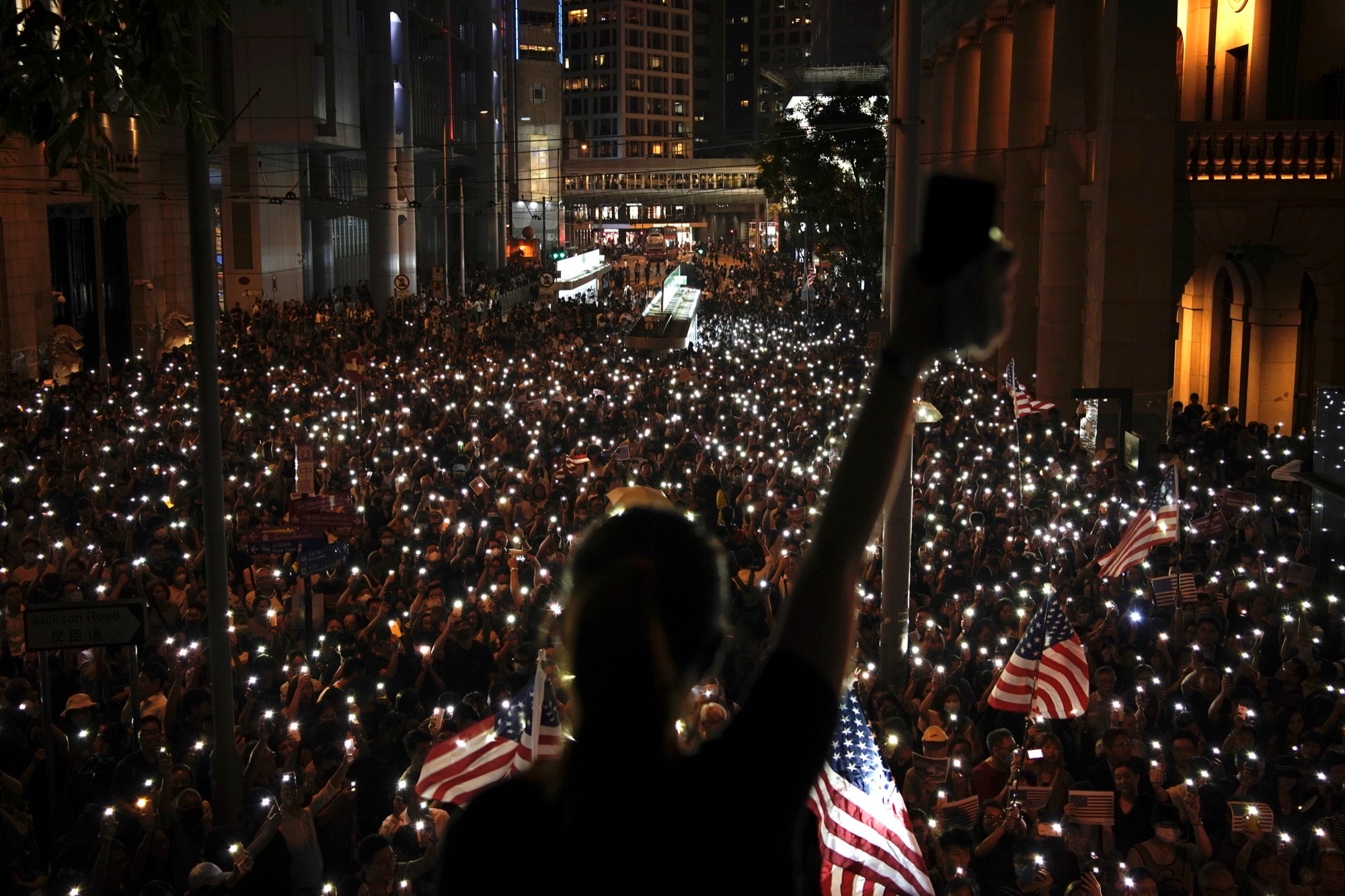 Protesters light their torches during a peaceful rally in central Hong Kong's business district, Oct. 14, 2019. (AP Photo/Felipe Dana) Sony α9, Sony 35mm f/1.8 lens.
"For the very first time we'll have interchangeable lenses between some of our video cameras and some of our still photography cameras. That's extraordinary. We've yet to kind of really plot out what the effects of that will be to us at a year's time or two years time, but we know we're going to be able to work in a much more flexible, nimble way," says McCrudden.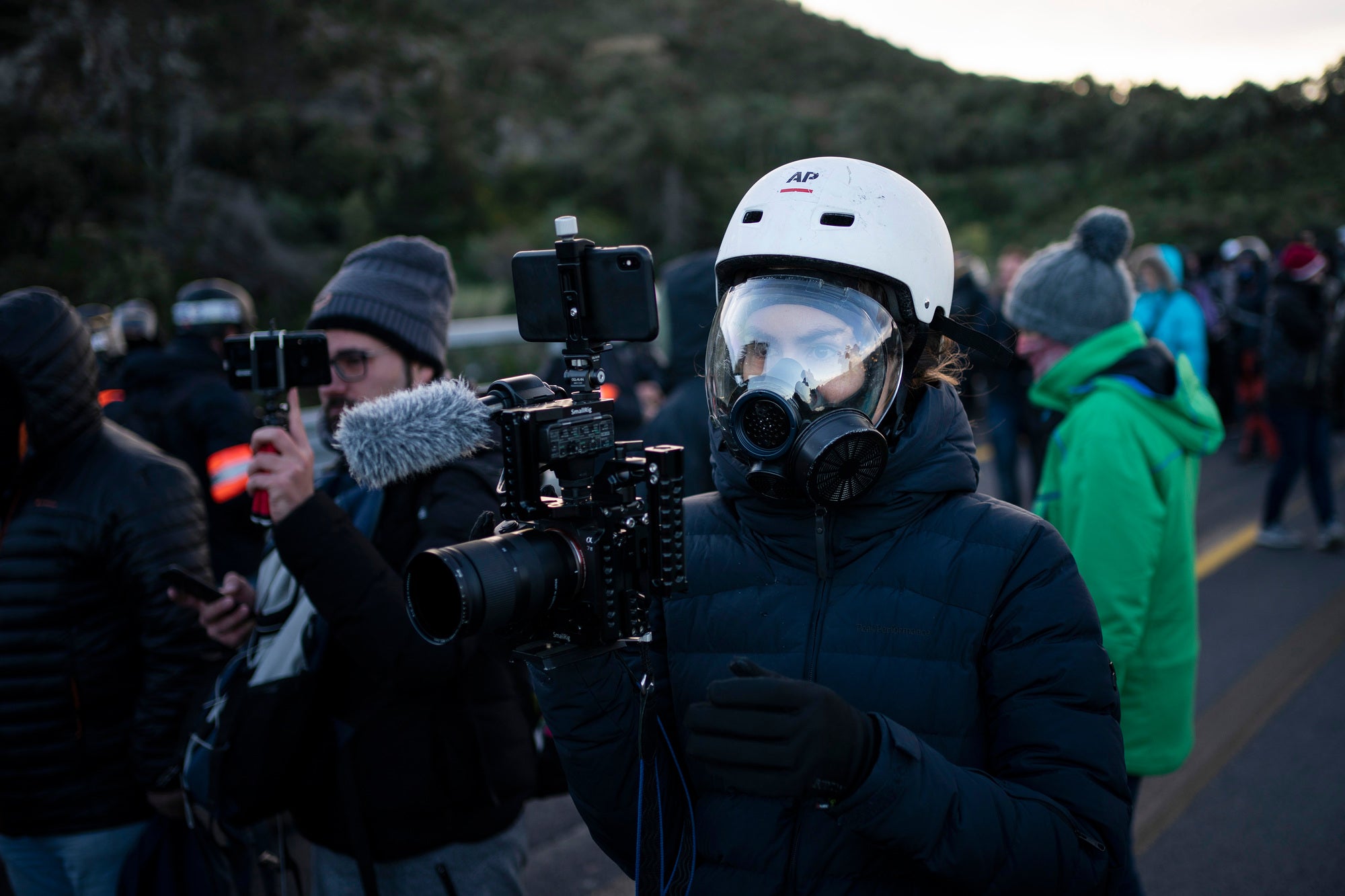 AP video journalist Renata Brito covers protests at the Spain-France border, Nov. 12, 2019, using Sony equipment. (AP Photo)
"It's not just the fact that we're switching to mirrorless, it's that the visual teams of the AP will all be working with the same equipment," says Ake. "Why that really matters is, if a still photographer is producing still images that might go with a video for a multimedia piece, the colors will look the same. Everything will be consistent."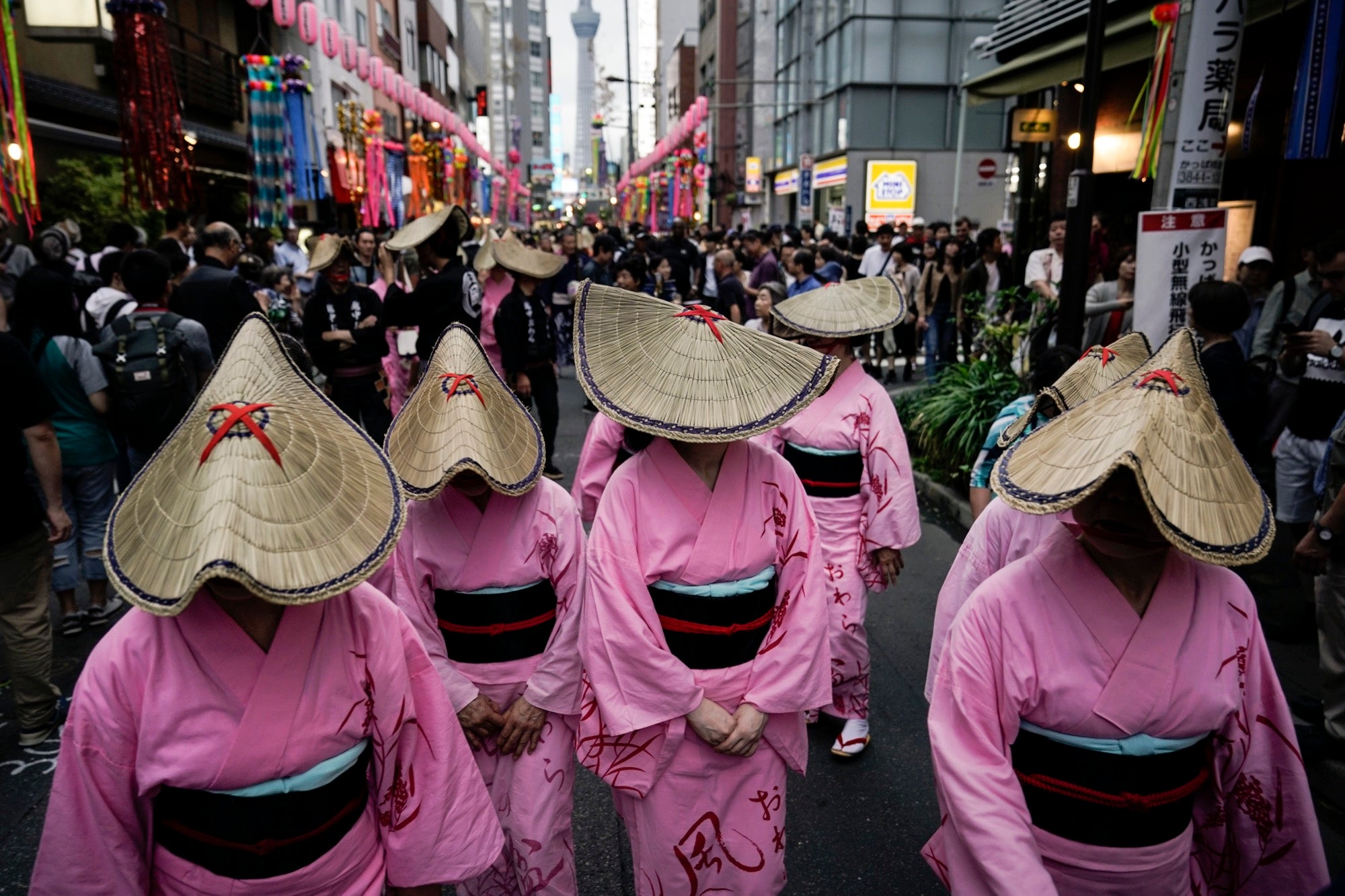 With their faces hidden under woven straw hats, traditional Owara dancers walk along Kappabashi Street after performing at the Tanabata festival, July 6, 2019, in Tokyo. (AP Photo/Jae C. Hong) Sony α9, Sony 24-70mm f/2.8 G Master lens.
The adoption of these benefits through a switch to Sony Alpha mirrorless will assist the AP in actively telling as many people's stories as they can, while visually representing all of those points of view. In today's highly visual society, the importance of skilled photographers and videographers who can visually tell a story has never been greater.
"I think photojournalism is critically important today, probably more so than ever," says Ake. "We are a very visual society. Skilled visual journalists that can use the things that they have to tell the story – lights, lensing, approach, thinking about how to tell a story in a photo or a series of photos – I think that's more important now than ever. The AP really believes in that. We are supporting that across both platforms. Telling the world's story visually in a world where visuals are everywhere, on your phone, on your laptop, on billboards. We have to have skilled photographers who can tell stories."
"We have a fundamental role to bear witness to events," says McCrudden, "being there and seeing it and providing an impartial firsthand account. We're able to provide people who otherwise can't be there themselves with that firsthand account of the day's news. Having independent eyewitnesses on the streets can only be a good thing for the media and for people who are interested in the news at large."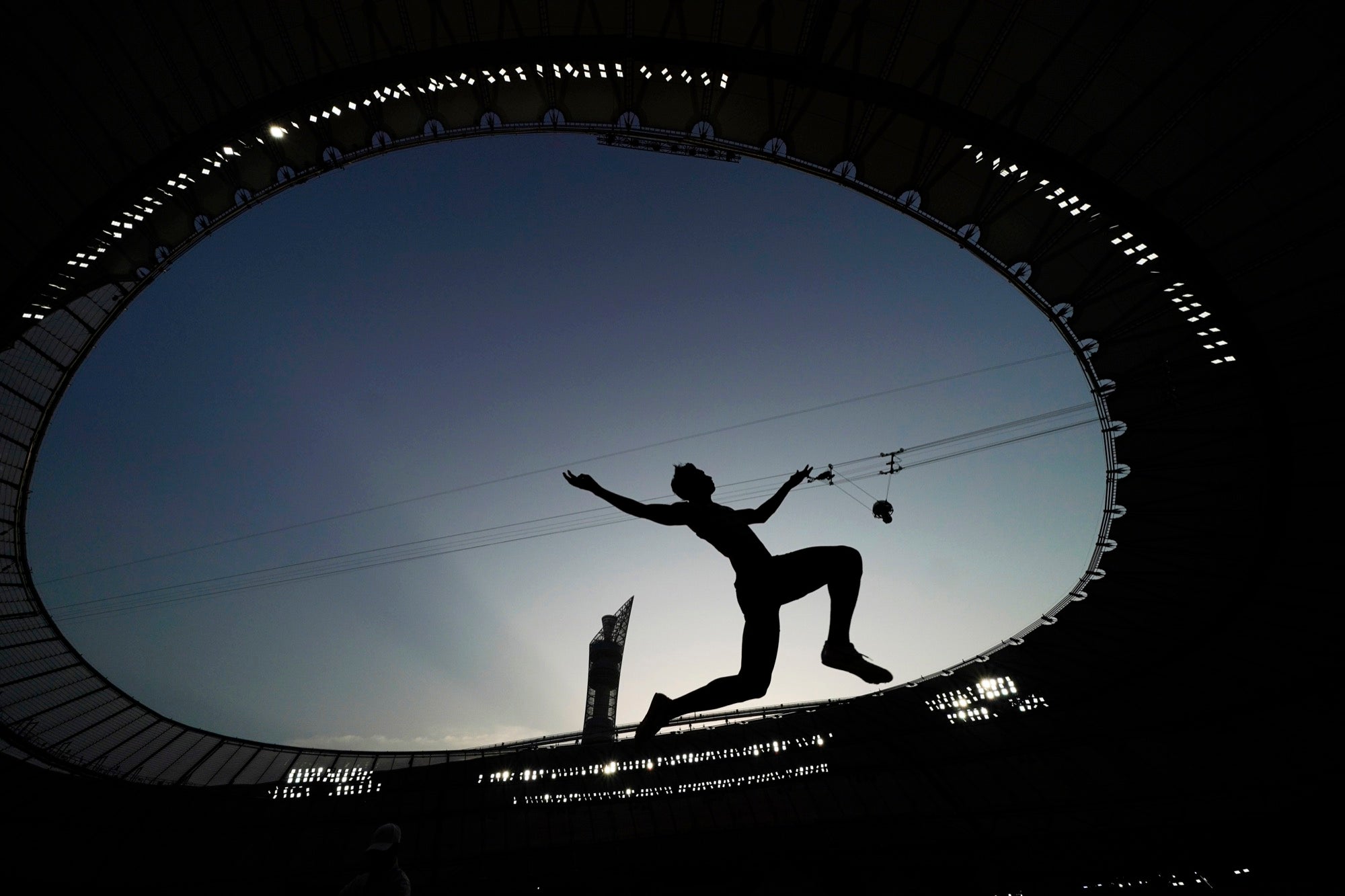 An athlete competes during the qualifications for the men's long jump event at the World Athletics Championships in Doha, Qatar, Sept. 27, 2019. (AP Photo/David J. Phillip) Sony α9, Sony 12-24mm f/4 G lens.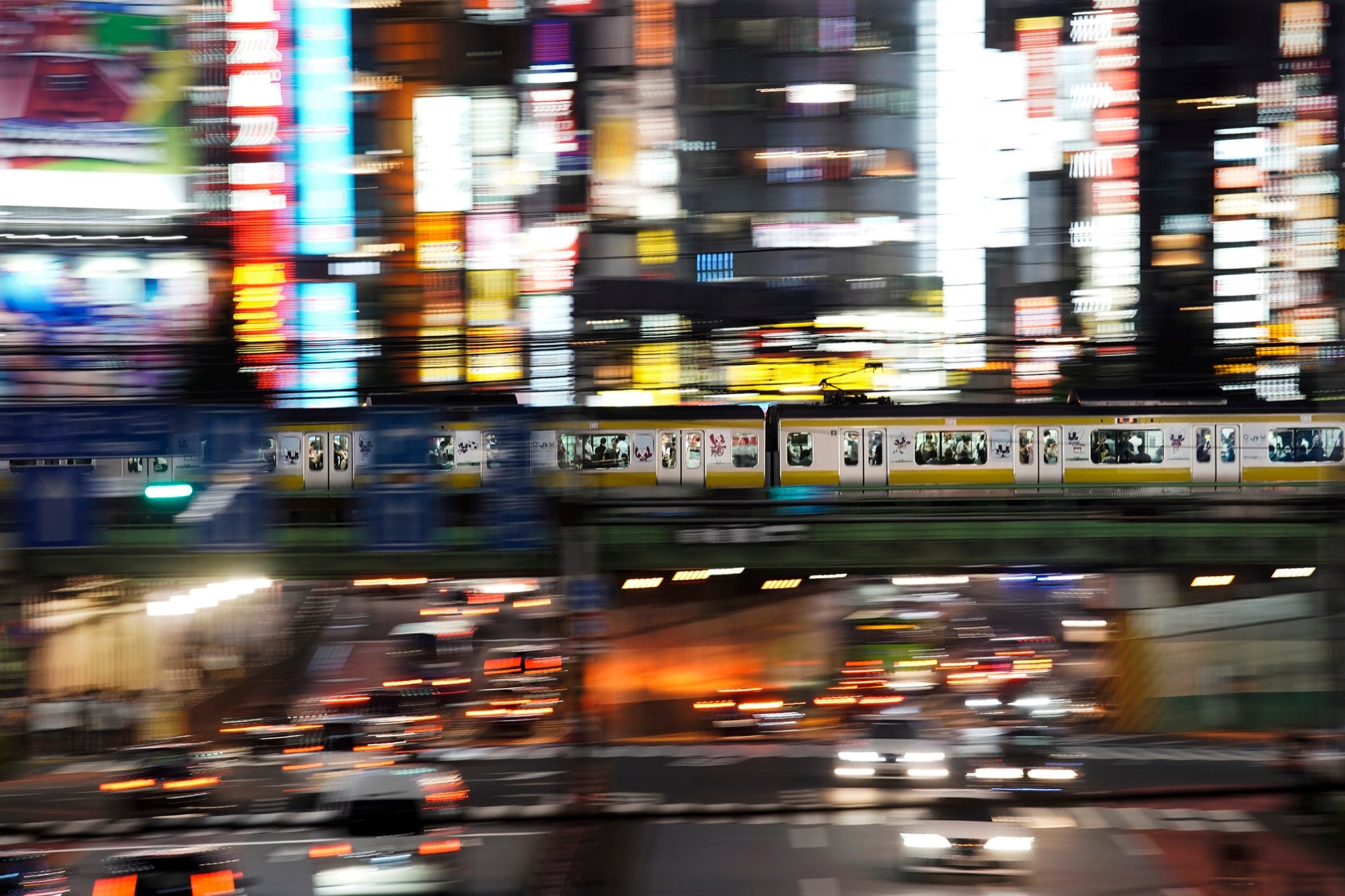 A train packed with commuters travels through the Shinjuku district of Tokyo during evening rush hour, July 30, 2019. (AP Photo/Jae C. Hong) Sony α9, Sony 70-200mm f/2.8 G Master lens.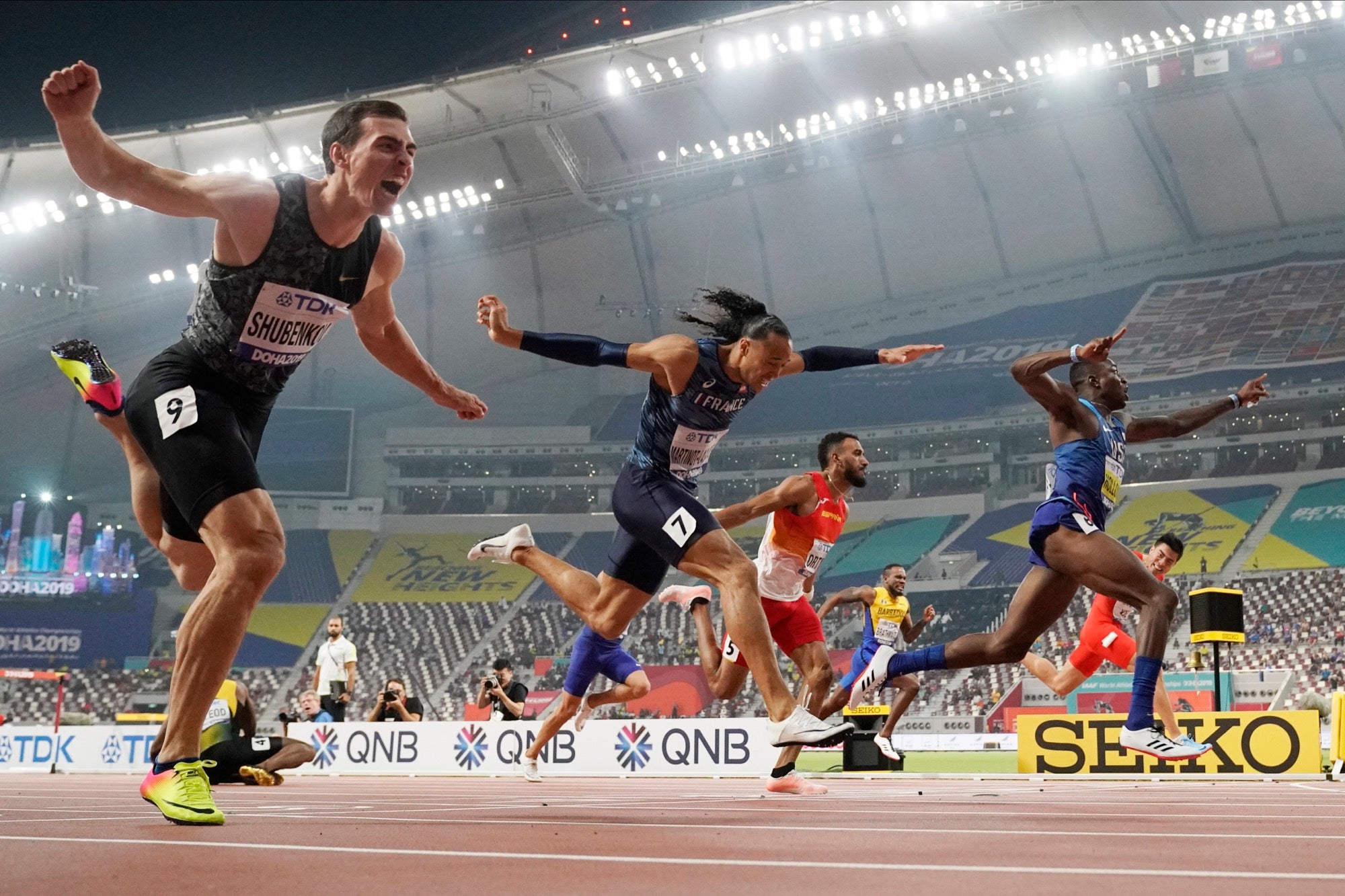 Gold medalist Grant Holloway, of the U.S., right, crosses the finish line ahead of Pascal Martinot-Lagarde, of France (7), and Orlando Ortega, of Spain (5), to win the men's 110 meter hurdles final at the World Athletics Championships in Doha, Qatar, Oct. 2, 2019. At lower left is Jamaica's Omar Mcleod, who fell when clearing the last hurdle. (AP Photo/David J. Phillip) Sony α9. Sony 24-70mm f/2.8 G Master lens.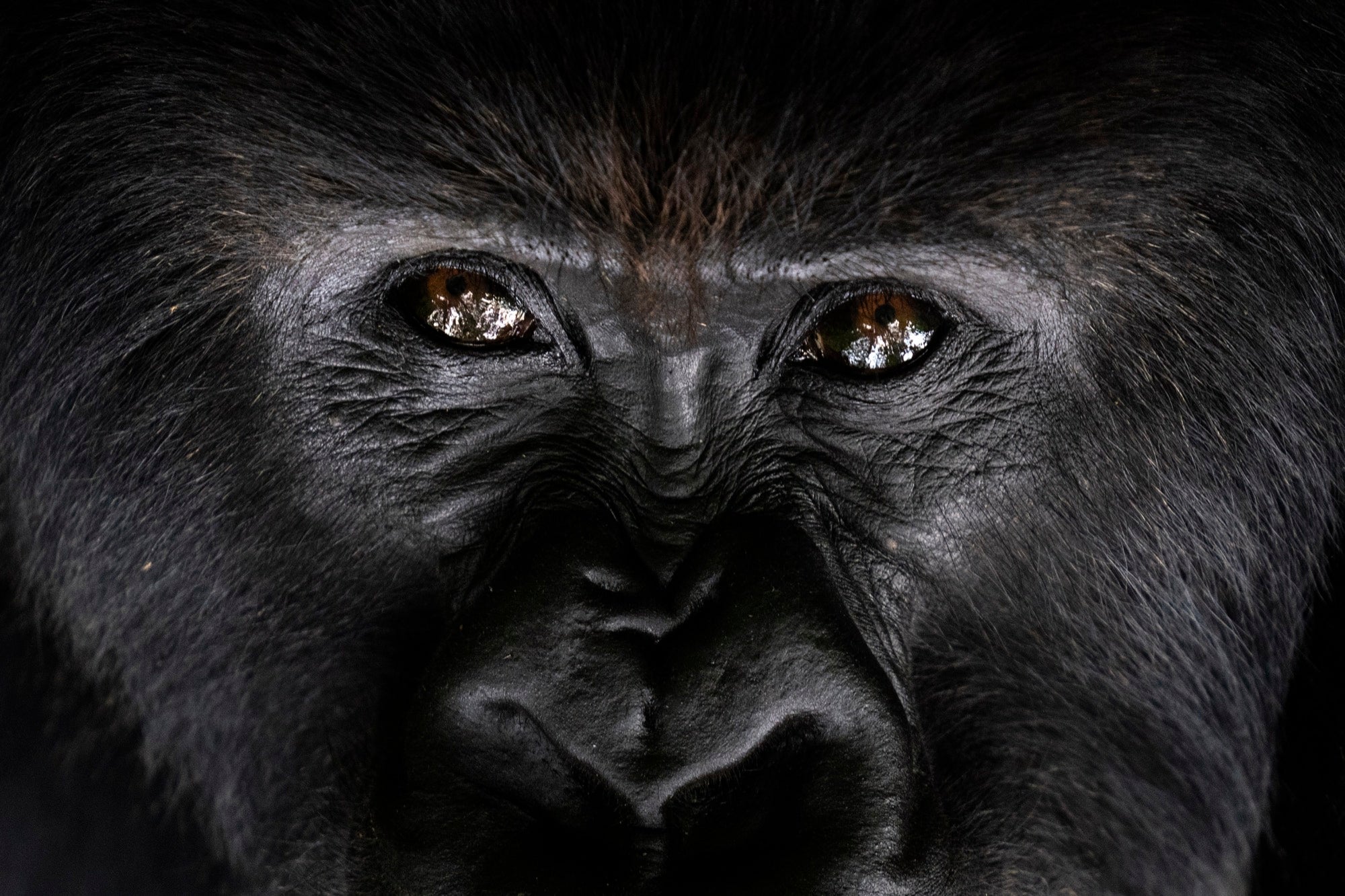 A silverback mountain gorilla named Segasira looks up as he lies under a tree in the Volcanoes National Park, Rwanda, Sept. 2, 2019. (AP Photo/Felipe Dana) Sony α9, Sony 100-400mm f/4.5-5.6 G Master lens.