Pro sports photographer and Sony Artisan of Imagery Jean Fruth (@JeanFruthImages) is a storyteller at heart. She goes beyond the classic sports image and documents the culture and the stories behind the sport. Fruth is renowned for her baseball imagery and stories and her highly-acclaimed book Grassroots Baseball: Where Legends Begin is a visual journey to the heart of the game, from sandlots to big-league stadiums. She is a thoughtful and dynamic storyteller, and we sat down with Fruth to get her top tips for creating dynamic photographs that capture the viewers imagination and tell a deeper story.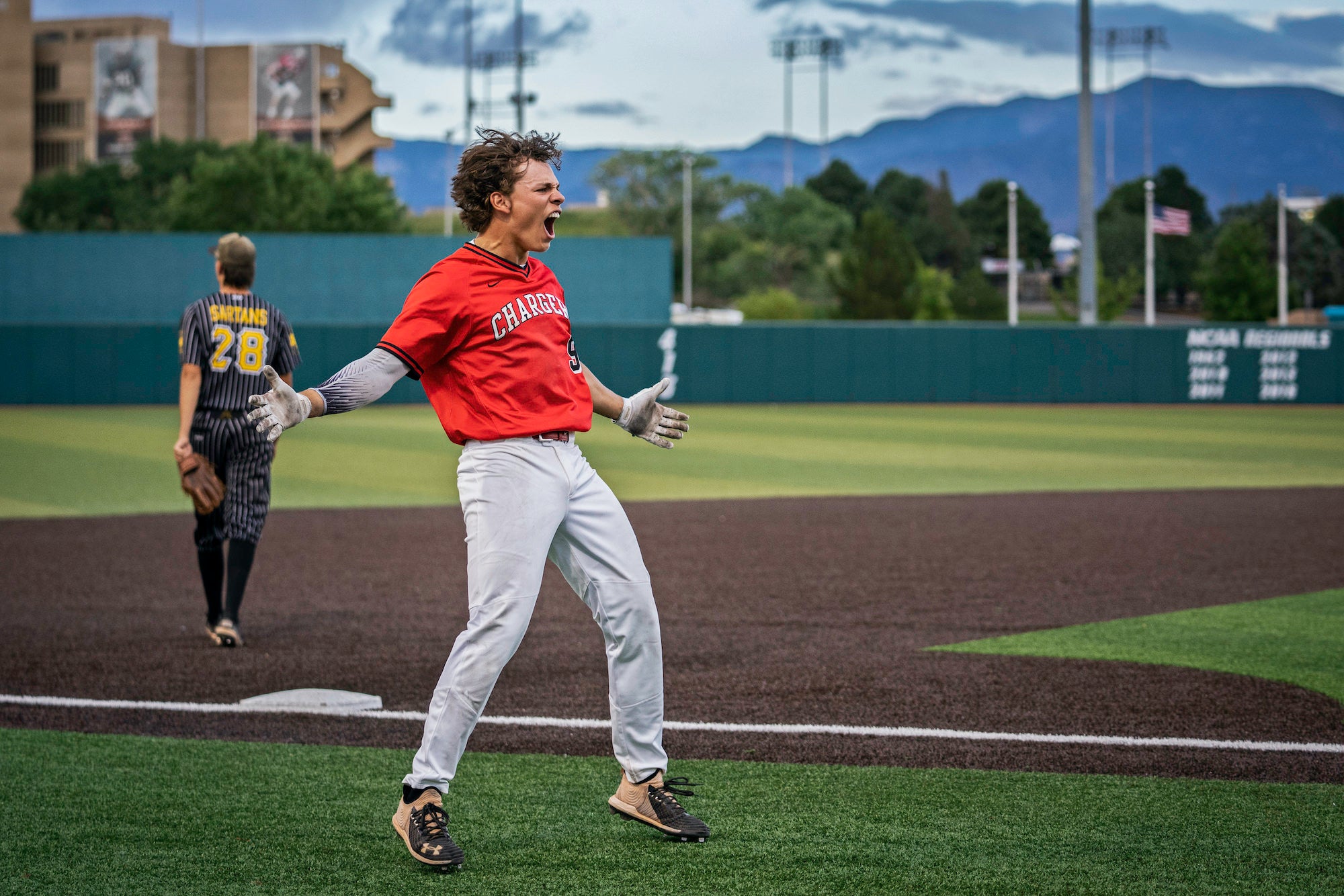 Photo by Jean Fruth. Sony Alpha 1. Sony 70-200mm f/2.8 G Master. 1/1000-sec., f/2.8, ISO 1000
"For storytelling, there are so many directions you can go - you can tell the story of a team, a season, an athlete, or culture. Good pictures don't need captions. Tell me a story and keep me interested." - Jean Fruth
1. Have A Plan
Right off the bat, Fruth explains that her first tip is to have a plan. "Some people believe that the creative process is romantic… the artist falls asleep and is awakened with their next brilliant idea. That has never happened for me. The truth is, for me at least, creativity is the result of hard work, study, research and planning."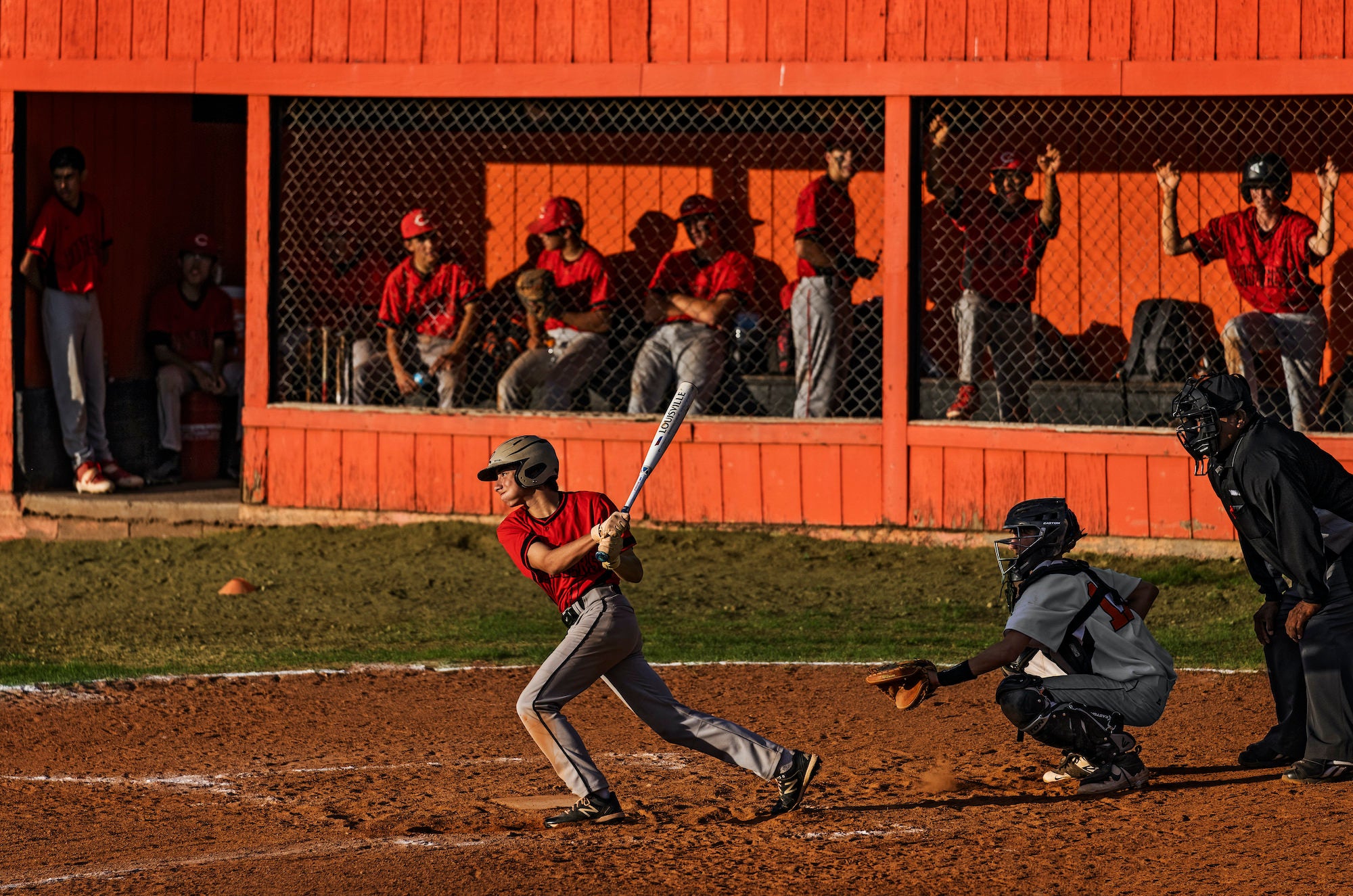 Photo by Jean Fruth. Sony Alpha 1. Sony 70-200mm f/2.8 G Master. 1/2500-sec., f/3.5, ISO 200
She explains that you can research venues, athletes, teams, other photographers' work and so on. Then you make a plan that breaks down what images you'd like to make, what story you're telling, what emotions you hope to convey and what message you want to get across. Fruth explains that many photographers "get excited just to go to the game and see what unfolds. But having a plan really gives you a much greater chance of success."
2. Arrive Early & Take Advantage Of Pregame
Once you have your plan in place, Fruth says that you should arrive at the venue early and spend time figuring out how you're going to execute that plan. "Get there before everybody else shows up. You've planned out what images you want to make, so now how are you going to execute them? What shooting positions are available to you? Are there any interesting angles? What are your backgrounds? And you do this all early. You're so much more organized and prepared that way. And then you're also figuring out where you want to shoot and what lenses you will need with your shooting positions."
"I always say start with pregame, because whatever the event is, pregame will get you warmed up. And with a little access, great pictures can be made for pregame." Fruth goes on to explain that you can make fantastic detail shots during pregame or take advantage of beautiful light. By giving yourself ample time to prepare and start shooting, you will have more thoughtful images.
3. Create Visual Variety
"Part of the storytelling I always talk about is changing up your visual scale. So for each of my shoots I always like to use a variety of lenses with different focal lengths, a pretty wide opener that sets the scene - I'm really big on a scene setter. And then tight, tight, tight, maybe tight on details, tight portraits for pre-game; shooting action tight tells one story and shooting action a bit looser tells a different story, with a sense of place in the background. So changing up your scale and your pictures makes your story more interesting and visually pleasing to your viewer."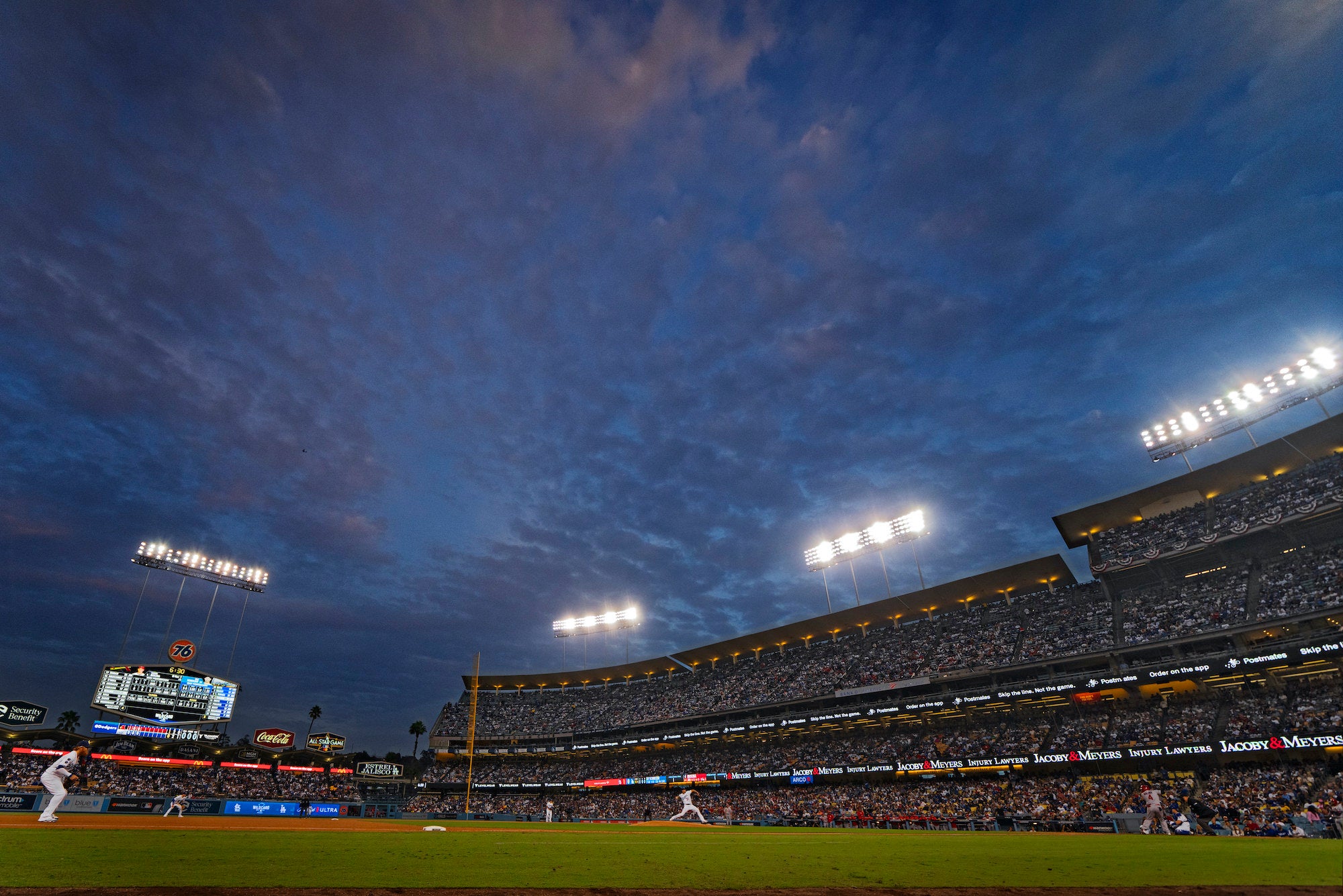 Photo by Jean Fruth. Sony Alpha 1. Sony 12-24mm f/4 G. 1/400-sec., f/5, ISO 640
Fruth also described how you can use different angles to help your imagery. "Shoot high and shoot low. We have these nifty screens now that pull out on our cameras. And how cool is that? So you're pulling the camera out and you put the camera on the ground and you actually make them look heroic. It also helps if there are no fans or you want to clean up your background, and then you're making something different than everybody else."
Fruth has selected a kit that helps her achieve this visual variety. She describes her go-to kit: the Sony 16-35mm f/2.8 G Master for portraits and shooting wide, she also loves the Sony 12-24mm f/2.8 G Master for the scene setting shots - she says that having that ultra-wide look does separate your work from the masses. Fruth also packs what she describes as her "workhorse," the Sony 70-200mm f/2.8 G Master II, Fruth explains that she upgraded to the II version of this lens immediately, because the 30% lighter weight made all the difference when hand-holding. She also brings along the Sony 400mm f/2.8 G Master. And she always uses Sony Alpha 1 bodies. This kit allows her to cover the story from every focal length. Fruth says in addition to that go-to kit, she'll often bring along the Sony 135mm f/1.8 G Master or Sony 85mm f/1.4 G Master for fun portraits or pregame. She says that the prime lenses do give her work a different look.
4. Chase The Light
"I always tell people to chase the light. Make that your plan first and foremost because nothing makes more of an impact on a sports picture than nice light and shadows. So you chase that, you lower your exposure. Capturing a moment with beautiful light and shadows can turn an ordinary image into an extraordinary one."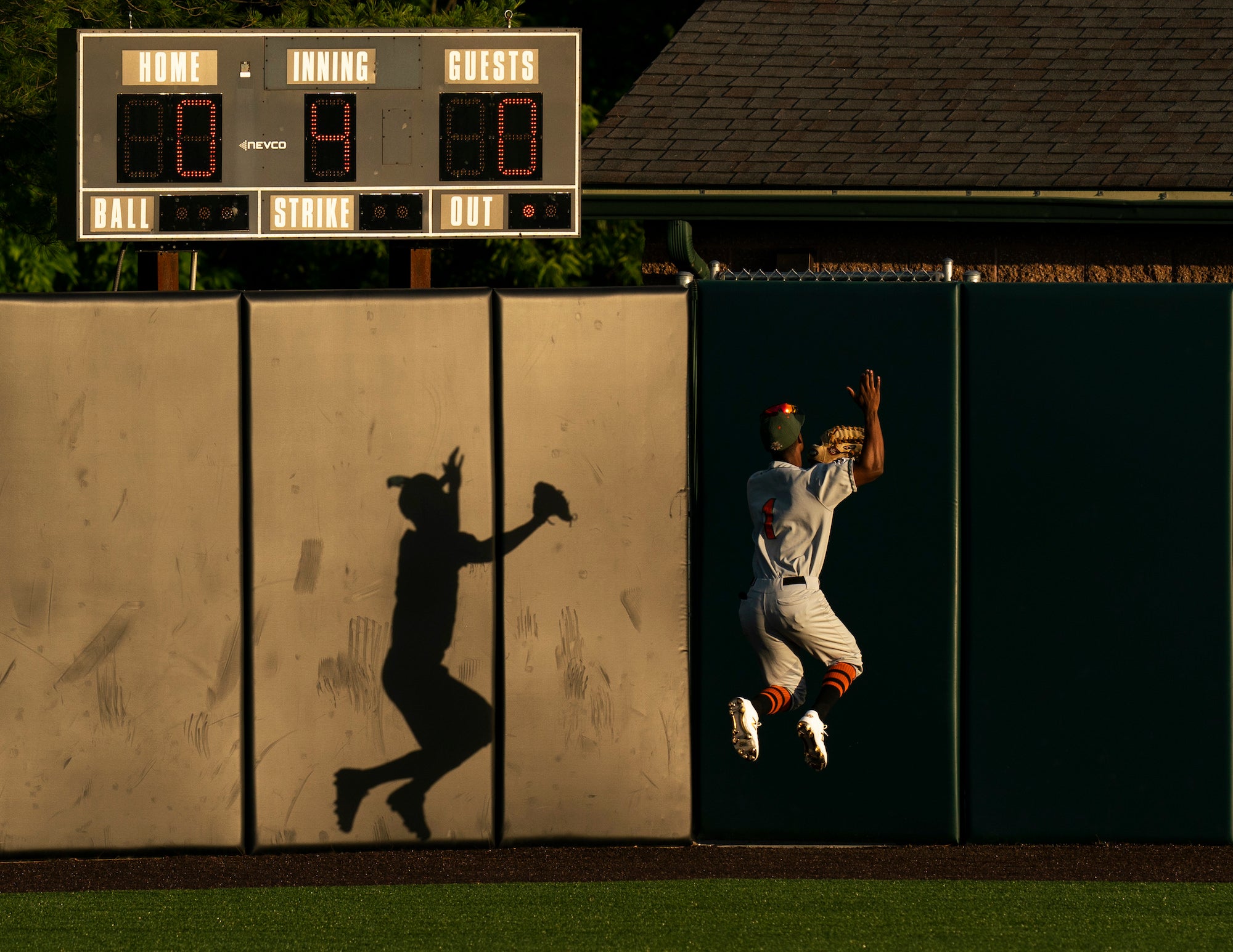 Photo by Jean Fruth. Sony Alpha 9. Sony 400mm f/2.8 G Master. 1/2000-sec., f/4, ISO 200
5. Photograph Emotions
A key part of storytelling is capturing the emotion. Fruth describes it as "action, reaction, tears and cheers." She then describes each one. The action is happening on the field. Photographing reactions can be the athletes, opposing team, or the fans. Fruth encourages photographers to include the fans as part of the story.
"And then Tears and Cheers is the celebration, right? You're approaching the end of your game. And you also want to plan for that. You look at who is going to win, and what is your plan to capture that celebration? Is there a particular player that you want to focus on? Maybe it's players charging off the bench at the end of the game. So what position do you want to be in? Who do you want to capture? What do you want to capture? And I always say an important comment about celebration pictures is that real emotion is quick, quick, quick. The second after that last play is when you're going to get the real emotion out of a player, out of a team. Then they're posing for the camera and those are fun images, but the real raw emotion is fast. So you want to have your plan ahead of time if you want to capture that real emotion. And then my little bonus tip: capturing the victor is certainly exciting and fun. But what about the losing team? What if your plan was to capture that real emotion from defeat? It can be a very powerful image."
Photo by Jean Fruth. Sony Alpha 1. Sony 70-200mm f/2.8 G Master. 1/1000-sec., f/2.8, ISO 1000
6. Become A Great Editor
"You know, nothing has moved the needle for me more quickly or more significantly than working with a great editor," explains Fruth. "So I've learned how to be one, but it takes time. So setting high standards for yourself, becoming an expert in your sport, knowing what a great image is supposed to look like in that sport. When you're editing your shoot, if it's action, your athlete should be at peak action, legs in the air, intensity in the action, a ball in motion if there's a ball. And if it's a celebration, it should be peak emotion. So it's throwing out the bad ones and being disciplined enough to throw out the bad ones. Bad backgrounds, If you cut off a foot or a hand, it's not a picture. Let it go. A head growing out of a head, players growing out of other players. Delete them and set the bar high for yourself and it'll make you a better photographer."
She continues, "And with that, having a goal of making one great picture instead of 200 mediocre ones. Trying to capture everything, chasing a ball for two hours and over shooting is not the answer. I know because I've done it plenty. So slow down and go back to your plan. And I'll say finally, like the best athlete, you should be creative and not be afraid to experiment. Stay in motion. I have no problem spending the majority of a game trying to make a certain picture, and many times I fail. But no risk means no reward. So that's how you win and that's how you make memorable pictures."
7. Study Your Craft
"Study those who came before you." Fruth advises looking at other photographers' work and studying the successful images. "I'm big on mentorship and nurturing. I have had such incredible mentors who have been so generous with their time and knowledge and guidance. That's why adding teaching to what I do is important to me. It's kind of a giving back and these workshops are great for people. It's so fun to see when someone shows up to a workshop, what they're doing the first day and what they've learned by the last day. So the Summit Workshops I teach at are just terrific for that. A tip I would offer would certainly be finding your mentors and studying other photographer's work, buying their books, and if you can do a workshop – I think it really can go a long way."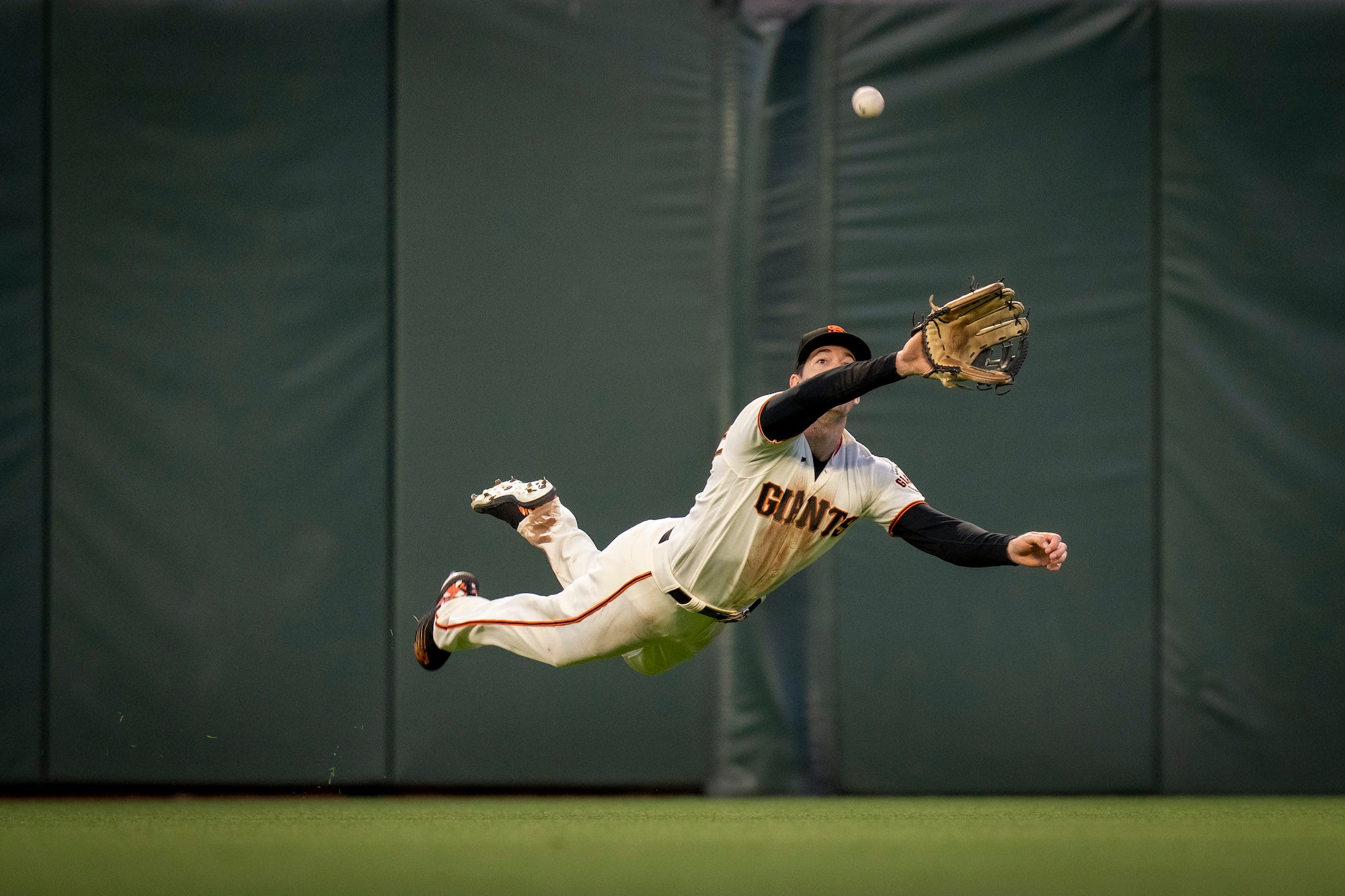 Photo by Jean Fruth. Sony Alpha 1. Sony 400mm f/2.8 G Master. 1/1000-sec., f/2.8, ISO 1250
You can study Fruth's work by purchasing her books: Grassroots Baseball: Where Legends Begin and Grassroots Baseball: Route 66. You can also learn from Fruth at the Summit Sports San Francisco workshop this November. Finally, support Fruth's nonprofit, Grassroots Baseball, whose mission is to promote and celebrate the amateur game around the globe, with a focus on growing interest and participation at the youngest levels.