It's Opening Day across the country and baseball fans are looking ahead to a long season that's still full of possibilities. Stories and coverage of the "boys of summer" playing America's greatest pastime will fill our news and sports feeds. Pro sports photographer and Sony Artisan Jean Fruth is also looking ahead at a project that's both full of possibilities and has no pre-determined ending. Looking beyond A League Of Their Own, Fruth is on a mission to find and tell those stories we so rarely hear, the stories of women in baseball. "Women have been at home in baseball for as long as men, but their level of inclusion has really been virtually non-existent," says Fruth, whose project Women In Baseball will take her all over the world to document females and their passion for and perseverance of the game. "My job is going to be to tell the stories of women around the globe in off and on field roles – players, coaches, managers, umpires, as well as those who've excelled off the field connected to the fabric of the game. We have head groundskeepers who are women, media members and executives."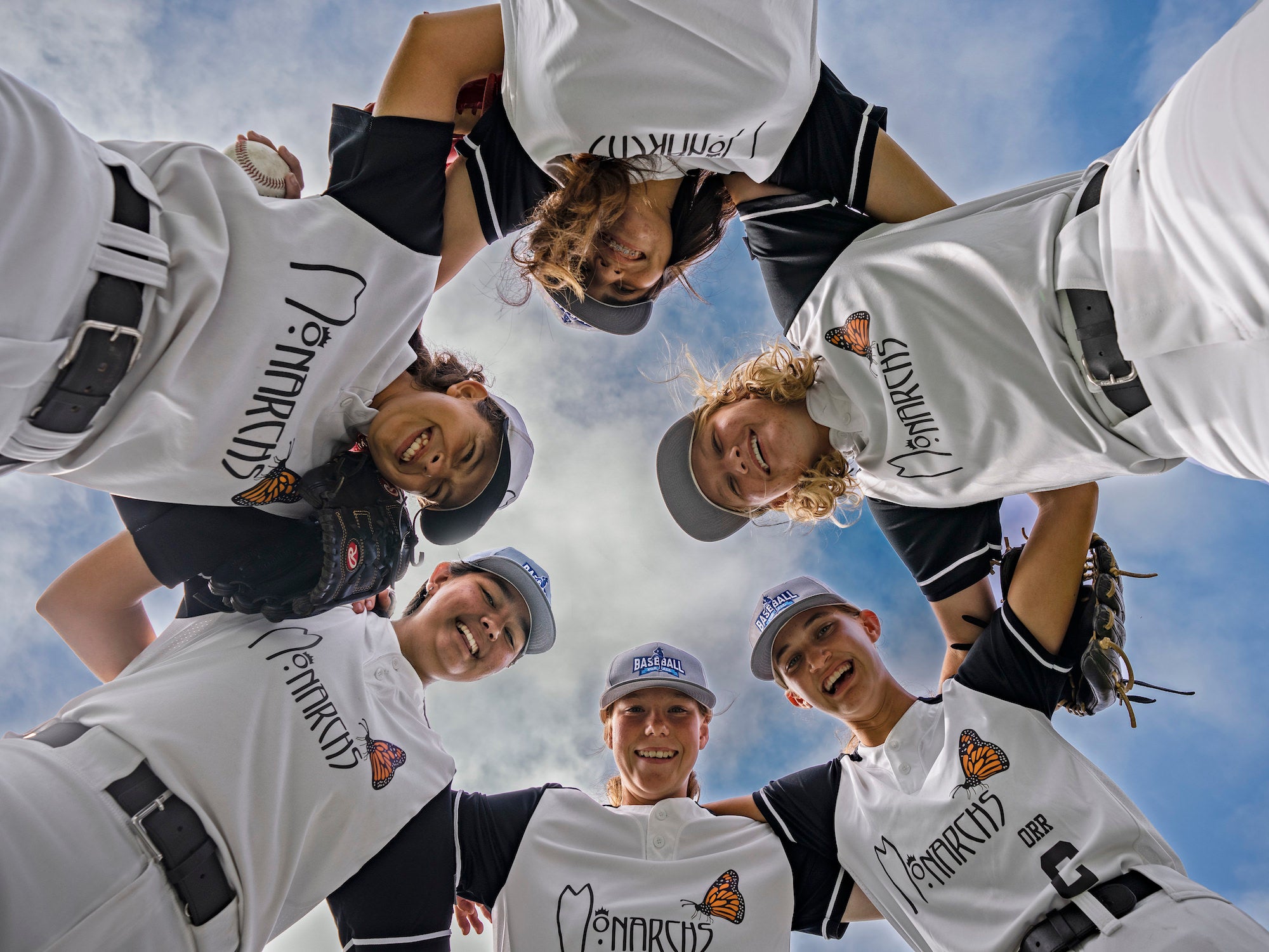 Photo by Jean Fruth. Sony Alpha 1. Sony 16-35mm f/2.8 G Master. 1/800-sec., f/5, ISO 200
Sports photographer and Sony Artisan Jean Fruth's newest baseball project will tell the stories of the female players, coaches, managers, umpires & others who make up the rich tapestry of the game.
Fruth's photography has had her living and breathing baseball for many years – she's covered all aspects of the game all around the world. Her first photography book, "Grassroots Baseball: Where Legends Begin," features the images from all levels of the amateur game both inside and outside of the U.S. She took her passion for grassroots baseball to another level and formed a nonprofit with Jeff Idelson, former president of the Baseball Hall of Fame. The organization, called Grassroots Baseball, was started along Route 66, and through the help of other partners and sponsors they provide equipment in underprivileged communities and document baseball and Americana along the Mother Road. After three years of documenting along Route 66, Fruth's second book, "Grassroots Baseball: Route 66," will be released in May of 2022.
Photo by Jean Fruth. Sony Alpha 1. Sony 16-35mm f/2.8 G Master. 1/2000-sec., f/4.5, ISO 200
Now with her Women In Baseball project, she'll spend the next several years exploring and documenting women involved with the game, from history to current day. "The first organized all-women baseball team was in 1866 and it was Vassar College," Fruth explains. "At the time, higher education for females was a new idea, let alone playing sports. So the game in America has really experienced the slow trickle of women becoming involved. Meanwhile, girls and women's baseball outside the United States has developed much more quickly, and there are success stories in Canada, Japan, Australia, Korea, India, Indonesia, parts of Europe, and Uganda…they all have women's baseball."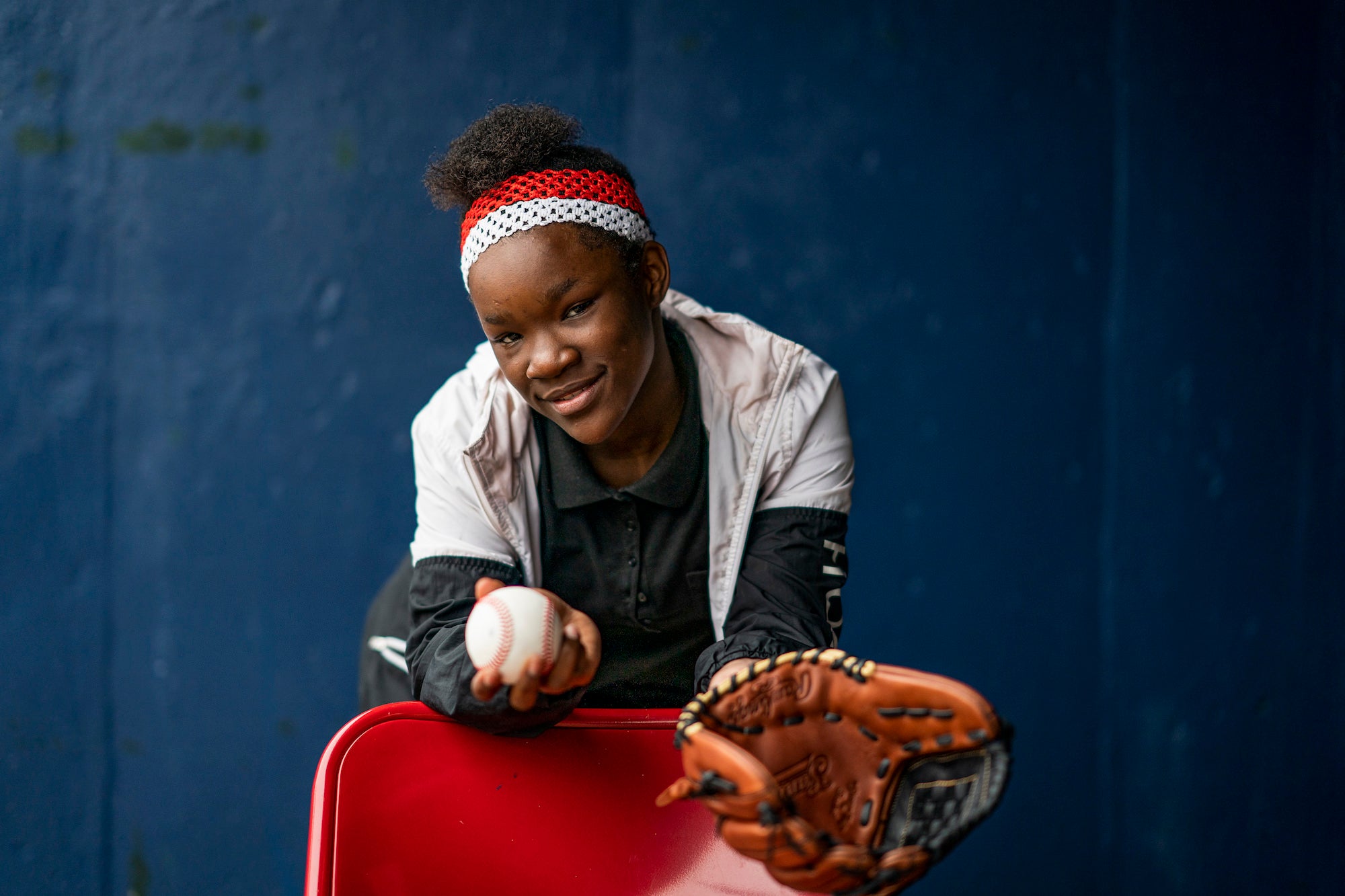 Photo by Jean Fruth. Sony Alpha 1. Sony 85mm f/1.4 G Master. 1/1600-sec., f/1.4, ISO 400
As time goes on, Fruth explains how more women are breaking "the grass ceiling," a term she heard used while just starting the project and a more fitting one for baseball compared to the usual glass ceiling metaphor. "The grass ceiling has ensured every time a female pushed open a new door to the game, it swung shut behind her before others could follow. And now change really is finally in the air. Recently the growth in the number of girls playing in the United States, and women working in the professional game on and off the field, has really begun to flourish."
The project will also be Fruth's first foray into directing, with video components to the project where she'll be interviewing different women in the game. She's been mentored through the process by experienced documentary sports film director and Sony Artisan Neil Leifer. Fruth has already had the opportunity to interview Maybelle Blair, who played in the All-American Girls Professional Baseball League (of "A League of Their Own" fame.)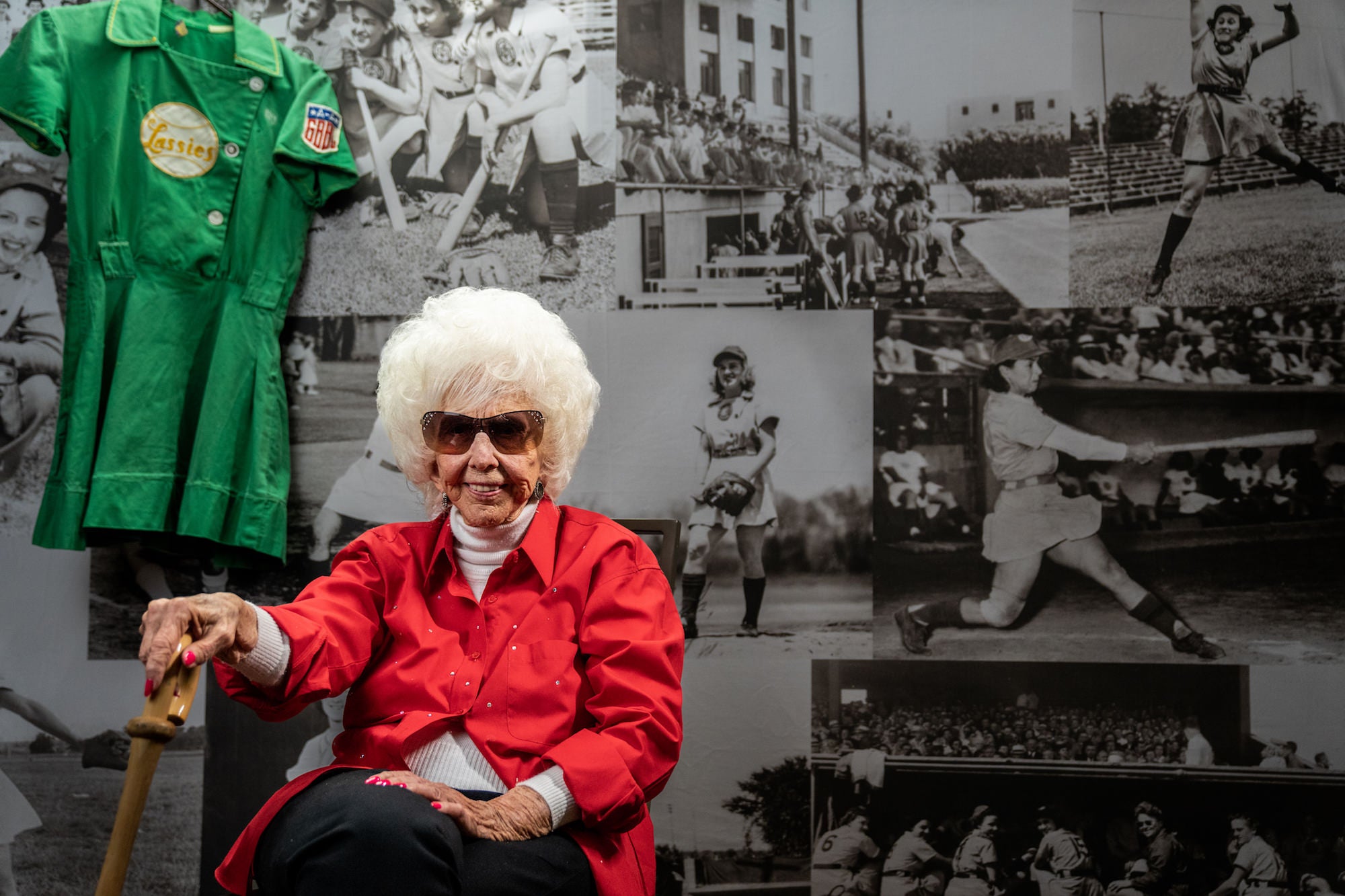 95-year-old Maybelle Blair, former All-American Girls Professional Baseball League player. Photo by Jean Fruth. Sony Alpha 1. Sony 70-200mm f/2.8 G Master II. 1/3200-sec., f/3.2, ISO 200
"During World War II, the baseball players, the men, went off to war," explains Fruth, "and the girls and women played professional baseball in their place. There are still women alive from this league and I got to interview one of them – Maybelle Blair, who is 95 years old. It was an incredible experience. Neil Leifer has been giving me a ton of guidance. So I'm directing the video and taking stills for the project. Then I'm also doing all the interviews myself as a woman in baseball, talking to women in baseball. It just seems like the right way."
Fruth will be primarily shooting the project on the Sony Alpha 1. She typically uses the Sony 70-200mm f/2.8 G Master II lens as her everyday workhorse and also likes the Sony 400mm f/2.8 G Master for capturing the action. For portraits, she tends to grab the Sony 85mm f/1.4 G Master or Sony 135mm f/1.8 G Master. For those wide-angle group shots in front of the dugout or fun moments on the field, she uses her Sony 16-35mm f/2.8 G Master.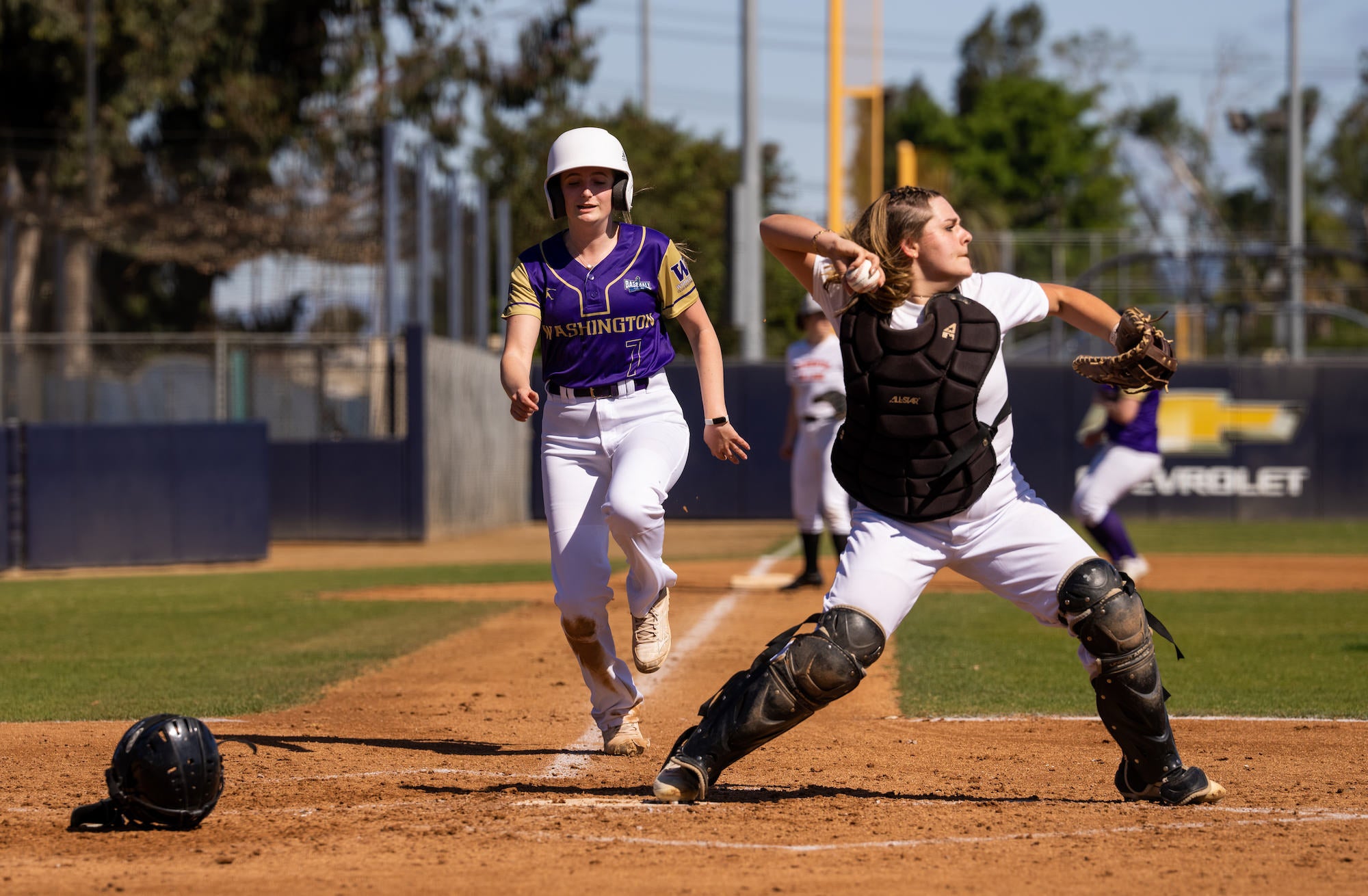 Photo by Jean Fruth. Sony Alpha 1. Sony 70-200mm f/2.8 G Master II. 1/2500-sec., f/4.5, ISO 200
While the moments she's capturing relate to the game, Fruth says the project is far more reaching than baseball. "We happen to be telling the story through baseball," she says, "but it's really for girls and women with whatever they're setting out to do. The paradigm is finally changing. There's literally nothing that women and girls in baseball cannot do if they're given the chance. And not only are the girls and women involved in baseball around the globe making their marks in the game, but by example, they're really helping develop gender equality. It's about empowering the next generation to believe in themselves, to keep participating in the game they love, or in whatever it is that they love."
You can catch Fruth covering Major League Baseball for La Vida Sports this season as well as some Major League Soccer games. Keep up with her work on Instagram @jeanfruthimages and stay tuned to AlphaUniverse.com for updates on her project.