Sony Artisan of Imagery and professional sports photographer Jean Fruth covers professional baseball year-round. When you think of a baseball photographer you might think of someone completely enveloped in the action, with reflexes ready to capture the crack of the bat hitting the ball or an outfielder diving to make a game-winning catch. While Fruth aims to capture such moments in a game, her true passion in baseball photography is about so much more than that. It's about providing an all-encompassing glimpse into the story of our national pastime, a passion she's diving deeper into with her Grassroots Baseball campaign.
Hall Of Fame pitcher Nolan Ryan relaxing with Rosie, his Blue Lacey, at his home in Texas. Fruth photographs the legends of the game in the places where they are most comfortable. The places where their roots are planted.
"It really all got started with my photography book," explains Fruth, "Grassroots Baseball: Where Legends Begin. As I was traveling the world shooting professional baseball, I was also capturing grassroots games for this book. It features the images from all levels of the amateur game both inside and outside of the U.S., with each chapter opening with a portrait of a baseball legend in a first person essay. I was working with the Baseball Hall of Fame and the president, Jeff Idelson, was really into this idea of the amateur game. We started asking ourselves, 'Could this grow into more than just a book?'"
Fruth and Idelson had collaborated on a number of baseball-related projects in the past, and their combined interest took this Grassroots passion project to another level. It's now an entire campaign with a mission to promote and celebrate the amateur game around the globe.
"Our focus is growing interest and participation at the youngest levels of baseball," says Fruth. "Route 66 seemed like a good place to start. It has such a tie to Americana and there are so many forgotten towns. As part of the Grassroots Baseball campaign, our team is touring urban and rural communities across eight states from Chicago, Illinois to Santa Monica, California to tell the story of the amateur game in these communities."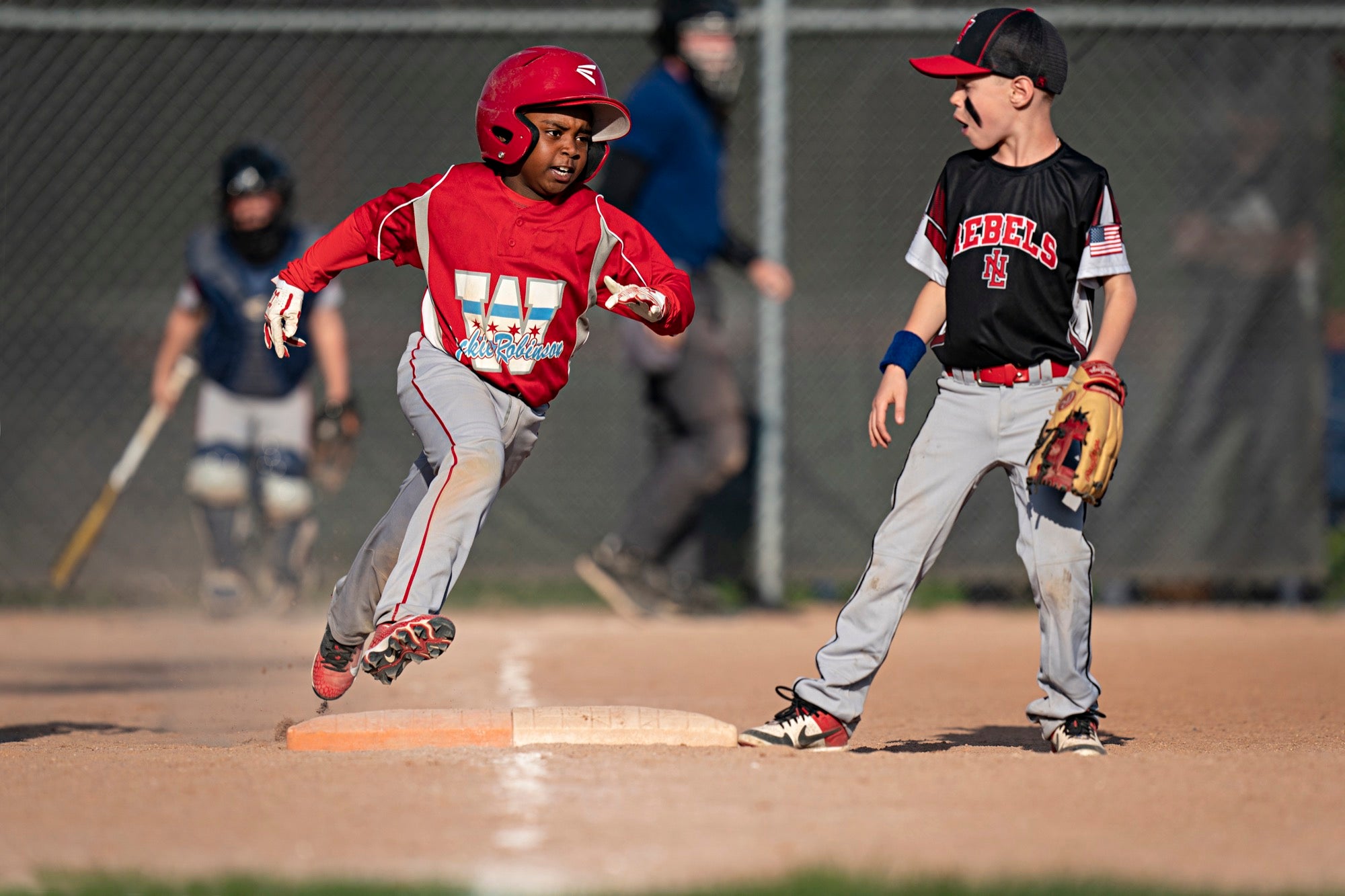 Jackie Robinson West Little League in Chicago. Showing the connection from pickup games and little league to the glittering lights of the Major Leagues is integral to the Grassroots project.
Transitioning from an early career in portrait photography, Fruth's start in baseball photography came when she began coaching her son's Little League team and shooting youth games. Her passion for the grassroots game has never faded. "I loved the beauty and purity of the game. I saw it as much more than only what was happening on the field. It was about the feel and culture of a much simpler game. That passion only grew as my photography career advanced from documenting the major league game to shooting for the Hall of Fame. Wherever, whenever and whatever I'm shooting, I always make time for the amateur game and try to tell the stories of what it means to people and their cultures, their neighborhoods and villages and towns."
She's been shooting the grassroots game for years, having traveled to various countries to capture the multiple layers that tell the story of the game. Capturing grassroots baseball photographically requires a different approach than if you're shooting a pro game, and Fruth knows it well. The purpose of the shot is rarely to show an actual play in a game, but rather the story of the sport in that location as a whole. Many times she ends up photographing youth players, and while they are smaller in size, her goal is to make them look as heroic as she can. To accomplish this, she'll shoot at a low angle to provide that larger than life perspective. If she's photographing older guys playing stickball, she might shoot tight portraits to show the character of their faces. All of these pieces to her approach help tell the deeper story of the sport of baseball.
"For grassroots baseball, I also always want to show a sense of place," Fruth explains. "my backgrounds are extremely important." If you're shooting in the South, maybe there's a beautiful old church to include. If you're shooting in Chicago, perhaps the landscape of the city. Then you also have to capture the culture of the environment, which is more subtle and can be a bit trickier. In some places it may be more obvious, like Japan where players are bowing to the umpires to show their respect at the conclusion of the game. Wherever the grassroots location is I'm asking myself, 'What is the culture and can I tell the story in the picture?'"
"I look at baseball as so much more cultural than many other sports. Not everyone has access to gyms or hockey rinks or football fields, but baseball can be played anywhere there is a space and always has been. Games are in parks, sandlots, or in the street. The various forms of the game become a social scene in local cultures. Because baseball has been a part of and enjoyed in our culture for so long, it seamlessly connects generations and brings people together."
Hear more from Sony Artisan Jean Fruth and the art of baseball in this

Alpha Universe Podcast

.